2020 Chevrolet Corvette Stingray C8 Red Driving Front Three Quarter ・ Photo by General Motors
Ah, the road trip. The very words conjure up thoughts of escape, adventure, and romance. On a day-to-day basis, we use our cars as appliances. They take us to work and back. They get us to the grocery store and the dry cleaners and the drug store. They help us fetch our fast food when we are running late. But whenever we run these routine errands always in the back of our mind is the knowledge that once we are in our cars, we can just keep going. The open road awaits and nothing can stop us — nothing that is but our sense obligation and our bank accounts.
But just because we have things we feel we have to do doesn't mean we can't dream of the perfect road trip, the perfect escape from the mundane existence we plod through. And of course, the perfect road trip wouldn't be perfect at all without the right car. This list of the 10 best cars for road trips shares the sedans, coupes, and convertibles we'd love to take on such a journey. 
1. 2020 Chevrolet Corvette Stingray
Yes, it looks like a bad boy's car, all snarky and menacing. And depending upon your mindset, that might be just the recipe for the perfect road trip car. If you're going on a long drive, why not do it behind the wheel of a vehicle that makes every mile memorable, that has more automotive capabilities than you know what to do with?
The 2020 Chevrolet Corvette Stingray is just such a car. At its heart is Chevy's 6.2-liter "Small Block" V8 that produces 495 horsepower and 470 lb-ft of torque, which is more than enough to get the party started. The engine is aided and abetted by Chevrolet's first eight-speed dual-clutch transmission, which provides lightning-fast shifts and impressive torque transfer all while giving your left leg a rest. The Stingray's 1.0g-plus ultimate roadholding is just one indication that even when the road trip road gets windy, your car will do what you need it to do.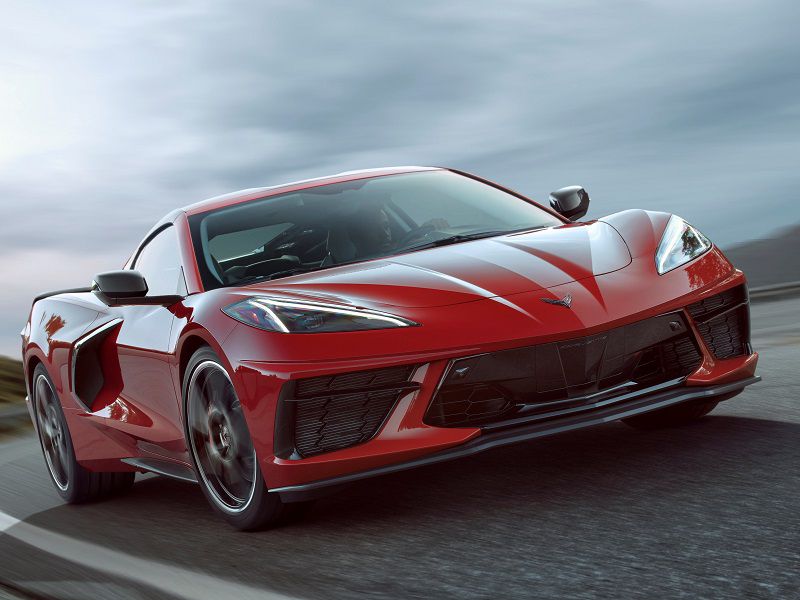 Photo by General Motors
2. 2020 BMW 7 Series
The BMW 7 Series is the ultimate expression of the brand that offers the Ultimate Driving Machine. It delivers heavy helpings of everything a contemporary large luxury car should offer. From its handsome design to its lush interior to its technological artistry, the 7 Series is a sedan meant for the open road, able to put miles of asphalt behind it at a three-figure pace. (Its top speed is electronically limited to 155 mph.)
Several engines find their ways under its expansive hood, including a 6.6-liter V12 that delivers 600 horsepower. Peak torque is a staggering 627 lb-ft. The equipment list is studded with extra-touch items like "soft-close" doors that essentially shut themselves. The Driving Assistance package includes a forward-collision warning, automated emergency braking, pedestrian detection, a lane-departure warning, blind-spot monitoring, and a rear cross-traffic alert.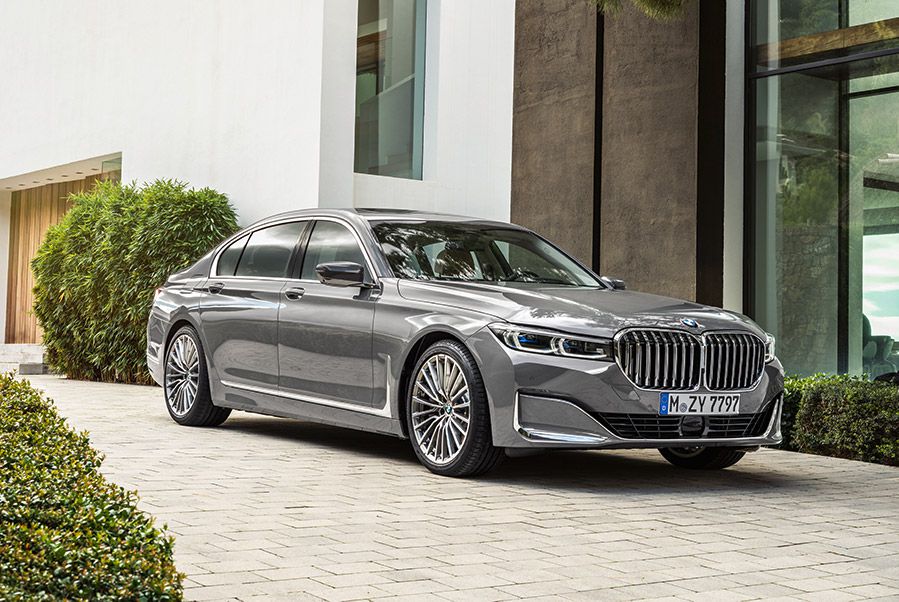 Photo by BMW
3. 2020 Mazda MX-5 Miata
The specifications of the 2020 Mazda MX-5 Miata won't knock your argyles off. It is powered by an utterly unremarkable 181-horsepower, 2.0-liter four-cylinder engine backed by a standard six-speed manual or optional six-speed automatic transmission. Neither its 0-60 time nor its top speed will inspire fear in a street racer's heart.
But that's not the point. The Miata is one of the most likable cars to ever embark on a road trip. Drop the soft-top down, snick the Miata into gear, and I defy you to not have fun. The sheer simplicity of the car — front-engine/rear-drive/two seats — is a key reason it is so much fun on the road. It is pure, and it immediately translates your thoughts into automotive action. There are very few electronic gizmos to get in the way of your communion with the car, and that's fine with us.
Photo by Mazda
4. 2020 Porsche 911 Carrera 4S
The original Porsche 911 was as pure a car as today's Miata — perhaps even more so because it was, of course, relentlessly analog — but today's 992-generation Porsche 911 is something else. It demonstrates the wonders of technology in enhancing the driving experience without totally smothering it.
The base 911 Carrera offers 379 horsepower from its 3.0-liter flat-six and rear drive. There's nothing wrong with that but for your road trip, perhaps an upgrade to the Carrera 4S with 443 horsepower and all-wheel-drive is advisable. It could rain or snow or something, so why not? The powerful engine is wedded to an eight-speed PDK dual-clutch transmission, and its super-quick gear changes are instrumental in the Carerra 4S's stellar 3.4-second zero-to-60 time. Among the 911's nearly science-fiction-style features is a system that recognizes water on the road and then sets up the stability control and antilock brakes to deal with it.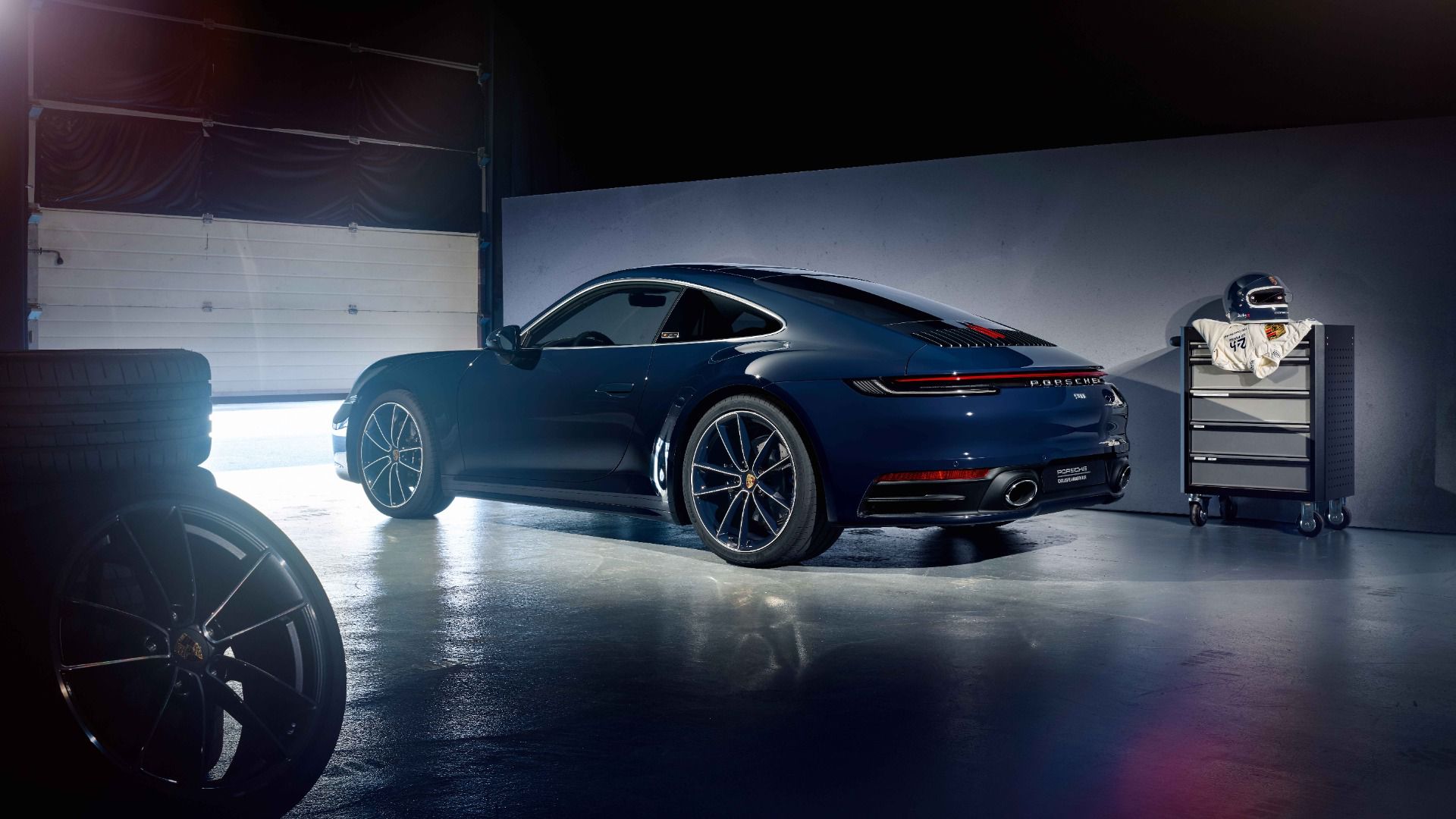 Photo by Porsche
5. 2020 Mercedes-Benz S-Class
The Mercedes-Benz S-Class is, in the opinion of many, the best large luxury car in the world. Mercedes-Benz has certainly made the S-Class its showpiece. The sedan's technical wizardry extends beyond adaptive cruise control to automatic lane-changing capability. Its driver support systems are so advanced the sedan uses geographical maps to alert its driver and its systems to curves, intersections, and traffic circles.
Engine choices include a 362-horsepower twin-turbocharged 3.0-liter V6 and a 463-horsepower twin-turbocharged 4.0-liter V8. We suggest the latter in a 4MATIC all-wheel-drive version of the car. The interior is like that of an exclusive club, filled with leather and wood, and the seats don't just adjust; they also massage. It's just the thing to take those road trip kinks out of your back.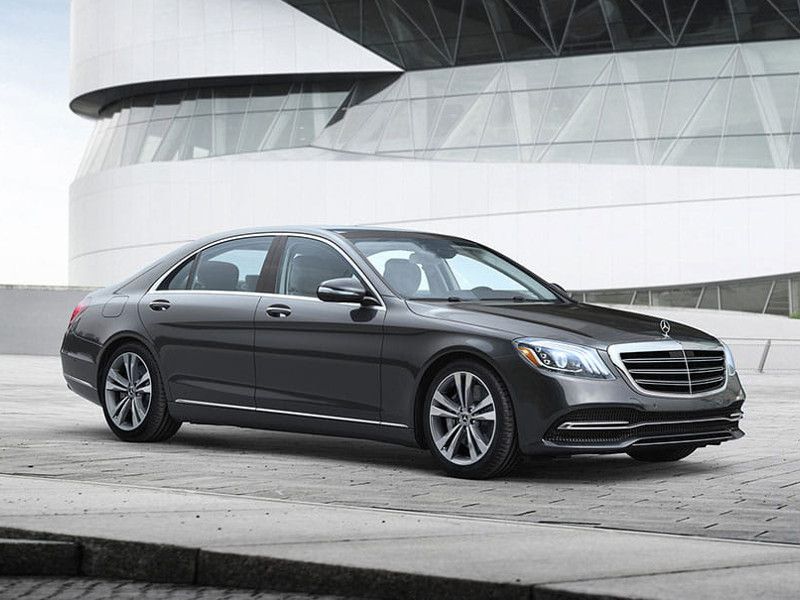 Photo by Mercedes-Benz
6. 2020 Audi R8
Audi's mid-engine R8 sports car is the brand's performance leader, and through the years, that performance has become better and better. For 2020, the naturally aspirated 5.2-liter FSI V10 engine delivers 562 horsepower via a seven-speed dual-clutch transmission, which can shift gears in as few as 120 milliseconds. In other words, very quickly.
Speaking of very quickly, the slippery coupe will jet from zero to 60 mph in 3.4 seconds. The car's top "track speed" is 201 mph, which you don't want to test on the open road... or do you? The R8's mid-engine styling has been updated with a new honeycomb grille with R8 badge, front spoiler lip, and lateral air intakes, so it has the style to accompany its road-trip power.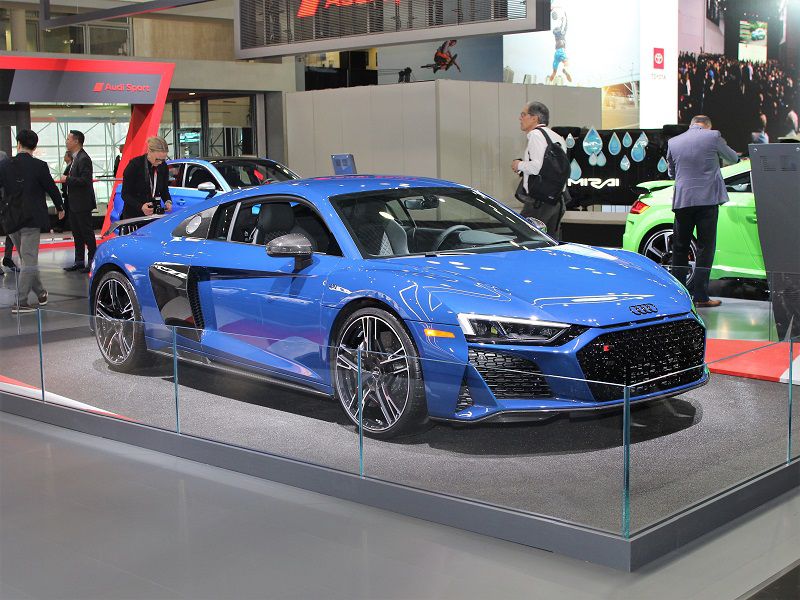 Photo by Mathew Carpenter
7. 2020 Nissan GT-R
Adults and kids alike have dreamed of their own road trips in the now-legendary Nissan GT-R sports car. After 50 years and innumerable videogame appearances, it has become one of the car world's performance icons.
The current GT-R is powered by a 565-horsepower 3.8-liter 24-valve twin-turbocharged V6 engine handcrafted by its own technician. Just in time for your road trip, it has been upgraded with new turbochargers that help increase the engine's low-rpm response. The 2020 GT-R Premium version of the car is the one to pick for the road trip. Its six-speed dual-clutch transmission has a special "R mode" designed to enhance corner exits on both road and track. The transmission also features adaptive shift control that changes the shift schedules to fit the user's driving style.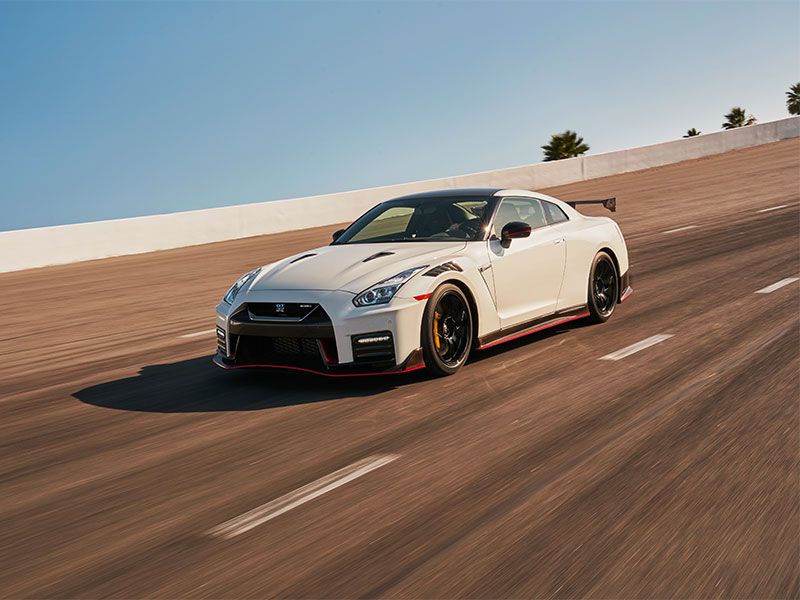 Photo by Nissan
8. 2020 Volkswagen Passat R Line
Okay, we don't want this list to consist only of cars well beyond the reach of the typical car buyer. So in that spirit, here is the Volkswagen Passat R Line, the sporty version of VW's big sedan. Its direct injection turbocharged 2.0-liter four-cylinder engine produces 174 horsepower — not a lot — but the car is more spirited than the numbers would suggest, largely based on its 206 lb-ft of torque. The transmission is a six-speed automatic with steering-wheel-mounted shift paddles.
We cite the Passat R Line as a great road trip car because of its immense interior room and giant trunk. It is a very comfortable and accommodating space to spend hours in, and it is fitted with Volkswagen's innovative MIB II touchscreen infotainment system. The MIB II uses a capacitive-touch sensor like a smartphone rather than the more common resistive touchscreens that don't facilitate swiping or pinching.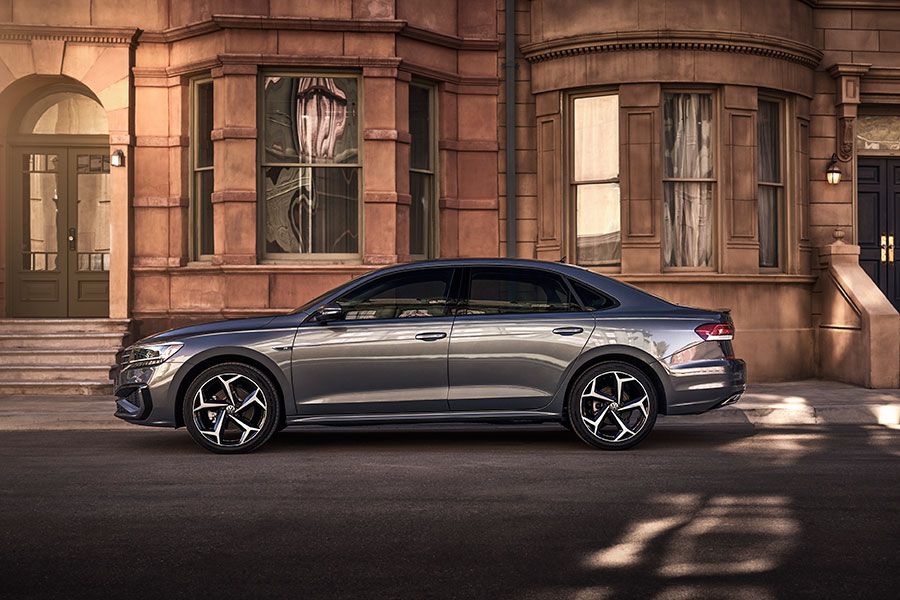 Photo by Volkswagen
9. 2020 Genesis G90
Not only does Genesis offer compelling value, but the brand's largest and most luxurious sedan is a stellar choice for a long road trip. The 2020 Genesis G90 is exceptionally well-equipped, dripping with international style, and is assembled meticulously.
Equipment that will improve any road trip includes a 12.3-inch touchscreen infotainment system, head-up display, automated emergency braking, and adaptive cruise control. The powered rear sunshades, rear climate control, and 17-speaker Lexicon audio add to the overall ambiance that is just this side of decadent. Powertrain choices are a 365-horsepower twin-turbocharged 3.3-liter V6 and a 420-horsepower 5.0-liter V8, and we think either is appropriate for your travels. That said, to make the miles disappear behind you most effortlessly, choose the Genesis 5.0 Ultimate with all-wheel-drive. It has the added benefit of being about $20,000 less expensive than the comparable German luxury sedans.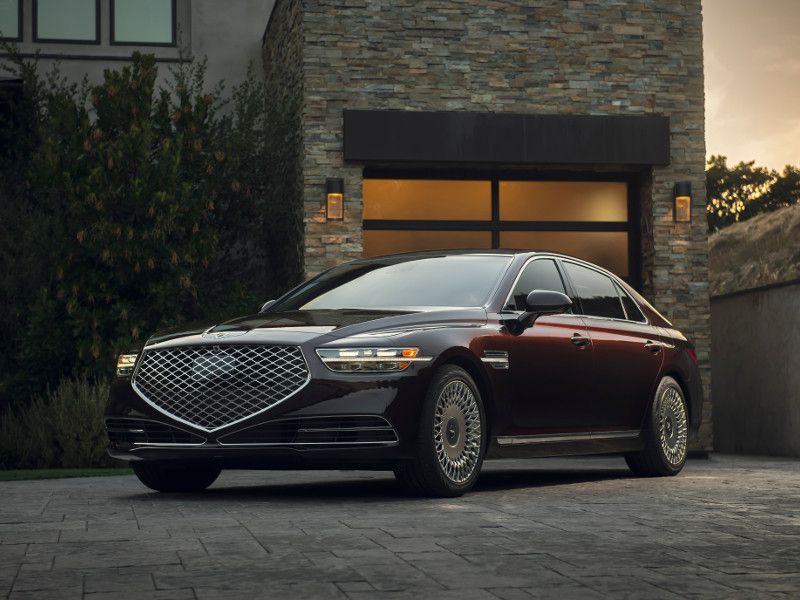 Photo by Genesis
10. 2020 Lincoln Continental
The Lincoln Continental is one of the most underrated sedans in the world, and it is a terrific road trip car from virtually all angles. Its well-drawn styling distinguishes it from its competitors, while its quality and consumer-appeal scores as measured by J.D. Power are more than commendable. And the Continental's pricing makes it a relative bargain, which means more spending money on the road trip.
It is available in a variety of trim levels, each with an increasing level of equipment. And its driving dynamics are civilized but still deliver an engaging experience. The base 3.7-liter V6 offers 305 horsepower, but better choices are the 335-horsepower turbocharged 2.7-liter V6 and or strong recommendation for your trip — the 400-horsepower twin-turbocharged 3.0-liter V6. The top-of-the-line Black Label trim level with all-wheel-drive is an exceptionally nice package to fly down the highway.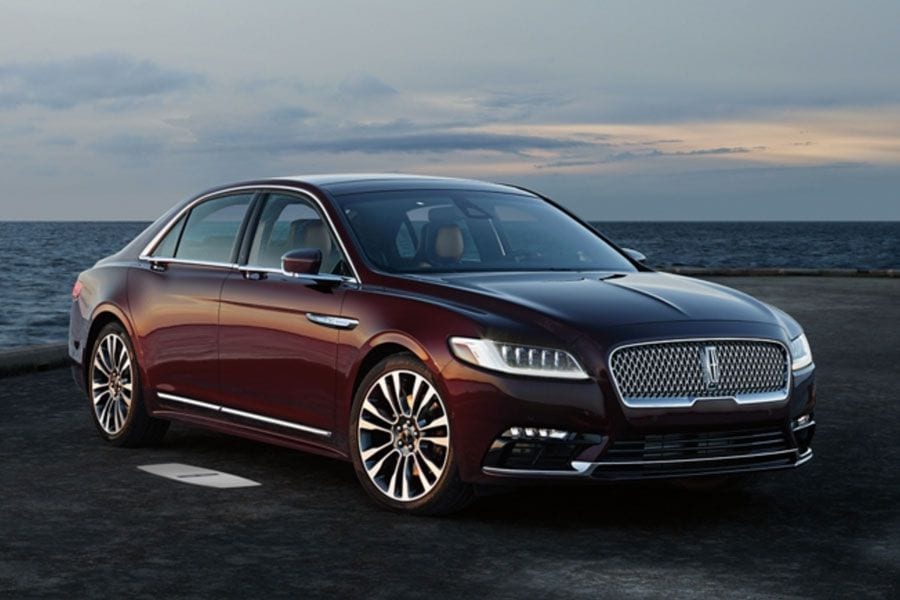 Photo by General Motors / Lincoln