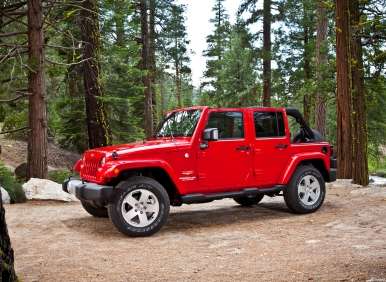 Football season is upon us, and that means it's time to have a tailgate party in the stadium parking lot. The phenomenon known as "tailgating" began with impromptu gatherings around the open tailgate of a vehicle in advance of a football game, portable grills roasting burgers, chicken or hot dogs, ice chests overflowing with beer and soda (that's pop, to you Midwesterners), and people getting their collective drink on.
Today, tailgate parties are far more elaborate affairs involving bigger grills, full cocktail bars, and portable canopies to provide shade. Plus, we're pretty sure that some tailgate partiers are toting lightweight big-screen TVs and a Slingbox to enjoy the big game right from the comfort of folding chairs sitting on the blacktop. We just have one question for all you tailgate party attendees: where do you go to use the bathroom?
On second thought, we don't want to know.
Instead, let's talk about the 10 best cars for tailgating. The best tailgating vehicles don't necessarily need to have a tailgate. They do, however, need to carry a grill, a cooler full of frosty beverages, a couple of folding chairs, and some grub.
Anything that meets these basic requirements is eligible for inclusion in a list of ultimate tailgating vehicles. However, as you will see on the pages that follow, there's much more to choosing the 10 best cars for a tailgate party than simply meeting these criteria, and we'll explain the reasons for each of our choices for best tailgating vehicles. One more thing: this list of tailgating vehicles is published in alphabetical order, rather than our order of preference, because what we value in a good tailgating party might be different from what you do.
Best Cars for the Tailgate Party: Chevrolet Corvette ZR1
Wherever there's a Corvette ZR1, there's an instant party thanks to people who want to know more about the car. When they come up to talk, keep the car's base price of $112,600 to yourself. The fact that you're grilling filet mignon and swilling Chimay is already telling enough.
Instead, focus on the ZR1's hand-built, supercharged, 638-horsepower 6.2-liter V8 engine, nestled within an aluminum frame and surrounded by carbon fiber construction. Talk about the Brembo ceramic brakes, the Magnetic Ride Control suspension, and how it can accelerate to 60 mph in about 3.5 seconds, achieve a top speed of 205 mph, and get 21 mpg on the highway. And if anyone is wondering how you managed to get a Hibachi grill, a cooler, and folding chairs into the ZR1, pop the hatch to show off the 22.4 cu-ft. of cargo space, which is more than a Ford Taurus's trunk provides.
Clearly, when it comes to two-seat sports cars, no better tailgating vehicles exist than the Chevy Corvette.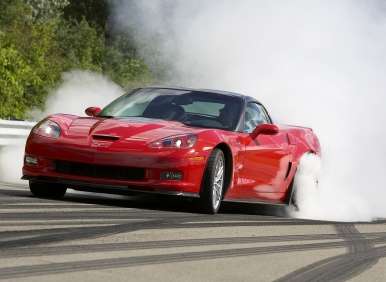 Best Cars for the Tailgate Party: Chrysler Town & Country
Lots of minivans carry seven passengers to the tailgate party, feature a deep well behind the third-row seat for carrying provisions, and offer a set of third-row seats that flip and reverse so that a couple of people can sit in comfort, protected from the elements under the open liftgate, while taking in the tailgating party scene.
In addition to these features, the Chrysler Town & Country offers individual rear video screens with video input jacks for both rows of seats. Uconnect wi-fi Internet service is also offered for this minivan, providing a perfect platform for streaming live coverage from the leather-lined comfort of your own rolling living room, complete with a premium 506-watt audio system.
The ability to move the tailgate party indoors is particularly important if the weather suddenly turns foul, a regular occurrence in certain regions during football season. And given the Town & Country's front and second-row heated seats and heated steering wheel, you might just decide it's better to watch the game from inside this Chrysler instead of from inside the stadium.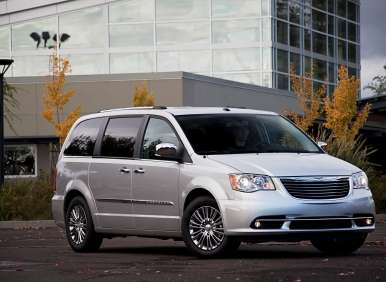 Best Cars for the Tailgate Party: Ford Expedition EL
Check this out: the 2012 Ford Expedition EL carries 42.6 cu-ft. of stuff behind its third-row seat while simultaneously carrying eight people. That's right. The Expedition EL is two, two, two cars in one!
Chevy people probably want to know why we picked the Expedition EL over the Suburban. First, we think the Ford's third-row seat is much more comfortable than the Chevy's, and especially for adults. Second, the Ford's third-row seat stows in the floor, which means that when it is in use there's an extra cargo well in the floor for carrying things. Third, Ford offers a cargo area divider shelf, which can come in handy during a party because it effectively doubles the amount of usable flat space. Fourth, and this might just be our preference, we like the Ford's independent rear suspension, which has nothing to do with having a successful tailgate party and everything to do with ride comfort and handling.
Plus, if you choose the right Expedition model, you'll get independent rear entertainment screens with video input jacks, perfect for entertaining those members of the family who don't care one whit about football.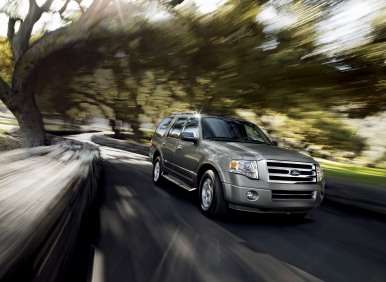 Best Cars for the Tailgate Party: Ford F-350 Super Duty
Nothing is better for a tailgate party than a pickup truck. And a Ford F-350 Super Duty with a 6.7-liter PowerStroke turbo-diesel V8 is a great pickup truck to bring to a tailgating party. With this rig, you've got a 110-volt/150-watt power inverter to supply juice to the flat screen TV you've hauled to the stadium in the bed, on which you can stream multiple games through a Slingbox and a laptop with a wi-fi card.
And if that power inverter isn't providing enough power, the F-350's line drive power take-off feature ought to do the trick. You won't even need to drive around the parking lot for it to work, because it'll siphon power from the engine even when the Super Duty is parked and idling. (Of course, the people next to your diesel-burning pickup might not like that very much.) Additionally, the F-350 actually has a tailgate on which to sit, and a handy step that deploys to make it easy to clamber into the bed while loading and unloading.
Does the Ford F-350 Super Duty have what it takes to be a great tailgating vehicle? Do people in Green Bay like football?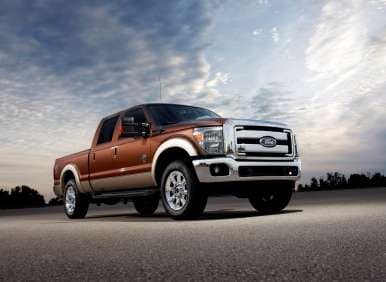 Best Cars for the Tailgate Party: Ford Flex
If it's comfort you seek in a great tailgate party vehicle, especially if the weather outside is frightful, the Ford Flex is hard to beat. In addition to providing 20 cu-ft. of tailgating party provisions with room for up to seven passengers, the Flex can be equipped with individual rear bucket seats separated by a console equipped with a refrigerator.
If that's not a convincing argument in favor of the Flex as an ultimate tailgating vehicle, consider that if you're the lucky person sitting in the right second-row chair, you can stretch out La-Z-Boy-style thanks to a front passenger's seat that folds in half, providing an ottoman upon which you can rest your feet.
Add the Flex's optional rear-seat DVD entertainment system and, if you've selected the 2013 model, a next-generation version of MyFord Touch with mobile wi-fi connectivity and video input jacks, and a Ford Flex might just prove to be the better vehicle from which to enjoy the game, even if its parked in your driveway rather than at the tailgate party.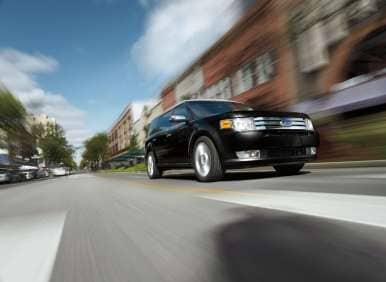 Best Cars for the Tailgate Party: Honda Ridgeline
The Honda Ridgeline appears to be purpose-built for tailgating parties. For starters, this crew-cab pickup truck features a handy dual-action tailgate, which means it swings out to the side or it plops down to extend the load surface or, as is practical for one of the best cars for tailgating, serve as a good place to sit or to array a meal buffet-style.
The real reason the Honda Ridgeline is so appealing for a tailgate party, however, is its standard in-bed trunk. Under the cargo bed floor, the Ridgeline features an 8.5 cu-ft. locking compartment with a drain hole at the bottom. Fill the compartment with ice and beverages, and you're ready for any tailgate party, anywhere, at anytime.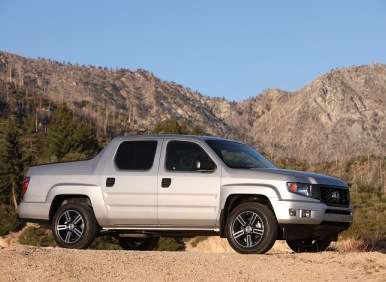 Best Cars for the Tailgate Party: Jeep Patriot
There are few reasons to recommend a Jeep Patriot for anything, but thanks to its optional Boston Acoustics audio system with articulating speakers built into the liftgate, this crossover suv is a perfect tailgating vehicle for anyone seeking a mobile boom box. (For you kids, a "boom box" is something your parents used to carry around on their shoulders, blasting Def Leppard throughout the neighborhood.)
There's another good reason for using the Jeep Patriot as a tailgating vehicle, aside from its 23 cu-ft. of cargo space (which is barely more than a Corvette). It's got an available Trail Rated four-wheel-drive system, so if a blizzard strikes during the big game, you're more likely to exit the parking lot with a minimum of effort compared with most other crossovers.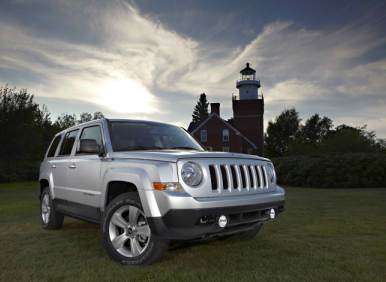 Best Cars for the Tailgate Party: Jeep Wrangler Unlimited
Rip the roof and doors off of a Jeep Wrangler Unlimited, add the Infinity premium sound system with speakers mounted to the overhead sound bar, install the optional Uconnect Web mobile wi-fi service, attach a Mopar Trail Camper to the trailer hitch, and you've got a rolling tailgating vehicle for partying both inside and outside of the box. Better yet, if there's nowhere left to park, you can easily make your own space by jumping the curb and doing a bit of off-roading.
Not that we advocate such behavior.
We'll admit, the Jeep works better as a fair-weather tailgating vehicle. The Wrangler is a fun-in-the-sun kind of SUV, one best used on warm blue-sky days while wearing plenty of sunblock. Lots of SoCon games fit that description in the fall, and both the Arizona Cardinals and San Diego Chargers play their home games under such ideal conditions.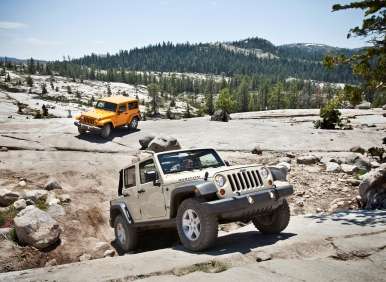 Best Cars for the Tailgate Party: Ram 1500
You just know that the RamBox Cargo Management System for the RAM 1500 pickup truck was conceived by a group of people familiar with the classic tailgate party. The RamBox option provides a cargo bed equipped with locking weather-tight storage boxes on the tops of both sides of the bed.
The RamBox can carry a stack of 4' x 8' sheets of plywood, but since you're not planning to build an ice shanty at the stadium, you care more about the fact that the storage compartments will hold up to 280 cans of your favorite beverage, and that drain plugs mean you can ice those drinks with easy clean up after the tailgate party. Oh, and speaking of tailgates, the Ram 1500 has one, good for sitting upon or using as a table for the spread of chips, dips, and more.
There's one other thing you should know about the Ram 1500. If you snag a 2013 model, you can get Uconnect mobile wi-fi, which makes it easier to stream programming to the flat-screen TV that easily slides into the truck's bed.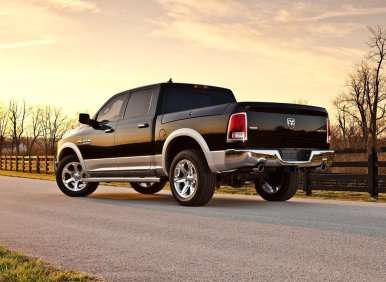 Best Cars for the Tailgate Party: Toyota 4Runner
Equipped with a "Party Mode" sound system and the equivalent of a "party tray" in the cargo area, the 2012 Toyota 4Runner is definitely one of the best cars for a tailgate party.
The party tray that we refer to is the 4Runner's available cargo floor tray, which slides part of the way out of the vehicle to effectively create a three-sided table, making it the perfect place to arrange a meal. Additionally, the tray is designed to hold up to 440 pounds, so when deployed it gives the 4Runner leg-swinging seating just like a pickup truck, but with shelter from the sun or light rain thanks to the raised tailgate.
All 4Runners are equipped with a "Party Mode" for the sound system, which increases the level of bass and redistributes the balance of sound to the rear of the vehicle. The tailgate includes two speakers, so that when raised the 4Runner serves as the soundtrack to any tailgate party. Since Toyota designed the Party Mode specifically for tailgating, the 4Runner needs to be on any list of the best cars for tailgating.