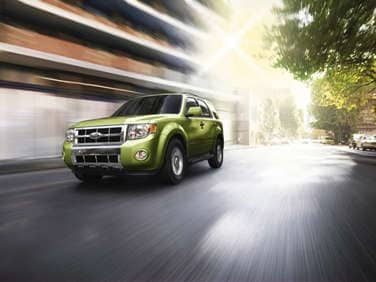 People sure do love SUVs, especially those of the crossover variety, which drive more like cars than trucks at the expense of serious towing, hauling, and off-roading capability. Really, the modern crossover SUV is to the 21st century what the station wagon was to the 20th century, a practical transportation solution for the demands of daily living combined with rugged styling, a tall driving position and available all-wheel drive to help get home through the storm.
Current trends have consumers seeking the best MPG SUVs for 2012, whether it's the pressure of gas prices on family budgets or because people want to do their part to help reduce environmental pollution. Federal regulations requiring automakers to improve the fuel economy of their vehicles are also looming large, and the fruits of more sophisticated engineering solutions are becoming evident as car companies race to meet the new government standards. As a result, finding a high MPG SUV among 2012 models is easier than ever.
As the summer selling season hits its stride, Autobytel helps consumers shopping for good MPG SUVs with this Fast Five list of the models that get the best fuel economy ratings. We've listed the following 2012 high MPG SUVs in alphabetical order on the pages that follow, but before you move on, it's important to remember that a two-wheel-drive SUV typically gets better gas mileage than a four-wheel-drive model, so unless you really need 4WD, we recommend sticking with the 2WD version.
Best MPG SUVs for 2012: Ford Escape Hybrid
If you want a brand-new 2012 Ford Escape Hybrid, you'd better hurry. The redesigned 2013 Escape is already on sale, and the hybrid model has been discontinued – for now, anyway.
The Escape Hybrid is the best mpg suv for 2012, rated to get 32 mpg in combined driving with front-wheel drive and 29 mpg with all-wheel drive. What's known as a "full hybrid," meaning it can operate at low speeds on battery power alone, the Escape Hybrid pairs a 2.5-liter four-cylinder engine with a continuously variable transmission (CVT), an electric assist motor, and a flat battery pack located under the cargo floor. It can travel up to 25 mph solely on the batteries.
A Limited trim level is available for the Escape Hybrid, and includes upgraded wheels and trim, leather seats, heated front seats, Ford Sync hands-free connectivity, a reversing camera, rear parking sensors, and a power sunroof in addition to a standard dual-zone automatic climate control system. Navigation is optional, and the Escape Hybrid can also be equipped with an Active Park Assist system that steers the SUV into a parallel parking space while the driver operates the pedals and transmission.
Among high MPG SUVs for 2012, it doesn't get better than the Ford Escape Hybrid.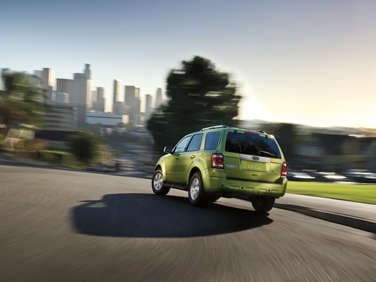 Best MPG SUVs for 2012: Lexus RX 450h
Considering that the Lexus RX 450h employs a V6 engine rather than a four-cylinder, and that total hybrid system output makes this version of the popular RX the most powerful in the lineup, it is rather impressive that it is one of the best MPG SUVs for 2012.
A 3.5-liter V6 is paired with up to three electric assist motors drawing juice from a rechargeable battery pack (a third electric motor is mounted at the rear to drive the rear wheels with the optional AWD system). Together, the components produce 295 horsepower, and combined-driving fuel economy ratings measure 30 mpg with front-wheel drive, and 29 mpg with AWD.
As a Lexus, the RX 450h is well equipped with numerous standard luxury features. Leather, however, is not among them. That's included in the optional Premium Package, which also adds upgrades such as a power sunroof and a power tailgate. Additionally, there are Comfort, Luxury, and Navigation option packages available, and buyers can equip an RX 450h with extra-cost features such as a rear-seat entertainment system, a Mark Levinson sound system, Intuitive Park Assist, intelligent cruise control with a Pre-Collision System, and much more.
Combining plenty of power, lots of upscale amenities, and impressive miles per gallon, the Lexus RX 450h deserves consideration if you're in the market for a luxurious high MPG SUV for 2012.
Best MPG SUVs for 2012: Mitsubishi Outlander Sport
Frequently overlooked, perhaps unfairly so, the Mitsubishi Outlander Sport is the roomiest, non-hybrid model on this list of high MPG SUVs for 2012. A smaller version of the standard Outlander SUV, equipped with its own styling, its own interior, and the Lancer sedan's 148-horsepower, 2.0-liter four-cylinder engine, the Outlander Sport is rated to get 27 mpg in combined driving with front-wheel drive and a CVT, 26 mpg with front-wheel drive and a manual gearbox, and 25 mpg with AWD and a CVT.
Two models are available. The base Outlander Sport ES comes only with front-wheel drive, and the CVT is optional on this model. The Outlander Sport SE includes the CVT, and is available with AWD. Upgrading to the SE model also adds a set of 18-inch aluminum wheels, HID headlights, fog lights, rain-sensing wipers, automatic climate control, keyless entry and push-button ignition, a better stereo, nicer cloth seats, better interior trim, and more.
Though it might not be the most dynamic vehicle on the planet when it comes to the driving experience, the 2012 Mitsubishi Outlander Sport certainly does qualify as one of the best MPG SUVs of 2012.
Best MPG SUVs for 2012: Nissan Juke
If you want the crossover providing the best SUV MPG for 2012, but you don't want to drive a hybrid model, the funktastic Nissan Juke is the answer. But it's gonna cost you.
This is an outlandishly styled and fun-to-drive SUV, one equipped with a turbocharged and direct-injected 1.6-liter four-cylinder engine delivering 188 horsepower and 177 lb-ft. of torque to the front or all four wheels. With front-wheel drive and a CVT, the Juke is rated to get 29 mpg in combined driving. Add the all-wheel-drive/CVT powertrain, and you can expect to get 27 mpg according to the EPA. Stick with the standard stick shift, and your combined rating is also 27 mpg.
The 2012 Juke's high MPG SUV fuel efficiency is due, in part, to the crossover's compact size. This is a small vehicle, featuring a cramped back seat and cargo volume measurements that are less generous than a MINI Cooper Countryman. That's why we say the Juke will cost you something in exchange for its ranking on the list of 2012 best MPG SUVs.
If you're OK with that, Nissan sells the Juke in S, SV and SL trim levels. The only options are a Navigation Package for the SV model, and items from the local Nissan dealer's accessory catalog. Our favorite version is the Juke SL, which has everything as standard equipment including leather, navigation, premium sound, automatic climate control, a power sunroof, a reversing camera, keyless entry and push-button ignition, and more.
Best MPG SUVs for 2012: Toyota Highlander Hybrid
If there's a crossover SUV on this list of 2012 high MPG SUVs that does the best job of providing great fuel economy combined with daily-driver practicality, it's this, the seven-passenger Toyota Highlander Hybrid. The main hurdle for consumers is the price tag, which starts at nearly $40,000.
The Highlander Hybrid comes standard with all-wheel drive and delivers 28 mpg in the city, 28 mpg on the highway and, you guessed it, 28 mpg in combined driving. A 3.5-liter V6, front and rear electric assist motors and a rechargeable battery pack deliver a combined 280 horsepower to all four wheels through a CVT. In addition to carrying up to seven people and getting 28 mpg, the Highlander Hybrid is rated to tow up to 3,500 lbs.
When this SUV's third-row seat is not in use, it offers a generous 42.4 cu-ft. of cargo volume behind the second-row seat. Fold the second-row seat and the Highlander Hybrid can handle a maximum of 94.1 cu-ft. of cargo.
Though both versions are well equipped, the Highlander Hybrid Limited includes 19-inch aluminum wheels, heated side mirrors, a windshield wiper de-icer, a power liftgate, a SmartKey keyless entry and push-button ignition system, triple-zone automatic climate control, perforated leather upholstery, a 10-way power driver's seat, and woodgrain interior trim.