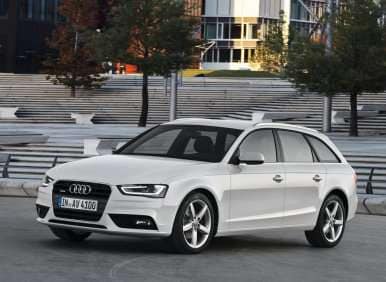 Audi recently announced an ambitious investment program that will see more than $17 billion in capital expenditures through the year 2016, as the brand continues to follow its Strategy 2020 template for future success. First launched in 2010, the Strategy 2020 program outlines how Audi will focus on four core areas to further its "We delight customers worldwide" mission statement. Among them: Innovation, the customer experience, corporate responsibility, and continuing to re-shape the company with an eye to increasing customer benefits in all facets of the business.
Of course, all that's corporate-speak for Audi's other goal, which is to become the world's top-selling luxury brand by 2020. And that, in turn, is the exact same target set by Mercedes-Benz in 2011, as both companies find themselves chasing BMW for the global title this year. Yet while it's a challenging situation for the automakers, the result is that U.S. customers should benefit from a groundswell of new German products over the coming years, with Audi in particular looking to step up its game in this country.
After all, with December sales still to come at this writing, Audi and BMW are in a very tight battle for first place internationally, with M-B still within spitting distance of the top two, but it's a different story here in the United States. In the U.S. market the lux standings for the German brands looks like this: 
Mercedes-Benz, 264,637 sales, +12.9 percent
BMW, 244,061 sales, +10.4 percent
Audi, 124,469 sales, +18.6 percent
When you consider that BMW's global lead over Audi was less than 44,000 units at the end of November, it becomes obvious that the latter brand's deficit can be pinned entirely on its performance in the States. Obviously, Audi has designs on changing that over the next few years …
(Note: Although the premium Japanese brands—Lexus, Infiniti and Acura—cast wide shadows over the lux segments in this country, they're eclipsed by the Germans globally.)
Audi: Progress through Technology—and Design
With the exception of the Audi R8—and perhaps the Audi TT—the brand's design language has been fairly staid in recent years. Yes, the company has taken a leadership role in bringing LED light technology to the industry, but by now, that design cue has migrated throughout the mainstream and can be found on vehicles like the Dodge Dart and Honda Accord. It's a situation that might be the cause of some serious teeth-gnashing in Ingolstadt, especially since one of Audi's former design stars—Peter Schreyer—has gotten plenty of attention for his work at Kia, as well as a recent promotion to president of that company.
Regardless, Audi has responded by reorganizing its design department under the auspices of Wolfgang Egger, opening up a new Concept Design Studio in Munich, Germany, and showing the first fruits of its new design approach—the Audi crosslane—at the Paris Motor Show in the fall of 2012.
Moving forward, drivers can expect the next wave of Audi products to show much more design differentiation, with an emphasis on the "technical aspects" of design as well as on better unifying the exterior and interior themes of individual vehicles. In the crosslane coupe, for example, Karl-Heiz Rothfuss—head of Interior Design for Audi—notes that: "The cabin opens in the direction of travel and continues as an unbroken line of the engine hood."
The first vehicle line to benefit from Audi's new design ethos will be its Q sport-utilities, destined to introduce a cabin in which "Clear, clean surfaces and fewer control elements … enable a greater concentration on the driving experience," along with an exterior that showcases a new iteration of Audi's single-frame grille, with a more sculptural and imposing appearance.
Timing, though, has not been finalized, since, as Egger points out: "Only when design and technology mesh perfectly does an automobile make a statement for the Audi brand."