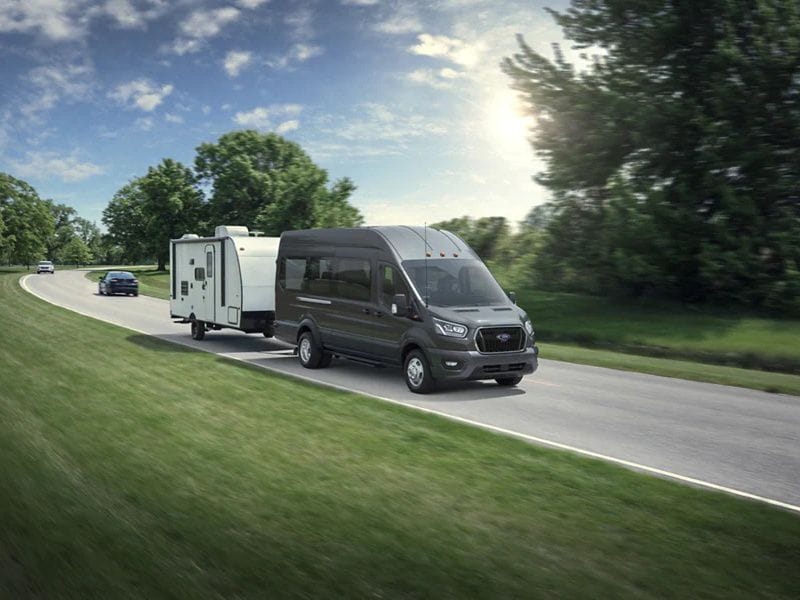 2021 Ford Transit ・ Photo by Ford
The best-known towing vehicles are pickups and big SUVs. But they're not your only options. Today, we've rounded up eight vans with high towing capacities. Even the lightest-duty van on this list can handle a 3,500-pound trailer, and one of them can tow nearly three times that amount.
These eight vans include big commercial-grade vehicles along with some everyday family-focused minivans. We've sorted them from highest to lowest towing capacity, highlighting the figures of passenger vans rather than cargo-only models. (We've left off the recently discontinued Nissan NV, which would have otherwise fallen near the top of this list.) Keep reading to learn more about which vans can tow a trailer. 
1. 2022 Chevrolet Express / GMC Savana: 9,600 pounds
The Chevrolet Express (and its GMC Savana twin) is a dinosaur of a vehicle: a body-on-frame work van that has seen only evolutionary changes since 1997. Still, if you want a van that can tow, the Express and Savana can't be beat. With their optional 401-horsepower 6.6-liter V8 engine, they can tow 10,000 pounds as cargo vans and 9,600 pounds as passenger vans. 
These vans are so heavy that the EPA doesn't estimate their fuel economy, but we're not optimistic. Still, if you average the fuel required across 15 passengers, that's more economical than driving a Toyota Prius hybrid by yourself. General Motors has also retrofitted a few advanced safety features as optional equipment, including blind-spot monitoring, a lane-departure warning, and a forward-collision warning. You don't get a touchscreen infotainment system, and you'll need to treat this van with respect on a twisty road or gusty freeway. This isn't a modern vehicle, but it tows more than they do.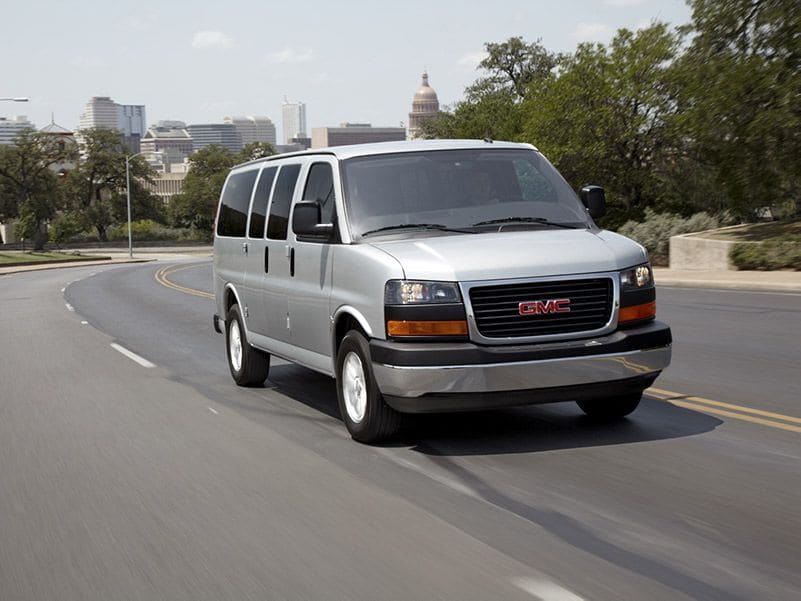 Photo by GMC
2. 2021 Ram ProMaster: 6,410 pounds
The Ram ProMaster is another work van that's available in passenger and cargo configurations. The former can tow 6,410 pounds when properly equipped, while the latter goes up to 500 pounds more. 
Unlike the Express, the ProMaster is a relatively modern vehicle. It uses a space-saving front-wheel-drive platform with a stubby little nose, which also gives it a tighter turning radius and better visibility. While fuel economy ratings aren't available, we're also optimistic about the Ram's 3.6-liter V6 versus the Chevy Express's 6.6-liter V8. The 2022 model year also brings an updated interior with an available 10-inch infotainment screen. Still, this is a commercial vehicle that's built for work, not maximum comfort and everyday drivability. It's ready to tow, but its other talents focus on fitting as many Amazon packages or as much plumbing equipment as possible.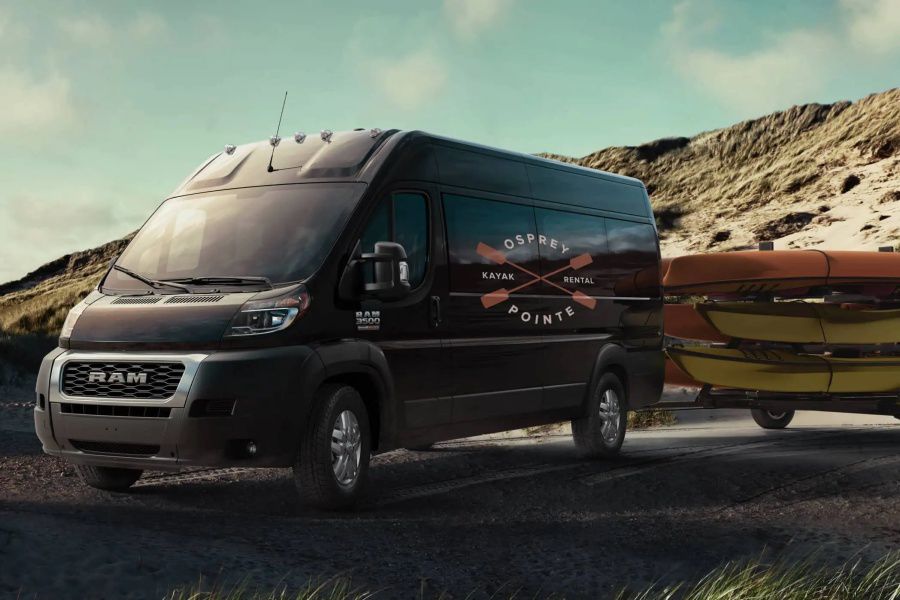 Photo by Ram Media
3. 2021 Mercedes-Benz Sprinter: 5,000 pounds
The Mercedes-Benz Sprinter might sound like a luxurious choice — at least if you're not from a country where Mercedes trucks and buses are common — but it's really another huge work van. In passenger form, its maximum towing capacity is 5,000 pounds, though Mercedes also sells heavier-duty versions only as cargo vans; they can reach 7,500 pounds. 
Don't assume the "Sprinter" name is talking about acceleration; the van's three available engines range from just 166 horsepower to 188 horsepower, though two of those are diesels that provide a choice of 266 and 325 pound-feet of torque. But if you assumed the Mercedes name would make this van expensive, you're right; it costs several thousand dollars more than similarly sized competitors. The Sprinter does have a high-end Mercedes infotainment system, and automatic emergency braking is a valuable standard safety feature.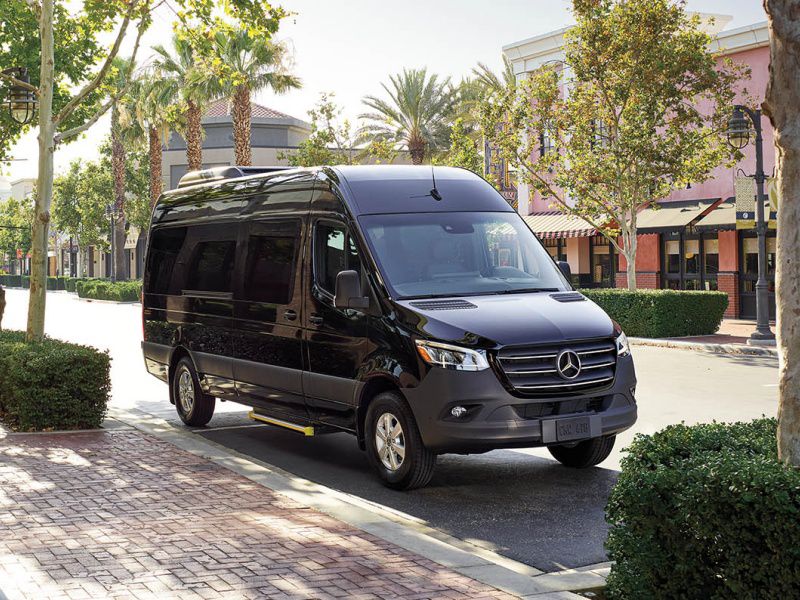 Photo by Mercedes-Benz
4. 2021 Mercedes-Benz Metris: 5,000 pounds
The Mercedes-Benz Metris is smaller, less expensive, and more maneuverable than the Sprinter, yet it can also tow 5,000 pounds. Its cargo and passenger versions have the same maximum towing capacity. 
The Metris is still a commercial vehicle. If you're used to an ordinary minivan or SUV, it will feel utilitarian, and tasks like removing seats require tools and heavy lifting. But the Metris drains less of your pocketbook than a Sprinter or other full-size van, it's easier to park, and it presumably uses less gasoline; while full-size vans don't have EPA ratings, the Metris comes in at a passable 19 mpg in mixed driving — albeit on costlier premium-grade fuel.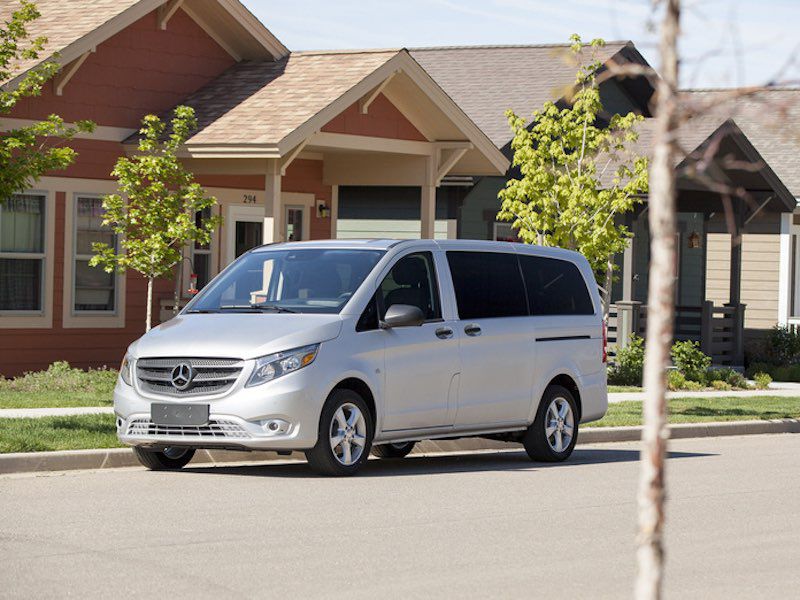 Photo by Mercedes-Benz
5. 2021 Ford Transit: 4,300 pounds
The Ford Transit brings us back to full-size work vans, but with a much lower towing capacity than the others — just 4,300 pounds for the passenger version (though a more competitive 6,900 pounds for the cargo van). 
The flip side of that is that the Transit is the best-driving big van, with admirable agility, ride quality, acceleration, fuel economy, and features. It's comfortable, decently finished, equipped with a modern infotainment system and advanced safety features, and available with Ford's famous EcoBoost turbocharged V6 engine. You probably wouldn't choose a Transit if you only want a big van for a high towing capacity; a 4,300-pound limit isn't enough to be worth the extra bulk and expense. But if you're already considering a full-size van and don't need to tow more than this, the Transit is our favorite.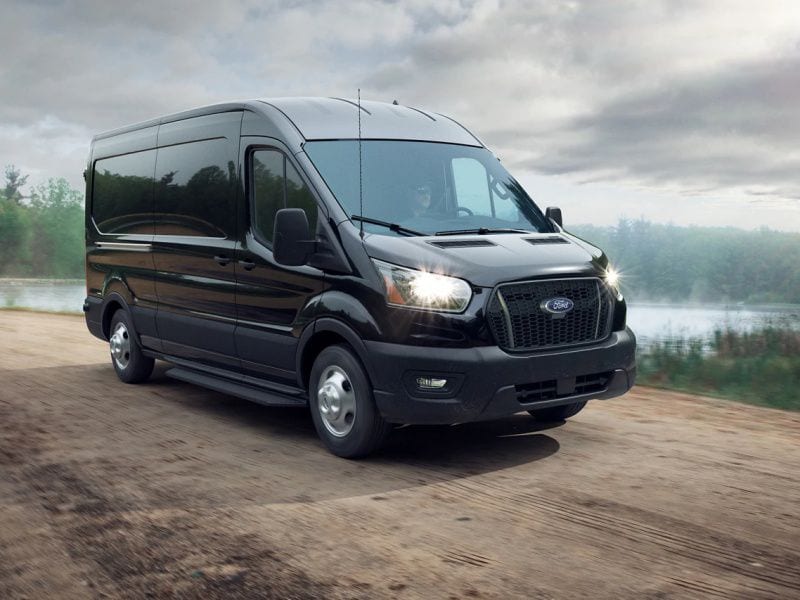 Photo by Ford
6. 2021 Chrysler Pacifica: 3,600 pounds
Now we're getting into regular old minivans. The 2021 Chrysler Pacifica has the highest towing capacity of the bunch, at 3,600 pounds, though its three closest competitors are each right behind at 3,500 pounds. That's enough to tow a pop-up camping trailer, a modestly sized boat, a utility trailer, or a compact car. The same applies to the Chrysler Voyager, which is the recently introduced name for the Pacifica's previous base models. 
In addition to the highest towing capacity, the Pacifica is the most cargo-friendly minivan. That's thanks to the Stow 'n Go system that lets you fold the second- and third-row seats into the floor — maximizing cargo space without needing to remove any seats from the vehicle. The Pacifica also drives nicely and looks upscale. The Stow 'n Go seats could be more comfortable, and the Pacifica isn't inexpensive, but it's a functional yet premium-feeling vehicle with a decent towing capacity. It's also available with all-wheel drive and a hybrid powertrain, though Chrysler advises against any towing with the latter.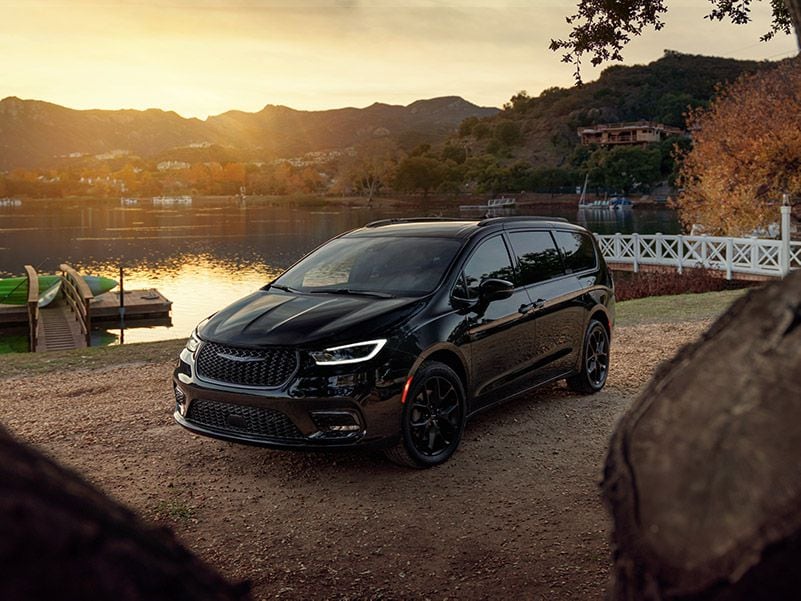 Photo by Fiat Chrysler Automobiles
7. 2022 Honda Odyssey: 3,500 pounds
The 2022 Honda Odyssey is right behind the Pacifica with a towing capacity of 3,500 pounds. Compared with the Chrysler, the Honda drives with sporty poise, and it also has more comfortable seating for up to eight passengers. 
You can't fold the Odyssey's second-row seats into the floor, but the third row disappears easily enough. And Chrysler can't match the Honda's side-to-side and fore-aft second-row adjustments. Overall, the Odyssey is a well-rounded van with few glaring flaws and several standout strengths, including seat comfort and handling agility. What's more, at $32,090, the Odyssey has the lowest starting price of any leading minivan.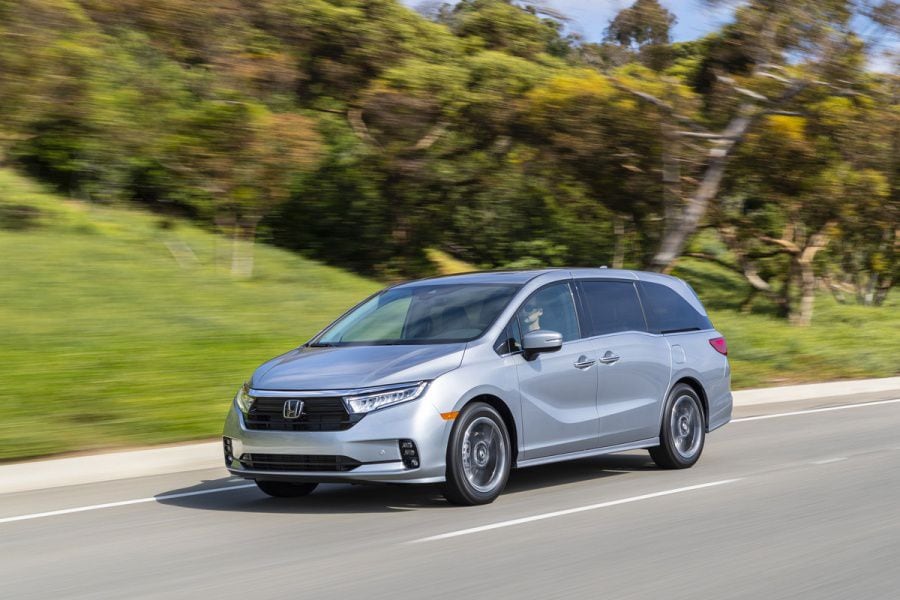 Photo by Honda
8. 2022 Kia Carnival: 3,500 pounds
The 2022 Kia Carnival ties with the Odyssey and the Toyota Sienna with a 3,500-pound towing capacity. We've given this article's last slot to the Kia because it has more power: a 290-horsepower V6 engine compared with the Sienna's 245-horsepower hybrid powertrain, which includes a four-cylinder gas engine and two electric motors. 
The Carnival is a posh and stylish minivan with a quiet ride and lots of standard features. Kia likes to call it an MPV (multipurpose vehicle), but its minivan shape and dual sliding doors give us little doubt. Where it's least like a minivan is on its dashboard; the Carnival opts for a high-end sedan design, which looks flashy but sacrifices the huge storage spaces you'll find in its competitors.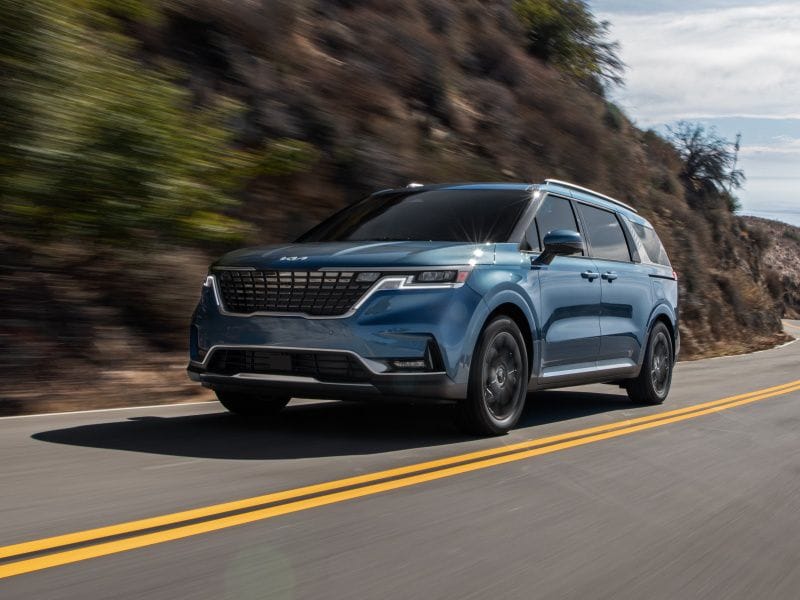 Photo by Kia