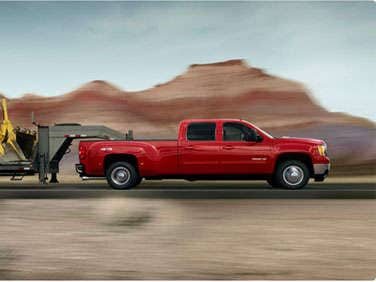 Trucks have always served as the front-line for towing and hauling.  Over time, a number of alternatives to a pure pickup solution to trailer pulling have emerged but trucks have retained their status as the pick of the litter when it comes time to move an ultra-heavy load from point A to point B.  Platform sharing has also expanded the options when it comes to trailering, as truck frames have found their way underneath a variety of different body styles that feature old school tow ratings to go with their other, more obvious qualities.
Let's take a look at eight towing platforms and what they have to offer modern haulers.
01. 2012 Cadillac Escalade EXT
The 2012 Cadillac Escalade EXT is more than just a luxury bruiser with an innovative Midgate cargo management system and the practicality of an open bed out back.  The Cadillac Escalade EXT also comes with a frame lifted from GM's full-size pickup division that gives it the ability to tow up to 7,600 lbs.  Full-time all-wheel drive subtracts somewhat from the Escalade EXT's brute hauling power when compared against a standard truck, but the vehicle's 403 horsepower, 6.2-liter V-8 engine (which also offers 417 lb-ft of torque) provides more than enough grunt for towing purposes.  Its high end features and options also make it a great vantage point from which to burn down highway miles while pulling a load.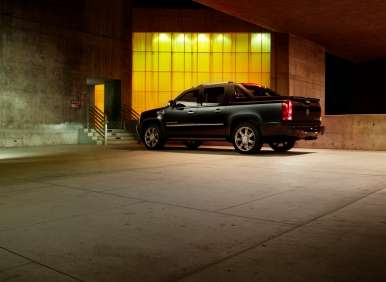 02. 2012 Dodge Ram 2500
The 2012 Dodge Ram 2500 is a heavy duty edition of the brand's popular full-size pickup truck.  A more rugged frame and beefed up suspension system separate the Dodge RAM 2500 from the version of truck favored as a daily driver, and it comes in regular Crew Cab and Mega Cab body styles, with the latter two fearing additional seating behind the front row.  The Dodge Ram 2500 can be had with a 5.7-liter Hemi V-8 engine that develops 383 horsepower and 400 lb-ft of torque, giving it a towing capacity of 14,000 lbs.  Opting for the Ram 2500's available 6.7-liter, turbodiesel six-cylinder unit (rated at 350 horsepower and 800 lb-ft of torque when equipped with an eight-speed automatic transmission) boosts maximum trailer capacity to 15,500 lbs.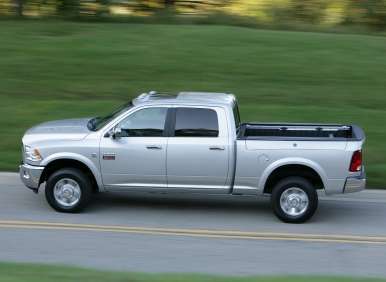 03. 2012 GMC Yukon XL 2500
The 2012 GMC Yukon XL 2500 grafts the people mover's nine-passenger, extended-wheelbase body onto a hardcore pickup truck frame in order to create one of the ultimate towing and hauling cruisers on the market.  Not only does the GMC Yukon XL 2500 provide comfortable accommodations for a truly hefty number of occupants, but it can also tow up to 9,600 lbs.  The Yukon XL 2500 features a 6.0-liter V-8 under the hood that can be counted on to produce 352 horsepower and 382 lb-ft of torque, and heavy-duty cooling for the vehicle's oil, transmission and engine is also available.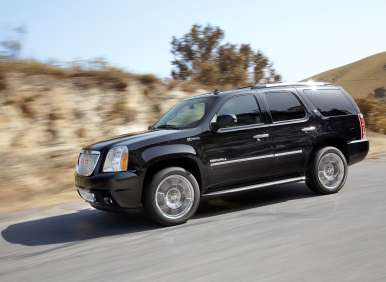 04. 2012 Chevrolet Express 3500
The 2012 Chevrolet Express 3500 is the toughest edition of the brand's series of full-size passenger and cargo vans.  The Chevrolet Express 3500 can be had in standard and long-wheelbase editions (with the latter offering up to 15 passenger seating), and it also features superior towing capability.  Express 3500 buyers can select between either a gasoline or turbodiesel V-8 engine, each of which is rear-wheel drive-only.  The gas-powered 6.0-liter motor that develops 323 horsepower and 373 lb-ft of torque, while the turbodiesel 6.6-liter unit offers up 260 horses and 525 lb-ft of twist.  Towing capacity for the diesel edition of the van is an impressive 10,000 lbs.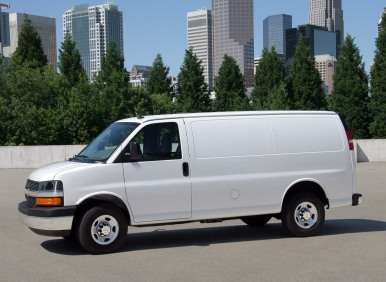 05. 2012 Ford E-350
The 2012 Ford E-350 is the Blue Oval equivalent of the Express 3500, a van that lifts its strong frame and stiff suspension from the Ford F-150 pickup platform in order to offer a package that can be configured to haul either people, cargo or extremely heavy trailers without breaking a sweat.  Although most tow vehicle shoppers don't have full-size vans at the top of their lists, the Ford E-350's Super Duty pulling power allows it to drag as much as 10,000 lbs behind it.  The E-350 comes standard with a 5.4-liter V-8 engine that is rated at 255 horsepower and 350 lb-ft of torque, but the van can also be had with a thirstier 6.8-liter V-10 that grinds out 305 horsepower and 420 lb-ft of torque.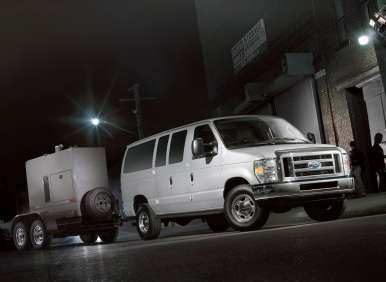 06. 2012 GMC Sierra 3500HD
The 2012 GMC Sierra 3500HD is the pinnacle work truck available from the pickup manufacturer.  The GMC Sierra 3500HD is offered in all three standard body styles (regular, extended and crew cabs) and also offers the option of dual rear wheels in order to help spread out the load on the vehicle's frame as well as improve stability while towing.  The 3500HD is a true monster when it comes to pulling a trailer: a fifth-wheel hitch opens up 21,700 lbs of capacity.  Even the vehicle's under-bumper hitch offers 17,000 lbs of towing headroom.  The GMC Sierra 3500HD starts out a 6.0-liter V-8 that generates 360 horsepower and 380 lb-ft of torque, but a substantial upgrade is available in the form of a 6.6-liter turbodiesel unit that is good for 397 ponies and 765 lb-ft of torque.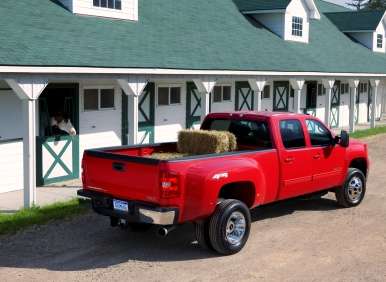 07. 2012 Chevrolet Silverado 1500 Hybrid
The 2012 Chevrolet Silverado 1500 Hybrid is a full-size pickup truck that is designed to offer better than average fuel economy without asking for owners to make big sacrifices in terms of practicality.  The Chevrolet Silverado 1500 Hybrid largely succeeds in this area as it manages to offer 6,100 lbs of towing capacity from its 379 horsepower hybrid system that relies on a 6.0-liter V-8 and a pair of electric motors.  Fuel economy for the Silverado 1500 Hybrid is rated at 20-mpg city and 23-mpg highway, which is a full 25 percent better around town than the gas-only edition of the truck.
08. 2011 Dodge Dakota
The 2011 Dodge Dakota is the king of the mid-size pickups when it comes to towing capacity.  Extended and Crew cab versions of the Dodge Dakota are still available at dealerships across the country, and the mini-Ram starts out with a 201 horsepower, 3.7-liter V-6 engine.  Trailer fans will want to opt for the optional 4.7-liter V-8, however, which can be counted on to produce 302 horsepower and 329 lb-ft of torque and gives the truck its 7,250 lbs of maximum towing capacity.  This number stands tall in the non-full-size truck segment and helps the Dodge Dakota gain fans amongst those who don't want a big rig but who still need the ability to haul a considerable load.