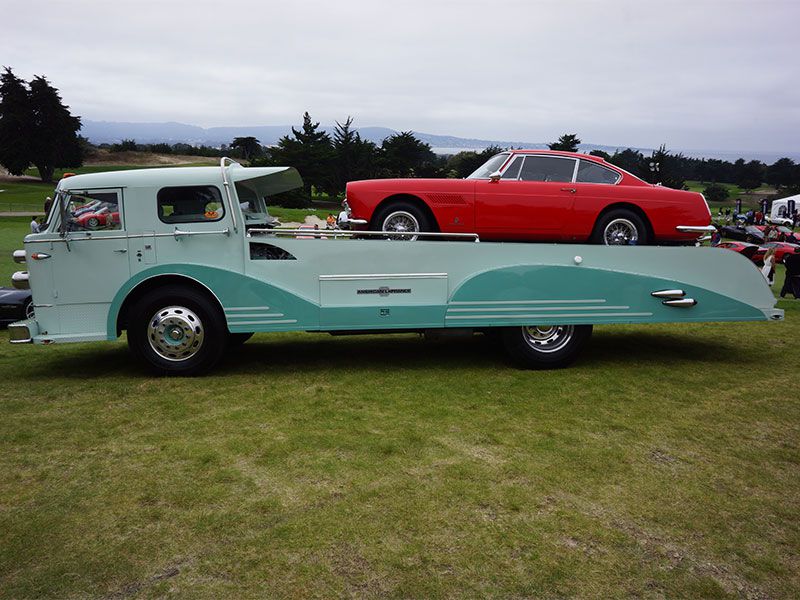 American LaFrance Carrier ・ Photo by Nicolas Stecher
The Monterey Car Week, also known as Pebble Beach Weekend, spans 5 days and over fifty shows, auctions, and parties that cover the best cars the world has to offer. At the premier event on the last day of the weekend is the Pebble Beach Concours d'Elegance, where one classic car is named "Best of Show." This year, the honor went to an Italian beauty - the 1936 Lancia Astura Pinin Farina Cabriolet, once owned by Eric Clapton. 
But rather than just concentrating on the winners, we decided to give you a peek at what, in our opinions, made up the most interesting menagerie of crazy, rare, valuable, new, and downright weird cars we saw during our visit to the legendary week in Monterey, California. Enjoy! 
Craziest: 1966 Bizzarrini P538 Italdesign Manta Concept
Legendary designer and engineer Giotto Bizzarini is credited with creating some of the greatest cars mankind has ever known, including the Ferrari 250 Testa Rossa. At this year's Concours d'Elegance Bizzarini's work was honored with 13 cars gracing the lawn. This hyper-futuristic Manta Concept from 1966 designed by Giorgetto Giugiaro is simply mind-blowing.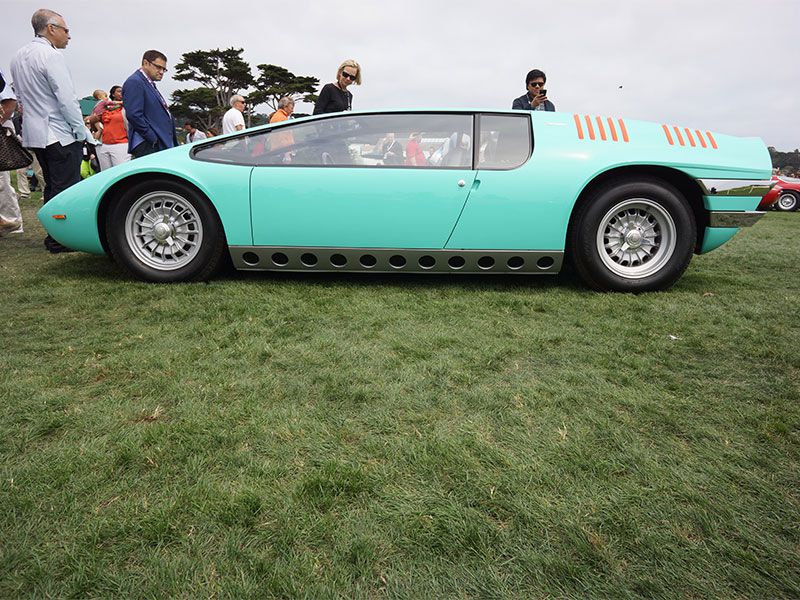 Photo by Nicolas Stecher
Craziest: Bugatti Grand Vision Concept
Making its debut on American soil, Bugatti showed off its Grand Vision concept. We dove deep on the profound design and engineering elements of the Chiron (on which the Grand Vision is based) this summer [LINK: http://editorial.autoweb.com/the-1500-horsepower-bugatti-chiron-exclusive/], and to say it's a giant step up from its Veyron predecessor is a woeful understatement. This car is a menacing beauty.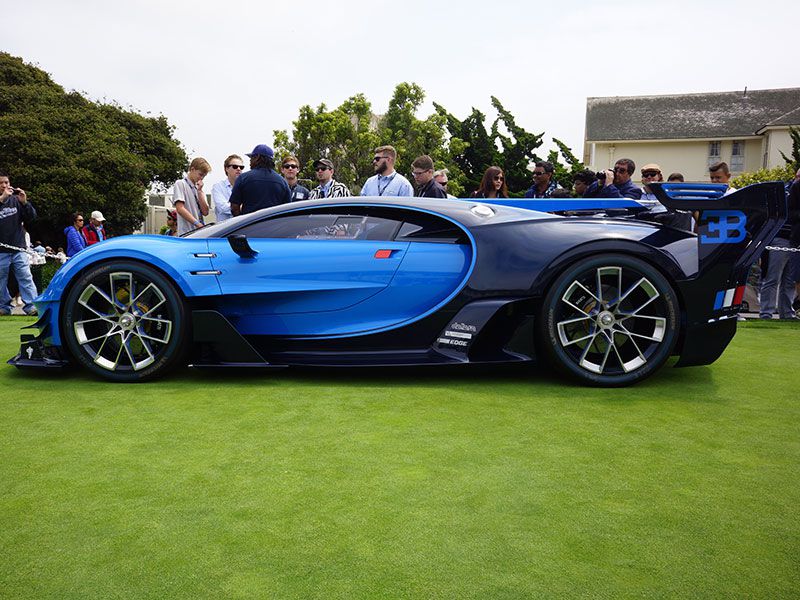 Photo by Nicolas Stecher
Craziest: Chip Foose Imposter
Want crazy? Chip Foose took a C6 Corvette, stripped its sheet metal, and replaced it with that of a 1965 Chevrolet Impala. Why? Because Canadian construction magnate Don Voth commissioned it, and it needed to happen. The Imposter also features design elements from Foose that are aimed to evoke the 1965 Corvette Sting Ray.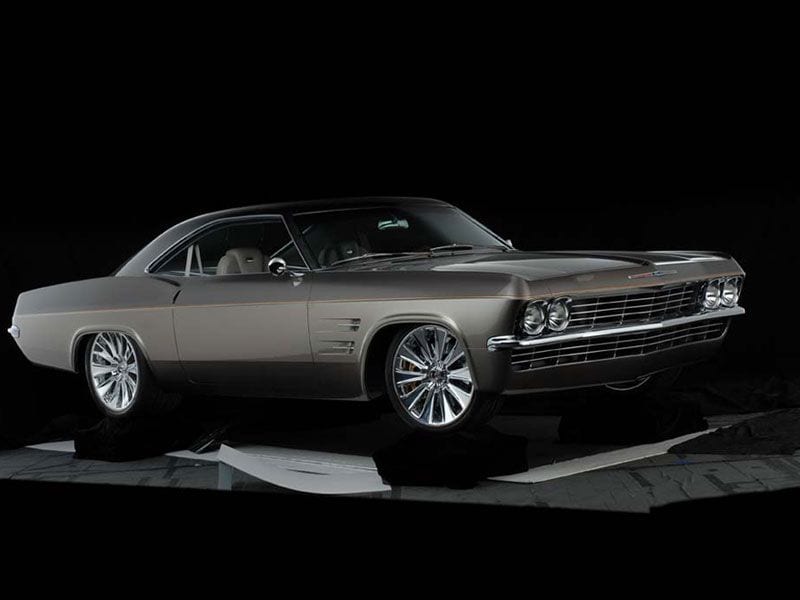 Craziest: 1953 Fiat 500 Bizzarrini Macchinetta Berlinetta
This FIAT 500-based Macchinetta Berlinetta was another wild Bizzarini creation. The Italian visionary designed and built the tiny Cinquecento coupe as a mechanical engineering student in 1953.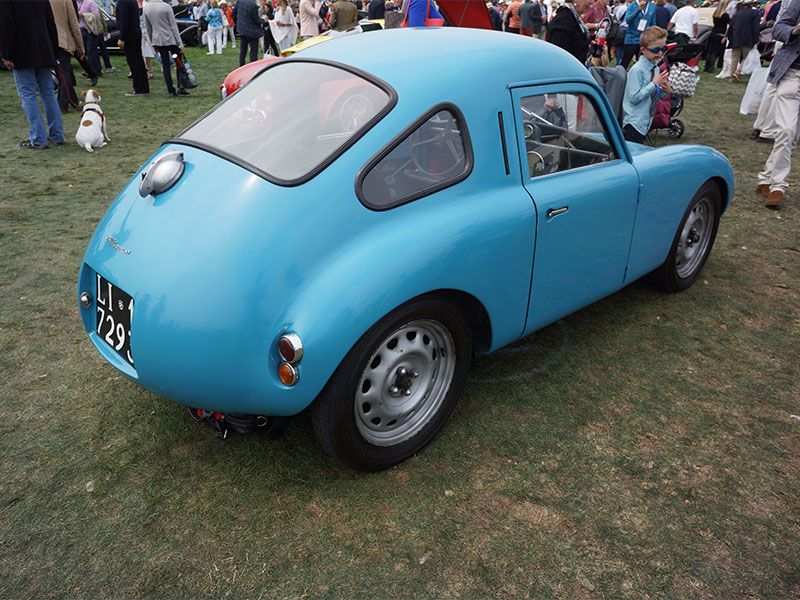 Photo by Nicolas Stecher
Craziest: 1971 McLaren M8F
Team McLaren had won four CanAm championships by 1970. In 1971, they debuted the M8F, built for racers Denny Hulme and Peter Revson. The M8F used an aluminum monocoque chassis, produced 740hp, and weighed a total of 1520 lbs.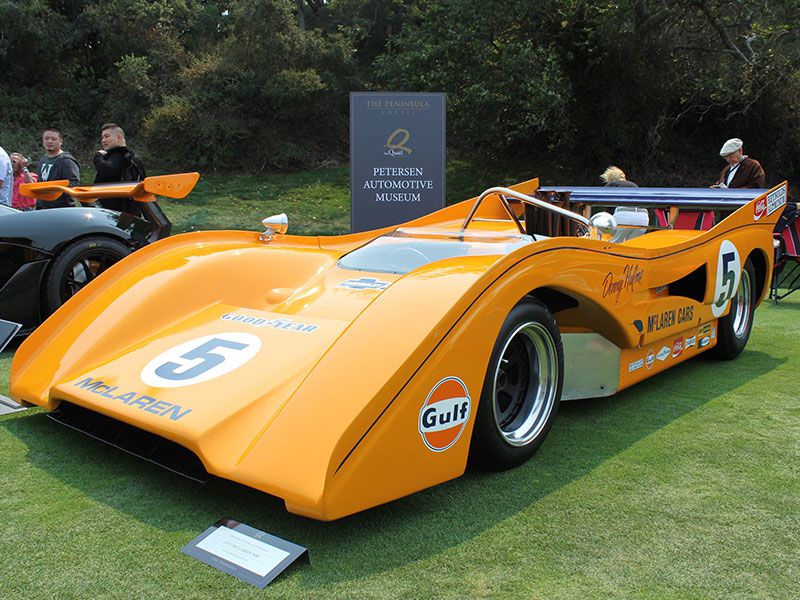 Photo by Miles Branman
Craziest: 1997 McLaren F1 GTR Long Tail
The McLaren F1 GTR was built as a racing version of the F1 road car. In 1997, McLaren built nine F1 GTR Longtail racing cars that were 300lbs lighter than the standard GTR.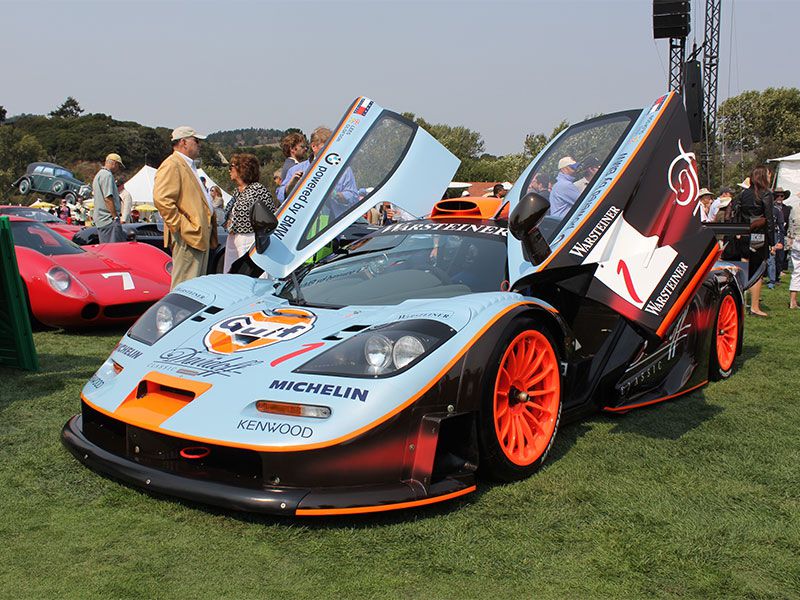 Photo by Miles Branman
Craziest: 1934 Packard Chassis Coachbuilt Body
This coachbuilt vehicle is based on the 1934 Packard that used a V12 engine making 160hp. The unique bodywork of this car is made from aluminum and adds an artful flair to an already beautiful car.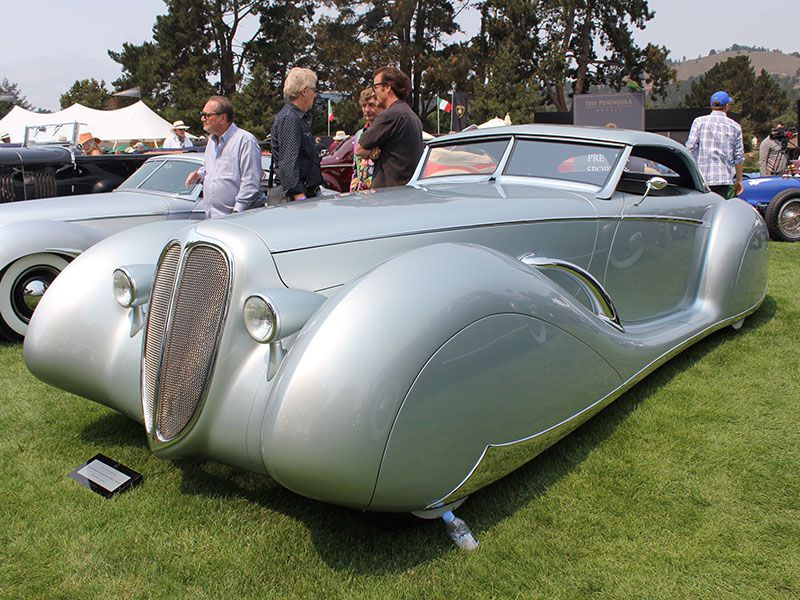 Photo by Miles Branman
Craziest: 2016 SCG003 Road Car
The Scuderia Cameron Glickenhaus SCG 003 is a limited edition super car built in racing car and street legal versions. Based on a Ferrari Enzo, the SCG 003 road car is powered by a twin-turbocharged V12 and makes around 800hp.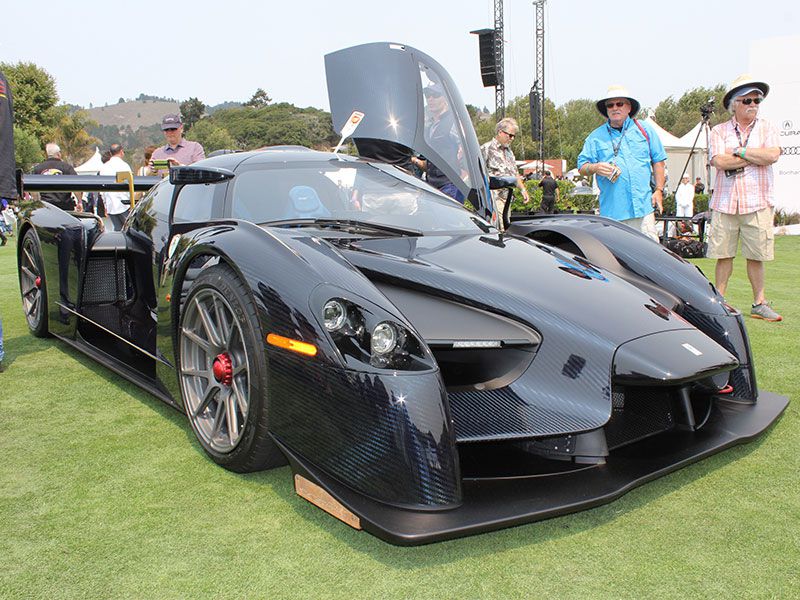 Photo by Miles Branman
Weirdest: American-LaFrance Carrier
Only at Pebble Beach (well, technically Saturday's Concorso Italiano event) can you find vehicle carriers that are more special than the million-dollar unicorns they're carrying. Such is the case with this American-LaFrance Carrier, which was quite frankly one of the coolest vehicles we saw all weekend.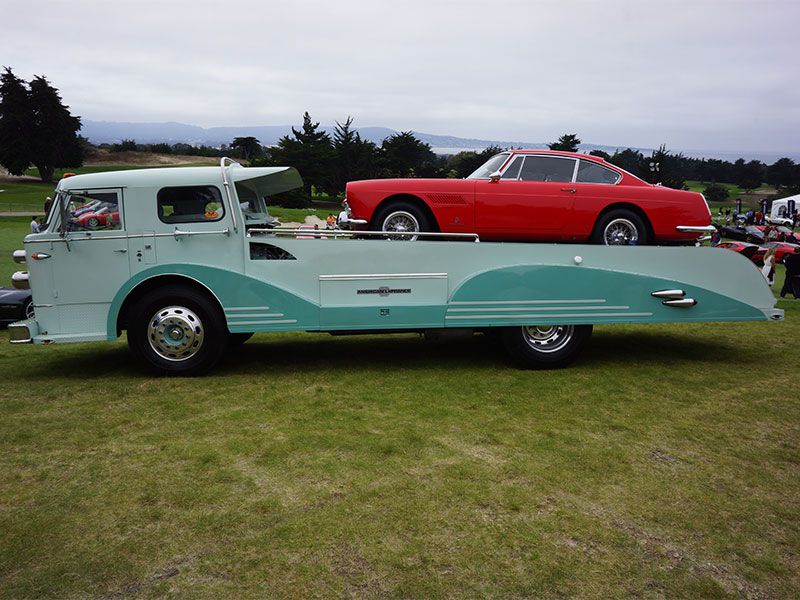 Photo by Nicolas Stecher
Weirdest: 1964 Citroën DS Chapron Convertible
We love these old Citroën DS's, which are widely regarded as one of the most beautiful automotive designs of all time. This 1964 Chapron Convertible — among the most rare of all Citroën DS's — takes the cake among all we saw at Monterey Car Week.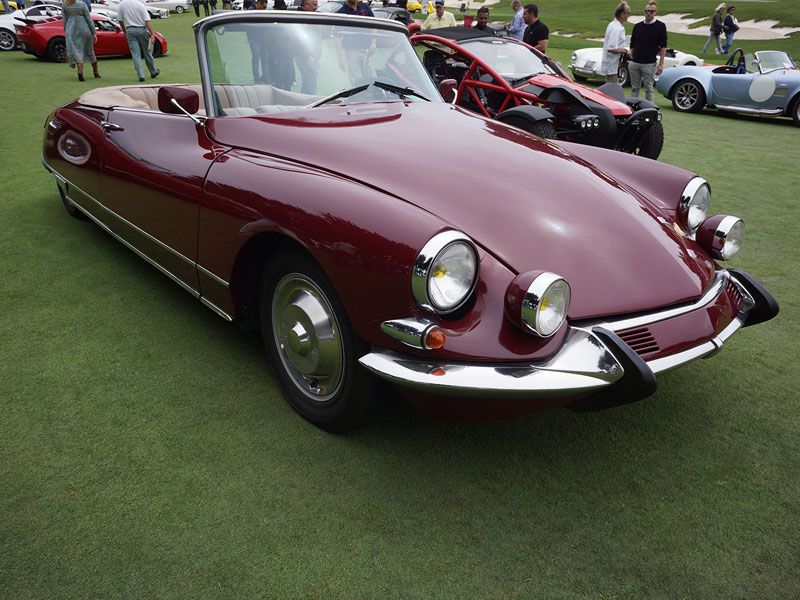 Photo by Nicolas Stecher