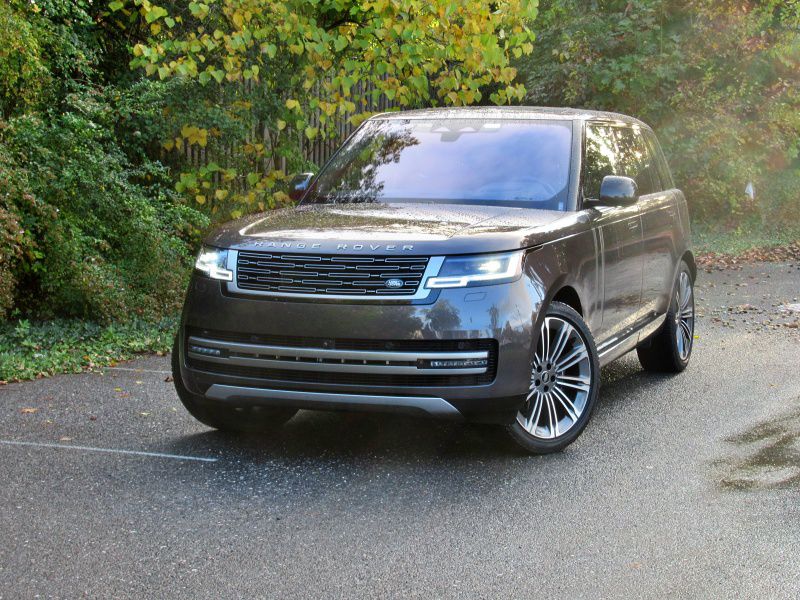 2022 Land Rover Range Rover ・ Photo by Brady Holt
Depending on who you ask, the Range Rover was the first luxury SUV. While the original 1969 model lacks the extreme decadence and ultra-sophisticated engineering that you'll find today, Land Rover created it as the truck with more creature comforts than its all-utility lineup. 
The modern 2023 Land Rover Range Rover, priced from $104,500, has evolved into one of the world's finest SUVs. The freshly redesigned Range Rover has barely changed visually over the past decade, and its overall shape goes all the way back to the original. It's nothing new that the Range Rover combines a richly finished interior, a smooth ride, and remarkable off-road capability. But the latest generation's talents go further still. We spent a week testing the new Range Rover so we could explore its pros and cons. Keep reading to learn more about this elegant piece of off-road engineering.
Classic Meets Modern Body
More than half a century after its introduction, the 2023 Range Rover retains its classic boxy silhouette and big windows. And from most angles, it looks identical to the previous generation that debuted a decade ago. The headlights and even the grille got a little slimmer, and in contrast to detail-laden rivals, the bumper got simpler. And retractable door handles keep the body smooth.  
The main change is around back. Slim blacked-out taillights wrap flow into a bar across the rear of the vehicle, looking like something off a concept car rather than a production vehicle. It's simple yet unlike anything else, and it's especially eye-catching with lighter-colored paint than our gray test vehicle. Expect imitators to copy this design cue, but you saw it here first.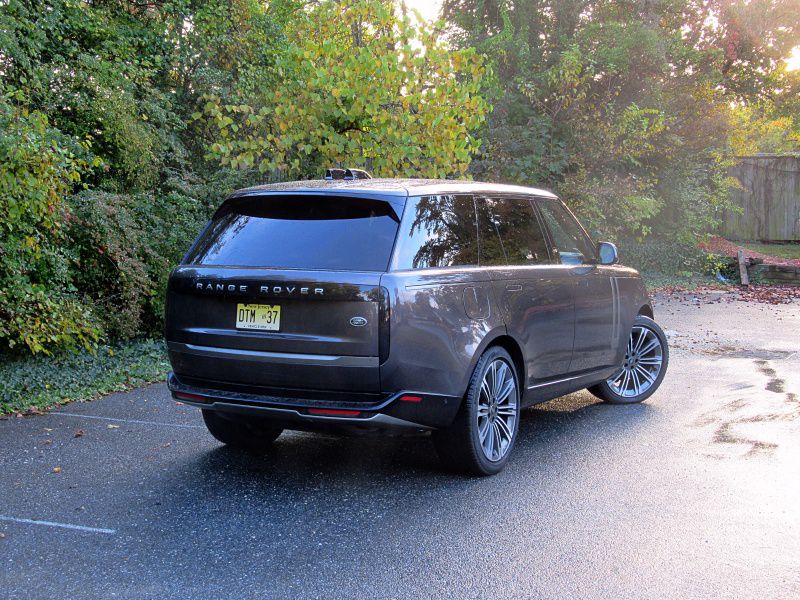 Photo by Brady Holt
Elegant Simplicity Inside
Range Rover has been wrapping SUVs in rich leather since before other brands understood the point of a fancy truck, and the new generation continues that trend. It's pure decadence inside, with no surface left unadorned. Yet amid this opulence, there's also an elegant simplicity. 
And we don't mean anything close to austerity. This interior has clean, straight lines that avoid overwhelming you. The Range Rover isn't in your face, just incredibly high-quality. And while it has a modern 13.1-inch touchscreen infotainment system in the middle and a 13.7-inch digital gauge cluster, this isn't an interior that uses big screens to catch your eye (that's what all the leather is for). Indeed, straightforward knobs for adjusting the cabin temperature are a primary focal point on the dash. We didn't always find it easy to operate the Range Rover's touch-based controls, and we found a couple of imperfect panel fits. But aesthetically, it's a big win.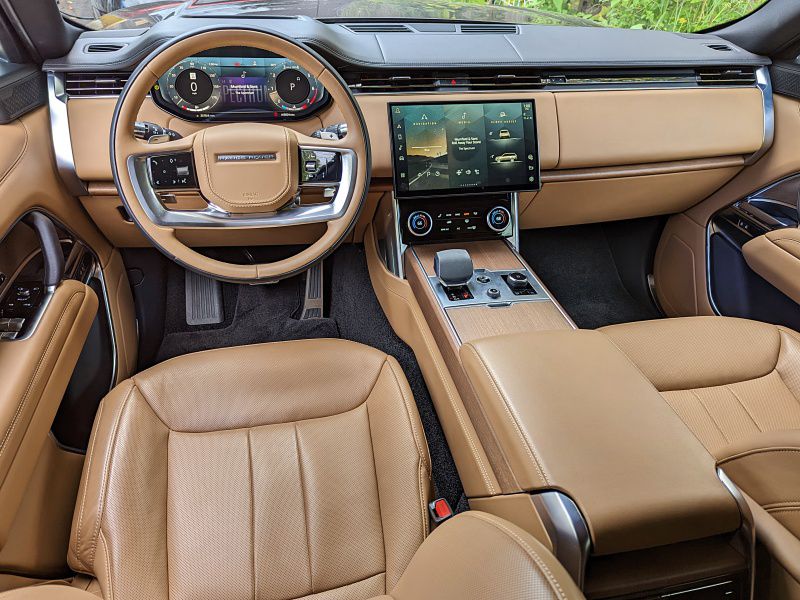 Photo by Brady Holt
Exemplary Comfort
The Range Rover is a palace on wheels, and its seats are thrones. Up front, you have a commanding view on thick, supportive chairs. They're heated, ventilated, and 14-way power-adjustable, with an optional massaging feature. They'll hold you in place when you want to go fast, yet they won't feel confining when you're just cruising. And they're cushy when you plop down into them without sacrificing long-distance support. 
Fortunately, the backseat accommodations are no less luxurious. While many buyers will focus on how they themselves feel in the driver's seat, other Range Rovers will hold their VIPs (owner or otherwise) in the rear. In addition to generous space and big windows, the rear seats offer their own power adjustments, heating, ventilation, and, you guessed it, massager. You can get the Range Rover in a choice of standard-wheelbase and long-wheelbase configurations for extra rear legroom, too. But for some buyers, it's the improvement we'll discuss on the next page that makes all the difference.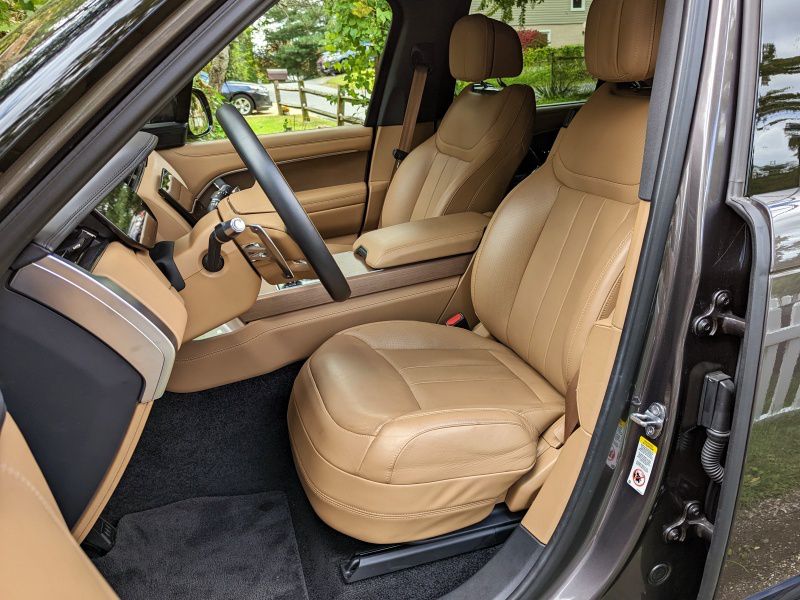 Photo by Brady Holt
Now With Family-Friendly Utility
For the first time, the new Range Rover is available with third-row seating that boosts its total capacity to seven. Even though the Range Rover is the brand's flagship, Land Rover had always left its third row to the smaller Range Rover Sport and Land Rover Discovery models. Now, even big families can partake in the Range Rover's opulence with an optional three-row model. 
The third row is an option on a longer-wheelbase version of the new Range Rover, and it provides genuine space and comfort. It's easy enough to climb back there, the seat is decently high off the floor, and adults have usable head and leg space unless the second row is all the way back. We're no longer talking about "thrones," but at least the third row is heated. However, there's just 8.7 cubic feet of cargo space while it's in use; that's skimpy even for a mid-size SUV and a fraction of what you'd get in a Cadillac Escalade or Lincoln Navigator. You'll get about 40 cubic feet with the third row folded down, and 83.5 to 92.8 cubic feet behind the front seats (standard versus extended wheelbase).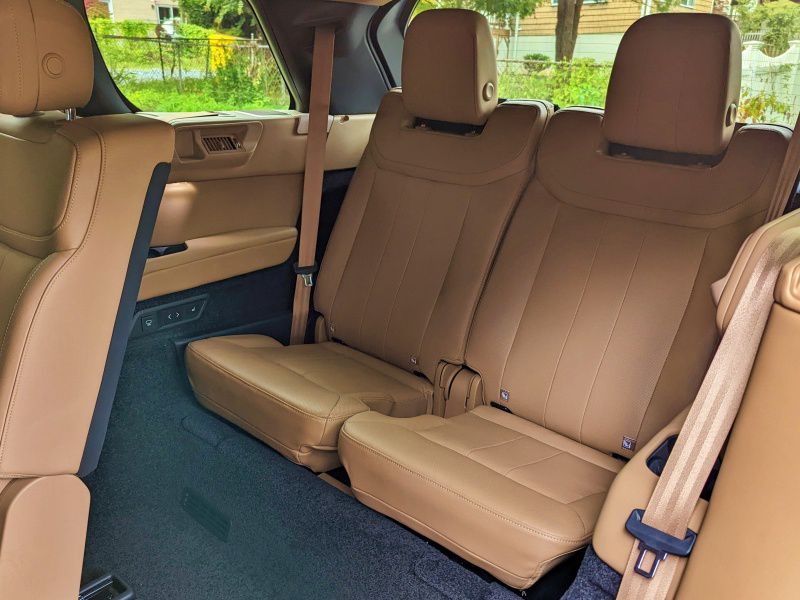 Photo by Brady Holt
Effortless Speed
The Range Rover comes with a choice of three effortlessly powerful engines. Our test vehicle included the base P400: a 3.0-liter turbocharged six-cylinder engine with electric boost. It makes 395 horsepower and 406 lb-ft of torque, and Land Rover says it's capable of whisking the big SUV to 60 mph in just 5.5 seconds. Its gas mileage is pretty good for a big, fast luxury suv: 18 mpg in the city, 26 mpg on the highway, and 21 mpg combined. 
The top P530 (priced from $129,000) is a 4.4-liter turbocharged V8 that makes 523 horsepower and 553 lb-ft of torque, with 60 mph arriving in as little as 4.4 seconds. It manages 16 mpg city, 21 mpg highway, and 18 mpg combined; that's not going to win any environmental awards, but it's still reasonable for what it is. Eco-conscious buyers will pick the P440e plug-in hybrid, which starts at $110,500. It pairs the 3.0-liter six-cylinder with electric motors to generate a total output of 434 hp and 457 lb-ft of torque, and it reaches 60 mph in 5.7 seconds. No less important, it can travel up to 51 miles per electric charge before needing the gasoline engine.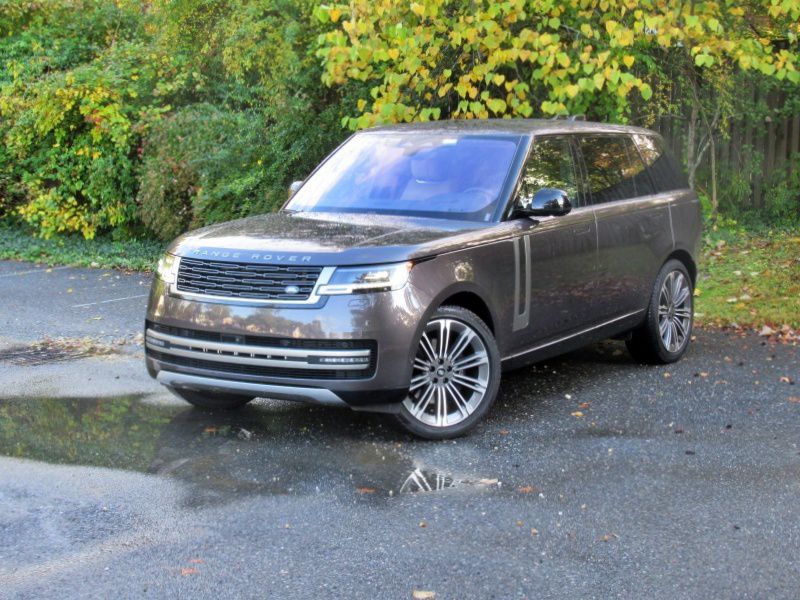 Photo by Brady Holt
Small-Car Handling
Big SUVs aren't typically known for their corner-carving skills, but the 2023 Range Rover handles like a much smaller car. You feel its size in a straight line, but it hunkers down and throws itself into a curve once it gets moving. 
You can also change the SUV's flavor with its selectable driving modes, which tighten up the suspension and steering in their performance settings. So you can decide whether you want to drive your Range Rover by twirling the steering wheel easily with two fingers, or you'd rather firm things up for greater responsiveness and precision. A newly standard four-wheel steering system yields not only responsive handling but an economy-car-tight turning circle of just 36 feet (37 feet with the long wheelbase). Some buyers could wish for a softer ride, but given the Range Rover's handling, off-road capability (which we'll come to on the next page), and enormous wheels, some stiffness is understandable.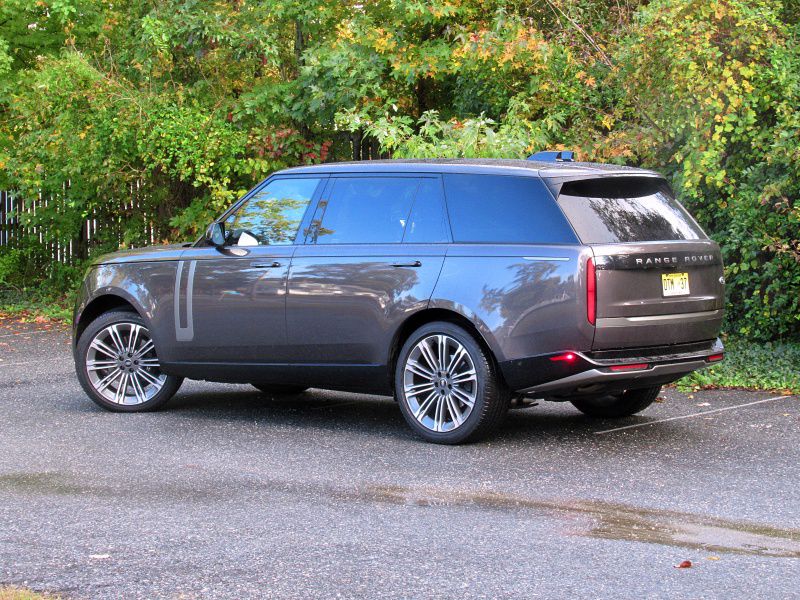 Photo by Brady Holt
Not That You Would, But You Could
Amid all the Range Rover's elegance, comfort, and on-road performance, it's easy to forget the vehicle's off-road heritage. But while most owners probably won't take their six-figure SUVs through challenging conditions, they could. 
The Range Rover rides 8.6 inches off the ground, and a height-adjustable suspension lets it rise another 3 inches. This SUV is designed to navigate nearly 3 feet of water (a sensor alerts you when you get too close, and you're warned to ensure that you're driving through a puddle or lake rather than a moving river). You can choose among seven different off-road modes, which optimize the Range Rover's systems for different types of traction threats. And you can count on sturdy hardware like a two-speed transfer case with a low range and an electronic locking differential, too.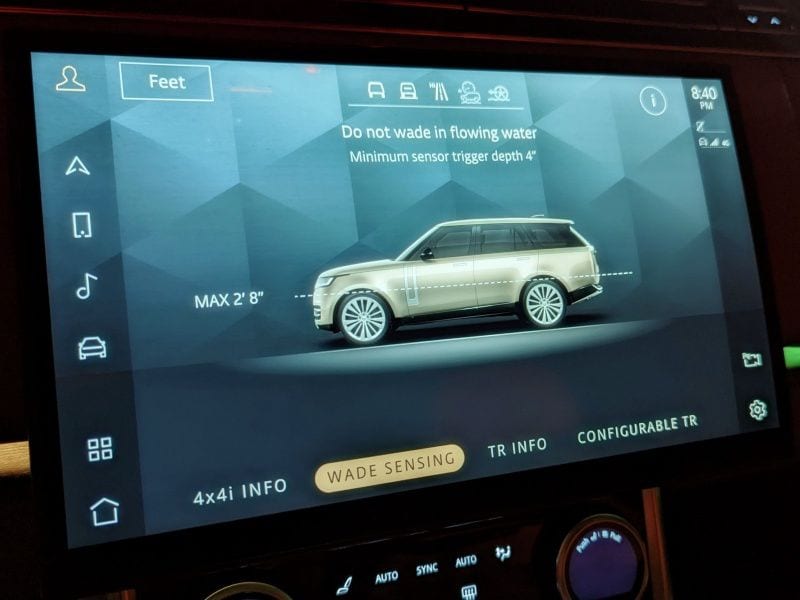 Photo by Brady Holt
Range Rover vs. Its Rivals
The Range Rover's top rivals for big luxury off-roaders are the Lexus LX 600, Jeep Grand Wagoneer, and Mercedes-Benz G-Class. The former two cost less and the Jeep has more room, but these rivals don't drive as well as the Range Rover or match its interior dazzle. And the costlier Benz isn't nearly as roomy, not even offering as a third row. 
If you're not focused on awesome off-road ability, the BMW X7 and Mercedes-Benz GLS are well-rounded, great-driving crossovers that cost less than the big Rover. Or the Cadillac Escalade and Lincoln Navigator have massive cabins at much lower starting prices, but they ride and handle more like trucks than sports sedans. Lastly, the slightly smaller Land Rover Range Rover Sport is also freshly redesigned with similar styling and driving manners to its bigger brother; try out both Rovers to see if the Sport fits your needs.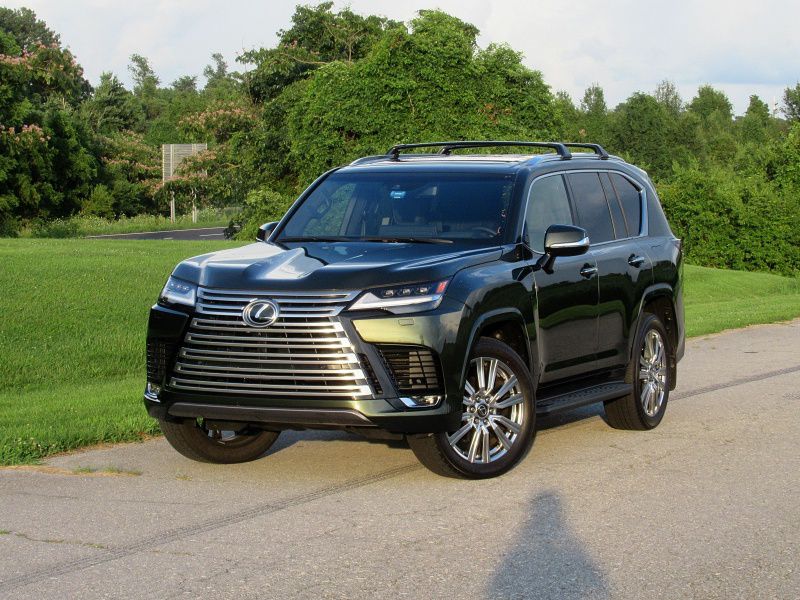 An SUV That Finally Does It All
The Range Rover has always been a multitalented vehicle, equally at home pulling up to Buckingham Palace or plowing through a swamp. And while the latest redesign is visually subtle, it dramatically expands the SUV's talents as a family car and a fun-to-drive performance machine. 
The 2023 Land Rover Range Rover can run with a sea of imitation SUVs in the daily grind, stomp off into the dirt, and hit a racetrack on its way home. And it'll look like nothing else while doing so. It's more expensive than ever, too, but that's not so astonishing. A better perspective is that the Range Rover more special than most other vehicles that cost just as much. If you want its timeless aesthetic and familiar blend of comfort, capability, and English-nobility prestige, you'll get a better overall experience than ever. And it now finally lets you take your family along for the ride.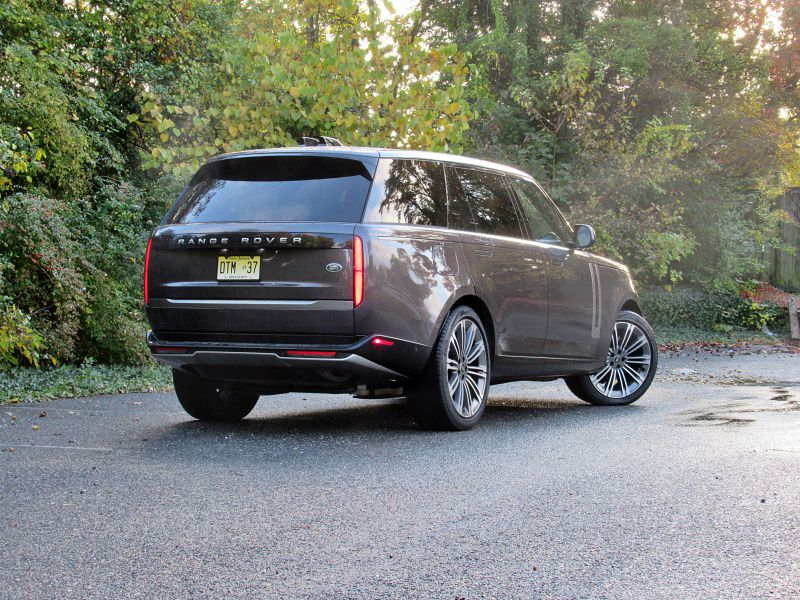 Photo by Brady Holt