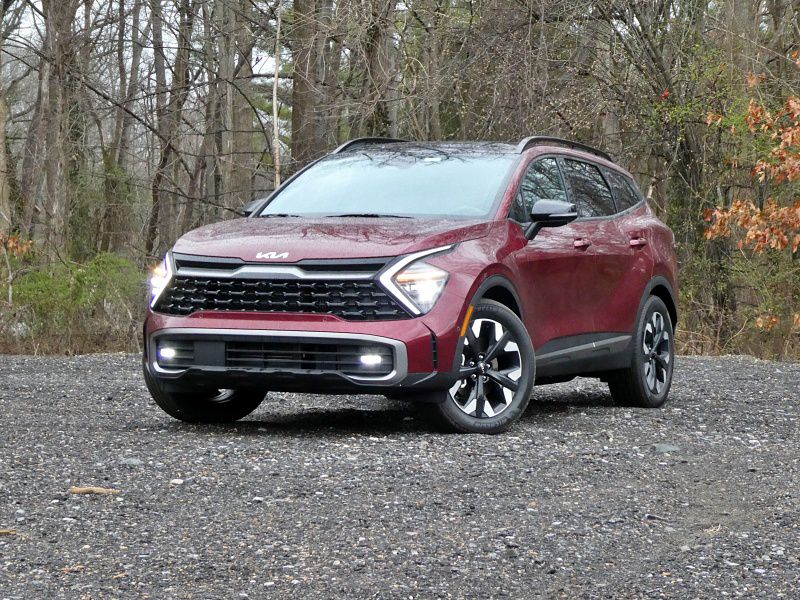 2023 Kia Sportage Plug-In Hybrid ・ Photo by Brady Holt
A compact crossover is a car that can do it all. These car-based SUVs are comfortable and easy to drive, have lots of room for passengers and cargo, and generally start below $30,000. That's why they're most automakers' best-selling vehicles these days. 
But one thing better than a compact crossover is a compact hybrid crossover. When executed right, a gas-electric powertrain delivers much better gas mileage while also helping a small SUV accelerate more quickly. That's the promise of the 2023 Kia Sportage Hybrid, which joins the Sportage lineup for the first time as part of the vehicle's fresh redesign. And for even less gasoline usage, there's also a new 2023 Kia Sportage Plug-In Hybrid (PHEV) that lets you fill up an even larger battery using electricity from the grid. We just tested both Kia Sportage Hybrids to see how they live up to their promise in real-world driving. Keep reading to learn about their pros and cons, and find out whether one of these new gas-electric Kias is right for you. 
Meet the Conventional Hybrid
The conventional 2023 Kia Sportage Hybrid pairs a 1.6-liter turbocharged four-cylinder engine with an electric motor for a total output of 227 horsepower. That's a healthy output for a compact crossover, and it's 40 hp more than you'd get from the gas-only Sportage (which uses a non-turbo 2.5-liter engine). The Sportage Hybrid isn't a speed demon, but it accelerates without much drama. The engine is smooth and quiet, and it switches seamlessly off if you're coasting or accelerating very gently. 
Gas mileage is always a chief reason to consider a hybrid, and the Sportage does OK on that front. With front-wheel-drive (offered only on the base Sportage Hybrid model), it gets excellent EPA ratings of 42 mpg in the city, 44 mpg on the highway, and 43 mpg combined. With all-wheel drive, the numbers dip to 38 mpg in both city and highway driving, which trails the Ford Escape and Toyota RAV4 hybrids but edges out the Honda CR-V Hybrid. Our AWD test vehicle managed 34 mpg during a weeklong test, which is disappointing for a hybrid but otherwise excellent for a small SUV.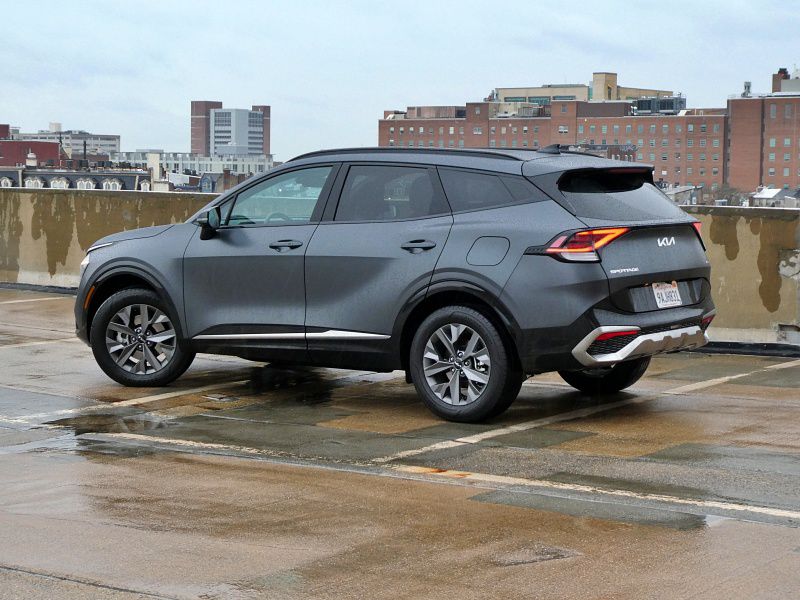 Photo by Brady Holt
Meet the Plug-In Hybrid
Plug-in hybrids used to be an outstanding under-the-radar way to save fuel. They typically have enough range for many people to run errands or commute to work using no gasoline at all, but they also have a gasoline engine on board for longer trips. What's more, they used to qualify for hefty federal tax credits that offset their higher sticker prices. 
However, as we write, foreign-manufactured plug-in cars like the Korean-built Sportage no longer qualify for federal tax credits. That puts buyers on the hook for a substantial price premium, which we'll detail on the next page. What's more, although the Sportage PHEV is rated to travel up to 34 miles on purely electricity, it typically switched on the engine for long stretches of our drives to run the heater (with outside temperatures in the 40s and 50s). Our observed mileage came to 60 mpg, and the total would be lower if the trip computer factored in electricity usage. And mileage was in the low 30s on the highway, no better than the gas-only Tucson. However, we did hit phenomenal ranges of 37 to 47 miles per charge during a June test of the mechanically identical Hyundai Tucson PHEV. That's encouraging news for warm-weather buyers.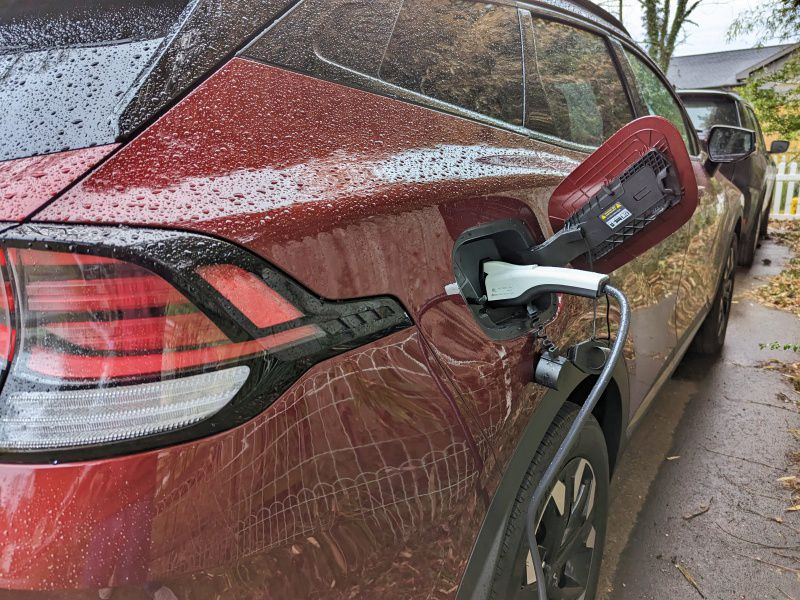 Photo by Brady Holt
Big Price Difference
The Sportage Hybrid comes in a choice of three trim levels, a big drop-off from the seven different models available on the gas Sportage. However, unlike some hybrids, you can get the gas-electric powertrain even on the base model. So the 2023 Kia Sportage Hybrid starts at a reasonable $27,490, less money than many non-hybrid compact crossovers, despite a useful amount of standard features. And it's a mere $1,000 or so more expensive than a comparable gas-only Sportage. 
The Sportage PHEV is much more expensive. First, it's sold only in two higher-end trim levels: X-Line ($38,690) and X-Line Prestige ($43,190). That's about $7,000 more than a comparable Sportage Hybrid. Kia's original expectation was that the PHEV would qualify for a $7,500 federal tax credit for plug-in vehicles. That would have canceled out that price difference and made the PHEV a no-brainer for anyone who'd be able to plug in their car. As it is, though, the Sportage Hybrid is an incredible value while the Sportage PHEV is a pricier proposition. Still, it's less money than the rival Toyota RAV4 Prime.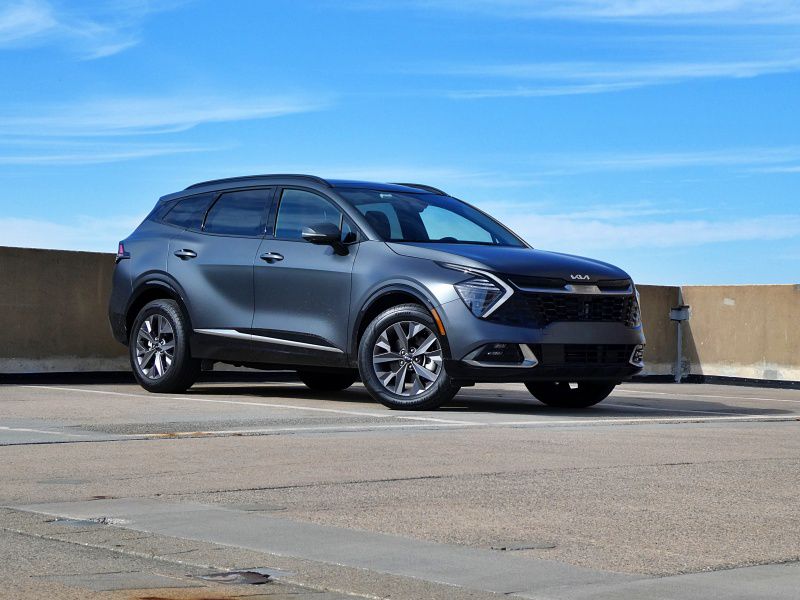 Photo by Brady Holt
High-Style Exterior
The Sportage hybrids fly under the radar. You'd have to squint at the tailgate for a hybrid badge or, for the PHEV, notice that there's a fuel door on each side of its body (gasoline on the driver's side, electricity on the passenger side). However, while their eco-friendliness is anonymous, every Sportage has a high-style design. 
The redesigned Sportage grew 7 inches longer than its predecessor, and the extra size automatically gives it some extra presence when you see it in profile. Kia also dresses up the details, including "boomerang" LED headlights that wrap around chunkier diamond-shaped lights beside the grille; a subtle bulge above the rear fender; a crisply creased tailgate; and a top-mounted rear windshield wiper that hides under a roof spoiler. You can't get the standard Sportage Hybrid in the gas model's three off-road-themed trim levels, but oddly enough, every Sportage PHEV has the "X-Line's" higher roof rails and more squared-off bumpers.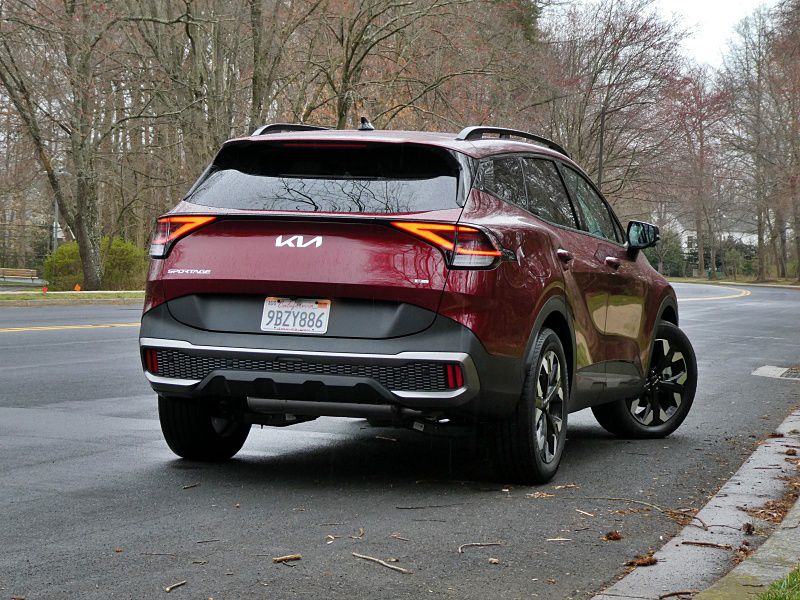 Photo by Brady Holt
Flashy Interior, Too
Inside, there are a couple of differences between the Sportage hybrids and the gas model. Most notably, they replace its conventional gear selector with a rotary dial. They also let you choose hybrid-specific displays on their infotainment screens, and they offer a "driver-only" climate-control setting — saving the battery charge or gasoline that would be used to heat or cool the entire cabin. 
Otherwise, the Sportage hybrids share the flashy, tech-focused interior of the new gas Sportage. A 12.3-inch digital gauge cluster seamlessly connects to a 12.3-inch touchscreen on most trim levels (the base LX model has a less smoothly integrated 8-inch touchscreen). And bulging HVAC vents give the cabin a rugged look. Its controls aren't the simplest you'll find, though. Kia makes you tap a button to choose between audio or climate controls, rather than keeping both always in place. It makes the dash look simpler while actually making things more complex. (The base LX, with the smaller screen, has conventional buttons and knobs.) There are also some areas of the generally high-quality interior where we'd have wished for higher-quality plastics. But overall, the Sportage hybrids have a pleasant interior to spend time in.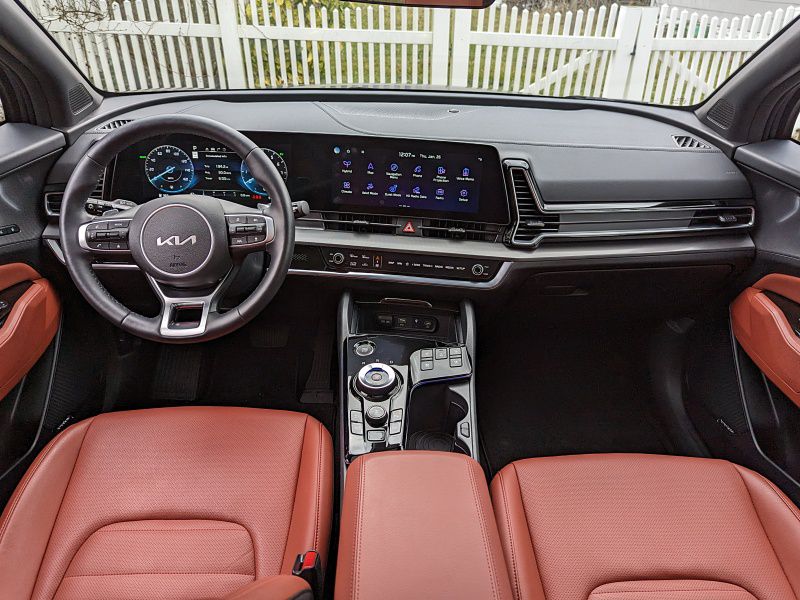 Photo by Brady Holt
Lots of Room
We mentioned that the Sportage grew significantly in its redesign, and that change has a big payoff inside. Whether you're carrying people or cargo, this small SUV has plenty of space. 
The hybrid gives up a couple square inches of cargo space over the gasoline version, but at 39.5 cubic feet behind the rear seat and 73.7 cubic feet with the rear seat folded, it's still a standout. The PHEV's larger battery eliminates the ability to lower other Sportages' reconfigurable cargo floor, cutting total volume to a still-respectable 34.5 cubic feet behind the rear seat and 65.5 cubic feet with the rear seat folded. Both the Sportage Hybrid and Sportage PHEV can tow a trailer of up to 2,000 pounds, down 500 pounds from the gas-only Sportage. For passengers, there's plenty of room to stretch out in the comfortable front and rear seats, which are clad in attractive leatherette upholstery on all but the base LX Hybrid.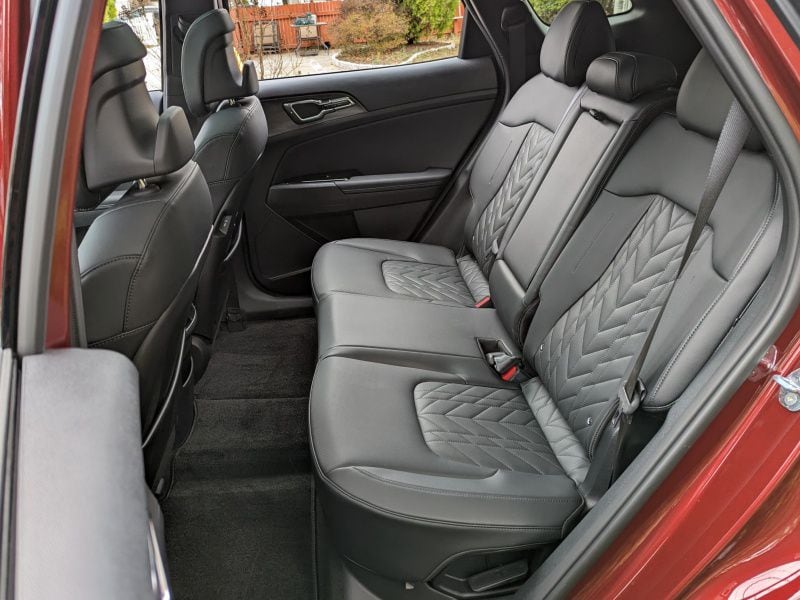 Photo by Brady Holt
Pleasant Driving Manners
The Sportage Hybrids' smooth, peppy powertrain is complemented by a well-sorted suspension. It delivers a steady, comfortable ride that coasts effortlessly over bumps. At the same time, natural-feeling steering makes this Kia easy to drive. It's not a zippy performance car, but it's far from clumsy by SUV standards. 
The Sportage Hybrid weighs about 3,800 pounds depending on the trim level, while the PHEV's bigger battery brings it to around 4,200 pounds. We didn't notice a difference in their ride and handling, but note that with 261 hp, the PHEV is also quicker than the standard hybrid. And because it can operate more in all-electric mode, you'll get a quieter ride.
Photo by Brady Holt
Competitors to Consider
The Sportage Hybrid's top rivals are the gas-electric versions of the Ford Escape, Honda CR-V, and Toyota RAV4, along with its Hyundai Tucson corporate cousin. Of those, the best-selling RAV4 has achieved the best real-world gas mileage in our hands but has the least polish to its driving manners. The Escape and CR-V have the sharpest handling, but the Ford has a less roomy interior than the Sportage while the CR-V costs more. Between the Sportage and the Tucson hybrids, the biggest differences are aesthetic; however, we'd contend that the Kia's dashboard controls, while not perfect, are objectively easier to use than the Hyundai's. 
If you're interested in a plug-in hybrid, the Ford Escape PHEV is the runaway value winner in this segment. Not only is it aggressively priced, but it's the only member of this field to still qualify for a $7,500 federal tax credit. However, it's only available with front-wheel drive. And while the Toyota RAV4 Prime plug-in hybrid is fast and economical, it doesn't feel fancy and it costs much more than the Kia.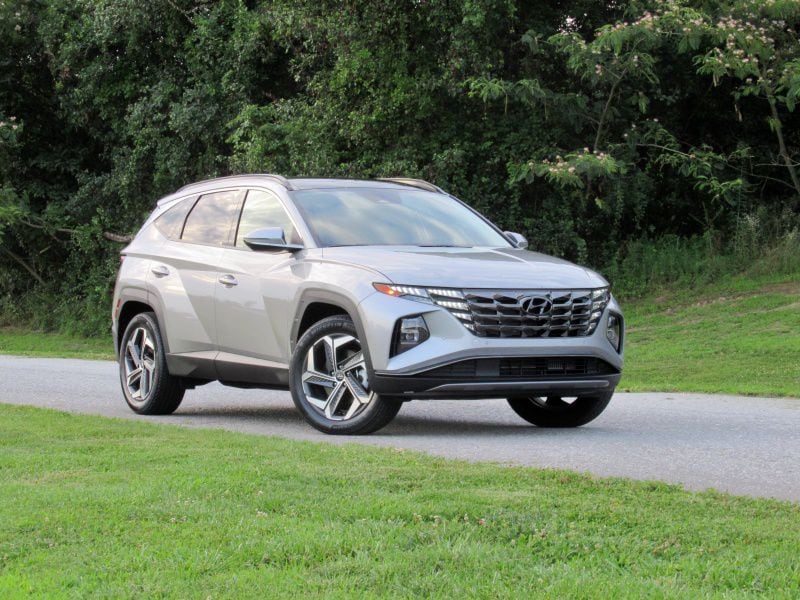 Photo by Brady Holt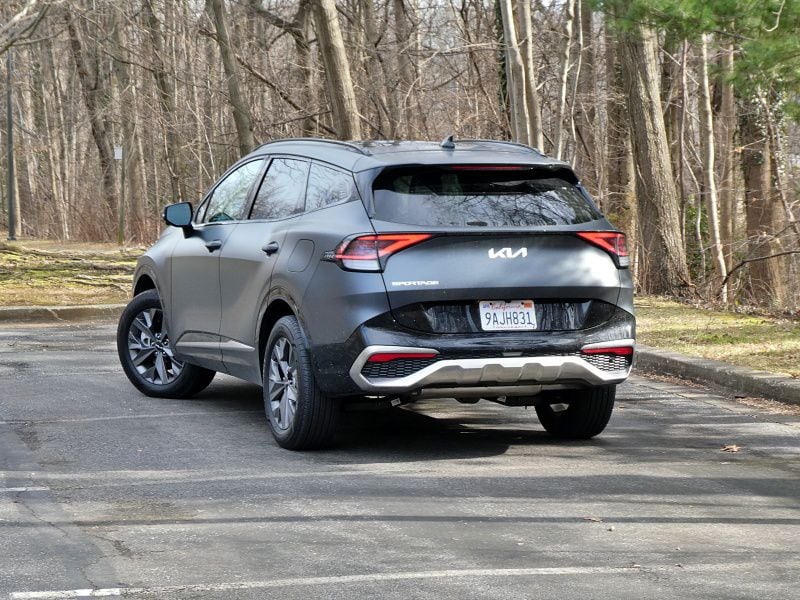 Photo by Brady Holt