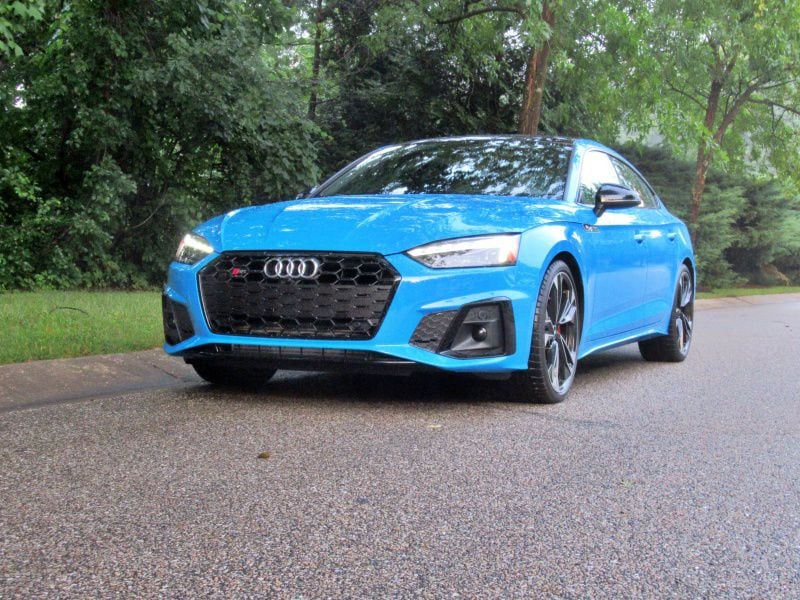 2022 Audi S5 Sportback ・ Photo by Brady Holt
It's a simple enough hierarchy. An auto brand, particularly a luxury one, stands for certain qualities. Whatever size of car you choose from that brand, you'll get its familiar styling and overall design and engineering philosophy. You'll just pay more if you want a bigger car. 
But for many drivers, bigger isn't necessarily better. And that's truest of all when you're looking at performance cars. Bigger cars are lugging around extra weight and bulk, slowing them down and compromising their agility. Consider the 2023 Audi S5, a compact 349-horsepower performance car sold as a coupe, convertible, and five-door liftback. It promises to blend performance and luxury even as a relatively small vehicle. We spent a week testing the five-door S5 Sportback to see how well Audi delivered on this promise. Keep reading to learn how the S5 stacks up and whether it's the right luxury performance car for you. 
Wide Model Range
Even as many automakers dial back their passenger-car offerings to focus on SUVs, the 2023 Audi S5 comes in a choice of three body styles. The two-door coupe and five-door Sportback each start at $55,800, while a soft-top "Cabriolet" convertible is priced from $64,400. The coupe and Sportback are further offered in a range of three trim levels (Premium, Premium Plus, and Prestige), while the Cabriolet is limited to the Premium and Prestige. Our Sportback Prestige test vehicle came to $70,670 including options and a mandatory $1,045 destination charge. 
You'll choose your S5 body style based on personal tastes. Objectively, the Sportback is the obvious winner. It's low and sleek while also offering tremendous functionality. But for the more traditional two-door look — or the principle that a fun car should be impractical — the coupe will make a stronger bid for your heart. And if you want an open-air experience, you'll fork over the extra cash for the Cabriolet.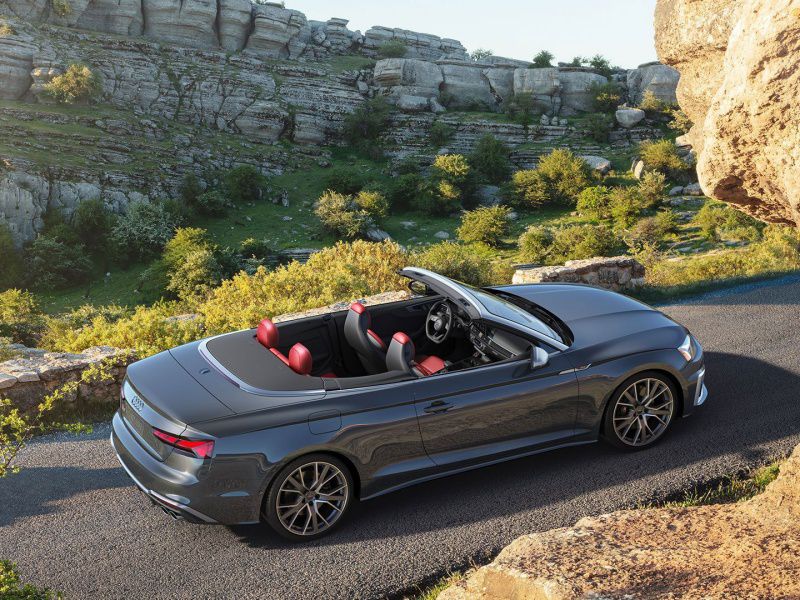 Photo by Audi
Part of a Big Family
On the previous page, we only scratched the surface of the choices Audi offers. The S5 is a performance version of the Audi A5, which puts a smaller engine and some other mechanical changes into the same trio of body styles. The A5 Sportback costs just $44,600 with a 201-hp four-cylinder engine or $46,700 with 261 hp. The coupe and convertible come standard with the peppier engine, starting at $46,700 and $53,900 respectively. If you aren't attached to the S5's speedier, throatier engine, they provide many of the same benefits for much less money. 
On the other hand, you can also upgrade the coupe and Sportback to the RS 5 model that makes 444 horsepower. Or if you want four doors with a more upright shape or a slightly lower price, you can choose this lineup's sedan cousins: the Audi A4, S4, or RS 4. 
Photo by Audi
349 Horsepower Means Business
We mentioned that the S5 is a powerful little car. It has a 3.0-liter turbocharged V6 that sends 349 hp and 369 lb-ft of torque to all four wheels via a smooth eight-speed automatic transmission. It's a rich-sounding engine that can buckle down and rip to 60 mph in just 4.5 seconds, yet which makes a sophisticated purr when you're out for a gentler cruise in your luxury car. 
You pay for this power at the pump. The S5 gets an EPA-estimated 21 mpg in the city, 30 mpg on the highway, and 24 mpg combined, which isn't much for a small car and trails the rival BMW M440i by 3 mpg. And as more performance cars go electric, it's worth noting that premium-grade gasoline costs much more than electricity in most regions. At least we matched the EPA estimate during our weeklong test, and the S5 is more economical than a Mercedes-Benz C43 AMG.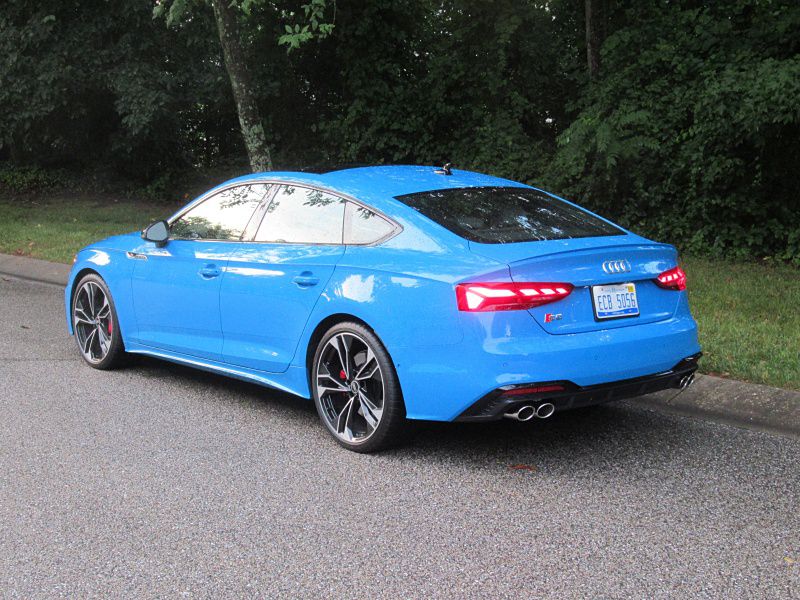 Photo by Brady Holt
Small, Sporty, and Solid
The Audi S5 is a compact car, but with its V6 engine, Quattro all-wheel-drive system, and heaping of luxury items, our tested Sportback model weighs in at 3,924 pounds. Fortunately, even weighing nearly two tons, the S5 is a pure delight to drive. 
Some modern performance cars feel disconnected and clinical. They're meticulously engineered to put down incredible numbers on a racetrack, but the driver has less of a role in the process. Others (and sometimes the same ones) sacrifice everyday comfort in pursuit of spec-sheet glory. With the S5, Audi didn't forget to engineer some fun while chasing specs and ensuring polished refinement. The steering is beautifully weighted and responsive, yet the car is also easy to drive. Selectable driving modes let you tinker with the powertrain, steering, and suspension, and you can also create a custom mode where you pick and choose your favorite combination. And the S5's not-svelte weight is actually an asset, giving it a comforting solidity more than unwelcome bulk (helping justify its higher price versus another high-performance Audi, the S3 subcompact sedan). This isn't the cushiest luxury car you'll find, but the S5 is pretty comfortable while offering standout driving pleasure.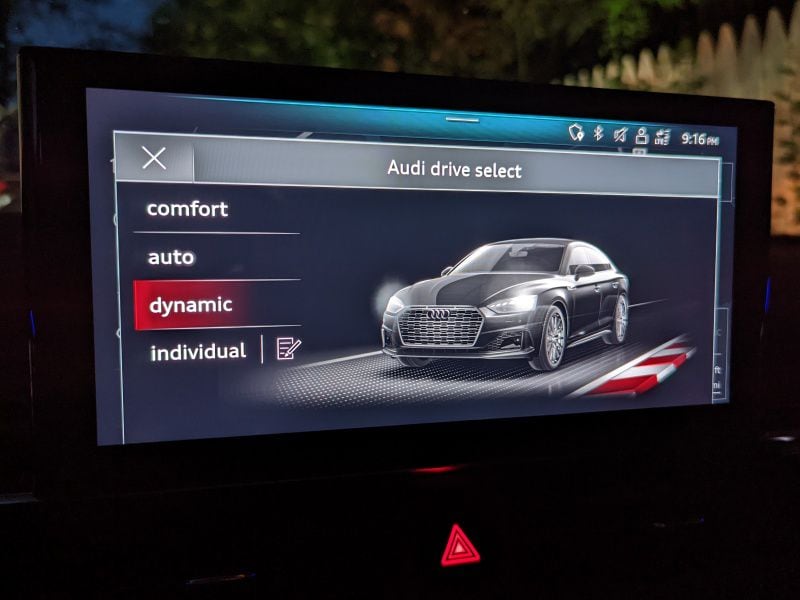 Photo by Brady Holt
Beautifully Finished Interior
Some luxury brands cheap out on their smaller cars, saving the richest interiors for bigger, more expensive models. Audi did exactly that in the S3. But it pulled out all the stops for the S5. 
Now, this is an interior that's more about elegant simplicity than welcoming warmth. That might not be to your tastes, and that's fine. But we think it suits the S5's character well, and the build quality is spot-on. You won't find any pieces of the cabin that feel low-quality. Buttons and dials click with perfect precision. The Virtual Cockpit digital gauge cluster, which Audi pioneered, continues to be sharper and more customizable than most of its newer rivals. And the 10.1-inch infotainment touchscreen, while not a technological showpiece, works well and is complemented with physical buttons and knobs.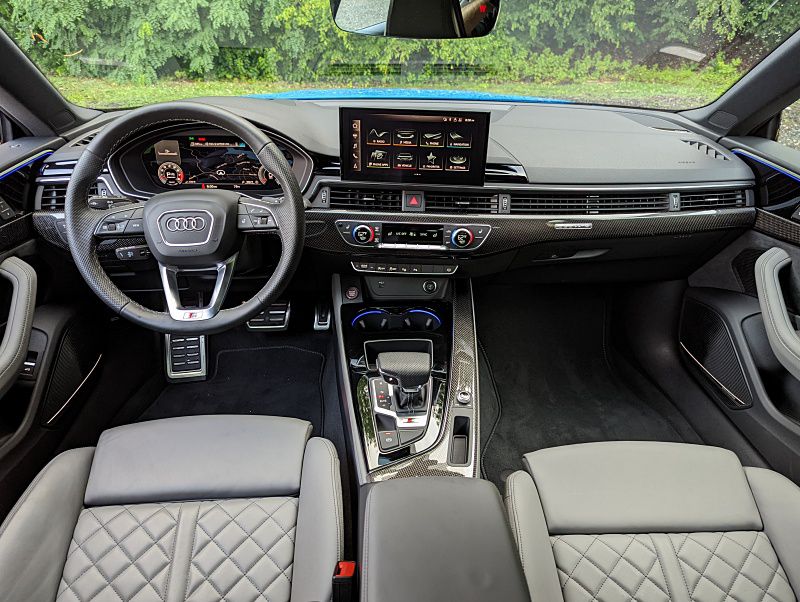 Photo by Brady Holt
Sportback Functionality
We mentioned that the Sportback is our favorite S5, and the reason is functionality. Its roof flows gracefully back toward the rear end, and the space underneath is an SUV-rivaling 22 cubic feet. You can also fold down the rear seat to get 35 cubic feet in total. The Sportback's rear seat is snug, but two adults can fit comfortably as long as they don't expect to stretch out. The coupe and Cabriolet are smaller still, while lacking the convenience of rear passenger doors. And their trunks measure a modest 11 and 9 cubic feet, respectively. 
The three S5 models are the same from the front seats, though, and they're all excellent. The seats are comfortable, supportive, and beautiful to look at, and the cabin feels sporty-car cozy without feeling cramped.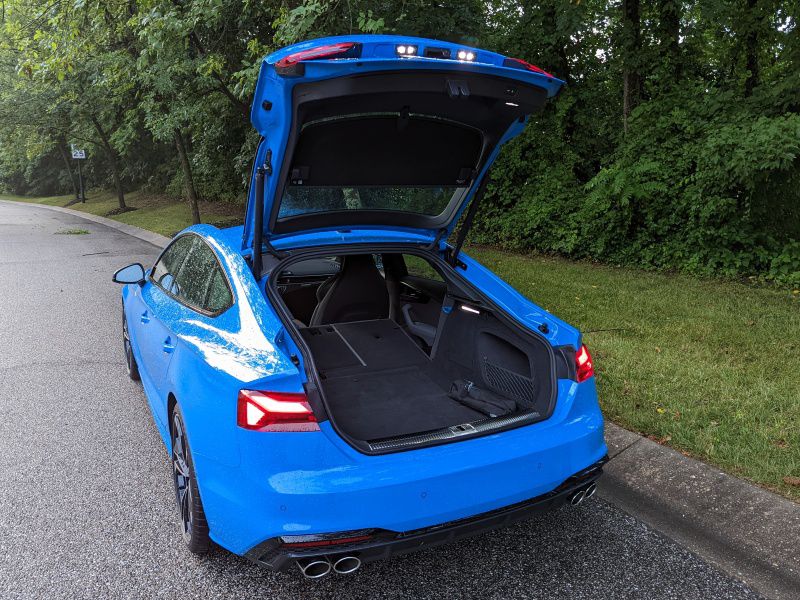 Photo by Brady Holt
Highest Safety Score
The Audi S5 coupe and Sportback both earn the highest designation of Top Safety Pick+ from the Insurance Institute for Highway Safety, based on the IIHS's battery of crash tests and collision-avoidance evaluations. (The organization didn't test the Cabriolet.) Meanwhile, the National Highway Traffic Safety Administration awarded the S5 Sportback five out of five stars overall, though a less impressive four out of five stars in frontal impacts; NHTSA doesn't have ratings for other body styles. 
Whichever S5 you choose, you get a lot of safety and driver-assistance technologies. Foward automatic emergency braking with pedestrian detection is standard equipment, as is a lane-departure warning, while adaptive cruise control and blind-spot monitoring are optional on the Premium model and standard on other S5 trims. The Premium Plus and Prestige also include lane-keeping steering assistance and a surround-view parking camera.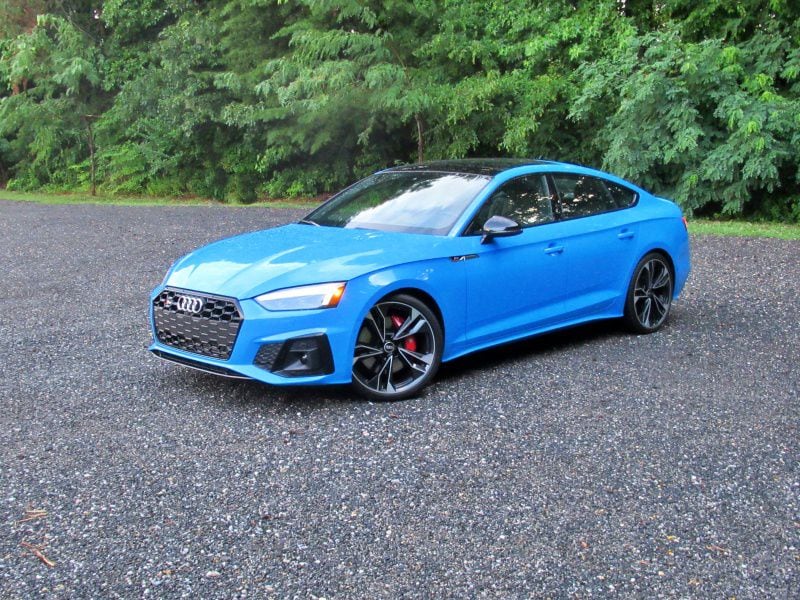 Photo by Brady Holt
Shrinking Field of Competitors
The S5 has one perfectly aligned rival: the BMW M440i. It's a similar size, has similar horsepower, and has the same three body styles: coupe, convertible, and five-door liftback ("Gran Coupe," in BMW parlance). The BMW 4 Series is a fresher design than its Audi rival, which hasn't gotten a full overhaul since 2018. But aside from the BMW's better gas mileage and the Audi's slightly lower price, most of their differences are subjective: The A5 has a restrained body, and the M440i is more heavily creased and wears an enormous grille on its nose. 
You could also shop the S5 against any number of high-powered compact luxury sedans (the ones that compete more closely with the Audi S4). But they don't have the Sportback's cargo capacity, the coupe's no-business attitude, or the convertible's open-air experience. You can, for now, get the latter two with the Mercedes-Benz C-Class — but Benz didn't bring along these aging body styles in the model's latest redesign, planning to discontinue them instead.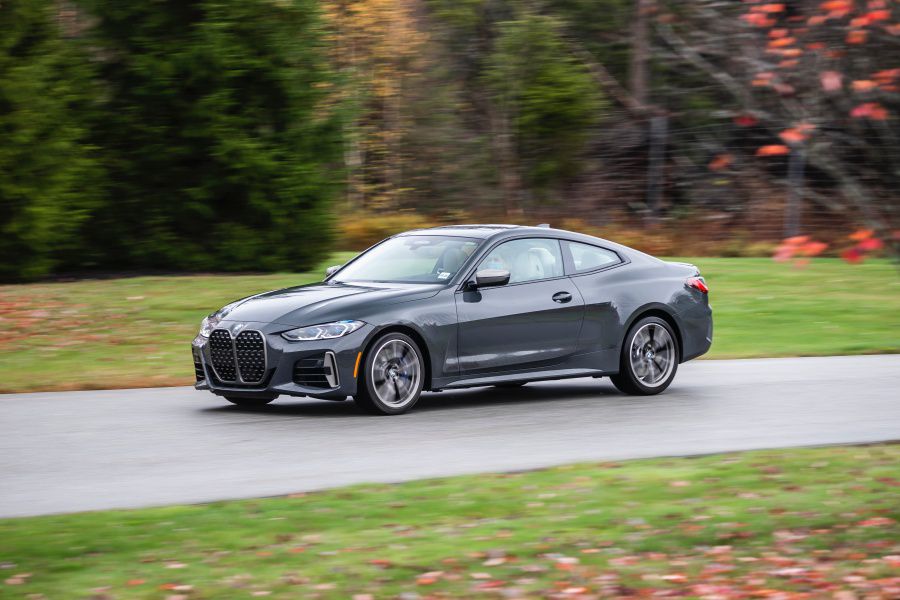 Photo by BMW
Small But Awesome
The 2023 Audi S5 proves that great cars don't have to be big cars. It's low and lithe, small and cozy. Yet it's also solid-feeling and sophisticated, and its interior is beautifully finished without being embarrassingly decadent. The S5 model (unlike an Audi A5) also packs the old-school grunt of the 349-hp V6 engine in a compact package. And the Sportback even throws in a big cargo hold. 
Some folks will wish for a fast luxury car with flashier design flair. Others will pick a high-end luxury car that prioritizes fast comfort rather than taut driver engagement. And a growing number of customers are preferring ultra-fast eco-friendly electric models. But the S5 is a top-tier luxury vehicle with the grin-inducing agility of a small car, and that's a combination that we love.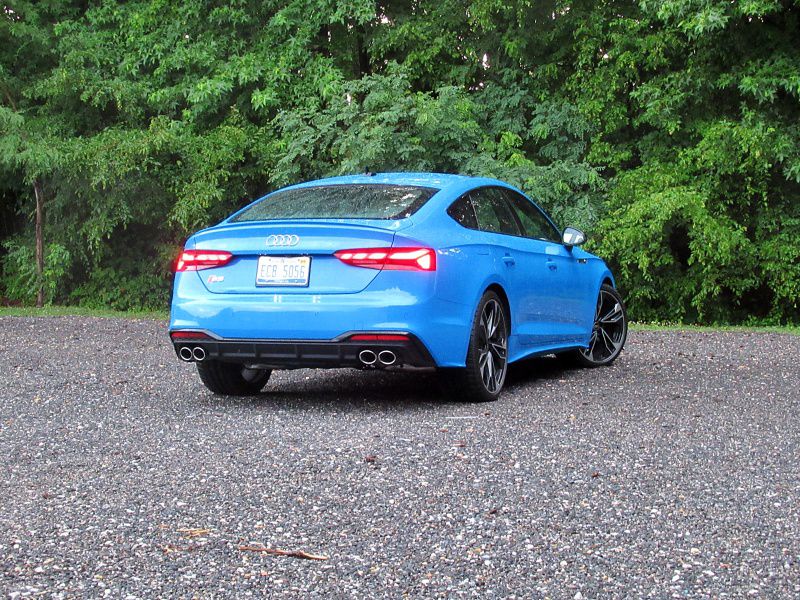 Photo by Brady Holt