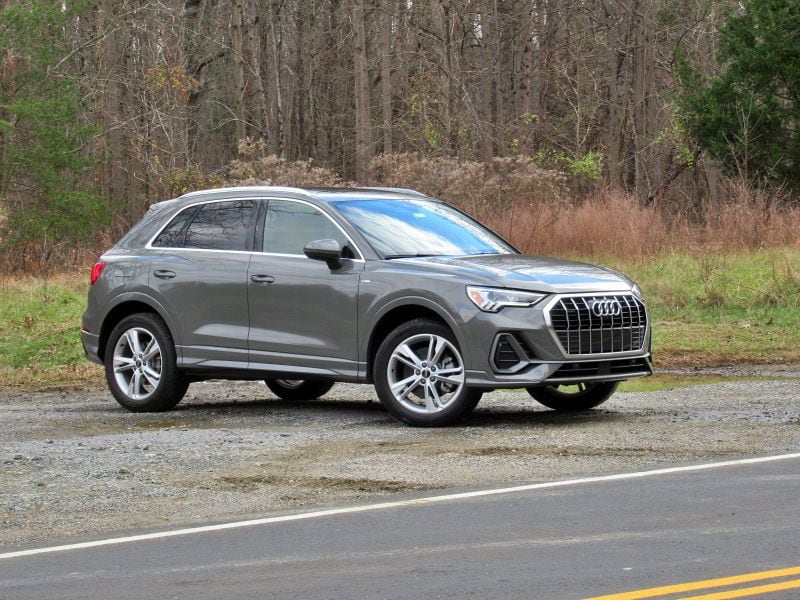 2022 Audi Q3 ・ Photo by Brady Holt
The best-selling Audi model is the Q5 compact crossover. It's a well-rounded luxury SUV that's refined and well-built without being overwhelmingly expensive, and that's acceptably roomy without getting too bulky. 
The company's No. 2 best-seller is the 2023 Audi Q3. This one is a subcompact crossover, one size smaller than the Q5. We'd describe the two SUVs in much the same way, with one critical difference: The Q5 is priced from $44,200, but the Q3 starts at a mere $36,400. We just spent a week trying out Audi's entry-level SUV to try out its flavor of pint-sized luxury on a palatable budget. Keep reading as we go over the Audi Q3's pros and cons to see whether it's the right luxury crossover for you. 
Keeping Things Classy
Some subcompact crossovers aim for racy or otherwise quirky styling. The idea is that if you want a small car, you're not looking for a more traditional luxury experience. 
The Audi Q3, by contrast, keeps things clean and classy. It wears a traditional upright Audi front end with a big, gently chromed grille between headlights that blend sharp angles with rounded-off edges. The Q3's silhouette leans slightly forward, but the shape is otherwise SUV-typical. And it's tall enough to avoid looking only like a hatchback. There are subtle bulges above each fender, but the body avoids sharp creases and swoopy slashes. To some tastes, the Q3 is too conservative; to others, it brings timeless elegance to a subcompact package.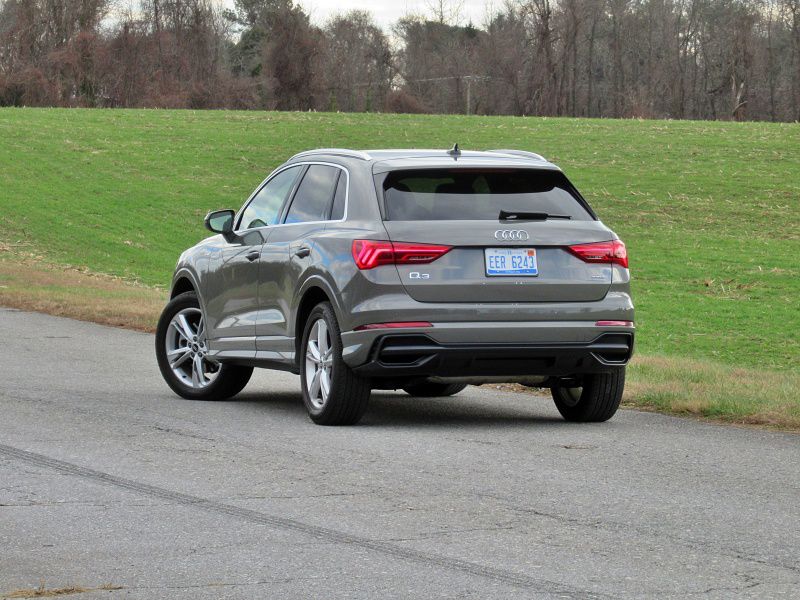 Photo by Brady Holt
Advanced But Not Overwhelming Interior
Even in the least expensive Audi suv, the interior fits right into the brand's lineup. That means it's designed to be subtly upscale, not in-your-face opulent. And it's high-tech without being overwhelmingly so. Small details, like the perfectly dampened buttons, are some of its best attributes. 
An 8.8-inch touchscreen infotainment system is in the center of the dashboard, and our test vehicle has the available 10.1-inch upgraded unit. The screens have crisp graphics and work well, but there's once again nothing flashy in their muted colors and quiet icons. We appreciate that the Q3 has simple buttons and knobs for common functions like audio volume and climate settings — we wish Audi offered the same in its high-end Q7. Best of all is the Virtual Cockpit, Audi's supremely executed digital gauge cluster. Fully optioned Q3s like our test vehicle let you give over most of the 12.3-inch gauge display to the GPS navigation map, while other models have less customizability and a 10.25-inch gauge cluster. We do wish the Q3 had richer interior materials, as some plastics are budget-brand ordinary. But the overall ambiance is suitably upscale.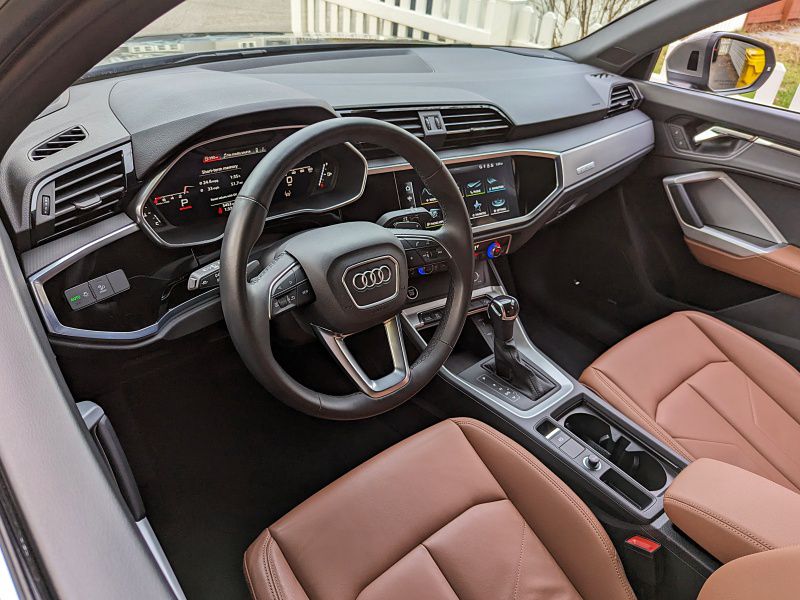 Photo by Brady Holt
Lots of Room for a Subcompact
Subcompact means small, but the 2023 Audi Q3 didn't get the message. It has plenty of room for adults even in the backseat, and a useful amount of cargo room. 
Part of its secret is a fore-aft-adjustable rear seat, a feature that's more common in larger SUVs. You can slide it nearly 6 inches back for maximum passenger legroom, or slide it forward when you need to fit more cargo behind the seat. We also appreciated that the Q3 comes standard with heated front seats, but unlike on some competitors, you can't get ventilated front seats, heated rear seats, or a heated steering wheel. Cargo capacity measures 23.7 cubic feet behind the rear seat, and you can fold it down for a total of 47 cubic feet. These numbers aren't the best in the subcompact segment, but the Q3's real-world utility is better than the spec sheet suggests. It can also tow up to 2,200 pounds.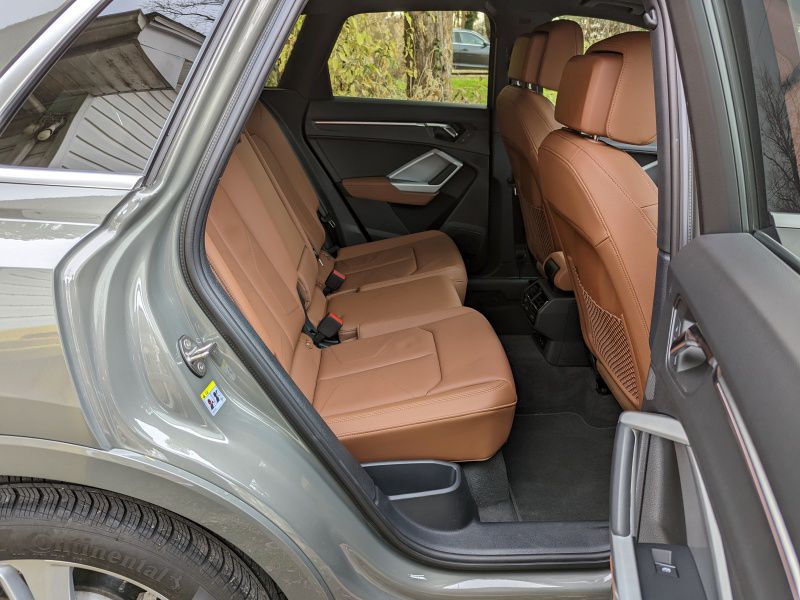 Photo by Brady Holt
Maximize Either Power or Gas Mileage
The 2023 Audi Q3 is available with a choice of two turbocharged 2.0-liter four-cylinder engines. One makes 184 horsepower and 221 lb-ft of torque in the version Audi calls the "40," while the more potent "45" improves to 228 hp and 248 lb-ft. 
The Q3 40 is economical for its class with EPA ratings of 23 mpg in the city, 30 mpg on the highway, and 26 mpg combined. The Q3 45 gives up 2 mpg for 21 mpg city, 28 mpg highway, and 24 mpg combined. Our Q3 45 test vehicle edged that out to average 25 mpg in mixed driving. Those aren't great numbers, and we were surprised Audi didn't provide a selectable Eco driving mode. The good news: Unlike most luxury suvs, both Q3 engines are rated to run on regular-grade fuel rather than much costlier premium fuel.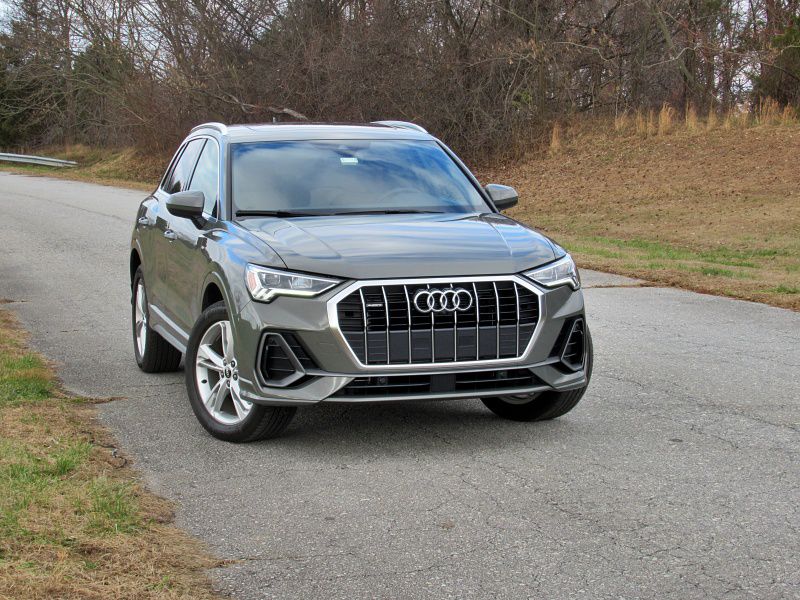 Photo by Brady Holt
Steady Driving Manners
The Q3 40 needs 8.6 seconds to reach 60 mph, which is slow for a luxury suv but not bad for a small crossover overall. The Q3 45 is much livelier, with Audi estimating that it will reach 60 mph in 7.1 seconds. That's still not class-leading speed, but it's more in line with key rivals.
Whichever engine you choose, the Q3 is more about steady composure than exhilarating driving thrills. The engines are agreeably smooth and quiet. The suspension is tuned firmly for a ride that's comfortable but tautly controlled. And because the Q3 is heavier than many competitors (a reason for its less impressive acceleration and fuel economy), it feels big and solid for a subcompact crossover. That doesn't mean it's clumsy, though. That firm suspension keeps the handling agile, with high limits for an SUV. However, the light steering is more suited for easy cruising than high-speed switchbacks. 
Photo by Brady Holt
Solid Safety Scores
Every 2023 Audi Q3 comes standard with safety equipment that includes automatic emergency braking, a lane-departure warning, blind-spot monitoring, and front and rear parking sensors. Adaptive cruise control, lane-keeping steering assistance, rear-seat torso-protecting side airbags (not found on many SUVs), and a surround-view parking camera cost extra. 
In the event of a collision, the Q3 also earned five out of five stars overall from the National Highway Traffic Safety Administration and earned the highest rating of Good in most Insurance Institute for Highway Safety crash tests. It missed out on the IIHS Top Safety Pick status because its automatic emergency braking system struggled to avoid some simulated pedestrians. It also came up short of the top score in two newly introduced tests, scoring Acceptable for side-impact protection from a big SUV and Marginal for rear-passenger safety in a frontal collision. But overall, this is a very safe SUV.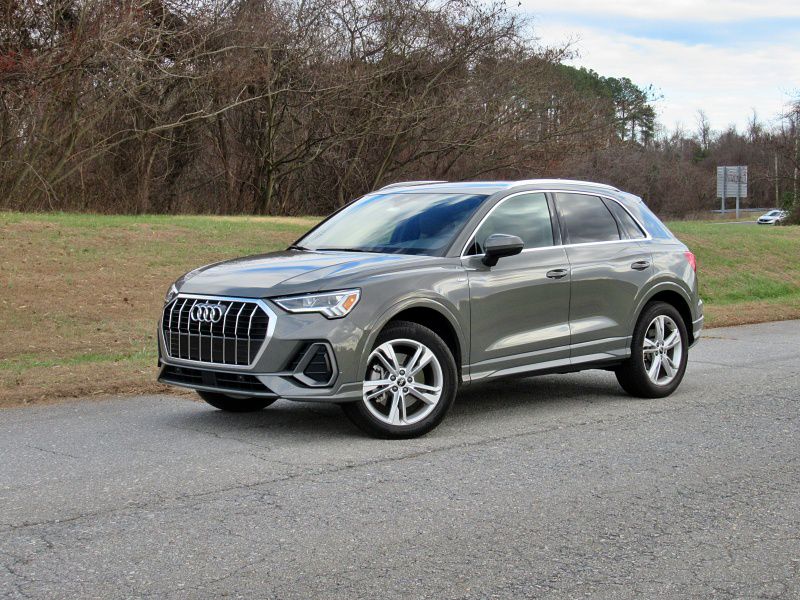 Photo by Brady Holt
Reasonably Priced for What It Is
As we mentioned, the 2023 Audi Q3 starts at $36,400. That's not only much less than the Audi Q5, as we mentioned, but it's also barely $1,000 more than an equivalently equipped Honda CR-V. (The CR-V is admittedly a size larger, but as we discussed, the Q3 is roomy for a subcompact.) The Q3's long list of standard features includes heated genuine-leather front seats, a 10-speaker stereo, a wireless smartphone charger, tri-zone automatic climate control, a panoramic sunroof, a power liftgate, and all-wheel drive. 
Our fully loaded test vehicle included the larger 228-horsepower engine ($2,300), the Premium Plus package with adaptive cruise control, a Sonos sounds system, and more ($3,300), and the Technology Package with larger infotainment displays and GPS navigation ($2,700). In total, including extra-cost paint and wheels plus an $1,195 destination charge, our test vehicle came to $47,040. That's not a cheap SUV. But it's a relatively affordable way to get all that gear from a luxury brand.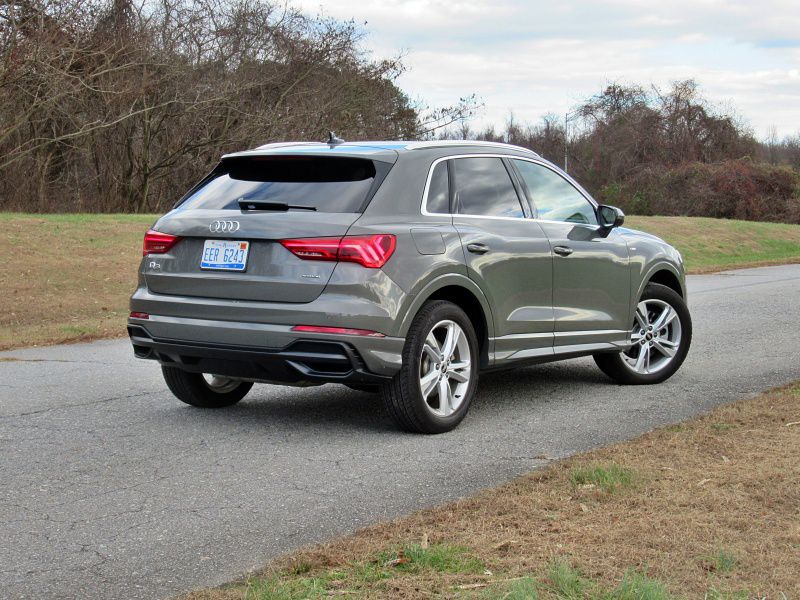 Photo by Brady Holt
Competitors to Consider
The luxury subcompact crossover class has a growing number of standouts, of which our favorites include the newly redesigned BMW X1 and the freshly updated Volvo XC40. The BMW combines sporty performance, a roomy interior, and great gas mileage. The Volvo drives more like the Audi, but it has a more richly finished interior and a quirkier personality. The Q3 has the most standard features and the biggest backseat of the trio, along with the most serious, reserved styling. 
We'd also shop the Q3 against a couple of aggressively priced compact luxury crossovers: the Cadillac XT4 and the Lincoln Corsair. Between the two, the Cadillac feels smoother and steadier, while the Lincoln is more richly finished and has more cargo space. You could also consider refined mainstream-brand models like the Mazda CX-50 and Honda CR-V. And versus the Audi Q5, the Q3 has a similar overall vibe, but it trails its bigger, pricier rival here and there: a bit less cargo room, some lower-grade interior materials, fewer available features, and a little less power. If your budget allows, we'd consider both while you're already in the Audi dealer to see if the Q5's benefits are worth its substantial price premium.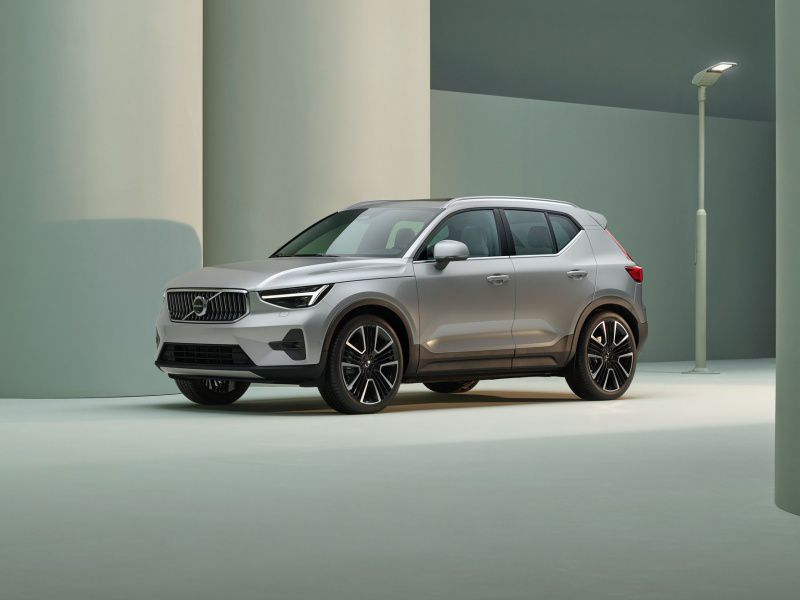 Photo by Volvo
Final Thoughts
The 2023 Audi Q3 brings numerous valuable selling points to the subcompact crossover class while avoiding disastrous flaws. It fits easily into your life, with plenty of room, easy driving manners, relatively simple controls, lots of features for the money, and low-cost regular fuel. 
Discerning customers will spot advantages to some competitors, yes. The Audi's acceleration, fuel economy, and cabin materials are not luxury-SUV standouts. But the overall package remains compelling. If you're considering a well-equipped small crossover (even if it's from a mainstream brand), we'd encourage you to include the Audi Q3 among the SUVs on your shopping list.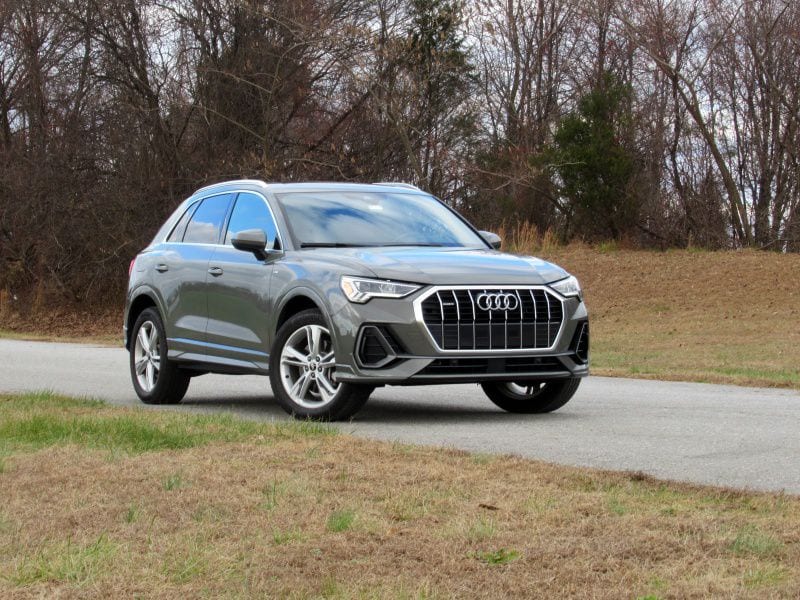 Photo by Brady Holt