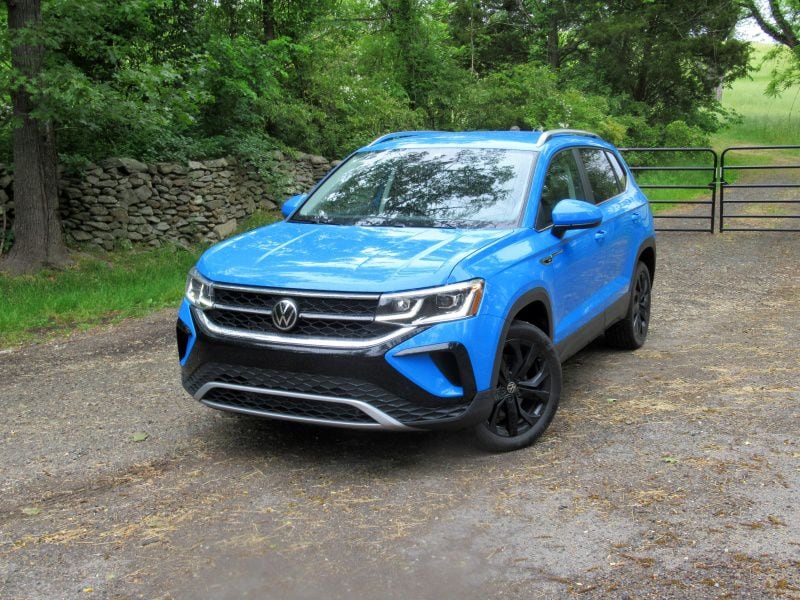 2022 Volkswagen Taos SEL ・ Photo by Brady Holt
Volkswagen cracked the code for the U.S. market: bigger cars, lower prices. It's the strategy it rolled out for the Passat sedan and the Tiguan and Atlas crossovers. These roomy vehicles proved popular, but they alienated customers who actually liked VW's smaller cars. Now that the Golf hatchback is no longer sold in the U.S., and the Tiguan has grown from one of the smallest compact crossovers into one of the biggest, there was a hole in the lineup for a small vehicle with useful cargo space. 
To fill it, VW turned to this winning strategy: big car, lower price. The result is the 2022 Volkswagen Taos crossover, which is just hitting dealerships at a starting price of $22,995. Rather than import the small, zippy Volkswagen T-Roc subcompact crossover from Europe, the company adapted the larger Volkswagen Tharu from the Chinese market, adding a bigger engine and a dressier front-end design. The result can be considered either an unusually roomy subcompact crossover, or an unusually petite compact crossover that still has decent space inside. We spent an afternoon in two Taos vehicles at a media event to see how it turned out. 
Squared-Off Style
While many subcompact crossovers look like low, sleek hatchbacks, the Taos is relatively tall and boxy. Compared with the Chinese Tharu, there's more decoration on the Taos' front end: a shiny black hourglass shape that dips down from the rectangular headlights and grille, then curls up at the sides. It also sports a lightbar that connects the headlights, hiding in the grille. Otherwise, the Taos has mostly straight lines, including on its rear windshield. And its roofline is upright. VW subtly squares off the wheel arches, too. 
The result is an appealing balance between an ordinary hatchback and the tough-guy vibe of an SUV. The Taos isn't aggressive, but it looks substantial. While some may find the body too plain, others will see a timeless, confident design that doesn't rely on lots of busy details. A boxy shape keeps things functional, too, and some buyers are bound to appreciate that aesthetic for practical reasons.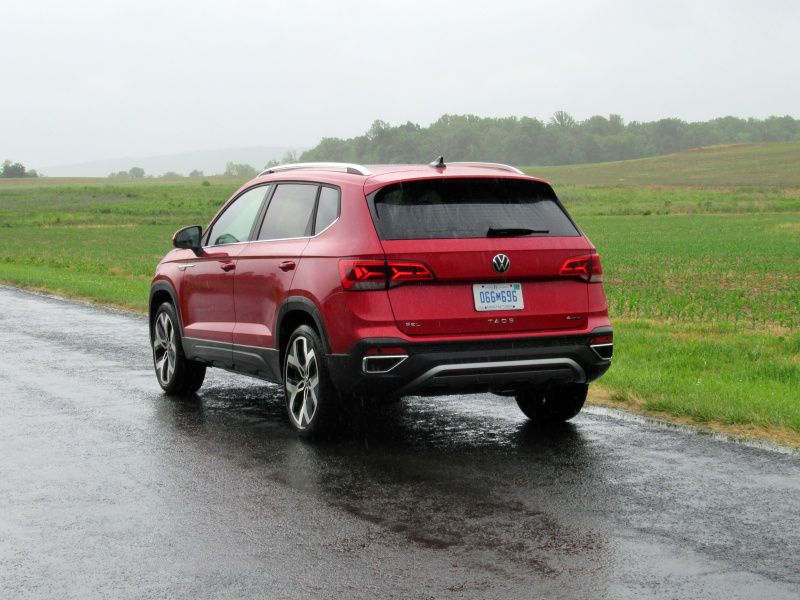 Photo by Brady Holt
Straightforward Interior
Like most recent Volkswagens, the Taos has a straightforward dashboard layout: climate controls with three knobs and a few buttons, and a touchscreen infotainment system with volume and tuning knobs. 
The Taos's infotainment system measures a modest 6.5 inches on the base S model and a competitive 8 inches on the rest of the lineup. In one piece of decoration, the gauges are digitally rendered on a screen that measures 8 inches on the S and SE trim levels, while the top SEL like our test vehicles gets a configurable 10.25-inch display that can even convert into a GPS display. The Taos's ordinary interior plastics mean you won't mistake it for a luxury car; this isn't a mainstream-priced luxury suv the way VW positioned the original little Tiguan. But given the price, the Taos's interior isn't a liability.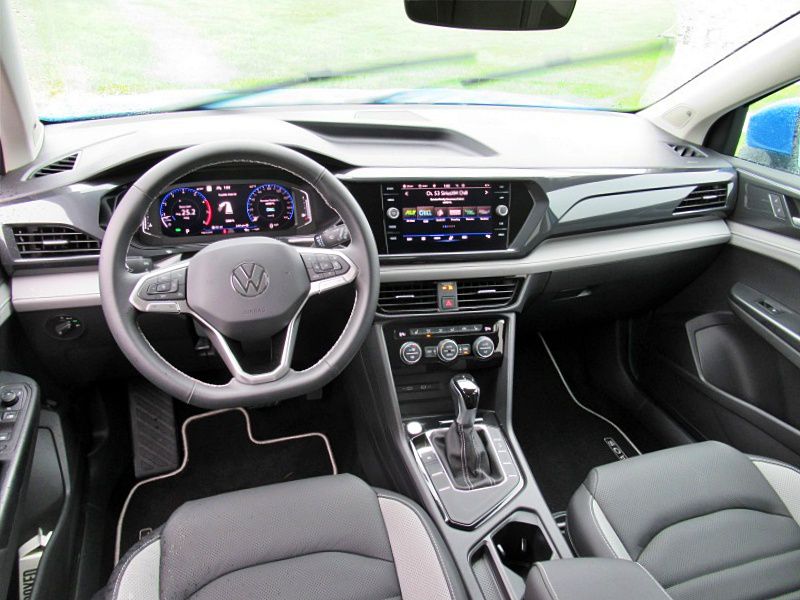 Photo by Brady Holt
Comfortable Seats
Many inexpensive suvs have basic seating accommodations, with flat cushions and limited rear legroom. The Taos is a welcome departure from that trend. It has perhaps the best front seats in the subcompact crossover class — well-shaped to hold you nicely in place without being confining — along with the biggest backseat. Adults can legitimately stretch out back there. If you thought you needed a compact crossover to carry the whole family instead of a subcompact, the Taos will prove you wrong. 
Creature comforts also about. Only the base S model has cloth, manually adjustable front seats. The SE introduces eight-way power-adjustability for the driver, along with leatherette upholstery and front seat heaters. The SEL brings genuine leather and the option for ventilated front seats. VW's smallest SUV didn't opt for being basic and dull.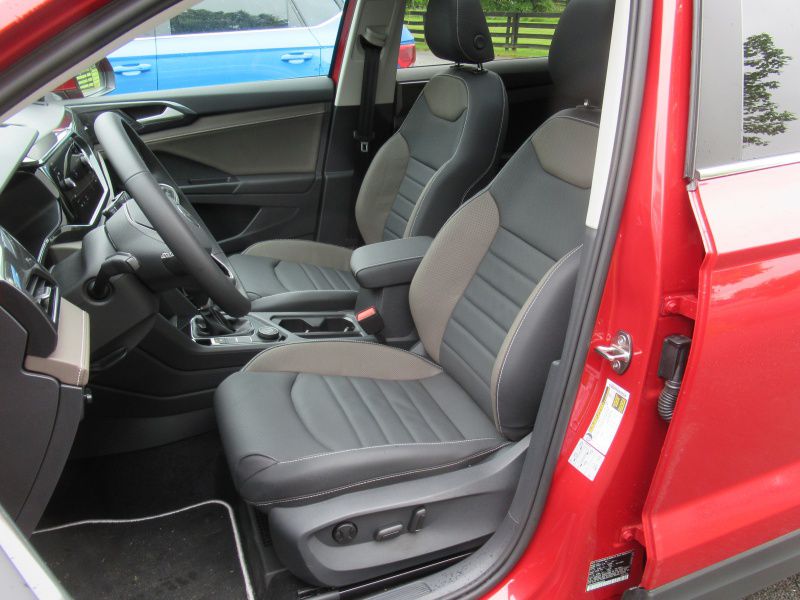 Photo by Brady Holt
Plenty of Cargo Room
The Taos's relatively generous dimensions and boxy shape give it a more generous cargo capacity than most subcompacts. It's a useful little SUV. 
By the numbers, front-wheel-drive Taos models hold 27.9 cubic feet behind the rear seat or 65.9 cubic feet with the rear seat folded. Those figures match a couple of models from the compact class. If you choose all-wheel drive, you get a bulkier rear suspension design that pushes up the cargo floor by several inches, reducing capacity to a still-respectable 24.9 cubic feet behind the rear seat and 60.2 cubic feet with the seat folded down. However, the cargo floor isn't flush with the folded front seatbacks, and unlike some competitors, VW doesn't offer an adjustable-height floor to fix that problem. The Taos also isn't rated to tow a trailer.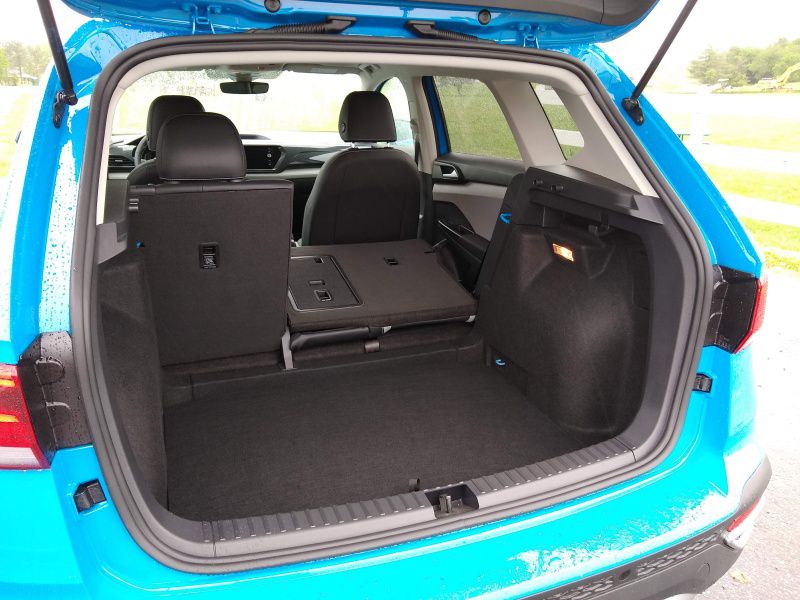 Photo by Brady Holt
Peppy Yet Economical
Every Taos has a 1.5-liter turbocharged four-cylinder, which makes 158 horsepower and 184 lb-ft of torque. That's agreeably peppy for this size of vehicle, even if it doesn't create a driving enthusiast's dream. Perhaps most significantly, we appreciated the engine's smoothness; even though the turbo wasn't exactly hurtling the Taos forward, it avoided feeling and sounding overworked. 
Front-wheel-drive Taos models have a smooth eight-speed automatic transmission, while AWD brings a seven-speed dual-clutch automatic that provides faster shifts but occasionally stumbled slightly during our time behind the wheel. The front-wheel-drive Taos earns excellent EPA ratings of 28 mpg in the city, 36 mpg on the highway, and 31 mpg combined, while AWD slices those figures to 25 mpg city, 32 mpg highway, 28 mpg combined. We tested both configurations primarily on lightly trafficked rural roads; they averaged 34 mpg and 32 mpg, respectively, both impressive showings.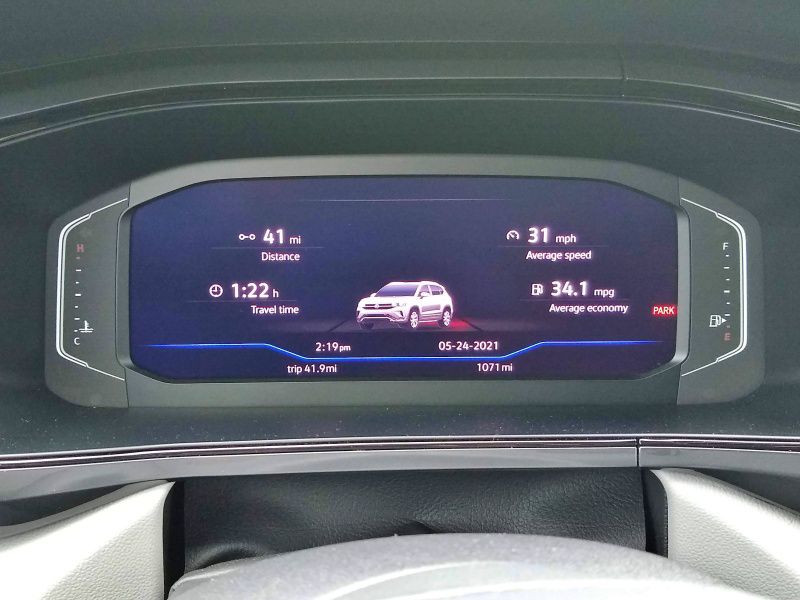 Photo by Brady Holt
Smooth Ride
Both the front-drive and AWD Taos configurations had firm but agreeably steady, comfortable rides. This helps them feel fancier than many subcompact competitors. We found the Taos quiet for a subcompact crossover, too.
Driving enthusiasts will want AWD, though. It only took us a few seconds to feel the difference between the two Taos configurations. The AWD model has firmer, more responsive steering and superior handling control. Also, unlike the front-drive Taos, the AWD model is available with multiple driving modes. In addition to settings for messy conditions, it lets you adjust the steering and throttle calibrations for either sportier performance or easy, more economical driving. That means anyone can be happy in the AWD Taos, while the front-drive version will leave some drivers wishing for more. Even setting aside the different suspension design, we wish VW had kept selectable driving modes in the front-drive model.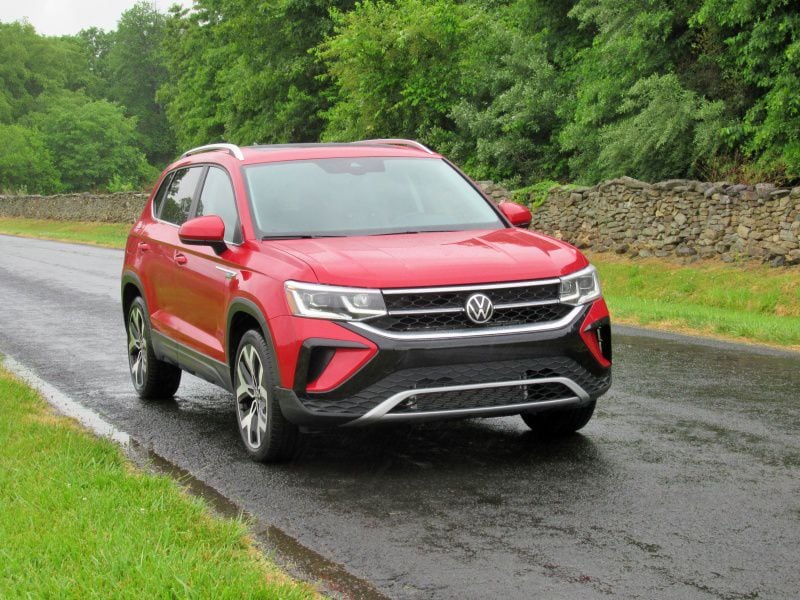 Photo by Brady Holt
Not Inexpensive
The 2022 Volkswagen Taos has a reasonable base price of $22,995 for the base S model with front-wheel drive. That's class-competitive for a subcompact crossover, and even more expensive considering how much space it has. But prices rise quickly. 
The Taos doesn't come standard with many more safety features than the legal minimum; most advanced driver aids are bundled in a $995 package on the S, and unlike a couple of notable competitors, VW charges an extra $1,500 to $2,000 for all-wheel drive across the lineup. There's also a big jump from the S to the SE, which starts at $27,245 and which VW expects to be the most popular Taos model. The top SEL runs $31,490 and up. That means that an AWD mid-level Taos costs nearly $30,000 when you factor in the $1,195 destination charge. That's more than other subcompacts, and about as expensive as the typical compact crossover. This isn't the crossover you choose because you're on the tightest possible budget.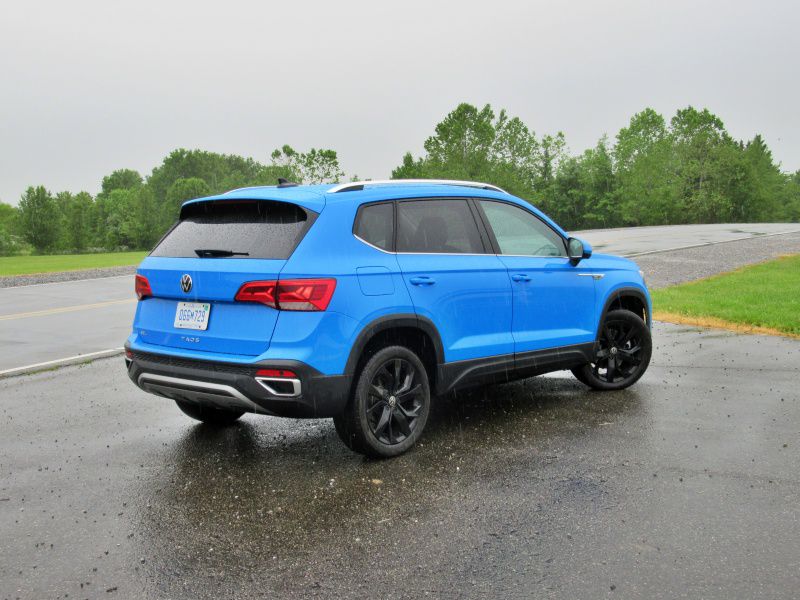 Photo by Brady Holt
Variety of Competitors
Since the Taos is smaller than the typical compact crossover yet roomier and more refined than the typical subcompact, you could either say it fits into a narrow niche — or has an unusually wide variety of competitors. 
Volkswagen focuses on the similarly sized Jeep Compass (typically considered compact) and Subaru Crosstrek (typically considered subcompact), though both are more off-road-focused than the Taos. VW also mentions the unusually roomy Kia Seltos subcompact. The Taos is more refined than these models, has more space, and typically costs more. (We've also published full comparisons of the Taos against the Seltos and Crosstrek.) On the other hand, you can consider the Taos a competitor to compact crossovers like the Honda CR-V, Nissan Rogue, Ford Escape, and Subaru Forester. In that context, the Taos gives up some cargo space, but it becomes a more compelling value for the money. It's not always less expensive than those models, but you might prefer the Taos's agility, maneuverability, nicely shaped seats, or simply its style.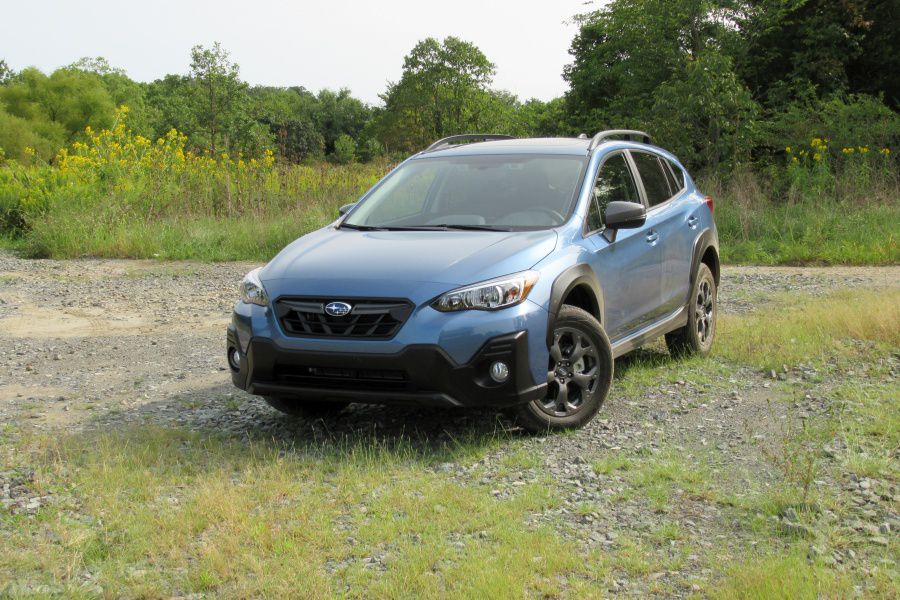 Photo by Brady Holt
Value in the Right Context
When you measure value in terms of spaciousness for the money, the new Volkswagen Taos makes a promising first impression, thanks to its commodious cabin and reasonable $22,995 starting price. Then you start adding options, the price quickly skyrockets, and you realize that you can get a bigger compact crossover for similar money. 
The Taos is a strong value in a different kind of context, though. Thanks to its comfortable seats and stable, quiet ride, you can consider it as a viable alternative to a compact crossover that simply has a different skillset than maximum cargo capacity. With the Taos, wanting a smaller, nimbler SUV doesn't force you into a cramped, noisy little vehicle. We wish the AWD model got better gas mileage and that the front-drive model had sharper steering, and we wish more safety features were standard. But when you can get a pretty well equipped Taos for under $30,000, you're getting a well-rounded crossover that's comfortable, easy to drive, and even moderately fun. Consider your needs and the competition carefully, but also be sure to consider Volkswagen's newest model.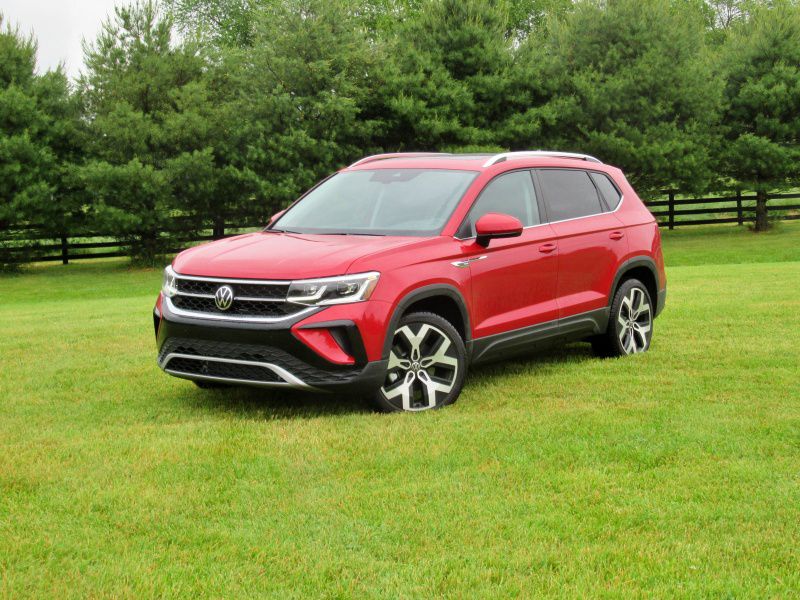 Photo by Brady Holt