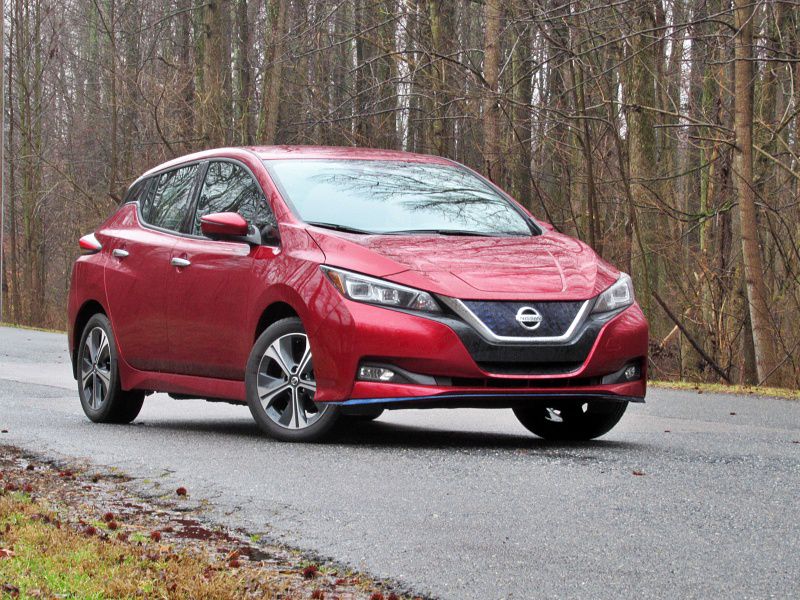 2022 Nissan Leaf SL Plus ・ Photo by Brady Holt
Cost is an infamous piece of owning an electric vehicle. The EV market has mostly given buyers a choice between basic cars that cost a lot of money and slickly executed luxury models that cost even more. But this year, that dynamic changed, and not many people have noticed. 
That's because the 2022 Nissan Leaf — an early EV pioneer that has lately faded into obscurity — just got an enormous price cut. This compact all-electric hatchback now starts at just $27,400. Not only is that $4,300 less than last year's Leaf, but after you apply a $7,500 federal tax credit, the Leaf's effective price is below $20,000. That means it's not only the most affordable EV in America by a margin of several thousand dollars, but it's also an EV that (after the tax credit) costs less than a similarly sized, similarly equipped economy car with a gasoline engine. Keep reading to learn more about the Leaf's advantages and about what Nissan has done to keep prices down, so you can see if the Leaf is a good way for you to go electric. 
Choice of Ranges
The Leaf is available with a choice of a base 40-kWh electric battery and a higher-capacity 62-kWh unit on the Leaf Plus. With the base battery, the Leaf travels an EPA-estimated 149 miles per charge while averaging the equivalent of 111 mpg combined. 
The 62-kWh battery typically improves range to 215 miles per charge, while efficiency dips to 104 MPGe (one trim level does slightly better on both fronts). Upgrading to the Plus costs about $5,000; we think the Leaf's appeal is the strongest in its more affordable form, and 149 miles at a time is enough for most commutes. Note that whichever battery you choose, the Leaf is more efficient (and thus has a longer range) at lower speeds than on the open freeway. Charging the standard Leaf takes eight hours on a 240-volt outlet; the Leaf Plus's bigger battery takes 11.5 hours. Public fast-charging stations can give 80 percent charge in 40 to 60 minutes depending on your battery and the charger's capacity. You can even get about 5 miles of range per hour on a 120-volt household outlet, which adds up to a slow full recharge but can top you off if you're plugged in overnight.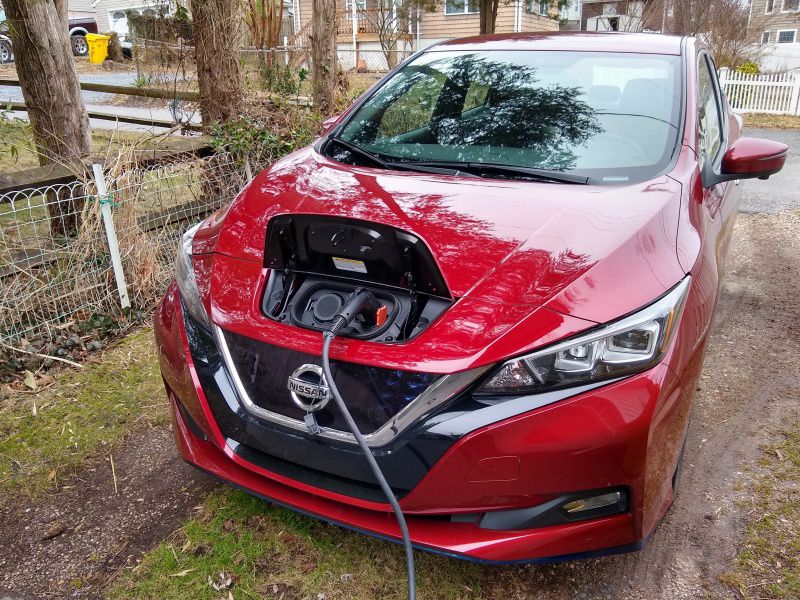 Photo by Brady Holt
Zippy and Quiet
The base Leaf has a 147-horsepower electric motor. That's roughly the same output as a similar-sized Nissan Sentra gas-powered sedan. But the Leaf is much zippier. It has 236 lb-ft of torque compared with the Sentra's 146, and like other EVs, it makes its peak torque right off the line. What's more, the Leaf makes a near-silent whir rather than the buzzy drone of a 147-hp economy car's engine. The Leaf Plus's output increases to 216 hp and 250 lb-ft of torque. This isn't a face-melting Tesla, but it's excellent performance for a compact economy car. 
Similarly, the Leaf doesn't have sportscar-like moves, but it rides and handles well for a compact hatchback. The suspension is tuned to take the edge off bumps sooner than to carve corners, but like in a Tesla, the battery pack keeps its center of gravity low — providing a welcome sense of stability and balance. The firm steering is responsive and inspires confidence, even if the Leaf doesn't have super-high handling limits.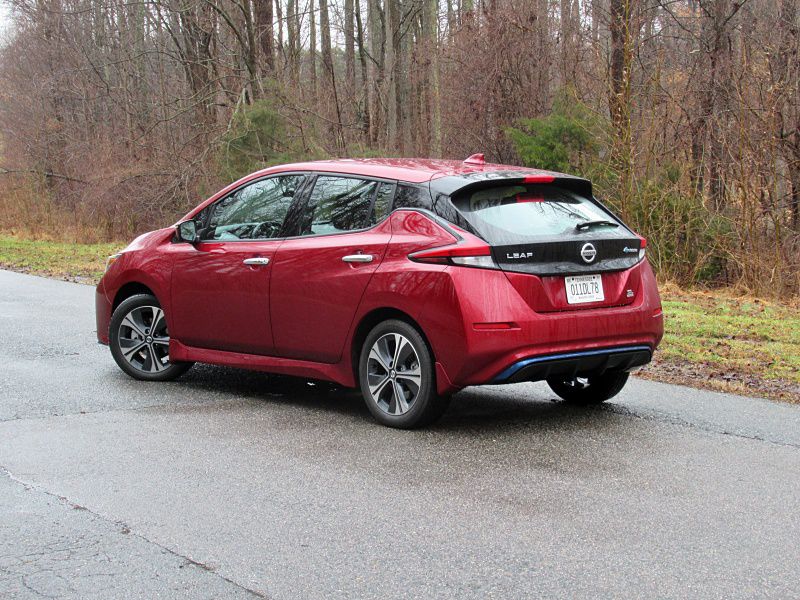 Photo by Brady Holt
Conventionally Attractive
The first-generation Leaf was designed to look like the car of the future when it debuted in 2011, a funky little alien pod. The current model, which hasn't changed visually since 2018, is more conventionally attractive. It doesn't scream "I'm an electric car." 
Although EVs don't need airflow through a grille to cool their engines, the Leaf now wears the same face as gas-powered Nissans. Its grille area is filled-in plastic with a subtle black-and-blue diamond pattern, and up above that is an artfully disguised door to the charging port. Tall and narrow, and wearing a big front overhang, the Leaf's shape isn't about to win design awards. Still, we think Nissan did a great job with the details, which include slim headlights and taillights, a cheekily hunched-forward rear end, and a "floating roof" visual connection between the side windows and rear windshield. The Leaf doesn't have a strong cool factor, but it isn't aggressively dorky either.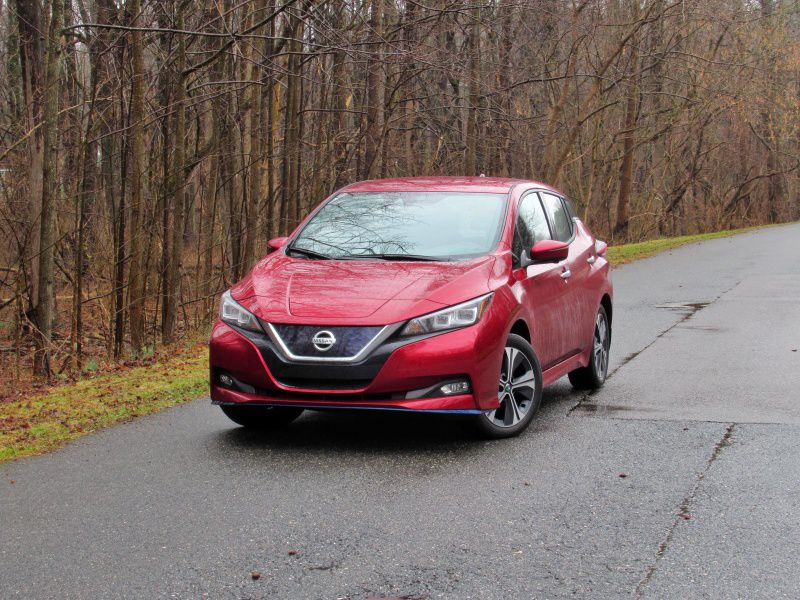 Photo by Brady Holt
Keeping It Simple
Forget about the jumbo touchscreen you'd find in a Tesla, or even the pointedly unconventional dashboard of a Toyota Prius hybrid. Except for a stubby round gear selector, the Leaf's interior is wholly conventional for a 2018-era compact economy car. 
All trim levels feature an 8-inch touchscreen infotainment system with Android Auto and Apple CarPlay integration. Simple buttons and knobs surround it, nothing cutting-edge, experimental, or inscrutable. A conventional analog speedometer sits next to a customizable digital display behind the steering wheel. Our top-of-the-line Leaf SL Plus test vehicle includes leather and suede upholstery, but the dashboard is finished with simple plastics — none of the affordable-luxury vibe you'll find even in the latest Nissan Sentra. Rather, the Leaf's dashboard is closer to the all-business Nissan Versa subcompact. If you're looking for an EV to be a showpiece of sleekly modern technology, that's a disappointment. If you just want a simple, economical runabout, you might welcome Nissan's function-focused dashboard.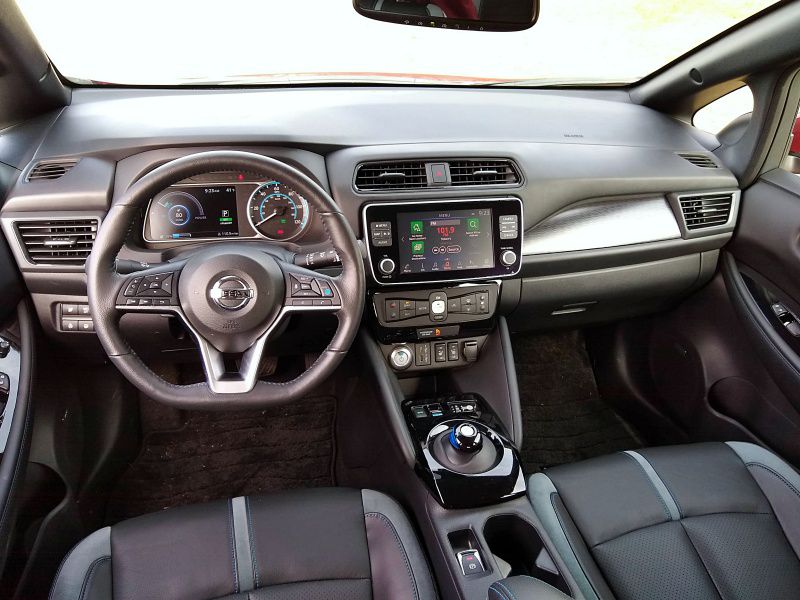 Photo by Brady Holt
Functionally Spacious
The Leaf's focus on functionality extends to its passenger and cargo accommodations. This is a tall hatchback, which is a useful shape of vehicle. Four adults fit comfortably into a cabin that feels open and airy for a compact car, and a fifth can squeeze in around the rear seat's floor-mounted central cupholders. The Leaf is no limousine, but it's roomier than the typical small hatchback or than a Hyundai Kona EV electric vehicle. 
For cargo, the Leaf's deep trunk includes 24 cubic feet of storage capacity, more than many subcompact SUVs. The rear seat folds in a 60-40 split to open up a bigger cargo hold, but because the folded rear seatbacks sit high above the cargo floor, you don't get the convenient flat surface that's common in modern hatchbacks and crossovers. The Leaf Plus and standard Leaf have the same interior volume; the Plus's higher-capacity battery didn't need to intrude into the cabin.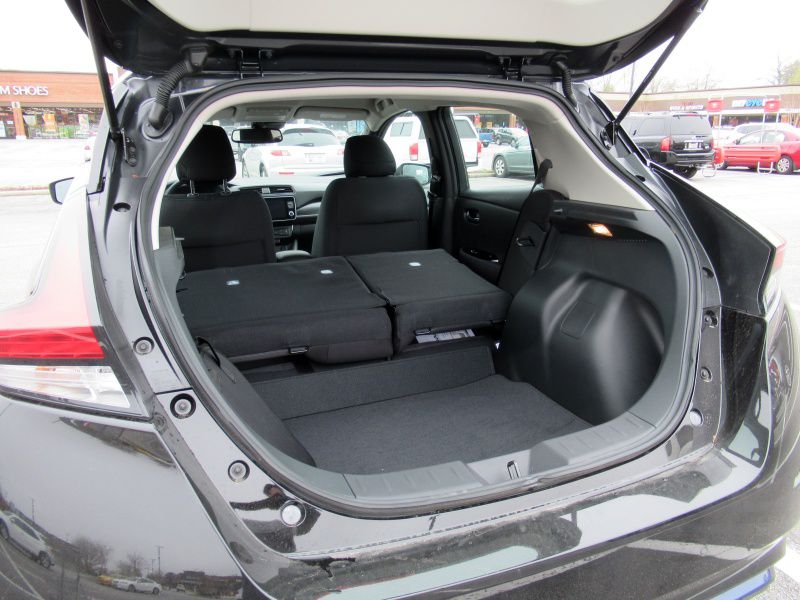 Photo by Brady Holt
Five-Star Safety
The Leaf earned the highest rating of five stars overall in National Highway Traffic Safety Administration crash testing, though it dipped to four stars for front-impact protection. The Insurance Institute for Highway Safety has subjected the Leaf only to its easiest tests, which it aced without issue. 
A comprehensive suite of advanced safety features comes standard on every Leaf as well. This includes automatic emergency braking, blind-spot monitoring, and a lane-departure warning. A more advanced driver-assistance system — which combines adaptive cruise control and lane-keeping assistance into what Nissan calls ProPilot Assist — is included on well-equipped Leaf models. These higher-end Leaf vehicles also include a surround-view parking camera, which displays a handy bird's-eye view of the Leaf and surrounding obstacles.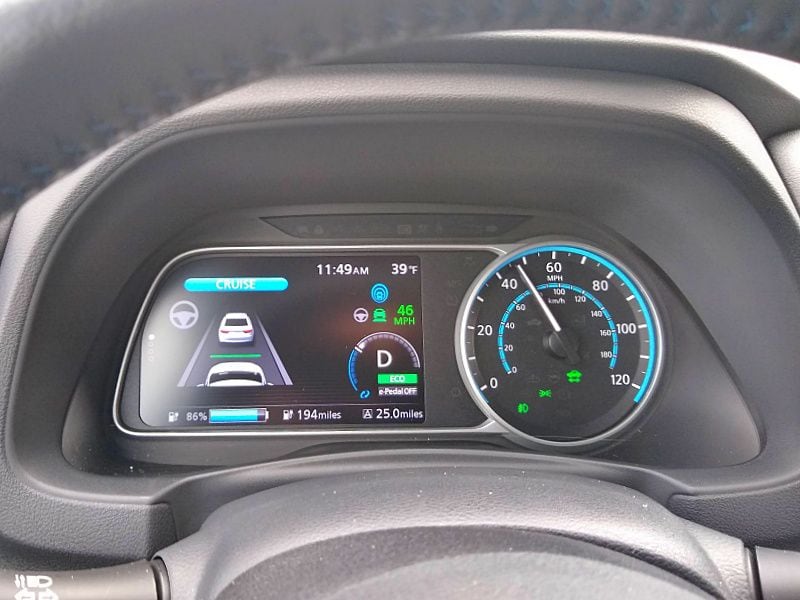 Photo by Brady Holt
What Price Premium?
The 2022 Nissan LEAF S has a sticker price of $27,400. Once you factor in the Leaf's $7,500 federal tax credit, that's a great price for a decently equipped compact five-door — electric or otherwise. In addition to the aforementioned safety and infotainment features, the Leaf S includes automatic climate control, push-button starting, and (for the first time) a 50-kW quick-charge port that Nissan previously limited to pricier trim levels. 
Our pick of the lineup is the SV, $28,800, which adds heated front seats, a heated and leather-wrapped steering wheel, alloy wheels instead of plastic wheelcovers, a six-speaker sound system, GPS navigation, and adaptive cruise control. The heated seats and steering wheel alone would be worth the price premium, since they're more energy-efficient than using the electric heater to warm the whole cabin. Both the S and SV are also available with the bigger Plus battery at a price premium of about $5,000 over their base versions. There's also the top-of-the-line $37,400 SL Plus, like our test vehicle, which is the only way to get leather upholstery in a Leaf. Overall, these newly reduced prices challenge the idea that electric cars force you to pay a premium.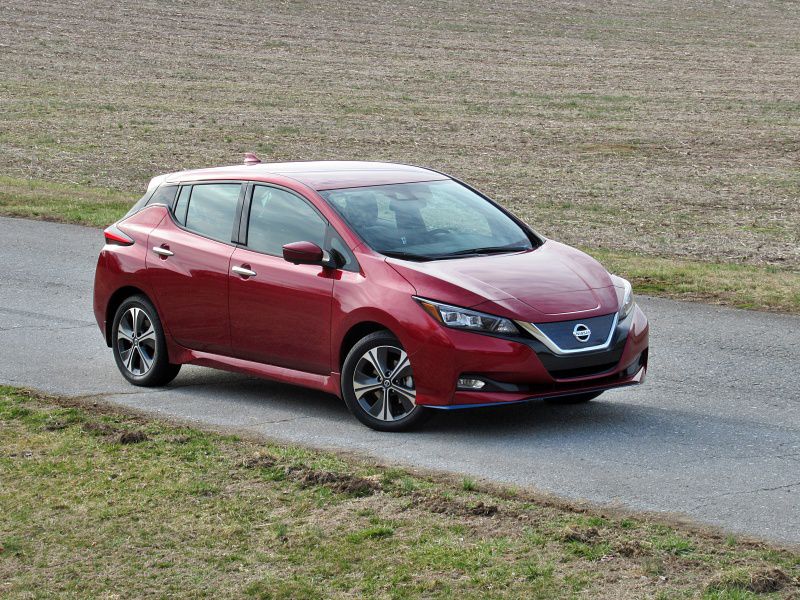 Photo by Brady Holt
Flashy Alternatives
In the EV market, most models focus on flashy looks, slick-looking technology, and long ranges per charge, or at least most of the above. We don't just mean luxury brands like Tesla, but also EVs like the Ford Mustang Mach-E, Hyundai Ioniq 5, and Kia EV6. Even humbler models like the Chevrolet Bolt, Hyundai Kona EV, and Volkswagen ID.4 have longer ranges and spiffier in-cabin technology than the Leaf. 
What Nissan has is value, and it's a value that had few rivals even before this year's enormous price cut. The Bolt looks appealing at $31,500, but it no longer qualifies for the $7,500 tax credit because General Motors has already sold too many plug-in vehicles. The Kona EV starts at $34,000, and despite its SUV-esque attitude, it has no all-wheel drive and even less interior room than the Leaf. Hyundai's other affordable electric car, the Ioniq hatchback, is another relatively ordinary hatchback with a relatively modest range (170 miles) — but even it costs $33,245. The MINI Cooper SE and Mazda MX-30 are relatively affordable and great fun to drive, but both start above $30,000 with ranges in the low 100s. Other EVs cost $40,000 and up.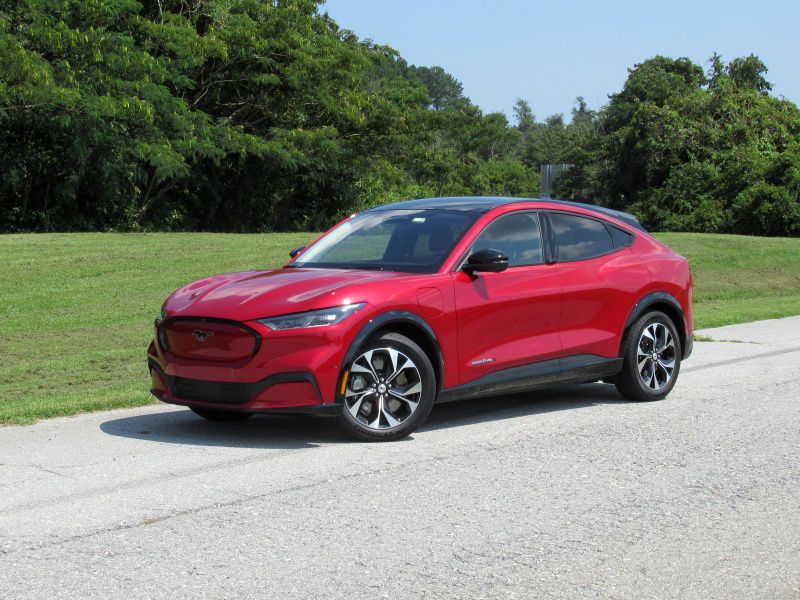 Photo by Brady Holt
An EV for Everyone
We exaggerate slightly in this page heading. There is no EV for everyone. Electric cars have clear limits: You can't drive them as far as a gasoline car, and it takes much longer to refuel them. And an unpretentious economy hatchback isn't everyone's idea of a dream car, either. 
But the Leaf combines a broadly usable range, a broadly useful interior, and a broadly accessible price. Not everyone buying an economy car has an EV-friendly commute or a place to recharge it, but price has finally ceased to be an impediment. A hypothetical gas-powered Leaf would already be a pleasant enough economy car, while the real car's electric motor elevates its refinement, acceleration, and efficiency. Getting more car for less money is new to the EV market, even when you consider Uncle Sam's contribution. And it's a formula we're always eager to embrace. If you're interested in affordable, economical transportation, going electric suddenly got more financially savvy than ever.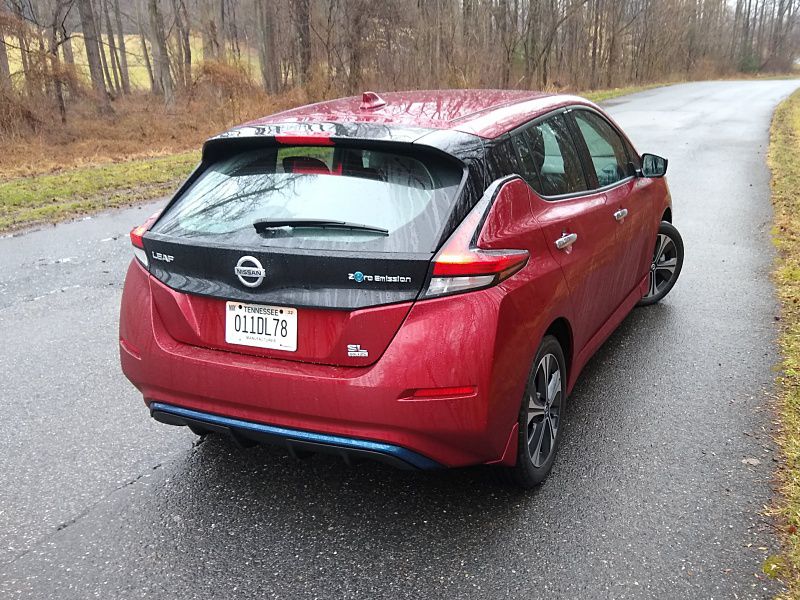 Photo by Brady Holt