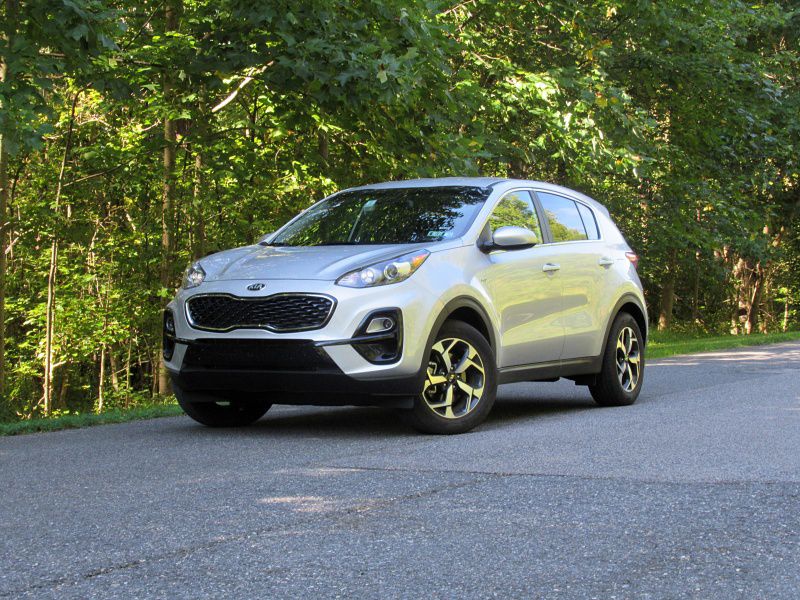 2021 Kia Sportage LX ・ Photo by Brady Holt
In the hot compact crossover market, new models are constantly hitting the streets. And that makes it easy to overlook the 2022 Kia Sportage. The Sportage hasn't been fully redesigned since 2017. And because it arrived half a size smaller than best-selling models like the Toyota RAV4, it had a built-in handicap. 
Still, Kia has improved the Sportage over the years — most notably in 2020, when the vehicle received a slew of standard safety and infotainment features. That means that even a base Sportage LX, costing $24,090, is an amenity-laden crossover. We rented that base Sportage to see how much you'd have to give up with this tempting value option. Here's what we found. 
Still Looks Fresh
The Sportage debuted with quirky looks back in 2017, but it's aged well to our eyes. The headlights sit up high with the hood, with a large foglight assembly breaking up the big bumper below them. Coupled with the rounded body, high windowline, and slim taillights, the Sportage gives us a vaguely French vibe. And even our tested entry-level LX model is dressed up nicely with 17-inch alloy wheels and body-colored mirrors and door handles; some competitors go out of their way to make their base models look cheap. For 2022, Kia added a new Nightshade Edition that blacks out the wheels and other trim. Unlike other 2022 Kias, the Sportage doesn't yet wear the brand's newly redesigned logo, sticking with the familiar oval. 
Kia has already shown the next-generation Sportage, which will likely arrive in the U.S. next year as a 2023 model. It has sharper edges, more shiny trim around the windows, and more aggressively unusual headlights and taillights. It's also bigger than today's model. If you want the most modern looks, you'll wait for the new Sportage (or consider a competitor), but the current model looks clean without being too generic.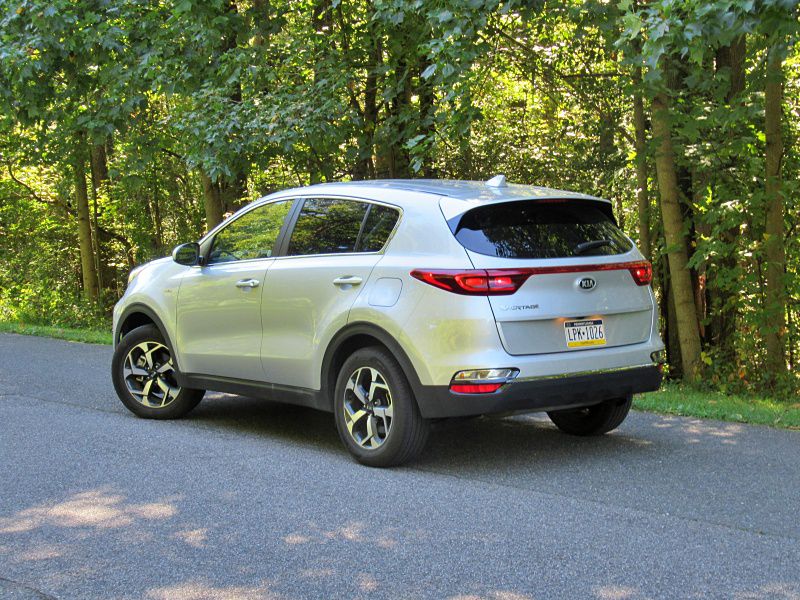 Photo by Brady Holt
Straightforward Interior
Inside, every Sportage comes with an 8-inch touchscreen infotainment system with Android Auto and Apple CarPlay smartphone integration. Unlike on many newer crossovers, the screen is integrated into the dashboard rather than perched up on the top — a welcome move for some buyers. Better still, the screen has a user-friendly interface and is nicely complemented with simple buttons and knobs. There's no wireless Android Auto or Apple CarPlay like on a few newer crossovers, though; you have to plug into a USB port to use phone apps on the car's screen. 
The Sportage doesn't look flashy inside, but it's solidly built and has mostly nice materials. We didn't like the wobbly turn signal stalk, but otherwise even this base model avoided feeling low-rent, particularly in the places you will touch most often. And all Sportages but the base LX trim level include either leatherette or genuine leather upholstery. You might prefer more design pizzazz, but you might also welcome this restrained, user-friendly simplicity.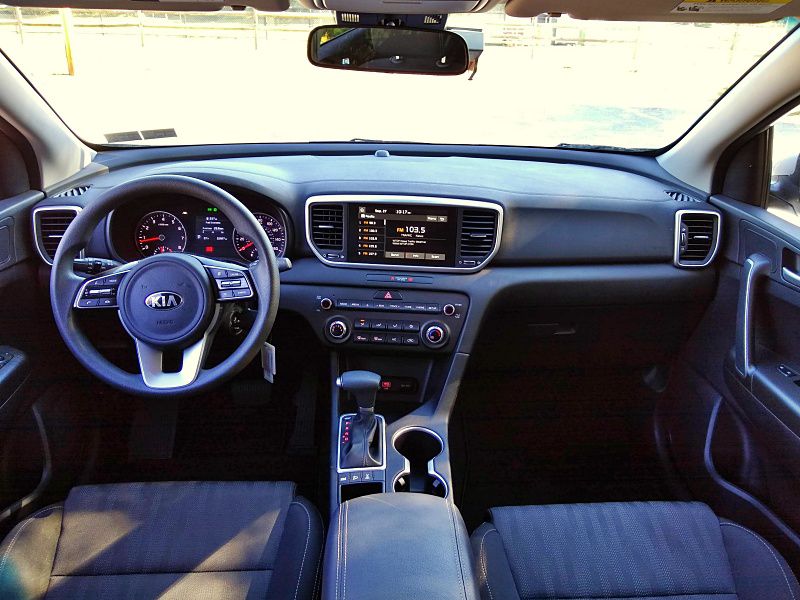 Photo by Brady Holt
Cushy Seats
We found the Sportage's front seats to be especially comfortable for an affordable SUV, with generous padding and nicely shaped cushions. Many competitors have harder, flatter seats. Some valuable comfort features are available even on the base model; its options include a 10-way power-adjustable driver's seat and heated front seats. Ventilated front seats and a heated steering wheel are offered on upper-trim Sportages. 
However, most compact crossovers are about 6 inches longer than the Sportage, and you feel the deficit in the rear seat and cargo hold. The backseat is wide enough for three adults, and Kia considerately provides rear climate vents even on the base model. But several competitors have more generous rear legroom — useful for fitting tall passengers or a bulky rear-facing car seat. Cargo capacity is also less than most compact crossovers at 30.7 cubic feet behind the rear seat and 60.1 cubic feet with the rear seat folded. And unlike most of its competitors, folding the Sportage's rear seat requires removing the rear head restraints or sliding the front seats forward. This isn't a tiny SUV, but it's less generous than compact crossovers. Towing capacity is an above-average 2,000 pounds, though.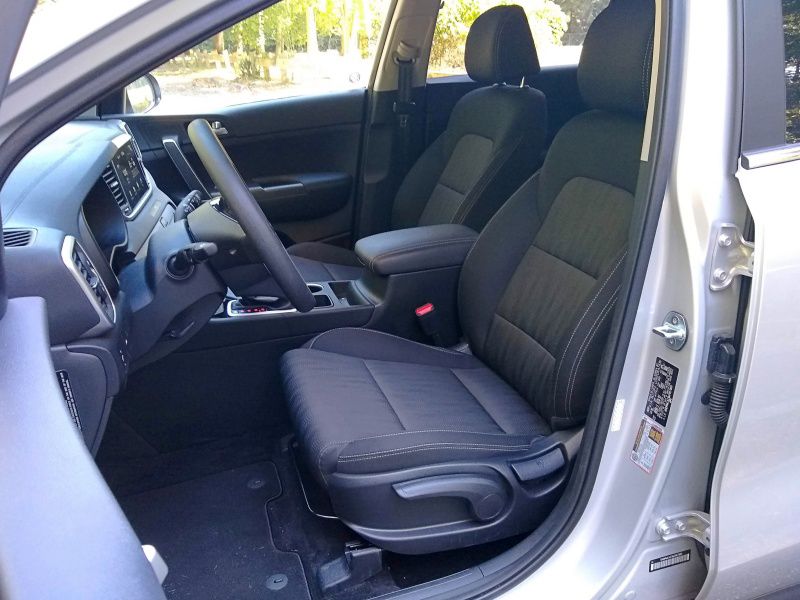 Photo by Brady Holt
Easygoing Ride
Rather than trying to be extra-sporty or extra-capable, the Sportage delivers an appealingly smooth ride. This is a quiet, easygoing compact crossover. It handles pretty well, too, as long as you aren't actively seeking out its limits. In routine driving, this is an agreeable, easy-to-drive SUV with accurate steering and a tight 34.8-foot turning circle. Enthusiasts wouldn't pick it, though. 
Nor would they love the Sportage's base engine. It's a 2.4-liter four-cylinder with 181 horsepower and 175 pound-feet of torque, paired to a six-speed automatic transmission. The engine is generally smooth and quiet, but like the handling, it loses its poise when you push it out of its comfort zone. Unlike most compact crossovers, the Sportage is available with a 2.0-liter 237-horsepower turbocharged four-cylinder for livelier, quieter acceleration. It's included on the SX performance model, which also has a stiffer suspension for sportier handling. It doesn't transform the Sportage into a budget BMW, but it's a welcome addition to the lineup.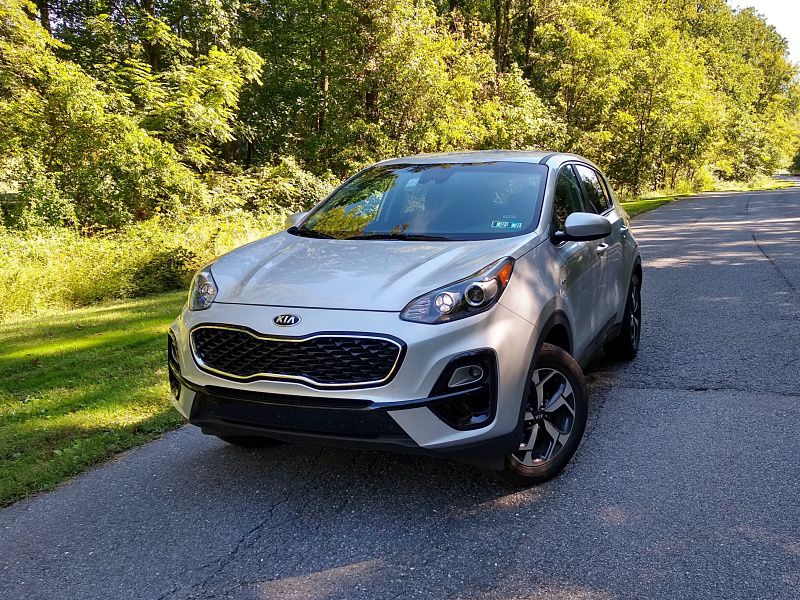 Photo by Brady Holt
Gas Mileage Could Be Better
Even though the Sportage is neither quick nor roomy, it gets disappointing gas mileage for a compact crossover. The front-wheel-drive 2.4-liter achieves an EPA-estimated 23 mpg in the city, 30 mpg on the highway, and 26 mpg combined, while all-wheel-drive models plummet to a mere 22 mpg in the city, 26 mpg on the highway, and 23 mpg combined. It's not just a matter of the Sportage's age; these numbers were weak back in 2017, too. We did average 26 mpg in our AWD test vehicle, at least. 
The turbo model averages an EPA-estimated 20 mpg city, 28 mpg highway, and 23 mpg combined with front-wheel drive and 19 mpg city, 24 mpg highway, and 21 mpg combined. That's also lower than a similarly powerful Ford Escape or Mazda CX-5, and on par with the V6-powered eight-passenger Kia Telluride. We trounced that rating in our non-scientific testing, hitting 26 mpg when we last tested an AWD turbo Sportage. Unlike several competitors, no hybrid model is available.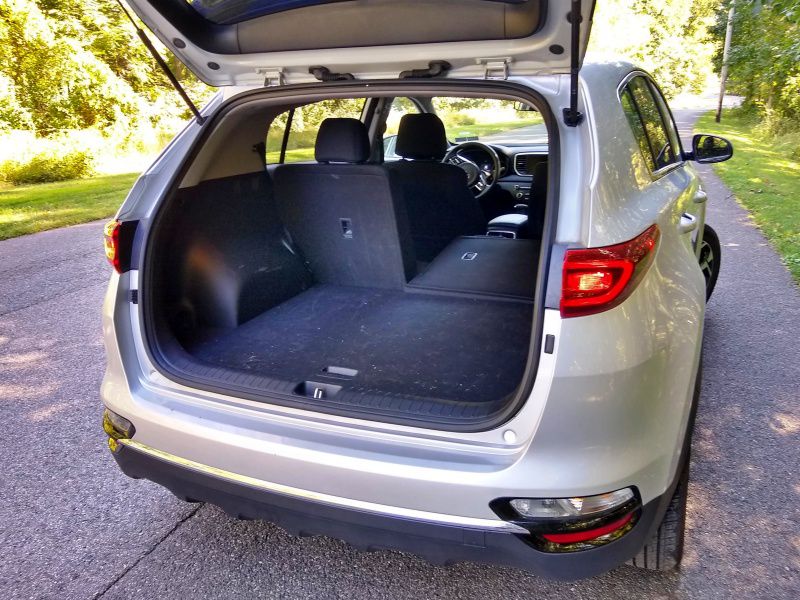 Photo by Brady Holt
Top Safety Pick
The Sportage comes packed with advanced safety features and, despite its age, has done well in crash tests. It earned a Top Safety Pick status from the Insurance Institute for Highway Safety and a top five-star overall rating from the National Highway Traffic Safety Administration. 
Every Sportage includes a forward collision warning with automatic emergency braking and pedestrian-detection capability, along with lane-departure warning with lane-keeping steering assistance. Blind-spot monitoring with a rear cross-traffic alert is optional on the base LX and standard on other trim levels. That's particularly generous when you consider the Sportage's low price, which we'll discuss on the following page.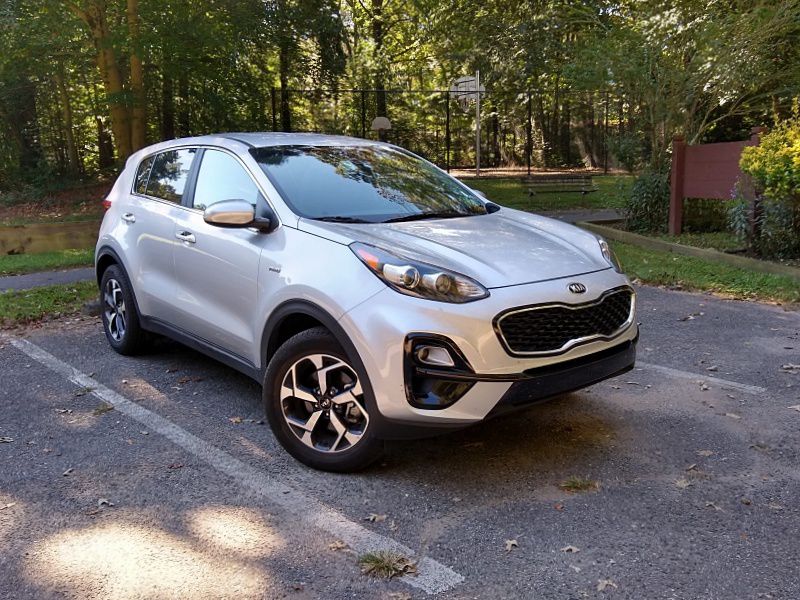 Photo by Brady Holt
Lots of Features for the Money
The base Sportage LX costs $24,090, and it's nicely equipped right off the bat. In addition to the safety and infotainment features we've mentioned, the Sportage LX brings a six-speaker sound system and dressy 17-inch alloy wheels. A $2,100 package on the LX brings the power driver's seat, heated front seats, blind-spot monitoring, automatic climate control, and push-button engine starting. 
If you're not a fan of cloth, leatherette arrives for as little as $28,090. That's for the Nightfall Edition, which also includes a panoramic sunroof and many of the LX's optional features. However, we'd skip the blacked-out decor and pay an extra $300 for the EX; that buys heated front seats, automatic climate control, and a hands-free power liftgate. A $3,560 package on the EX adds genuine leather, ventilated front seats, a heated steering wheel, a Harman Kardon surround-sound stereo, adaptive cruise control, a wireless smartphone charger, and more. You may find some of these features on a competitor without needing a fully optioned model, but that's still a lot for the money. The turbocharged SX starts at $33,750 with the EX's options included. All-wheel drive costs an extra $1,500 on all trim levels.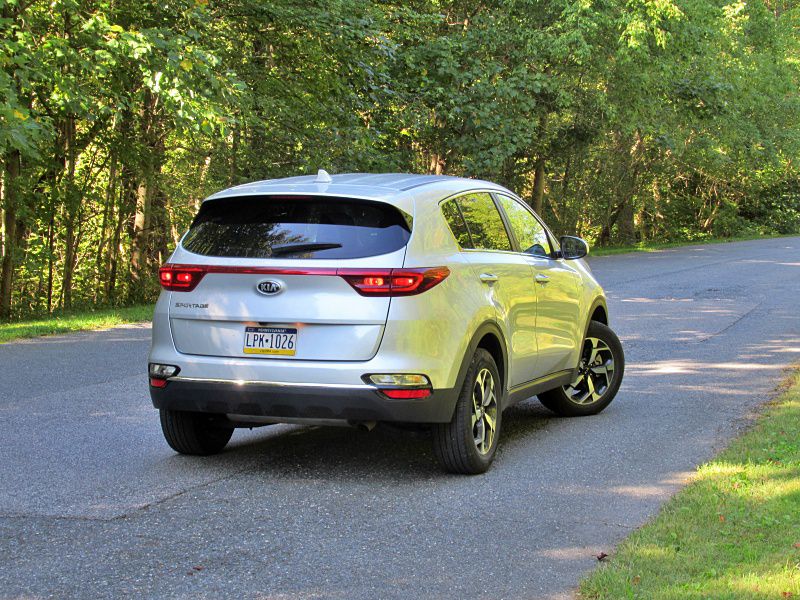 Photo by Brady Holt
The Competition Costs More
In the compact crossover segment, most competitors cost several thousand dollars more than the Sportage — starting at more than $25,000 even with fewer features. The closest value-focused competitors in its same class are the Hyundai Tucson and Subaru Forester. 
The Tucson was a mechanical cousin to the Sportage until this year, when the Tucson was redesigned. (The 2023 Sportage will once again share a platform and engine with the Tucson.) The new Tucson is roomier, flashier, and more economical than the Sportage, and its sticker prices are tantalizingly close to the aging Kia's. Still, the Sportage has a smoother ride and simpler controls. We'd also expect dealers to offer less generous deals on a newly redesigned vehicle. The Forester, meanwhile, is a value winner if you'd pick all-wheel drive; AWD is standard on every Forester, even at prices similar to the base front-drive Sportage. Both crossovers are loaded with advanced safety features, but the Kia otherwise has more standard equipment, a quieter ride, and more agile handling. Meanwhile, the Forester is roomier and more off-road-capable. Again, most other compact crossovers cost several thousand dollars more.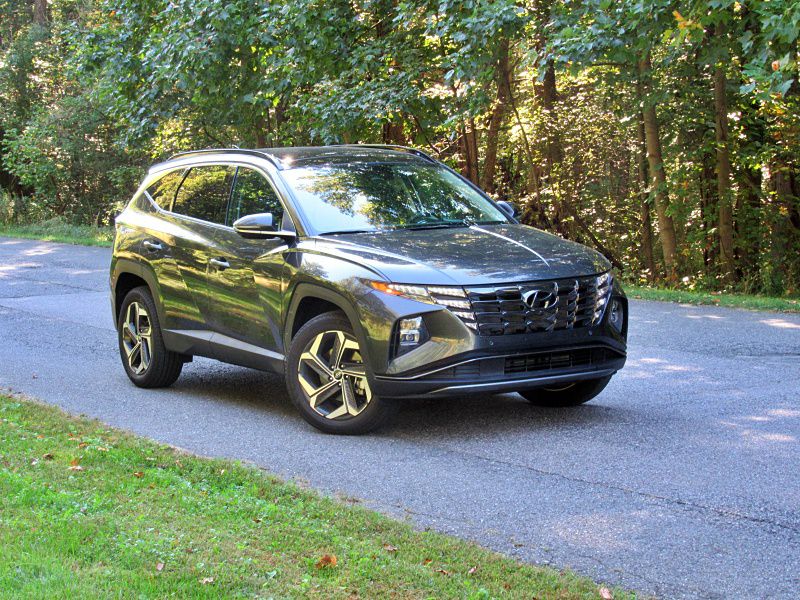 Photo by Brady Holt
A 'Free Upgrade'
You don't have to consider the Sportage only as a budget-priced alternative to other compact crossovers. You can also think of it as a nicer alternative to similarly priced subcompacts — a free upgrade from one size class to the next. 
Compared with bigger, more expensive crossovers like the Nissan Rogue and Honda CR-V, the Sportage's roominess and interior decor may not impress. But if you're shopping the subcompact Nissan Rogue Sport or Honda HR-V, the Sportage is clearly a cut above in terms of refinement, comfort, and practicality. And its pricing is right in line with some of those subcompact models. (Kia also sells a direct rival to these models called the Seltos, but it rides more stiffly and noisily.) The Sportage's weak gas mileage is a sore spot, to be sure, offsetting some of your upfront savings. And if you want a lot of room for cargo or rear passengers, it might disappoint. But given its price, the Sportage is a great way to get more power, size, or luxury features without blowing your budget. It's a bargain that doesn't make you feel like you cheaped out.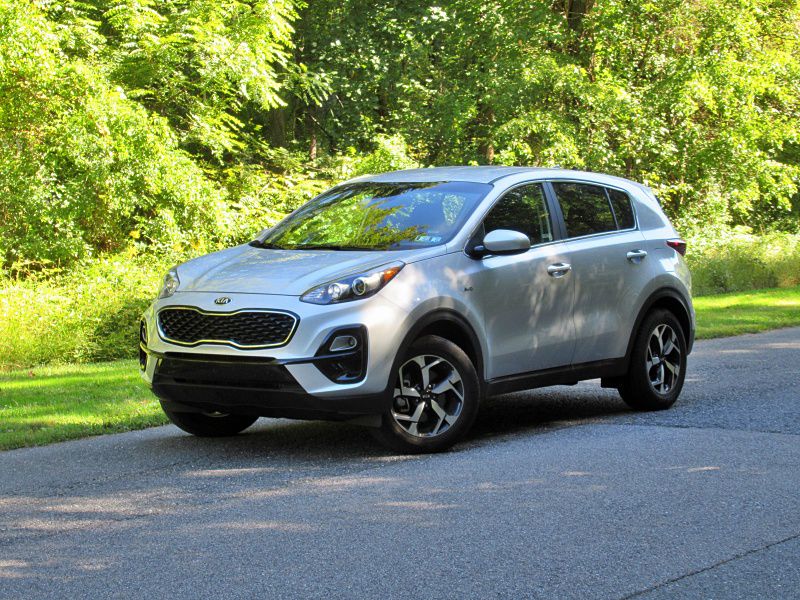 Photo by Brady Holt