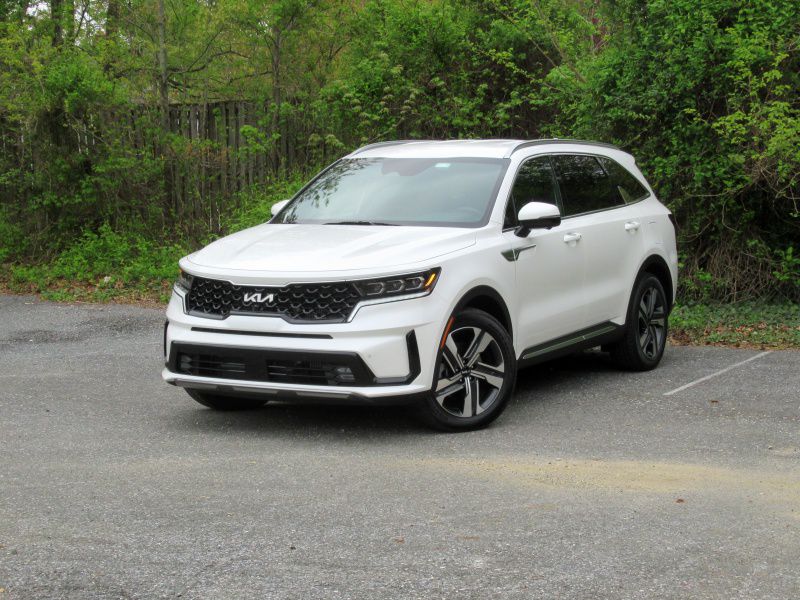 2022 Kia Sorento PHEV 02
It's tough to take a long road trip with an electric vehicle. You have to find a place to recharge it, and that process takes longer than gassing up a conventional car.  
That's what we love about well-executed plug-in hybrids like the popular 2022 Toyota RAV4 Prime and the newly introduced 2022 Kia Sorento PHEV crossovers. Plug them in and they'll let you commute to work or run errands without using gasoline. But keep going and they still have a gasoline engine so that you can quickly extend your range at any gas station. For this review, we tested the RAV4 Prime and the Sorento PHEV so we could compare them in eight categories and then name an overall winner. Keep reading to see which one we picked and which fuel-saving SUV is the better choice for you. 
Range and Mileage
The Sorento is a slightly larger crossover than the RAV4; it's a smallish mid-size model while the Toyota is a compact. That's one reason the RAV4 Prime is more economical than the Sorento PHEV. Another is that the Toyota comes with a bigger battery. 
The result is that both SUVs are quite economical, but the RAV4 Prime is more so. It can travel an EPA-estimated 43 miles per charge and then return 38 mpg once that range is used up. By contrast, the Sorento PHEV goes an EPA-estimated 32 miles per charge and then gets 34 mpg. Those differences are basically academic if you drive 32 miles or less per day — or a little less if those miles would be on the open freeway, which eats up range faster. But whenever you exceed the Sorento PHEV's range, the RAV4 Prime uses less gasoline. 
Toyota RAV4 Prime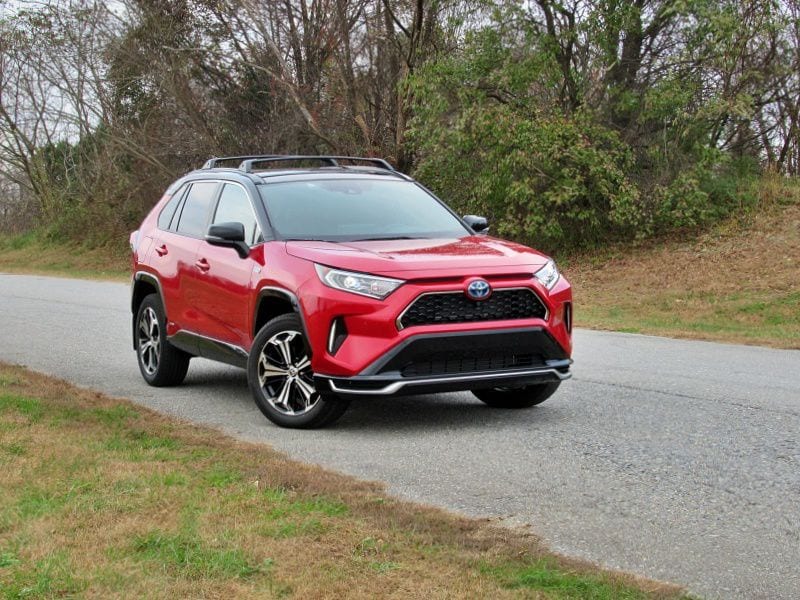 Photo by Brady Holt
Pricing and Features
The RAV4 Prime starts at $39,800 for its base SE trim level and $43,125 for the upper XSE. That's a big jump from a gas-only RAV4, but part of that stems from extra standard features. Even the SE includes all-wheel drive, a power driver's seat, heated front seats, automatic climate control, push-button starting, a power liftgate, and a long list of advanced driver aids. The XSE has leatherette upholstery, a standard-size moonroof, and a wireless smartphone charger, and prices rise to nearly $50,000 if you add all the options. 
The Sorento PHEV seems much more expensive. But its base SX model, $45,190, is equipped similarly to a RAV4 Prime XSE (including the standard AWD). And the tested Sorento Prestige model costs $48,090, equipped similarly to a fully optioned XSE. The biggest difference is that the Sorento doesn't offer a sunroof. A $7,500 federal tax credit takes the sting out of the RAV4 Prime's price tag, while the Sorento PHEV's slightly smaller battery reduces its credit to $6,587. The Kia's extra standard features help justify its higher starting price, and the Toyota is more infamous for its markups. But the RAV4 Prime should still cost less. 
Toyota RAV4 Prime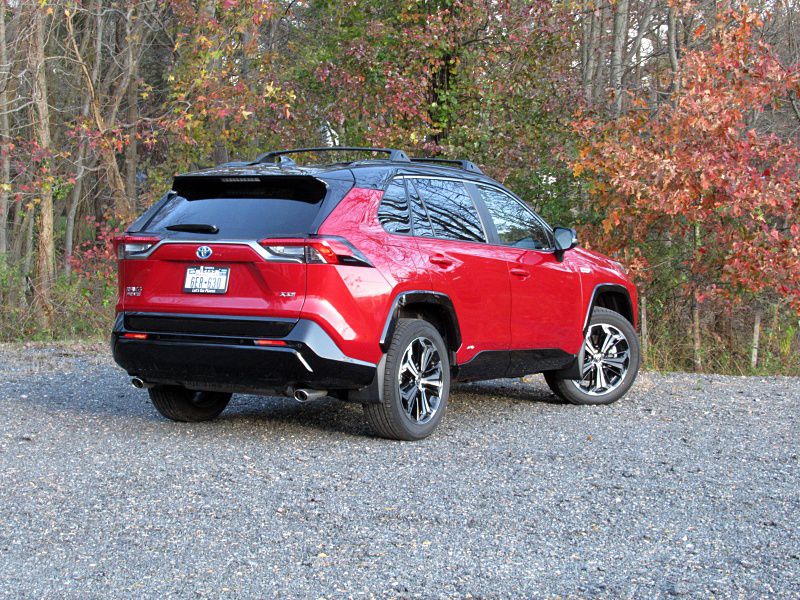 Photo by Brady Holt
Exterior Design
The all-new Sorento PHEV shares its styling with the rest of the Sorento line, whose current generation debuted for 2021 featuring gas-only and gas-electric-hybrid models. Sharp edges and straight lines make it cleanly handsome, though nothing wild. Kia dresses up the vehicle with unusual touches like two-part taillights (with a vertical gap running down the middle) and a chrome wave on each side window behind the rear door, but it's a conservative-looking crossover overall. 
By contrast, the current RAV4 was designed to look tough, borrowing its boxy, aggressive cues from the ultra-capable Toyota 4Runner. However, the plug-in RAV4 Prime comes only in the RAV4's sport-themed SE and XSE trim levels, which replace hardy-looking gray plastic for shiner trim. It's still aggressive, but more in a road-dominating sense than an off-road-ready one. You'll choose your own winner between the sportier-looking RAV4 Prime and the conventionally handsome Sorento PHEV. 
Tie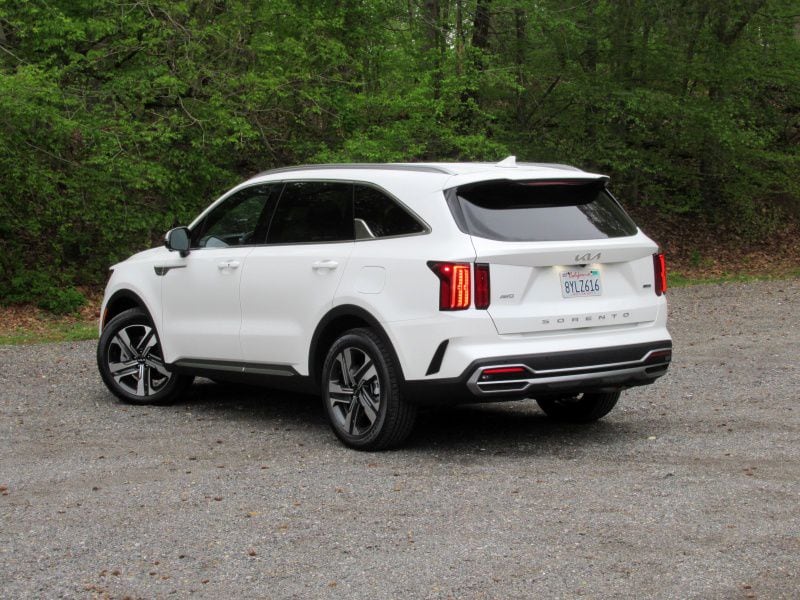 Interior Design
The Sorento PHEV has an attractively finished, solidly assembled interior. Even the Prestige model isn't extra-luxury deluxe — Kia saves that treatment for the larger non-hybrid Telluride crossover — but it feels fancier than the RAV4 Prime. It also has a bigger infotainment screen: 10.25 inches, versus 8 inches on the RAV4 SE and 9 inches on the XSE. Still, we're going to award this category to the Toyota. 
The RAV4 Prime may not be fancy, but rubber-trimmed buttons, knobs, and door pulls feel agreeably sturdy, which is a nice vibe for an SUV. More importantly, its controls are simple and user-friendly. They're easy to figure out and don't require much concentration or extra steps. The Sorento's controls aren't disastrous either, but they have some clumsier points. Many climate functions live in a fussy touch-sensitive panel, and the radio tuning knob doubles for the GPS navigation map's zoom adjustment; we repeatedly found ourselves watching a map grow or shrink while trying to change the radio station. The Kia is a bit fancier, but we pick the frustration-free Toyota. 
Toyota RAV4 Prime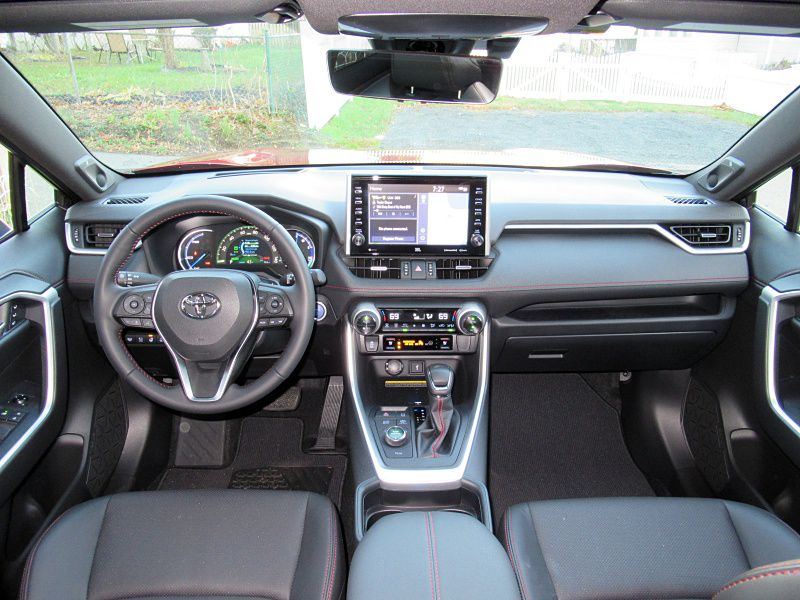 Photo by Brady Holt
Passenger Accommodations
The Kia Sorento is a mid-size crossover while the Toyota RAV4 is a compact crossover. And that yields an important difference inside. While both plug-in hybrids have two comfortable rows of seats, the Kia also has a small but usable third-row seat. If you're looking to fit extra people inside in a pinch, that's a great perk to the Sorento PHEV. (You can keep it folded down whenever you don't need it.)
Another difference is that the RAV4 Prime has a three-passenger second-row bench seat while the Sorento PHEV has two captain's chairs. Some people prefer the way captain's chairs keep passengers separated — especially conflict-oriented children — though others prefer to have an extra seat. With its third row folded, the Kia seats four people to the Toyota's five. Some buyers won't love that, but we'll still award this category to the Sorento PHEV overall. 
Kia Sorento PHEV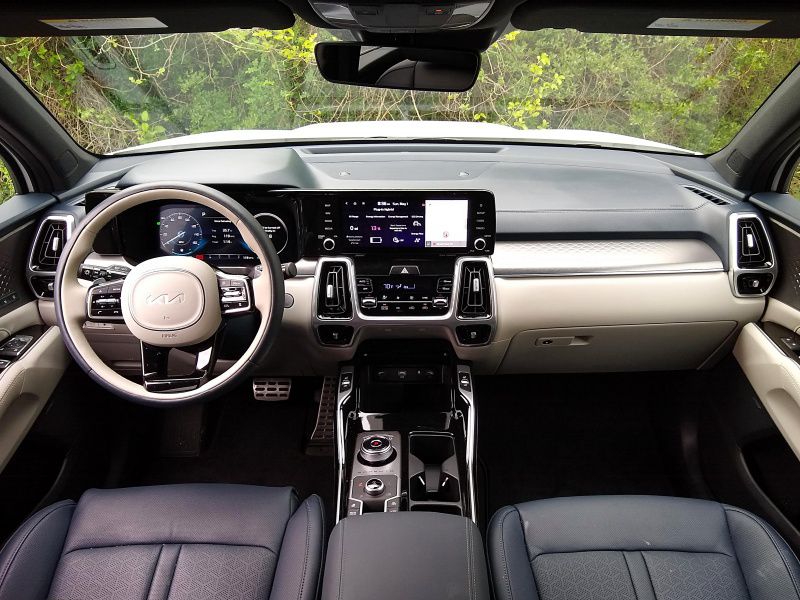 Cargo and Utility
The RAV4 Prime fits 33.5 cubic feet behind its rear seat and 63.2 cubic feet with the rear seat folded down. That's a useful amount of cargo room, but the bigger Sorento PHEV has more. 
Capacity behind the Kia's third row is modest: just 12.6 cubic feet, which is less than the trunk of most small sedans. That space is narrow and vertical, too. But you can fold the third row down to open up 38.5 cubic feet of cargo space behind the second row, or even slide the second-row seats forward to expand that capacity to 45.0 cubic feet. Folding down the second row results in 75.5 cubic feet. That's not the biggest mid-size SUV cargo hold you'll find, but it's more than the smaller RAV4 Prime. The Toyota can tow a bit more — 2,500 pounds versus the Kia's 2,000 pounds — but the Sorento PHEV's cargo advantage will likely matter more to most buyers. 
Kia Sorento PHEV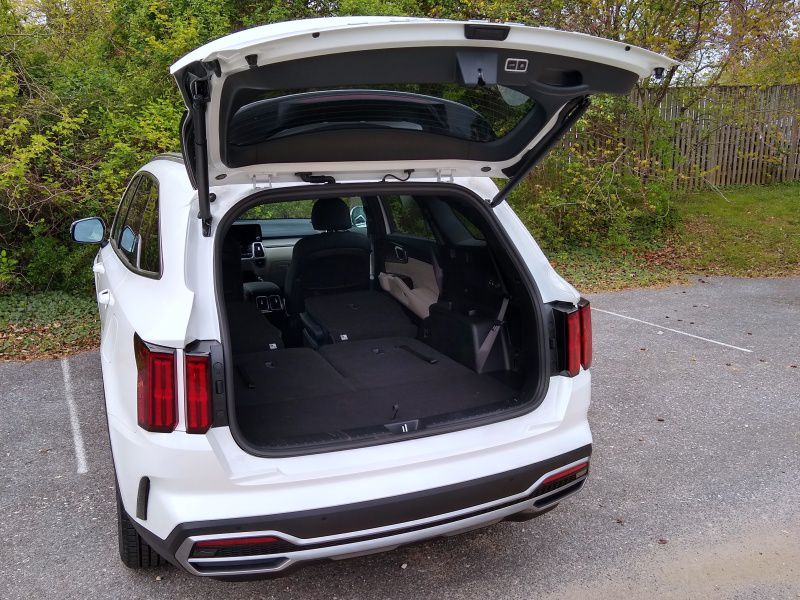 Driving Impressions
The RAV4 Prime's headline-grabbing statistic is a 5.7-second blast from 0 to 60 mph. That's courtesy of a powertrain that makes a total of 302 horsepower when its electric motors and gas engine are working together. The Sorento PHEV's 261-hp powertrain requires roughly 3 seconds more to reach 60 mph. 
Still, we preferred the upscale sophistication in the Sorento. It's smoother and quieter than the RAV4 Prime. It feels more solid and also more agile and composed, with firmer steering that feels more connected to the wheels. And we think more PHEV SUV buyers will prefer to drive gently in all-electric mode when possible, rather than flooring the accelerator for maximum speed. If you aren't looking for the quickest plug-in hybrid crossover, the composed Kia wins this category over the faster but less refined Toyota. 
Kia Sorento PHEV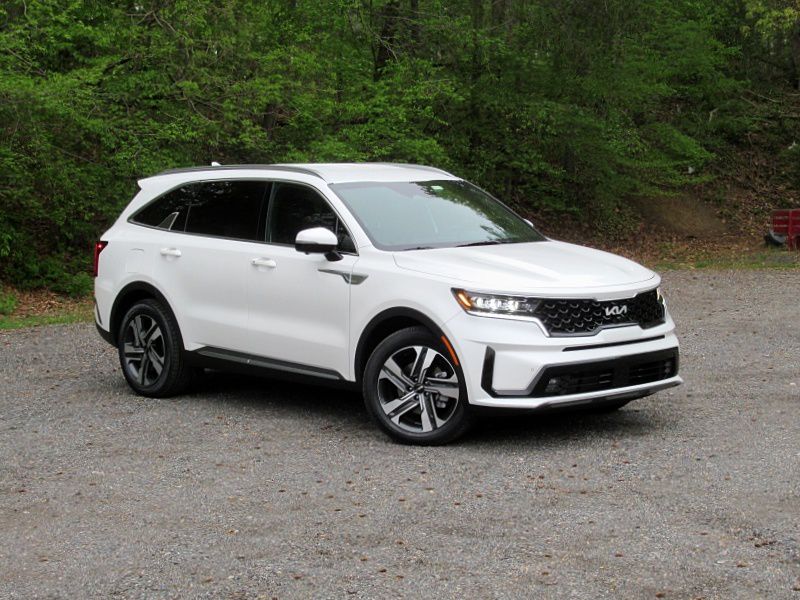 Safety
Both the Sorento and the RAV4 have excellent safety records. The Sorento earned a Top Safety Pick rating from the Insurance Institute for Highway Safety, and the RAV4 also excelled in IIHS crash tests but hasn't yet been tested for its automatic emergency braking system or its headlight illumination (the Sorento did well on both fronts). 
Both crossovers also include a long list of standard safety and driver-assistance features: forward automatic emergency braking, lane-keeping steering assist, adaptive cruise control, and blind-spot monitoring. Both are also available with reverse automatic braking and surround-view parking cameras. The Sorento PHEV Prestige an exclusive blind-spot camera mirror, while the RAV4 Prime XSE is the only one of the two with a head-up display. The biggest difference is the RAV4's superior performance in National Highway Traffic Safety Administration crash testing; it scored the top five out of five stars overall, while the Sorento managed a disappointing four stars overall.
Toyota RAV4 Prime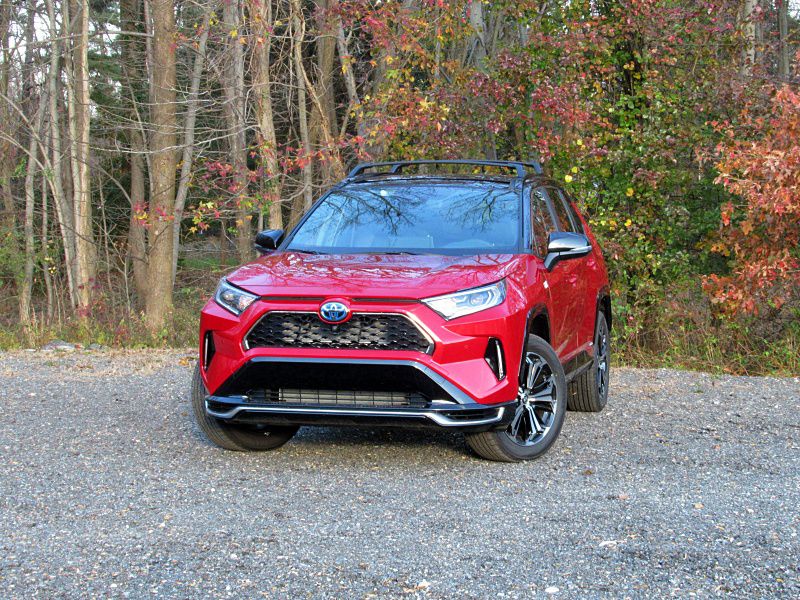 Photo by Brady Holt
Final Thoughts
At a glance, the 2022 Toyota RAV4 Prime would win this matchup. It's less expensive, more economical, and faster than the 2022 Kia Sorento PHEV. 
Still, our money is with the Kia. The Sorento is a higher tier of vehicle than the RAV4 — significantly roomier and more polished — yet unless you'd be sticking with a base RAV4 Prime or you find a great deal at your Toyota dealer, prices are pretty similar between the two. We wish the Kia had simpler controls and better a better NHTSA score. Not everyone will appreciate its second-row captain's chairs. And its shorter all-electric range makes you more likely to burn gasoline than in the RAV4 Prime. But overall, the Sorento PHEV is a solid mid-size crossover with incredible efficiency and reasonable prices for a vehicle packed with fuel-saving technology, upscale qualities, and high-end standard features. 
Kia Sorento PHEV