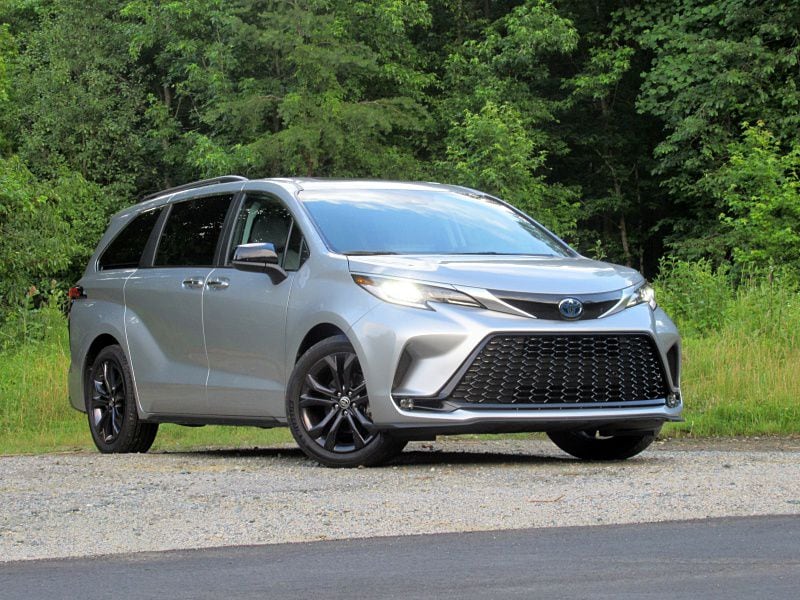 2022 Toyota Sienna XSE ・ Photo by Brady Holt
Kia has spent years building itself up in the minivan world, and the Toyota Sienna has often been directly in its sights. First the most recent Kia Sedona, and now its successor — the all-new 2022 Kia Carnival — have aimed to be family-friendly yet also luxurious. Kia also adds an extra dose of value for the money. 
But Toyota threw the minivan market a curve. The latest generation of the Toyota Sienna, introduced last year, breaks sharply from tradition. Instead of a customary smooth, powerful V6 engine, every 2022 Sienna uses a hybrid powertrain that combines a four-cylinder gas engine with electric motors to achieve standout fuel efficiency. To see whose approach is best, we tested both the Sienna and the Carnival. On the following pages, we'll compare them across eight categories and name an overall winner. Keep reading to see which one we chose and which approach sounds like the better fit for your life. 
Pricing and Features
The Toyota Sienna isn't a budget-priced minivan. Thanks to its spiffy new hybrid powertrain, its base price soared from $31,640 in 2020 to $34,710 this year. That's also a couple thousand dollars more than the base Carnival LX, which costs $32,300. It's even more expensive than the Carnival LXS ($34,100), which is fancied up with leatherette upholstery and heated front seats. 
In some cases, the value difference is closer than it looks. The base Sienna LE does include a power liftgate, tri-zone automatic climate control, and adaptive cruise control, which Kia saves for the $37,800 Carnival EX. But the Carnival generally comes out ahead overall. It also has a couple of neat options that the Sienna doesn't offer, including a blind-spot camera mirror and an in-car camera system to check on rear passengers. Toyota has available all-wheel drive, which is an important consideration for many minivan buyers. But otherwise, Kia has this category under control.
Kia Carnival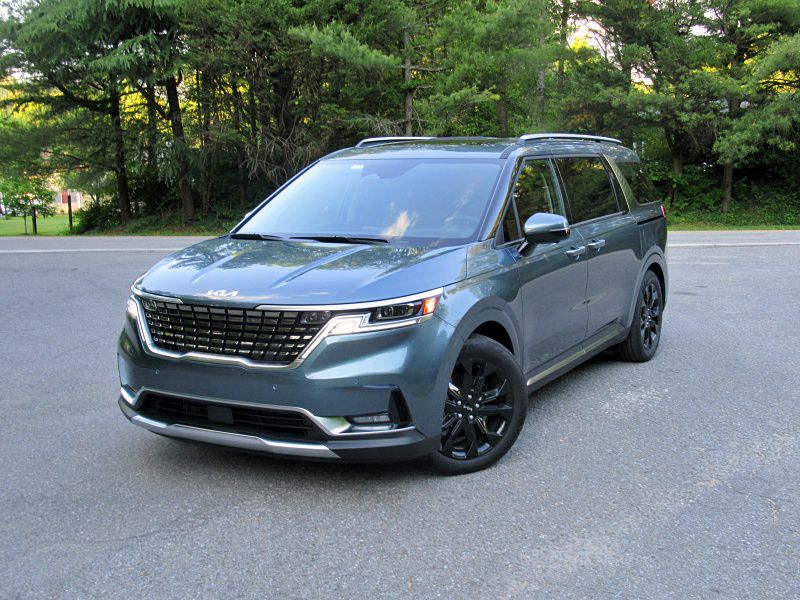 Photo by Brady Holt
Exterior Design
Kia likes to say the new Carnival doesn't look like a minivan. (It said the same thing when it launched its last new minivan: the redesigned 2015 Sedona.) To us, the Carnival has a wholly conventional minivan shape. It has a crisply handsome front end that's less bulky than the Sedona's, and an intricate concave grille. It also has some unique details around the back like the textured-silvery C-pillars behind the sliding doors and the extra-slim taillights. But this is obviously a van.
The redesigned Sienna is also an obvious van, though a more aggressively styled one. It has curves rather than the Carnival's crisper, straighter lines, but it's designed to look sporty rather than subdued. In particular, a bulge that rises up onto the rear fender evokes the Toyota Supra sports coupe. You can also choose the sport-themed XSE model like our test vehicle, or the newly introduced off-road-esque Woodland. At the same time, the Sienna doesn't beat you over the head with its uniqueness like some polarizing minivans in recent years. We won't pick a styling winner between the sportier Toyota and the more upscale Kia. 
Tie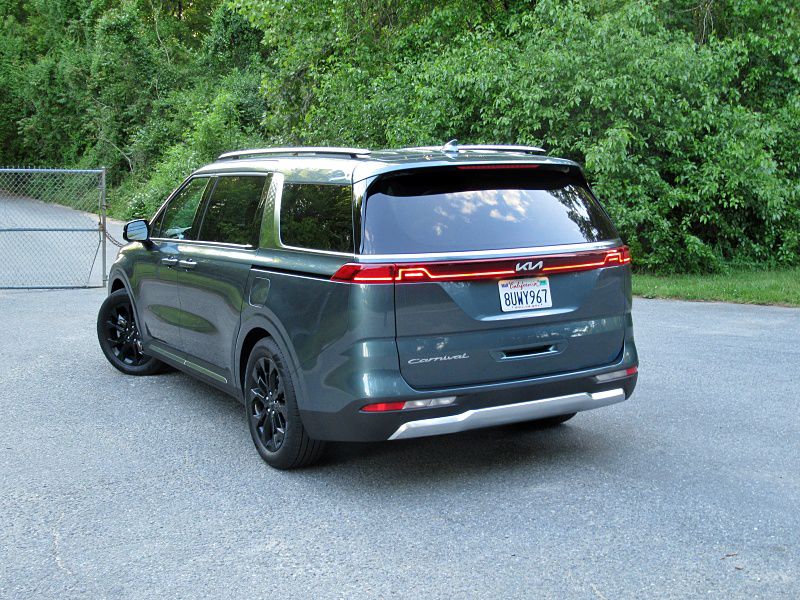 Photo by Brady Holt
Interior Design
Given minivans' family-friendly focus and high prices, the perfect minivan interior must be both upscale and highly functional. The Sienna is exactly that. Toyota keeps the styling simple and elegant, avoiding the temptation to pile on too many busy details. A 9-inch touchscreen infotainment system with Android Auto and Apple CarPlay is standard on all trim levels, and while it's not the most beautiful system in the world, it's easy to use and has a useful size and shape. Most impressively, Toyota provides acres of open storage space under a floating center console — you get high-end styling with a place to stash a purse underneath. 
The Carnival is fancier and more high-tech than the Sienna, but less useful. Most trim levels come with a huge 12.3-inch touchscreen, which integrates with the gauge cluster. (The LX and LXS have an 8-inch screen.) The van also has rich materials, slick moving parts, and an elegant array of color choices. And despite the high-tech vibe, the controls are mostly easy to use. However, storage space is more sedan-like than van-like: modestly sized bins here and there. For a van, we think that's a big drawback.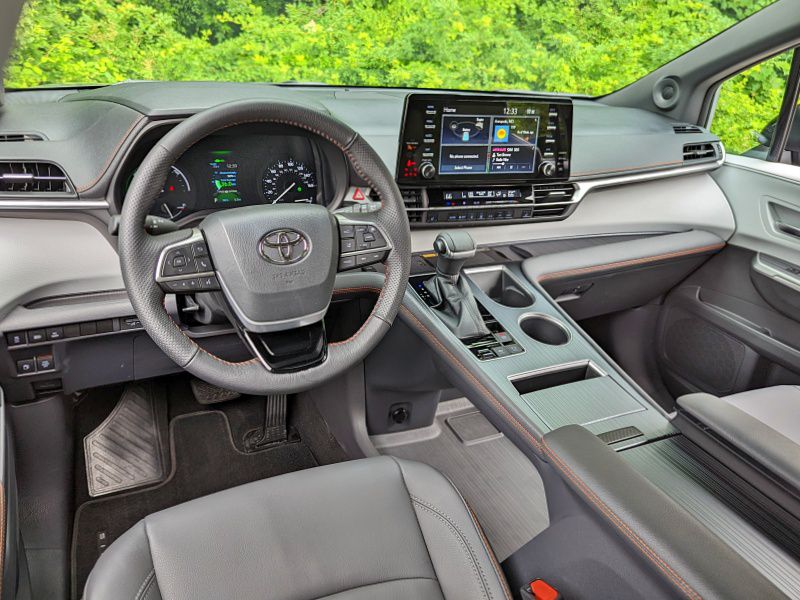 Photo by Brady Holt
Interior Comfort
The Carnival has a comfortable interior with seating for either seven or eight passengers. Like the Sienna and most other minivans, the second row offers a choice of two or three seats and the seats adjust fore-aft. The top SX Prestige model adds heated and ventilated second-row seats that also adjust side-to-side and offer pop-up footrests for lounge-style seating. That's a neat party trick, but we find the Sienna's seating to be more useful in the real world. 
Toyota provides 25 inches of fore-aft second-row travel, which means you can open up limo-like second-row legroom when you don't need the third row. And unlike in the Kia, you don't need a top-of-the-line model to do it. We also appreciated the Sienna's front-seat center console design, which has padded armrests flanking each side of the console bin. Unlike a single wide armrest, there's no question about how the driver and front passenger should divide their elbow room.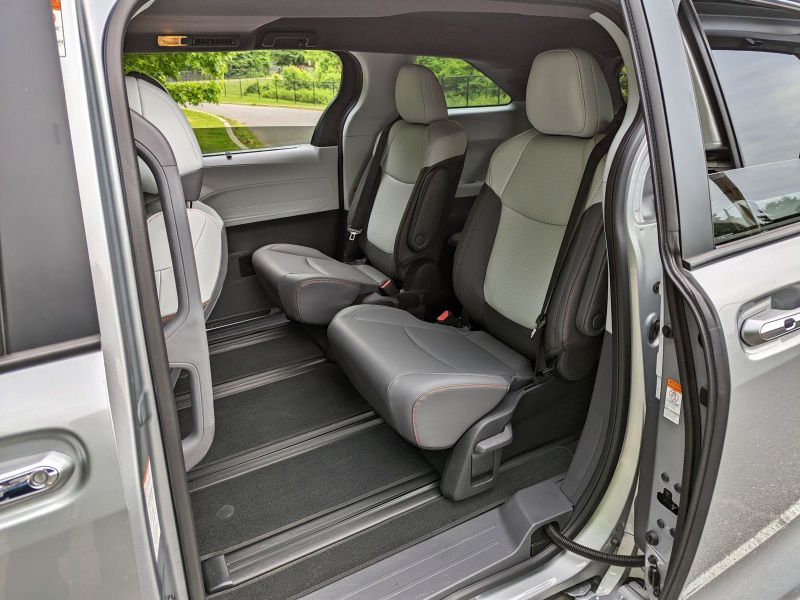 Photo by Brady Holt
Cargo and Utility
The Carnival has class-leading cargo space: 40.2 cubic feet behind its third-row seat, 86.9 cubic feet behind its second row, and 145.1 cubic feet in total. That edges out most minivans, and it wallops the Sienna. 
Toyota decided minivan owners would prefer not to remove their second-row seats to maximize cargo capacity. Instead, it lets you slide them up against the front seats. It's a quick process, but the result is much less cargo room (since the seats themselves are taking up a chunk of your space). The Sienna is still one of the roomiest passenger vehicles you can buy, especially behind the third-row seat, but it comes up short for a minivan. By the numbers, it has 33.5 cubic feet of space behind the third row, 75.2 cubic feet behind the second row, and 101 cubic feet in total. Both vans are rated to tow up to 3,500 pounds, and both have third rows that fold into the floor. 
Kia Carnival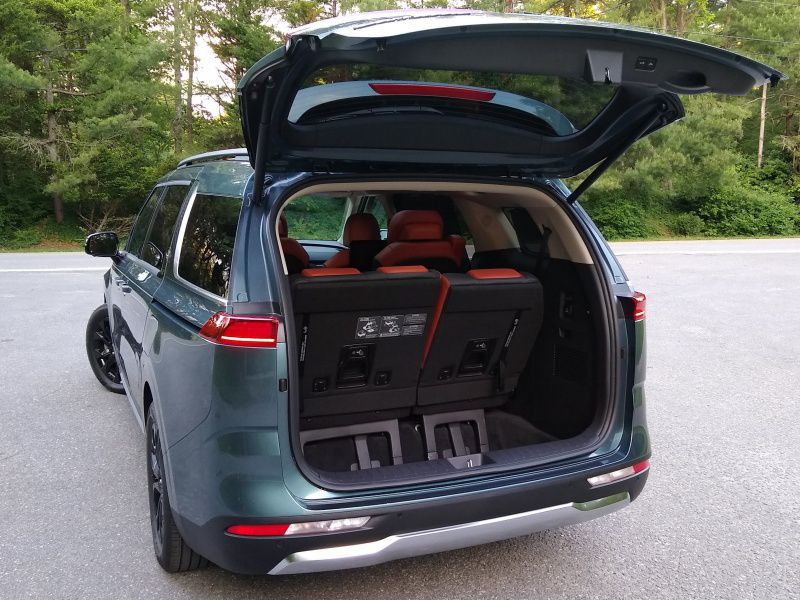 Photo by Brady Holt
Driving Impressions
Toyota made a bold choice to replace its V6 minivan with a four-cylinder-based hybrid. With 245 horsepower, the Sienna isn't underpowered, but it lacks its predecessor's effortless acceleration. In other words, both vans will get you moving in a decent hurry, but the redesigned Sienna rasps louder and less pleasantly as it gets the job done. 
By contrast, the Carnival boasts a smooth 290-horsepower V6 engine and a quiet ride. Its class-leading 37.7-foot turning circle is also convenient. Both vans have comfortable rides but could use more composure; the Sienna shudders when it hits some bumps, and the Carnival feels more wallowy. Overall, though, the Kia's engine makes the Carnival more of a luxury car than the Sienna. In a minivan, we consider that serenity to be more valuable than the Sienna's slightly sportier handling.
Kia Carnival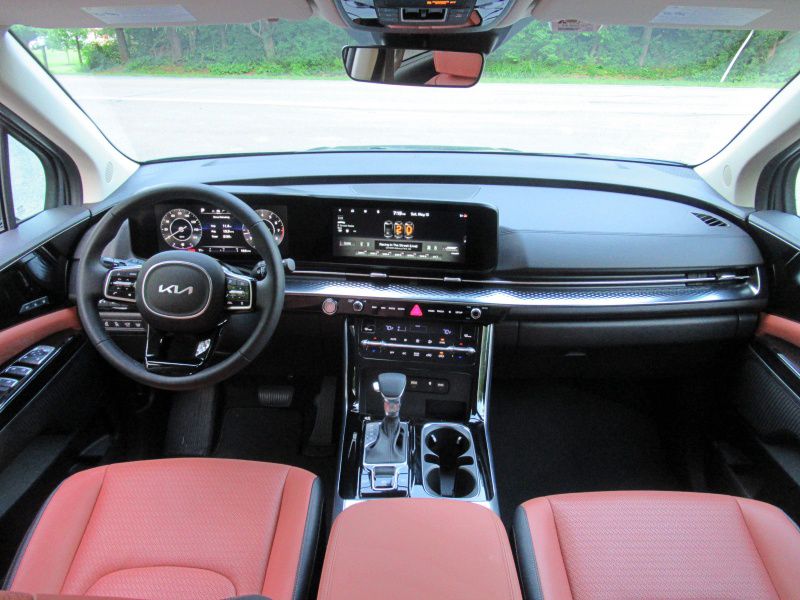 Photo by Brady Holt
Fuel Economy
The Sienna's hybrid powertrain gives up some noise, vibration, and harshness to the Carnival's big V6, but the sacrifice is worth it at the gas pump. The EPA estimates 36 mpg in the city and 36 mpg on the highway with front-wheel drive, while all-wheel drive models lose just 1 mpg in the city. We averaged 39 mpg in an AWD Sienna and 40 mpg in a front-drive model, staying near 40 mpg on the open freeway and topping 50 mpg in a 12-mile stretch of careful low-speed city traffic. The Sienna can cruise or even accelerate slowly using only electric power, or the electric motors can supply some extra gas-free juice to the drive — reducing the amount of gasoline burned.
By contrast, the Carnival gets the lowest EPA ratings of any front-wheel-drive minivan on the market: 19 mpg in the city, 26 mpg on the highway, and 22 mpg combined. While that's in line with similarly powerful competitors (the Honda Odyssey and Chrysler Pacifica), it's a bit behind them. Our Carnival averaged a decent 25 mpg, but that's still nothing like the Sienna.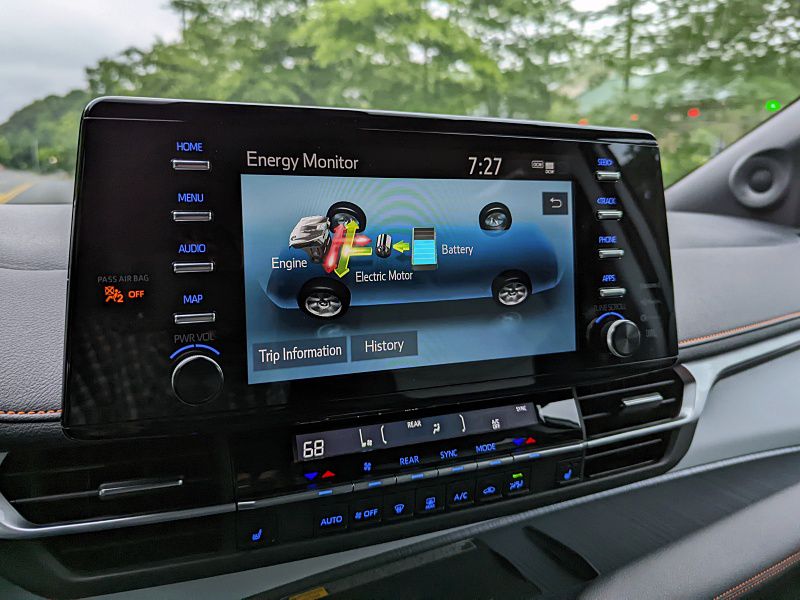 Photo by Brady Holt
Safety
Even the base Carnival comes standard with forward automatic emergency braking with pedestrian detection and automatic lane-keeping steering assistance. Blind-spot monitoring with a rear cross-traffic alert and Safe Exit Assist, which alerts passengers if they're about to leave the car into oncoming traffic, arrive on the LXS. Other upgrades on certain trim levels include the capability of its automatic emergency braking to detect cyclists and turning vehicles; rear automatic braking; a surround-view parking camera; and a blind-spot camera view. 
The Sienna has the same automatic-braking and lane-keeping functions as the Carnival, along with blind-spot monitoring on all trim levels. You can also get a surround-view parking camera, though only on the $50,000 Platinum model. The Carnival otherwise has more safety features. Still, the Sienna has a couple of advantages. First, the Carnival hasn't faced crash-testing by the National Highway Traffic Safety Administration, while the Sienna earned five out of five stars overall (despite middling frontal-impact protection). Secondly, the Sienna earned the highest designation of Top Safety Pick+ from the Insurance Institute for Highway Safety, while the Carnival earned a lower tier of Top Safety Pick due to Poor-rated headlights on most trim levels. These are both extra-safe vehicles, but the Toyota comes out on top.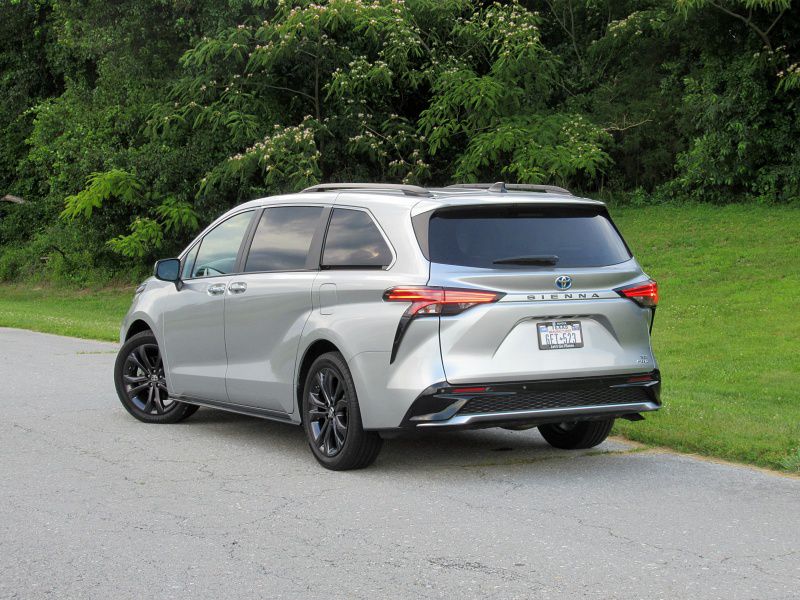 Photo by Brady Holt
Final Thoughts
Is your perfect minivan a serene, beautifully finished, technologically advanced, crisply styled transportation cocoon? Are you willing to get worse gas mileage if it means paying less? If so, the excellent new 2022 Kia Carnival might be your winner. 
However, we've picked the 2022 Toyota Sienna. True, the Sienna is missing a few features. It's not as serenely quiet as the Carnival. Its styling is more flamboyant. You can't take out its second-row seats. And it costs more. But even setting aside its phenomenal gas mileage, the Sienna has superior cabin storage space (without sacrificing high-end cabin decor), superior seating accommodations, superior handling, and available all-wheel drive. Besides, why set aside its phenomenal gas mileage? Throw in that factor, and — while you may choose differently — we think the Sienna is worth the extra upfront money for more families. 
Toyota Sienna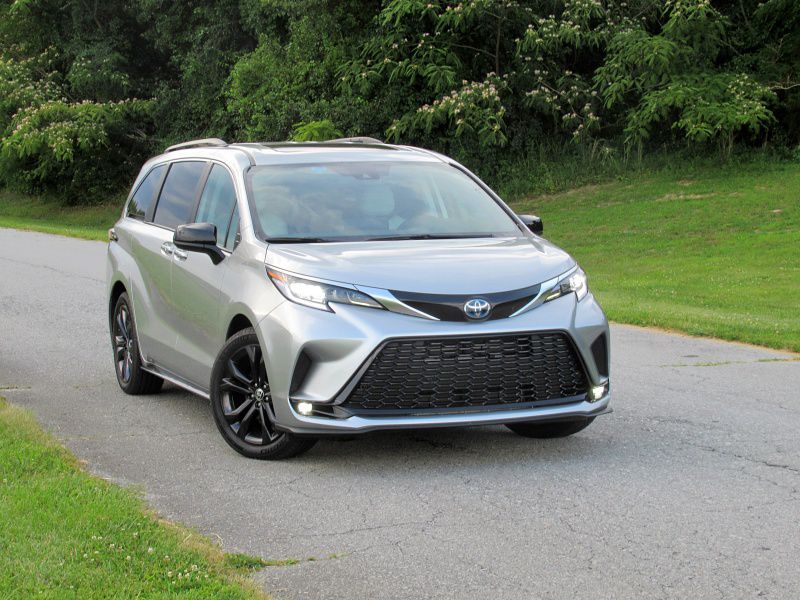 Photo by Brady Holt