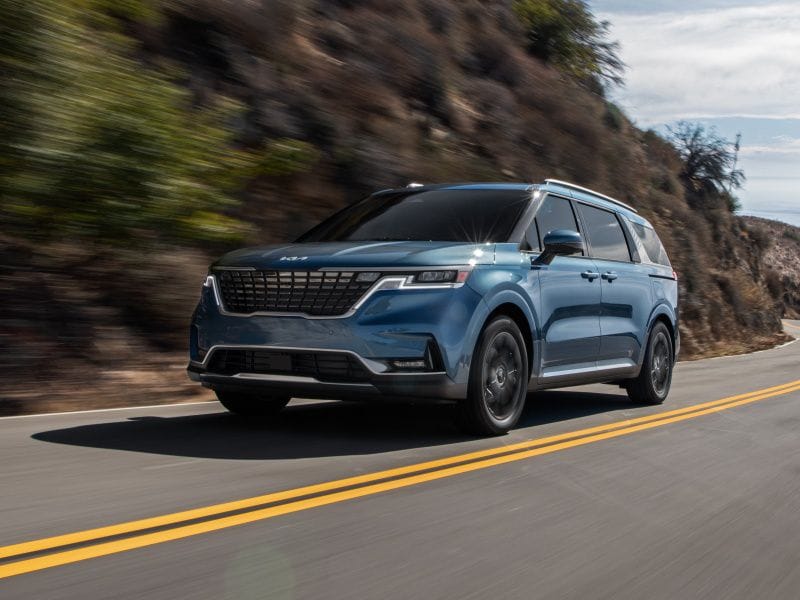 2022 Kia Carnival ・ Photo by Kia
Recommend the purchase of a minivan to a new parent, and they'll look at you as though you've suggested they take a leap off of the Golden Gate Bridge, but they'll be polite in response.
"Oh, I'm just not a minivan kind of guy (or gal)," they'll say, with just a hint of irritation that you would even think such a thing.
Yeah, ummm, if you have kids, then you are a minivan kind of gal (or guy). You're just having trouble wrapping your head around it.
Enter the 2022 Kia Carnival. This so-called multi-purpose vehicle replaces the Kia Sedona minivan in the company's lineup, and while it still has sliding side doors and all of the configurability and practicality of a [insert dreaded "M" word here], the 2022 Carnival is convincingly something different altogether. And it is perfect for family life.
2022 Kia Carnival Prices and Configurations
Kia sells the Carnival in LX, EX, SX, and SX Prestige trim, and prices range from $32,100 to $46,100, plus a destination charge of $1,175.
An LX Seat Package adds simulated leather, a 10-way power driver's seat, and heated front seats to the base Carnival.
Choose the EX trim for 19-inch aluminum wheels, triple-zone climate control, a hands-free power tailgate, and a 12.3-inch infotainment system with connected services and navigation. The Carnival EX also comes with numerous added driving assistance systems.
The SX trim level brings upscale styling details and gloss black wheels. It also gets an 8-way power front passenger's seat, ventilated front seats, a rear-seat entertainment system, a surround-view camera, and reverse automatic braking.
Luxury is the theme with the SX Prestige. It has real leather upholstery, a heated steering wheel, a dual-panel sunroof, a Bose premium sound system, digital instrumentation, and a camera-based blind-spot monitoring system. But the stars of the show are the second-row VIP Lounge Seats.
Our test vehicle was a Carnival SX Prestige equipped with Astra Blue paint and luxury floor mats, and it was priced at $47,970, including the destination fee.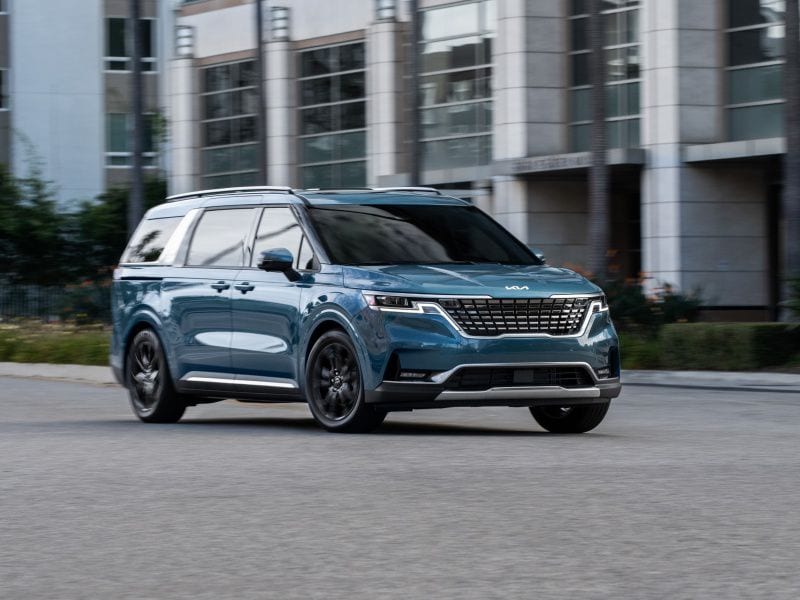 Photo by Kia
What Happens When You Blend a Minivan with an SUV?
Especially in the SX Prestige trim, the Carnival looks like anything but a minivan. The sliding doors give it away; otherwise, you'd guess this Kia was a crossover of some kind – and a cool-looking one at that.
From the shiny grille and textured trim separating the rear windows to the black roof pillars that create a floating roof appearance, the Carnival looks like nothing else on the road. Its long, high hood, combined with SUV design cues, make it look like any other crossover and the end result is appealing.
Inside, some of the plastic panels look and feel inexpensive, which isn't surprising given the base price. But the SX Prestige layers on plenty of high-tech glam. The test vehicle's Tuscan Umber (orange) leather took some acclimation time, though.
Overall, the interior layout is similar to an SUV, with a large center console dividing the front seats and a dashboard emphasizing form over function. You can even see some of the hood from the driver's seat, adding to the Carnival's crossover vibe.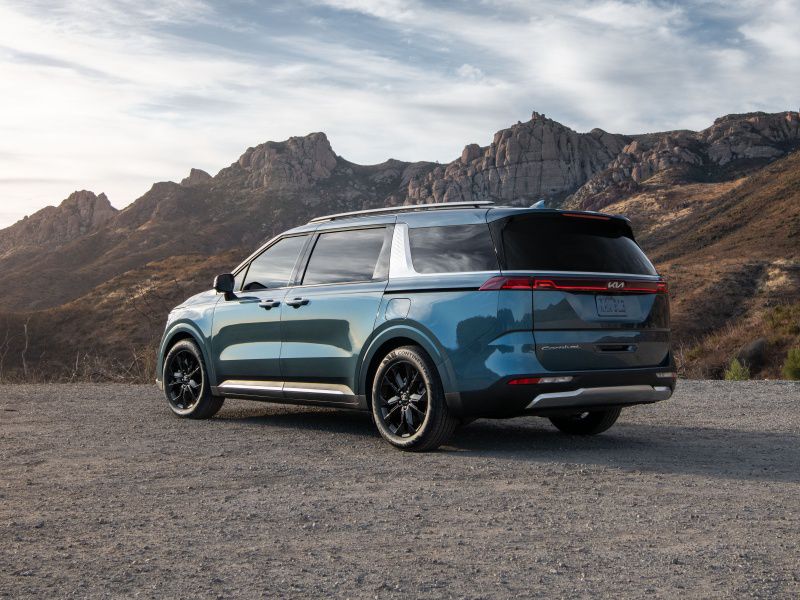 Photo by Kia
Your Kids Get the VIP Lounge Treatment
Minivans excel when it comes to carrying people and cargo, and the new 2022 Kia Carnival is no different. Especially with SX Prestige trim, there is no better way to carry a family of four in pure, unadulterated comfort.
With this trim, both front seats are heated, ventilated, and power-adjustable in at least eight directions. And as is true of any vehicle like the Carnival, the third-row seat is roomier, more comfortable, and more accommodating than the majority of SUVs.
In the Carnival SX Prestige, the lucky riders get the second-row seating assignment. This version's VIP Lounge Seats fully recline (complete with a leg rest) beneath a sunroof panel that opens to let the sunshine or starlight stream in.
The downside to the VIP Lounge Seats is that they don't fold or tumble and you can't remove them. This limits maximum cargo space to the 86.9 cu.-ft. behind them when the third-row seat is folded down. Maximum cargo volume with LX, EX, and SX trim measures 145.1 cu.-ft. behind the front chairs. All Carnivals hold 40.2 cu.-ft. behind the third-row seat.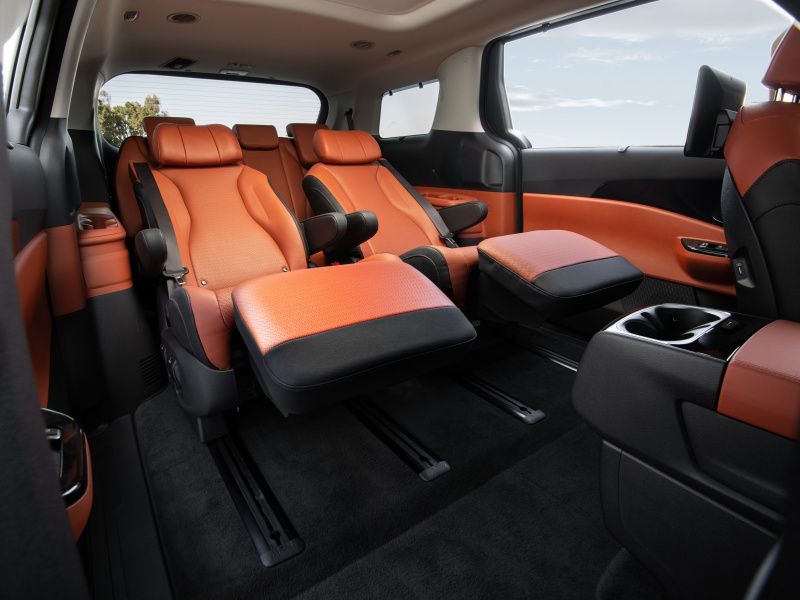 Photo by Kia
High-Tech Infotainment with Unfinished Edges
Two different infotainment systems are available for the Carnival. The LX has an 8-inch touchscreen display while EX trim and higher get a 12.3-inch touchscreen. Apple CarPlay and Android Auto are standard with both, wireless for the small screen and wired with a USB cable with the big screen.
Bluetooth and USB charging for all three rows of seats is standard. The Carnival EX adds satellite radio, navigation, and Kia's UVO Link connected services, which includes a free trial subscription before requiring payment.
Upgrade to the Carnival SX, and the vehicle includes the dual-screen rear-seat entertainment system and a surround-view camera, while the SX Prestige features a Bose sound system and digital instrumentation.
As infotainment systems go, the Carnival's technology is somewhat hit and miss in terms of its user experience and graphical interface. One unusual feature is called Sounds of Nature, which provides mood-enhancing soundtracks for when getting the kids ready and off to school has made for a particularly stressful morning.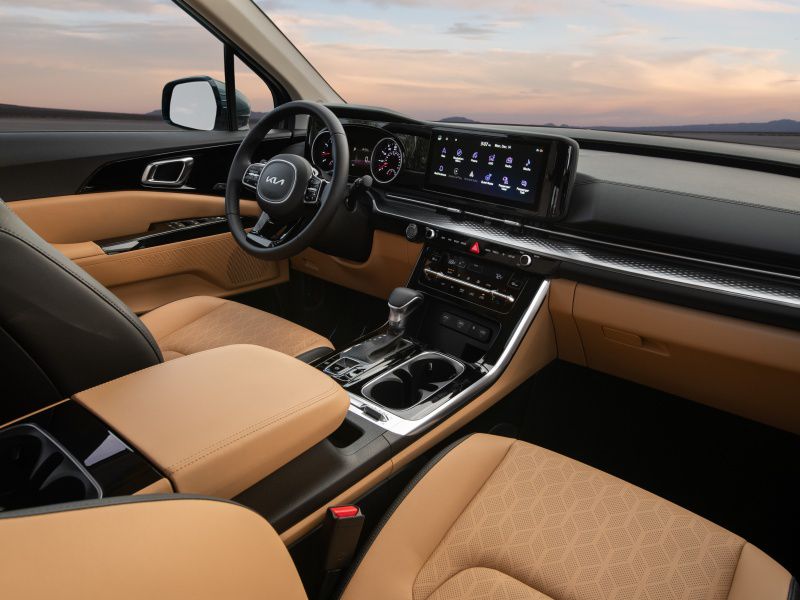 Photo by Kia
Useful, Thoughtful, Unusual Driving-Assistance Systems
Every 2022 Kia Carnival has Kia Drive Wise, a collection of advanced driving-assistance systems (ADAS) designed to prevent collisions and make travel easier and safer.
Several of these features deserve special mention. Standard equipment includes an ultrasonic rear occupant alert that works to detect movement inside the Carnival for up to 24 hours. Leading Vehicle Departure Alert notifies the Carnival's driver when traffic ahead is moving, just in case they've become distracted.
Highway Driving Assist is a sophisticated Level 2 ADAS combining lane-centering assistance with an adaptive cruise control system with stop-and-go capability. It is standard starting with EX trim, and it works exceptionally well, hinting at the potential for a possible hands-free system in the future.
Junction Turning technology is standard in EX and higher trims. When you're making a left turn across traffic, this system can detect when oncoming vehicles are approaching too rapidly and automatically brake the Carnival when making the left turn would be unsafe.
In the SX Prestige, a Blind-Spot View Monitor shows a camera feed of traffic on either side of the Carnival to supplement the existing radar-based blind-spot warning system.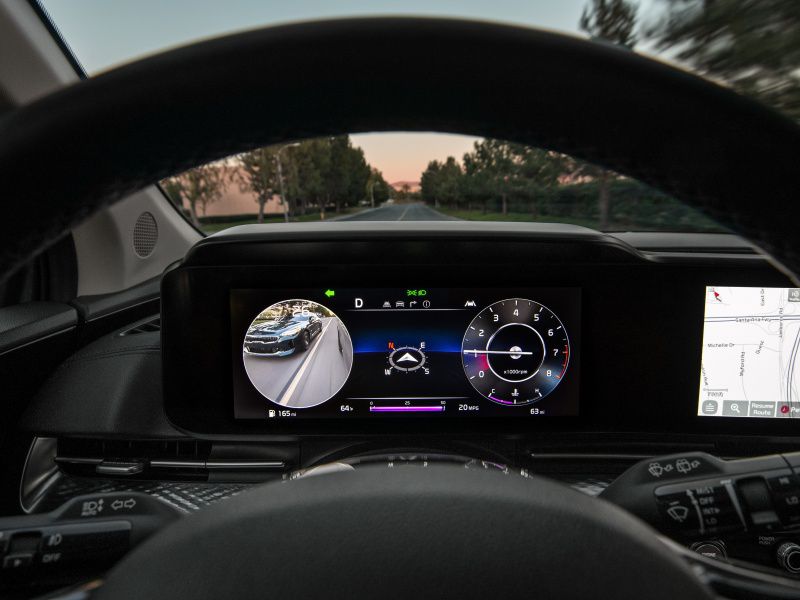 Photo by Kia
Terrific Powertrain, but No Alternatives
Kia equips every version of the Carnival with a robust 3.5-liter V6 engine. It makes 290 horsepower, 262 pound-feet of torque, and drives the front wheels through an 8-speed automatic transmission.
This is a capable and refined powertrain, supplying plenty of smooth, seamless power. Drivers can choose between Eco, Normal, Sport, and Smart driving modes, depending on their preference. Smart is designed to automatically cycle between all three of these modes, depending on how the Carnival is driven.
During testing, we used smart mode the majority of the time. It worked well, except when accelerating out of a corner or a curve. In this situation, the powertrain exhibited a delay in response that became a regular source of aggravation. Switching the Carnival into Sport mode largely resolved it, but also makes the minivan less efficient. So, you cannot have your cake and eat it too.
Our observed fuel economy average aligned with what the Environmental Protection Agency (EPA) says to expect. The official number is 22 mpg in combined driving, and we averaged 21.7 mpg on our testing loop.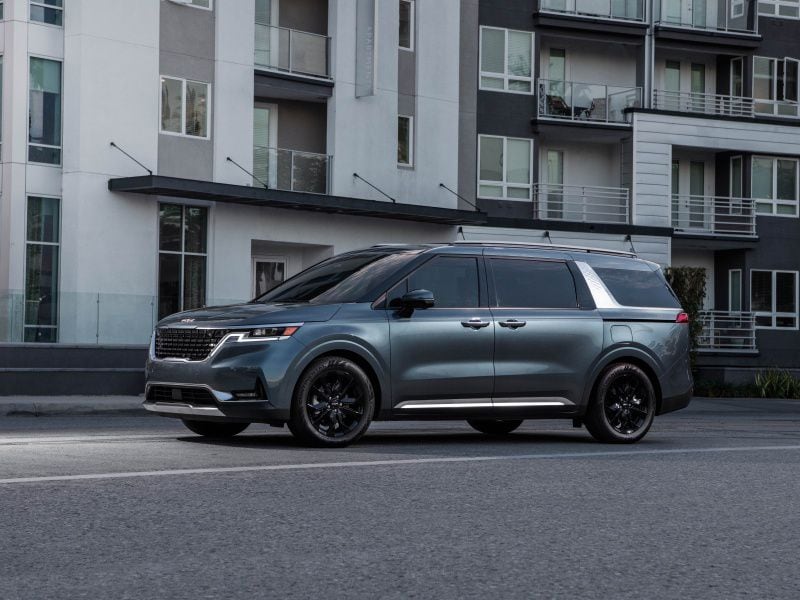 Photo by Kia
For Smooth Driving, Just Add Weight
When it comes to the Carnival's driving dynamics, a caveat is in order. Testing did not include using the vehicle's 3,500-pound towing capacity, or packing it full of cargo, or stuffing it full of people. We evaluated the Carnival with only one driver aboard, so adding weight will have an impact on the ride and handling.
With that understanding, the Carnival felt a little too firm when traveling over smaller and sharper road surface bumps and holes, a little too spongy over features such as speed humps and drainage channel dips, and a little unsettled over uneven undulations in the road. My bet is that it feels better to drive with more weight aboard.
Unexpectedly, though, the Carnival took corners with a remarkably flat attitude, and the P235/55R19 tires didn't fold over and howl when taking curves with some speed. As a result, the Carnival feels quite athletic, especially for a minivan.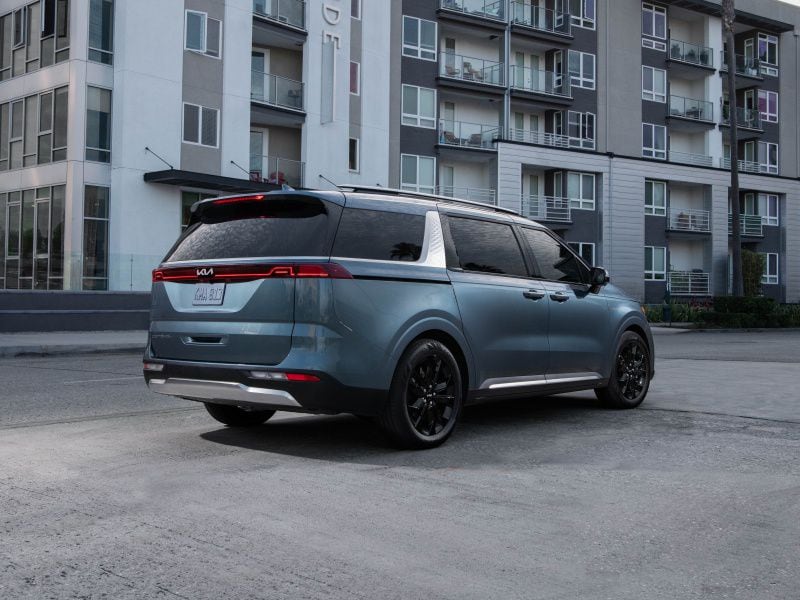 Photo by Kia
2022 Kia Carnival Competitors
Kia positions the Carnival as an alternative to both minivans and crossover suvs, so its competitive set is substantial.
On the minivan side, your alternatives are the Chrysler Pacifica, Honda Odyssey, and Toyota Sienna. The Pacifica and Sienna are available with all-wheel drive, while the Carnival is not. They also offer either hybrid or plug-in hybrid powertrains, but the Kia comes only with a gasoline V6 engine.
On the crossover suv side, the Carnival is an alternative to larger three-row models such as the Buick Enclave, Chevrolet Traverse, and Volkswagen Atlas. All of them offer all-wheel drive combined with more ground clearance than the Carnival, but they can't hold nearly as much cargo or carry people with quite as much comfort.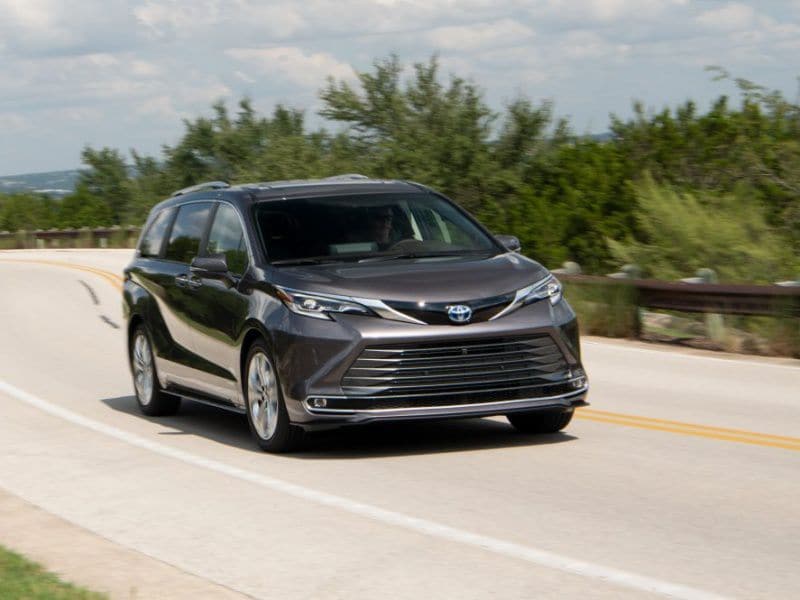 Photo by Toyota
A Great Minivan, but There's Room for Improvement
When you need a big, comfy, affordable family vehicle, the 2022 Kia Carnival delivers and does it in style. Yes, it's a minivan. But it might be the first of its kind to avoid the stigma that typically accompanies them.
Where this vehicle falls short is its lack of available all-wheel drive. Lots of people live where it snows, and they like to have that feature. Lots of people also think they might go off-roading to reach remote locations, so added ground clearance is a must.
Unlike Chrysler and Toyota, Kia doesn't electrify its minivan, either. As a result, the Carnival can't come close to matching the Pacifica Hybrid or Sienna when it comes to fuel economy.
So, while the 2022 Kia Carnival is a terrific vehicle, and is easy to recommend to any family seeking style, technology, and value, it will need to address these shortcomings if the nameplate is to enjoy as long a life as the Sedona that preceded it.
Photo by Kia