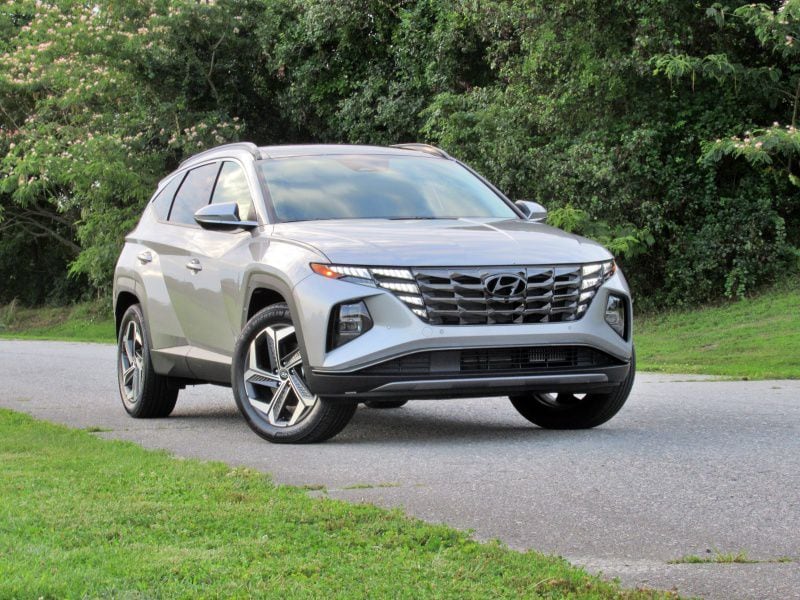 2022 Hyundai Tucson Hybrid Limited ・ Photo by Brady Holt
Last year's Hyundai Tucson was a wholly adequate small crossover. It was anonymous to look at, didn't have much cargo space, and got mediocre gas mileage, but it drove well enough and didn't cost very much. 
For the 2022 model year, Hyundai went bold. First came the dramatic new styling. Then came the upsized dimensions for standout interior space. And, most importantly for this review, then came a gas-electric hybrid model that pushes gas mileage to nearly 40 mpg. The new 2022 Hyundai Tucson Hybrid joins a growing number of compact hybrid crossovers, and it offers a tempting alternative both to them and to the gas-only Tucson. While you may not know Hyundai for hybrids, it has been building them for more than a decade and sells five different hybrids today. We just spent a week in the new Tucson Hybrid, and here's what we learned about this gas-electric Hyundai SUV. 
How It Works
The Tucson Hybrid pairs a gasoline engine with an electric motor to reduce fuel usage. Here's how it works: An onboard battery powers the electric motor, which can either help the gasoline engine accelerate or take over entirely when you're cruising or accelerating very gently. Either way lets you burn less gasoline, and the gas engine and braking friction recharge the battery while you drive. Any time the gas engine can switch off entirely, you are burning no gas and producing no emissions. 
The Tucson Hybrid is less willing than some hybrids to accelerate gas-free, one reason its efficiency trails some competitors'. Still, the difference could be considered nitpicky; after all, this Hyundai is a roomy all-wheel-drive SUV that uses less gas than an economy sedan. The EPA rates it at 38 mpg in the city and on the highway in its base trim level. Other models — including our test vehicle — slip slightly to 37 mpg in the city and 36 mpg on the highway, though we averaged 39 mpg. A plug-in hybrid model is also available; it provides up to 33 miles of all-electric charge before switching on the gasoline engine and averaging 35 mpg.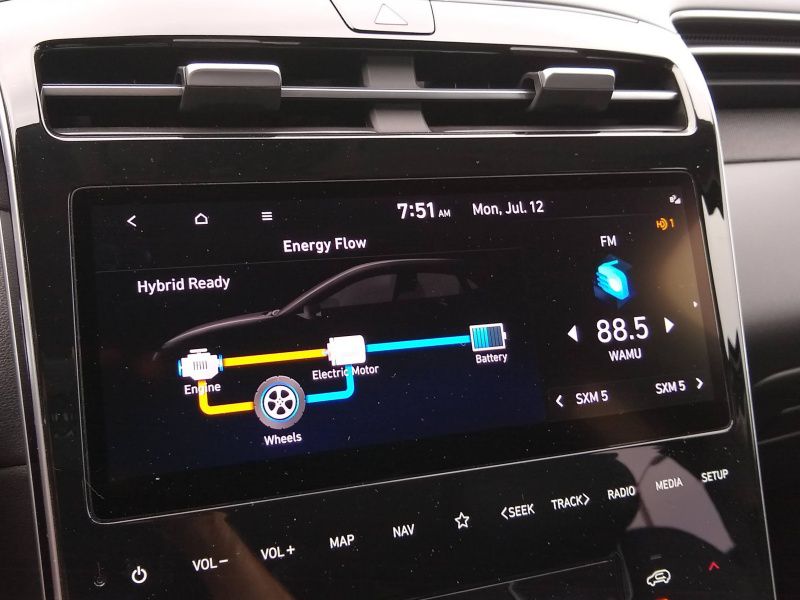 Photo by Brady Holt
Zippy Performance
Most affordable hybrids have naturally aspirated engines and continuously variable automatic transmissions. That means that they are often noisy when you need to dig in. Not so with the Tucson Hybrid. 
Hyundai gives it a 1.6-liter turbocharged engine and a six-speed automatic transmission. The combined output from the gas engine and electric motor is a zesty 226 horsepower, and the engine is smooth and quiet. There's a seamless transition between electric and gasoline power, making the Tucson Hybrid feel and sound natural; except for the fuel savings, you don't have to know it's a hybrid. This SUV also rides and handles with composure; it's neither cushy nor sporty and fun, but its solid feel makes it feel more expensive than many other compact crossovers — in particular, the best-selling Toyota RAV4 Hybrid.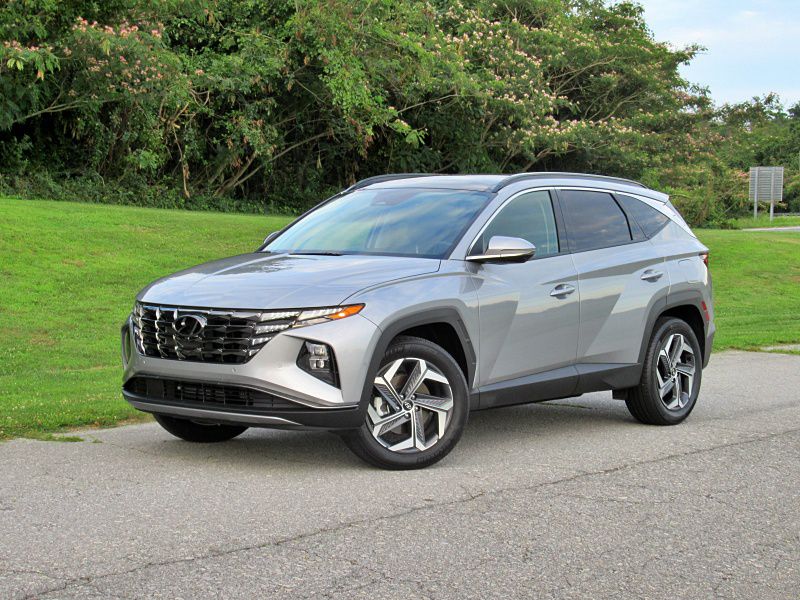 Photo by Brady Holt
Starts Below $30,000
The Tucson Hybrid starts at $29,050 for its base Blue trim level, which is an excellent bargain for all the equipment that price point includes: all-wheel drive, a heated and power-adjustable driver's seat, dual-zone automatic climate control, push-button starting, a fully featured 8-inch infotainment system, and a full roster of advanced safety features. You can also buy the SEL model for $31,650, adding a panoramic sunroof, wireless smartphone charger, and hands-free power liftgate. 
The big jump comes to the top Limited model, like our test vehicle, which is a mixed bag. It's loaded with leather upholstery, ventilated front seats, heated rear seats, a power passenger seat, front and rear parking sensors, a surround-view parking camera, a 10.25-inch infotainment screen, and a navigation system. The issue is that it comes to $37,350. That's a big jump, especially if you were hoping to upgrade from cloth seats but didn't need all the other add-ons. And the Limited also forces you into the bigger infotainment screen, whose downsides we'll discuss soon. These prices represent about a $1,000 premium over equivalently equipped gas-only Tucsons, though the difference grows if you're willing to skip some of the hybrid's standard features.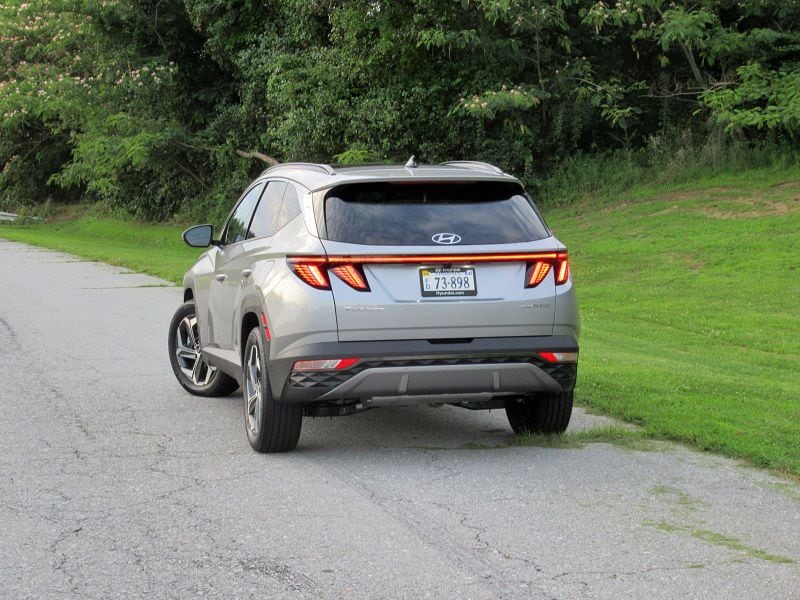 Photo by Brady Holt
Edgy New Styling
The latest Hyundai models have featured sharply angled exterior designs with lots of creases running in different directions. To us, the 2022 Tucson Hybrid — which is visually indistinguishable from the gas-only model — is an especially successful take on Hyundai's design scheme. 
Unlike on the Elantra and Sonata sedans, the Tucson can employ these angles as squared-off fender bulges for an aggressive SUV look. Further dressing up the vehicle, part of each headlight hides within the grille, and a lightbar and twin spikes decorate the taillights. And the rear wiper hides up by the roof under the spoiler for a cleaner look to the vehicle's rear. What's more, the Tucson Hybrid is wider and lower than its closest competitors, which gives it a more planted, assertive stance. Lastly, all but the base Blue model have big 19-inch alloy wheels; Blue's 17-inch wheels are also alloys. Some folks might prefer a more subtle-looking crossover, but to us, Hyundai took some design chances on the new Tucson and they paid off. Limited color selections are a drawback, though; your choices stop at silver, black, white, gray, and dark blue.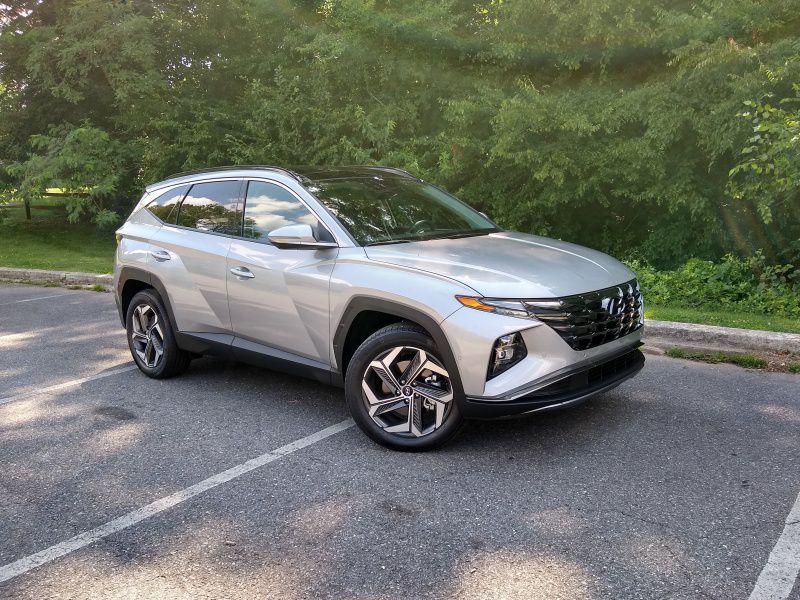 Photo by Brady Holt
High-Tech Interior
Hyundai designed the Tucson Hybrid's interior for head-turning design with a high-tech flavor, and that was a success. The instrument panel is a flat plane of glossy black trim, and it smoothly incorporates a flush-mounted touchscreen — 8 inches on the Blue and SEL and 10.25 inches on the Limited. The SEL and Limited trim levels add an all-digital instrument cluster for an even cleaner and more advanced vibe. 
However, ergonomics weren't a top priority with this design. Even on the base models, it takes some extra attention to spot the right control on the black plane. But the Limited switches everything to touch-sensitive controls, apparently for a smoother look. The result is that it's even fussier to make adjustments, especially to basics like stereo volume and radio tuning. Everything requires careful, attentive taps on a flat surface — the last thing you should be trying to do while driving. The Limited also requires you to plug in your phone to use Android Auto or Apple CarPlay; the less expensive trim levels integrate the system wirelessly.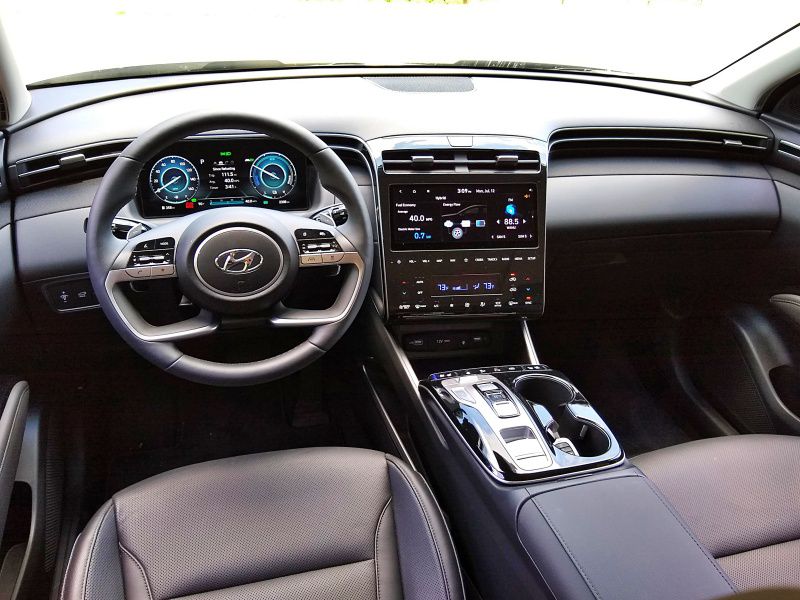 Photo by Brady Holt
Lots of Space
Hyundai made every Tucson bigger for the 2022 model year, and you feel the advantage inside. There's excellent space for four adults, and even a fifth won't be terribly squished. Most compact crossovers have useful interior space, and the Tucson Hybrid is better than most. 
Cargo capacity is also a standout. This compact SUV has 38.7 cubic feet behind its rear seat and 74.8 cubic feet with the rear seat folded, edging out even Hyundai's mid-size Santa Fe. And it's rated to tow a respectable 2,000 pounds, which also beats most similarly sized crossovers. A handy adjustable-height cargo floor lets you choose between maximum cargo space or a cargo floor that's flush with the folded rear seatbacks. Folding the rear seat is disappointingly awkward, though: Hyundai provides release handles in the cargo hold, but they're stiff and don't make the seat fold all the way down. You have to walk around to each side to push them into place. Then you also need to pull handles on opposite sides of the vehicle to put the seats back up — once to release their locking mechanism, and then again to choose a recline angle that's not bolt-upright.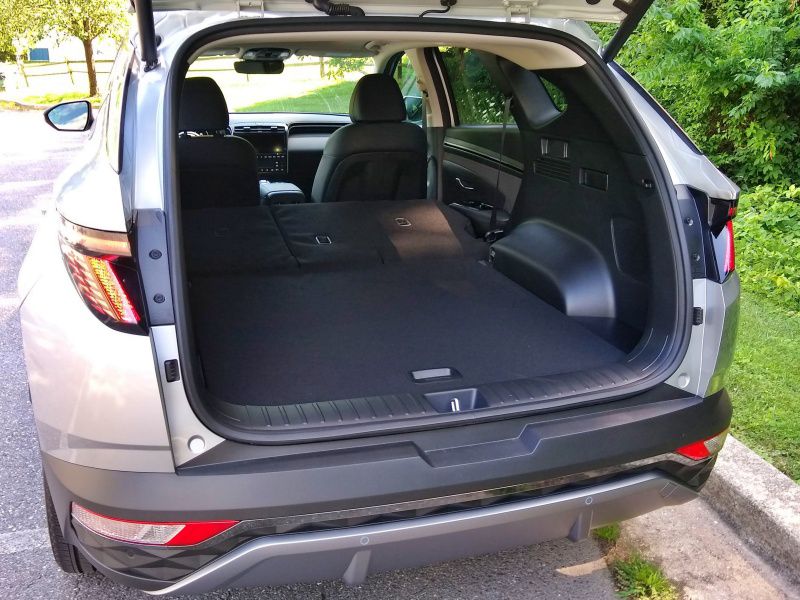 Photo by Brady Holt
Top Safety Pick
The Tucson earned the highest possible score of Top Safety Pick+ from the Insurance Institute for Highway Safety, reflecting excellent crash-test performance and crash-avoidance technologies. Its standard features include forward automatic emergency braking with pedestrian, cyclist, and turning-traffic detection capabilities; blind-spot monitoring; a lane-departure warning with lane-keeping assistance; and adaptive cruise control. 
You can also add an ultrasonic rear occupant alert on the SEL and Limited (the base Blue's alert is based only on whether you've opened the door, not whether the car senses you've left someone behind). And the Limited further brings rear automatic braking, front and rear parking sensors, a surround-view parking camera, and a blind-spot camera display that activates when you use your turn signal. This SUV is filled with technology to help you avoid a crash, and it delivers robust safety if the collision does occur.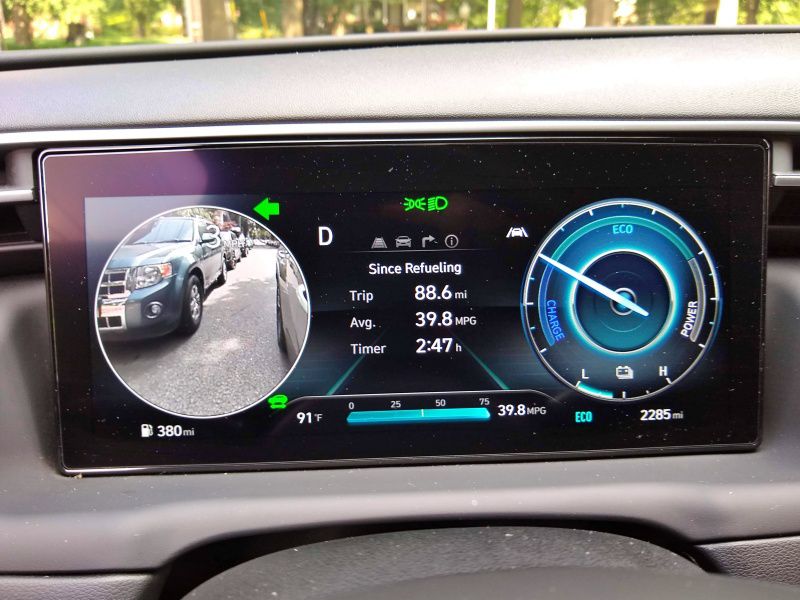 Photo by Brady Holt
Economical Alternatives
The Tucson Hybrid competes most closely against three other gas-electric compact crossovers: the Toyota RAV4 Hybrid, Honda CR-V Hybrid, and Ford Escape Hybrid. All get better EPA ratings than the Tucson Hybrid, though only by 1 to 3 mpg — a minor difference when none of them is burning much fuel. Still, we did significantly beat EPA ratings in the RAV4 Hybrid (hitting 46 mpg in non-scientific testing) and not the other three. 
Of these four models, the Tucson is the quickest, fanciest, roomiest, and most modern-looking. Don't go looking for a big price advantage, though, especially if you don't want cloth seats. And the RAV4 and Escape have much simpler controls; the CR-V has a simple layout but a clunky, small infotainment system. If you like the RAV4 Hybrid but prefer a more luxurious design, the Toyota Venza is another option, but it's more expensive, less roomy, and less economical, and it has similarly flawed controls to the Hyundai.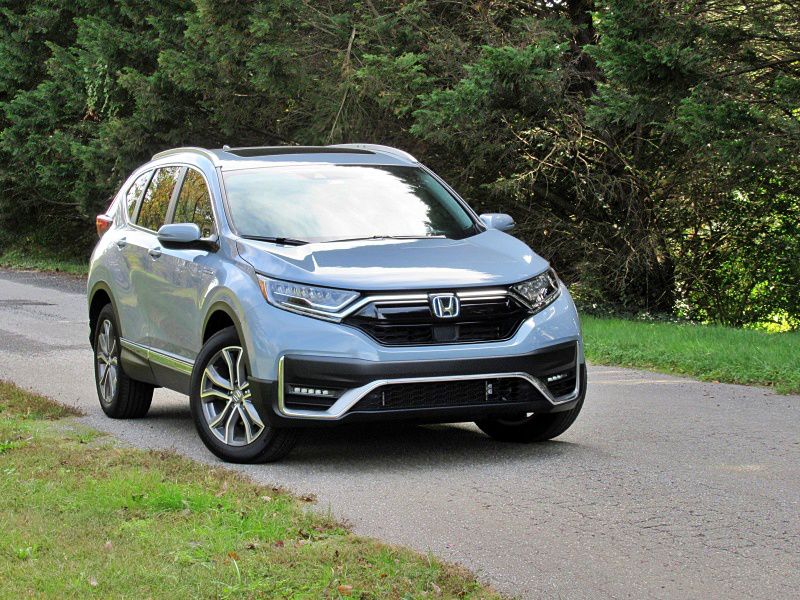 Photo by Brady Holt
A Compelling Choice
Especially if you spend a lot of time in stop-and-go traffic and other low-speed conditions, we'd recommend a hybrid crossover over its gas-only counterpart any day. The Tucson Hybrid makes even more sense because it's quicker and quieter in addition to burning far less gas, all for only about a $1,000 premium. (The main issue is that you can get a wider variety of gas-only trim levels, so that apples-to-apples price difference may not apply to you.)
Compared with the competition, the Tucson Hybrid remains compelling. It's versatile without abandoning design pizzazz, economical without being noisy or slow, and feature-laden without being wildly expensive. It's tough to choose a hybrid with worse gas mileage than the competition, and consider the cumbersome control layout before committing to the Tucson Hybrid. But from its roomy interior to its upscale driving experience to its unique styling, Hyundai gives you plenty of reasons to pay attention to its newest hybrid.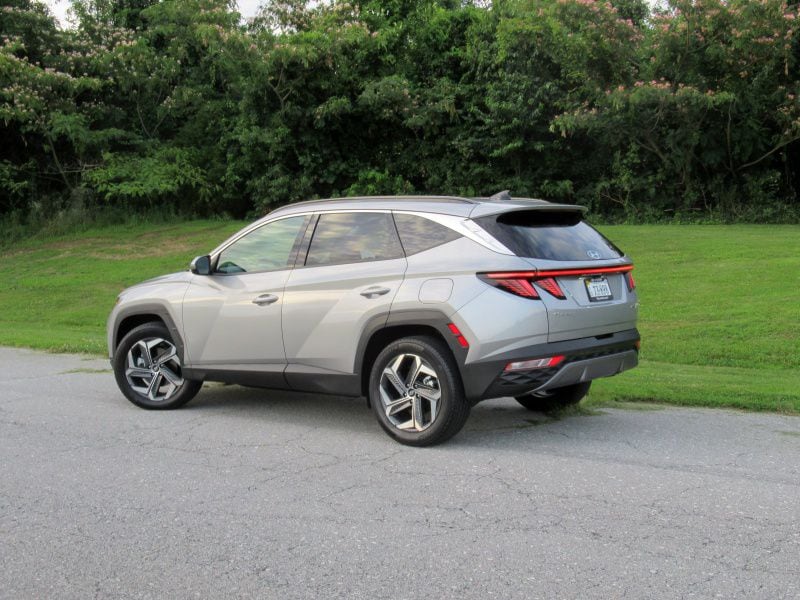 Photo by Brady Holt