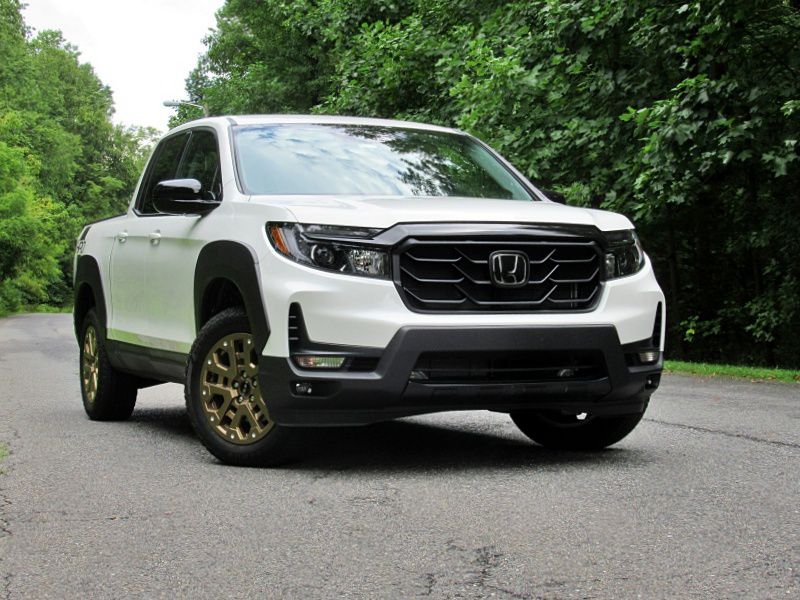 2021 Honda Ridgeline Sport HPD ・ Photo by Brady Holt
Most pickup trucks are, well, trucks. That means they're hardy and capable, but not typically the most comfortable, spacious vehicles — especially if you don't want the bulk or expense of a full-size model. Honda counters that a pickup doesn't need to beat you up to handle typical needs, selling the roomy, smooth-riding Ridgeline since 2006. 
Now in its second generation, though, the 2022 Honda Ridgeline is facing a new competitor. The all-new 2022 Hyundai Santa Cruz is a bit smaller than the Ridgeline, but it has a much lower starting price and funkier styling. Both are front-wheel-drive-based pickups sold exclusively as four-door crew cabs. We tested the Ridgeline and Santa Cruz for this review so that we could compare them across eight categories, and then declare an overall winner. Keep reading to learn which one we picked and which alternative pickup is better for you.  
Pricing and Features
The Santa Cruz recalls the days when small pickups were relatively affordable. It starts at $23,990 with a broad range of safety and infotainment features, along with high-end extras like 18-inch alloy wheels and a load-leveling rear suspension. All-wheel drive is an extra $1,500, but otherwise it's similarly equipped to the base Ridgeline Sport — which costs a whopping $36,890. 
If you want a big engine, though, you need to upgrade to the Santa Cruz SEL Premium for $35,680. That bumps you from a base 191-horsepower engine to a 281-hp turbo, along with more features. That's competitive with the Ridgeline's standard 280-hp V6. Our pick of the Ridgeline lineup is the $39,870 RTL model, which has leather upholstery, a moonroof, and most of the other features we're interested in. That's about the same as the leather-trimmed Santa Cruz Limited like our test vehicle ($39,720), but the Hyundai has some extra features at that price: a navigation system, ventilated front seats, a premium stereo, and a surround-view parking camera. 
Hyundai Santa Cruz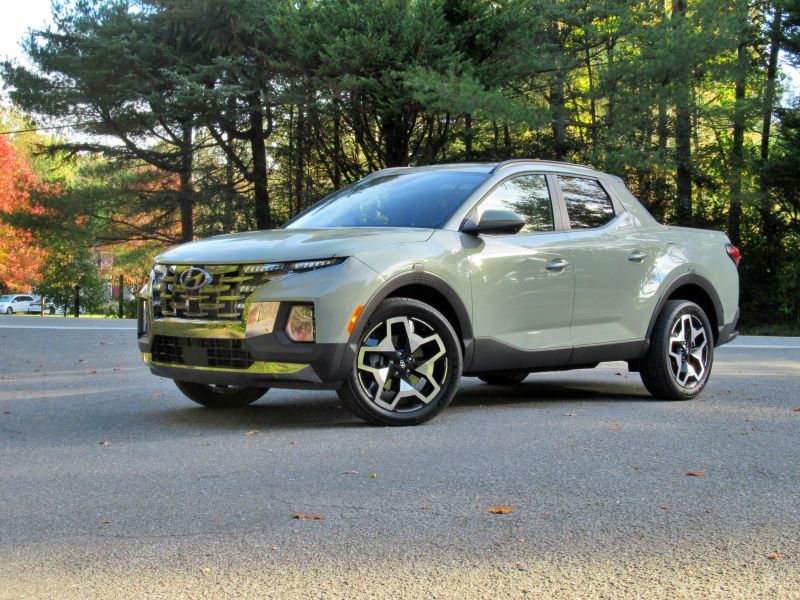 Photo by Brady Holt
Exterior Design
The current-generation Ridgeline debuted in 2017, putting a more conventional pickup shape onto its car-based unibody platform. This generation also added a false seam where other trucks separate their beds from their cabs. For 2021, Honda replaced the Ridgeline's front end with a more squared-off and tough-looking design — abandoning the previous car-like fascia it had shared with the Honda Pilot mid-size crossover. It also introduced a new HPD (Honda Performance Development) appearance package; included on our test truck, this introduces splashy graphics, plastic-clad fenders, and neat bronze wheels. 
The Santa Cruz, meanwhile, will draw stares. It shares its front end with the newly redesigned Hyundai Tucson compact crossover, including a nifty grille design that hides part of the headlights. It has a shorter, stubbier bed — less useful than the Ridgeline's, but more visually arresting. Overall, both the Santa Cruz's proportions and its details are unlike anything else sold in the U.S. You'll choose for yourself between the normal-pickup-looking Ridgeline and the out-there Santa Cruz. 
Tie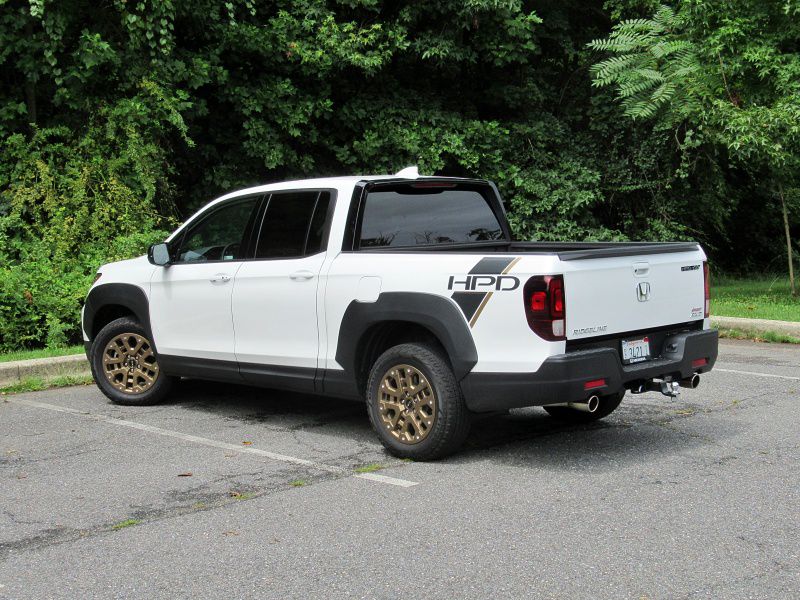 Photo by Brady Holt
Interior Design
The Ridgeline and Santa Cruz each largely share their dashboard designs with their crossover counterparts. The Ridgeline's dates to the 2016 Pilot, and that means it's nicely built but nothing flashy. Unlike early in its run, the Ridgeline now has a standard 8-inch touchscreen infotainment system, and a simple volume knob replaces clunky old touch-sensitive controls. 
The Santa Cruz's interior is more modern, but also not truck-like. Its instrument panel is a sleek, flat plane, complementing an available digital instrument cluster. The Hyundai's base infotainment system is the same 8 inches as the Honda's, but its system is easier to use and more responsive. Plus, it supports wireless Android Auto and Apple CarPlay smartphone integration, while Honda makes you plug in. Upper-trim Santa Cruz models, including our test vehicle, have a bigger 10.25-inch touchscreen. However, this upgrade loses wireless Android Auto and Apple CarPlay. Worse, it also eliminates most physical dashboard buttons in favor of touch-sensitive controls — the same issue Honda has just fixed. We'll narrowly pick the Santa Cruz overall, especially with the base touchscreen. 
Hyundai Santa Cruz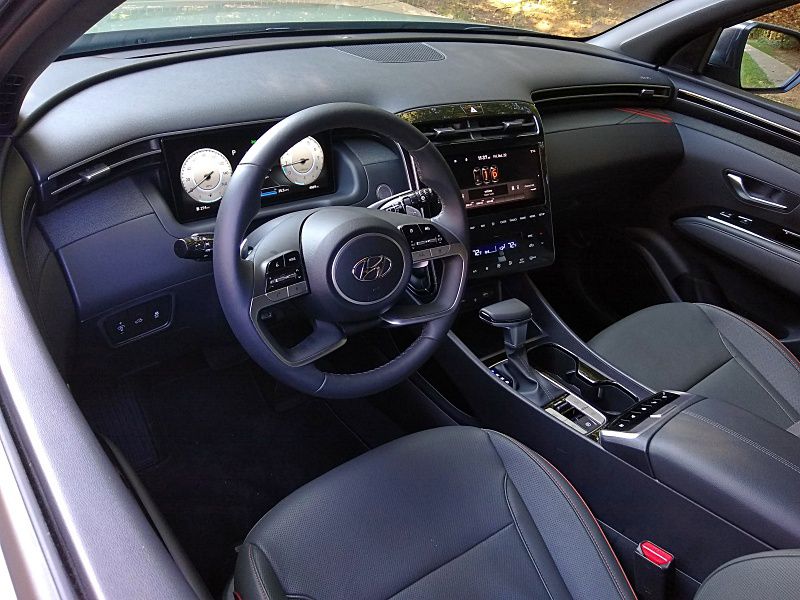 Photo by Brady Holt
Interior Comfort
The Ridgeline has the wide, cushy front seats and airy feel of a full-size truck. A low center console makes the ample space feel even less constraining. There's no small-pickup vibe in this cabin. Rear legroom isn't stretch-out spacious, but it's good for this segment, and the seat is wide enough for three adults. Leather upholstery, heated front seats, and a power driver's seat are included on all but the base model. 
Though it's smaller than the Ridgeline, the Santa Cruz also has a useful interior by the standards of a mid-size crew cab pickup. The front seats are supportive and comfortable, even if they're narrower than the Honda's. And rear legroom isn't far behind the bigger Ridgeline's. Leather upholstery arrives only on the top Limited model, but that model also includes ventilated seats, and front seat heaters are included on all but the base Santa Cruz. Overall, the Hyundai is impressively comfortable given its modest size, but it still can't match the Honda unlike you prefer a cozier feel.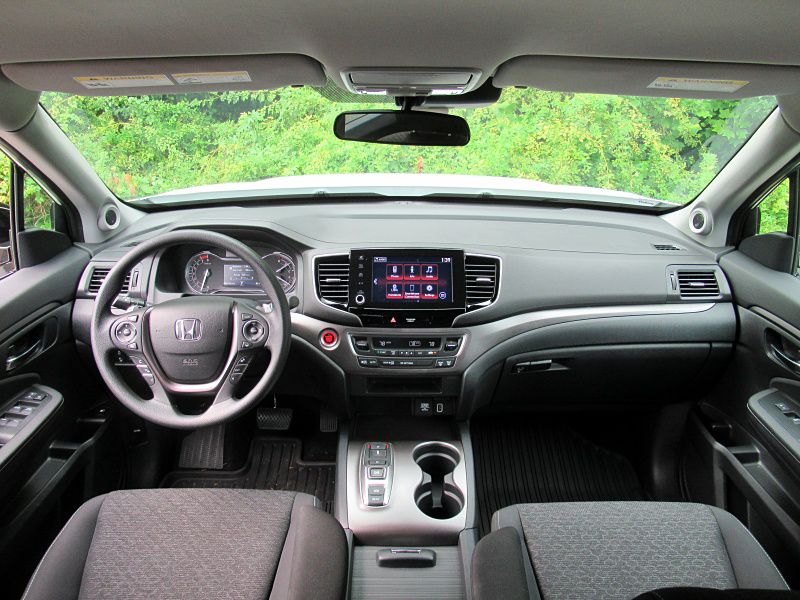 Photo by Brady Holt
Driving Experience
Riding on the platforms of well-regarded crossover suvs, the Ridgeline and Santa Cruz both drive better than traditional pickups. And both are well-rounded. But each has its own character. 
The Ridgeline maximizes smooth, quiet, comfort. Continuing the vibe of its big, cushy front seats, this Honda rides like a pricier full-size truck. There's none of the raucous, rough-and-tumble character of a typical mid-size pickup. To some tastes, there isn't much character at all. But the Ridgeline proves how nicely a pickup can drive, even at a relatively low price. And while it's not sporty, it's agreeably quick and agile. The Santa Cruz, meanwhile, is a lively little beast. Small and powerful (at least with its optional turbo engine), it drives with spirit — a car-like spirit rather than a truck-like one. There's plenty of character here, and even with our test truck's big 20-inch wheels, the firm suspension avoids feeling stiff. The base 2.5-liter engine isn't a thrill, but even the turbo isn't that expensive for a crew-cab pickup. We were happy driving both pickups, and you'll choose for yourself whether you prefer sporty fun over relaxed refinement.  
Tie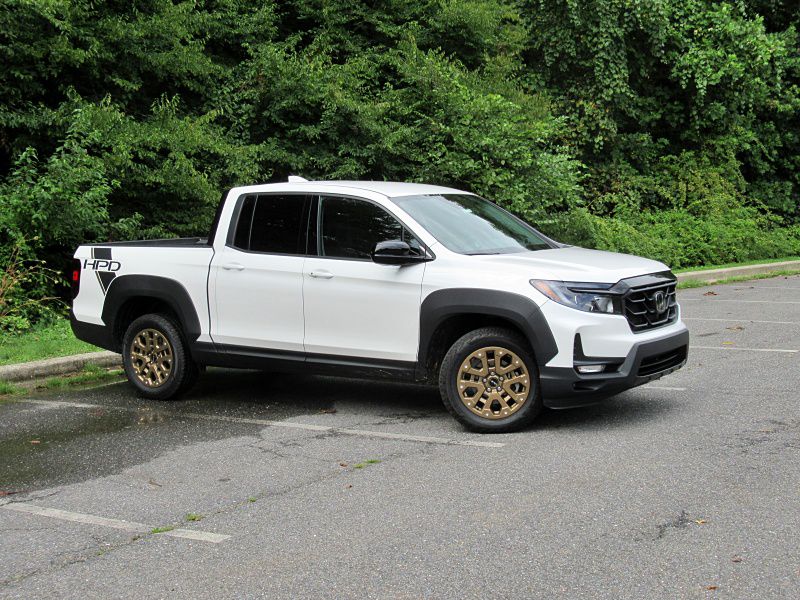 Photo by Brady Holt
Towing and Hauling
Despite its modest size, the Santa Cruz is a decently capable little pickup. With the turbo engine and all-wheel drive, it's rated to tow up to 5,000 pounds; other models tow 3,500 pounds. And depending on the trim level, it can handle a payload between 1,521 and 1,753 pounds (the turbo manages 1,609 pounds). In comparison, the Ridgeline tows 5,000 pounds and handles a payload of 1,583 pounds. 
But Honda has an important utility advantage: a bigger bed. The little Santa Cruz's bed measures just 48.4 inches long, compared with the Ridgeline's 63.6 inches. Both pickups have an in-bed trunk under the floor, but the Honda's is bigger. The Ridgeline also has more room (along with a flatter cargo floor) when you flip up the rear seat area for in-cabin storage. And only the Ridgeline has a nifty trick tailgate that can either fold down or swing out. We appreciate how the Hyundai's tailgate goes up and down with less force, and its bed has a handy roll-out tonneau cover on all but the base model. But think hard about whether the Santa Cruz has enough storage space for you.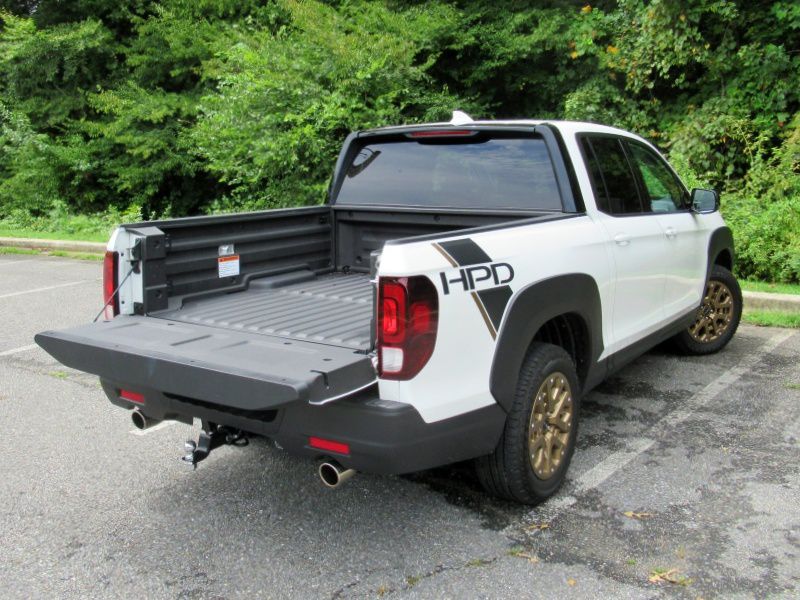 Photo by Brady Holt
Fuel Economy
Even though the Ridgeline is bigger than the Santa Cruz and has two extra cylinders, its EPA fuel economy ratings are close behind the equivalently powerful turbo Hyundai's. The Ridgeline manages 18 mpg in the city, 24 mpg on the highway, and 21 mpg combined. The Santa Cruz scores 19 mpg city, 27 mpg highway, and 22 mpg combined. And even the base non-turbo Santa Cruz only does about 1 mpg better. 
The gap between the two pickups did widen in our hands. We averaged 22 mpg in the Ridgeline but 25 mpg in the turbo Santa Cruz. While these aren't scientifically precise tests like the EPA's, they're another data point in the Hyundai's favor. 
Hyundai Santa Cruz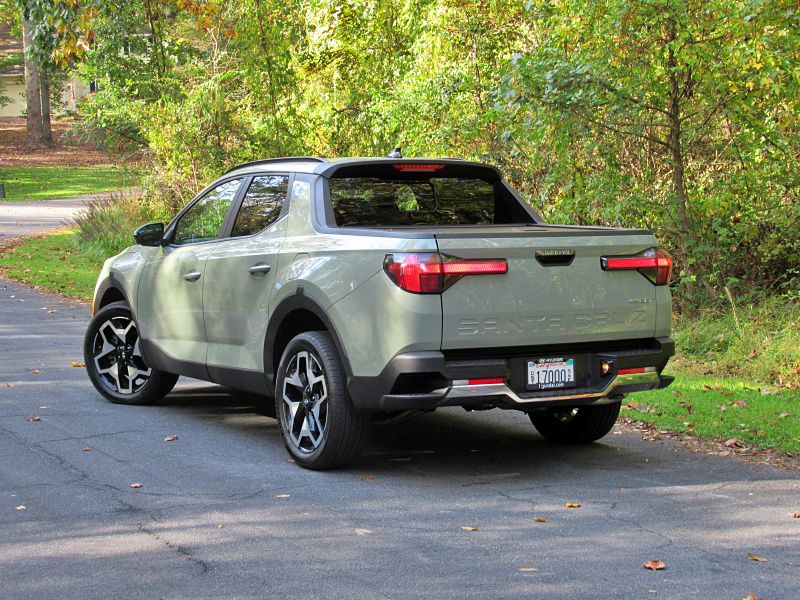 Photo by Brady Holt
Safety
The Ridgeline has a comprehensive suite of standard safety and driver-assistance features, including automatic emergency braking, lane-keeping steering assistance, and adaptive cruise control. It also did well in crash testing. And if you like adaptive cruise control, you won't appreciate that Hyundai reserves it for the top Limited trim level. Still, the Santa Cruz goes further. 
First of all, the Santa Cruz includes pedestrian-detection capability for its automatic emergency braking, and all but the base model include rear automatic braking. The older Honda doesn't offer either system. The Santa Cruz Limited also includes a handy blind-spot camera — a feature that Honda pioneered but no longer offers on the Ridgeline or most of its other models. Best of all, the Santa Cruz performs even better in Insurance Institute for Highway Safety crash tests than the Ridgeline did.  
Hyundai Santa Cruz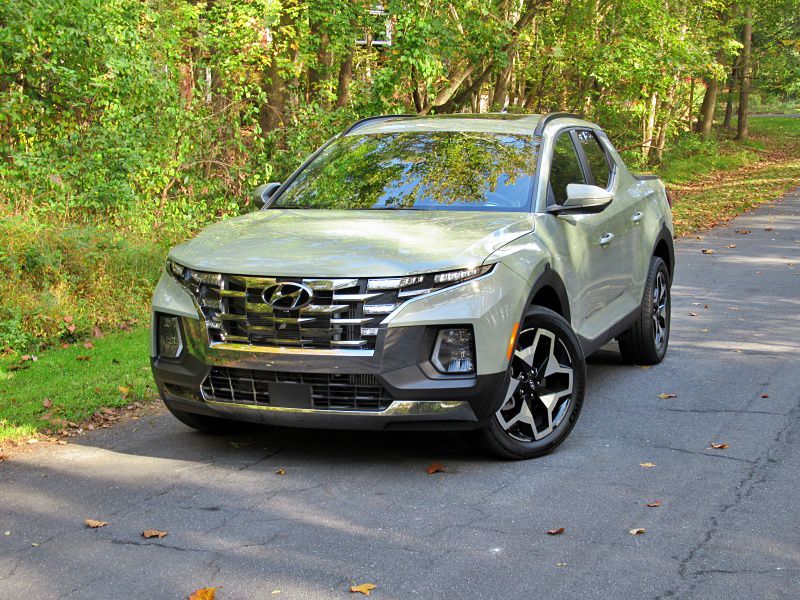 Photo by Brady Holt
Final Thoughts
We're big fans of both the Ridgeline and the Santa Cruz. Both are unique and enjoyable takes on the traditional pickup truck for someone who likes a pickup bed but doesn't need maximum-duty capability. The Honda is comfortable and sensible — it has the quiet ride and big front seats of a full-size pickup, yet with a smoother ride, more agile handling, and a far lower price. And the Hyundai is a funky, fun lifestyle vehicle with more comfort and capability than you might expect. 
For many pickup buyers, even those who don't need to crawl over boulders or haul massive trailers, the Santa Cruz's 4-foot-long bed is just too small. We understand if that's the case. And the Ridgeline's airier cabin is also appealing. But overall, the Santa Cruz's combination of personality and value wins the day. It's a neat little alternative to an everyday crossover, and especially if you don't mind the base engine, it's incredibly affordable for a modern pickup. Not only did the Hyundai win our hearts, but it was easy for our minds to follow. 
Hyundai Santa Cruz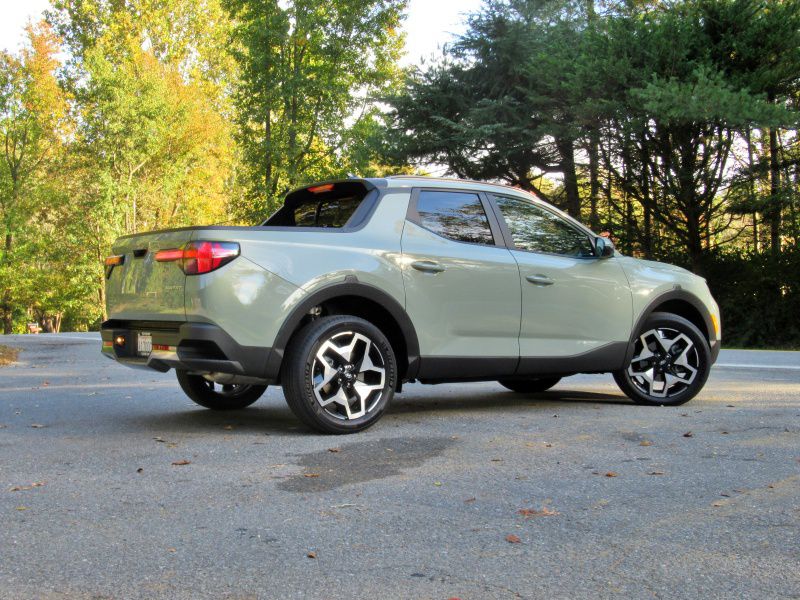 Photo by Brady Holt