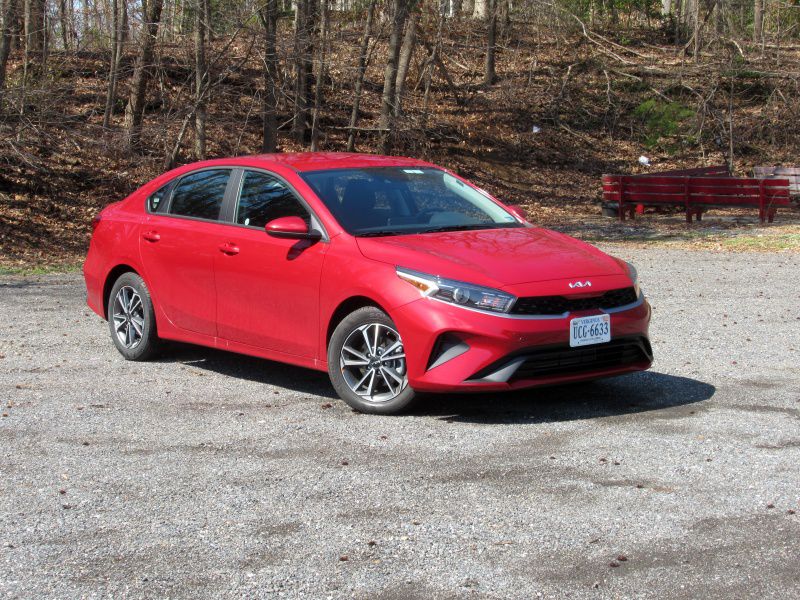 2022 Kia Forte LXS ・ Photo by Brady Holt
The Hyundai Elantra is getting a lot of attention. Last year's award-winning redesign is a head-turner — a compact economy sedan whose expressive styling can't be ignored, especially for less than $20,000. 
But if you're not looking for something flashy, you might also consider the Kia Forte. It may not have the Elantra's pizzazz, even after a fresh styling update for 2022, but it has the same mechanical components under its subtler skin. What's more, it costs even less. We've tested the Elantra and Forte so that we can compare and contrast these corporate cousins, name a winner, and help you decide which Korean compact is best for you. We'll focus this review on the base engines that most people buy, but we'll also discuss the two sedans' other powertrain options. Keep reading as we delve into the details.
Pricing and Features
Even the base Elantra SE ($19,950) comes loaded with advanced safety and infotainment technology. Upgrade to the SEL ($21,200) for larger 16-inch wheels, automatic climate control, and access to most of the car's optional features like a sunroof, a "digital key" that uses your phone to unlock and start the vehicle, adaptive cruise control, and a wireless smartphone charger. Or you can get the leather-trimmed Limited ($25,700) like our test vehicle. 
The Forte leaves off a few Elantra standard features, and Kia doesn't match Hyundai's three years of free scheduled maintenance. That helps explain its lower base price: $19,090. The LXS like our test vehicle ($19,590) adds alloy wheels and the $500 option for blind-spot monitoring; so equipped, it's almost exactly the same price as the base Elantra. However, the sport-themed Forte GT-Line ($21,290) is better-equipped than the Elantra SEL; its add-ons include a bigger infotainment screen and GPS navigation. A fully optioned GT-Line is loaded at $23,990, with most of the Elantra Limited's features plus ventilated front seats. However, you can't get any Forte with real leather or a digital key, and adaptive cruise control is rare. Overall, we'll give a narrow edge to the cheaper Kia. 
Kia Forte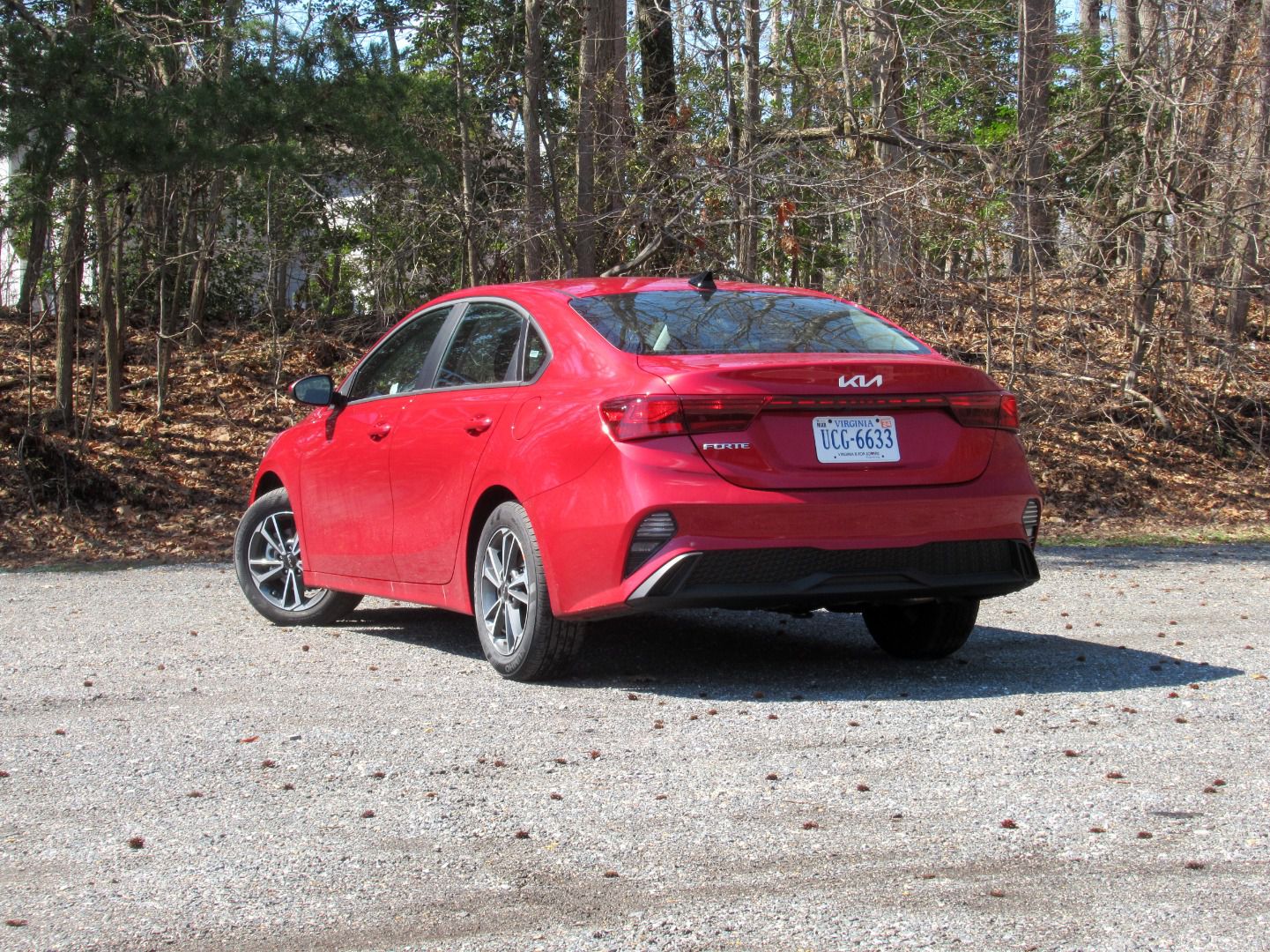 Photo by Brady Holt
Exterior Design
The last time Hyundai redesigned the Elantra — in 2017 — it got some criticism for being too conservative. The company took no such chances this time around. The sharply creased doors, trunk, and bumpers look like an origami project. The headlights swoop down into a bold, low grille. The angular taillights have a lightbar that runs below a pinched trunklid, and a chunk of chrome and plastic runs past the rear window the simulate additional glass. Not everyone will like it, and some will hate it, but others will love this bold design. 
The current Forte debuted in 2019, but Kia restyled it this year. In addition to the brand's redesigned logo, slightly smaller headlights now connect to a slimmer grille, which Kia says looks more aggressive than before. If anything, though, the new 2022 Forte is even simpler than its predecessor. To our eyes, the Forte is classy from the rear and anonymously economy-car-like from the front. Pretense isn't in the car's DNA. The GT-Line trim level dresses things up a bit with sharper front lighting, a red-accented grille, a subtle rear spoiler, and slightly flashier wheels, but otherwise Kia keeps things simple. That's not for everyone, but it's perfect if the Elantra's extra flash gives you a headache. We won't declare a stylistic winner between the extroverted Elantra and introverted Forte. 
Tie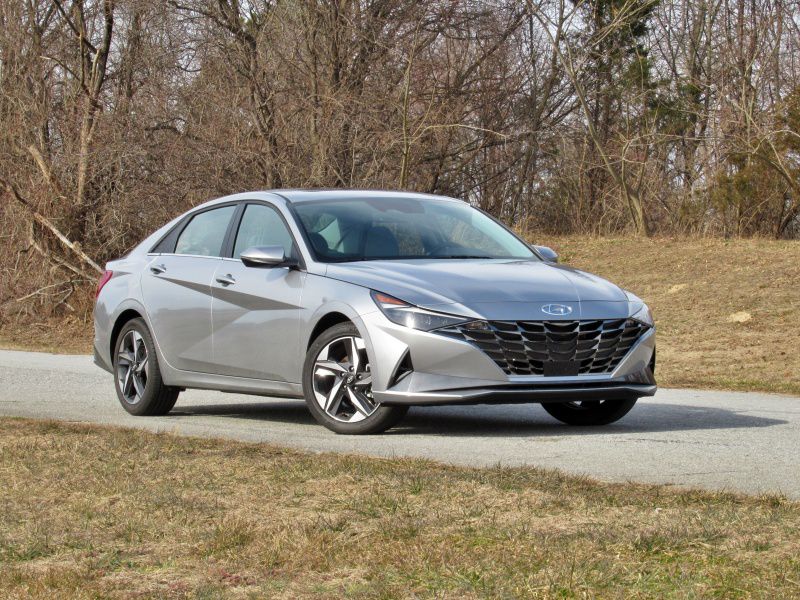 Photo by Brady Holt
Interior Design
It's a similar story inside: The Forte is a straightforward economy sedan, and the Elantra is a design study that entered mass production. However, when it comes to objective qualities, the Kia has some notable advantages. 
The Elantra's interior features a Mercedes-style visual connection between the gauge cluster and the infotainment screen. It also includes a horizontal strip across the dashboard that houses the climate vents, plus a grab handle on the passenger side of the instrument panel. The asymmetric design swoops this way and that, yet the controls are still easy to use. Most Elantras have an 8-inch infotainment screen with wireless Android Auto and Apple CarPlay smartphone integration. The top Limited model like our test vehicle has a 10.25-inch screen and a navigation system, but it requires you to plug in your phone to use Android and Apple apps on the car's screen. The Limited and some SELs also include a flashy digital gauge cluster. The Forte's dashboard has simple symmetry with even simpler controls, and while you'd never call it Mercedes-like, we found it to be better-finished than the sharper-looking Elantra. What's more, the updated 2022 Forte now shares the Elantra's infotainment options — and it makes the bigger 10.25-inch screen available on a wider selection of trim levels, too. 
Kia Forte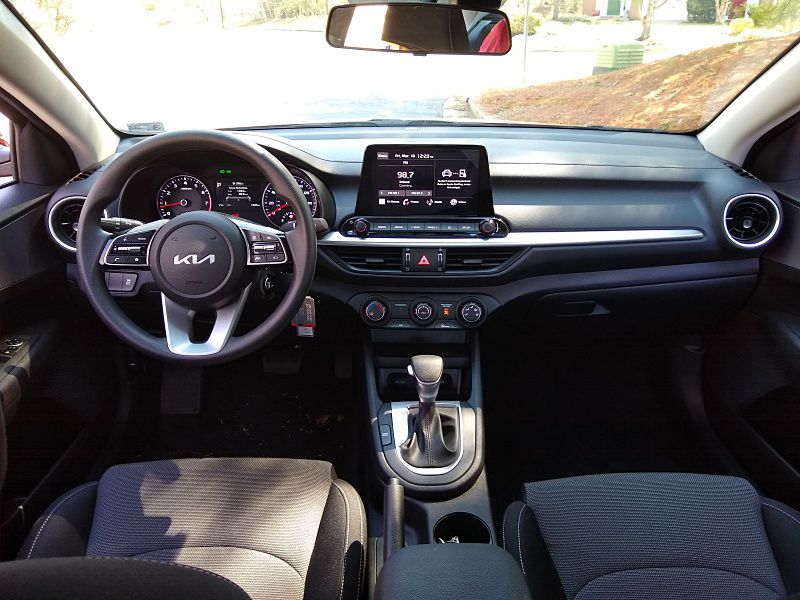 Photo by Brady Holt
Interior Space and Comfort
Both the Elantra and Forte have typically comfortable interiors for compact sedans. That means plenty of room in the front seat and enough room for adults to fit in the back without too much squeezing. 
Between the two fairly similar sedans, we narrowly pick the Kia. On paper, the Elantra has a slightly bigger backseat, with spec sheets showing a couple extra inches of rear legroom. But our knees didn't notice a difference. We also found the Forte's front seats more comfortable even on the base model, while a loaded GT-Line offers 10-way power adjustability versus the Elantra's six-way driver's seat. What's more, only Kia offers heated and ventilated front seats; Hyundai sticks with just heat. The Forte caps things off with a bigger trunk: 15.3 cubic feet versus the Elantra's 14.2 cubic feet.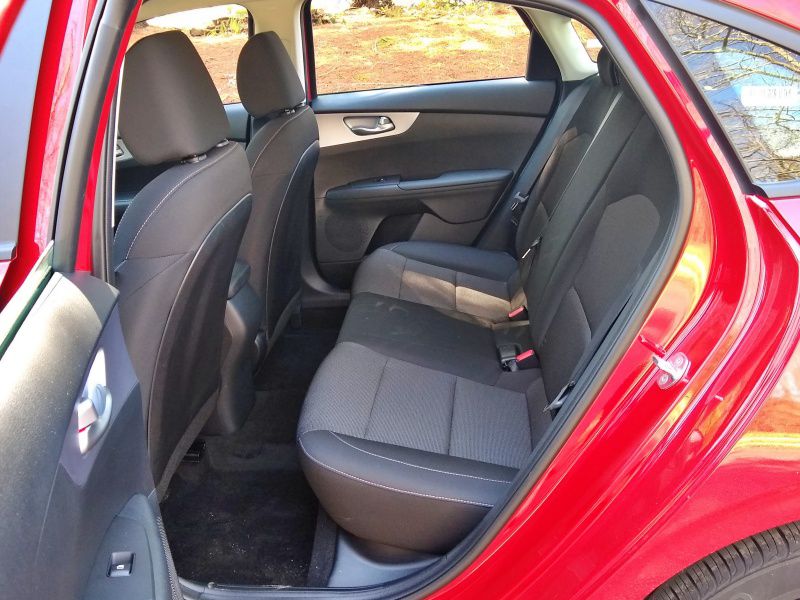 Photo by Brady Holt
Driving Experience
The Elantra may be newer than the Forte, but the two sedans have similar driving experiences from their similar mechanical components. Both sedans come standard with a 2.0-liter four-cylinder engine making 147 horsepower and 132 pound-feet of torque, paired with the same continuously variable automatic transmission (CVT). 
Overall, there's nothing terribly special or objectionable about how these sedans drive. They hum pleasantly along without being disastrously noisy or slow, though their engines moan if you decide to put your foot down. Lead-footed drivers can upgrade each sedan with a 201-horsepower turbocharged engine, which is a lot of power for the money ($23,490 for the Forte GT and $24,350 for the Elantra N Line) and also introduces the availability of a manual transmission. These changes also come with stiffer suspensions, which raise their handling limits without quite creating true rivals to enthusiast classics like the Volkswagen Golf GTI or the Honda Civic Si. The Elantra has a couple of additional versions that offer different driving experiences, but in the apples-to-apples comparison, you'll find a nearly identical experience under the skins of these different-looking cousins.  
Tie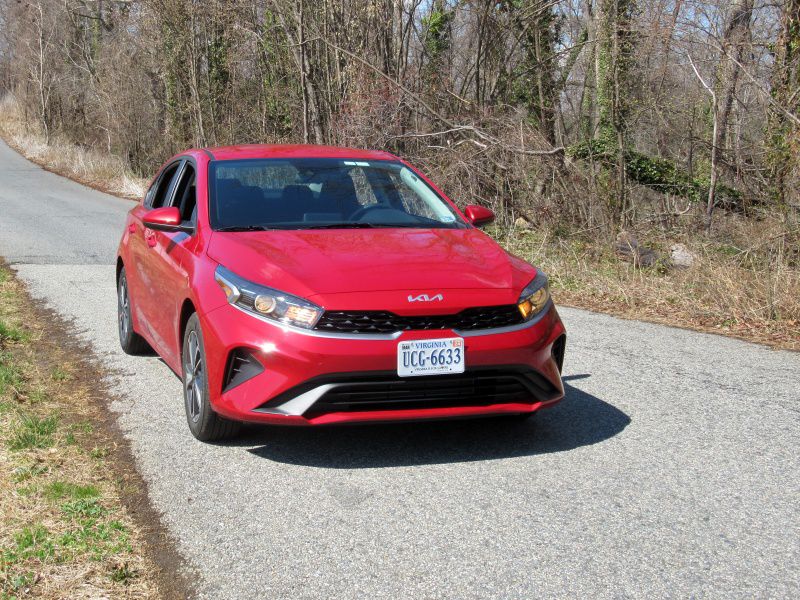 Photo by Brady Holt
Fuel Economy
Even though these cars use the same engine and transmission, Hyundai has eked out better EPA ratings than Kia. The Elantra manages 33 mpg in the city, 43 mpg on the highway, and 37 mpg combined on its base SE model, and 2 mpg less on the SEL and Limited. The base Forte FE only matches the upper-trim Elantras, while the rest of the Forte line averages 29 mpg city, 39 mpg highway, and 33 mpg combined. The turbocharged Elantra N Line (31 mpg combined with an automatic transmission, 28 mpg with a manual) also edges out the Forte GT (30 mpg with the automatic, 26 mpg with the manual). 
In our testing, both the base-engine Elantra and Forte averaged 38 mpg in mixed driving, and the Forte topped 44 mpg in mostly highway conditions. Still, this wasn't scientifically replicable testing like the EPA's methodology, so the Elantra wins for EPA ratings that are 2 mpg higher than comparable Fortes.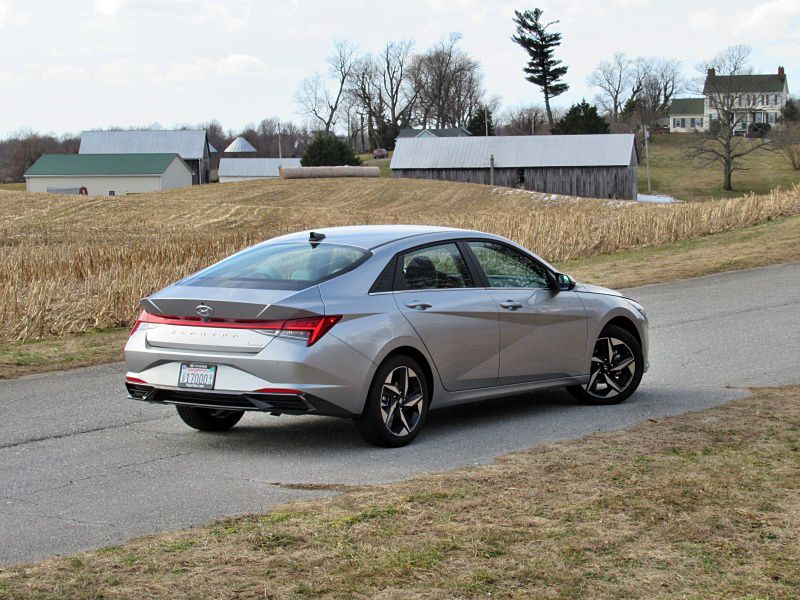 Photo by Brady Holt
Safety
Both the Elantra and Forte come standard with a generous list of safety features, including a forward collision warning, automatic emergency braking, a lane-departure warning, and lane-keeping steering assistance. And for 2022, Kia also upgraded the Forte to its latest generation of the automatic emergency braking system, which it shares with the Elantra. 
Still, the Hyundai still has some advantages. As we mentioned, blind-spot monitoring and a rear cross-traffic alert are standard on the Elantra and cost extra on the Forte (though they're more widely available this year, including at a similar price to the Elantra due to the Kia's lower starting prices). The Elantra also fares better in crash testing. While both sedans earn a Top Safety Pick rating from the Insurance Institute for Highway Safety, the Forte manages a mediocre four stars from the National Highway Traffic Safety Administration. The Elantra's scores aren't perfect either, but it does manage the highest five-star overall score.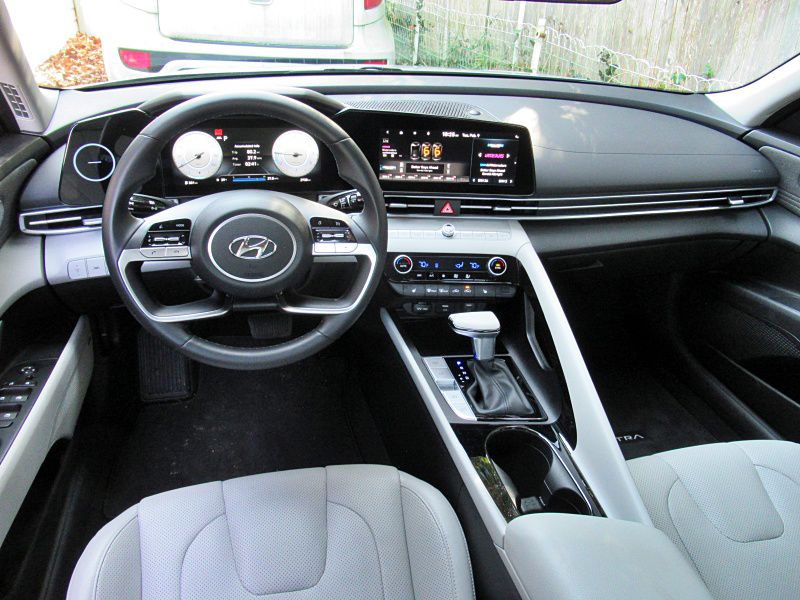 Photo by Brady Holt
Specialty Versions
We've so far focused our review on the comparable versions of the Elantra and Forte. But if you choose the Hyundai, you don't have to stop there. 
This year, a new Elantra N model brings a crazy 286 horsepower and extra-agile handling for $31,900. Going to the other extreme, the gas-electric Elantra Hybrid ($23,850) manages EPA estimates of up to 54 mpg in mixed driving. It's not the most fuel-efficient small hybrid you can buy, but it's notable for accelerating as quickly and as quietly as a standard Elantra — if not more so — while getting much better mileage. That's not bad for a roughly $2,500 price premium over the gas-only Elantra; drive enough, and the difference will pay for itself before long. The Forte doesn't have an equivalent to either the Elantra N or the Elantra Hybrid.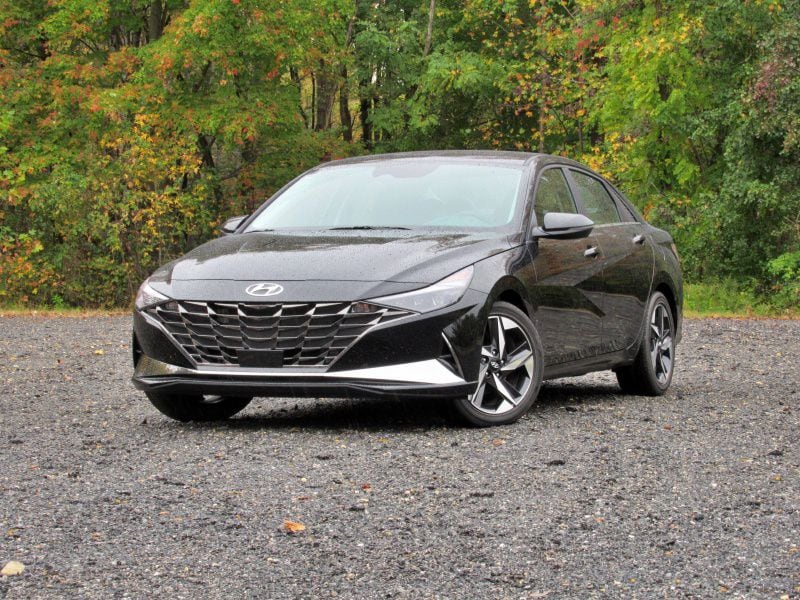 Photo by Brady Holt
Final Thoughts
At its heart, the latest Hyundai Elantra is an ordinary economy car wrapped in dramatic, edgy styling. And the Kia Forte is an ordinary economy car wrapped in ordinary styling. If you have a strong preference between the two design approaches, your decision is easy. 
If you're on the fence, though, the Forte's main advantage is its price. Kia lets you either spend less for the same features as the Elantra, or spend the same amount for a longer list of goodies. And the updated 2022 model has closed the gap in safety and infotainment technology, while continuing to provide more comfortable front seats and a bigger trunk. On the other hand, the Hyundai still beats the older Kia for crash-test performance and fuel efficiency, and its free scheduled maintenance is a powerful value draw. Those qualities tip the scales slightly toward the Elantra for us, making it today's winner. But since the Forte is so close behind and has a few advantages of its own, we'd hate for its simpler styling to make it get overlooked. Unless you're planning to pay extra for 286 horsepower or 54 mpg, the pleasant, affordable Forte still deserves your careful consideration. 
Hyundai Elantra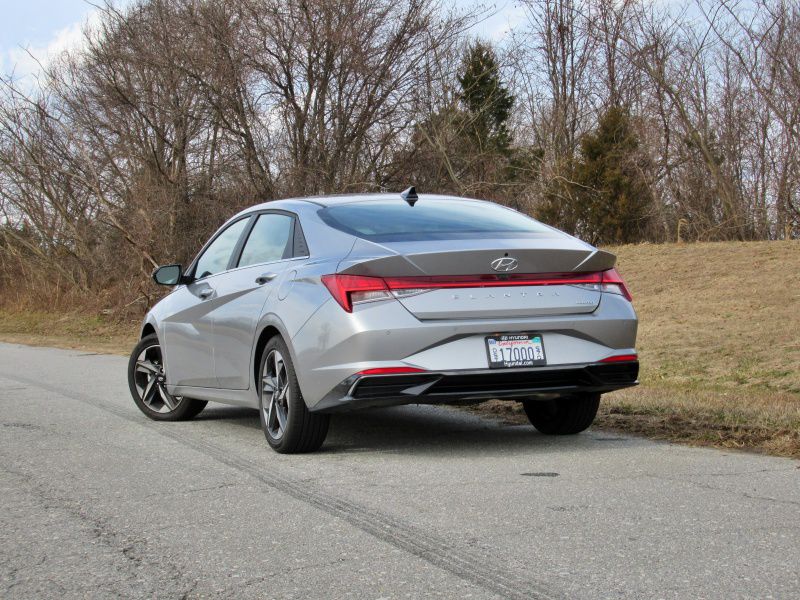 Photo by Brady Holt