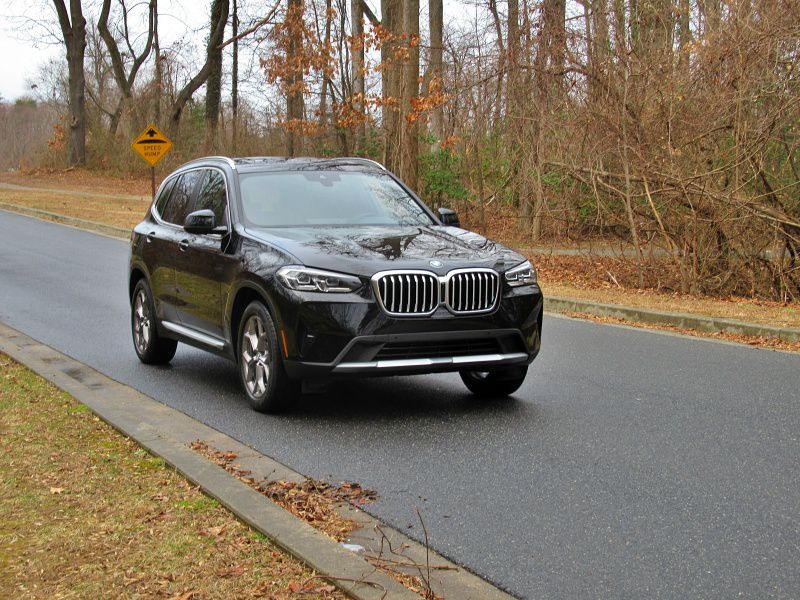 2022 BMW X3 ・ Photo by Brady Holt
Germany is known for making some of the finest luxury cars available. They're great to drive, beautifully finished, sharp-looking, and packed with innovations. That extends to the hot-selling compact luxury crossover segment, where the 2022 Audi Q5 and 2022 BMW X3 are two of the class's best-sellers. 
Both the Q5 and X3 check those boxes we mentioned. But they're not identical. For this review, we tested both the Q5 and the X3 so we could compare them in eight categories and then name our overall winner. Keep reading to learn which one we chose and which German compact luxury SUV is the better choice for you.
Pricing and Features
The Q5 and X3 have nearly identical base prices: $43,300 for the Q5 and $43,700 for the X3. But the difference is bigger than it looks. That's because the Audi comes standard with some notable standard features that cost extra on the BMW, including all-wheel drive, genuine leather upholstery, heated front seats, and a wireless smartphone charger. 
BMW counters with adaptive cruise control and GPS navigation, and Audi now charges $2,500 extra for its once-standard 261-horsepower engine (the new base engine makes 201 hp). But overall, the Audi brings more features for the money for many customers. This advantage continues if you want a six-cylinder engine: The X3 M40i starts at $57,800 compared with $55,800 for the equivalent Audi SQ5.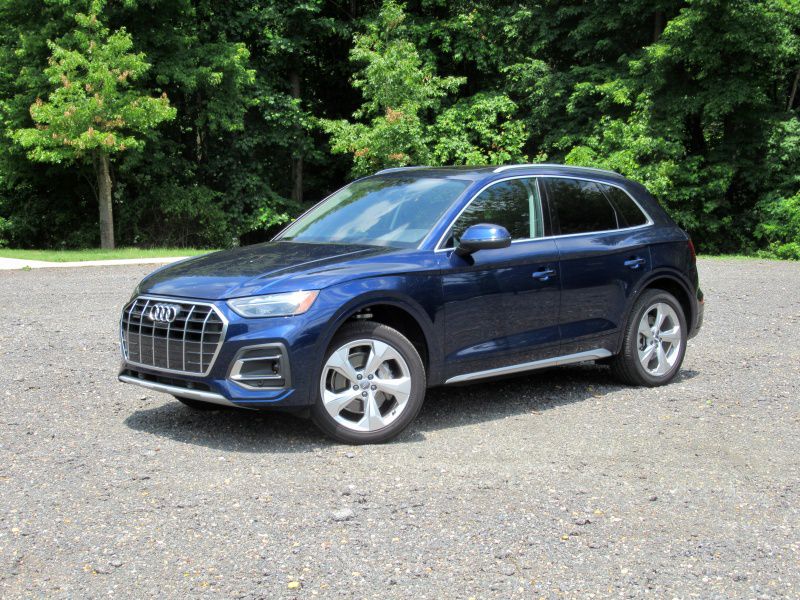 Photo by Brady Holt
Exterior Design
Both the Q5 and X3 have conservative exteriors, and both reflect their respective brands' family styling cues. That means BMW's famous twin-kidneys grille and Audi's bigger grille that drops down to the bottom of the bumper between high-mounted headlights. 
These SUVs have both been on the market since 2018 without major changes, and neither was a stylistic revolutionary even at that time. Last year, Audi adjusted the Q5's front end to match its newest models (adding some more curves instead of sharp, straight lines), and the 2022 X3 has a few detail changes as well: flashier taillight coloring and a new connection between the twin grille pieces. To us, the X3 looks boxier and more upright, while the Q5 leans forward more. You can also buy sportier-looking "SUV coupe" versions of each model, called the BMW X4 and the Audi Q5 Sportback. We'll let you choose your own stylistic winner — quite simply, whether you prefer Audi or BMW styling. 
Tie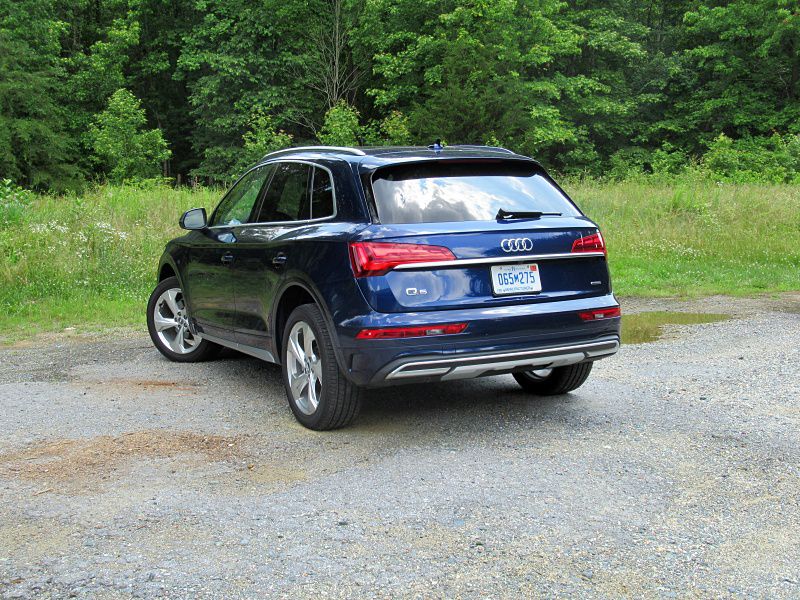 Photo by Brady Holt
Interior Design
Both the Q5 and X3 are also conservative inside. They have simple lines without a lot of swoopy flair. They're mostly well-built and have blissfully user-friendly controls. Each SUV also has a few areas where we wish the interior were even fancier: a big panel gap by the Audi driver's left knee, and an imperfectly finished door pull on the BMW. 
We'll award this category to the BMW for its superior infotainment system. Its screen is basically the same size as the Q5's (10.25 inches versus 10.1 inches), but BMW has configured it more intelligently to let you split the screen into multiple views. Audi's own big screen has more dead space. Audi's Virtual Cockpit digital gauge cluster is more dazzling than the BMW's own system, though they're similarly functional. And some Q5 buttons and dials move with a magnificent precision that BMW doesn't quite match. But overall, our pick is the X3.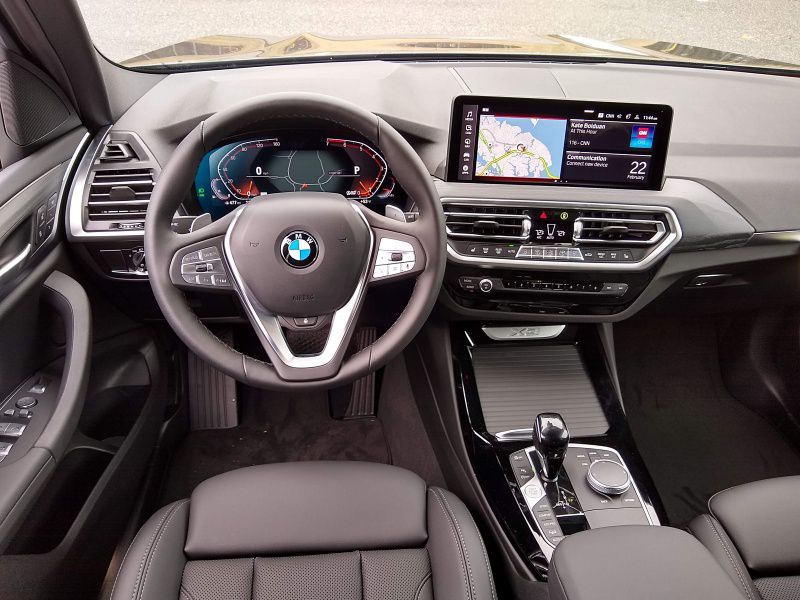 Photo by Brady Holt
Interior Space and Comfort
Both the X3 and Q5 have firm but comfortable front seats, plus enough room in the back for two adults to avoid feeling squished (though not enough for them to stretch out their legs). By the numbers, the Q5 has a bit more passenger space, though the X3 felt slightly more comfortable to us.
The BMW wins this section when it comes to cargo, though. The X3 fits an excellent 28.7 cubic feet of luggage behind the rear seat, and you can fold it down to handle 62.7 cubic feet. The Q5 fits 25.9 cubic feet behind the rear seat and 54.1 cubic feet with the rear seat folded, trailing the boxier BMW. Both SUVs are rated to tow an outstanding 4,400 pounds.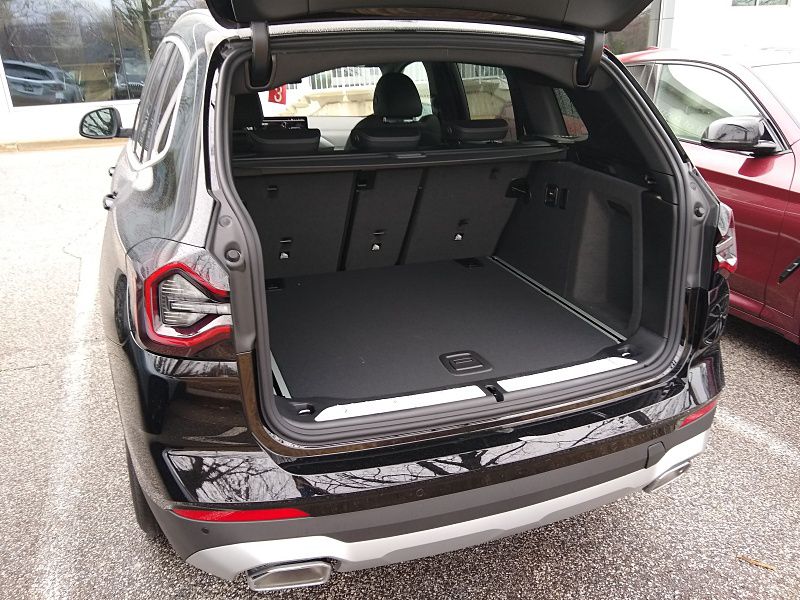 Photo by Brady Holt
Ride and Handling
The Q5 is an easy SUV to drive. Whether you're driving it slowly or pushing it hard, everything is easy-peasy under control. There's a firm but smooth ride, and a winding road won't upset its composure. 
What the Q5 doesn't have — even if you upgrade to the SQ5 performance model — is much excitement. It's capable and easygoing, but there isn't the extra quickness and connection that you'd find in an Audi sports sedan. While we'd wish for sharper steering in the X3, it comes closer to that ideal, even in its base form. It's no less comfortable than the Q5, but this BMW corners with more eagerness. Some folks might prefer the Audi's lower steering effort (it's adjustable in both cars, but consistently firmer in the BMW), but otherwise the X3 leads for fun-lovers while still being perfectly comfortable for daily use.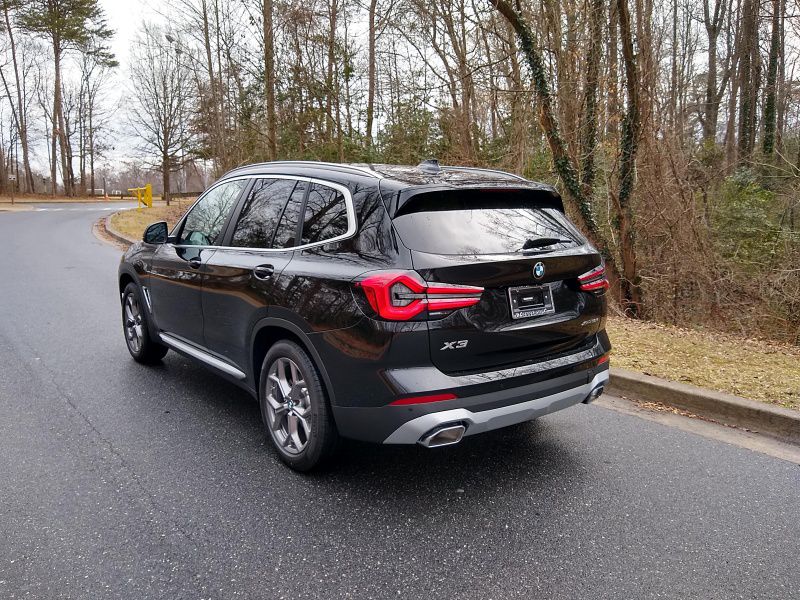 Photo by Brady Holt
Acceleration
The X3 comes standard with a 2.0-liter turbocharged four-cylinder engine with 248 horsepower and 258 lb-ft of torque. Those numbers, for the popular 30i model, are nothing amazing for this segment, but the engine is smoother and livelier in the real world than most competitors. BMW estimates it will hit 60 mph in 6.0 seconds.
The Q5 45 model is even quicker, with Audi estimating a 5.7-second run to 60. This model uses a 2.0-liter with 261 hp and 273 lb-ft of torque. However, this engine is no longer standard equipment. Partway through the 2022 model year, Audi is rolling out a Q5 40 version that dips to 201 hp and 236 lb-ft of torque. We don't think many folks will mind its still-solid 6.8-second dash to 60 mph, but it trails the X3. We also prefer how the BMW's four-cylinder sounds to the Audi's. And when you pick a six-cylinder engine, the Audi SQ5 (349 hp, 369 lb-ft, 4.7 seconds to 60) lags the BMW X3 M40i (382 hp, 365 lb-ft, 4.4 seconds). Lastly, Audi has no answer to the wild X3 M, which makes up to 503 horsepower. 
BMW X3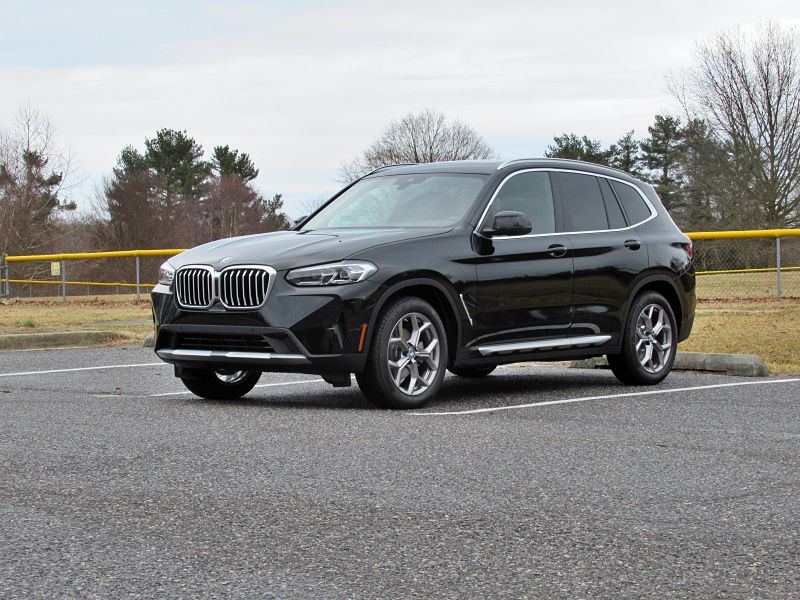 Photo by Brady Holt
Fuel Economy
The EPA puts the X3 30i at 23 mpg in the city, 29 mpg on the highway, and 25 mpg combined with rear-wheel drive and 1 mpg less with all-wheel drive, quite good for a quick luxury suv. Even more impressive, the AWD-only M40i still manages 21 mpg city, 26 mpg highway, and 23 mpg combined. Our 30i test was too short to measure its gas mileage accurately, but we saw an incredible 27 mpg in a weeklong test of the X4 M40i (the X3's mechanical twin with a reshaped roofline). 
Still, the Q5 does even better in most cases. Despite having AWD, the Q5 40 ties the rear-drive X3 30i's EPA estimates, while the Q5 45 is close behind (giving up only 1 mpg on the highway). Our tested Q5 45 averaged 28 mpg. Plus, you can get the Q5 55 plug-in hybrid that travels an EPA-estimated 23 miles per charge potentially enough range for all or most of your commute — before averaging 26 mpg combined. The SQ5's 19 mpg city, 24 mpg highway, and 21 mpg combined do trail the X3 M40i, and we saw 23 mpg in our weeklong test. Otherwise, Audi leads for fuel economy.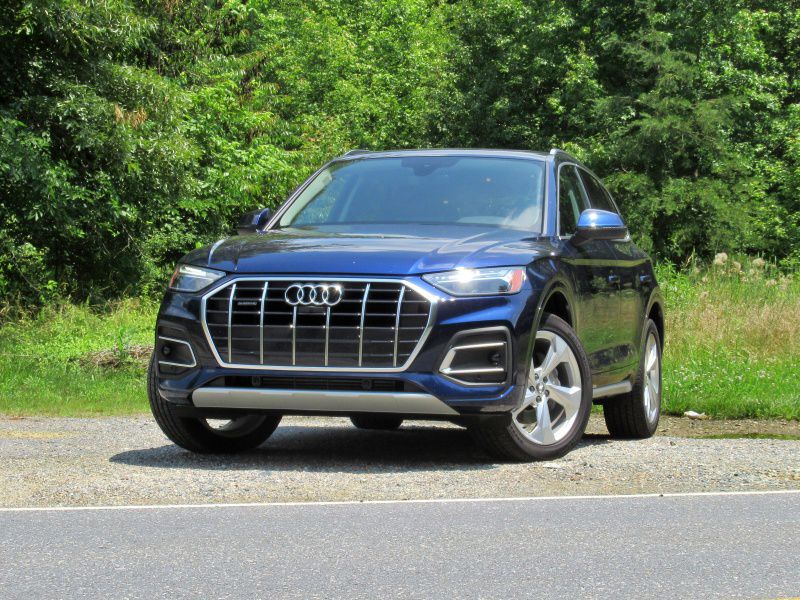 Photo by Brady Holt
Safety
The Q5 and X3 both come packed with safety features and earned excellent crash-test scores. But the Audi has faced a few more crash-prevention evaluations than the BMW, and it performed beautifully — giving it the narrow lead. 
In particular, the Q5 earns the highest possible designation of Top Safety Pick+ from the Insurance Institute for Highway Safety. The X3 also did very well in IIHS testing, but it hasn't been tested for its automatic emergency braking system or the illumination of its headlights. The two crossovers earned equivalent five-star scores from the National Highway Traffic Safety Administration, and both come standard with automatic emergency braking, a lane-departure warning, blind-spot monitoring, and front and rear parking sensors. The X3 adds a couple of advanced driver aids that cost extra on the Q5: adaptive cruise control and lane-keeping steering assistance. But the Audi's proven safety record remains stronger.
Audi Q5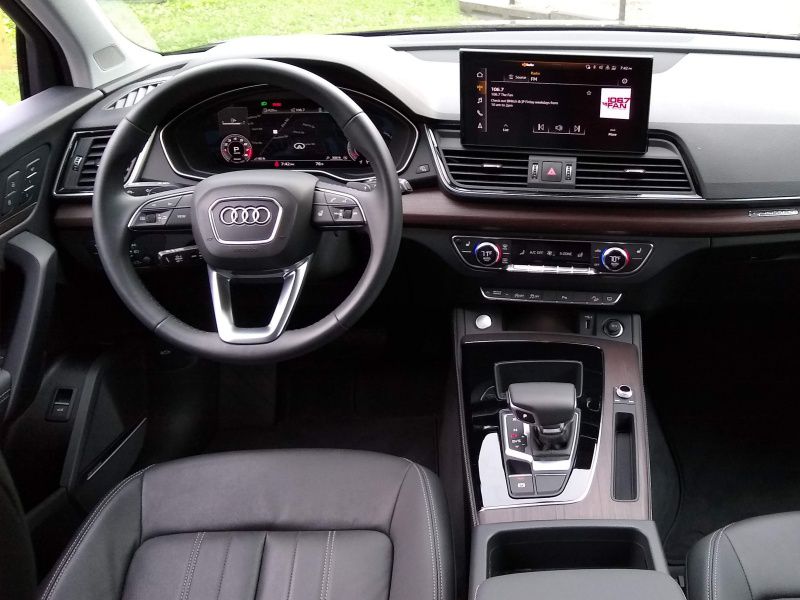 Photo by Brady Holt
Final Thoughts
The 2022 Audi Q5 brings supreme competence to the compact crossover segment. It's easy to drive fast or slow, it's quick yet fuel-efficient, and it has a well-finished, tech-filled interior. Still, our pick is the 2022 BMW X3. 
With more room, a smarter infotainment system, sprightlier handling, more standard horsepower, and wilder optional engines, the X3 is a winner whether you're looking for utility or performance. If you prefer the Audi's aesthetic over the BMW's, you don't sacrifice much by picking the Q5 over the X3. Those BMW differences are not huge, the X3 does cost a little more, and it no longer offers a rival to the Q5 plug-in hybrid — a winner for economical performance. But the BMW is our overall pick. 
BMW X3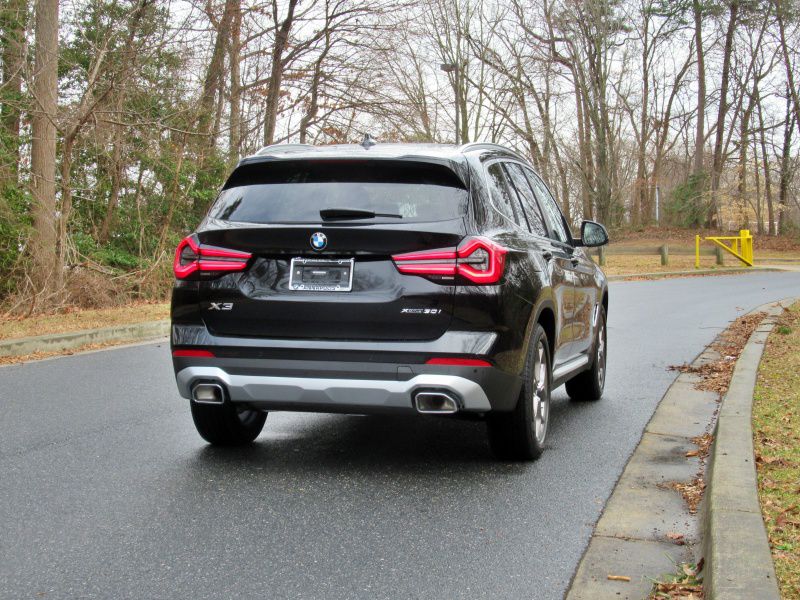 Photo by Brady Holt