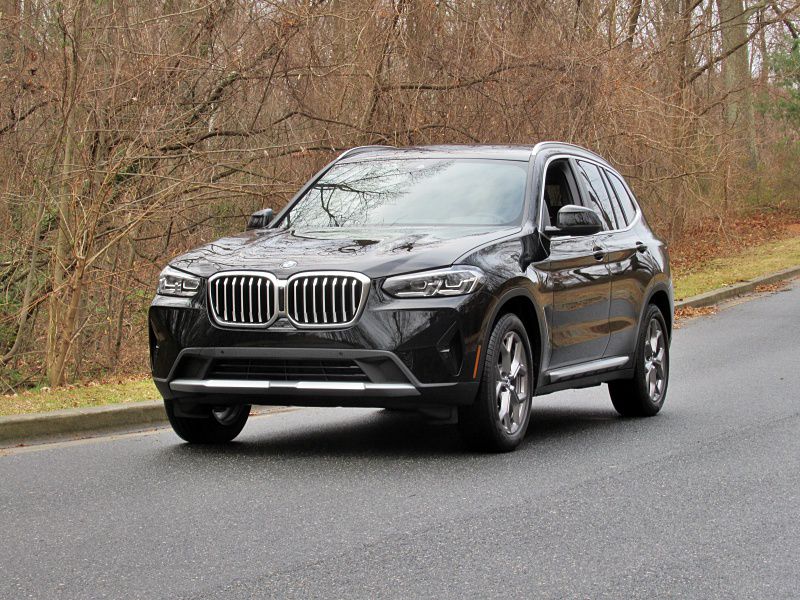 2022 BMW X3 ・ Photo by Brady Holt
BMW built its reputation on luxury sports sedans, but that's not where the market is focusing these days. Compact crossover SUVs dominate most carmakers' sales charts because they strike such a good balance — they're usefully roomy, but not too bulky, expensive, or gas-guzzling. 
Such is the case with the 2022 BMW X3, currently the German luxury brand's best-selling model. It's priced from $43,700 with a long list of standard features, composed driving manners, and a choice of powerful engines. But the competition is tough in this segment, and many other models cost less. To see how the X3 justifies its price, we tested a four-cylinder X3 30i along with the six-cylinder M40i version of the X3's sportier-looking cousin, the BMW X4. Keep reading to learn more about the X3's pros and cons and whether it's the right luxury SUV for you. 
Conservative Design
Even as SUVs have become its best-sellers, BMW has been known for its sporty performance. But you wouldn't guess that from just looking at the X3, whose current generation debuted in 2018 and took few design risks even at that time. You get rounded-off lights, simple lines, and a fairly upright profile. This year, BMW tweaked the X3's styling; changes include a new connection between the two pieces of BMW's signature "kidney" grille, reshaped front and rear bumpers, and a flashier taillamp pattern. Available performance packages let you black out the X3's chrome accents and get bigger, sportier-looking air intakes. 
The X3 is also conservative on the inside. Critics could even accuse the interior of being dull, though we see merit in BMW's minimalist leanings. Most materials are appropriately upscale — we especially liked our test vehicle's open-pore wood trim — and most trim pieces fit well together. There's nothing polarizing unless you strongly oppose the contemporary design trend of mounting touchscreens atop the dashboard. (We don't.) Not everything is perfect: The interior door pulls have a roughly finished edge, and we thought the SUV's keyfob felt disappointingly plasticky and insubstantial. But overall, the X3 is quietly classy and upscale inside and out.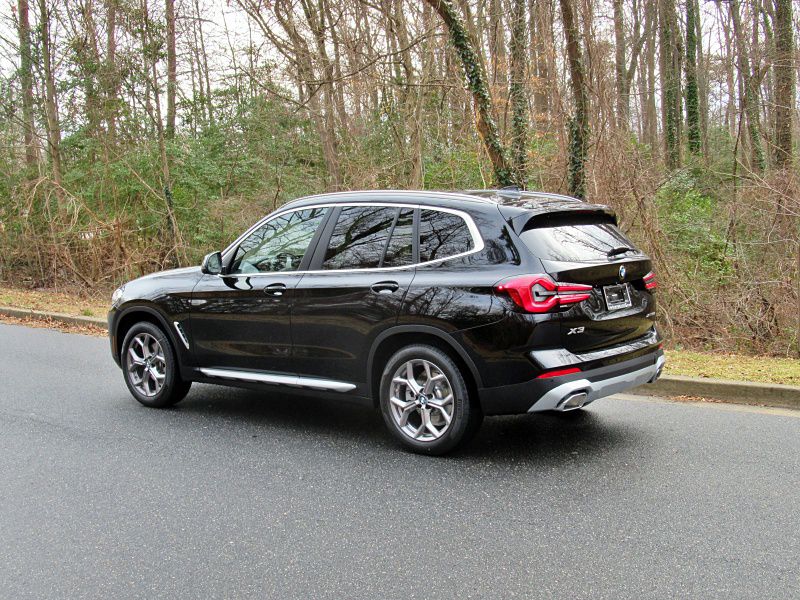 Photo by Brady Holt
Unexpectedly Easy
BMW created the modern infotainment system two years ago, and it was a mess. Called iDrive, it replaced dashboard buttons with cumbersome menus operated through a control wheel. Now, however, the X3 stands out as a welcome respite from overly complex luxury interiors. 
The X3's standard 10.25-inch touchscreen has big, clear icons and fonts, and it responds quickly to inputs. You can still use console-based controls, but we favored the touchscreen and nearby dashboard buttons. The system also supports Android Auto and Apple CarPlay smartphone integration. We didn't love the gesture control feature, which performs functions like changing the audio volume or changing the radio station if you make specific movements in front of the screen. Once, we even activated it by mistake while just reaching across the car. Overall, though, while many luxury suvs try to jump out and dazzle you with flashy technology, BMW has found its way back to ergonomic simplicity. It's a decision we appreciate.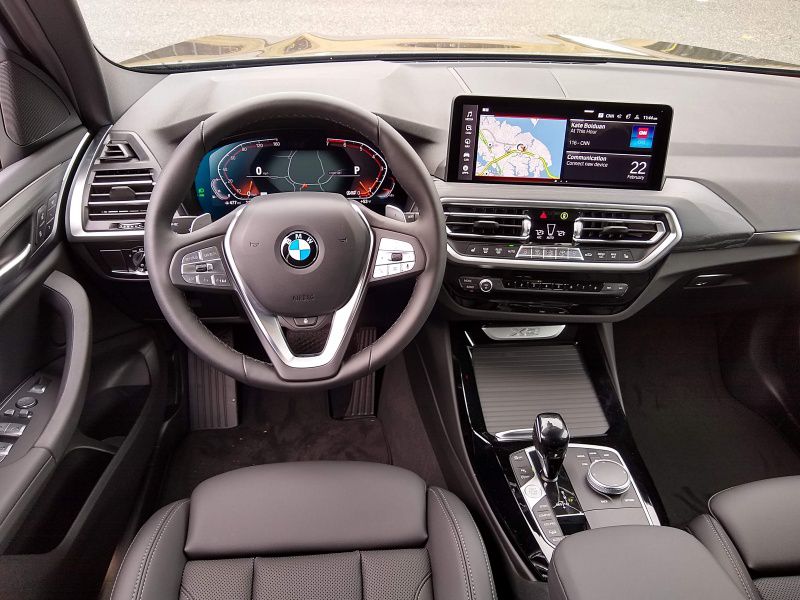 Photo by Brady Holt
Usefully Spacious
With its upright roof and big windows, the X3 avoids the bunker-like feel of some modern small suvs. It's airy and usefully spacious, and generous 10-way front-seat adjustability comes standard. Some folks will wish for cushier front seats or more supportive side bolsters, but once you've carefully customized all the adjustments, we think everyone will be pretty comfortable. You won't stretch out in a limo-style rear seat, but even tall adults will fit back there without squeezing, and we appreciate the support from the high-mounted cushion. 
For cargo, the X3 has 28.7 cubic feet behind its rear seat and 62.7 cubic feet with the rear seat folded down. Those are among the best numbers you'll find in the compact luxury crossover segment. Towing is also outstanding: up to 4,400 pounds even with the base four-cylinder engine.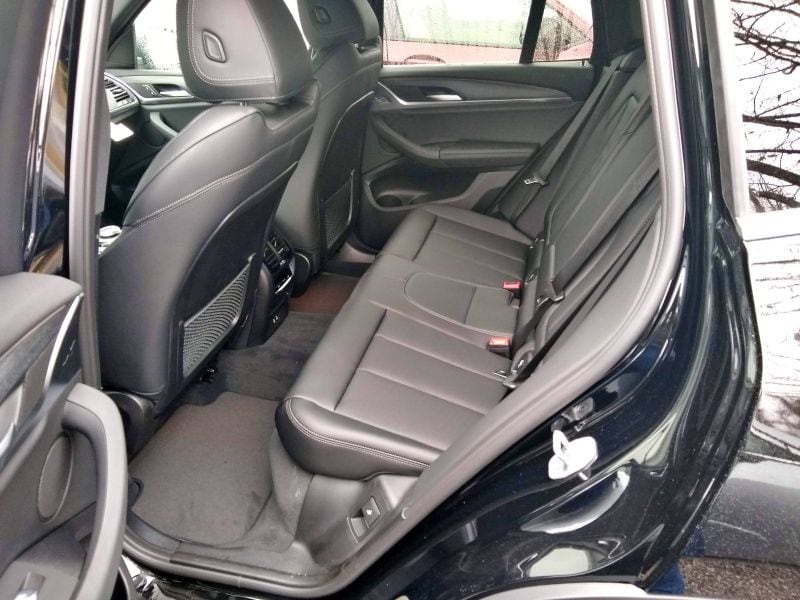 Photo by Brady Holt
Supreme Composure and Plenty of Power
Where once BMWs offered driving thrills, the X3 offers supreme composure. The tautly tuned suspension is firm and steady, and this SUV is upset neither by bumpy roads or sharp curves. The steering isn't razor-sharp like an Alfa Romeo Stelvio's, but it compares well to most modern luxury suvs. Like classic BMWs, the X3 has standard rear-wheel drive with available all-wheel drive. 
BMW has more winners under the hood. Most people will buy the 30i model, whose 2.0-liter turbocharged four-cylinder engine makes 248 horsepower and 258 lb-ft of torque. Those numbers are nothing amazing for this segment, but the engine is smoother and livelier in the real world than most competitors. We also tested the M40i's 3.0-liter inline six-cylinder engine in the mechanically identical BMW X4; it makes 382 hp and 365 lb-ft of torque. While the four-cylinder sounds pleasant, the six-cylinder accelerates with a rich melodic crackle without overwhelming you (and your surroundings) with excess noise. For maximum performance, the ultra-wild X3 M cranks the same 3.0-liter to 473 hp and 457 lb-ft in its base form and 503 hp and 479 lb-ft on the Competition model.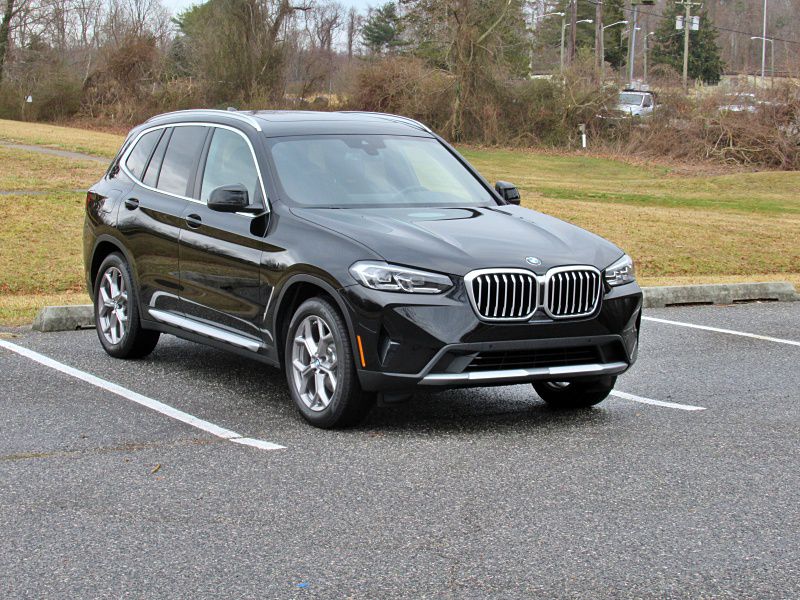 Photo by Brady Holt
Standout Fuel Economy
As long as you skip the X3 M, this BMW gets great gas mileage for a quick and luxurious SUV. The EPA puts the rear-drive 30i at 23 mpg in the city, 29 mpg on the highway, and 25 mpg combined, with AWD managing about 1 mpg less. 
Even more impressive, the AWD-only M40i still manages 21 mpg city, 26 mpg highway, and 23 mpg combined. This six-cylinder engine benefits from a mild-hybrid setup where a small electric motor helps out with both acceleration and fuel economy. BMW also lets you choose among several driving modes that include the fuel-saving Eco Pro, and then customize each of those driving modes further. We didn't drive our tested X3 30i long enough to get a fair measure of its gas mileage, but we saw an incredible 27 mpg in a weeklong test of an X4 M40i. The only downside for fuel-savers is that BMW no longer sells the X3 with last year's plug-in hybrid powertrain. And if you have your eye on the maximum-performance M, you're probably not focusing on gas mileage. We hope not; the EPA projects just 17 mpg in mixed driving.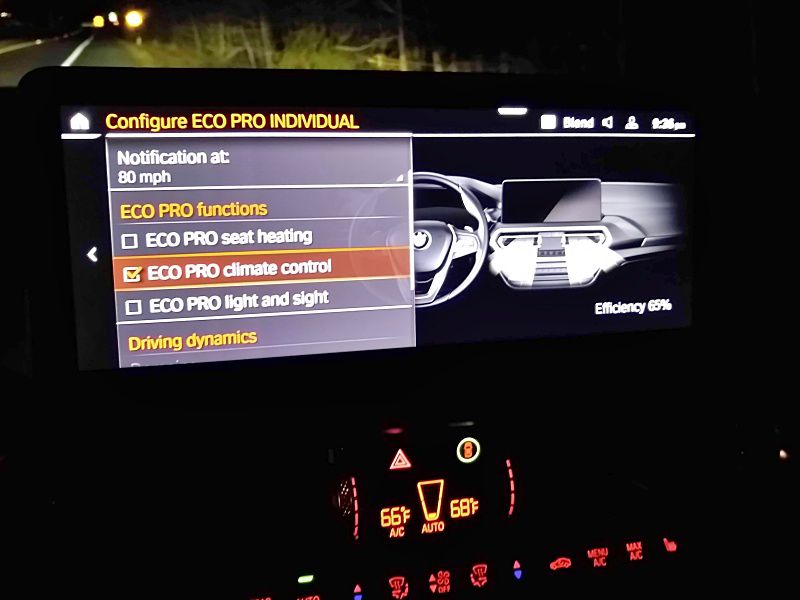 Photo by Brady Holt
Lots of Standard Features
The X3 has a base price of $43,700 for a rear-wheel-drive four-cylinder 30i model, with all-wheel drive costing an extra $2,000. That's not an especially low price for this segment, but the X3 does come standard with many features that cost extra on the competition. These include a GPS navigation system with a 10.25-inch touchscreen, a 12-speaker stereo, adaptive cruise control, lane-keeping steering assistance, and blind-spot monitoring. 
BMW also defies the German luxury norm by making popular options relatively affordable. Our $48,295 test vehicle added AWD, heated front seats, a heated steering wheel, and a panoramic moonroof, which makes for a pretty nicely loaded luxury suv for less than $50,000. Other desirable reasonably priced options include the ventilated front seats, heated rear seats, and an upgrade from leatherette upholstery to genuine leather. The six-cylinder M40i starts at $57,800 with standard features that include AWD and the moonroof, and the $70,100 X3 M also adds a 16-speaker Harman Kardon stereo in addition to its performance-focused add-ons.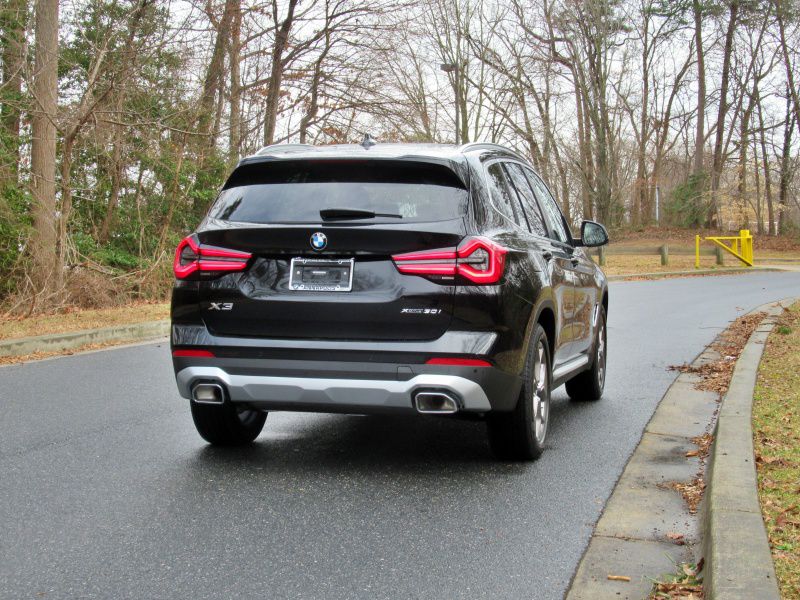 Photo by Brady Holt
Meet the Competition
Compact luxury crossovers are hot these days, and that means you have plenty of alternatives to the BMW X3. For flashier luxury, you can consider the more overtly opulent Mercedes-Benz GLC, though we prefer how the BMW drives and welcome its extra cargo space. For spiffier-looking technology, the Audi Q5 has the company's extra-dazzling "Virtual Cockpit" digital display, but the X3 is a bit roomier and more fun to drive.
Moving away from the big names, the Genesis GV70 approaches the BMW's sporty composure while offering richer interior materials, more design pizzazz inside and out, and a lower price. The X3 is quicker and more fuel-efficient, and we preferred its extra-easy controls. The Alfa Romeo Stelvio is the class leader for driver engagement, but the BMW is more richly finished and has a more sophisticated infotainment system. The Lexus NX brings fuel-efficient hybrids (a choice of plug-in and conventional models) and a big new dashboard screen, but we prefer the BMW's driving manners and roomier interior. And the Acura RDX and Lincoln Corsair are among our favorite bargains in this class, even if their engines and suspensions aren't polished to perfection like the BMW's.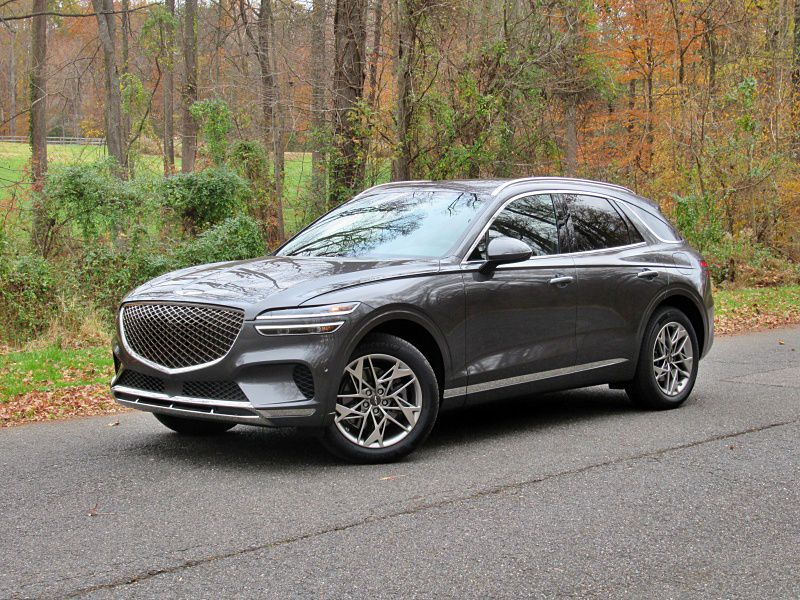 Photo by Brady Holt
Meet the X4
If you like most things about the X3 but wish it looked less like a boxy SUV, BMW has you covered. The BMW X4, which we also tested, is an "SUV coupe" version of the X3 — meaning it has a hatchback-style sloped roof for a more extroverted design. To some, the whole SUV coupe segment is odd, from its name (these are still four-door SUVs, just with lower rooflines) to the style (the same front end as the conventional model, paired with a coupe-like roof). But it's also a way to get some measure of SUV practicality while seeking out a shape that cries out "I'm not a utility vehicle." 
The X4 starts at $51,800, a big jump from the base X3. The X4's extra standard features help close that gap, but the X4 still costs a few thousand dollars more than a comparably equipped X3. With the lowered roof, cargo volume drops to 18.5 cubic feet behind the rear seat and 50.5 cubic feet with the rear seat folded. We'd choose the more practical, more affordable X3 any time, but we're sure many BMW buyers will appreciate having this choice of compact crossover designs.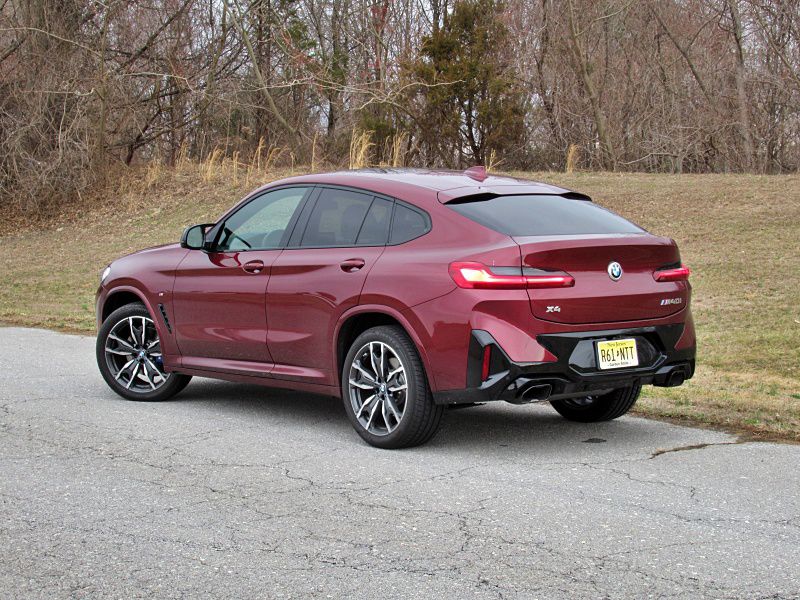 Photo by Brady Holt
A Quiet Class-Leader
The BMW X3 doesn't boldly announce itself. It doesn't have head-turning styling or a jaw-dropping interior. And it costs more than most of its competitors. 
But we're fans anyway. Put simply, there isn't anything the X3 fails to do well. We're particularly impressed with its fast but economical engines and its finely balanced ride and handling. We also appreciate that — unlike too many other luxury carmakers — BMW kept sight of everyday virtues like easy visibility, a roomy backseat and cargo hold, and user-friendly controls. (Again, the X4 is available if practicality sounds like a dirty word.) And thanks to all its standard features and its reasonably priced options, the X3 isn't offensively expensive, either. This subtle compact luxury crossover is one of the leaders in its class.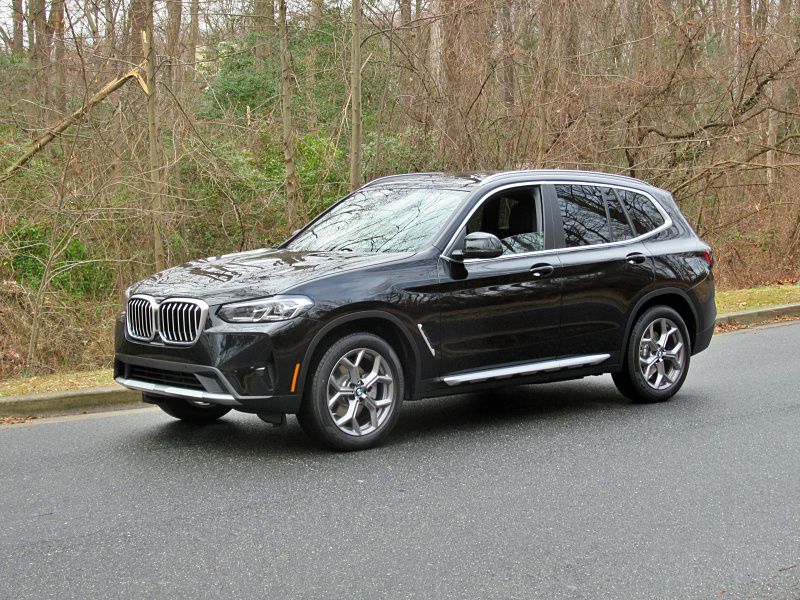 Photo by Brady Holt