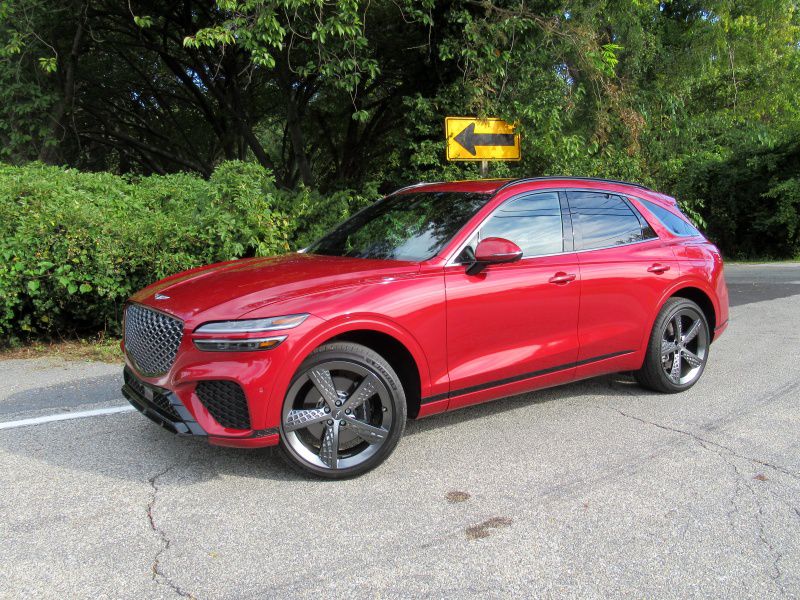 2022 Genesis GV70 3.3T ・ Photo by Brady Holt
One of America's newest luxury brands launched with yesterday's luxury cars: four-door sedans. That's Genesis, the premium division of South Korea's Hyundai. But now, the model lineup has grown to include two crossovers: first the mid-size GV80 and now the compact GV70, which will likely become the brand's hottest seller. 
To see how the new 2022 Genesis GV70 stacks up in the highly competitive compact luxury crossover class, we tested the GV70 and one of its most popular, established competitors: the 2022 Audi Q5. In this review, we'll discuss how the GV70 and Q5 compare in each of eight categories, and then name an overall winner. Keep reading to learn which one we chose and which one sounds like the better choice for you. 
Exterior Design
The conventional Audi Q5 model is a conservatively styled vehicle. Rather than being splashed with decorative details, the Q5 exhibits what many buyers will consider elegant restraint. Boxy headlights sit on either side of a mesh grille, and there's an upright roof on most models. A slightly curvy crease runs along the side of the vehicle. You can also buy the Sportback model, introduced last year and pictured on this page, whose roof slopes down more toward the rear end. 
By contrast, the GV70 is styled with graceful exuberance. It's slightly longer, lower, and wider than the Q5, and the flowing lines exaggerate the difference. A hunched-forward rear end — closer to the Q5 Sportback than the standard model — and small rear windows emphasize this look. And the headlights and taillights both have split designs: two sections of light with a horizontal bar running between them. The shape reminds us of the low, sleek Porsche Macan more than the Q5 and its other best-selling competitors. We'll let you choose your own stylistic winner between the bolder Genesis and more conservative Audi. 
Tie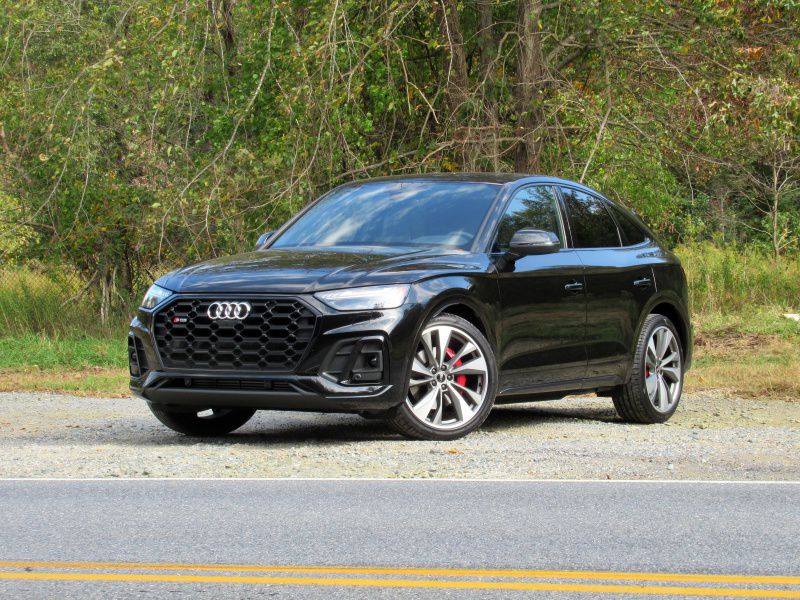 Photo by Brady Holt
Interior Design
Rather than settling for a comfortably familiar dashboard layout, Genesis created an elongated oval that runs from the left of the steering wheel to the passenger side of the vehicle; it incorporates the vehicle's climate controls and even aligns smoothly with the two-spoke steering wheel. Audio and other infotainment controls live on the center console between the front seats, and a huge 14.5-inch touchscreen sits up on the top. 
Still, the less-exciting Audi interior wins for a couple of reasons. First, its controls are easier to use. Genesis gives you many ways to interact with its big screen, but none is perfect. It's too far away to be a perfect touchscreen, it takes some attention to use the big infotainment dial between the front seats, and simple functions like changing the radio station can take multiple steps. The Audi is much simpler. Secondly, the Q5 offers Audi's incredible Virtual Cockpit customizable gauge cluster, slickly complementing a 10.1-inch touchscreen. The GV70 has ordinary analog gauges. While we'd give the Genesis a slight edge for interior materials, and it has a livelier design and a much bigger screen, the Audi wins for superior ergonomics.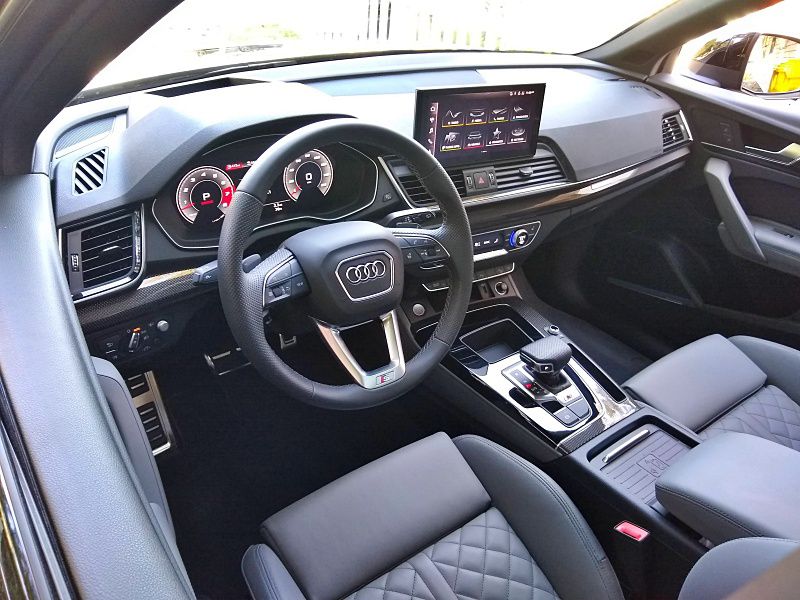 Photo by Brady Holt
Passenger Accommodations
To our eyes, the Q5 looks bigger than the GV70, even though it's not. But inside the cabin, the Genesis is our pick. 
The Q5 is certainly comfortable, with plenty of room up front, standard genuine-leather upholstery with heated front seats, and decent space in the backseat — even in the sloped-roof Sportback. And on paper, the Audi provides more rear legroom than the Genesis. But we preferred sitting inside the GV70. We found its front seats to be the better balance of cushy and supportive, and we felt more rear-world knee space in the backseat. Also, while it has fewer standard features than the Q5, Genesis gives you the budget to add ventilated front seats while staying close to the Audi's base price. Conduct your own "test sit" to be sure, but we chose the GV70. 
Genesis GV70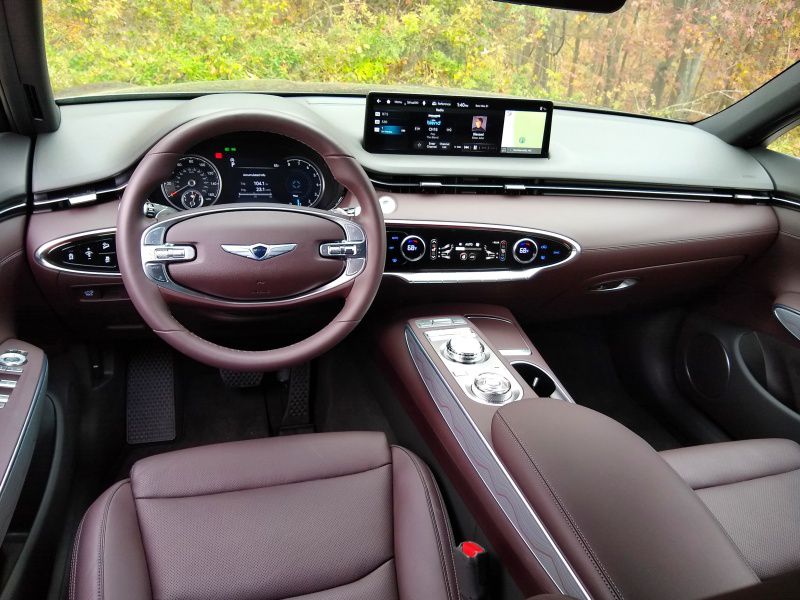 Photo by Brady Holt
Cargo and Utility
At a glance, the GV70's cargo hold looks fairly modest. But it stacks up well on paper to the Q5's. Genesis quotes 28.9 cubic feet behind the rear seat and 56.9 cubic feet with the rear seat folded, which is better than most compact luxury crossovers. 
Still, the Q5 isn't far behind. Its standard model, shown on this page, provides 25.8 cubic feet of cargo space behind the rear seat and 54 cubic feet with the rear seat folded. The Sportback dips only slightly to 24.7 cubic feet behind the rear seat and 51.9 cubic feet behind the front seats. We'll call this category an overall tie, however; Audi offsets the Genesis's slight cargo advantage with a higher towing capacity. The Q5 can tow an excellent 4,400 pounds with its four-cylinder or V6 gasoline engines or 2,000 pounds as a plug-in hybrid. The GV70, meanwhile, tops out at a still-decent 3,500 pounds with either its four-cylinder or V6 engine. 
Tie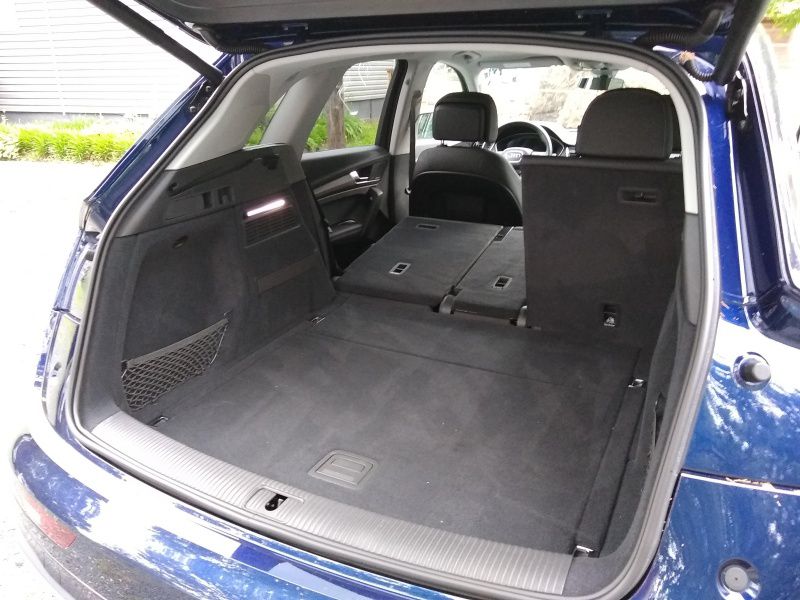 Photo by Brady Holt
Ride and Handling
The Audi Q5 is a fine SUV to drive. While many crossovers feel disconnected from the road, the Q5 tackles corners with easy aplomb. However, it drives like a pleasant, refined car rather than an overtly sporty one. Everything is under control, but even when you fiddle with its adjustable driving modes, the light steering provides an easygoing character rather than a thrilling one. The same applies to its high-performance SQ5 model, which we also tested; it has higher limits, but the character is similar in everyday driving. The good news is that every Q5 version, even the SQ5, handles bumps smoothly. 
We came away more impressed with the new GV70. While we'd pick even sharper steering, this rear-wheel-drive-based crossover has an even more impressive balance of ride and handling than the Audi. We also feel more differences between the Genesis's driving modes than the Audi's, especially with the V6 model's adaptive suspension — things firm up more noticeably when you select Sport mode. The GV70 is fun to drive without forgetting to be comfortable and quiet. 
Genesis GV70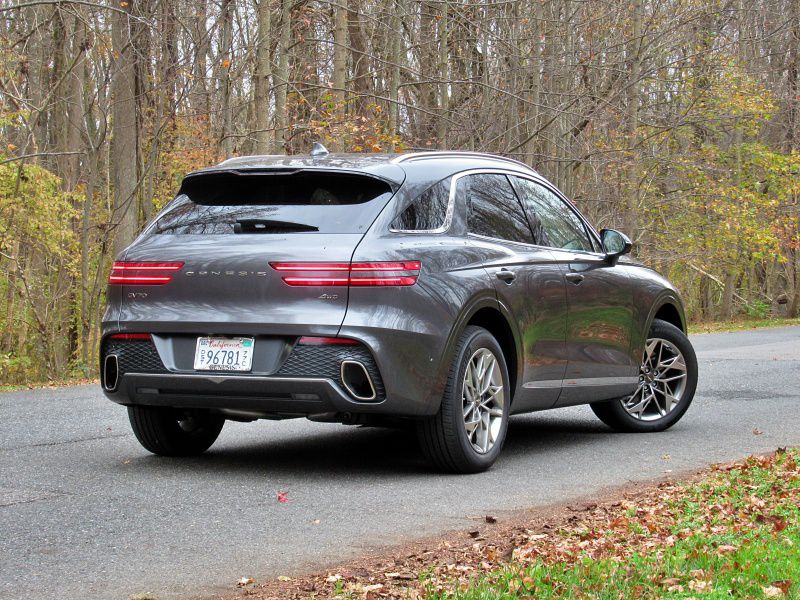 Photo by Brady Holt
Acceleration
From the spec sheet, we expected Genesis to win this category handily. Its base 2.5-liter turbocharged four-cylinder engine makes an outstanding 300 horsepower and 311 pound-feet of torque. That GV70 2.5T trounces the equivalent Q5 45 model, which makes 261 hp and 273 lb-ft from a 2.0-liter four-cylinder. Similarly, the V6 GV70 3.5T's turbocharged 3.5-liter V6 makes 375 hp and 391 lb-ft of torque, compared with the SQ5's 349 hp and 369 lb-ft from a 3.0-liter V6. 
However, Audi puts its engines to better use, with the Q5s generally recording quicker acceleration times in track testing. Depending on different tests' methodologies, we generally see four-cylinder Q5s reach 60 mph in less than 6 seconds and V6 SQ5s in less than 5 seconds. We've tested both the Genesis and the Audi with both their V6 and four-cylinder engines and didn't notice a difference between comparable Genesis and Audi models; with both luxury suvs, even the base four-cylinder gets moving with authority. We'll award this category to the slightly quicker Audi, but expect both crossovers to prove quite satisfactory.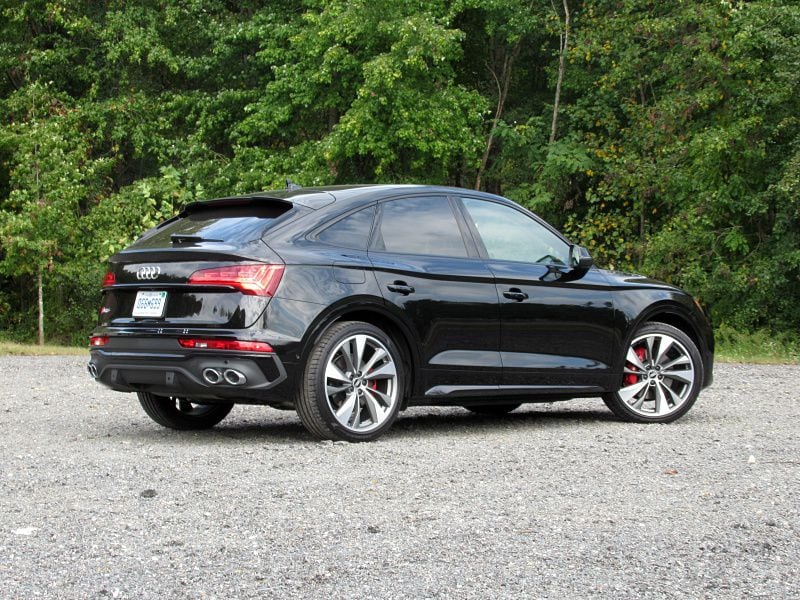 Photo by Brady Holt
Fuel Economy
In EPA fuel economy testing, the GV70 and Q5 are closely matched — at least most of the time.  The 2.0-liter Q5 achieves 23 mpg in the city, 28 mpg on the highway, and 25 mpg combined. And the SQ5 manages 19 mpg city, 24 mpg highway, and 21 mpg combined.
The GV70 2.5T averages 22 mpg in the city, 28 mpg on the highway, and 24 mpg combined, though the Sport package knocks those estimates down by about 2 mpg. The 3.5T averages 19 mpg city, 25 mpg highway, and 21 mpg combined. However, a couple factors tip this category to the Audi. First, only the Q5 is available with a hybrid powertrain; the Q5 plug-in hybrid can travel 23 miles on an electric charge, then returns 26 mpg once that charge is used up. Secondly, while our testing isn't scientific, we got much better mileage with the Q5 than the GV70. Our four-cylinder Q5 averaged 28 mpg in a week of driving, compared with just 23 mpg in our GV70 2.5T. That's the same 23 mpg we averaged from our V6 SQ5. (We didn't drive the GV70 3.5T for long enough to get a meaningful mileage average.)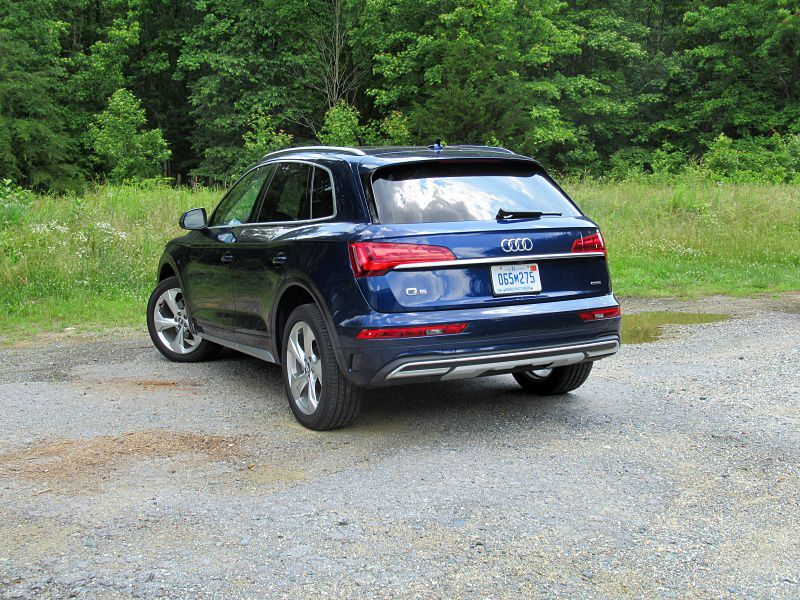 Photo by Brady Holt
Pricing and Features
Genesis borrows its value focus from its Hyundai parent company. That doesn't mean a dirt-cheap base price, but it means lots of standard equipment while comfortably undercutting the Audi. 
The GV70 starts at $41,000 with standard features that include all-wheel drive, leatherette upholstery, heated front seats, a 14.5-inch infotainment screen with GPS navigation, a hands-free power liftgate, a wireless smartphone charger, and driver-assistance technologies that include automatic emergency braking, adaptive cruise control, lane-keeping assistance, and blind-spot monitoring. The base Q5, $45,600, has genuine leather but charges extra for several other GV70 features: navigation, adaptive cruise control, and lane-keeping assistance. And a hands-free liftgate isn't available at all. There's a similar gap between the GV70 3.5T ($52,600) and the Audi SQ5 ($55,600), except that every V6 GV70 includes genuine leather, ventilated front seats, and a panoramic sunroof. Some individual features might be available for less money on the Q5 than the GV70, but in most cases, the Genesis has a clear value advantage. 
Genesis GV70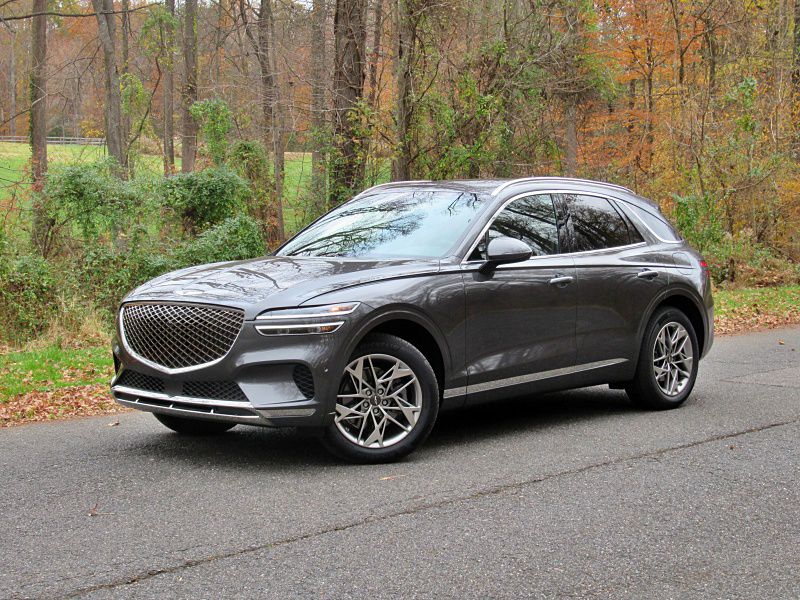 Photo by Brady Holt
Final Thoughts
The Genesis GV70 storms into the compact luxury crossover segment ready to fight. Its sporty styling, excellent driving manners, head-turning horsepower, and long list of standard features create an obvious appeal. We wish Genesis had created simpler dashboard controls, and we're disappointed with our test vehicle's real-world fuel economy. But this new entrant in the segment has become a real force to be reckoned with, and it wins our matchup. 
Don't count out the Q5, though, either. Although it's less overtly sporty than the Genesis and has lower horsepower ratings, this Audi is also quick and agile. And though its interior isn't as flashy as the GV70's, we preferred the Audi's simpler controls and beautiful yet functional digital gauge cluster. Our test vehicles' impressive gas mileage and the availability of a fuel-sipping hybrid are other notable factors. While the GV70's overall combination of comfort, performance, utility, and value proved too much for the Q5 to overcome, the Audi's thorough competence remains appealing as well. 
Genesis GV70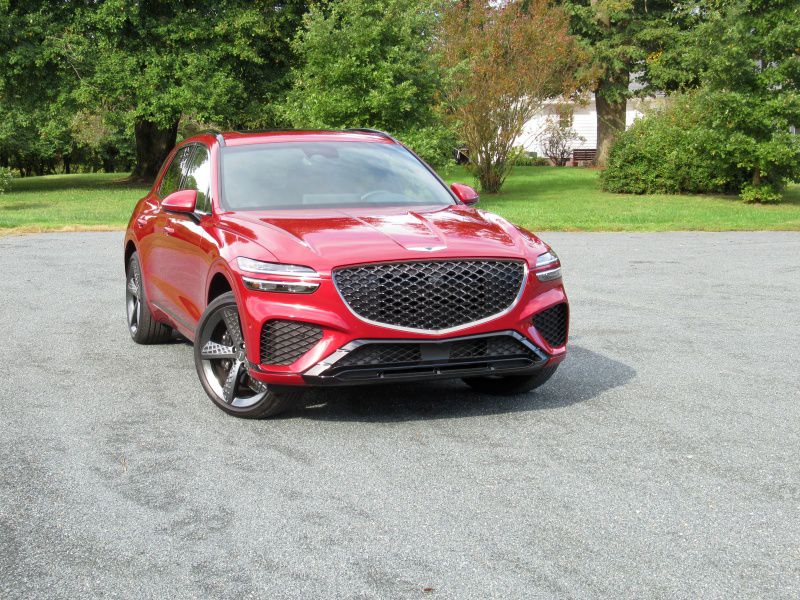 Photo by Brady Holt