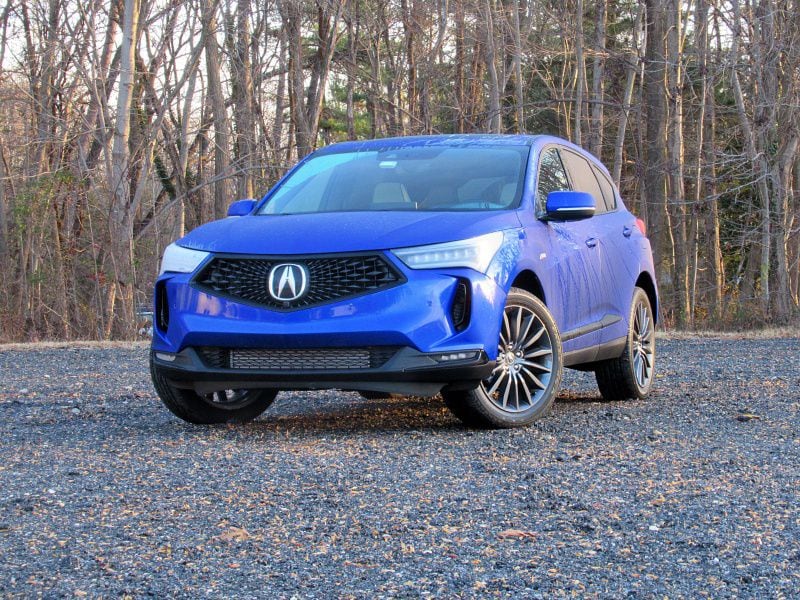 2022 Acura RDX A-Spec ・ Photo by Brady Holt
Before most luxury brands were selling only big SUVs, or none at all, Acura recognized the appeal of going smaller. Not only are compact luxury vehicles a more affordable way to buy into a premium brand, but even a compact SUV offers a lot of passenger space and versatility. The Acura RDX was among the first models to dive into this niche way back in the 2007 model year, and it has been one of the most successful. 
Now in its third generation, the 2022 Acura RDX is freshly updated with revised styling, more features, and updated driving manners. But far from remaining alone in this segment, the RDX now competes in the most popular part of the luxury market. We just spent a week in the updated RDX to see how it fits into the crowded compact luxury crossover class. Keep reading to see what we found out. 
Lots of Standard Features
A critical piece of the RDX's success is its value for the money. Even at a reasonable base price of $39,300, the RDX comes packed with features that cost extra on many other SUVs: leatherette upholstery, heating and 12-way power-adjustability for both the driver and front passenger, a nine-speaker premium sound system, a panoramic moonroof, a power liftgate, and advanced driver aids that include adaptive cruise control, lane-keeping assistance, and blind-spot monitoring. 
We also love the value you get for stepping up to the Technology Package, which brings the RDX to $41,950. It adds genuine leather, GPS navigation, a 12-speaker ELS stereo, and a wireless smartphone charger. We tested the A-Spec model, which brings a 16-speaker ELS sound system, ventilated front seats, and a host of sportier styling details starting at $44,950. There's also a steeply priced Advance Package, which pushes the RDX past $50,000. We like its adaptive suspension, 16-way front seats, surround-view parking camera, head-up display, heated rear seats, and richer cabin materials, but the RDX's value is most impressive in the lower trim levels. New for this year, the top-of-the-line RDX model combines A-Spec styling with Advance Package features.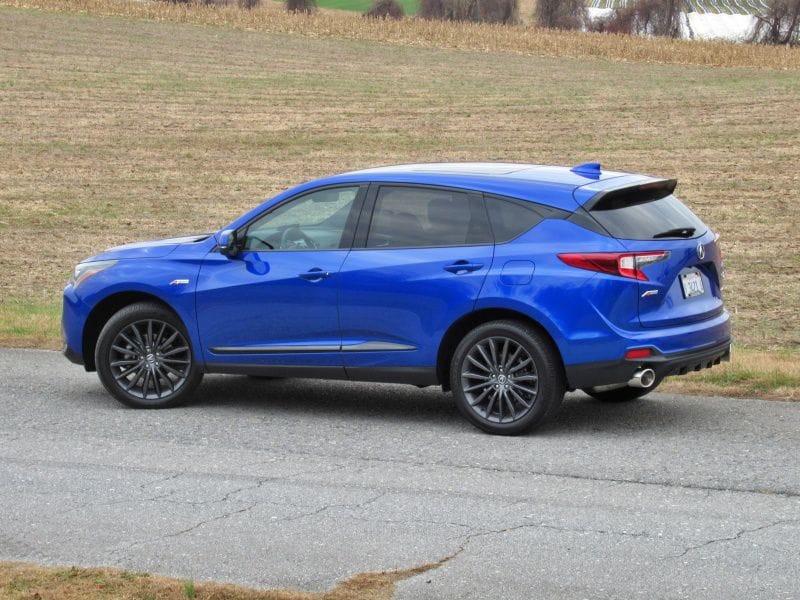 Photo by Brady Holt
Updated Styling
Acura gave the RDX a subtle design makeover for 2022. A reshaped front bumper has vertical slits under the headlights instead of last year's crescent-shaped cutouts. Around back, most trim levels (though not our tested A-Spec) switch from round exhaust outlets to square ones. Some trim levels also have new alloy wheel designs. 
The overall impression has changed little since the current-generation RDX debuted as a 2019 model. A big mesh stretched-pentagon grille signals the Acura's focus on sporty design rather than relaxed gentility, though the rest of the car is less aggressive. The body manages to avoid being boxy without coming across as small and hatchback-like. Overall, we'd say the RDX looks more substantial than a similarly sized Infiniti QX50 or Genesis GV70, in part due to its design and in part because it really is slightly bigger than most compact crossovers. Even the base RDX comes standard with 19-inch alloy wheels, which means that no model looks entry-level and that Acura could optimize the SUV's design for big wheels. The A-Spec wears 20-inch alloys. 
Photo by Brady Holt
Tech-Focused Interior
The RDX's interior is even less conventional than its exterior. In a time when many competitors aim for minimalism, Acura provides a complex dashboard design with lots of shapes and creases. 
Some of that is functional; the instrument panel flows into the center console to float above a big open storage space. The rest is stylistic. The dash's heart is a big silver knob for changing the RDX's selectable driving modes. Silver trim encircles this dial and the push-button gear selector below it, emphasizing Acura's focus on the driving experience. The interior is also packed with high-end materials: rich leather, aluminum, suede, and (on upper-trim models) a choice between suede or open-pore wood. Still, these accents occupy the cabin's periphery; we're less thrilled by the shiny black plastic that sits front and center in the instrument panel. The focus is technology more than maximum opulence. A 10.2-inch infotainment screen is standard; that's a good size for a base model, but a growing number of competitors offer a plus-sized upgrade. Instead of touchscreen operation, Acura provides a touchpad on the center console where you tap the part of the screen you want to activate; we found it diverted our attention while driving.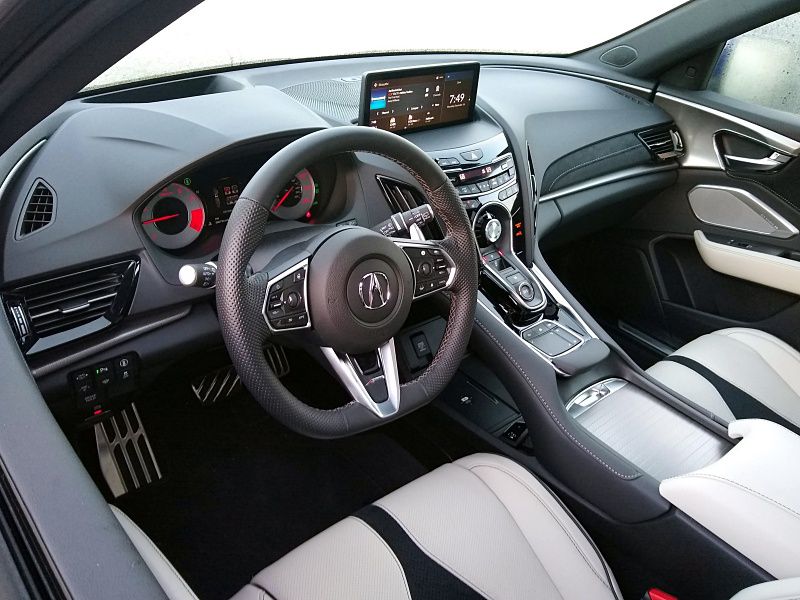 Photo by Brady Holt
Plenty of Space
Despite falling into the compact crossover segment, the RDX doesn't feel small and cozy inside. There's ample space in the front seats, and the rear can fit two adults without squeezing or three in a pinch. The front seats are also extra-adjustable, with 12-way positioning on base models and 16-way selections with the Advance package. Unlike many luxury suvs, though, there's no power adjustability for the steering column.
When it's time to load up the RDX with cargo, it has above-average volume for a compact luxury crossover: 29.5 cubic feet behind the rear seat and 58.9 cubic feet with the rear seat folded down. A power liftgate is standard equipment, while hands-free operation is also available. That said, if you're upgrading from a Honda CR-V to the model from Honda's luxury division, Acura will ask you to give up some space to achieve a sleeker design. The slightly smaller CR-V has a whopping 39.2 cubic feet behind its rear seat and 75.8 cubic feet once the seat is folded down.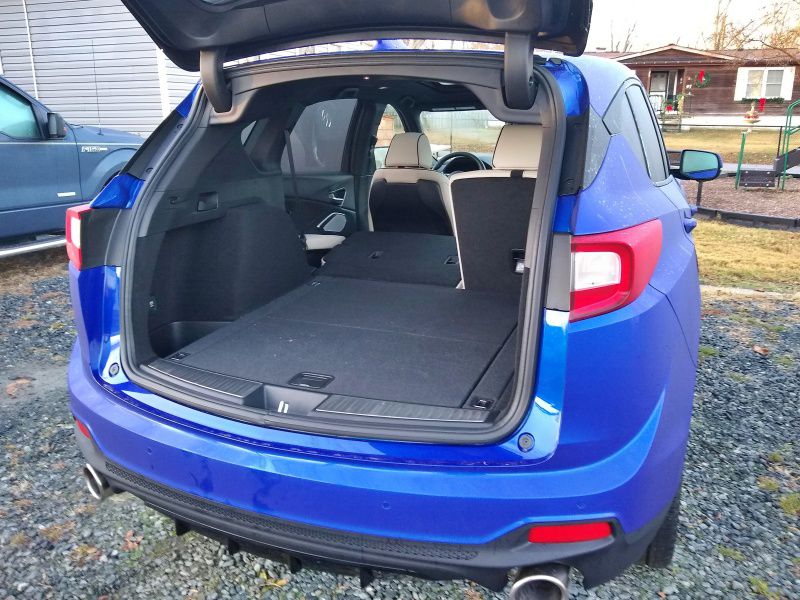 Photo by Brady Holt
Retuned Driving Experience
For 2022, Acura has made some adjustments to the RDX's driving experience. First, the company increased sound insulation, particularly on upper-trim models. Secondly, it recalibrated the selectable driving modes (normal, comfort, sport, and snow) to provide greater differentiation. We mostly used normal and comfort during our time with the vehicle; in our experience, sport mode kept the engine's revs up even when we didn't need it. Some competitors let you build your own custom mode — say, sportier steering feel and suspension damping but less aggressive transmission behavior — but Acura sticks with its own selections.
Despite the performance-focused styling and the emphasis on the car's driving modes, the RDX isn't a super-performance SUV. Its standard 272-horsepower four-cylinder turbo is stronger than most competitors' base engines, and it makes a richer growl than the typical muted whir. But unlike in many competitors, you can't upgrade to something bigger. You'll also find more precise steering and handling in a BMW X3 or Genesis GV70; the RDX is composed and capable, just nothing frisky. It stands apart nicely from an ordinary mainstream crossover, with unobjectionable driving manners and a quiet ride, but it's neither a thrilling performance machine nor a decadently serene isolation chamber. 
Photo by Brady Holt
Economical Engine
The RDX's only engine option returns competitive gas mileage. The EPA pegs it at 22 mpg in the city, 28 mpg on the highway, and 24 mpg combined in its most efficient form: front-wheel drive and no A-Spec package. Either choosing all-wheel drive or the A-Spec costs about 1 mpg. 
Our AWD A-Spec test vehicle has the lowest resulting combination: 21 mpg city, 26 mpg highway, and 23 mpg combined. We matched that 23 mpg figure, which is reasonable for a roomy 272-horsepower SUV. Acura recommends expensive premium-grade fuel for maximum performance but, unlike some competitors, doesn't require it. Still, some competitors are even more economical. And a growing number of them are available with gas-electric hybrid or plug-in hybrid powertrains, including the Audi Q5, BMW X3, Lexus NX, Lincoln Corsair, and Volvo XC60.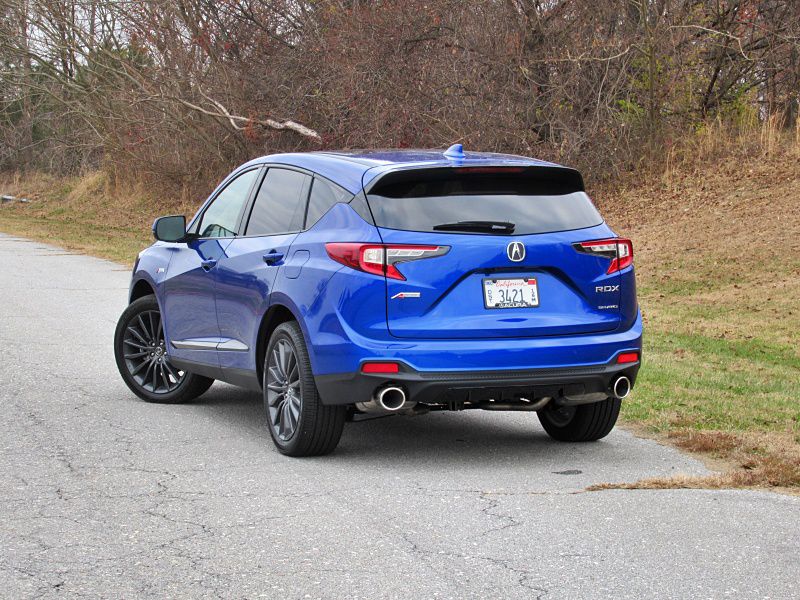 Photo by Brady Holt
Safety Standout
The RDX earned the highest possible designation of Top Safety Pick+ from the Insurance Institute for Highway Safety, reflecting top marks in the IIHS's battery of crash testing and other evaluations. Its only demerit was that its pedestrian-detection capabilities proved less effective on children than some competitors'. In National Highway Traffic Safety Administration testing, the RDX earned a top five-star overall rating, though its frontal-impact protection dipped to a less-stellar four stars. 
Most of the RDX's collision-avoidance features and other advanced driver aids are standard equipment on all models: forward automatic emergency braking, lane-keeping assistance, adaptive cruise control, and blind-spot monitoring. The Advance adds a surround-view parking camera and a head-up display. Rear automatic braking is the only missing feature. New this year is a road-sign recognition system, but it had some hiccups during our week with the vehicle; it read a speed limit of 70 mph in a 30 mph zone and 90 mph in a 55 mph zone. We don't think blaming the car would impress a cop or a judge. If your RDX has a navigation system, you can tell it to rely on its internal speed-limit database instead of its sensors.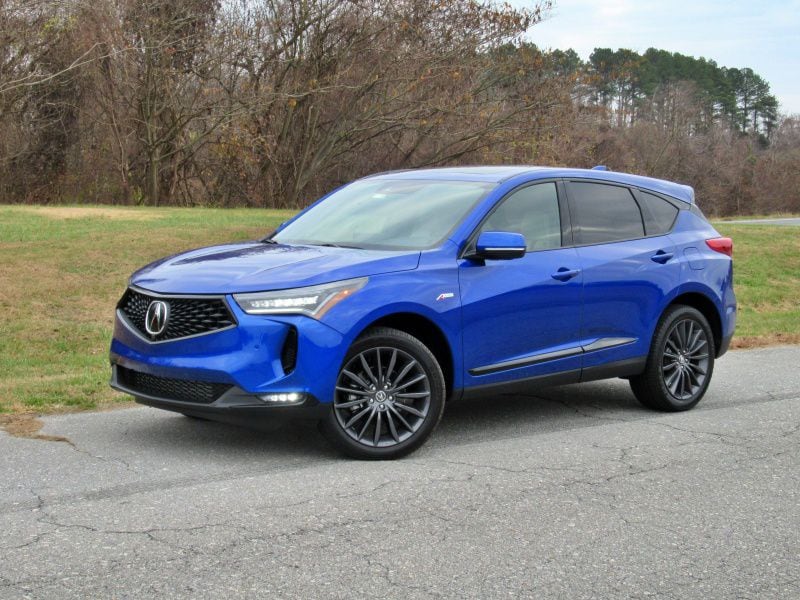 Photo by Brady Holt
Lots of Competitors
The compact crossover segment is the heart of the luxury market these days, and the RDX faces plenty of competitors. Especially among value-minded buyers, a hot new model is the all-new 2022 Genesis GV70. This model from Hyundai's luxury division delivers sportier performance and a more conventionally luxurious interior than the RDX. The Acura has a lower starting price, though, along with a bit more cargo room and that bigger-car vibe that we mentioned earlier. 
Another prominent competitor is the newly redesigned 2022 Lexus NX. It brings a mega-sized infotainment screen and extra-thrifty hybrid and plug-in hybrid variants. But at least based on our initial impressions of the new NX, the Acura has a higher tier of luxury, refinement, and performance, along with significantly more cargo room. We also like the Lincoln Corsair in this class; it looks expensive and drives nicely, without forgetting how to be useful. But the RDX's more slickly modern flavor might be your pick over the Lincoln's quiet gentility. If you're going to pay up for something extra-fancy, the Audi Q5 and BMW X3 are capable and well-rounded, but the Acura is a tempting value by comparison.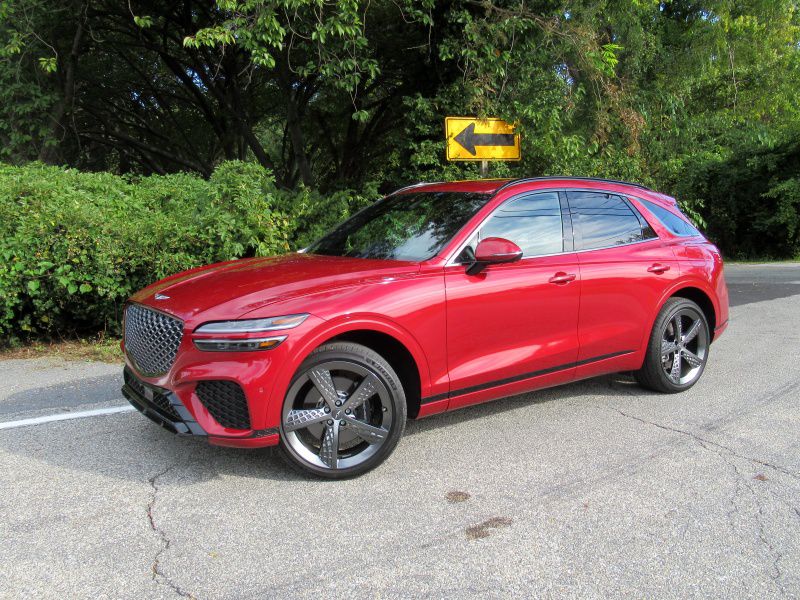 Photo by Brady Holt
Luxury Meets Value
There's a lot going on in the RDX package. In some ways, it's a performance model. That's certainly the impression you get from the interior and exterior styling, along with some of Acura's marketing. 
But to us, the RDX does best when it's just nice. And we don't mean that as an insult. We mean a luxury suv that's thoroughly competent and well-rounded, and that no one would accuse of being pretentious. It's what to buy when you want something quicker, quieter, more agile, and more feature-filled than a Honda CR-V, but you aren't looking for constant reminders that you're in a luxury SUV. True, a more conventional dashboard layout might perhaps fit this hypothetical buyer better. But given the value and competence that Acura provides for as little as $39,300, the RDX has earned your consideration anyway.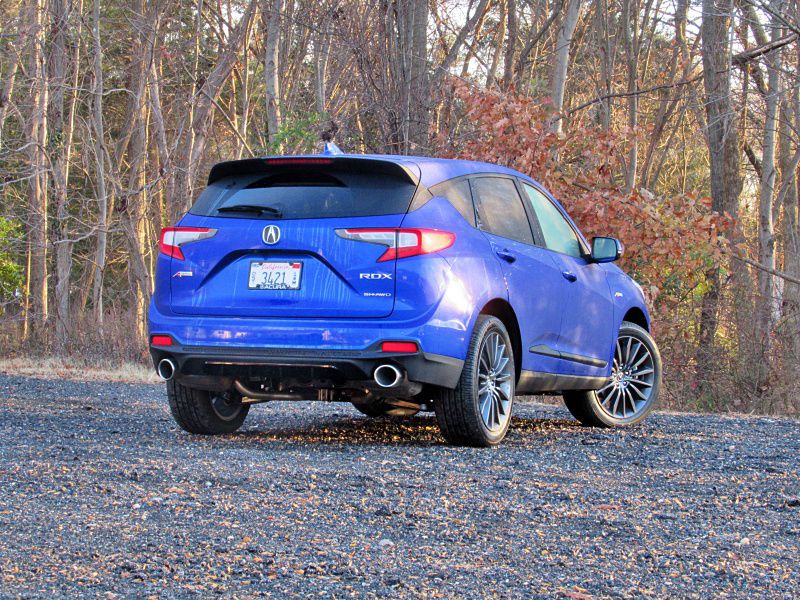 Photo by Brady Holt