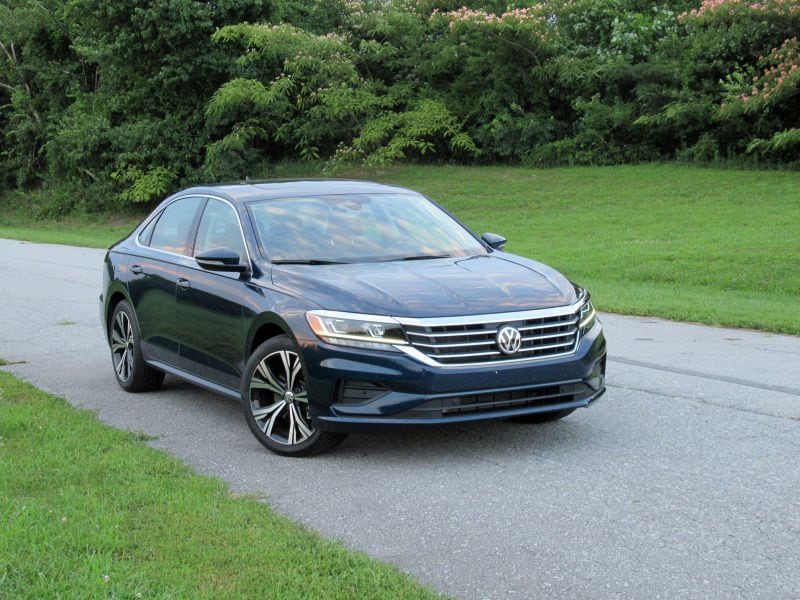 2020 Volkswagen Passat ・ Photo by Brady Holt
The Volkswagen Passat may be a German car, but it was designed for America. After watching its sales dry up in the mid-size sedan segment — at the time, the Passat was a smallish, expensive sedan in a segment that rewarded size and value — VW took action. It created one Passat for the rest of the world, where even a small mid-size sedan is considered big, and where such a vehicle is expected to feel luxurious. Then it created another for Americans with a massive backseat and a low price. The 2012 Passat's sales soared.  
A decade later, the same Passat is still on sale. While many competitors have gone through two full redesigns in that time, VW has been content to give the Passat new engines (most recently in 2017) and a couple of styling updates (most recently in 2020). The resulting car has tons of interior space, lots of standard features, and a starting price of just $23,995. Keep reading to learn whether the Passat's original strengths and its repeated updates are enough to win your business. 
Stately Styling
As customers flee sedans for SUVs, some automakers have refashioned their cars as high-style sporty-looking rides with low roofs and overall flashy design. Even after last year's restyling, the Passat looks about the same as the 2012 model — a car regarded as more stately than adventurous even at the time. 
The Passat has a high roof with big windows, none of the "four-door coupe" vibe that's now in vogue. The sides of the car are smooth and without aggressive creases. The headlights and taillights are essentially rounded-off rectangles with no elaborate spears or wedges. The grille juts forward from the lights, but it's modestly sized and tastefully chromed. For some buyers, the Passat will be a welcome break from sedans that try too hard to stand out. Others would question why they'd buy a brand-new car that looks like it's 10 years old. Helping to keep the Passat from looking too cheap, VW provides alloy wheels as standard equipment on all models: 17 inches on the base S, 18 inches on the mid-level SE, and 19 inches on the sport-themed R-Line.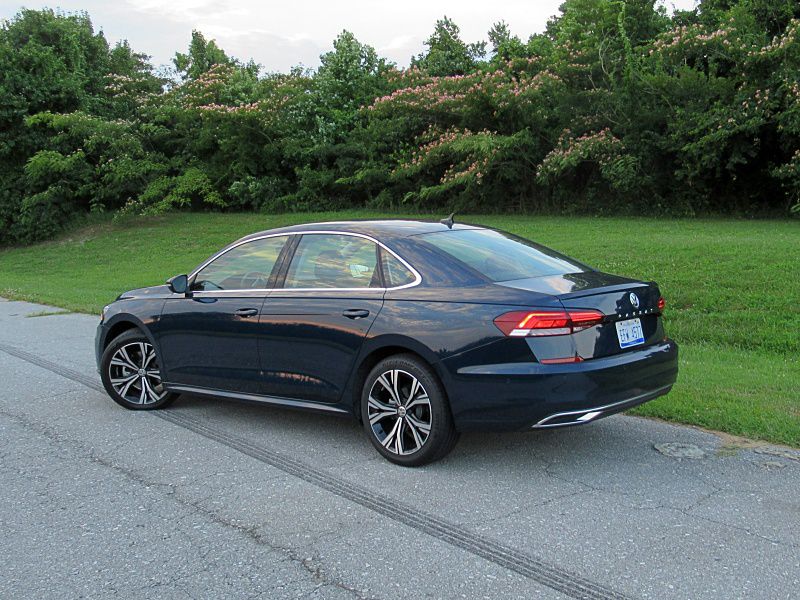 Photo by Brady Holt
Not a Cutting-Edge Interior
If you're not a fan of all the technology that surrounds many modern car interiors, you may appreciate the Passat. Its dashboard has mostly straight lines, and despite a few awkward touch-sensitive controls, it mostly uses simple buttons and knobs. A touchscreen infotainment system supporting Android Auto and Apple CarPlay is standard, but it measures just 6.3 inches in a time where 8 inches has become the norm. (Volkswagen has said the Passat's decade-old platform can't support more advanced in-dash electronics.) Our test car's dashboard includes a large strip of false wood trim on the passenger side, another arguably dated touch; however, most 2021 Passats have subtler false aluminum or a lighter shade of false wood. 
VW did dress up the interior last year with a cue lifted from its Arteon flagship: vertical bars that span the top of the dashboard to connect the HVAC vents. Also, depending on the trim level, you can get its upholstery in a choice of black, beige, brown, or two-tone black-and-beige. And starting this year, even the base model includes a leather-wrapped steering wheel and shift knob. VW hasn't changed some budget-grade interior plastics — but hey, this is a budget-friendly sedan.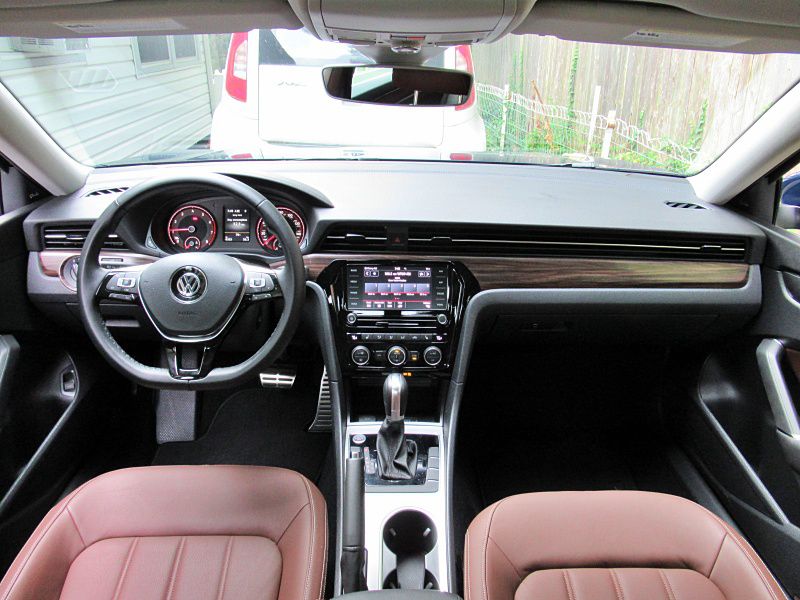 Photo by Brady Holt
Tons of Space
Many cars get roomier and roomier with each successive redesign. But that trend hasn't left the Passat in the dust. Even 10 years after its debut, it still has an uncommonly roomy interior for a mid-size sedan. 
The Passat's front seats are wide and have plenty of legroom. We would have preferred some more bolstering, but bigger folks (in any direction) will likely appreciate how the VW turned out. Things are even more impressive in the back, where there's incredible leg space and generous headroom for even the tallest adults. The Passat is also great at swallowing a rear-facing child seat with no impact on the front-seat occupants. A large floor hump means you won't carry a fifth passenger as comfortably as a few competitors, and trunk volume is merely class-competitive at 15.9 cubic feet. But no other mid-size sedan can fit four people more easily. The high roof and big windows also provide better visibility than most competitors.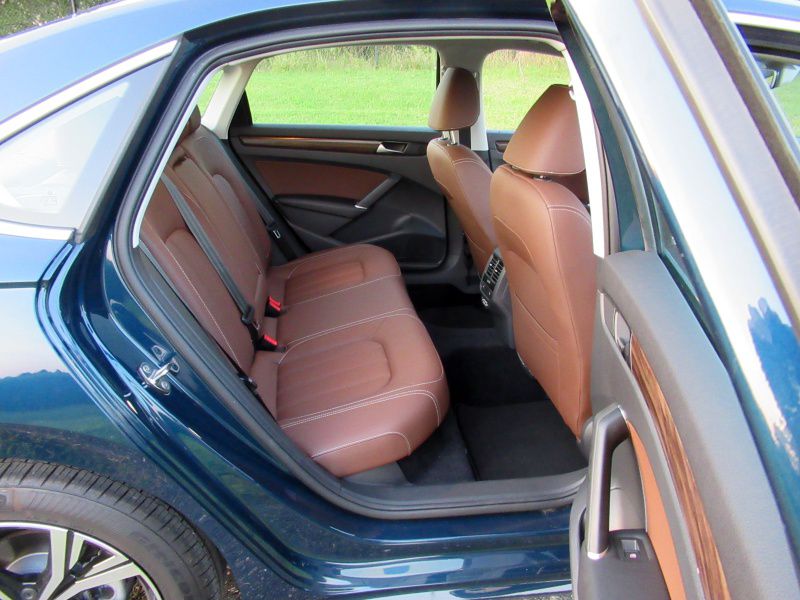 Photo by Brady Holt
Drives With Composure
The Passat looks like a big, conservative car in many ways, and you also feel that in the car's ride and handling. This is a comfortable, quiet sedan that happily eats up the miles on the open highway. 
Still, even though this car was engineered for the U.S., the Passat delivers the high-speed handling composure you'd expect from a German sedan. While some of its competitors feel lively and fun when you drive them normally and then struggle if you push them harder, we found the Passat to be the opposite. There's lots of slop in its steering at low speeds, and its brakes need a careful touch to operate smoothly — not inspiring confidence. But drive harder, and the Passat's steering firms up and the car confidently hugs the road. We wouldn't pick the Passat if we're looking for maximum driving thrills, but this is a sedan that can deliver at higher speeds or emergency swerves.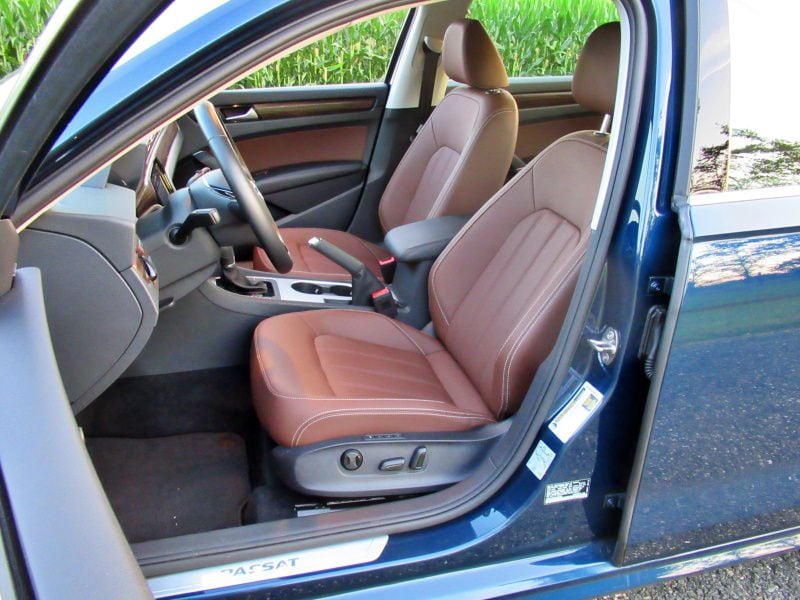 Speed Over Efficiency
Another point toward the sporty side of the Passat's personality is its engine. Every 2021 Passat uses a 2.0-liter turbocharged four-cylinder, which makes an unremarkable 174 horsepower but a healthy 206 lb-ft of torque. Sometimes this engine felt almost too eager and jumpy, but it definitely outmuscles most similarly priced competitors. This Passat generation used to offer a 280-horsepower V6, but VW discontinued it after the 2018 model year. 
The four-cylinder's lively performance and its dated six-speed automatic transmission (most competitors now have at least eight ratios) hold back the Passat's EPA fuel economy estimates. It scores 24 mpg in the city, 36 mpg on the highway, and 28 mpg overall, about 4 mpg less than a Toyota Camry or Honda Accord. We did beat the EPA figures in our test vehicle, seeing nearly 40 mpg on the open highway and 31 mpg overall.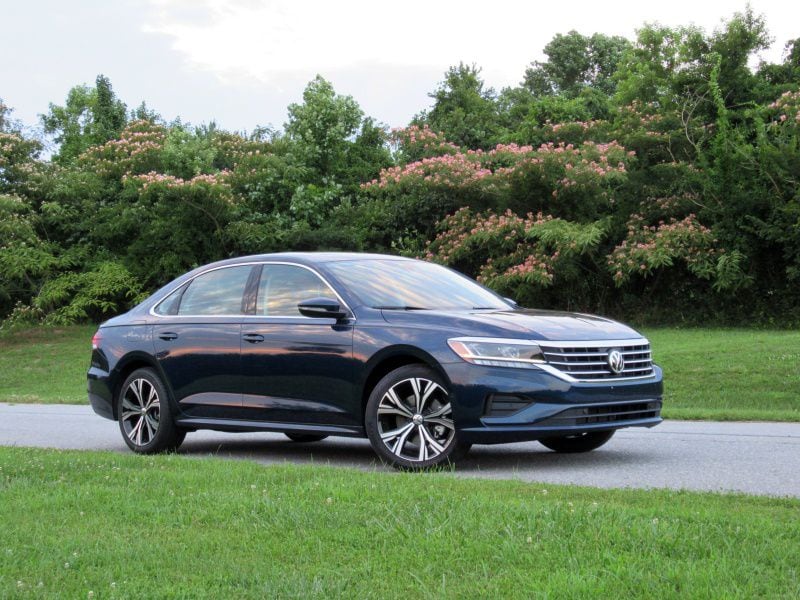 Photo by Brady Holt
Up-to-Date Safety
VW provides plenty of advanced safety and driver-assistance features on every 2021 Passat. These include forward automatic emergency braking with pedestrian detection, adaptive cruise control, and blind-spot monitoring with a rear cross-traffic alert. And all but the base model add a lane-departure warning with lane-keeping steering assistance. VW doesn't offer any of the rarer safety technologies like automatic bicyclist detection, rear automatic braking, or blind-spot cameras that you'll find on a few competitors, but we're no less impressed when a base model is already equipped nicely. 
The Passat's crash performance is also pretty good, especially for its age. Volkswagen has shored up the car over the years, resulting in top scores of Good in all crash tests from the Insurance Institute for Highway Safety. Some trim levels score Marginal for their headlights, and the IIHS hasn't rated the car's automatic emergency braking system. The National Highway Traffic Safety Administration gave the Passat its highest rating of five stars for overall performance, though the Passat dipped to four stars in NHTSA's frontal-impact test.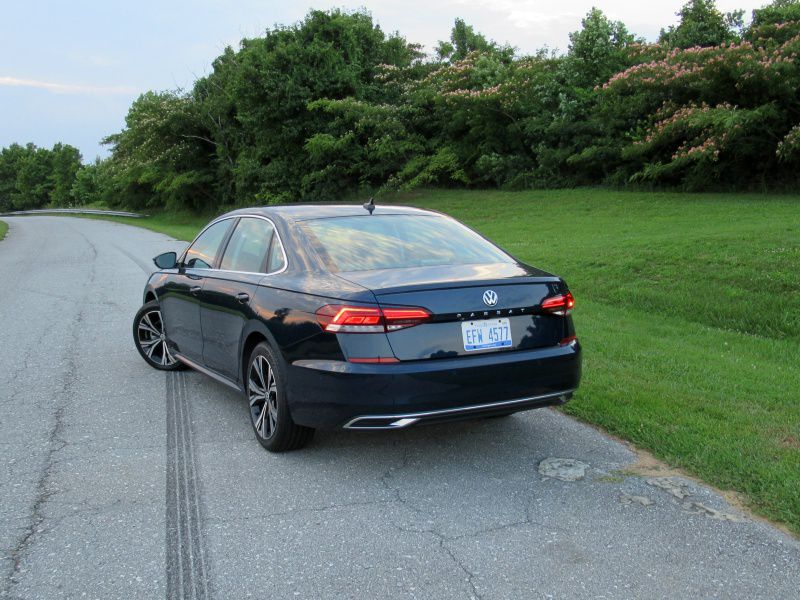 Photo by Brady Holt
Lots of Standard Features
Even at $23,995, the base 2021 Volkswagen Passat S includes the aforementioned safety gear, 17-inch alloy wheels, a 6.3-inch infotainment touchscreen, a six-speaker stereo, and a leather-wrapped steering wheel. It's a great starting point for a value-conscious buyer, with the only glaring omission being that there's just one USB port. 
The SE, $26,995, is the alternative to many mid-size sedans' luxury models. Its sunroof, imitation leather upholstery, heated front seats, power driver's seat, automatic climate control, push-button starting, rain-sensing windshield wipers, and 18-inch wheels will be all that many folks need; it also adds lane-keeping assistance and two more USB ports. There's also the R-Line, $29,995, which brings a Fender premium sound system, adaptive headlights, a navigation system, and flashier styling that includes sport-themed 19-inch alloy wheels. We think that price bump only makes sense for a devoted Passat enthusiast. You can no longer get real leather on the Passat this year, and you might miss the panoramic sunroof that's available on a few competitors. But otherwise, the 2021 Passat is a feature-packed mid-size sedan in its S and SE guises.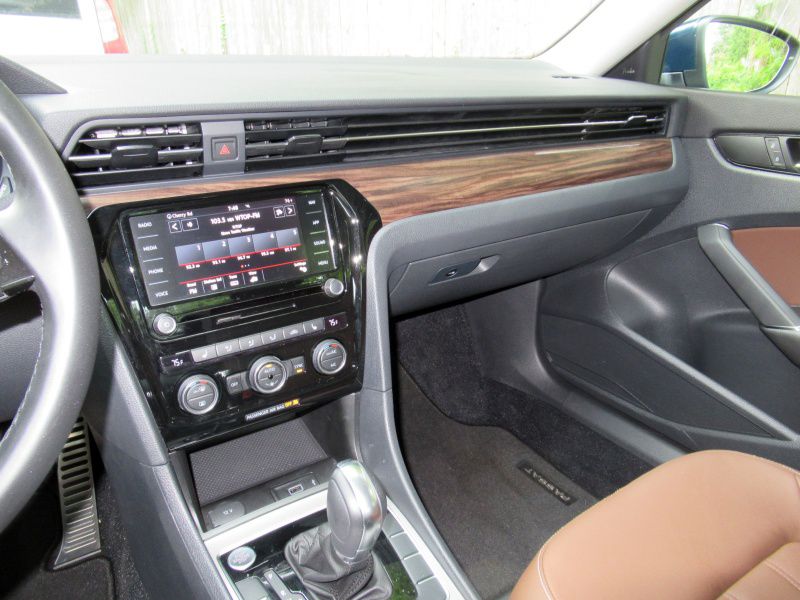 Photo by Brady Holt
Fresh Competitors
The Passat isn't the only game in town for a value-priced mid-size sedan. If you're looking for affordability plus adventurous styling, you can consider the recently redesigned Hyundai Sonata, the newly introduced Kia K5 (which replaces the Optima as the Sonata's corporate cousin), and the elderly but still striking Mazda6. The Sonata has the most high-end features, the Mazda6 has the sportiest driving experience, and the K5 strikes a difference between the two. None is as roomy as the Passat, though. 
If you're drawn to the Passat's conservative design, the Subaru Legacy is another possible alternative. Its interior is more luxuriously finished than the Volkswagen's and also pretty roomy. But unlike the Passat, the Legacy is dull to drive, especially with its base-model engine. Lastly, if you're willing to spend a bit more, the best-selling Toyota Camry and Honda Accord remain excellent choices. Between the two, the Accord is sportier and more upscale while the Camry is cushier and more comfortable, but neither car is a disappointment in either way — and both trounce the Passat's gas mileage.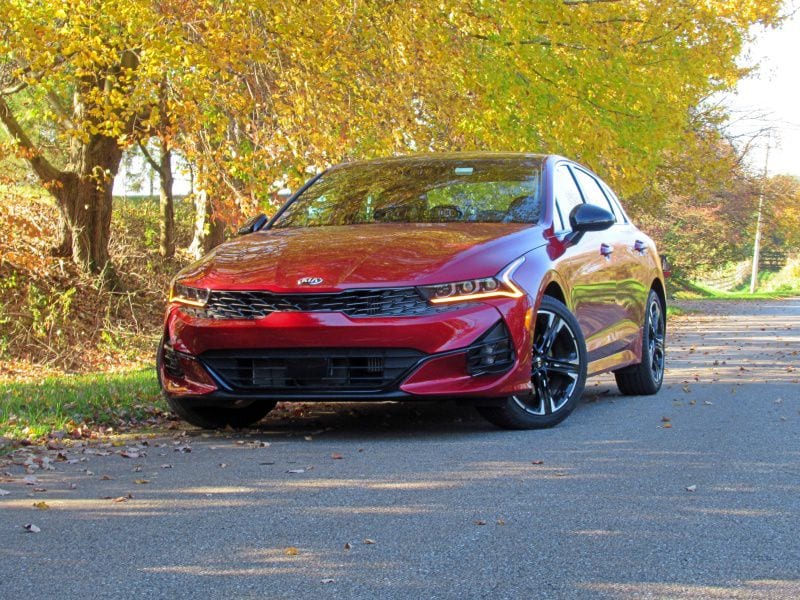 Photo by Brady Holt
Senior Discount
Volkswagen isn't historically a bargain brand, and the big, stately Passat doesn't look like a budget-priced model. Even if you look closer at some of its lower-grade interior plastics, the overall vibe isn't of a cut-rate option. 
That's courtesy of the "senior discount" on this aging sedan. VW hasn't had to invest heavily in the Passat in 10 years, and it's passing those savings on to customers. If you want a big, comfortable car and don't require cutting-edge infotainment, the best possible gas mileage, or a terribly exciting design, the Passat gives you a lot for the money.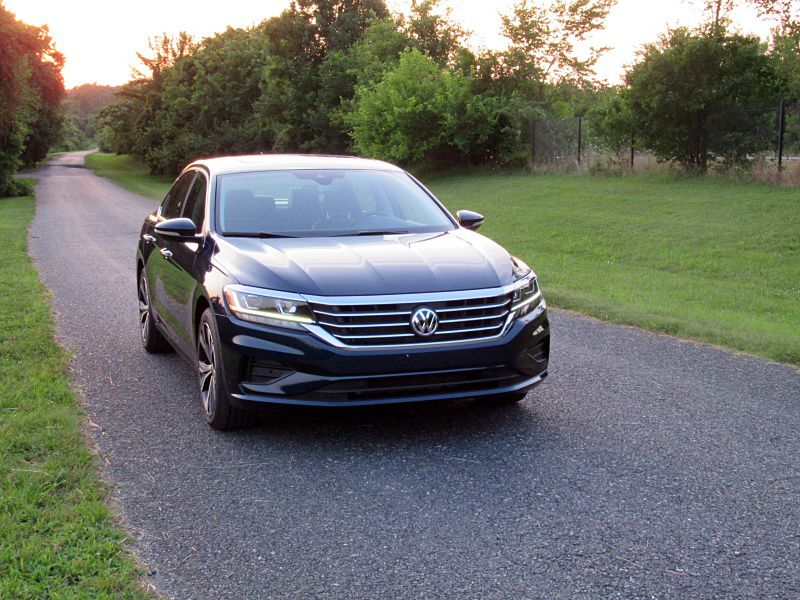 Photo by Brady Holt