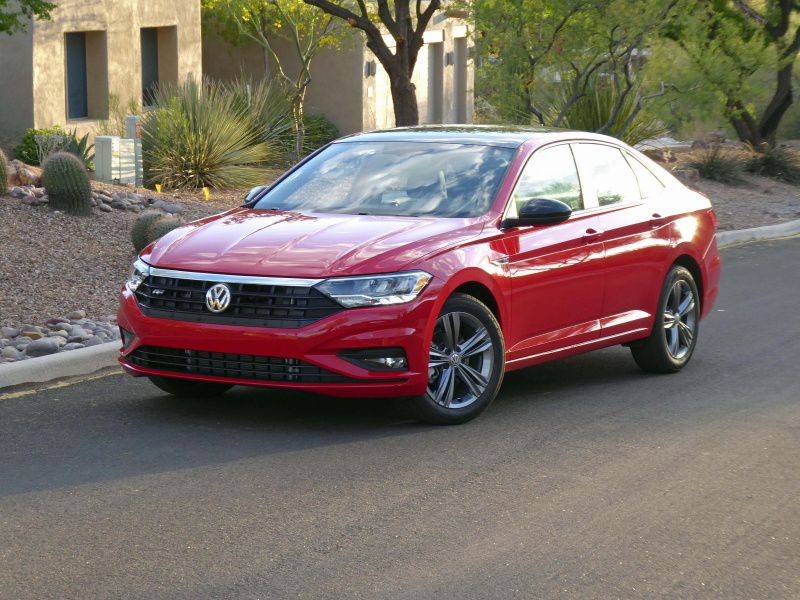 2021 Volkswagen Jetta ・ Photo by Ron Sessions
With an increase in compact crossover SUV sales in recent years, many carmakers have cut back on their lineup of small sedans. Volkswagen, however, continues to offer one of the best: the 2021 Jetta. A longtime favorite of buyers looking for a uniquely European driving experience without the luxury-brand price, Volkswagen's compact 4-door sedan offers plenty of passenger and cargo space in a size that's easy to park and fun to drive.
Last updated for the 2019 model year, the Jetta has been the best-selling Volkswagen sedan for years. It's also Volkswagen's least expensive vehicle sold in the U.S.
Volkswagen offers the 2021 Jetta in five trim levels: basic S, sporty R-Line, mainstream SE, well-equipped SEL, and all-boxes-checked SEL Premium. Including the $995 destination fee, prices range from $19,990 to $29,040. The high-performance Jetta GLI sports sedan is covered in another review.
Major competitors include the Honda Civic, Toyota Corolla, Nissan Sentra, Hyundai Elantra, Kia Forte, Mazda 3, and Subaru Impreza.
Turbo Power
The Jetta's fun-to-drive vibe starts with its 1.4-liter 4-cylinder turbo engine. It's standard in all Jetta models except the high-performance GLI sports sedan. 
The 1.4-liter turbo makes 147 horsepower and 184 lb-ft of torque. While the Jetta's horsepower figure is on par for a compact sedans, its ample torque production easily outpaces that of the naturally aspirated base Corolla 1.8-liter, as well as the 2.0-liter 4-cylinders in the Civic, Sentra, and Elantra. The torque curve of the 1.4 turbo reaches its peak at just 1600 rpm, which imbues the Jetta with eager throttle response and plenty of pep in the city and suburbs. It's also fine for steady-state highway cruising, too. But the torque peak falls off a bit at higher engine speeds encountered when merging onto high-speed interstate ramps or when passing slower vehicles on two-lane highways. Keeping the 1.4 turbo engine in the sweet spot delivers peppy performance. 
The base Jetta S and sporty R-Line are available with a 6-speed manual transmission or a smooth-shifting 8-speed automatic. All other trims get the automatic only. Traditionalists will like the manual gearbox shifter which offers well-defined gates and just-right effort.
The EPA rates the Jetta's 1.4-liter 4-cylinder turbo at 34 mpg with the 6-speed manual gearbox and 33 mpg with the 8-speed automatic in combined city/highway driving.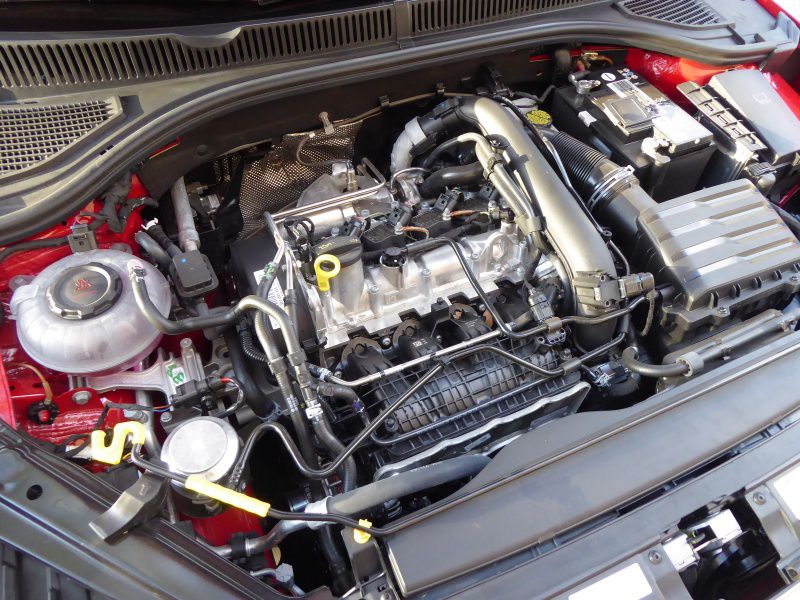 Photo by Ron Sessions
German Functionality
Like other Volkswagens, the Jetta's cabin is a model of functionality, offering simple, no-nonsense controls, excellent ergonomics, and a layout that's intuitive to use. The standard white-on-black analog gauges are easy to read. The user-friendliness extends to the climate controls, which are dual-zone in all but the base S model. It consists of simple hard buttons and a trio of rotary knobs for adjustment. Although there's a fair amount of hard plastic trim inside, all of it looks durable and feels substantial.
An interesting feature not shown here is available in the SEL and SEL Premium. The Digital Cockpit is a driver-configurable dash display that enables the driver to personalize the presentation of gauges and other pertinent in-car information. The choice of configurations includes some that migrate the navigation map on Jettas so equipped into the driver display.
Although the Jetta is a small car, it offers good storage for drinks, roadtrip items, small electronics, and other misellaneous item. In the center console, there's a pair of cup holders, a deep bin under the center armrest, and a handy open bin with the newer-style Type-C USB ports. A good-size glovebox and deep pockets in the doors for larger beverages add to the storage solution.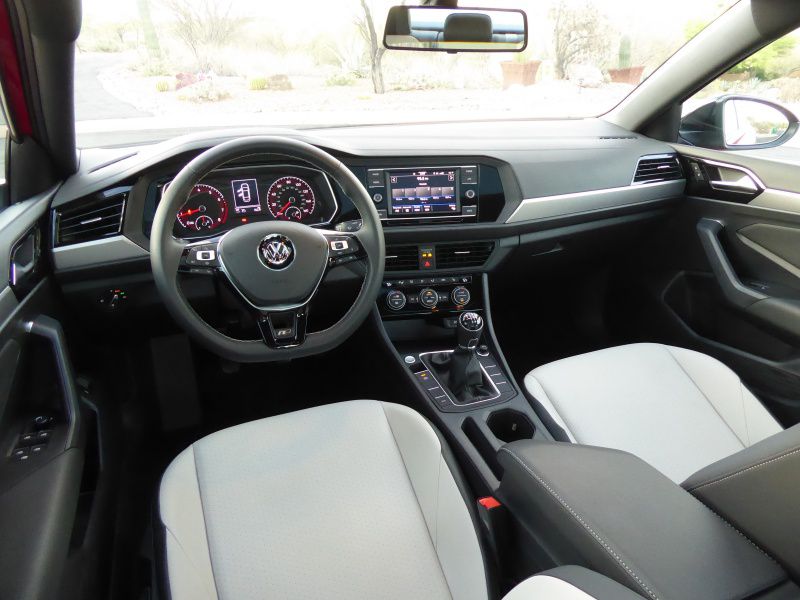 Photo by Ron Sessions
Infotainment System
As with other elements of the Jetta's interior, its infotainment system is simple and straightforward to use. Wired Apple CarPlay and Android Auto requiring a USB connection are standard along with a somewhat drab-looking 6.5-inch touchscreen (shown here) in S, SE, and R-Line models. The SE and SEL upgrade to a wireless smartphone-mirroring system for Apple CarPlay and Android Auto, thus eliminating the tangle of USB cords and adding a much more colorful and cheerful 8-inch touchscreen display, plus a wireless device charger. Embedded navigation is standard in the SEL Premium. Owners can subscribe to in-car Wi-Fi through VW's Car Net app.
Analog rotary volume and tuning knobs used with either screen facilitate quick on-the-road adjustments, and shortcut keys flanking either side of the screen mean less fiddly scrolling through onscreen menus.
A bit old school is the audio entertainment in the S, R-Line, and SE trims, which is a basic 4-speaker AM/FM stereo. That improves in SEL and SEL Premium models with a richer-sounding 8-speaker, 400-watt Beats audio system that includes HD Radio and SiriusXM.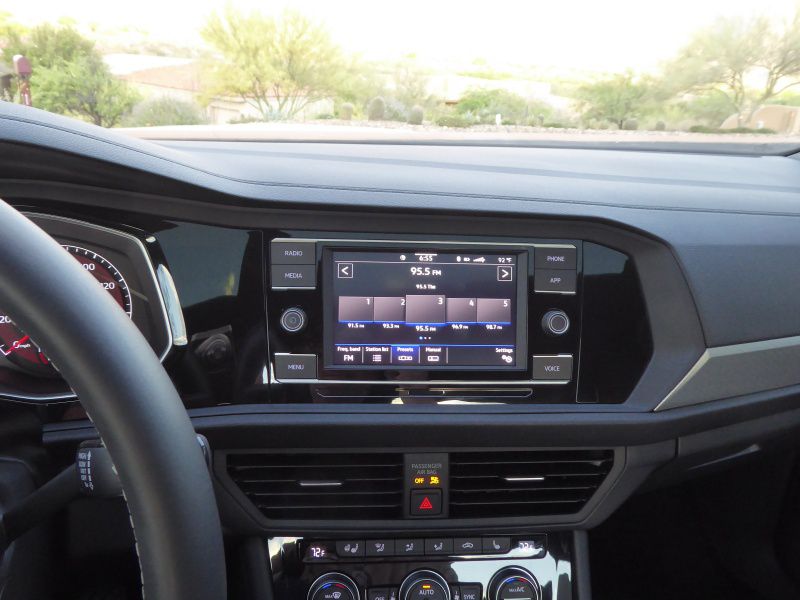 Photo by Ron Sessions
Supportive Front Seats
You expect German cars to offer firm and supportive seats, and the Jetta's modestly bolstered front buckets don't disappoint. The seat's lower-cushion height is slightly higher than those of the Toyota Corolla, Honda Civic, Nissan Sentra, and Hyundai Elantra, easing ingress and egress. All but the base Jetta S come standard with heated front seats. SEL and SEL Premium trims add a heated steering wheel.
The front seats are manually adjustable, except for SE, SEL, and SEL Premium trims, which come standard with a power-adjustable driver's seat. Cloth covers the seats in the base Jetta S, with synthetic V-Tex used in the R-Line, SE, and SEL trims. Leather adorns the SEL Premium's seats. In the R-Line pictured above, a two-tone seat color scheme looks sharp. The R-Line also dresses things up with a leather-wrapped steering wheel.
Brightening the interior further on all but the base Jetta S is a standard panoramic sunroof.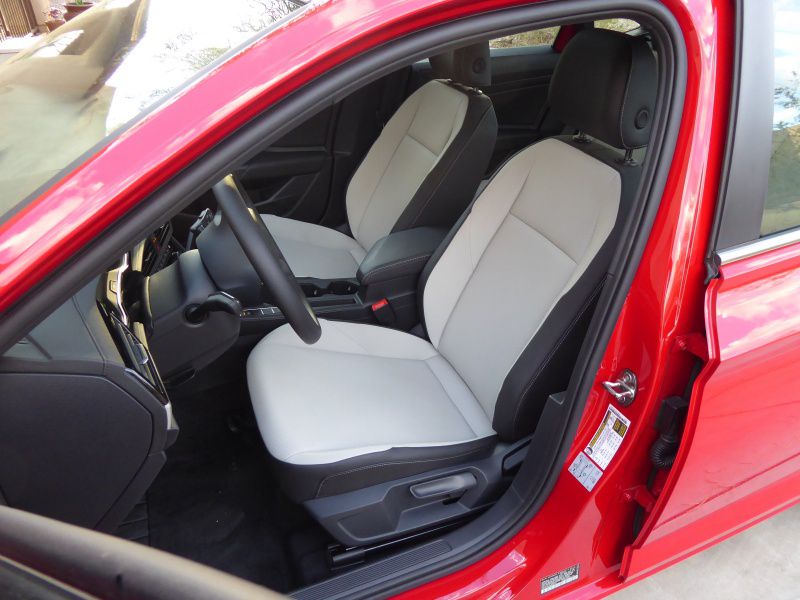 Photo by Ron Sessions
Sculpted Split Rear Bench
Looking stylish in the two-tone R-Line trim, the Jetta's 60/40 split rear bench seat is nearly as well-sculpted and supportive (for the outboard two passengers) as the fronts. On all but the base Jetta S, the rear seat has a nicely padded fold-down center armrest with built-in cup holders. Outboard rear passengers in SEL and SEL Premium models also get heated seat cushions.
The Jetta's rear seat is one of the roomiest on the compact sedan class, offering more rear seat headroom and legroom than the Nissan Sentra and Toyota Corolla. The tallish roof also makes for easier ingress and egress.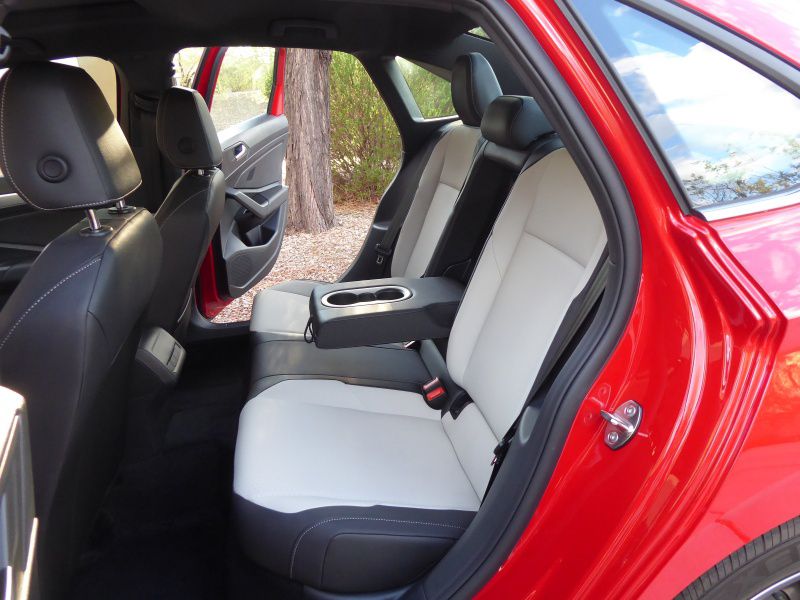 Photo by Ron Sessions
Generously Sized Trunk
The Jetta may look like a small sedan, but its 14.1 cubic-foot luggage capacity is near that of some mid-size sedans, and it easily tops the 13.1 cubic feet found in the Toyota Corolla. Additionally, the squarish shape and wide opening of the Jetta's trunk make accessing the cargo space a breeze. Using one of two easy-release handles just inside the trunk, the Jetta's 60/40 split rear seatbacks can be folded down, making room for longer items such as big-screen televisions, skis, musical instruments, and stepladders, to name a few.
There is also a small amount of storage for valuables, such as a camera or a purse, in the spare tire well under the trunk floor.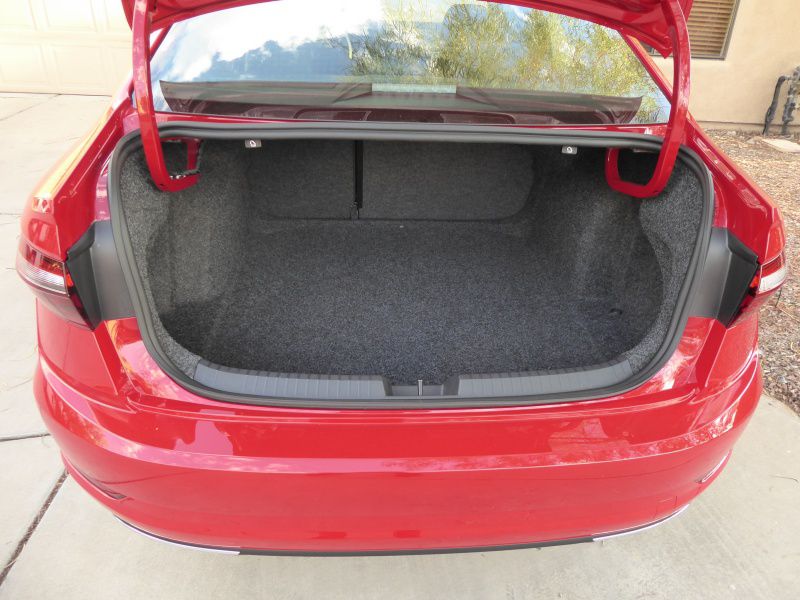 Photo by Ron Sessions
Driving Dynamics
When it comes to offering a European-brand driving experience in a small 4-door, front-drive sedan, the field shrinks to just one car — the Volkswagen Jetta. Its exterior may be unassuming, but take the wheel and the Jetta's engaging character emerges. Despite its econocar roots and basic McPherson strut front/torsion-beam rear axle suspension, the Jetta offers a satisfying ride and handling balance that's one of the best in the small-car segment. Crisp, fairly quick-ratio steering, confidence-inspiring brakes, and good body control add to the goodness.
The Jetta R-Line shown here adds further touches of sportiness. In addition to black-out exterior trim, the R-Line gets upgraded to larger 205/55R17 all-season tires and an XCS cross front differential to improve traction and reduce wheelspin.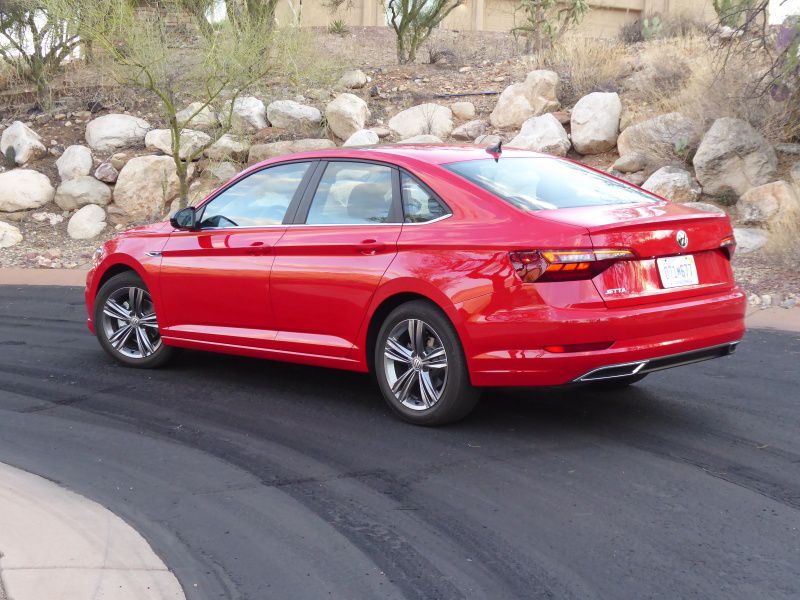 Photo by Ron Sessions
Safety and Driver-Assistive Tech
Volkswagen will likely upgrade the driver-assistive technology available in the Jetta when it gives the compact sedan a mid-cycle update for the 2022 model year, but 2021 models don't have quite the selection of available systems offered by many compact sedan competitors. All 2021 Jetta models come with a standard backup camera, but a forward collision warning system with automatic emergency braking, blind-spot warning, and rear cross-traffic warning that are standard in SE and higher trims are an extra-cost option on the base Jetta. Other advanced systems such as adaptive cruise control, automatic high-beams, and lane-keeping assist are offered only in the top SEL and SEL Premium trims. And other driver-assistive tech rolling out in the compact segment, such as a driver attention alert, surround-view camera, blind-spot and rear cross-traffic alert with braking, rear occupant alert, and passenger exit warning, are not available in the 2021 Jetta at all.
In safety testing, the National Highway Traffic Safety Administration gives the 2021 Volkswagen Jetta a top five-star rating for crashworthiness overall, with five stars for side impact performance and four stars in frontal impacts and rollover resistance.
The Insurance Institute for Highway Safety gives the 2021 Jetta Good ratings in all crashworthiness categories. However, IIHS didn't name it a 2021 Top Safety Pick due to lower ratings for headlamps and child safety-seat latching.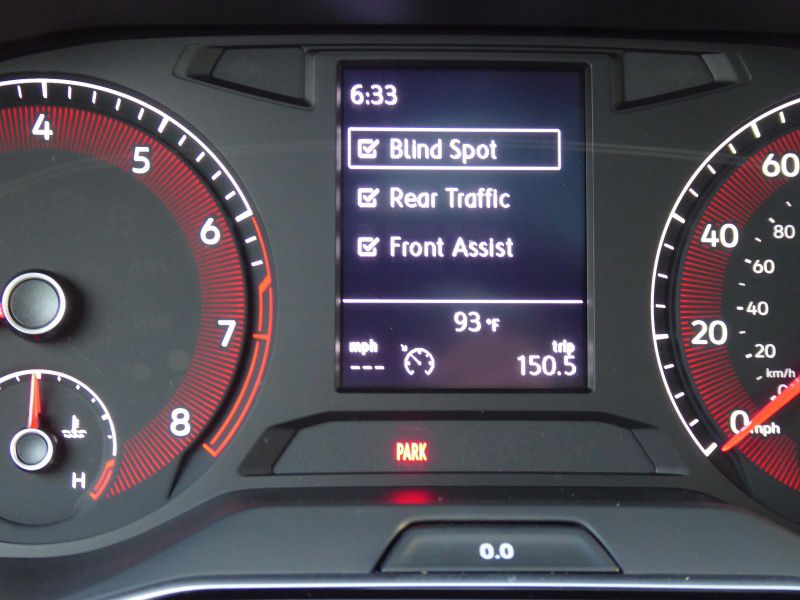 Photo by Ron Sessions
Plucky Fun
Roomy for its size, fun to drive, relatively fuel-efficient, and inexpensive to purchase, the plucky 2021 Volkswagen Jetta presents a unique European driving experience at a fraction of the cost of 4-door sedans from premium European brands. It's available with an ever-expanding roster of Volkswagen's Car-net connected services. And its 4-year/50,000-mile warranty is bolstered by 2 years or 20,000 miles of free scheduled factory maintenance. The 2021 Jetta sedan is also the least expensive Volkswagen you can buy as well as one of a dwindling number of small sedans still available with a manual transmission.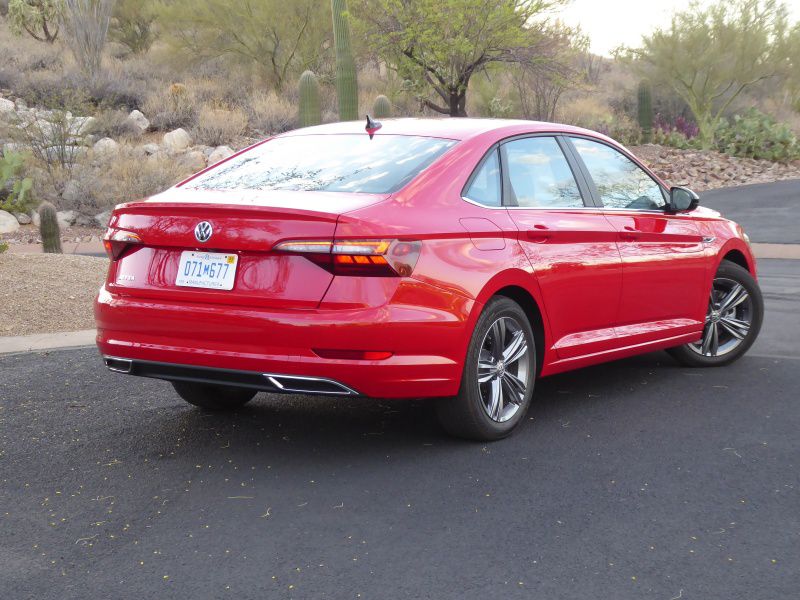 Photo by Ron Sessions