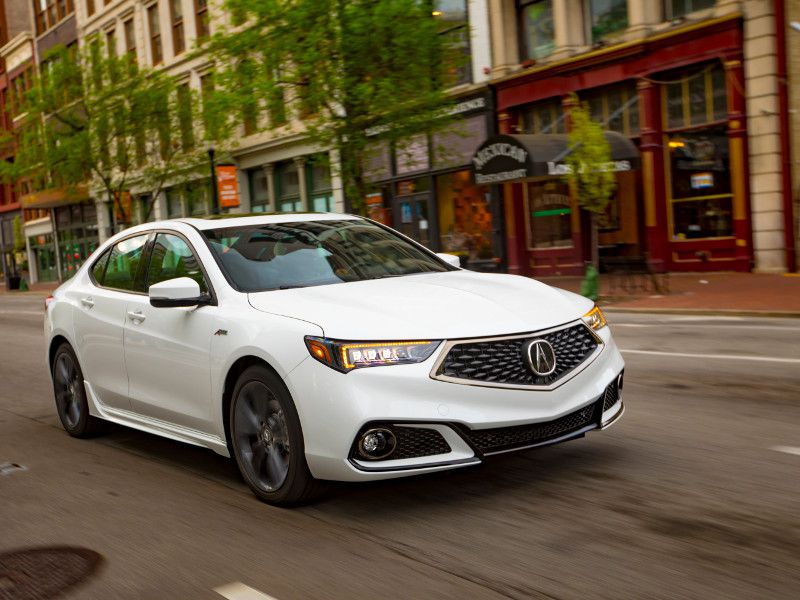 2020 Acura TLX white driving in city ・ Photo by Acura
A frigid wind is whipping the snow in your driveway into a frothy cloud, the temperature is below zero and you have to go to work an hour early in the dark. It's the kind of challenging day many of us go through every now and then. And it is just one of those days that can be made a bit better if you have a car equipped with remote start. The ability to start your car's engine remotely won't stop the wind, won't raise the temperature and won't turn dark to light, but it will enable you to warm your car up before you have to go outside and get into it. To anyone who has ever sat on a below-zero leather seat, you know exactly how very unpleasant that is. Of course, there is the flip side of cold called "too hot." Again remote start can ride to the rescue by enabling you to get the car running and the air conditioning cranked up before you set foot in your car on a sweltering summer day. Here are the 10 best cars with remote start.
2020 Honda Accord
One of the most popular sedans of the past several decades, the Honda Accord certainly needs no introduction. Renowned for its economy, ease of operation and reliability, the current 10th-generation Accord is undoubtedly the best Accord ever. For those who seek remote start, the very good news is that it is standard on EX, EX-L, Sport 2.0T, EX-L 2.0T, and Touring 2.0T trim levels. This enables drivers to start their Accord in advance, activating the climate control system with a default setting of 72 degrees, so it is particularly helpful in extreme hot- or cold-weather conditions. The system will automatically operate the heater, front and rear defrosters, front heated seats, heated side mirrors, and air conditioning as needed. The remote engine start feature is built into the Accord's key fob. The up-level Accord Touring includes remote engine start in the HondaLink Smartphone app.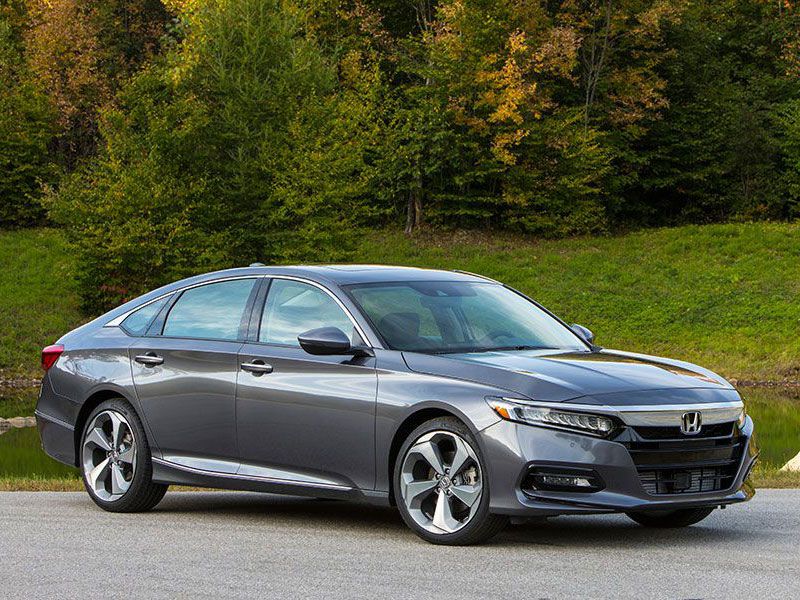 Photo by Honda
2020 Hyundai Sonata
The all-new 2020 Hyundai Sonata midsize sedan is a giant step forward in the brand's effort to compete head-to-head with sedans like the Honda Accord and Toyota Camry. From both a design and engineering point of view the Sonata checks all the right boxes. The chassis and suspension offer a quiet, supple and ride, and both available 4-cylinder engines offer good performance and fuel economy. The Sonata demonstrates its leading-edge tech with the new Hyundai Digital Key, a dedicated smartphone app. Using secure Near Field Communication technology in combination with Bluetooth Low Energy communication, the Hyundai Digital Key app allows users to start the car's engine remotely, but that is only one of its many functions. Users can also lock and unlock the vehicle, activate the panic alert, share "keys" to the car with family and friends and give vehicle access to valets and service technicians.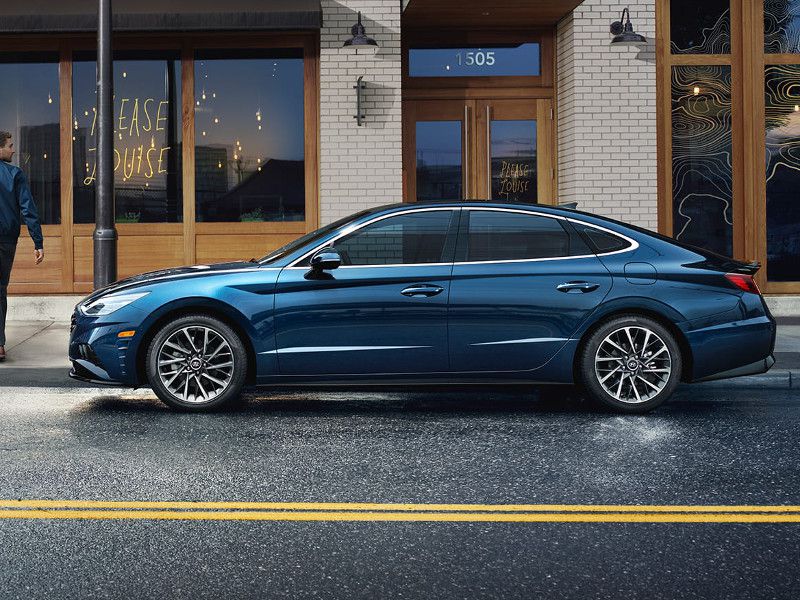 Photo by Hyundai
2020 Honda Civic
The Honda Civic is one of the most popular import-brand models ever sold in America. Some call it the very definition of small-car versatility and functionality. Those seeking fun-to-drive highly reliable compact car will find what they want in the Honda Civic. Among the car's many virtues is remote engine start capability, standard on Civic EX trims and above. The Civic's conventional remote start feature enables drivers to start their Civic from the outside activating the climate control system with a default target temperature of 72 degrees. The system will automatically operate the heater, front and rear defrosters, front heated seats (if so equipped), heated side mirror, and air conditioning as needed. Even the base model Civic offers LED running lights, split/folding rear seats, 5-inch touchscreen with backup camera and Bluetooth.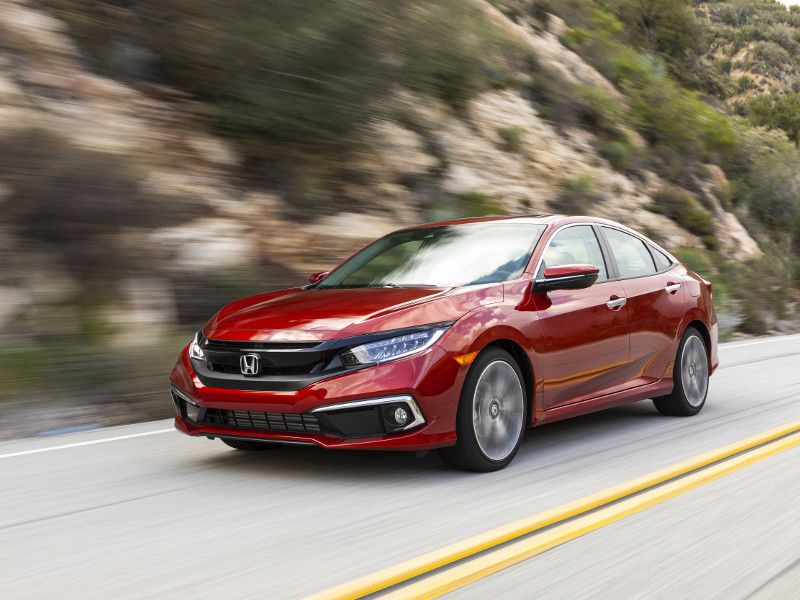 Photo by Honda
2020 Acura TLX
The 2020 Acura TLX midsize luxury sedan offers a level of refinement designed to be a cut above its Honda brand peers, and that's a tall order. In the quest for differentiation three powertrains are available, including a 206-horsepower 2.4-liter inline 4-cylinder engine with the industry's first 8-speed dual-clutch transmission with a torque converter. But if you want remote engine start it is only available as part of a package on the top TLX model, the TLX V-6 SH-AWD. It is certainly a great choice. Powered by a 290-horsepower 3.5-liter V-6, it features a smooth-shifting 9-speed automatic transmission and torque-vectoring Super Handling All-Wheel Drive (SH-AWD). The V6 TLX with Advance Package offers the ability to start the vehicle's engine remotely, activating the climate control system and heated/ventilated seats before entering the vehicle. The TLX will run for up to 10 minutes after remote starting, and then shut off automatically if the owner doesn't reach the vehicle within that time.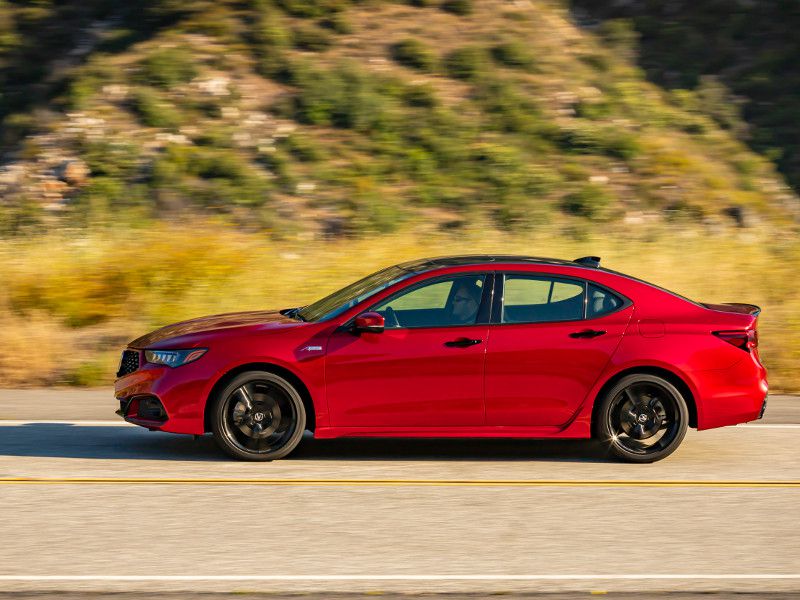 Photo by Acura
2020 Subaru Legacy
For the 2020 model year, Subaru has introduced an all-new, seventh-generation version of its well-regarded Legacy all-wheel-drive midsize sedan. Built on the new Subaru Global Platform, the 5-passenger Legacy features new engines, a tablet-style infotainment system and a new emphasis on luxury appointments inside. In what is becoming a trend, the remote engine start is a function of the optional STARLINK Safety Plus & Security Plus package. It adds remote engine start with climate control and heated seats on models equipped with Keyless Access and push-button start. The package also includes stolen vehicle recovery service, vehicle security alarm notification, remote lock/unlock, remote horn and lights, and remote vehicle locator, handy in mall parking lots. The "parenting" features include boundary, speed and curfew alerts with a 6-month free trial.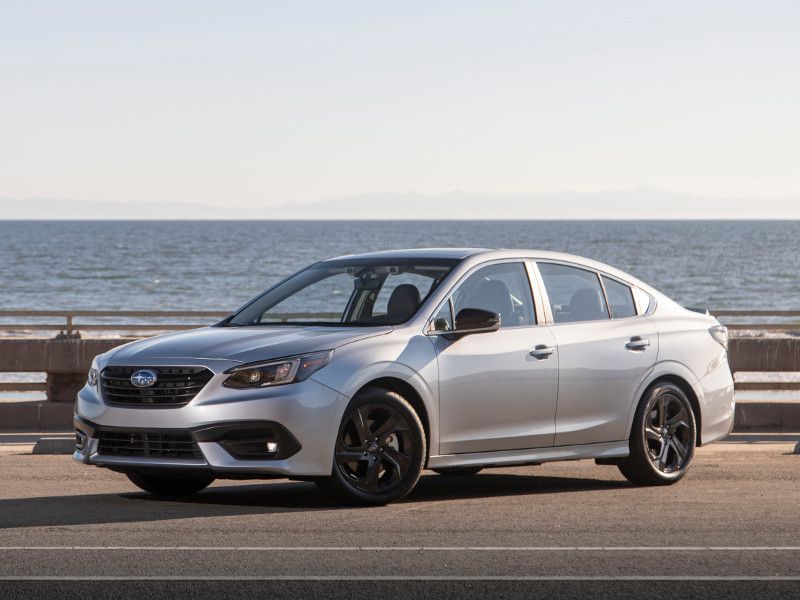 Photo by Subaru
2020 Nissan Altima
The current Nissan Altima should be regarded as a landmark car. In an era when many manufacturers are de-emphasizing their sedans, Nissan has invested heavily in its mainstay midsize sedan, equipping it with a remarkable new engine and offering all-wheel drive. With Nissan's advanced ProPILOT Assist electronic driver-assistance suite, the 2020 Nissan Altima takes its drivers well down the road toward the destination of fully autonomous driving. When it comes to remote engine starting, the Altima is pretty comprehensive about it. With the base 2.0-liter engine, remote start is available on the two most basic trims while remote start with intelligent climate control is standard on the other three trims. With the 2.0-liter variable compression engine, remote start is available on the 2.0 SR trim and remote start with intelligent climate control is standard on the top 2.0 Platinum trim.
Photo by Nissan
2020 Honda Insight
The 2020 Honda Insight is a dedicated hybrid sedan that was designed not to act like one, offering more fun-to-drive excitement and robust acceleration than its key competitors like the Toyota Prius. Though the third Honda to bear the Insight name, the 2020 Insight has little in common with its predecessors. The sedan's surprising power comes from the latest generation of Honda's innovative two-motor hybrid system along with an EPA-estimated 55 mpg city rating. For the 2020 model year remote start is offered on the EX and Touring trim level but not on the base-level LX. The Insight's standard equipment includes LED exterior lighting, including headlights, daytime running lights and taillights; 16-inch alloy wheels, heated side mirrors, push-button start, and heated side mirrors.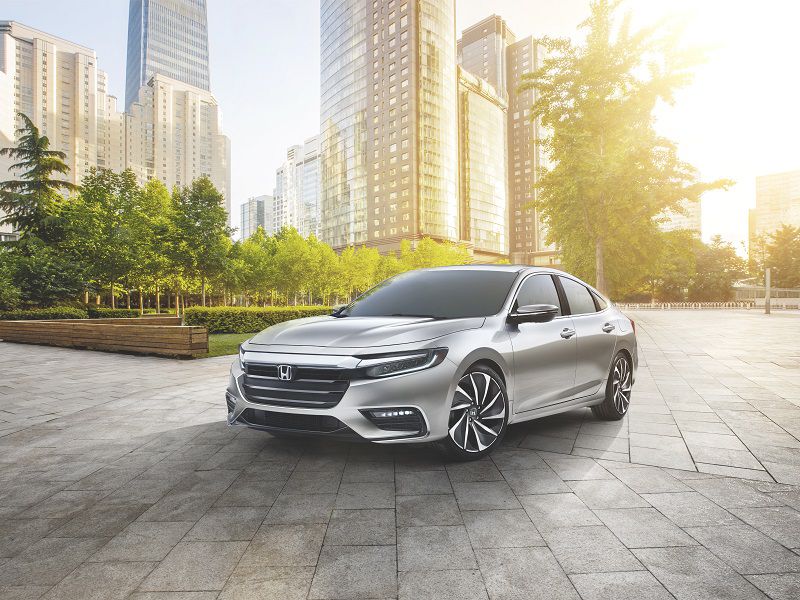 Photo by Honda
2020 Ford Mustang
As the world's best-selling sports coupe, the Ford Mustang is available in a dazzling array of variations. In all, from the entry-level Mustang EcoBoost to the Shelby GT500, Ford is offering enthusiasts nine separate performance variants of its fastback and convertible. The new-for-2020 Shelby GT500 with its 760-horsepower supercharged 5.2-liter V8 engine is the most powerful production-built street-legal Ford ever. But you probably would like to know about remote start. The word is good. FordPass Connect, standard for 2020, allows owners to control several car features via their smartphones. Using the FordPass Connect app, owners can connect to their vehicle to check status, locate the car, and lock and unlock its doors, and for automatic transmission-equipped Mustang models, the system has a remote-start feature.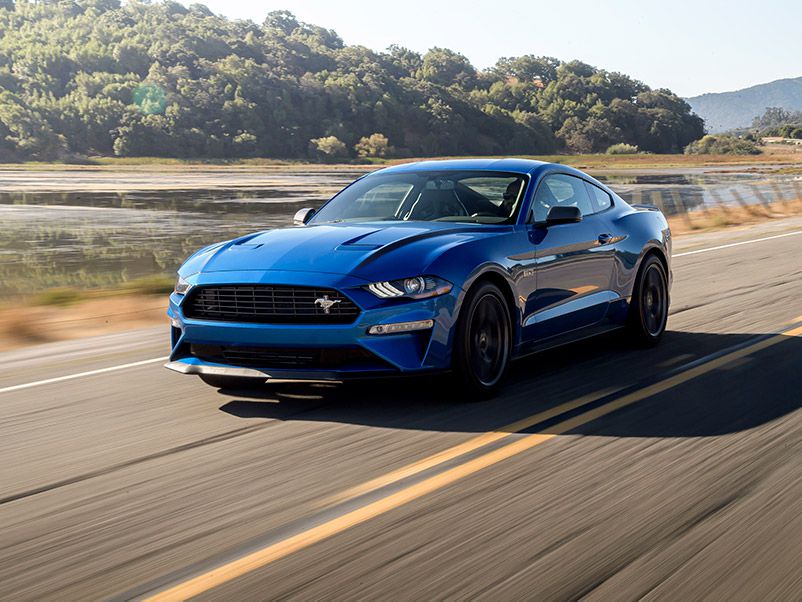 Photo by Ford
2020 Chevrolet Camaro
The 2020 Chevrolet Camaro sports coupe/convertible is one of a relative few General Motors cars to survive into the 2020 model year as the automaker concentrates on trucks and SUVs. The Camaro is available with a wide variety of engines. The lustiest of them is the 6.2-liter LT1 direct-injected "Small Block" V-8 rated at 455 horsepower and 455 lb-ft of torque, but at the other end of the scale, you can have a great deal of driving fun with the 275-horsepower 2.0-liter direct-injection turbocharged 4-cylinder and the 335-horsepower 3.6-liter direct-injection V-6. For 2020 the latter can be equipped with a 10-speed automatic transmission and includes Active Fuel Management. The extremely good news for remote start fans is that every Chevy Camaro with automatic transmission comes with the technology standard.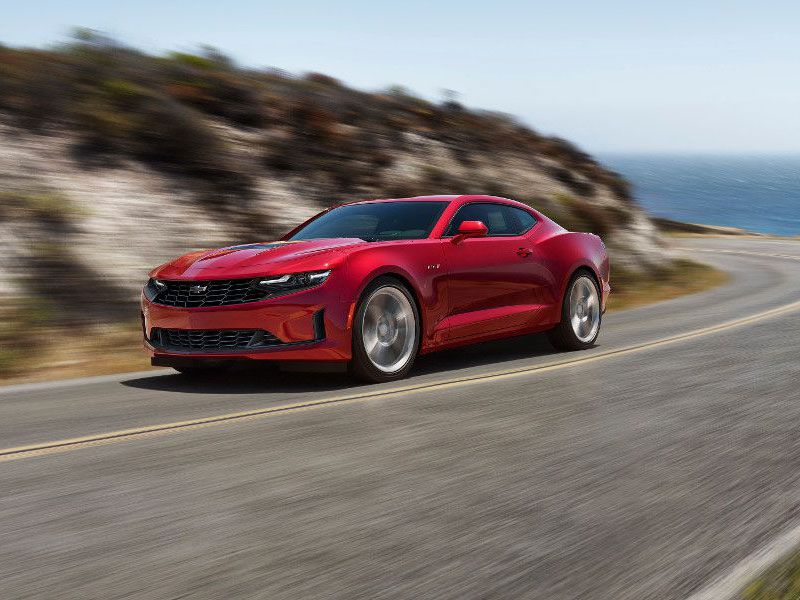 Photo by Chevrolet
2020 Ford Fusion
The 2020 Ford Fusion midsize sedan has survived the chopping block that saw the brand eliminate many of its car models this past year in favor of trucks, crossovers and traditional SUVs. It is powered by two EcoBoost turbocharged 4-cylinder engines, a naturally aspirated in-line 4-cylinder and hybrid and plug-in hybrid powertrains. Trim levels range from the modestly equipped S, to SE, SEL, Titanium, Hybrid SE, Hybrid SEL, and Hybrid Titanium, and just for those who crave remote start, the high-tech FordPass Connect driver-assistance suite has been made standard on all series. Among its many functions, it enables drivers to start, lock and unlock their vehicle remotely. And if you want to really wow your friends you can schedule specific times to start the car remotely. That way your car could get up before you do.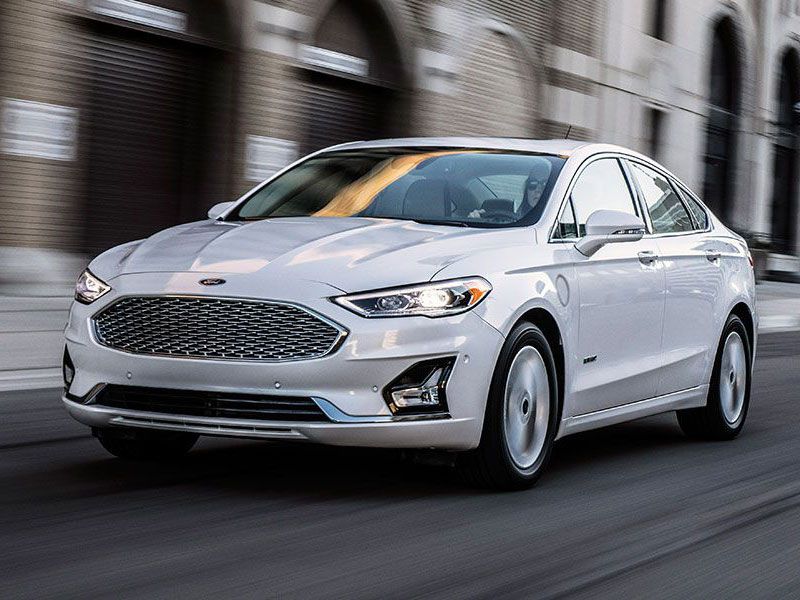 Photo by Ford