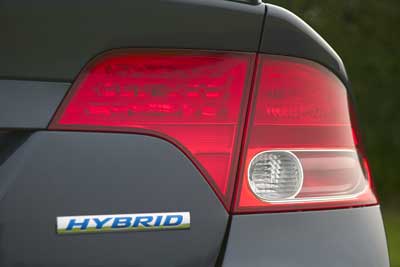 It used to be so easy. If you wanted a hybrid, you had a simple choice: the Honda Insight, the Honda Civic and the Toyota Prius. All shared the same benefits: low emissions, high fuel economy, and a somewhat compromised performance character. Still, if you wanted to make a statement, save some gas and do your part for the environment, it was really a matter of choosing one of three.
My, how things have changed. Hybrids have become the darlings of the industry, thanks to rising fuel prices and our awakening realization that we're running out of oil. As the prez says, we've got ourselves an oil addiction, and hybrids are the trendy way to detox. Compared to last year, hybrid sales are up 44 percent, with the Prius taking an astonishing 50 percent of the US hybrid market. All in all, hybrids account for 1.26 percent of the US light-duty vehicle market. As a result, there are plenty more hybrids from which to choose, and more to come, such as the Toyota Camry Hybrid and a slew of semi-serious 'brids from GM. Not all are built the same as the Insight, Civic or Prius, however. You can now buy a Highlander Hybrid, for example, get around 28 miles per gallon – and suffer in traffic, because the Highlander doesn't reach the mpg rating required for access into car pool lanes. Same goes for the Honda Accord Hybrid, the recent batch of Lexus hybrids, and even the Ford Escape Hybrid – which is a full hybrid, but nonetheless doesn't rate a car pool sticker. The difference between full and partial is critical to your fuel and emissions-saving agenda: A full hybrid powertrain is one that can operate on electric-only power, meaning the vehicle is propelled forward by the strength of its electric motors before the gas engine starts. The Toyota Prius and the Ford Escape Hybrid are two excellent examples of this technology, as both can go up to approximately 15 mph on the electric power. Because full hybrid powertrains actually cut the engine at stoplights and in traffic, fuel savings and pollution are significantly better than that offered by partial systems. The benefit to a partial system is better performance (electric motors can provide greater boost off the line) with improved fuel economy. The Honda Accord Hybrid is a partial hybrid and is the fastest Accord in the lineup, though doesn't really benefit the environment: the Accord Hybrid is rated ULEV, whereas most full hybrids are rated as PZEV.
Judging from the fact that the Prius – one of the most fuel efficient, low polluting cars available – currently accounts for about 50 percent of hybrid new vehicle sales, most people aren't too interested in hybrid 0-60 times. If that's you, be sure to check the miles per gallon rating and the emissions rating on the hybrid you choose, as benefits such as HOV lane access and tax credits are based on efficiency. In the end, even with all the available hybrids, the choice comes down to pretty much the same cars – with the Ford Escape Hybrid added to the mix.
Real MPG ratings
The EPA's laboratory fuel mileage tests were initiated more than 25 years ago to provide a means for consumers to make valid fuel-mileage comparisons between vehicles. Posting of mileage numbers on the window sticker is required by law. Auto industry practice has consistently been to use the EPA-provided numbers to assure a level playing field. However, many things have changed over the past 20 years - speed limits have increased, congestion has increased, and vehicles have more power-hungry accessory equipment, such as automatic climate control. The EPA tests are conducted in controlled laboratory conditions, at average speeds of no more than 48 mph, without air conditioning and at moderate temperatures. Test values are then adjusted down using adjustment factors developed by the EPA in the mid-80s. While this provides consistent comparison data, it is widely accepted that many drivers of all types of vehicles experience lower results than the labels. For example, during Autobytel testing, the Toyota Prius consistently logged a miles-per-gallon rating in the mid-to-upper-40s, and other hybrids, such as the Ford Escape Hybrid, rated real world in the mid-to-upper 20s. It's important to take the EPA ratings, realize that you will get less than what is reported, and factor your driving habits and most common routes.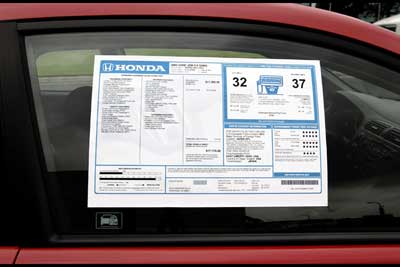 Power vs. Economy
Automakers have discovered two primary benefits to hybrid technology: more power, with better efficiency, and total efficiency. Trouble is, they aren't necessarily willing to broadcast the differences. Case in point: the Toyota Highlander Hybrid and the Honda Accord Hybrid. Curious shoppers may think that they'll get great fuel mileage and low emissions with these vehicles, but they won't – at least not what many they would get from a hybrid vehicle. The Highlander and the Accord are power hybrids, designed to offer excellent torque and performance by basically mating the electric part of the hybrid powertrain to V6 engines.
Other power hybrids include the recent batch of vehicles from Lexus, such as the 2006 Lexus RX 400h – a luxury suv that gets about 26 miles to the gallon, and actually offers a more spirited drive than the more traditional RX. Also coming soon from Lexus is the world's first rear-drive hybrid, the 2007 GS 450h – a powerful performance machine, not to be confused with, say, a Honda Insight.
The result of these power hybrids is great fun and improved efficiency, when compared to vehicles of similar performance character, but not when compared to hybrids that usually feature four-cylinder engines and continuously variable transmissions, such as the Toyota Prius, Ford Escape Hybrid or Honda Civic Hybrid. These are economy hybrids, and the focus here is what people generally think of when they think hybrid: high miles per gallon, low emissions, and, as a result, not-so-hot performance. Of these, however the Ford Escape Hybrid does not qualify for access into HOV lanes, because it generates less than 45 mpg – a ridiculous ruling, when you consider that even the gas-sipping Prius is lucky to get 45 in real-world driving.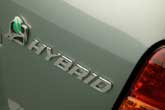 Plug-in power?
Do hybrids need to be plugged in? There is no need to plug in hybrid vehicles. They have electric motors and gasoline engines which work together to provide power. The batteries for the electric motor are re-charged by energy captured as the driver brakes or coasts in the car and also by a separate engine-driven generator.
Why doesn't the Prius offer a plug-in option so it can run in electric-only mode? Great efforts went into making hybrid cars so they DON'T have to be plugged in. If a car is converted, it will have a negative effect on the life of the batteries and the reality is that it's likely the grid electricity being used is derived from coal, so there's not much, if any, savings to the environment. Additionally, the electric-only mode would be good for less than a mile at low speed, so the practicality of it is very limited.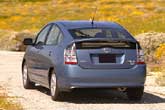 Diesel vs. Hybrid
Aren't diesels just as fuel efficient as hybrids? While some diesel vehicles get high fuel mileage, it's important to look at emissions when considering a vehicle's impact on the environment. The best diesels on US roads today are allowed more than 17 times more smog-forming emissions than Prius and they emit fine particulates identified by air quality regulators as cancer-causing. Diesel cars are not available for sale in California, New York, Maine, Vermont and Massachusetts because they do not comply with even the most lenient emissions requirements in those states. Hybrids can achieve outstanding mileage and have far less emissions at the same time.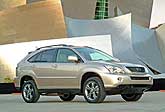 Hybrid warranties
Warranties: Most automakers are offering long warranties on their hybrid vehicles, in an effort to get people to feel comfortable with the new technology. Ford and Toyota, for example, offer eight-year/100,000 warranties on their hybrid and warranty systems, while Honda backs up their hybrid battery and components with an eight-year/80,000 mile warranty.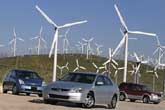 Prius availability
Can you get a Prius? Not at first, and though lately availability has loosened up, you may still run into a waiting list for the model of your dreams. And expect to pay a pretty penny for the Prius, as demand is still high, though sales recently have slowed. Toyota's initial production estimates for the Prius for the 2004 calendar year were 36,000 vehicles for the U.S. That number was increased to 47,000 vehicles shortly after the Prius went on sale. At one point, the back order was at about 22,000.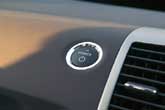 Hybrid resale
Do hybrids hold their resale value? A quick glance of the used vehicle classifieds show that hybrids have excellent resale value. Thus far, for example, used pre-2004 Prius resale values are still high, even though it is the previous generation vehicle. As time passes and more hybrids enter the market, resale values will likely adjust. As of spring 2006, however, buying a used hybrid doesn't seem like such a great value. According to Kelley Blue Book, for example, suggested retail value for a 2002 Toyota Prius is $18,805, and a quick glance at local listings shows none selling for under $20,000.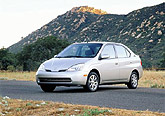 HOV lanes, tax breaks
Tax Breaks: The Feds want you to buy a hybrid. Really – they do, and to back it up, they're offering a tax credit of up to $3,400 for hybrids purchased after 2005. The amount depends on the fuel economy of the model, so again – the better the fuel economy, the better the tax credit, and, probably, the less power you get from your new ride. There are also state tax benefits available; check with your state's website to find if you qualify for a credit.
HOV Lane Access: The hybrid single occupant exemption was recently extended, which is great news for hybrid commuters – but not all of 'em. In California, for example, only those who buy a Honda Civic Hybrid, a 2001-04 Honda Insight or a Toyota Prius qualify, while these hybrids don't: the Ford Escape Hybrid, Honda Accord Hybrid, 2005 Honda Insight (emissions), a Lexus RX 400h, Mercury Mariner Hybrid, Toyota Highlander Hybrid. All were disqualified due to fuel economy and emissions: less then 45 mpg and a partial zero emissions (PZEV) rating gets you a pass straight into the traffic-choked regular lanes.