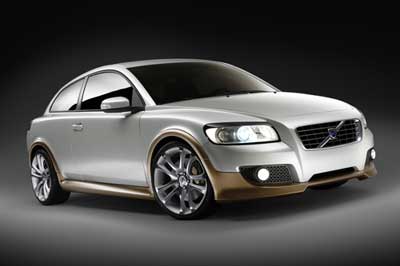 For those of you who still think of Volvo as a maker dour, safe and dependable luxury vehicles, climb out from under the rock you've been living and take a look at the exciting new Volvo C30 Concept. A thinly-disguised version of the actual production three-door hatch that Volvo plans to introduce at the 2006 Paris Auto Show in September, the C30 Concept has excitement written all over its sheetmetal. Dour, this ain't. Built for the young and the young at heart, the concept has a style that is unmistakably Volvo, yet introduces a razor sharp edge to that already popular design. When it hits the streets, the C30 will surely be safe, given the track record Volvo has established, and it will probably be dependable, based on recent new vehicles introduced by Ford's Premier Automotive Group's (PAG) shining star. We look forward to seeing – and driving – the actual production model, later this year.
What it is
Never mind the Rich Yankee disregard for hatches. This one is hot. Starting with the exterior, the front is characterized by angled headlamps and a low, wide grille. Wheel arches define the side, and a sloping roofline and exaggerated greenhouse gives the car a fast, aggressive appearance. Car shoppers will be familiar with the tail light setup in back, as it's like all Volvo SUVs – a nod to safety, without compromising style. Inside, the C30 Concept is a four-seater, and will likely stay that way. The package is powered by a five-cylinder turbocharged engine that makes 260 horsepower and will supposedly get to 60 mph in six seconds, driving 19-inch wheels with Brembo brakes front and rear. There will also likely be a four-cylinder, lower trim offering when the car goes on sale next summer. For now, all there is to do is gaze at the sporty styling of what very well could be the sexiest car ever built by a bunch of boring Swedes since the Volvo P1800 ES, more than 30 years ago.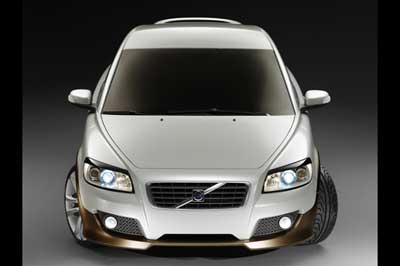 Why it matters
Let's face it: without Volvo, PAG would be, well, dour – though Aston Martin has recently been on a roll and Jaguar has high hopes for its hot XK coupe and convertible. In the here and now, however, Volvo has arguably done more to boost the fortunes of Ford's luxury hopes than any of the other nameplates. You could even say that Volvo technology has had a hand in making some very, um, critical Ford products successful. Given this, it's safe to assume that Volvo's own C30 concept will be a smash hit, and from a first look in Detroit, the style of the entry-lux hatchback may have people lining up outside dealerships with lattes in hand. Reminiscent of the Volvo P1800 ES, this very well could be one of the first modern luxury hatches to break through the American luxury bias against hatches. And while much of that depends on price and performance, the Volvo C30 has the pedigree and the track record to make it happen, not only with its own fans, but with all shoppers in the entry-lux segment.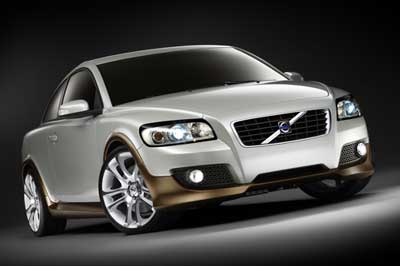 What's under the hood
The Volvo C30 Concept is powered by an in-line 2.4-liter, five-cylinder turbocharged engine that makes 260 horsepower at 5,500 rpm and 268 lb. ft. of torque between 2,100 and 5,000 rpm. Don't expect those kinds of numbers in the production model, which should still top out at a respectable 210 or so horsepower. Mated to a six-speed manual transmission, the Volvo C30's powertrain will supposedly go 0-60 mph in six seconds, driving 19-inch wheels with 13-inch ventilated Brembo disc brakes front and rear, and wearing Pirelli Corsa 225/35-R19 tires. As for possible production models, you can expect to see a toned-down version with a four-cylinder powertrain, and no all-wheel drive, for price considerations.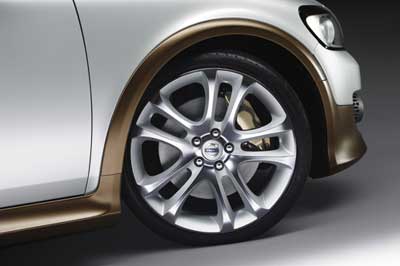 What's inside
Interior features of the Volvo C30 concept look almost ready for prime time, such as centered rear seats that promote the feeling of space, ample legroom for all and a configurable cargo area that ranges from briefcase loads to Saturday afternoon at the grocery store. According to Volvo, the C30 is designed for people who usually use the front seats only, so convenience is based on making things easy to put and easy to get. Back seats will fold flat in order to open up more cargo room. Safety systems will be much the same as what people will find in the Volvo S40, and may be comparable to the S80, according to Volvo. Audio plans include Volvo's premium sound system, with 130-watt digital ICE Power amplifier from Alpine, Dolby Pro Logic II Surround Sound and 10 speakers from Dynaudio of Denmark.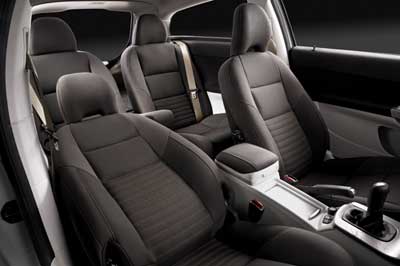 What it looks like
Think aggressive. Think smooth, with a razor's attitude. That's the C30 concept from this perspective, and while some don't car much for the broad back window, we love it, set as it is between Volvo's signature bank of lights. Making it sporty in stance is the angle of the hatch, and the angle of the front headlamps – the car looks as if it's poised, crouched, on the tips of its toes. Complimenting this look is a teardrop greenhouse that works out to muscular shoulders.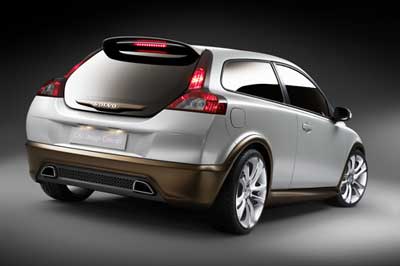 What Volvo says
According to Volvo, the C30 concept looks like the P1800 ES from the back and the recent Volvo Safety Concept Car from the front, and in its modern design. While pricing has not been announced, word is that Volvo is trying to decide whether to sell the C30 as a premium performance hatch or as a de-contented entry-lux hatch, or, possibly, both.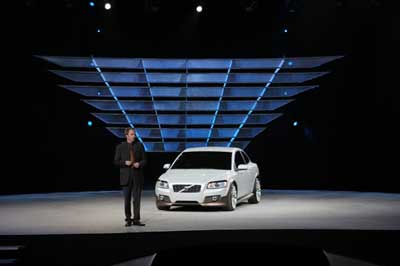 What we think
Volvo should sell the C30 as a squealing, turbo charged five-cylinder fun machine that people buy for reasons of sex appeal, performance and convenience. Yep, it's a hatch, but hatch doesn't have to mean boring. And with a design as sporty and emotive as this, it would be a shame to sell it down and ruin what could be an aspirational Volvo for years to come. Volvo is aiming for big – 600,000 -- sales next year, and this sporty little hatch figures large in their plans. They get there by selling a performance hatch, along with a weak brother – thing 168 horsepower. Then again, stranger things have happened. Maybe Volvo should take the Mustang and build a mainstream Swedish pony car, and keep the C30 for us grownups who want hatchback ease with asphalt pounding performance.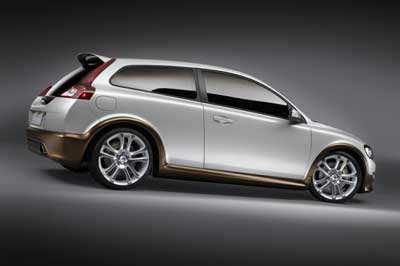 When you can buy it
On sale in America in the summer of 2007 as a 2008 model, the Volvo C30 will debut as a production model at the 2006 Paris Auto Show in September. Pricing has not been announced, though an entry price of $23,000 has been floated around.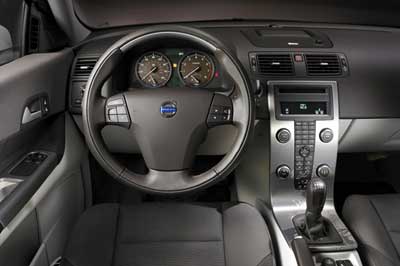 Key specifications
Base Price $23,000 rumored Engine Size and Type: inline 2.4-liter turbocharged five-cylinder Engine Horsepower: 260 at 5,500 rpm Engine Torque: 268 lbs.-ft. at 2,100 – 5,000 rpm Transmission: Six-speed manual
Photos by Ron Perry and courtesy of Volvo