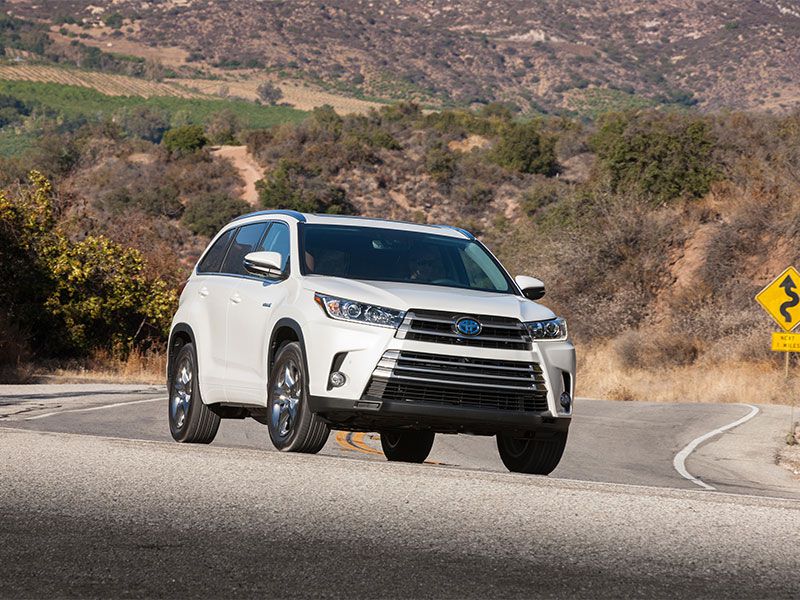 2017 Toyota Highlander Hybrid Limited Platinum on road ・ Photo by Toyota
Choosing a used car can be a great way to save money. When you buy a vehicle that's a few years old, you get most of the benefits of a brand-new model while typically paying thousands of dollars less. But to maximize your savings if you want a used SUV, you also want a model with great fuel efficiency. Economical SUVs will keep more money in your pocket every time you drive them.
There are different ways to get great gas mileage from an SUV, and they each have different pros and cons. The smallest models may use the least gas, but they have the least space. Gas-electric hybrids can greatly reduce fuel consumption, but they tend to cost more to buy. And all-electric cars use no gasoline but rely on charging infrastructure. In this roundup of used SUVs with the best gas mileage, we include some of each type (all from the 2018 model year) to help you save fuel with whatever approach fits your needs. 
1. 2018 Nissan Kicks
Is the Nissan Kicks really an SUV? That's been up for debate ever since this little crossover hit the market. It comes only with front-wheel-drive and it has a mere 125 horsepower. But if you're willing to accept a slower race to 60 mph and don't expect to tackle a blizzard, the Kicks is affordable to buy and to operate — and, while not huge, more spacious than you might expect from a subcompact.
The Kicks manages an EPA-estimated 31 mpg in the city, 36 mpg on the highway, and 33 mpg combined, better than many small sedans. And you should be able to get a decently equipped 2018 Kicks with automatic emergency braking, Android Auto, and Apple CarPlay for less than $17,000.
Photo by Nissan
2. 2018 Honda CR-V
The Honda CR-V is another light-duty small SUV that achieves great gas mileage even with a conventional gasoline engine. But unlike the Kicks, the CR-V provides generous interior space for up to five adults, a fairly posh ambiance, and peppy acceleration. It may not be the toughest SUV out there, but from a functional standpoint, it's all the SUV that lots of people need.
Honda uses a small-displacement turbocharged engine — a 1.5-liter four-cylinder with 190 horsepower — to achieve stellar fuel economy estimates of up to 28 mpg in the city, 34 mpg on the highway, and 30 mpg overall (or 1 mpg less with the optional all-wheel-drive). The base LX model has a less advanced, less efficient engine and also fewer safety features, so we'd skip that one if you want one of the used SUVs with the best gas mileage. We found nicely equipped 2018 CR-V EX vehicles below $25,000.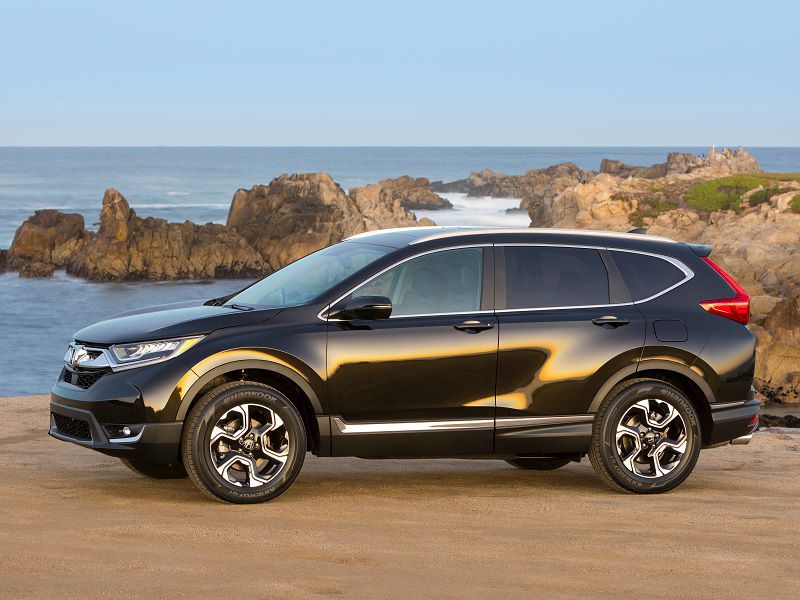 Photo by Honda
3. 2018 Nissan Rogue Hybrid
Moving toward maximum fuel savings, we turn to the first hybrid on our list of used SUVs with the best gas mileage. This one is the 2018 Nissan Rogue Hybrid, the gas-electric version of the company's best-selling compact crossover.
The Rogue Hybrid was never as popular as the competing Toyota RAV4 Hybrid, and it's no longer sold. But this lack of recognition makes used Rogue Hybrids a fantastic deal. If you can find one, you shouldn't have to pay much more than $20,000 for a well-equipped 2018 model. What's more, its EPA ratings even beat the RAV4 Hybrid's by a few miles per gallon; the Rogue Hybrid scores up to 33 mpg in the city and 35 mpg on the highway (and about 1 mpg less with AWD). If you can only find a RAV4 Hybrid, though, we'll note that the RAV4 Hybrid has a better track record than the Rogue Hybrid of matching its EPA scores, but a 2018 model typically costs above $24,000.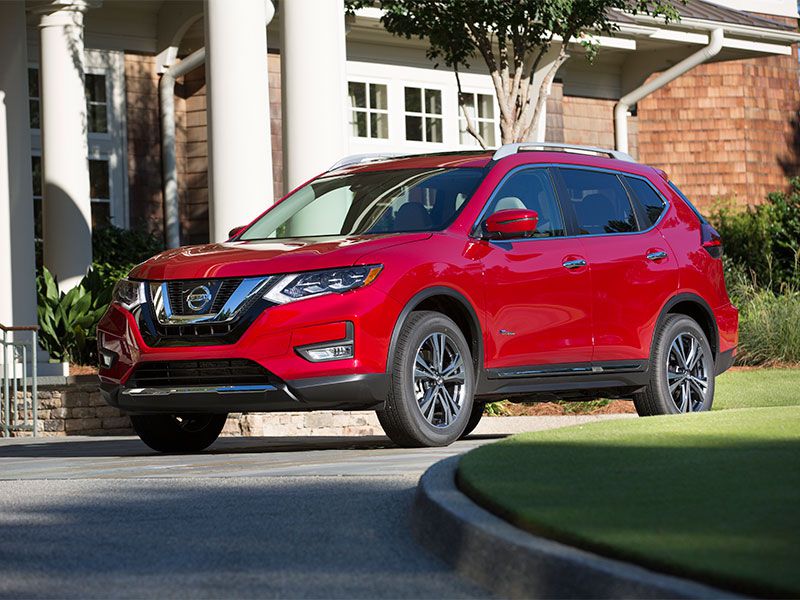 Photo by Nissan
4. 2018 Chevrolet Equinox / GMC Terrain Diesel
Hybrids get their best gas mileage in stop-and-go traffic, where their electric motors can help out the most. But if you're cruising on the freeway, you often see little benefit compared to an ordinary gasoline-powered vehicle. And that's where the 2018 Chevrolet Equinox and its corporate cousin, the 2018 GMC Terrain, come in.
The Equinox and Terrain were offered with a diesel engine, which boosted the fuel economy of these spacious, smooth-riding compact crossovers to an outstanding EPA-estimated 39 mpg on the highway with front-wheel-drive or 38 mpg with AWD. City mileage isn't anything special at 28 mpg with either drivetrain, but these SUVs are real fuel-sippers on the open road. The diesel engine was a pricey option when the Equinox and Terrain were new, which reduced demand, but they don't command much of a premium on the used market. You can now get a well-equipped 2018 model for around $20,000.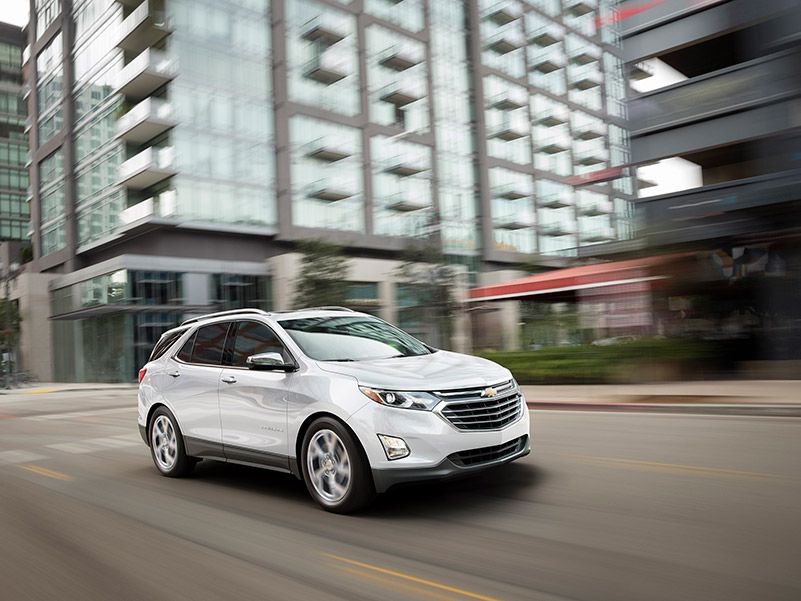 Photo by Chevrolet
5. 2018 Jaguar F-Pace 20d
You can also find a fuel-saving diesel SUV from an unexpected source. Jaguar, the British brand known for fetching two-seat roadsters, briefly sold a diesel version of its F-Pace mid-size luxury crossover. This engine, which Jaguar called 20d, is a 2.0-liter four-cylinder that makes just 180 horsepower but 318 lb-ft of torque.
The F-Pace 20d doesn't provide thrilling acceleration, but all this torque helps it move authoritatively off the line. And you still get the fetching style, high-end materials, and agile handling of a Jaguar, plus a roomier interior than you might expect. EPA ratings are 26 mpg city, 33 mpg highway, and 29 mpg overall — about 5 mpg better than the 2018 F-Pace's gasoline four-cylinder and 9 mpg better than its V6. You should be able to find a 2018 F-Pace 20d in the low $30,000s.
Photo by Jaguar
6. 2018 Lexus RX 450h
For another posh fuel-sipping option, we turn back to hybrids. In this case, it's the 2018 Lexus RX 450h, which is a gas-electric mid-size luxury suv.
Unlike most hybrids, the RX 450h uses a big V6 engine to supplement its electric motors, which means it's fast in addition to being phenomenally fuel-efficient at low speeds. The EPA estimates it at 31 mpg in the city and 28 mpg on the highway, so this is another hybrid that's not going to save you cash on a road trip. But whether you're driving on the highway or in the city, you're in a serenely quiet cabin with extra-plush upholstery. A confounding control layout (improved in new RX vehicles) and tight cargo space are drawbacks. A roomier but slightly less efficient variant is called the RX 450hL. Whichever size you pick, expect to pay about $45,000 for a 2018 RX hybrid.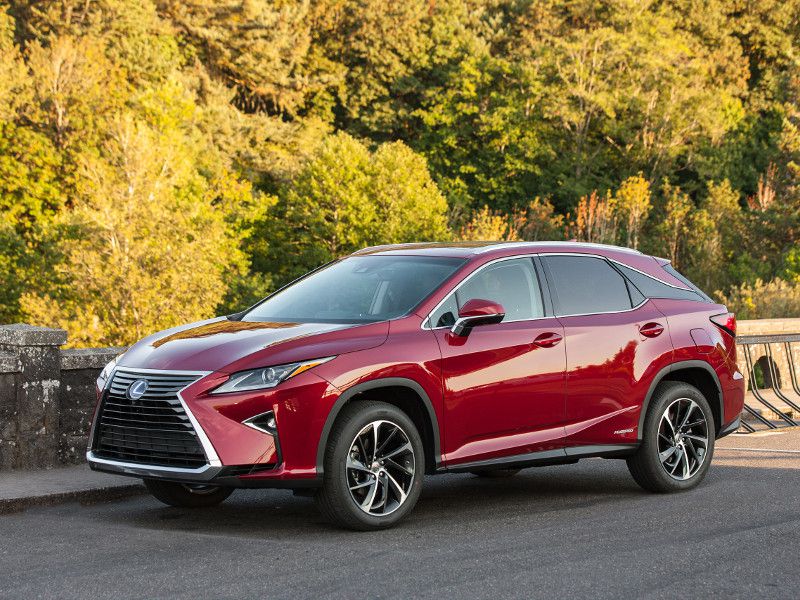 Photo by Lexus
7. 2018 Toyota Highlander Hybrid
When family-friendly space matters more than maximum luxury, the 2018 Toyota Highlander Hybrid has the same bones as the Lexus RX. But the Toyota has a boxier, more spacious shape and less upscale cabin trim.
The eight-seat Highlander Hybrid manages an EPA-estimated 30 mpg city/28 mpg highway. So while it may not be the roomiest or the most upscale three-row crossover in its class, it's the most efficient — especially in stop-and-go conditions — while still offering excellent acceleration. (The newly redesigned 2020 Highlander Hybrid, meanwhile, gives up some power for even better gas mileage; you won't likely find it on the used market yet, though.) Well-equipped 2018 Highlander Hybrids cost a little over $30,000.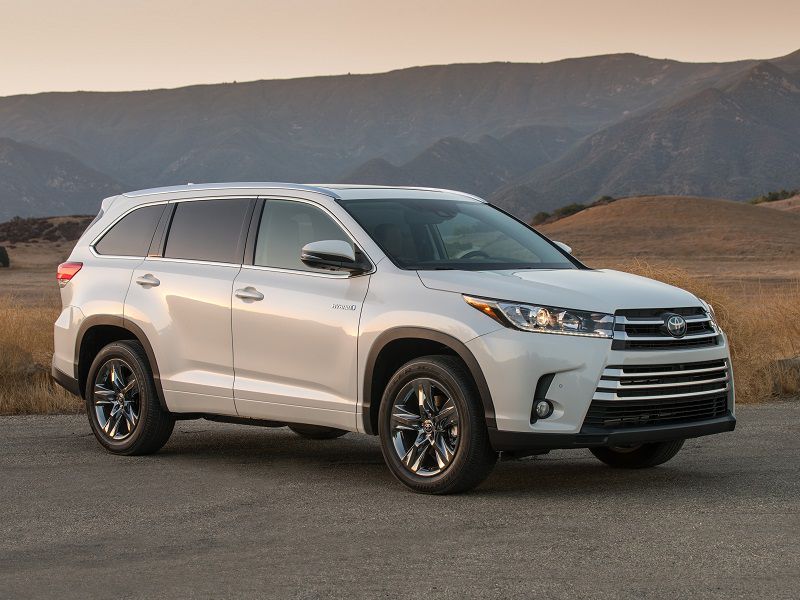 Photo by Toyota
8. 2018 Mitsubishi Outlander PHEV
A conventional gas-electric hybrid uses the gasoline engine and friction from the brakes to recharge its electric batteries. But for maximum efficiency, you can get a plug-in hybrid — you charge up the battery using electricity from the gride for some gas-free driving, and then the gasoline engine fires up only after that all-electric range is used up.
One spacious yet affordable used plug-in hybrid electric vehicle (PHEV) is the 2018 Mitsubishi Outlander. It can travel an EPA-estimated 22 miles per charge (as long as you avoid hard acceleration and high-speed freeways), and then its gasoline engine averages 25 mpg after you use up the range. That means the Outlander PHEV enables gas-free commuting for folks who live within about 10 miles of their offices, but fuel savings will plummet the farther you need to drive at a time. Expect to find a 2018 Outlander PHEV for the low $20,000s. You don't get a luxurious or high-tech vibe, but you not only spend far less than for a plug-in Volvo XC90 or BMW X5, but you also get more electric range per charge.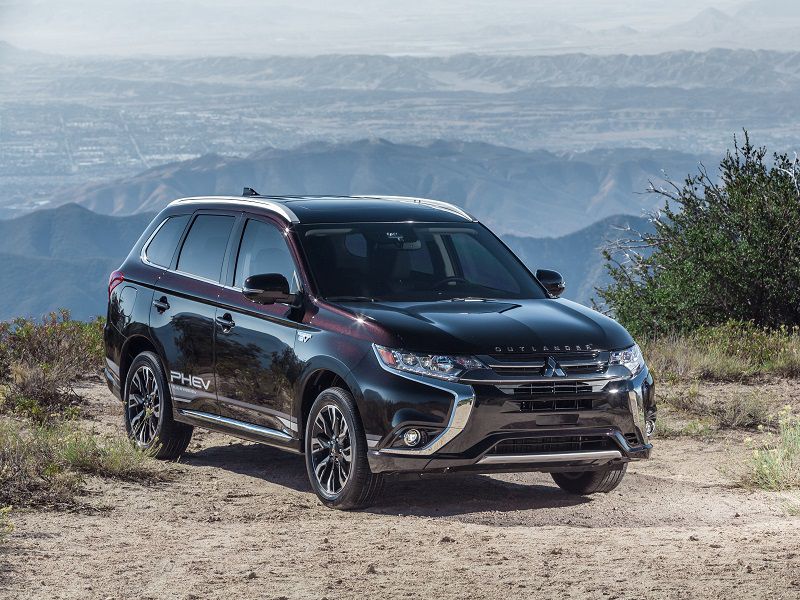 Photo by Mitsubishi
9. 2018 Chevrolet Bolt EV
Like the Nissan Kicks, the Chevrolet Bolt EV isn't much of an SUV. It has no all-wheel-drive option, and it doesn't look big or tough. But the Bolt EV is roughly the same size as the Chevrolet Trax subcompact crossover, and because Chevy didn't need to make room for a gasoline engine, the Bolt has more space to offer passengers than the Trax does.
All this means the Bolt is a quick, comfortable vehicle with an airy cabin and comfortable space for at least four adults. And it can go an EPA-estimated 238 miles per electric charge while averaging the equivalent of 199 miles per gallon, never burning any gasoline. Say goodbye to oil changes, too. If it's big enough for you, and you care more about a high seating position than all-wheel-drive, you can get a 2018 Bolt EV for about $20,000.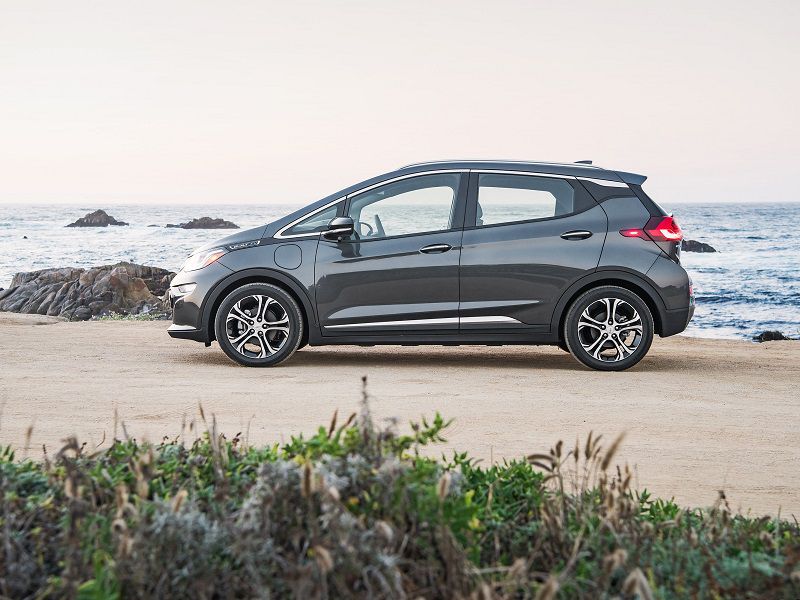 Photo by General Motors
10. 2018 Tesla Model X
The Tesla Model X isn't a tough SUV either, but this all-electric crossover is much bigger than the Chevy Bolt — with three rows of seats inside — and comes with all-wheel-drive.
Plus, like other Teslas, the Model X is a unique experience besides being a fuel-saver. Its front windshield wraps up and over the roof. The rear passenger doors open upward. The interior is dominated by a huge touchscreen infotainment system. And not merely fuel-efficient, the Model X is also crazy-fast, reaching 60 mph in as little as 2.9 seconds. The least expensive 2018 Model X, the 75D, also uses the least energy; it averages 93 MPGe. And it still reaches 60 mph in less than 5 seconds and still has a range of 238 miles, which you can replenish quickly at Tesla's proprietary Supercharger stations. 2018 Model X 75D vehicles are currently selling for around $65,000, while the max-range 100D (295 miles) costs about $85,000 and the highest-performance P100D (with 289 miles of range and the 2.9-second 0-60 time) rises into the $90,000s.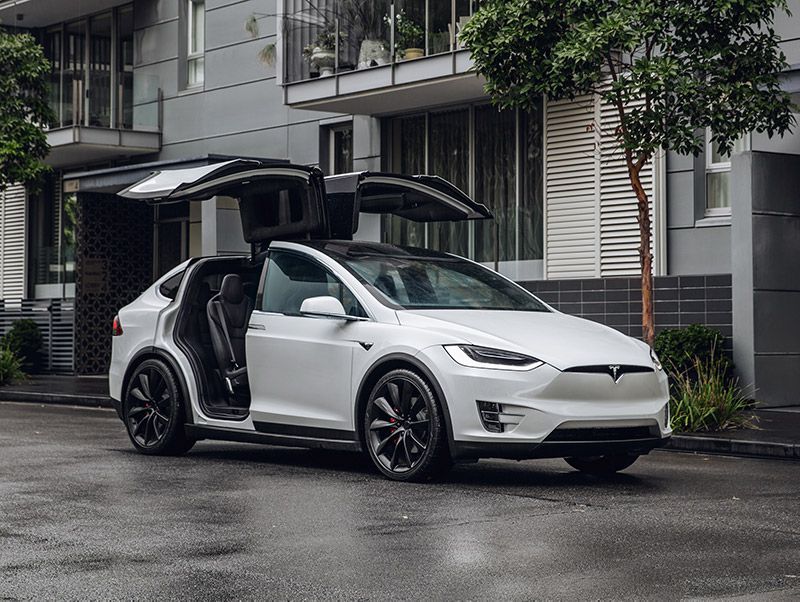 Photo by Tesla