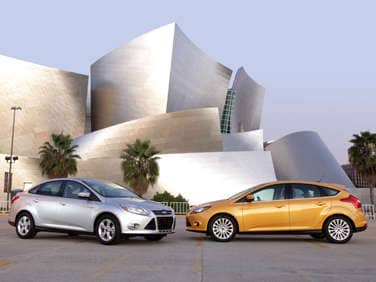 Developing a brand new vehicle is an expensive proposition, which is why car companies prefer to get as much use out of a particular platform as possible before sinking cash into a fresh design.  Sometimes, this means more than simply building cars or trucks that share basic running gear and chassis details - it can mean adding a new body style or model to an existing nameplate in order to turn built-in customer good will into a few extra sales.
Let's take a look at 10 cars and trucks that offer a pair of distinct models designed to appeal to very specific buyer demographics.
01. 2012 Lincoln MKZ - Lincoln MKZ Hybrid
The 2012 Lincoln MKZ represents the Detroit luxury brand's entry-level sedan option, and it features a healthy dose of high tech features, a 263 horsepower, 3.5-liter V-6 and the availability of either front-wheel or all-wheel drive.  The Lincoln MKZ Hybrid, which is priced at exactly the same MSRP as the gas-only edition of the car and looks almost identical, turns up the miles per gallon thanks to the installation of a 2.5-liter, four-cylinder engine that works in tandem with an electric motor in order to generate 191 horsepower and provide an outstanding EPA rating of 41-mpg city and 36-mpg highway.
02. 2012 Nissan Altima Sedan - Nissan Altima Coupe
The 2012 Nissan Altima sedan is a mid-size family car prized for its handling prowess and excellent driving dynamics.  The Nissan Altima sedan can be equipped with either a 2.5-liter, 175 horsepower four-cylinder mill or a 270 horsepower, 3.5-liter V-6, and each unit is shifted via a continuously-variable automatic transmission.  Given the sporty nature of the Altima sedan it seems only natural that Nissan elected to build a sleek-looking Altima Coupe using the same basic platform.  The two-door Altima Coupe maintains the same engine choices but adds the wrinkle of an available six-speed manual transmission as well as 18-inch wheels when ordered in SR trim.
03. 2012 Honda Accord Sedan - Honda Accord Coupe
The 2012 Honda Accord sedan appeals to drivers who are lured by its conservative styling, strong reputation for reliability, and excellent passenger room. Like the Altima, the Honda Accord sedan offers the choice between four-cylinder (2.4-liters, up to 190 horsepower) and V-6 (3.5-liter, 271 horsepower) engines.  The former can be paired with either a five-speed manual or a five-speed automatic, while the latter is auto-only.  The Honda Accord Coupe isn't exactly a performance-oriented model but it does add significant styling pizzazz thanks to the elimination of the Accord's two rear doors.  The Accord Coupe features the same drivetrain options found with the sedan, with the bonus of a six-speed manual gearbox for those who order the vehicle with the V-6.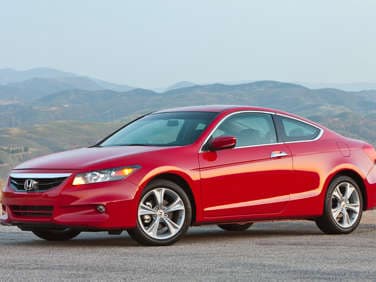 04. 2012 Cadillac Escalade - Cadillac Escalade EXT
The 2012 Cadillac Escalade is an impossible-to-ignore full-size luxury suv that not only drips with high end features but also delivers substantial practicality thanks to its available eight-passenger seating and copious 108.9 cubic feet of total cargo space.  Opting for the Cadillac Escalade EXT swaps out the rear row of accommodations for a truck bed that can be extended into the cabin by way of the vehicle's Midgate feature, creating an exceptionally configurable SUV that has few rivals on the premium market.  Both versions of the Escalade are motivated by a 6.2-liter V-8 engine that churns out 403 horsepower and 417 lb-ft of torque, managed by a six-speed automatic transmission and available with the option of all-wheel drive.
05. 2012 BMW 5 Series - BMW 5 Series GT
The 2012 BMW 5 Series provides mid-size luxury shoppers with the chance to slip behind the wheel of a car that is both quite comfortable and also engineered to provide more than a few thrills when pushed hard through the corners.  Engine options for the 5 Series range from a turbocharged, 2.0-liter four-cylinder (240 horsepower), all the way up to a twin-turbo, 4.4-liter V-8 (400 horses), with a turbocharged, 3.0-liter six-cylinder (300 ponies) thrown into the middle of the pack for good measure.  The BMW 5 Series Gran Turismo, or GT, is essentially a hatchback 5 Series that rides on a stretched platform that offers more passenger room as well as a few extra luxuries to justify its significantly higher pricing.  The unusual 5 Series GT drops the four-cylinder from the options list but otherwise paces the sedan in terms of engine configurations.  Both models are available with all-wheel drive.
06. 2012 Lincoln Navigator - Lincoln Navigator L
The 2012 Lincoln Navigator is a direct competitor to the Escalade, featuring a more refined take on the Cadillac's brash styling but still coming across as larger than life - an important consideration for a full-size luxury SUV.  The Lincoln Navigator can seat up to eight passengers, and 104 cubic feet of cargo space are available with the rear two rows out of the picture.  For those who feel the need to stretch their legs and cram in even more gear - up to an additional 24 cubic feet - the Lincoln Navigator L extends the sport-utility vehicle's platform to introduce substantial additional space for those riding in the third row.  All Navigator models feature a 5.4-liter V-8 engine that generates 310 horsepower and 365 lb-ft of torque, sent to either the rear or all four wheels (if optional four-wheel drive is selected) via a six-speed automatic transmission.
07. 2012 Ford Focus Sedan - Ford Focus Hatchback
The 2012 Ford Focus Sedan is aimed squarely at compact car shoppers looking to stay within their budgets but still acquire a vehicle that offers a suite of modern features.  All-new for the current model year, the Ford Focus Sedan is a sharp-looking entry-level four-door that can be had with exotic equipment like an automatic parking system and the MyFord Touch vehicle interface.  The new Focus is also quite fuel efficient, boasting 28-mpg city and 40-mpg highway numbers when its 160 horsepower, 2.0-liter four-cylinder engine is equipped with the SFE package.  Opting for the Ford Focus Hatchback (also a four-door) vastly enhances the compact's practicality due to its available 44.8 cubic feet of hauling space with the rear seats folded forward.
08. 2012 Land Rover Range Rover Evoque - Land Rover Range Rover Evoque Coupe
The 2012 Land Rover Range Rover Evoque shrinks down the British SUV-builder's off-road prowess and substantial luxury into a compact package that has been styled to grab as many eyeballs as it can.  The Land Rover Range Rover Evoque comes with standard all-wheel drive that is bolstered by the brand's Terrain Management System, a feature that makes short work of a variety of challenging trail-type driving surfaces.  Unique in the SUV universe is that fact that the Range Rover Evoque can be had in both traditional four-door as well as two-door Coupe body styles, and the crossover maxes out at 51 cubic feet of total cargo space.  A 240 horsepower, 2.0-liter four-cylinder engine is included with the Evoque, as is a six-speed automatic transmission.
09. 2012 Honda Civic Sedan - Honda Civic Hybrid
The 2012 Honda Civic Sedan is a strong-selling compact option that delivers good value for the money, offering buyers everything from the stripped-down DX model all the way up to the EX-L's available heated leather seats, sunroof and premium stereo system.  The Honda Civic Sedan is also reasonably thrifty at the fuel pump, with a fuel mileage rating of 29-mpg city and 41-mpg highway in certain trim levels associated with its 140 horsepower, 1.8-liter four-cylinder engine.  Not good enough?  The Honda Civic Hybrid ups the ante considerably to 44-mpg city and 44-mpg highway through its Integrated Motor Assists system that consists of a 1.5-liter, four-cylinder gas engine and a battery-powered electric motor that produce a combined 110 horsepower.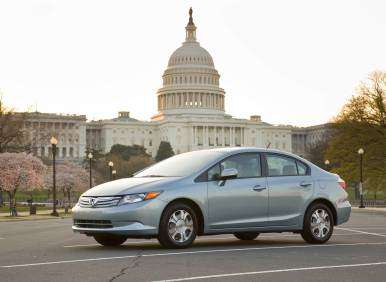 10. 2012 Nissan Murano - Nissan Murano CrossCabriolet
The 2012 Nissan Murano appeals to mid-size crossover shoppers who want to step outside the norm and drive a family vehicle that doesn't look like a box - or a box with curves.  Reasonably rewarding to drive thanks to its sporty suspension system, the Nissan Murano seats five and can cart around 64 cubic feet of cargo, if required.  A 260 horsepower, 3.5-liter V-6 shifted by a continuously-variable automatic transmission is standard, and all-wheel drive is optional.  For drivers interested in blowing the status quo completely out of orbit, the Nissan Murano CrossCabriolet chops off the rear too doors - and more importantly, the roof - to create a convertible crossover that is generously equipped, makes use of the standard Murano's engine, and features standard all-wheel drive.