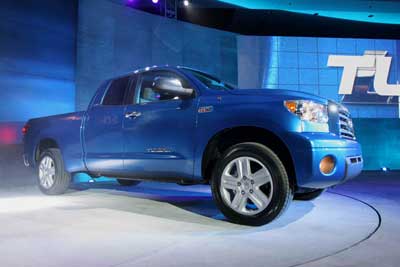 Okay – so you know about the Prius. In fact, you probably see Toyota's popular hybrid car all the time, and maybe even wish that you owned one. Chances are you own a Toyota vehicle such as the Toyota Camry, or one of the other vehicles that have built this company a reputation as the maker of dependable, quality cars, SUVs and trucks built to provide thousands of families with efficient, comfortable transportation. But you've seen nothing like the new Tundra. Straight from the people who made hybrids hip comes a monster truck that will tow more than 10,000 lbs., promises to guzzle gas, and is built with one aim: taking full-size truck sales away from Nissan, Ford, GM, and Dodge. Revealed at the 2006 Chicago Auto Show, the Tundra is arriving at dealerships now, built in the US, and, it seems, ready to put the Detroit 3 on notice: you can no longer expect your trucks to get the lion's share of truck sales. From the looks of it, the only thing efficient about the Tundra is how it will sell in America's robust truck market, and how it will handle truck-like chores such as pulling up stumps and towing trailers. The Tundra is just the tip of the Toyota iceberg, and symbolizes the growing American identity of Japan's top automaker. Indeed, few things are as American as big trucks – except, perhaps, for NASCAR. Toyota has already won the Craftsman Truck Series, and has now entered the Nextel Cup Series, as well. And while watching a Camry take a victory lap at Daytona may seem strange to some, it's fitting, as next year Toyota will celebrate 50 years selling cars in America. Beginning in 1957, Toyota began selling vehicles here, and began manufacturing parts in 1972. In 1986, they expanded operations to manufacture vehicles in a joint venture with GM at New United Motor Manufacturing, Inc. in Fremont, California. The Camry, America's top-selling car for the past four years, is built at Toyota's Georgetown, Kentucky plant. More than six million Camry models have been sold in the United States since its debut 23 years ago.
50 years in America
That's a significant commitment, resulting in a large number of cars built on American soil by American workers, and sold to American families. In fact, save for the profits that stream toward Tokyo, Toyota is well-established as a domestic manufacturer of vehicles. With 15 million cars built in the US over the last 49 years, Toyota now manufactures 10 vehicles in North America: the Avalon, Camry, Corolla, Matrix, Sequoia, Sienna, Solara, Tacoma, Tundra, and Lexus RX330. Production of the Camry Hybrid will begin in the fall of 2006 in Kentucky and the RAV4 in 2008, in Ontario, Canada.
The investment has paid off handsomely, with a 34 percent increase in profits for its most recent fiscal quarter, as well as Toyota's position as the third best-selling automotive brand in the US and fourth-largest automobile manufacturer. Most analysts say that within the next few years, Toyota may overtake GM as the number one automaker in the world. The success of this automaker is based, especially from a manufacturing perspective, on the Toyota Production System, and its philosophy of or "progress through steady improvement." Or as Jim Press, Toyota Motor USA president said during an interview at the Chicago Auto Show, ""In our company, there are two planning processes, short-term and long-term. Short-term (means) in our lifetime." Part of that planning includes $12 billion in new manufacturing facilities, with a goal of raising U.S. sales by five percent this year. According to Victor Vanov, a spokesperson for Toyota Manufacturing North America, the investment reflects the company's customer-first focus. "That's what's made us very successful," said Vanov. "Our customers keep demanding things, and we listen to them. We know the markets we want to reach and we listen to our customers-take the new Camry, for instance. We listened and it's a new global car that's the product of that. We also believe in 'localization', or building vehicles where we sell them," said Vanov. "It's also quality and dependability. Team members can pull a cord and stop the line at any point to make a correction. We have more than 36,000 employees in America and the Center for Automotive Research on Cars found that there are some 400,000 spin-off jobs," said Vanov. "Look at our new plant (Toyota's second full-sized truck manufacturing facility) in San Antonio, Texas, which we broke ground for in 2003, and will formally open in 2006. One in seven pickup trucks are sold in Texas-it's the heart of truck country. So, that's where we're now building the new Tundra." Toyota will also build the Tundra in Indiana.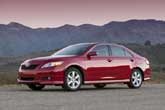 NASCAR Camrys
Toyota's participation in NASCAR racing includes fielding three Toyota Camry teams in the NEXTEL Cup Series. For Les Unger, national motorsports manager for Toyota Motors Sales, USA, Toyota's entry into cup racing with three Camry teams puts the sedan in front of a huge and passionate following. "There are approximately 75 million fans that watch cup racing and we want to build on this enthusiastic and loyal fan base by entering the NEXTEL and Busch Cup Series in 2007, said Unger. "We feel motorsports provides a unique avenue to reach out and touch another form of the population, and expose the company brand." While racing Camrys in America is new, Toyota has participated for 24 years in American professional auto racing, throughout the United States, such as NASCAR's Craftsman Truck Series. Some recent accomplishments are NASCAR victories at historic race tracks including Bristol and Richmond, along with wins at more modern raceways, such as Las Vegas and Texas. Other achievements include wins at the 2003 Indianapolis 500; the 24 Hours of Daytona and 12 Hours of Sebring sports car classics; and the Pikes Peak International Hill Climb; and the Baja 500 and the Baja 1,000. Additionally, Toyota's engines have been the powerplant for Manufacturer's and Driver's championships in a variety of racing series -- including the IRL, CART, IMSA, SCORE, MTEG, CORR and the NASCAR Goody's Dash Series. Racing in the NEXTEL Series will be part of an "overall marketing umbrella, where we are trying to reach a certain segment of the population," said Unger. "Obviously, NASCAR is the most popular form of motorsports racing in the U.S." It would seem fitting, then, that the most popular car in America be a part of NASCAR, as Toyota celebrates 50 years of selling cars in America, and increases its commitment to make more cars here in the future, one that Toyota is increasingly positive about. "People are living longer and driving longer," said Press. "Baby Boomers are at 78 million strong, and they are alive and well and living to an average age of 77 plus. This generation grew up with the muscle car; they love the freedom that automobiles provide and won't give them up anytime soon," said Press "In fact, CNW Research notes that seven vehicles---more than half---of the 13 cars the average American buys over a lifetime, are purchased after the head of the household turns 50.When you realize that 60 percent of the US population will be 50 in the next five years--and that those same people control more than half of all consumer spending, you realize that a truly enormous opportunity lies ahead, " said Press. From the development of state-of-the-art technology, to racing and manufacturing in the US, it's clear that Toyota has done its homework--at home, across the seas; and, at home, in the US -- where it celebrates five decades of investing, listening, building and engineering products that have captured an ever-growing vote of confidence in a land that loves the automobile. Soon 50, this Japanese automaker has spun gold in America-from its Camry to the Prius and the all-new Tundra.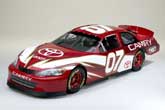 Built in US: Toyota Avalon
Built in Georgetown, Kentucky, Toyota's full-sized Avalon sedan is redesigned for 2005, equipped with a powerful and refined new 3.5-liter V6 engine, a larger and more luxurious interior, and several new technologies to the Toyota brand such as laser-guided cruise control, LED turn signals integrated with the side mirror housings, remote engine starting, and keyless engine starting.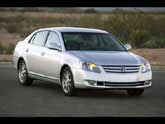 Built in US: Toyota Camry
Built in Georgetown, Kentucky, the 2007 Toyota Camry is completely redesigned for the 2007 model year, and features more room, more comfortable interior, better driving dynamics and a slightly more stylish exterior.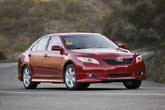 Built in US: Toyota Camry Hybrid
To be built in Georgetown, Kentucky, the 2007 Toyota Camry Hybrid is the second hybrid vehicle to be built in America, following the Ford Escape Hybrid. The Camry Hybrid is virtually identical to the internal combustion-only Camry, save for the powertrain, environmental controls and slight exterior modifications.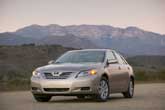 Built in US: Toyota Corolla
Built in Fremont, California, the Corolla receivedCorolla received a fresh face in 2005, with new bumper, grille and headlight treatments, along with restyled rear taillights. The uplevelup level Corolla LE gets Lexus-style Optitron gauges, fabric-covered sun visors and a center console lid. Base CE and premium LE Corollas get fresh wheel covers and the sporty S model receives a new front spoiler, fog lamps and smoked headlamp masking. Side curtain airbags and vehicle stability control are new options on all 2005 Toyota Corolla sedans. Look for a new Corolla by the 2008 model year.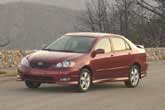 Built in US: Toyota Sequoia
Built in Princeton, Indiana, Toyota made significant upgrades to the 2005 Sequoia to ensure the full-size SUV's appeal in years to come. The 4.7-liter V8 engine makes 282 horsepower and 325 lb.-ft. of torque now, transferring that force to the rear or all four wheels through a five-speed automatic transmission. On the outside, a new grille in a revised front fascia, redesigned taillights, and color-keyed fender flares update the styling. A new SR5 Sport Package adds a rear height control suspension, fog lights, tubular side step rails, unique alloy wheels, a front skid plate, and a JBL premium audio system. A new Limited Luxury Package includes a rear height control suspension, leather second-row bucket seats with a removable center console, wood interior trim, memory for the driver's seat and exterior mirrors, and Optitron gauge lighting. Other changes include available seat-mounted side-impact airbags and side curtain airbags with rollover sensors, an optional navigation system, and a new push-button 4WD system.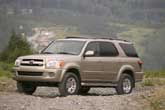 Built in US: Toyota Sienna
Built in Princeton, Indiana, the Toyota Sienna was rebuilt for the 2004 model year and has become a leading minivan in terms of sales and popularity. Most recent changes include a power passenger's seat for XLE and Limited models.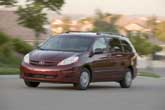 Built in US: Toyota Solara
Built in Georgetown, Kentucky, minor upgrades accompany the Toyota Camry Solara into the 2006 model year. Four-cylinder models increase highway fuel economy by 1 mpg to 33 mpg, thanks in part to a new five-speed automatic transmission with sequential shift mode. All Camry Solaras have power lumbar support for the driver this year, and convertibles get new "donut-style" rear headrests that improve visibility whether the top is raised or lowered. Solara SLE models receive new wood trim for the interior that replaces the reddish tint of the previous decor with a lighter-colored brown hue.
Built in US: Toyota Tacoma
Built in Fremont, California, the Tacoma got a complete makeover for 2005, growing larger in every dimension to offer more passenger room, cargo space and towing capacity. Regular, extended (Access Cab), and crew cab (Double Cab) models are available, with a choice of long or short bed lengths, and powered by either the rear or all four wheels. All 2005 Toyota Tacomas are equipped with antilock brakes with brake assist, and nearly any Tacoma can be outfitted with an optional stability control system. Side-curtain airbags are available on Double Cab models for extra occupant protection. A 164-horsepower, 2.7-liter inline four-cylinder engine is standard and a 245-horse, 4.0-liter V6 is available, with a choice between a six-speed manual or a five-speed automatic transmissions. Maximum towing capacity for the Tacoma V6 is 6,500 pounds, and every Tacoma gets a composite inner bed that is lighter and more durable than steel. There's even an optional 115-volt outlet for the bed wall to power electrical accessories. Toyota Racing Development (TRD) offers Off-Road and Sport packages this year, and 4WD V6 Tacomas with the TRD Off-Road package and an automatic transmission include a new Downhill Assist Control (DAC) system to limit speed in steep descents.