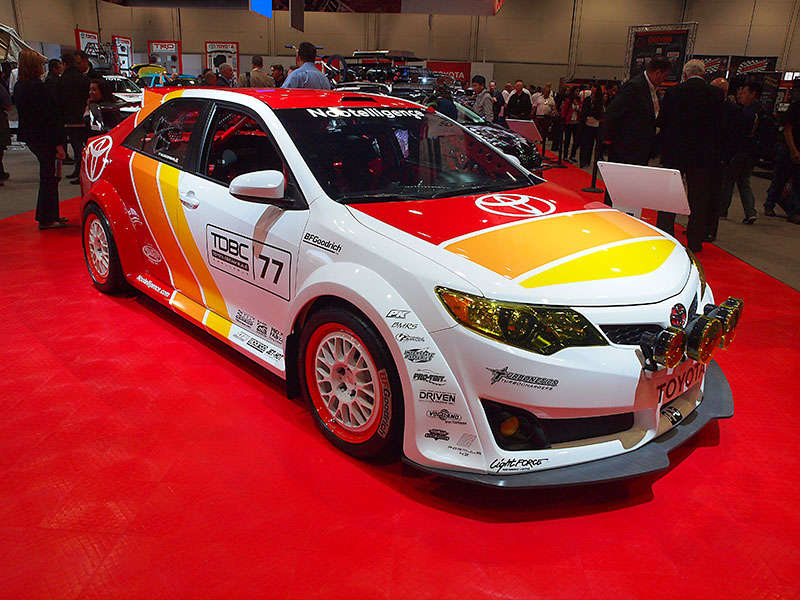 Toyota is no strange to rally competition, having in fact been banned from the WRC due to an elaborate cheating scandal in the mid-90s.  The Toyota Camry, however – the brand's mid-size, bread-and-butter family sedan – isn't really a name that is often associated with any form of motorsports outside of its tangential connection to the vehicle run by Toyota in NASCAR.
This makes Toyota's most interesting SEMA 2013 entry that much more surprising.  The Toyota CamRally is the result of the Toyota Dream Build Challenge, in which the automaker paired a number of professional athletes with car customizers in order to produce unique takes on the brand's products.  The CamRally sprung forth from the mind of Parker Kligerman, a NASCAR driver who is no stranger to the sedan in its Sprint Cup form, Detroit Speed, and the Kyle Busch Motorsports team.
Setting the Toyota CamRally apart from the standard four-door edition of the car are its wide-body treatment, its extensive set of auxiliary lights, the huge spoiler tacked onto the rear, a jutting front lip (to go with its aggressive front fascia treatment), and a stripped-down interior that features a competition roll cage.  Long-time rally fans might also notice that the CamRally has been painted in Toyota's traditional livery of orange, yellow, and red.  Big brakes are present to haul the CamRally down from super-legal speeds prior to entering a corner, and the Dream Build contestant also comes with a turbocharged edition of the Camry's 3.5-liter V-6 engine.  Both Kligerman and Toyota were mum, however, about how much power this particular setup was pushing out.
Other Toyota Dream Build Challenge entries included a Toyota Tundra pickup modified by Joe Gibbs Racing Motocross drivers Justin Brayton and Josh Grant, a Toyota Corolla customized by professional BMXer Drew Bezanson, and a Toyota 4Runner put together by Simon Dumont, freestyle skier.