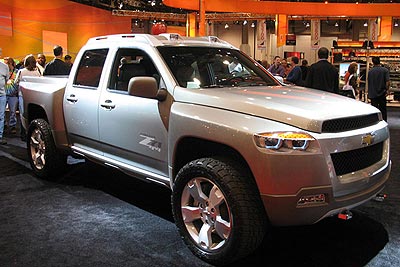 Top Ten SEMA Trucks – Photo Gallery: Las Vegas – Between the press coverage of hot rods, hot girls, and hot new products, it can be easy to lose sight of all that a walk through the halls of a SEMA show can expose – such as some very cool trucks. Indeed, there's more to see than glossy classic muscle and hopped-up modern imports. Truck guys and gals get their eye candy, too, from towering American SUVs to slammed import pickups and manufacturer concepts. One example, worthy of Honorable Mention on our Top Ten SEMA Trucks list, is this Chevrolet Colorado Z71 Concept truck, which houses a 320-horse V8 engine and features custom 20-inch wheels and a Flowmaster exhaust system.
How we did it
In an effort to select the best choices for our Top Ten SEMA Trucks list, we walked miles covering this year's show, snapping photos of every truck that stood out, including this Jeep parked in the Hi-Lift Jacks booth. Upon returning to the office, we sifted through the collection and chose those that we felt rose above the rest because of style, modifications, paint, perfection, or because they just looked cool. Scientific is not a way to describe our process here, but highly subjective is. Truth is, there were more trucks at the 2006 SEMA show than you could count, each probably being at least one person's favorite. Consider the vehicles on the following pages to be ours.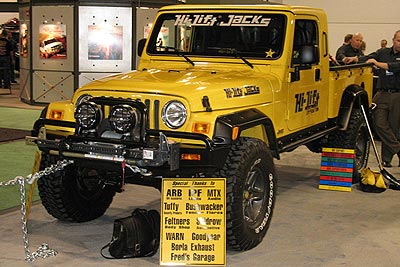 Cadillac Escalade
To say this isn't your grandfather's Cadillac would be quite an understatement. Dubbed the Extreme Escalade, this Caddy rides on a Full Throttle 15-in suspension front and rear with coil-over shocks all around. A 6.2-liter V8 is enhanced by a custom intake and Gibson stainless steel exhaust system. For a footprint, the Extreme Escalade uses 22-inch Weld racing wheels rolling on 37x13.5x22-inch Toyo Open Country off-road tires.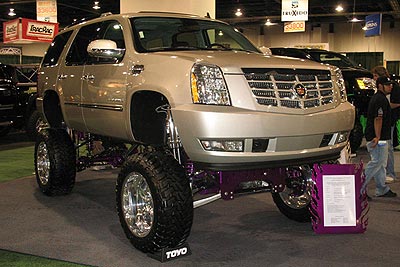 Cadillac Escalade EXT
Yeah, this is subtle. Then again, subtle isn't exactly DUB's thing, so their rendition of this 2007 Cadillac Escalade EXT, rolling on 26-inch TIS wheels and Pirelli tires and soaked in Baby Blue paint, should be right in line with expectations. The interior is dressed in color-coordinated suede and leather, while entertainment offerings include a DVD player, headrest screens, a PlayStation, and a 15-inch monitor that folds out of the ceiling. Power comes from the Cadillac's standard 403-horsepower V8.
Chevrolet Avalanche
This is one truck that drew tons of attention outside the halls of the 2006 SEMA show, and not just because of its height, massive tires, or lime green chassis and flames. Inside, this Chevrolet Avalanche was decked out in custom leather and featured more electronics than your local Best Buy. To top it off, all the doors – including those scissors in front, the rears, the tailgate, and even the rear tonneau – opened and closed electronically.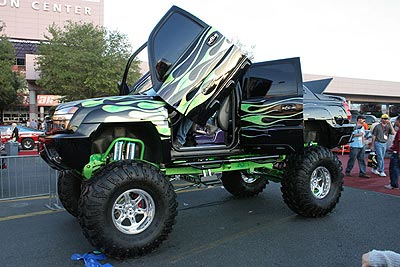 Dale Earnhardt Jr. 'Big Red' Chevrolet Silverado
He may spend his weekends hitting 180 mph on the track, but that doesn't mean Dale Earnhardt Jr. can't be a fan of rugged trucks. The Budweiser No. 8 NASCAR driver joined forces with GM in creating this "Big Red" Chevrolet Silverado for exhibition at the 2006 SEMA show. Unique enhancements include an off-road heavy-duty suspension, substantial body panel revisions including Baja-type rear fenders, and 20-inch wheels. A 6.2-liter V8 is under the hood, and provides 380 horsepower backed by 417 lb.-ft. of torque. Other hardware includes Eaton locking differentials and Baer brakes.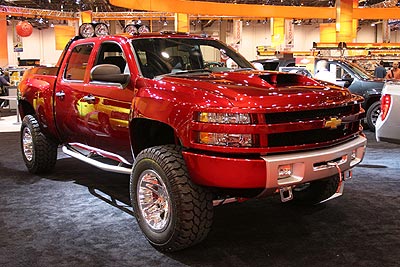 1956 Ford F-100
SEMA may have a reputation for bling, celebrity appearances, and outrageous designs, but sometimes a clean, exquisite restoration is what catches your eye. That, and some bright orange paint coupled mods including a lowered suspension. Such was the case with this 1956 Ford F-100 spotted outside the Las Vegas Convention Center.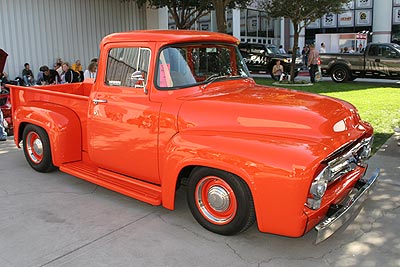 Ford F-650
This one almost defies description. For some perspective, take a look at the guy standing near the driver's side taillight, who's about average height. And then when you consider how long this motha' trucka' is, it's safe to assume that it may not be the best off-road rig, despite offering six-wheel drive. Power comes from a Caterpillar powerplant pushing 330 horsepower, while the lift is courtesy of Fabtech shocks and a custom air suspension system. Interior enhancements include a PlayStation unit, TV, and DVD player.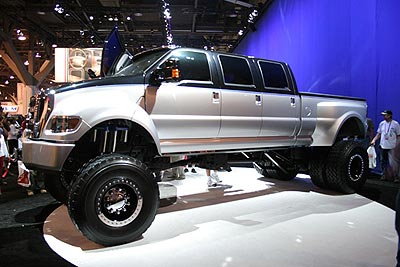 Jeep Wrangler
There's a saying that describes the fastest, most direct route from point A to B – "as the crow flies." Because of terrain, most vehicles are forced to stick to the pavement and, thus, a meandering trip to their destination. Unless that vehicle is the Suicide Sally, an off-road Jeep built by Poison Spyder Customs. This rig hungers for boulders and unwelcoming obstacles, which provide opportunities to utilize its GM Ramjet 502 engine juiced with nitrous, front and rear Dana 80 axles, coil-over shocks, and 16x12-inch Weld wheels rolling on 46-inch Mickey Thompson tires. Rough terrain doesn't stand a chance.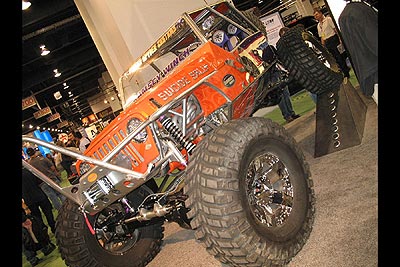 Nissan Armada
Full-size SUVs have served as a platform for upgrades since they were created, with add-ons such as huge chrome wheels, interior electronics, tinted glass, and more. Nice stuff, but it's been done. Well, Unique Auto Sports offers a new take with this orange and cream Nissan Armada displayed under the Nissan NISMO sign at the 2006 SEMA show. Solid 24-inch alloys feature etching and roll on 305/35 Pirelli Scorpion Zero tires, berber-like carpeting accents the cabin, and a Mark Ecko leather is used throughout the interior. The rear windows are blocked out with suede panels, and possibly most unique is the matching vinyl roof.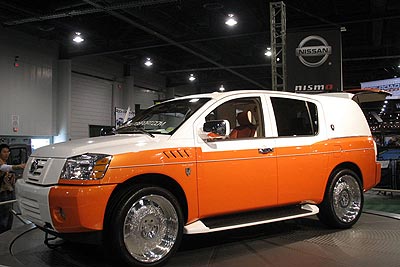 Toyota FJ Cruiser
We tested the Toyota FJ Cruiser last year and found it to be a terrific off-roader, but with our tester's yellow body paled in comparison to this FJ put together by the Real Wheels company. In addition to various add-ons like the front guard, push bar, side steps, and 20-inch Nitto Mud Grabber tires wrapped around XD Series alloys, this beach-going Toyota featured Rhino lining on the fascias and wheel flares, bright KC lights overhead, and additional grab handles fitted inside.