Our choices from the most glamorous, gigantic, exhausting, expensive car show on Earth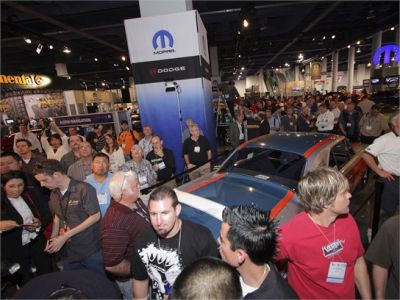 Cram over 2,000 insanely customized cars and over 100,000 people into 2 million square-feet of Las Vegas Convention Center, and you have a recipe for the most glamorous, gigantic, exhausting, expensive car show on Earth: The SEMA Auto Show. Creating a gallery of our favorites from the show is like asking Hugh Hefner to pick his favorite girlfriend, but here it is. Enjoy, and check out .
Photo Credit: MyRide Staff
Page 2
If the stock Chevy Camaro is an all-American brawler in jeans and those fingerless-hobo gloves, the Chevy Camaro Black Concept is a stealth-suit wearing ninja. With a matte-black-finish hood, taillamps with dark-tinted lenses, and 21-inch wheels with a dark finish, this Chevy Camaro is so blacked-out, its own shadow has trouble following it.
Photo Credit: MyRide Staff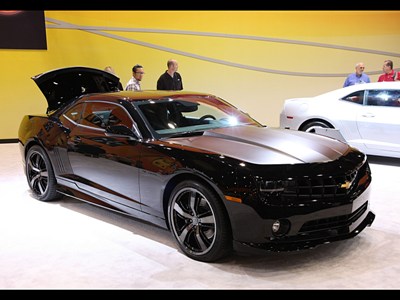 Page 3
You knew Phish was going to get back together, you knew Rocky V was going to be terrible, and you knew sooner or later someone would drop a Dodge Viper V-10 engine in a Dodge Challenger body. And where better to show such a creation off than at the 2008 SEMA Show?
Photo Credit: MyRide Staff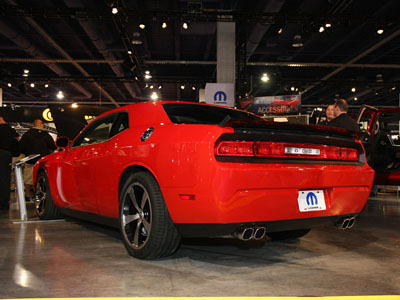 Page 4
Electric cars are wimpy, right? They're slow, usually ugly, not very powerful...glorified golf carts, really. If that's your electric vehicle stereotype, you're in for a shock: The PML Ford F-150 Hi-Pa. This all-electric version of Ford's bestselling pickup dumps the V-8 engine and the rest of the drivetrain is gone, replacing it with electric motors at each wheel that make 150 hp and 500 lb.-ft. of torque...each. A 600 hp, 2,000 lb.-ft. electric truck? Who says electric vehicles are wimpy?
Photo Credit: MyRide Staff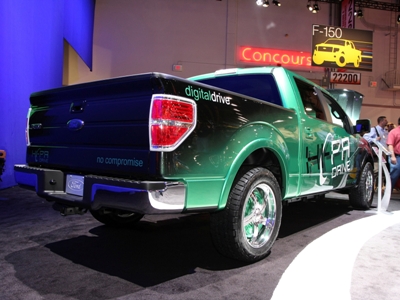 Page 5
Let's do some math. Gold closed today at about $740 an ounce. There are roughly 35 ounces in a kilo. There are 5 kilos on this rim. There are 4 rims on a car. That means a set of these Asanti rims we spotted at the Lexani booth will run you back roughly $518,000...for the gold bar insets. That doesn't include labor, gold-plating of the rest of the wheel components, tires, or the cost of replacing your car when you get carjacked -- and you will get carjacked. Add it all up and you have some expensive rims. Oh, that is cubic-zirconium on the center cap. Why not diamonds you ask? Too gaudy!
Photo Credit: MyRide Staff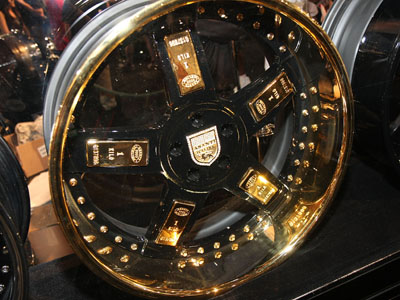 Page 6
What's pink, goes really fast and looks like it was made from Legos? The RENNTech Pikes Peak GLK Hybrid, of course. RENNTech is widely known for the insane things it does to perfectly acceptable Mercedes vehicles, and it introduced several at the 2008 SEMA show. The Pikes Peak GLK is our favorite, because it is fully functional, looks like it's ready to tackle the hillclimb, and uses a very cool turbocharged/hybrid V-6 engine that puts out 375 hp and 320 lb.-ft. of torque to all four wheels. Hey, so what if it's eye-searing pink? It won't sit still long enough for anyone to notice.
Photo Credit: MyRide Staff
Page 7
Roger Federer walks into the Lamborghini dealership and throws an optic-yellow tennis ball to a salesman. He says, "Build me one in this color." Or so that's how we'd like to think this Lamborghini ended up coated in this stunning color. Giovanna matched the color of these 20-inch GFG wheels with input directly from the Lamborghini factory in Bolognese, Italy, and we're pretty sure you could drop jaws outside a Braille readers' convention with this car. It should be noted that this is the only LP560-4 we saw at SEMA. Score one for Giovanna on the find.
Photo Credit: MyRide Staff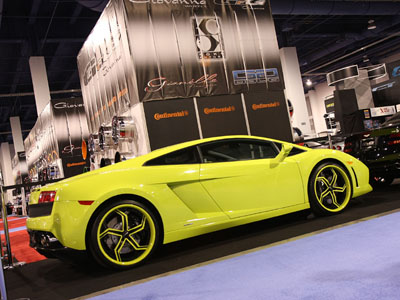 Page 8
What can you do in 11 months with an unlimited supply of money, some of the world's most talented fabricators, designers and automotive engineers, and one 2008 Ford Mustang? Apparently this. Everything on the vehicle is voice-activated, from the doors to the steering wheels. That's right -- there are two steering wheels, depending on which side of the vehicle you feel like sitting on. One retracts, the other extends. Why you need that, I have no idea, but if you drop $1,000,000 into a Ford Mustang, those types of questions quickly become irrelevant.
Photo Credit: MyRide Staff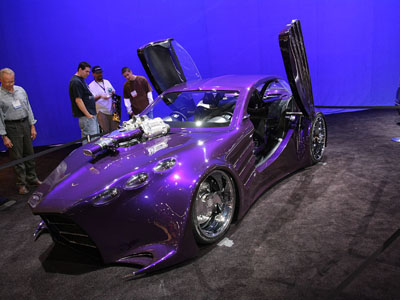 Page 9
Chronic speeders usually realize that there's a benefit to having a radar detector. Yet with so much of traffic enforcement automated these days thanks to speed cameras and the like, having a detector that knows where those nano-nuisances are located is a breakthrough. That's what Escort has introduced with its Passport 9500ix. The 9500ix packs a GPS receiver and detailed description of every speed camera, speed trap and red light camera out there.
Photo Credit: MyRide Staff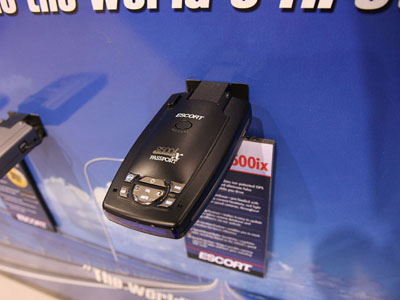 Page 10
When you put these doors on anything else, they are called Lambo-doors. When you put them on the Prius, I'm pretty sure they become fairy wings. And speaking of which: Unless they let the vehicle soar through the air, this vehicle doesn't fly with us. In other words, that ain't right.
Photo Credit: MyRide Staff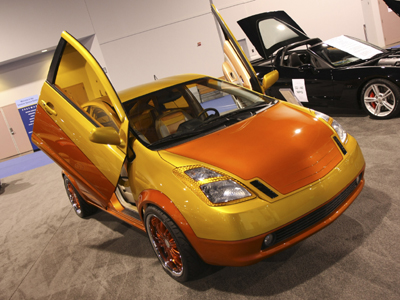 Page 11
The TaleGator is what we call a "Why didn't I think of that" automotive accessory, and amazingly, TaleGator claims it is the only product of its kind on the market. With two air-cushion seats and two cupholders molded into a design that fits perfectly on any tailgate, the TaleGator is perfect for football parking-lot barbeques, fishing off the side of bridges, and pulling the kids in inner-tubes behind the Silverado when it snows.
Photo Credit: MyRide Staff