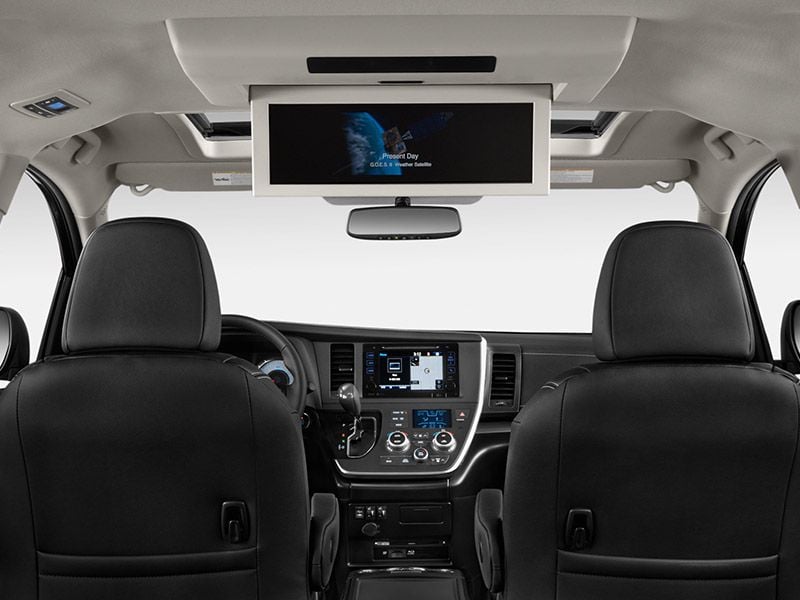 2015 Toyota Sienna SEED ・ Photo by Toyota Media
Minivans sometimes get a bad rap, but the truth is that these are some of the most lavish vehicles on the road — especially when decked out with features in higher trim levels. It's true; a loaded minivan can come equipped with options typically only found in luxury vehicles. If you've got the dough, and a penchant for the finer things in life, driving a minivan doesn't have to stop you. Push the stigma aside and take a look at some of the most convenient and cushy features these modern family haulers have to offer.
1. In-car Vacuum Cleaner
It's funny how this not-so-glamorous device outside of the car can be considered such a luxury inside of a minivan, but if you're one who shuttles a mini-crew regularly, it's truly decadent. Currently, both the Honda Odyssey and Chrysler Pacifica are the only minivans that come equipped with one; HondaVAC® is available in both the SE and Touring Elite trims on the Odyssey and Stow 'n Vac will come standard with the Limited trim on the all-new Pacifica.
If you select the Odyssey, the vacuum cleaner is located in the cargo area, and can reach throughout the cabin. The Pacifica's is located even more conveniently in the second row. Both vacuums make it a cinch to tackle all that foot traffic coming straight off the field, beach or playground and it's awfully convenient for snack-cup spills and pet hair, too. And considering you can clean up at your convenience and skip scrounging for quarters to use at the local self-service car wash, an in-car vacuum is one of the most desirable features of them all.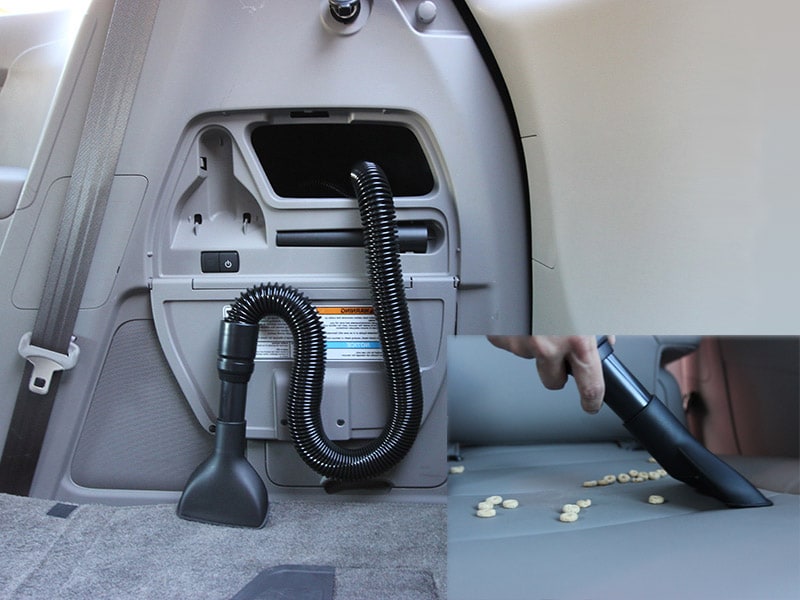 Photo by Honda
2. Easy speak - no more yelling.
If luxury can be found by not even having to raise your voice, Toyota Sienna has a feature just for you. Driver Easy Speak uses a built-in microphone inside the minivan to amplify your voice back to the rear speakers.  No yelling, no taking your eyes off the road to turn backwards, and by making family conversation in the car a bit easier, this small detail has potential for a big impact.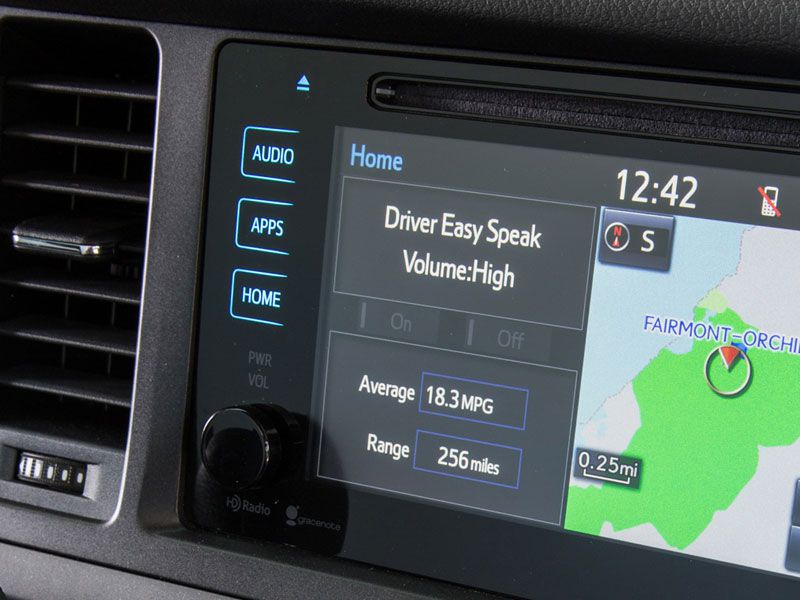 Photo by Toyota
3. Air-cooled seats
Once you've been lucky enough to have heated and cooled seats, it's difficult to go back. The heated seats are more common than the cooled ones; most folks have experienced the wonder of hopping into a car on chilly mornings and getting their back side warmed up right in the driver's seat. But even better are the air-cooled seats that are a godsend when you're saddling into a super-hot vehicle that's been parked in the sun. Shorts, sweat and leather certainly don't mix, and the air-cooled seats will help keep your legs and back from sticking to the seat surfaces with crisp, cool air. Right now, the Kia Sedona SX and SX Limited offer air-cooled seats along with the top-trim level Chrysler Pacifica Limited.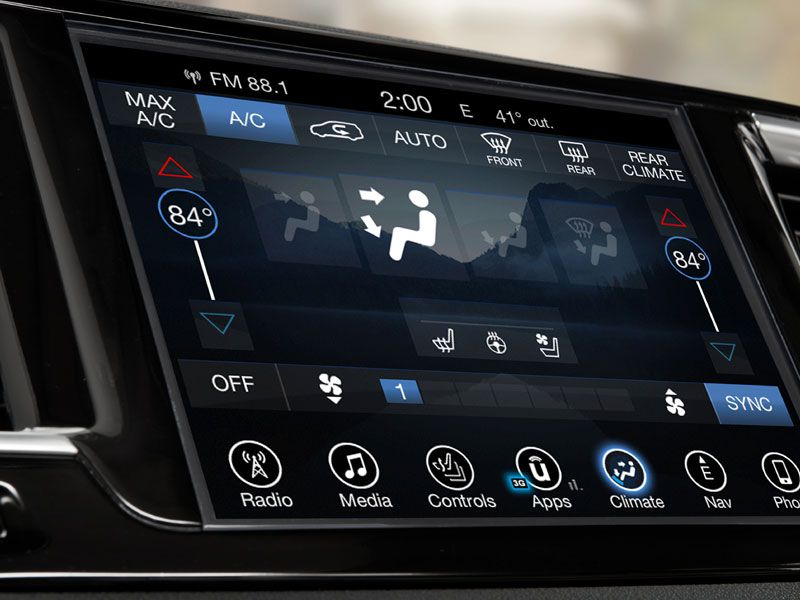 Photo by Fiat Chrysler Automobiles
4. Second row lounge chairs
If you're giving the minivan a break from the mini-passengers with safety seats, your adult passengers can take a load off in the second row and kick their feet up in the Kia Sedona or Toyota Sienna. Kia's First-Class Lounge Seating in the second row comes standard on the SX Limited model and features reclining seatbacks, adjustable headrests and retractable footrests. Toyota's Lounge seating comes standard on the Limited FWD model. It may seem over-the-top, but a feature like this can transform the popular people mover into a living room on wheels. (Tailgating, anyone?)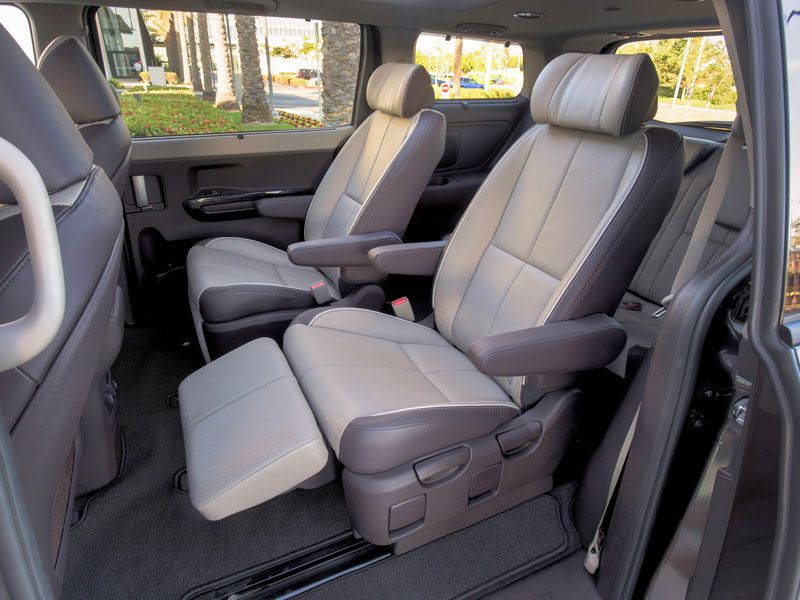 Photo by Kia Media
6. Gas Station finder
Inside the minivan, you're often juggling passengers, schedules and logistics. After you've corralled the kids, input the destination into the navigation system and checked the clock to see if you're going to make it on time, it's easy to forget about the basics needed to get you where you need to go. One of the ultimate luxuries, found in most in-car telematics systems these days, is a fuel station locator. If you're driving a Toyota Sienna with Entune, the vehicle will alert you when you're running low on gas, and ask if it can help you find a nearby pump station. If you're using navigation at the same time, it will even ask if you want to find a station along your route or closer to your destination.
Similar functionality is also available using Chrysler's Uconnect, HondaLink Next Generation, Kia's UVO e-Services and NissanConnect.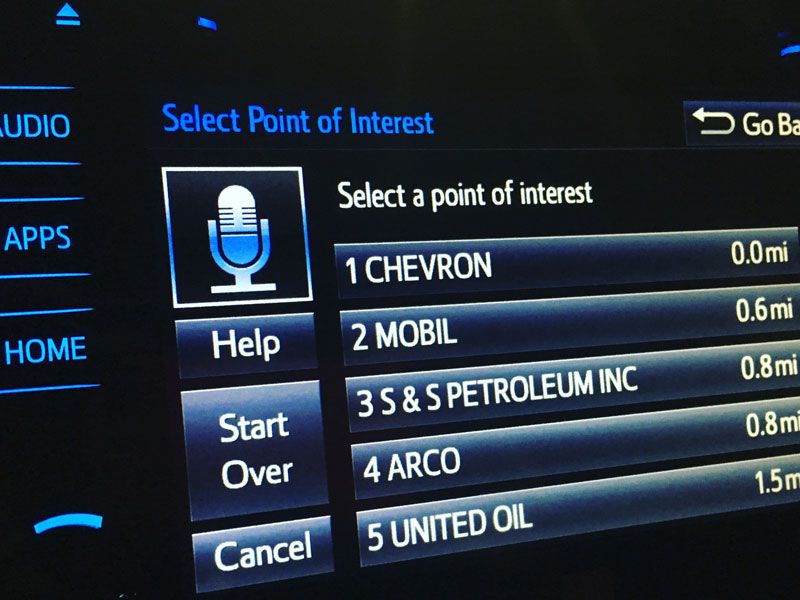 Photo by Carrie Kim
7. Parking Assistance
If you're transitioning into minivan ownership and not used to maneuvering the vehicle's bulky physique, one equipped with some type of parking assistance can be luxurious as well. While rear-view cameras certainly aren't new, the high-end ones now provide various angles of visibility. Nissan Quest was the first to provide a 360° view, and now Honda Odyssey, Kia Sedona and Chrysler Pacifica provide multi-view cameras, too. However, once you're out of the garage and on the streets looking for a parking spot, Chrysler's Parksense® Parallel Park Assistance takes things up a notch by using it's sensors to find an open space on the curb for you. And, if you're battling through a crowded parking lot, the Perpendicular Park Assist will scout out an opening as well. Saving the elbow grease required for parallel parking just might be as luxurious as you can get.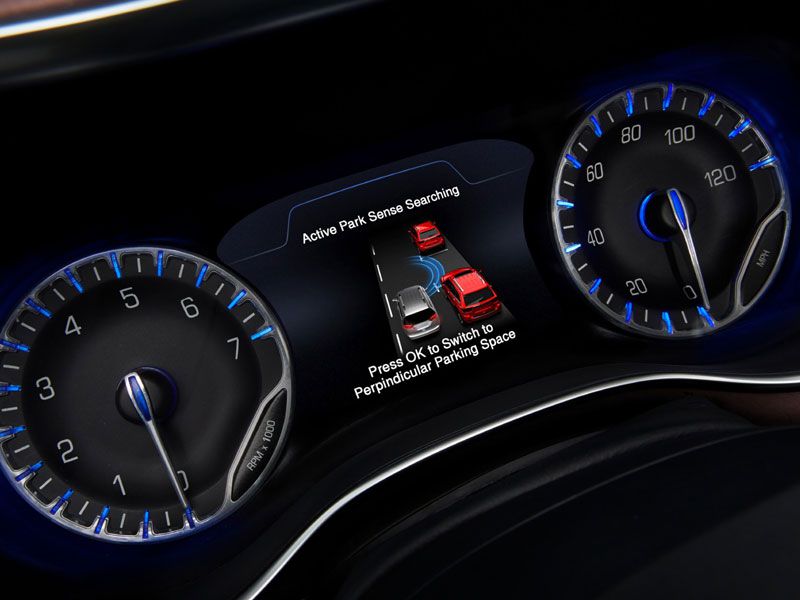 Photo by Fiat Chrysler Automobiles
8. Adaptive cruise control
As if automatically finding your parking spot wasn't luxurious enough, most minivans at the higher trim levels - like the Toyota Sienna shown here - can also be purchased with differring levels of adaptive cruise control. For example, when Toyota's Dynamic Radar Cruise Control is engaged, the car will automatically maintain a safe distance from the car in front of you. Others can deal with the stop-and-go on the highway while you can enjoy the view. Sounds pretty cushy, doesn't it?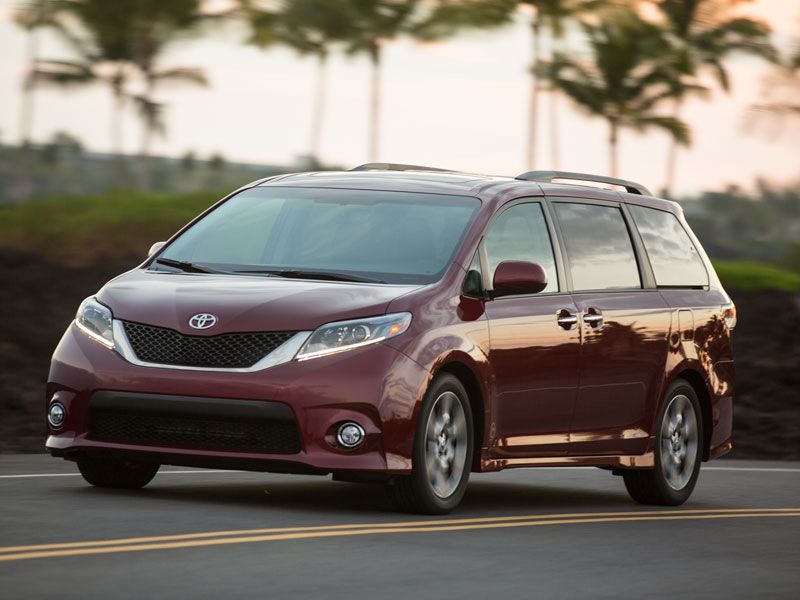 Photo by Toyota
9. Foot swipe open doors
Move over automatic tailgate — the new feature to look out for comes on the Chrysler Pacifica. Just like some of the cargo area doors out there now, you can swipe your foot underneath the side doors of the van, and they automatically open. Keep the baby in your arms, the bags in your hands, and you can get into the Pacifica completely hands-free with the key in your purse or pocket.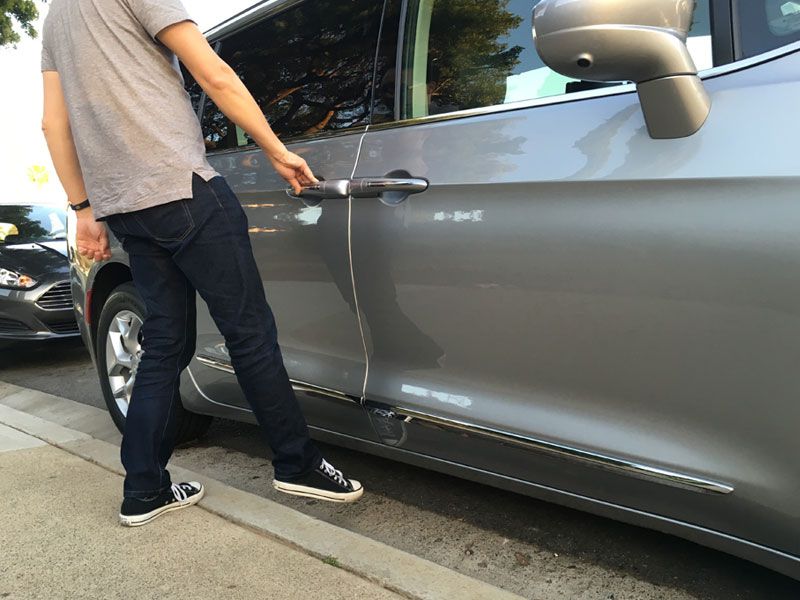 Photo by Carrie Kim
10. Touchscreen infotainment
We suppose some of these luxury features should appeal to the kids, so we added the dual touchscreen infotainment screens loaded with Uconnect Theater offered in the Chrysler Pacifica Touring-L Plus and Limited. The screens are located on the front row seatbacks and can either be operated by touch or remote. Sudoku, License Plate Bingo and other games are part of this all-new entertainment system, and if the kids bore of the pre-loaded games, there are both HDMI and USB inputs to power up the tablet or gaming console. Another contender for infotainment superiority are the Toyota Sienna's 16.4-inch screen with dual-view that can be used either as a single or split screen for DVD and gaming.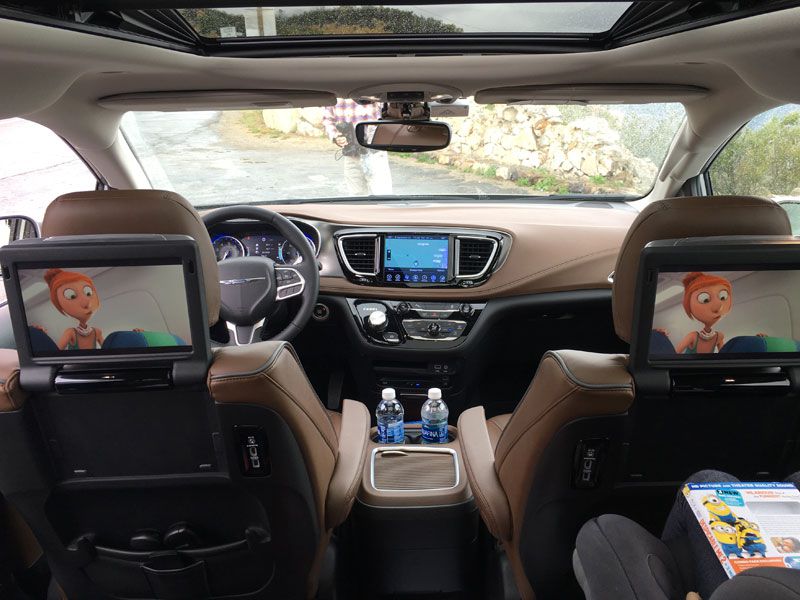 Photo by Carrie Kim