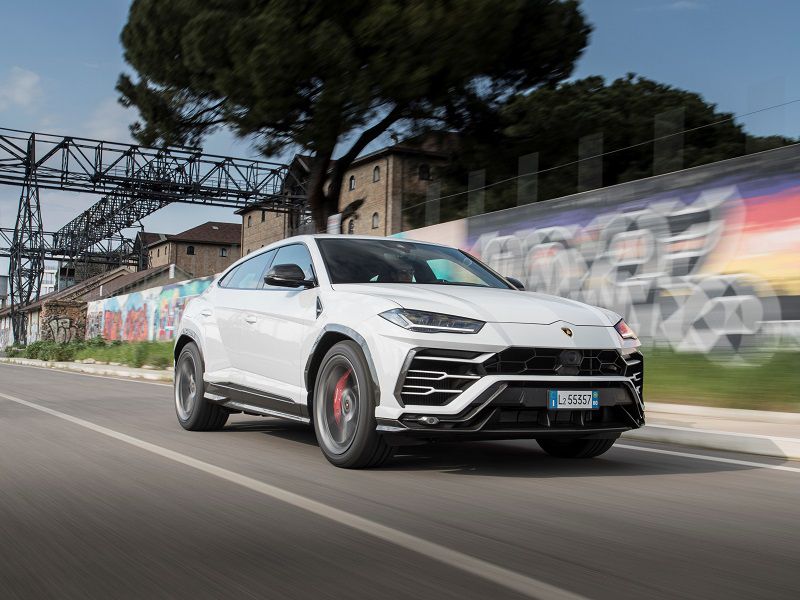 2019 Lamborghini Urus White Driving Front Three Quarter ・ Photo by Lamborghini
Speed is expensive, which is why our top 10 fastest SUVs all come from the luxury bracket. But for those who can afford it, a high-performance SUV can be the best of several worlds. It will transport a family comfortably and safely, provide a classy environment with high-tech features and stunning audio systems, then leave most of the motoring world in its dust.
Not many SUVs and crossovers are good on the track. Yet several of these 10 fastest SUVs will keep up with low-slung sports cars — not just on the straights but also around the corners, since they have sophisticated suspensions and uprated brakes to match the volcanic power beneath their hoods. Go big, go fast, and then go home. Let's check them out.
2020 Alfa Romeo Stelvio Quadrifoglio
There's something special about Alfa Romeo vehicles that adds another layer of attraction over what is already an alluring machine. In the Alfa Romeo Stelvio, factors like styling, sounds, handling, and heritage all seem to blend in a wonderful way.
Into this mix, add a 2.9-liter V6 that's twin-turbocharged to develop 505 horsepower and 443 lb-ft of torque. This provides the motivation for a 60-mph sprint of 3.6 seconds and a top speed of 176 mph. The Quadrifoglio can keep up with or in some cases outrun rivals with more cylinders. And it's the least expensive of our 10 fastest SUVs, from around $80,500. For the traditionalist who loves their Italian cars red, the Stelvio Quadrifoglio comes in a gorgeous Rosso Competizione.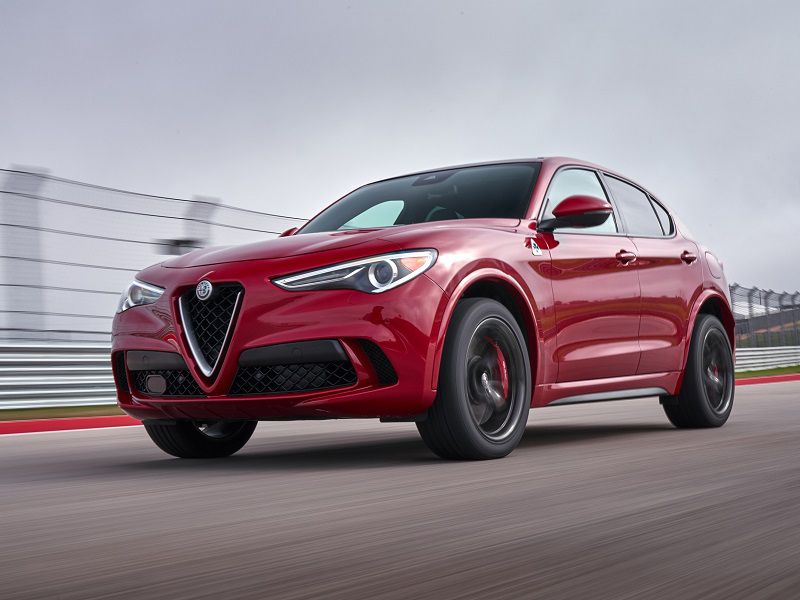 Photo by Alfa Romeo
2020 Bentley Bentayga Speed
Bentley gave 26 more horses to the twin-turbocharged 6.0-liter W12 in the Bentayga Speed (compared with the non-Speed version) for a total of 626 hp, in an effort to make this the world's fastest SUV. With the ability to fire off a zero-to-60 mph run of 3.8 seconds, the Bentayga Speed is undeniably speedy.
The performance figures of our other top 10 fastest SUVs, however, show that this Bentayga shares the maximum-velocity honors of 190 mph with the Lamborghini Urus. That 60-mph sprint, meanwhile, is 1.1 seconds slower than the Tesla Model X. But this is a Bentley: 5,500 pounds of plushness, leather, wood, and brawn — priced at $237,700. To accelerate at such a lick is phenomenal.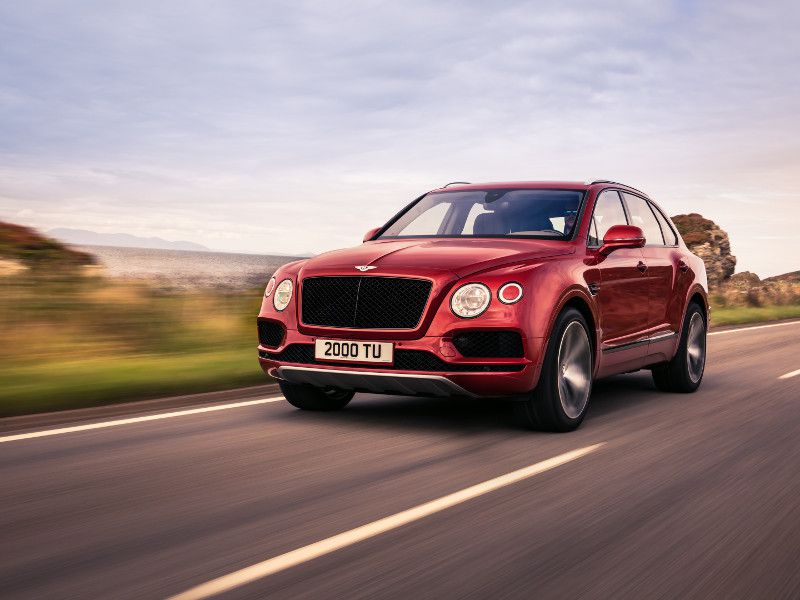 Photo by Bentley
2020 BMW X5 M Competition
Anyone who says life isn't a competition has no chance of winning. That might be the philosophy of a potential buyer of the BMW X5 M Competition. It takes the usual amazing X5 M and gives it a greater advantage.
Boosting the turbocharged 4.4-liter V8 to 617 hp enables this Competition version of the X5 M to zip from standstill to 60 mph in 3.7 seconds and reach 177 mph. Priced from $115,095, the X5 M Competition also includes an M Sport exhaust system, plus staggered-width alloy wheels with 21-inch rims up front and 22-inch versions at the back. That's on top of all the other equipment of its non-Competition counterpart, like an adaptive M suspension and a head-up display.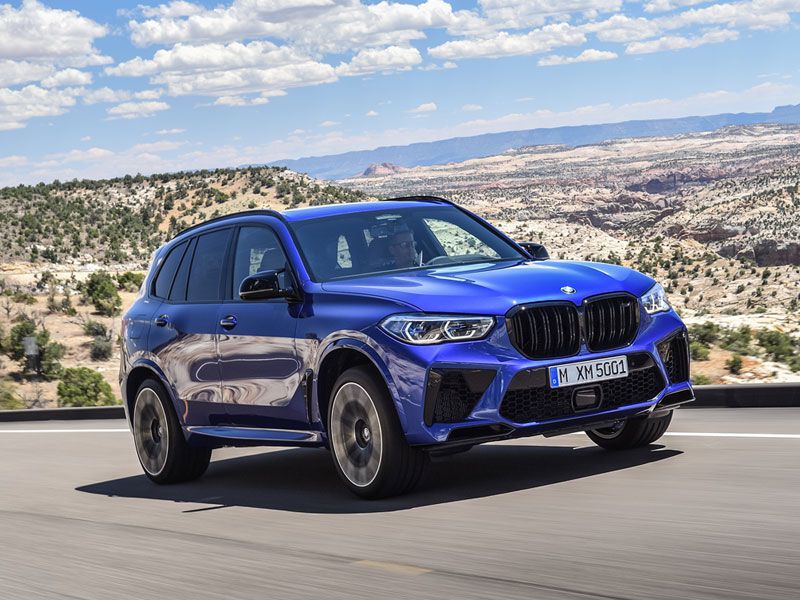 2020 Jeep Grand Cherokee Trackhawk
The Jeep Grand Cherokee Trackhawk is not just one of the top 10 fastest SUVs, but also the most powerful, thanks to an insane supercharged 6.2-liter V8 generating a mighty 707 hp and 645 lb-ft of torque. It's the same engine in the Dodge Challenger Hellcat and propels the Trackhawk from standstill to 60 mph in just 3.5 seconds before hitting a top speed of 180 mph.
At $88,395, the 2020 Grand Cherokee Trackhawk is among the least expensive of our top 10 fastest SUVs. But go for the optional Pirelli P Zero summer tires to make the most of the Trackhawk's superb handling abilities. We're also happy to see Brembo brakes as standard on this model, along with driver aids like adaptive cruise control, automated emergency braking, and blind-spot monitoring.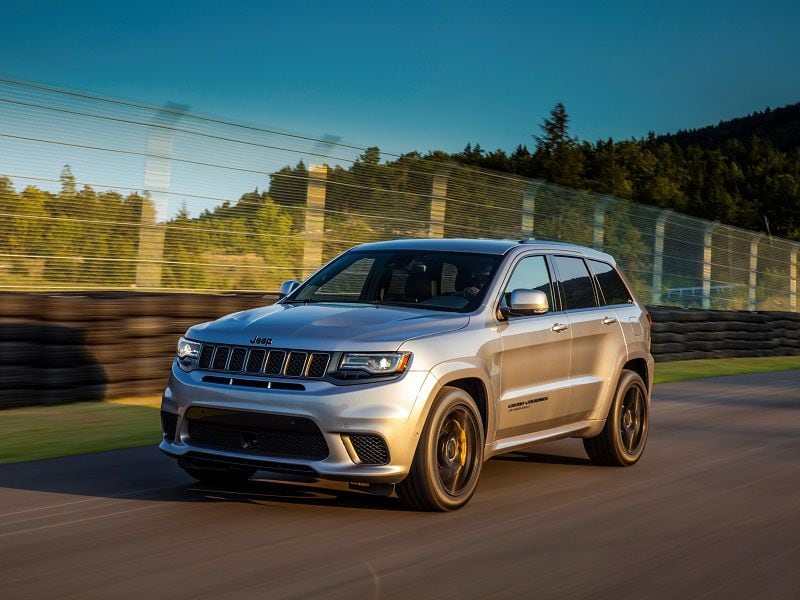 Photo by Fiat Chrysler Automobiles
2020 Lamborghini Urus
Lamborghini has expanded from making supercars to super-SUVs. The seriously fast, seriously desirable Urus catapults from zero to 60 mph in 3.6 seconds and doesn't stop accelerating until 190 mph. That's the joy of a twin-turbocharged 4.0-liter V8 sending 641 hp and 626 lb-ft of torque to the road through an intelligent all-wheel drive system.
A cutting-edge adaptive suspension makes the Urus not just quick on normal roads. It will also shred a race track. And any well-heeled desert racer will find it an ideal choice over the dunes. At around $200,000, the Urus is only out-priced by the Bentley Bentayga Speed, but it is the least-expensive new Lamborghini.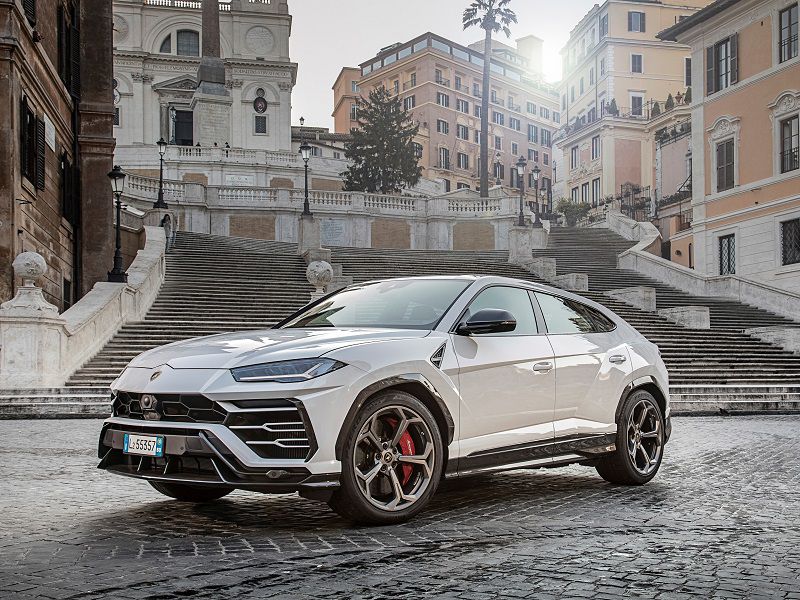 Photo by Lamborghini
2020 Land Rover Range Rover Sport SVR
Even though the Range Rover Sport SVR is the slowest of our top 10 fastest SUVs, it's worth including because it's still amazing. That's because it retains its credentials as an SUV.
So even though it can blitz to 60 mph in 4.3 seconds and top out at 176 mph — thanks to a supercharged 5.0-liter V8 kicking out 575 hp and 516 lb-ft of torque — it can also go off-road and tackle mud, rocks, sand, and snow like every other creation out of the Land Rover stable. It's just that it can blast around a track as well. The 2020 Range Rover Sport SVR starts at $115,795 and has virtually all the right equipment as standard.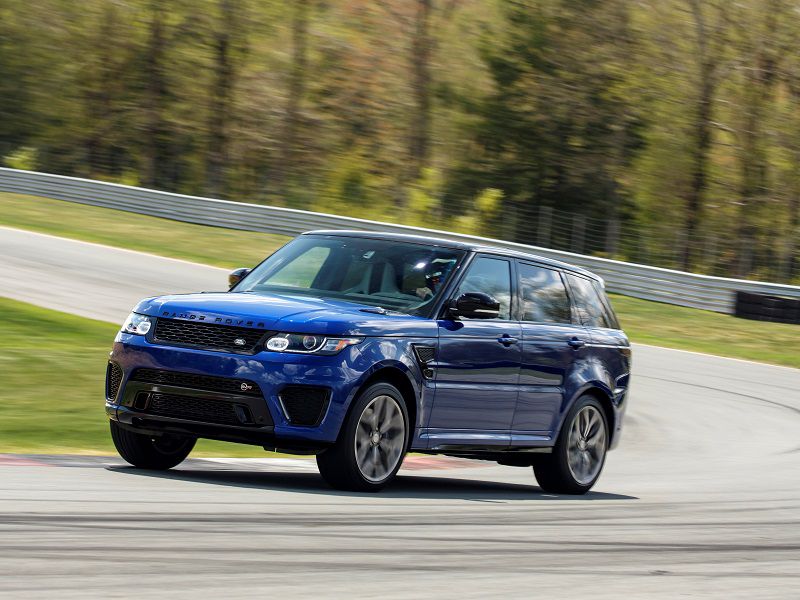 Photo by Land Rover
2020 Maserati Levante Trofeo
Imagine if Ferrari built a crossover suv. The Maserati Levante Trofeo has a turbocharged 3.8-liter V8 engine sourced from Ferrari making 590 hp and 538 lb-ft of torque. That's sufficient muscle to complete the sprint from niente to 60 mph in a mere 3.7 secondi and hit a massima velocità of 187 mph.
Since Maserati is a performance marque in its own right, there's plenty of other hardware for hard driving. This range-topping Trofeo version of Maserati's elegant crossover also has a Corsa (track) driving mode that includes a launch control to achieve optimum acceleration. At $172,995, the Trofeo is pricey, but it does include carbon fiber shift paddles and a glorious Bowers & Wilkins audio system.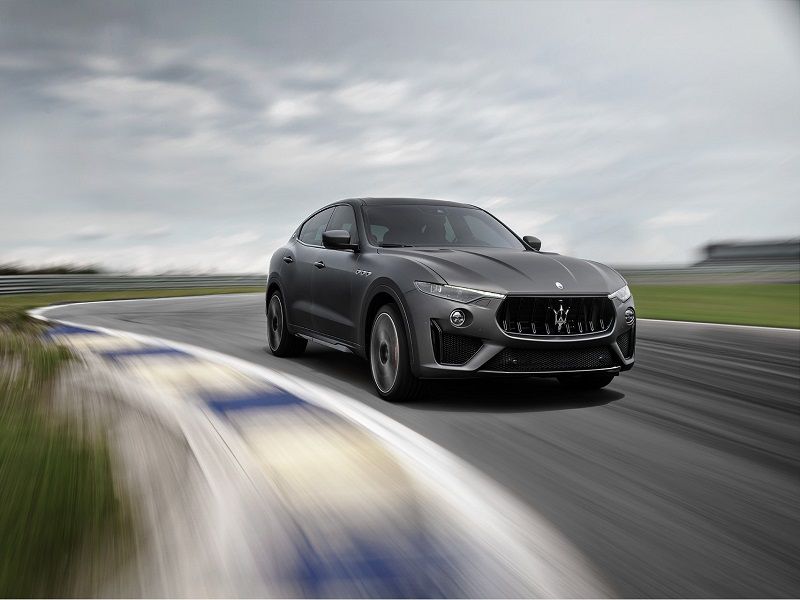 Photo by Maserati
2020 Mercedes-AMG GLC 63 S Coupe
Whoever had the idea of putting a twin-turbocharged 4.0-liter V8 into the engine bay of a compact crossover suv is a genius. It transforms the perfectly nice GLC-Class (revamped for 2020) into a 503-hp beast.
One little hiccup: The maximum-performance Mercedes-AMG GLC 63 S is only available in the "Coupe" version of the GLC, which still has four doors but has a more sloping roofline than the standard model. But anyone who wants to corral 516 lb-ft of torque and blast from standstill to 60 mph in 3.6 seconds before hitting a top speed of 174 mph probably isn't too much of a stickler for practicality. Given the vehicle's exclusivity, arguable beauty, and measurable thrust, the price of $85,095 makes this almost a bargain.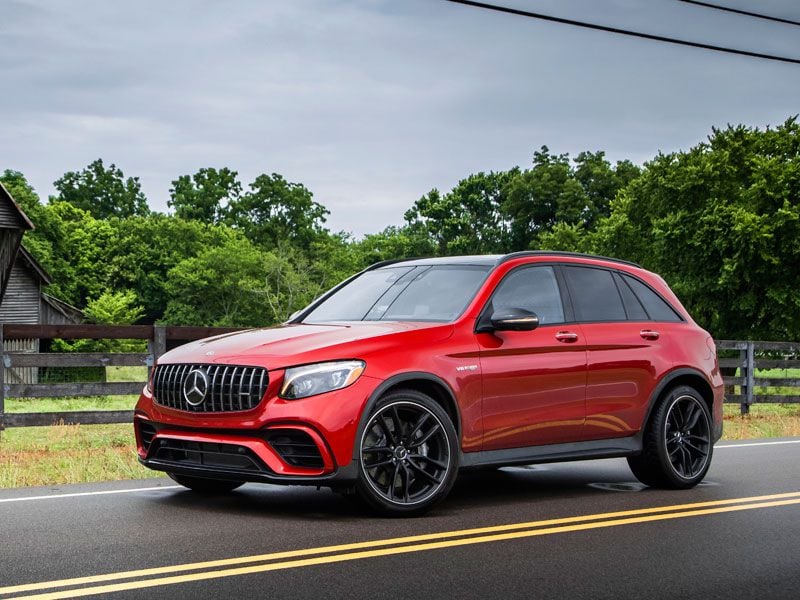 2020 Porsche Cayenne Turbo S E-Hybrid
The Porsche Cayenne is the only plug-in hybrid among our top 10 fastest SUVs. It's good to keep emissions down, save a bit of gas, and run some miles purely on battery power, but Porsche has also put the electric motor into service to create some great performance numbers.
Because electric motors can deliver virtually all their thrust from standstill, they help the Cayenne Turbo S E-Hybrid achieve a zero-to-60 mph time of 3.6 seconds before hitting 183 mph. The total output from a drivetrain that includes a twin-turbocharged 4.0-liter V8 is a truly awesome 670 hp and 663 lb-ft of torque. Starting at $163,150, this Cayenne model also comes with a lot of equipment, such as all-wheel steering and carbon-ceramic brakes.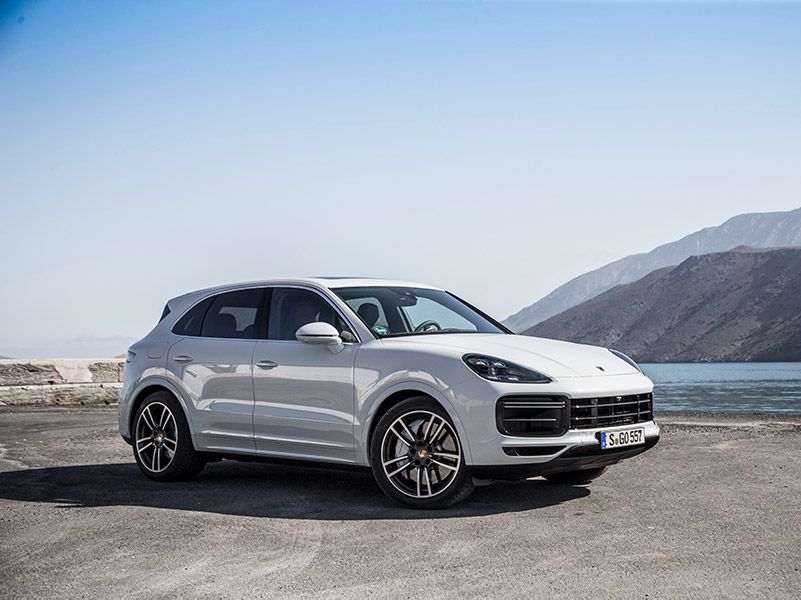 Photo by Porsche
2020 Tesla Model X Performance
This is the most rapid of our top 10 fastest SUVs — from standstill to 60 mph, at least. The 518-hp Performance version of the Tesla Model X with Ludicrous mode enables that meaningful sprint in a mere 2.7 seconds. Top speed is limited electronically to 155 mph.
Yet this vehicle also has three rows of seating and the trick "Falcon Wing" side doors, and it runs solely on electricity with a range of up to 305 miles.
The floor-mounted battery pack does a lot to keep the overall center of gravity low, which enhances the handling. So even though the Model X has no overtly sporting tendencies, it's still tidy through the curves. The 2020 Model X Performance starts at $106,190 before any applicable federal or state incentives.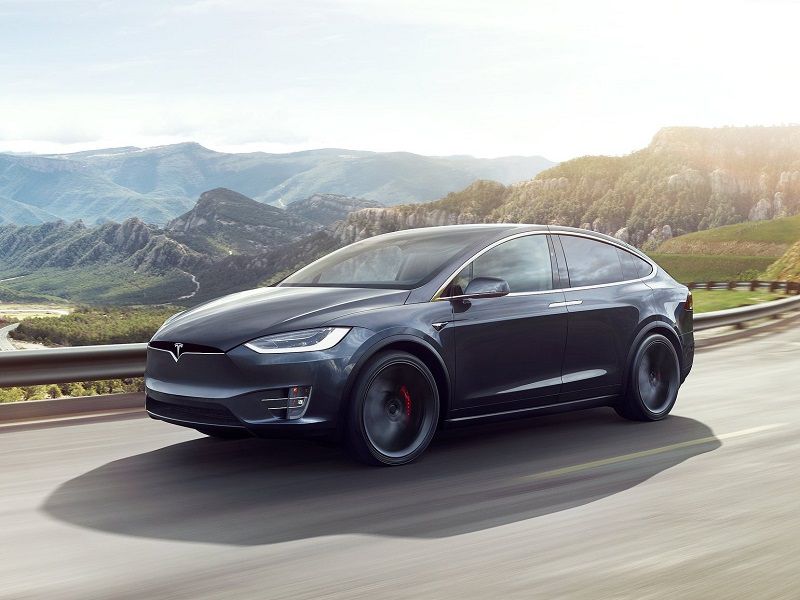 Photo by Tesla