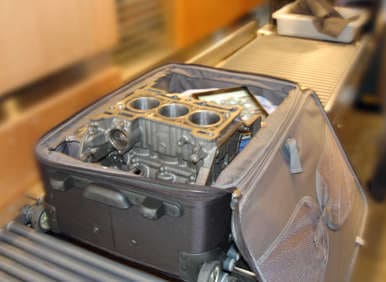 What is as small as a laptop, can fit through a TSA carry-on baggage X-ray and could eventually come to rest inside a highly-accepted American compact or subcompact car, soon to be re-launched as a highly-anticipated updated compact car?
Behold the Ford 1.0-liter EcoBoost engine that could be revealed as the motivator in the 2014 Ford Fiesta, or a new implant to the Ford Focus - all to be revealed on November 19th, 2012, in a live feed. And, as Autobytel mentioned in an article about the Ford Fiesta ST, the refreshed 2014 Ford Fiesta could be on the floor at the 2012 Los Angeles Auto Show. The updated Ford Fiesta has been shown in Europe with a new look and a suggested, slightly different engine. The Ford Focus was recently updated but it appears that there is a possibility that it is getting a new powertrain option.
The funny folks at Ford had the fantastic idea to show what a Ford 1.0-liter EcoBoost engine looks like in an everyday situation by pretending to check it in as a carry-on at the Detroit Airport (DTW). Of course they sent us the pictures because they knew we'd love to show off the engine.
What does this Ford 1.0-liter EcoBoost engine mean to the real world? Read on to find out.
Ford 1.0-liter EcoBoost means what?
Autobytel recently showed off some of the testing that has been done with the Ford 1.0-liter EcoBoost engine in a video that we did about the Formula Ford 1.0-liter EcoBoost Concept that was shown at SEMA 2012. Now, while that engine was placed into a modified race car that is technically street legal for the purposes of testing at the Nürburgring, it fell just outside some Top 10 ... let's just say that 7:22 is about the same as the Dodge Viper ACR's record in 2009. Not the compact car that commuting buyers probably need.
What is really potentially fun about this diminuative little 1.0-liter powerhouse is that it can bring the horses to a compact segment that has lead the way in the last few years of the compact explosion but especially now, can bring all-new efficiencies; the Formula Concept has 202-hp, and as while think that sounds like a lot of fun, the goal (with any new compact or subcompact that Ford brings out) is to show off MPGs, not HPs.
This, from the compact cars that broke their way back into American hearts and minds. Just a few years ago, the Fiesta was the upstart and is now the oldest model in Ford's fleet of designs. More recently, the Ford Focus came in with updated looks. But with Ford making efforts to win the MPG wars, their smaller set seems to be growing up with a whole new attitude, new looks and leaner appetites for gas.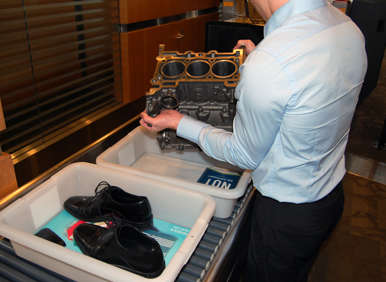 Fun with low numbers
The older Ford Fiesta had pretty impressive numbers. One of the trims claims to beat 40 mpg. A turbocharged 1.0-liter EcoBoost in any small car can now, with  innovation, best 40 mpg easily. The Ford Focus could use the improved MPGs if it wants to make it into the 40s with its crossover hybrid cousin, the Ford C-Max.
The real win with all of this is that as Ford and their comptetitors grow their engines around improved fuel efficiency and reduce the size, every real car loving engineer is figuring out how to place the smaller, more powerful engines into smaller and more tightly-tuned vessels with great driver appeal. Who doesn't love that?
Of course, no one should attempt to carry their car on a plane. The TSA doesn't like that. And no one should "leak" images if they don't expect speculation.