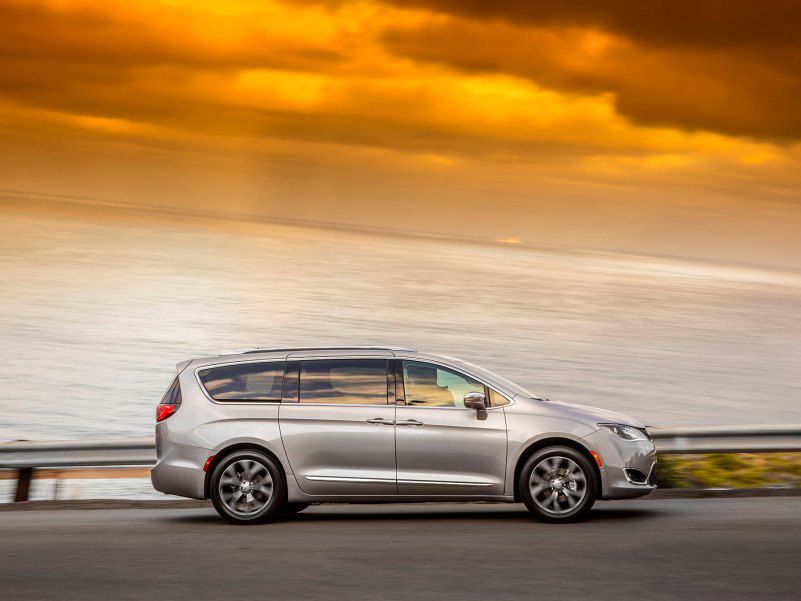 2017 Chrysler Pacifica 009 ・ Photo by Chrysler
If you're shopping for a practical and affordable pre-owned vehicle with maximum passenger and cargo space, you can skip the big sedans, crew-cab pickups, and fullsize SUVs. Those vehicles just don't carry as much of both as the best used minivans under $20,000. Consider the 2017 models for the Chrysler Pacifica and Chevrolet Suburban. Even though the Suburban is a fullsize three-row beast, the Pacifica provides an extra two inches of third-row legroom and 37 more cubic feet of total cargo space - that's 29 percent more than Chevy's biggest sport-utility vehicle.
Minivans also can deliver higher EPA ratings than big SUVs. True, minivans aren't the most popular vehicles on the market. But that gives you another important advantage: You often can get more bang for your buck with a minivan than in other segments where demand can drive up pricing.
2016 Honda Odyssey
Our best used minivans under $20,000 start with the 2016 Honda Odyssey, which is available in a number of different trim levels for that price. Notably, this includes the 2016 SE ("Special Edition") model. The Odyssey SE was designed as a high-content, high-value choice. As a result, it comes standard with a rear-seat DVD entertainment system and the HondaVac integrated vacuum system, despite its affordable cost. Satellite radio and a 115-volt rear power source are part of the package, as well.
The Odyssey also is among the segment leaders for fuel economy and passenger space. In that role, Honda's minivan hits 28 mpg on the highway and has more than 40 inches of legroom in all rows. It can handle 148.5 cubic feet of gear, too.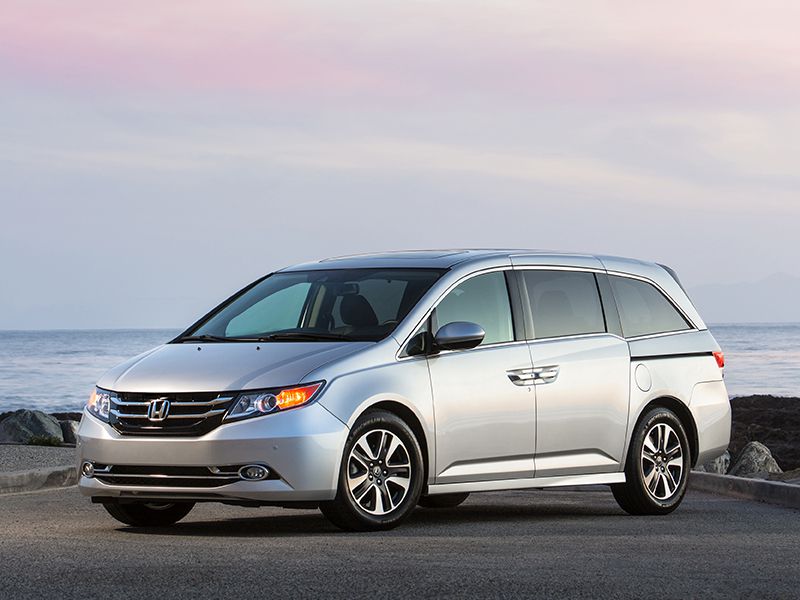 Photo by Honda
2016 Kia Sedona
The Kia Sedona is another of the best used minivans under $20,000 from the 2016 model year. Now, you actually can find plenty of 2017 Sedonas for less than $20K, but you can enjoy a nice boost in standard content by going back in time a bit.
The 2016 Sedona EX brings family-friendly advantages like power-sliding side doors for the kids and a handsfree rear tailgate for cargo. Heated power-folding mirrors with integrated turn signals add convenience for the driver, while the Sedona EX also boasts a surprising range of luxury features. Leading the way are standard leather-trimmed seats, a heated front row, an eight-way power-adjustable driver's seat, and a leather-wrapped multifunction steering wheel. A tri-zone automatic climate system helps ensure all rows are comfortable.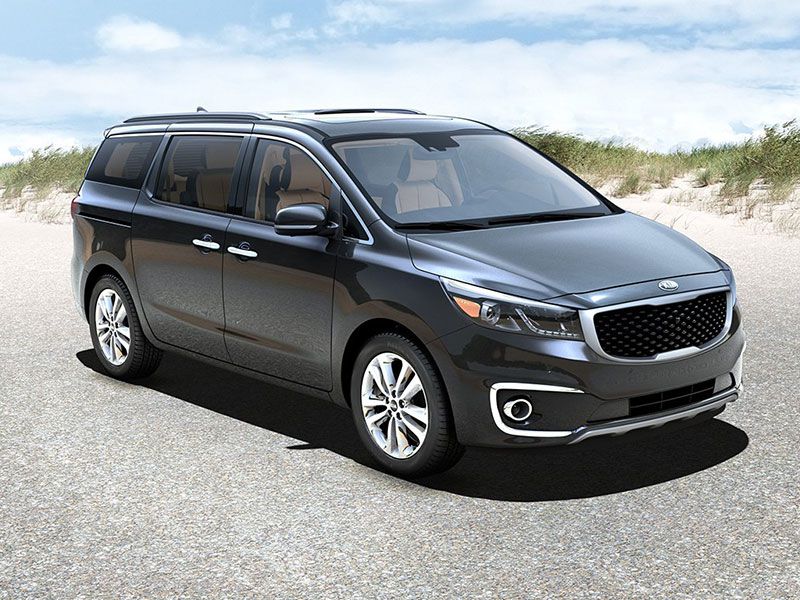 Photo by Kia
2016 Toyota Sienna
Continuing with our sweet '16 theme, we also recommend the 2016 Toyota Sienna if you're looking for the best used minivans under $20,000. That's because there's a fairly wide variety of 2016 Siennas that are available with both all-wheel drive and a sub-$20,000 price tag. And to be clear, no other mainstream minivan offers all-wheel drive at any cost. These same Sienna models complement AWD with confidence-builders like a rearview camera and an app-based navigation system.
To get the most out of the Sienna's interior, you're treated to standard power-sliding side doors, a power tailgate, 150 cubic feet of cargo space, and a versatile second row. This 40/20/40-split folding bench can be tipped up for improved access to the third row.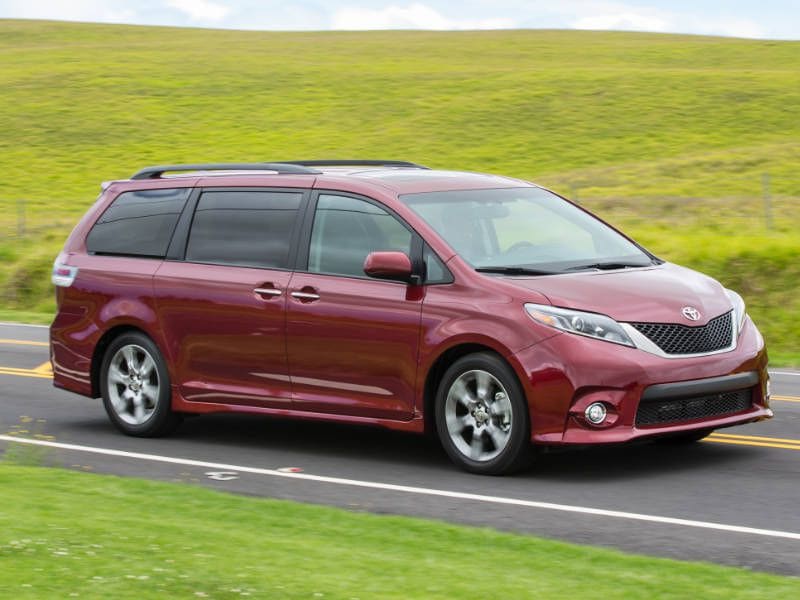 Photo by Toyota
2017 Chrysler Pacifica
The Chrysler Pacifica minivan made its debut in 2017 to much acclaim. For example, it beat out the Mazda CX-9 and Jaguar F-Pace to win the 2017 North American Utility Vehicle of the Year award. The 2017 Pacifica continues to earn kudos today, too, since we're recognizing it as one of the best used minivans under $20,000.
Top Pacifica selling points include a whopping 165 cubic feet of maximum cargo space, plus slightly better fuel economy than its Honda and Toyota rivals. Additionally, your $20K can cover power-sliding side doors, heated front seats, a blind-spot monitor, rear cross-traffic alert, and a rearview camera. The Pacifica's Stow 'n Go second- and third-row rear seats are especially easy to fold flat into the floor.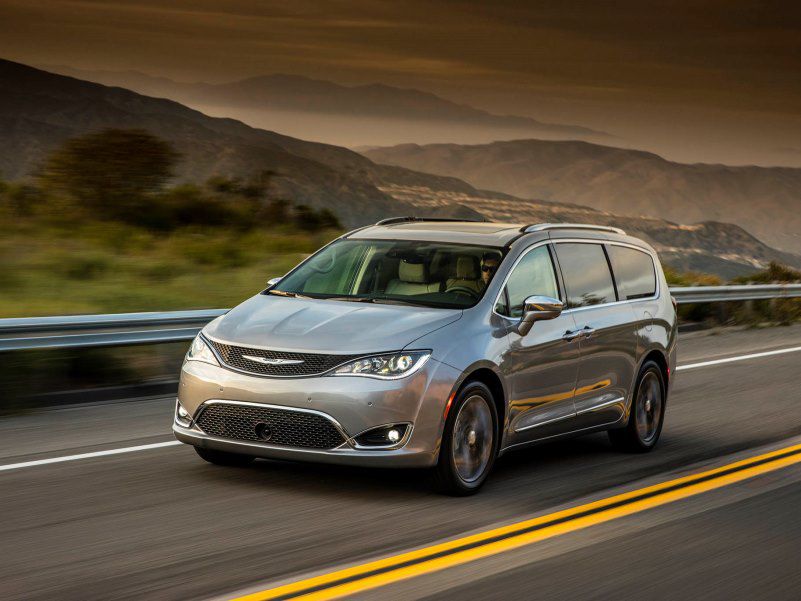 Photo by Chrysler
2016 Chrysler Town & Country
The Chrysler brand supplies two of the best used minivans under $20,000. The Pacifica's predecessor, the 2016 Chrysler Town & Country, also qualifies. Don't worry about the fact that it went out of production in 2016, either. The Town & Country is well supported by dealers in the pre-owned marketplace, and it offers some timeless benefits.
Indeed, the $20,000 price level is high enough for a Touring-L trim with a backup camera, a blind-spot monitor, and rear cross-traffic alert. The Town & Country also can show off handy features like heated mirrors, power-sliding doors, and Stow 'n Go seating for less than $20K. That ingenious Chrysler seat system lets you stow the second- and third-row seats in the floor, to optimize cargo capacity.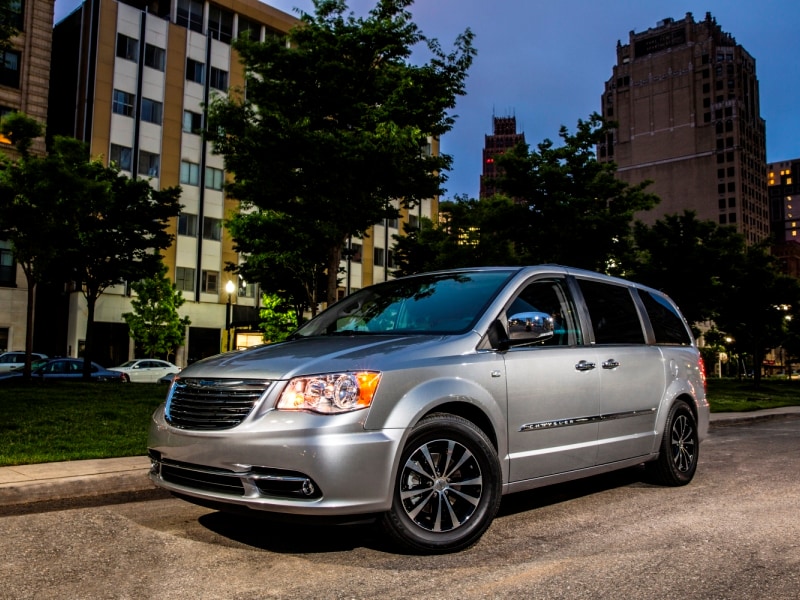 Photo by Chrysler
2017 Nissan Quest
Like the Chrysler Town & Country, the Nissan Quest has dropped out of the new-car marketplace and into our gallery of the best used minivans under $20,000. To be specific, you can find many Quest SV models without breaking today's budget. These trims will make your life easier with equipment such as a rearview camera, front fog lights, and tri-zone automatic climate control.
The Quest also stands out from the competition with its stylish exterior design. Check out the expressive sculpting along its sides and its "floating" roof. Inside the Quest, third-row passengers can stretch out with more than 40 inches of legroom. Next, for cargo, there's a built-in rear storage well that you can use even when the third row is folded into the floor.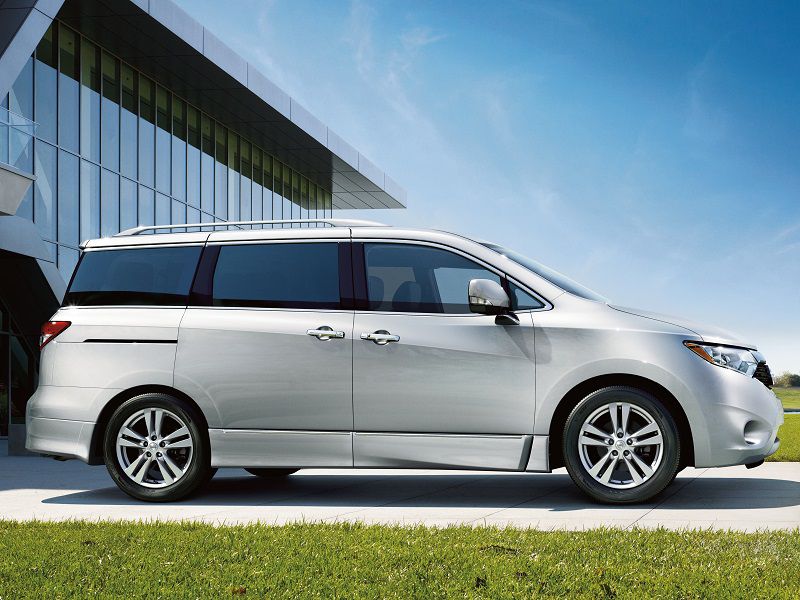 Photo by Nissan
2018 Dodge Grand Caravan
The best minivans under $20,000 also include models as recent as the 2018 Dodge Grand Caravan. In fact, because it's the value choice among new minivans, the Grand Caravan is a particularly good deal in the pre-owned marketplace. This means the lineup's top trim for the 2018 model year, the Grand Caravan GT, is readily available for less than 20 large.
With one of these minivans, you'll be able to relax with heated eight-way power-adjustable front seats, a heated steering wheel, and tri-zone automatic climate control. For more practical jobs, the Grand Caravan GT is equipped with power-sliding side doors, a power liftgate, and Stow 'n Go seats. The GT trim also lives up to its name with a sport-tuned suspension.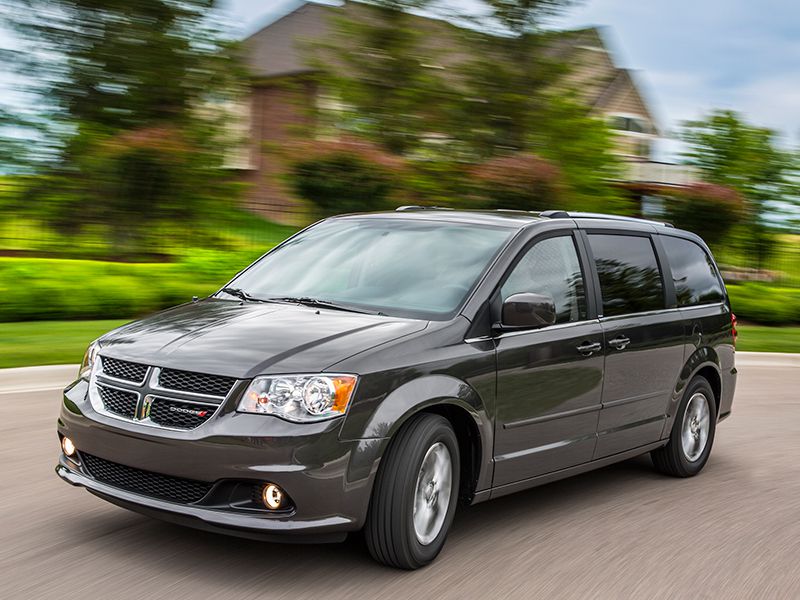 Photo by Dodge
2015 Mazda Mazda5
It's also important to remember that you're not limited to the usual suspects if you're interested in the best minivans under $20,000. One notable alternative is the 2015 Mazda Mazda5, which offers three rows of seating despite its compact dimensions. The Mazda5 is about 20 inches shorter in length than a typical minivan, yet it can still hold up to six people, and you get a healthy 44.4 cubic feet of storage with the vehicle's third row folded.
Further, the Mazda5's nimble dimensions combine with the automaker's zoomy approach to engineering making it relatively fun to drive. A final advantage is the Mazda5's also small price. The most expensive used models are closer to $16,000 with leather-trimmed and heated front seats.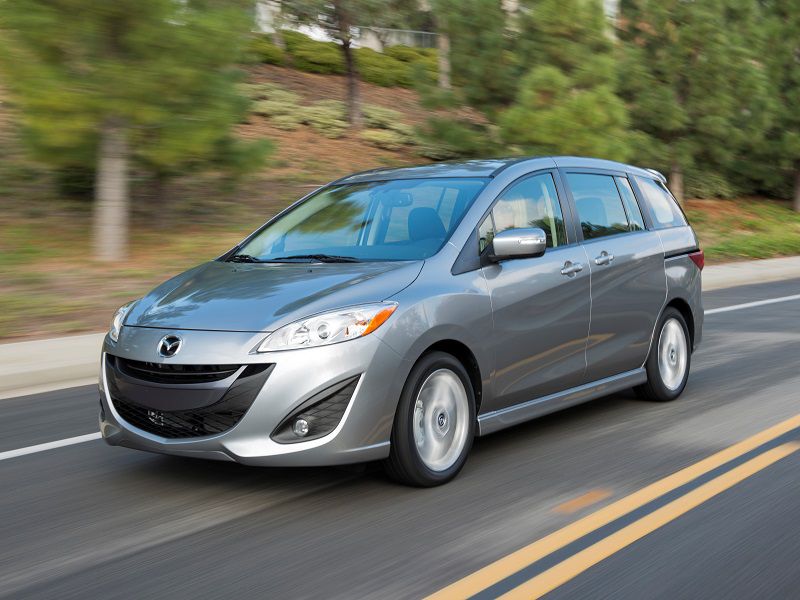 Photo by Mazda
2016 Ford Transit Connect
The 2016 Ford Transit Connect comes in two different sizes, but both of them can be found on our list of the best used minivans under $20,000. The regular-wheelbase model is a two-row vehicle with seating for five, and the extended-wheelbase version - about as long as a midsize sedan - can fit up to seven people across three rows of seats. In terms of cargo volume, the two models have a maximum capacity of 77.1 and 104.2 cubic feet, respectively.
The Transit Connect also is known for its eye-catching European design and thrifty approach to fuel economy. Leveraging a 1.6-liter turbocharged EcoBoost engine, the Transit Connect serves up 178 hp, 184 lb-ft of torque, and EPA ratings of 22 mpg city/29 mpg highway/24 mpg combined.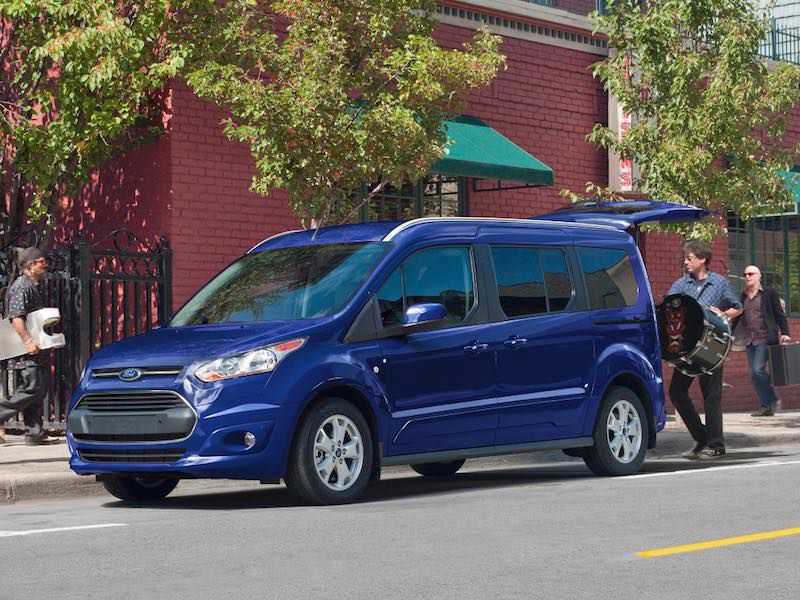 Photo by Ford
2018 Nissan NV200
If you're primarily focused on a work-friendly option, the 2018 Nissan NV200 is worth a look. This is a compact cargo van with unique features for getting the job done. A case in point: The NV200 has standard 40/60-split rear doors, with the bigger door on the curb side of the van when you're parked. That way, the door opening on the traffic side won't stick out as far.
The NV200 then provides 122.7 cubic feet of cargo space and a payload of 1,480 pounds, along with EPA ratings of 24 mpg city/26 mpg highway/25 mpg combined. However, like any of the best used minivans, the SV trim provides a rearview camera, Bluetooth, and heated mirrors as standard.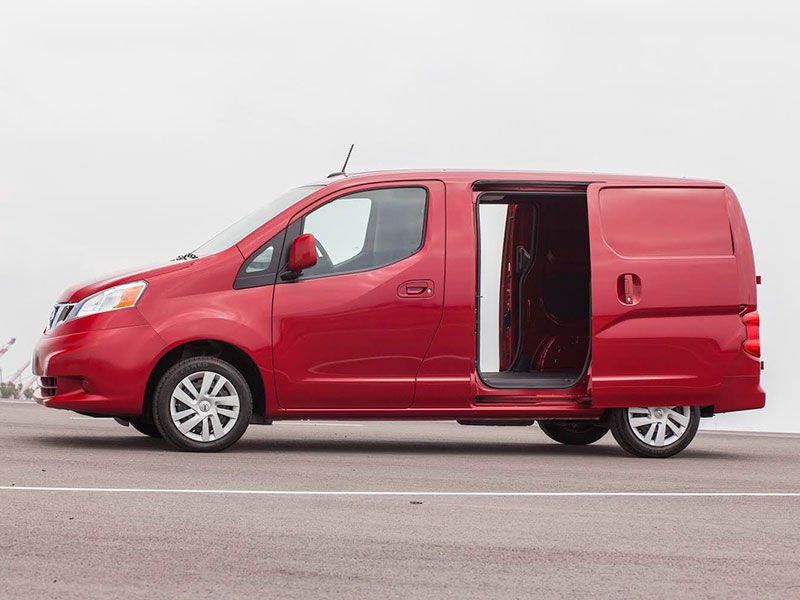 Photo by Nissan