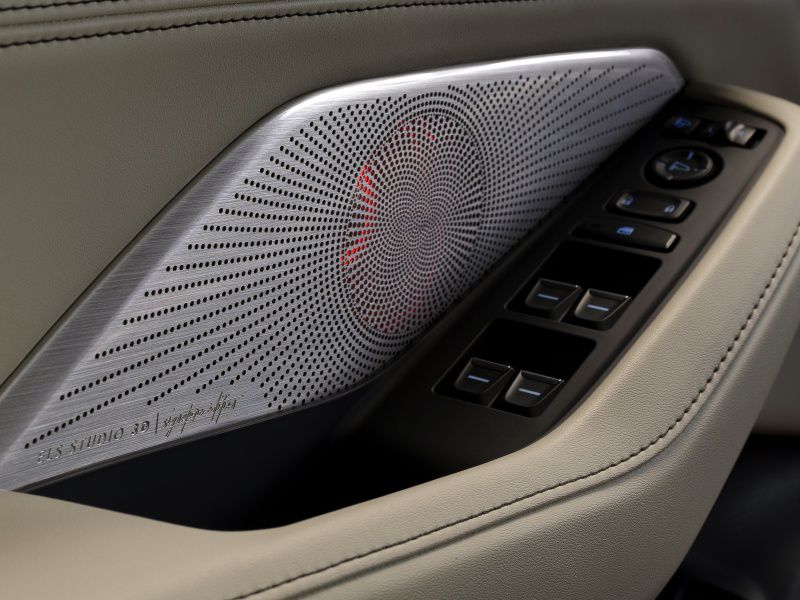 2022 Acura MDX Prototype ・ Photo by Acura
When the 2022 Acura MDX reaches dealers next spring, it will feature an optional 25-speaker "Signature Edition" ELS Studio 3D premium audio system with more than 1,000 watts of power, 22 discrete channels, six speakers in its headliner, and six carbon-fiber mid-range woofers scattered throughout its cabin. Acura says it has been tuned by eight-time Grammy-winning sound engineer Elliot Scheiner and will set a new standard for concert-quality in-vehicle audio. 
Welcome to the new world of high-quality, high-end automotive audio systems. These days, a car's speaker count and wattage can be as important as its horsepower and fuel economy, and most automakers now partner with an audio brand better known for its big sound in-home systems, like Bang & Olufsen, Harman Kardon, and Bose. The trend actually began back in the 1980s, but it has become the norm as consumers continue to demand ever better sound quality and performance. Most of the best systems out there are optional, but are they worth the additional money? Some are not, but many are. Here are our picks for the 10 best factory audio systems available right now.
Lexus: Mark Levinson
Samsung purchased Harman in 2017 along with all of its sub-brands, many of which partner with automakers including Infinity, Lexicon, Revel, Bang & Olufsen, Harman Kardon, and Mark Levinson. Lexus first offered a Mark Levinson audio system in 2001, and the two have been together ever since. Today, a Mark Levinson audio system is available in every Lexus model including the brand's flagship, the LS. In that full-size sedan, it features 16 channels, an impressive 2,400 watts, an enormous subwoofer, and 23 speakers, including four in the ceiling. Lexus says its 3D audio technology is the most sophisticated in an automobile. It sounds amazing. But here's the kicker: It costs only $1,940 extrawhich makes it one of the most affordable systems on this list. Big value here. 
Number of Features: B
Sound Quality: A
Overall Performance: A
Value: A+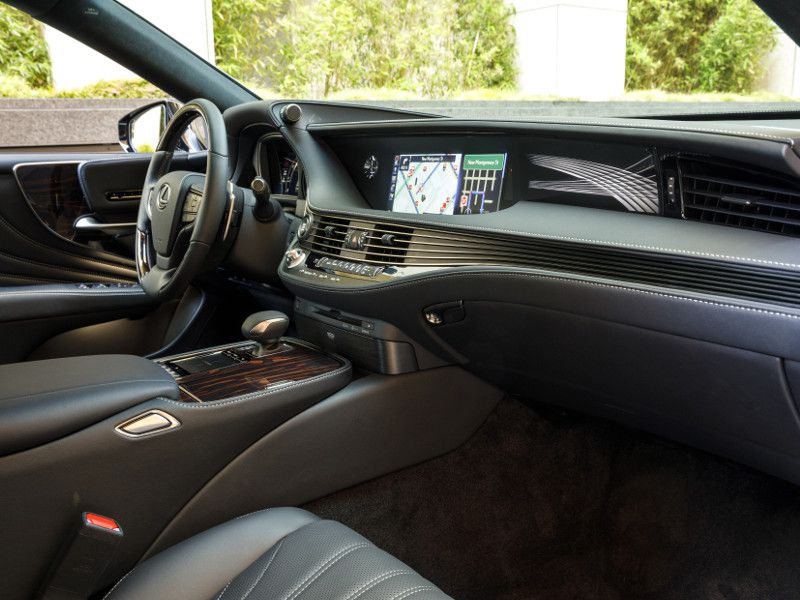 Photo by Lexus
Volvo: Bowers & Wilkins
Volvo actually partners with two audio brands. Some models offer a Harman Kardon system, which is either standard or optional depending on the trim level. Its ultimate audio system, however, is from Bowers & Wilkins. It's available on its flagship models, the XC90 and S90, and costs an additional $3,200, about an average price among the best factory audio systems. There isn't anything average about its sound quality, however, it's exceptional. The system's hardware and stats consist of a 4:15 digital amplifier, 1,400 watts of output, and 19 speakers including a tweeter on the dash and a new generation composite mid-range speaker cones. The system also offers four room modes that allow you to change the acoustics inside the vehicle, including "Concert Hall," which remarkably recreates the experience of the Gothenburg Concert Hall and the more intimate "Jazz Club."
Number of Features: A
Sound Quality: A+
Overall Performance: A+
Value: A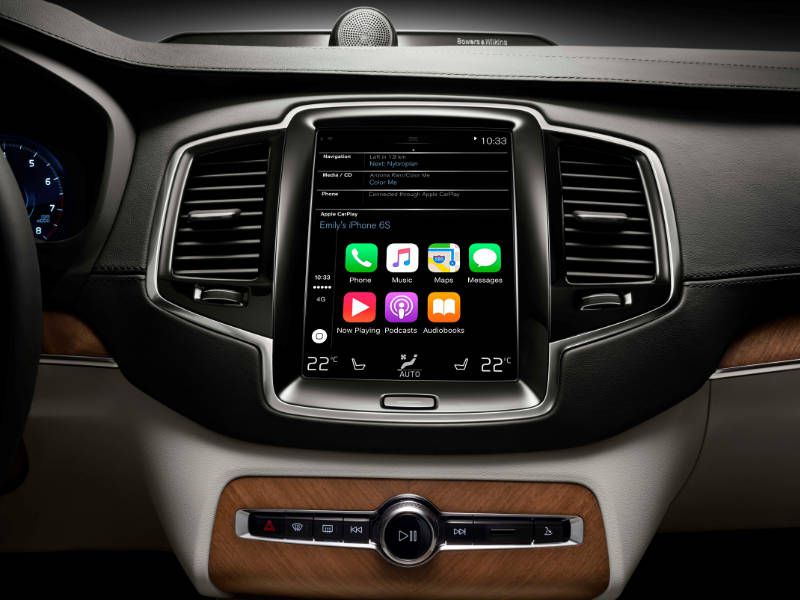 Photo by Volvo
BMW: Bowers & Wilkins
BMW used to partner with Bang & Olufsen. The two brands were so tight, BMW even offered a "BANG & OLUFSEN Edition" 6 Series Gran Coupe back in 2015. That's all ancient history. Today, BMW partners with Harman Kardon and Bowers & Wilkins. Although the HK surround sound system isn't offered on the brand's most affordable models like the X1 and the 2 Series, it's either standard or optional on most of its other cars and SUVs. On the X3, for instance, it costs an extra $875, while it's standard on its flagship 7 Series sedan, where it has a 464-watt amplifier and 16 speakers. It's sufficient. But BMW's ultimate system is from Bowers & Wilkins and it's optional on its top models, including the 7 Series and M850i, for an additional $3,400. It's worth it. The "Diamond Surround Sound System" features 16 speakers, 1,400 watts of power, 10 channels, and a sound equalizing system that keeps the sound quality consistent at all seating positions. 
Number of Features: B
Sound Quality: A
Overall Performance: B
Value: B+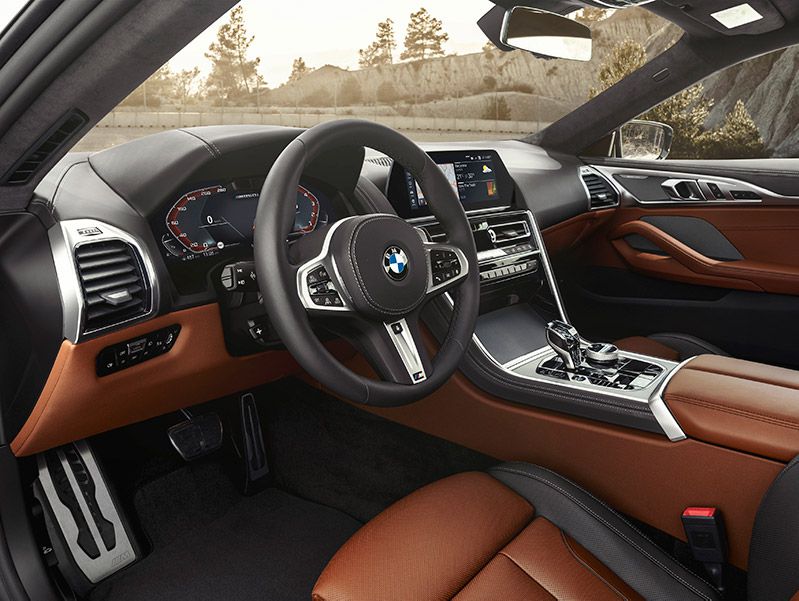 Photo by BMW
Audi: Bang & Olufsen
Bang & Olufsen partners with five car brands: Audi, Bentley, Aston Martin, Ford, and Lamborghini. Audi offers a version of the B&O system in each of its cars and SUVs, including its most affordable model, the A3. In that small sedan, the system features 14 speakers, 705 watts of power with one amplifier channel per loudspeaker, two for the subwoofer, and 5.1 Surround Sound. Bang & Olufsen says it's the most sophisticated in-car audio system in the premium compact car class. In Audi's flagship A8 sedan, which features a noise compensation system for an extremely quiet cabin, the B&O system is one of the best in the industry. It not only brings 3D Sound, a BeoCore Amplifier, and 23 channels to the party, but an incredible 1,920 watts of power. Unfortunately, it's also among the most expensive systems on this list at $5,900.
Number of Features: A
Sound Quality: A
Overall Performance: A
Value: B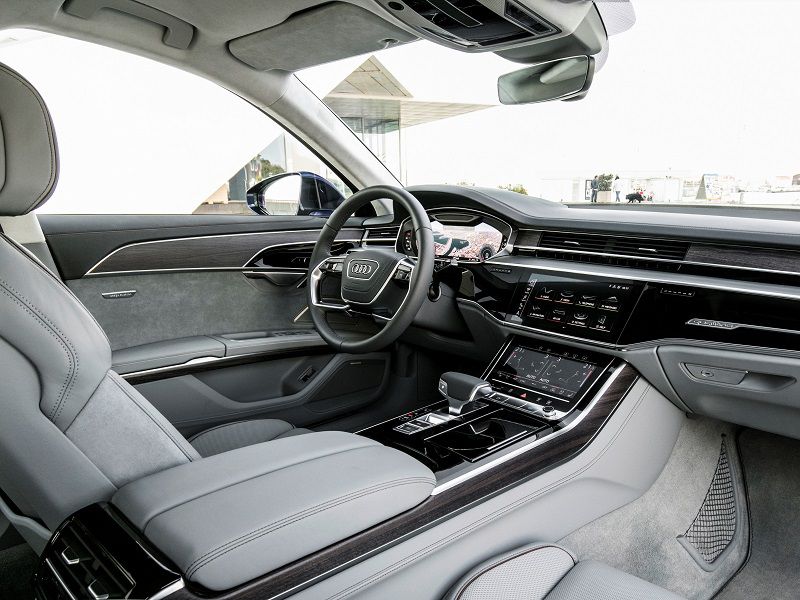 Photo by Audi
Bentley: Naim
If you're spending six figures on a Bentley, don't skimp on the audio system. The brand offers three on most of its models. Its standard system offers 590 watts of power, a 12-channel amplifier, and 12 speakers. Then there's an optional Bang & Olufsen system, which is available on most models for $6,700. Though expensive, it's formidable with 1,500 watts of power, 16 speakers, a 16-channel amplifier, and four DSP modes. 
Bentley's ultimate audio system, however, is from the British brand Naim. Driven by a 1,780-watt, 20-channel amplifier, the system has 20 speakers, including two advanced bass speakers located in the lower seatbacks, and two super tweeters that extend the high-frequency range. Eight listening modes complement all music genres and the spoken word. It's spectacular, and spectacularly expensive at $8,800. Get it anyway.
Number of Features: A
Sound Quality: A
Overall Performance: A
Value: C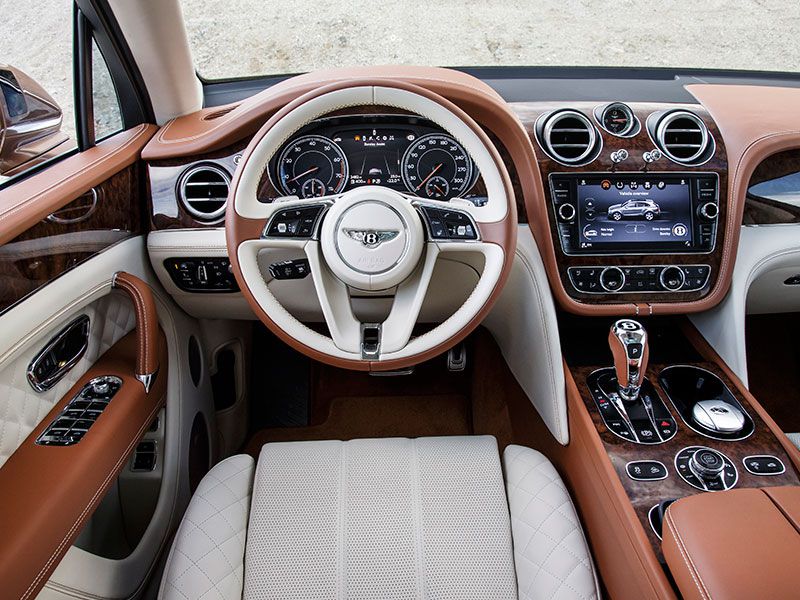 Photo by Bentley
Lincoln: Revel
While Ford partners with Bang & Olufsen, its luxury brand Lincoln has a newly formed relationship with Revel. Each of its three SUVs offers a Revel system and each is excellent, but they do vary and their sound quality and power are tied to the vehicle's price point. In Lincoln's smallest and most affordable SUV, the Corsair, the Revel system features 14 speakers, a 12-channel amplifier, and an unspecified number of watts. It's adequate and included in the Reserve trim level. In Lincoln's largest SUV, the Navigator, a Revel system is standard, but only the Black Label gets the Revel Ultima system with 20 speakers and more power. Lincoln's ultimate audio system, Revel's 28 speaker Ultima 3D, is found in the Aviator. Unfortunately, it's not offered as a stand option; instead, it's part of a $7,000 luxury package with many other upgrades.
Number of Features: B
Sound Quality: B+
Overall Performance: B
Value: B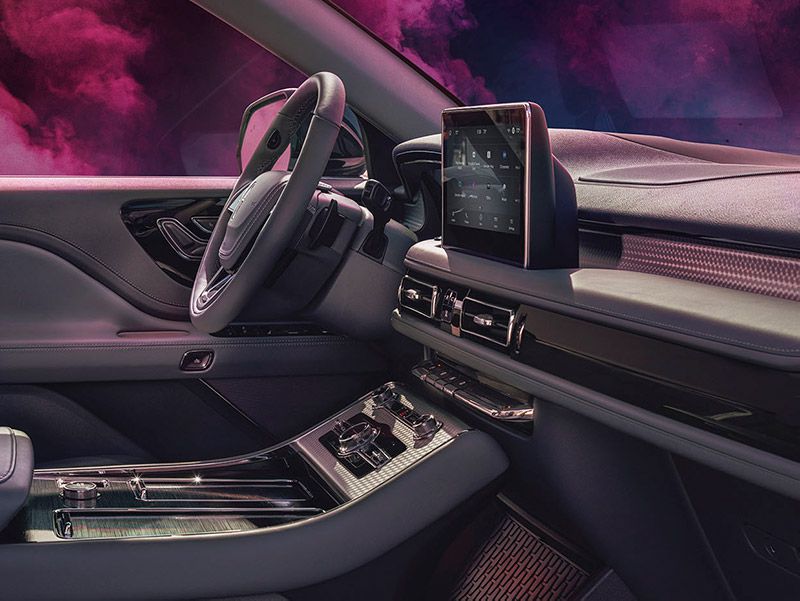 Photo by Lincoln
Mercedes-Benz: Burmester
Most Mercedes-Benz models are available with a Burmester audio system, including the brand's new electric SUV, the EQC, and the recently revealed all-new 2022 S-Class. The German brand is well known for its excellent in-home systems, and also partners with Porsche and Bugatti. Mercedes of course saves the ultimate Burmester system for its flagship, the S-Class sedan. Today the Burmester High-End 3D-Surround–Sound system is a $6,400 option and includes 27 speakers, output of 1,590 watts, a trunk-mounted subwoofer with its own 400-watt amp, ceiling-mounted surround speakers, two rotating, illuminated tweeters, five preset listening modes, and VIP settings the can focus the sound on individual seats. It's awesome. In the all-new S-Class, which will go on sale next year, two Burmester systems will be offered, one with 15 speakers and 710 watts and the high-end 4D surround sound system with 30 speakers, and two amplifiers with a total output of 1,750 watts and 37 separately processed output channels. 
Number of Features: A
Sound Quality: A+
Overall Performance: A
Value: B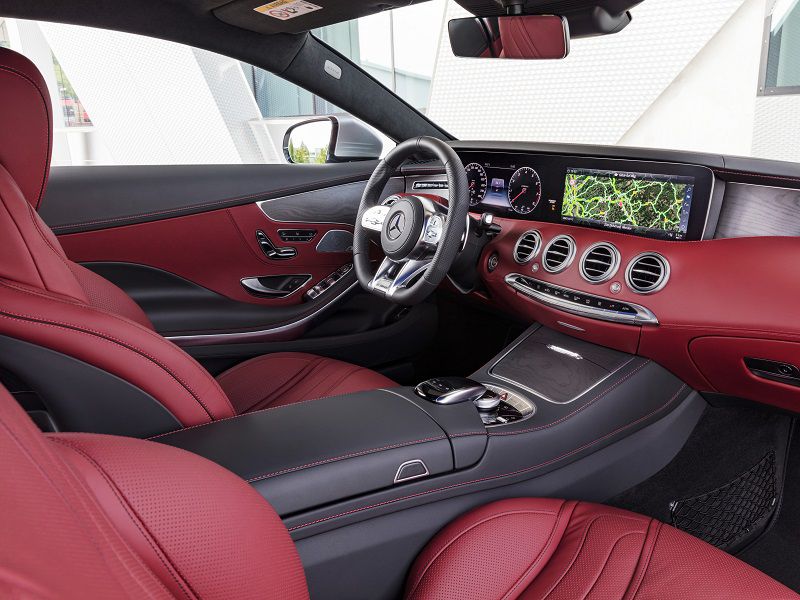 Photo by Mercedes-Benz
Maserati: Bowers & Wilkins
Another standout Bowers & Wilkins surround-sound system is available on all three of Maserati's models: the Ghibli and Quattroporte sedans and the Levante SUV. This B&W system costs just $2,000, but it packs quite a punch and delivers exceptional sound quality. It's a considerable step up from the Harmon Kardon system Maserati also offers. In these applications, Bowers & Wilkins uses aluminum tweeters, aramid fiber midrange drivers, Rohacell bass drivers, 1,280 watts of amplification, QuantumLogic Surround Sound, and Harman Clari-Fi Music Restoration Technology. Each model gets a unique number of speakers, but the most are found in the Levante, which has 17. With the exception of the Mark Levinson system in the Lexus LS, this system offers the most value. Maserati could double the price tomorrow and no one would complain.
Number of Features: B
Sound Quality: A
Overall Performance: A
Value: A+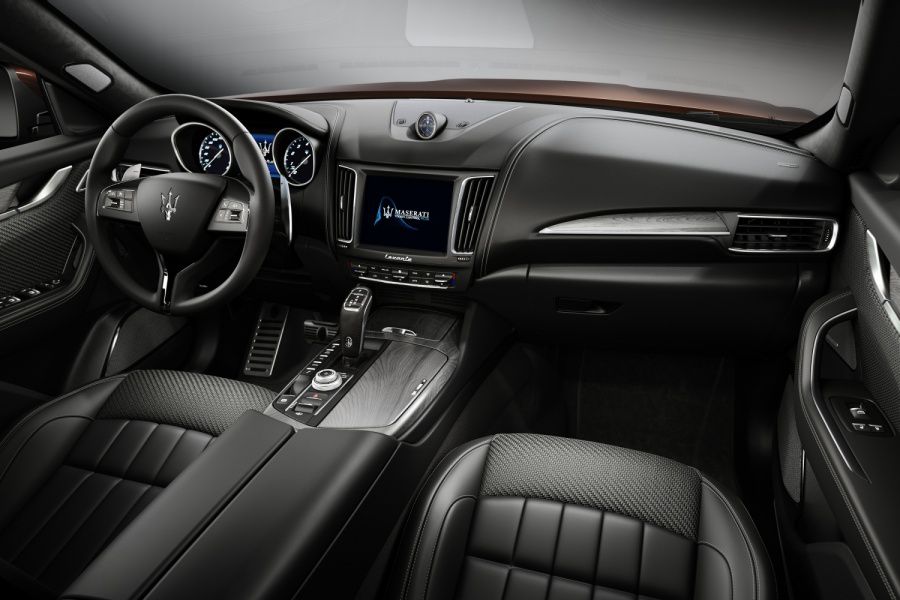 Photo by Maserati
Land Rover: Meridian
Though Land Rover's sister brand Jaguar partners with Bowers & Wilkins with strong results, we prefer its Meridian audio systems. Three are available. While the base system with 380 watts and 13 speakers isn't much to get excited about, the other two, the surround-sound system and Signature Sound System, are far more impressive. Surround sound is standard on many higher trim levels throughout Land Rover's extensive lineup of SUVs, including its hot new Defender model. It's quite good with 19 speakers, 825 watts, and a dual-channel subwoofer. The Signature Sound System found in the full-size Range Rover, however, is on a whole other level. For an additional $4,275, it includes 29 speakers, 1,700 watts, a dual-channel subwoofer, and an incredible ability to surround you in sound. It's quite remarkable. 
Number of Features: B
Sound Quality: A
Overall Performance: A
Value: B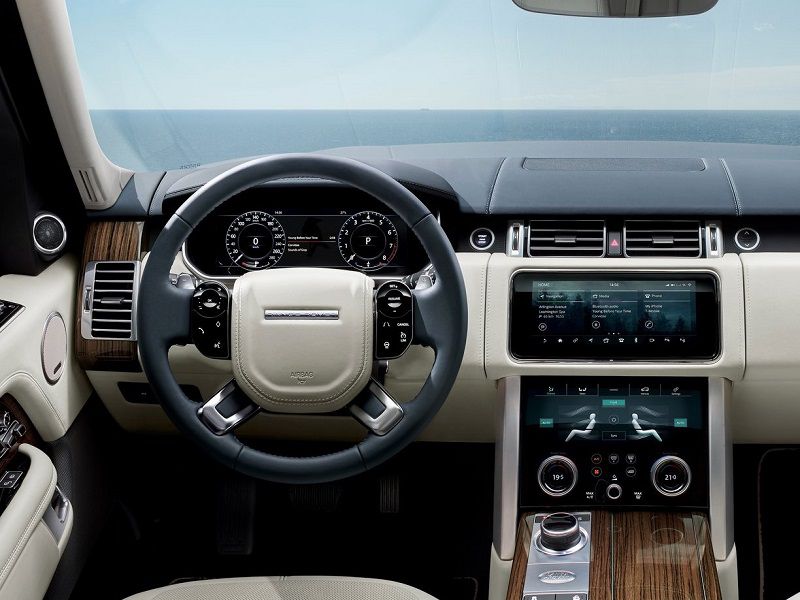 Photo by Land Rover
Cadillac: AKG
Along with the Chevrolet Corvette, Cadillac has partnered with Bose for its premium audio systems for decades. Well, GM's luxury brand has just moved on, and it's introducing AKG to the auto industry. Known for its microphones and headphones, which are used by musicians in recording studios and live venues around the world, AKG has created two audio systems for the all-new 2021 Cadillac Escalade, and they're impressive.  The standard AKG Studio system features 19 speakers, a large enclosed subwoofer, and a 14-channel amplifier. But the big dog is called the AKG Studio Reference system and features 36 speakers, three amplifiers that deliver 28 channels, and an astonishingly sharp and detailed sound. There's even a dedicated volume control for each front seat. But it's expensive. Cadillac bundles it with a long list of other technologies including an adjustable air suspension, soft-close doors, and adaptive cruise control and charges $10,650 for the lot. 
Number of Features: A
Sound Quality: A+
Overall Performance: A+
Value: C+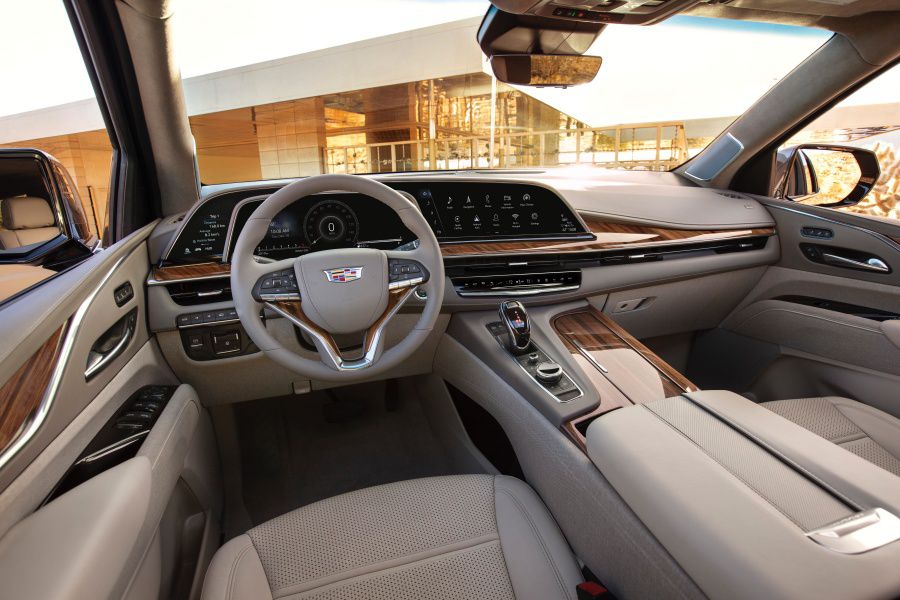 Photo by General Motors