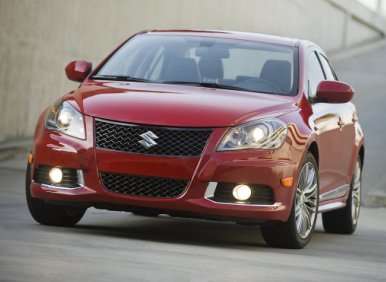 On November 5, 2012, American Suzuki announced that it is calling it quits in the U.S. car market, and discontinuing sales of the Equator pickup truck, the Grand Vitara SUV, the Kizashi sedan, and the SX4 lineup. Suzuki's motorcycle, ATV and marine engine units will continue to sell products in America, and Suzuki plans to offer its cars, SUVs and trucks in Canada, Mexico, and other global markets like nothing has changed. But here in the U.S. of A., consumers have voted with their hard-earned dollars: few people want a Suzuki.
We could offer opinions about why a Japanese brand, which originally held significant promise, and which sold more than 100,000 vehicles as recently as 2006, is departing U.S. shores, but that's not the point of this Suzuki buying guide. Rather, we wanted you to be aware that American Suzuki is eager for its dealers to sell their remaining vehicles, that dealers are offering big discounts to clear out what they've got sitting on the lot, and why you might (or might not) want to take advantage of this once-in-a-lifetime opportunity.
Before we dive into the details, you should know that Suzuki says it will honor all warranties on the vehicles that are discontinued, and will continue to provide parts for those vehicles for years to come. Remember, the company isn't leaving the U.S. market entirely, and it's not going to discontinue automobile production in other parts of the world. The company just won't be selling cars, SUVs or trucks in America.
If you have any questions, you can contact Suzuki directly at (877) 465-4819.
Suzuki Buying Guide: Suzuki Equator
The Suzuki Equator is a restyled and rebadged Nissan Frontier. Why not just buy a Nissan Frontier? Because the Suzuki has a 7-year/100,000-mile fully transferrable powertrain warranty, and the Nissan does not.
Suzuki never got around to producing a 2013 Equator, so the only ones left on dealer lots are 2012s in extended or crew cab models. Equator extended cabs can be trimmed in Base, Premium or Sport trim, while Equator Crew Cabs are available in Sport and RMZ-4 trim.
The Equator Extended Cab is equipped with a standard 2.5-liter 4-cylinder engine stirring up just 152 horsepower at 5,200 rpm and 171 lb.-ft. of torque at 4,400 rpm. A 5-speed manual transmission is included on base models, while the Equator Premium has a 5-speed automatic transmission.
Optional on the Equator Extended Cab Sport and standard on the Equator Crew Cab models, a 4.0-liter V-6 cranks out 261 horsepower at 5,600 rpm and 281 lb.-ft. of torque at 4,000 rpm. A 5-speed automatic is the only transmission choice with the V-6, and a shift-on-the-fly 4-wheel-drive system with a 2-speed transfer case is available.
For 2012, Suzuki offered stability control as standard equipment on all Equators, and installed new headrests for the front seats designed to improve injury protection in a rear-impact collision. New colors included Adobe Red, Bay Blue and Silver Alloy, and Graphite was a new color for the Equator's interior. The sporty Equator RMZ-4 was no longer available with a navigation system.
Basically, the Suzuki Equator is a Nissan Frontier. As long as you live someplace where it will be easy to get warranty work done through Suzuki, a leftover Equator makes a great choice. Just keep in mind that it likely won't hold its resale value as well as the Nissan.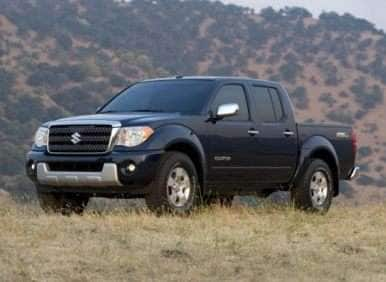 Suzuki Buying Guide: Suzuki Grand Vitara
There's really nothing grand about the Grand Vitara, and there never has been. Maybe Suzuki never should have kicked the name Sidekick to the curb.
The Grand Vitara is, however, a rarity in the marketplace, a compact SUV offering genuine off-roading talent. Old-school in terms of its approach, the Grand Vitara is perfect for people who need go far afield of pavement – or want that type of rugged capability just in case they need it.
It's a good-looking little SUV, too, especially the 2012 model. For 2013, the Grand Vitara received a new face that we don't find quite as appealing. Suzuki also offered new colors, new wheel designs, and new interior fabrics for the 2013 Grand Vitara, as well as a new infotainment system with Bluetooth connectivity and music streaming, a navigation system, USB ports, and a reversing camera.
Last year, changes for the 2012 Grand Vitara included an upgraded navigation system with voice-recognition, real-time traffic and weather, 3-D maps with lane guidance and Google Local search. A new tailgate design also debuted, eliminating the spare tire from some versions of the SUV. Given the Grand Vitara's departure, it might be worthwhile to track down one of the last 2012 Ultimate Adventure Edition models, which came equipped with water-resistant heated seats, a leather-wrapped steering wheel, unique exterior lighting, and dark-chrome 18-inch wheels.
Suzuki offers a single engine for the Grand Vitara, a 2.4-liter 4-cylinder making 166 horsepower at 6,000 rpm and 162 lb.-ft. of torque at 4,000 rpm. A 5-speed manual gearbox and rear-wheel drive are standard for the Base model; all other Grand Vitaras come with a standard automatic transmission. Four-wheel drive is an option for all except the Base model.
With 7.4 inches of ground clearance, a 28-degree approach angle, a 26-degree departure angle, and an 18-degree breakover angle, the Grand Vitara is capable of going places other small suvs can't. It is surprisingly roomy for carrying cargo, too, with 28.4 cu.-ft. of space behind the rear seat and 70.8 cu.-ft. of space when the rear seat is folded.
Attractive, off-road capable, and roomier inside than expected, the Grand Vitara filled a need among small SUV shoppers who actually required a vehicle with the ability to confront something more serious than a snowstorm. If that describes you, get a Grand Vitara while supplies last.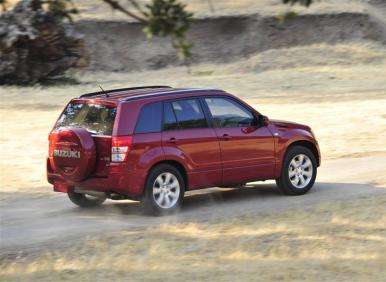 Suzuki Buying Guide: Suzuki Kizashi
Of the Suzuki models vanishing from U.S. showrooms, it is the Kizashi that we'll miss the most. This is, as we stated in a recent road test and review of the 2012 model, "the best car nobody buys."
The Kizashi, saddled with a name no American could pronounce let alone spell, and offered in a blizzard of trim levels that made little sense to anyone, was a surprisingly capable family sedan, known as a "tweener" because it was bigger than a traditional compact car but not quite as large as the typical midsize sedan.
In 2012, aside from a new Crimson Red paint color and a new Leather Package for the SE model, Suzuki made few changes to the Kizashi. For 2013, a new infotainment system with Bluetooth connectivity, Bluetooth streaming audio, a navigation system, USB ports, and a reversing camera debuted, and the Sport SLS model added a slew of standard features including leather, heated front seats, a HomeLink garage door opener, automatic headlights, rain-sensing wipers, rear parking assist sensors, and more.
The only engine offering was a 2.4-liter 4-cylinder making 185 horsepower at 6,500 rpm and 170 lb.-ft. of torque at 4,000 rpm. When equipped with the optional continuously variable transmission (CVT), horsepower dropped to 180 peaking at 6,000 rpm. Paddle shifters were available with the CVT, and CVT-equipped Kizashis could be upgraded with an optional all-wheel-drive system.
The Suzuki Kizashi is an impressive car, feeling more upscale and expensive from the driver's seat than it is. The Kizashi exudes quality, is fun to drive, and offers more space and comfort than its exterior dimensions might suggest. If you want to get a great deal on a family sedan, and you don't want to drive the same boring car everyone else does, grab one of the last Kizashis while you can.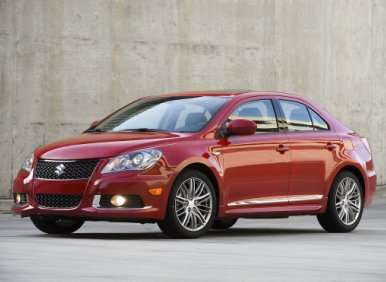 Suzuki Buying Guide: Suzuki SX4
The Suzuki SX4 lineup consists of a 5-door hatchback in Crossover or Sportback trim, and a 4-door sedan. Suzuki calls the SX4 Crossover "the lowest-priced all-wheel-drive vehicle in America," and the SX4 Sportback is a sport-tuned version of the SX4 hatchback without any off-roading pretensions. The SX4 sedan is a tall but small four-door with an appealing price tag. All have a 2.0-liter 4-cylinder engine generating 148 or 150 horsepower, depending on whether the buyer selects a 6-speed manual transmission or a CVT.
Last year, stability control and rear disc brakes became standard, and the SX4's optional navigation system was upgraded with voice recognition technology, real-time traffic and weather reports, 3-D maps with lane guidance, and Google Local search capability. For 2013, the SX4 received a restyled front end, new wheel designs, new seat fabrics, and new colors. A new in-dash navigation system option included Bluetooth connectivity with music streaming.
Perhaps the least competitive of Suzuki's offerings, the SX4 is not without its merits, especially the spry little SX4 Crossover with all-wheel drive and 6.9 inches of ground clearance. And with dealers discounting prices by as much as 30%, it makes a strong case for itself in terms of value.