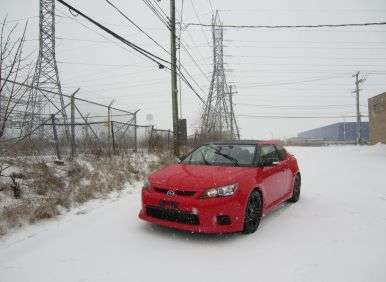 With all the fuss about the newest member of the Scion lineup (the uber-lauded FR-S coupe), it's easy to understand how the general public might have forgotten about the other compact coupe out there that wears the Scion badge: the 2013 Scion tC.  The tC has always been an outlier in the sporty two-door scene, a car that has never quite captured the imagination of entry-level buyers in quite the same way as the most popular example of the breed, the Honda Civic Si.
Always more focused on style and design than all-out speed and handling, Scion has regularly offered the tC in Release Series form, an edition that makes several upgrades to the vehicle's drivetrain and appearance and which is sold in limited numbers.  We spent a week with the 2013 Scion tC Release Series 8.0 (also known as the R.S. 8.0) to figure out where, exactly, the coupe fits in now that the FR-S has snagged the top spot at Scion - and how it stacks up against rivals from Honda (the previously-mentioned Civic Si), Kia (the Forte Koup SX), and Hyundai (the Elantra Coupe).
2013 Scion tC Release Series 8.0 Review: Models and Prices
Scion's all-inclusive pricing structure means that the 2013 Scion tC features a single MSRP for both manual ($19,480) and automatic ($20,480) transmission models, with no additional trim levels or options packages available.  That doesn't mean you can't have your tC exactly the way you like it, however - in addition to standard features such as air conditioning, power windows and door locks, Bluetooth connectivity, HD radio, and a panoramic sunroof, Scion provides an extensive catalog of accessories that can be installed on the car.  These include everything from rear spoilers to graphics kits to sound systems to brake and suspension kits, and the sky's the limit when it comes to how high the coupe's price can go with these features installed.
The 2013 Scion tC Release Series 8.0 model that we were driving (#113 of 2,000) takes several of these accessories and assembles them into a low-production package that features sharper handling and more extroverted looks than the base model coupe.  In addition to a Five-Axis body kit (and center-exit rear sport exhaust system), the RS 8.0 is lower than stock, comes with unique 18-inch wheels, and offers special badging and interior trim accents - all for an MSRP of $22,570 ($23,620 with automatic transmission).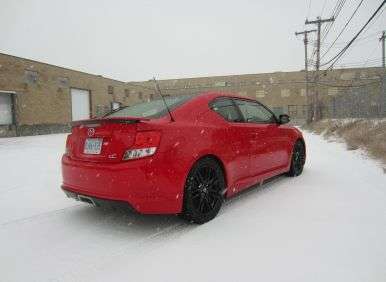 2013 Scion tC Release Series 8.0 Review: Design
Release Series 8.0 model debuts new styling cues for 2013.
The 2013 Scion tC Release Series 8.0 is about as close as you can get to ordering a tuner-look car right off of the showroom floor these days, aside from the recently-added flat grey paint scheme available with the Hyundai Veloster Turbo.  The tC R.S. 8.0 goes the extra mile by sporting a bright red paint job set off by big black rims, an attention-getting device that attracts looks and stares from every teenage boy within a five-block radius.  The Five-Axis body kit also works together with the car's lowering springs to visually slam the car to the ground in a way that the standard tC can't match.
Inside, the R.S. 8.0 isn't quite as extroverted.  The flat-bottom steering wheel offers a black Release Series badge with the production number of the vehicle you are driving embossed on it in red, and red stitching outlines its black leather circumference.  This stitching is repeated on the well-bolstered black cloth sport seats.  As with most inexpensive small cars plastic can be found throughout the tC's interior in abundance, but the effect is more plain than unpleasant.  The vehicle's dual-pane panoramic sunroof - with a small rectangular cutout positioned directly above rear-seat passengers - was a nice surprise and helped the car feel a bit more upscale inside.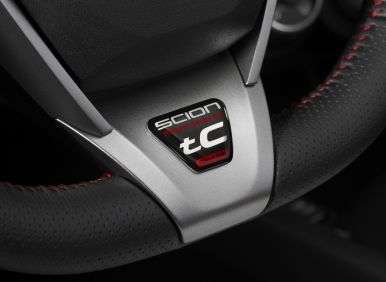 2013 Scion tC Release Series 8.0 Review: Comfort and Cargo
The Release Series makes no significant changes to the standard tC's interior design from a comfort or practicality perspective.
The 2013 Scion tC Release Series 8.0 is notable for the fact that it offers a realistically-sized passenger compartment that is actually capable of carrying more than just a pair of adults from point A to point B.  Tilting forward either of the front two buckets reveals a substantial amount of rear seat room, and despite the somewhat low ceiling the feeling in the back row is far from claustrophobic, even with both positions occupied.  This is one area where the tC pulls far, far ahead of its FR-S cousin, which boasts only vestigial, afterthought seating behind the driver and front passenger.
The Scion tC also scores maximum points when it comes to hauling oversized cargo.  The split seatback that separates the hatch from the cabin can be folded forward quickly and easily, a feature that we took advantage of when purchase ice picks to prepare us for an upcoming winter storm.  We were suitably impressed with the utility offered by a vehicle that hails from a class of cars where you are often lucky if you can squeeze a couple of duffle bags into the trunk alongside your groceries.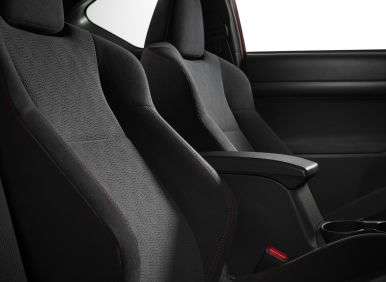 2013 Scion tC Release Series 8.0 Review: Features and Controls
The R.S. 8.0 we drove came with an upgraded touchscreen interface for the vehicle's stereo system.
Simplicity, thy name is Scion.  Our fully-loaded 2013 Scion tC Release Series 8.0 came with extremely straightforward gauges, controls, and interfaces across the board.  Although we were disappointed with a lack of heated seats and missed having automatic climate control, the power window switches, door lock activators, and big dials for the heater and blower were easy to use.  The stereo system came with a touchscreen in addition to its hard button controls, and there were enough menus and submenus available to tweak the sound to whatever sonic sculpture one cared to create inside the automobile.  The shifter was well placed in the center console, and although the interior's lack of adornment at times came across as a bit barren - a surprising contrast to its hot red exterior - we have no complaints about what is an entirely functional cockpit.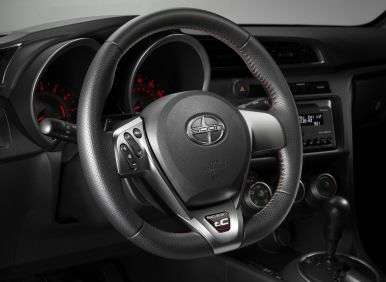 2013 Scion tC Release Series 8.0 Review: Safety and Ratings
The 2013 Scion tC R.S. 8.0 introduces no new safety features.
The 2013 Scion tC Release Series 8.0 provides the same level of safety gear as the base tC coupe.  This means that it comes with side airbags for those riding up front, dual forward airbags, front knee airbags for both driver and front passenger, and side curtain airbags.  Electronic stability control and traction control are also standard, as are anti-lock brakes.
Year/Make/Model Crash-Test Ratings:  The Scion tC received a four star rating for front impact testing and a five star rating for side impact testing from the National Highway Traffic Safety Administration, and its overall safety rating from the NHTSA is also five stars.  The Insurance Institute for Highway Safety has given the Scion tC a Top Safety Pick award for the 2013 model year.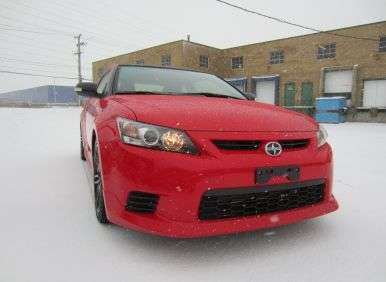 2013 Scion tC Release Series 8.0 Review: Engines and Fuel Economy
The 2013 Scion tC R.S. 8.0 comes with a free-flowing sport exhaust
A single engine option awaits those who order the 2013 Scion tC, regardless of whether it is found in R.S. 8.0 trim or not: a 2.5-liter, four-cylinder engine that is rated at 180 horsepower and 173 lb-ft of torque.  Transmission choices available with the tC include a six-speed manual (as found in our test vehicle), and a six-speed automatic.  EPA fuel mileage for either gearbox comes in at 23-mpg in stop and go driving and 31-mpg on the highway.  We found the tC to be substantially thirstier than that in mixed driving on a snow-heavy, city-oriented cycle, posting a mere 16-mpg during the course of a week.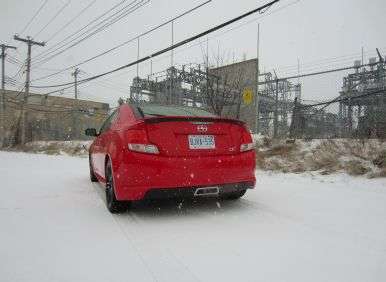 2013 Scion tC Release Series 8.0 Review: Driving Impressions
The 2013 Scion tC Release Series 8.0 is intended as the sportiest version of the compact coupe that you can order right out of the box, without having to do any of the accessorizing yourself.  In some ways, the tC R.S. 8.0 is a success at convincing drivers that they are behind the wheel of something performance-oriented, especially as when the revs climb on the tachometer and the TRD exhaust system sings a gruff and seductive tune.  Unfortunately, most of the tC's 'sporty' character is surface-only.  This small two-door certainly looks and sounds the part of a tuner express, but at its heart it's a capable commuter car wearing a slick suit.
It's the details that betray that Scion tC's true character.  For example, despite riding on lowered springs the R.S. 8.0 model doesn't hug the road so much as it makes driver and passengers suffer from the assault of every major pavement imperfection that might be glided over by its low-sidewall 18-inch tires, shaking and rumbling the vehicle's chassis to a significant degree.  The exhaust's smooth tone and the gearbox's crisp throws are let down by the fact that engine revs hang in the upper register when moving from one cog to another, which considerably detracts from the enjoyment of driving the car hard.  Then there is the fact that the traction control system automatically turns itself back on again even if the 'disable' button has been pushed once the car gets above 30-mph, further straight-jacketing the amount of fun that can be had from behind the wheel of the coupe.
Each of these issues are a shame considering that the Scion tC's engine actually offers a generous amount of grunt, especially when it comes to torque.  The two-door Scion squirts through traffic with ease, and if you are willing to risk a traffic ticket with its bright red paint job you can have a decent time darting down the freeway in the car.  Take the vehicle to a stretch of road where the curves demand more skill and precision than the tC's chassis and over-intrusive electronic nannies can provide, however, and the limitations of the platform quickly become apparent.  The tC R.S. 8.0 is a show-er, not a go-er, and if we were going to choose a daily driver we'd personally select a version of the coupe that didn't feature suspension tuning that was quite so raucous.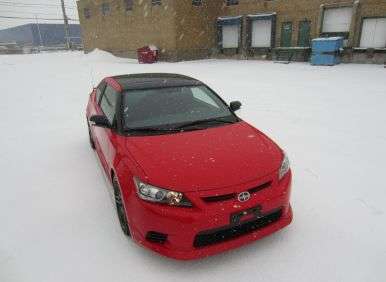 2013 Scion tC Release Series 8.0 Review: Final Thoughts
It's simply not fair to compare the 2013 Scion tC Release Series 8.0 to the Scion FR-S.  While they are both compact coupes, the performance chasm between the two models is far too great to consider them competitors.  That being said, there are some who will enter a Scion showroom and be flummoxed by the presence of two small two-door cars producing similar power figures and similar pricing (at least for the R.S. model) yet serving different levels of expectations - an issue that Scion salespeople will no doubt be addressing on a regular basis.
The Scion tC R.S. 8.0 fares better when compared against other front-wheel drive coupes such as the Honda and Kia models that we mentioned in the introduction to this review, but it still comes across as a work-in-progress.  We love its spacious interior, and minus its rev-hang tendencies the tC's four-cylinder engine is a nice piece of work that is in search of a chassis that can do it some justice.  If Scion is serious about stealing compact performance car sales, it needs to do something about the uninspiring suspension system stuffed underneath the tC's flashy exterior.  With the current Civic Si experiencing a low point of its own, and with quick and affordable compact hatchback options like the Hyundai Veloster Turbo and the Ford Focus ST closing in on the Scion's traditional buyer base, the time to step up and improve on this coupe is now.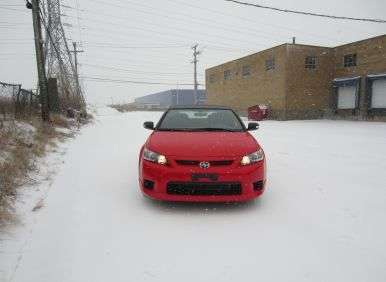 2013 Scion tC Release Series 8.0 Review: Pros and Cons
Pros:
Lots of room for both front and rear-seat passengers
Surprisingly practical cargo compartment
Snazzy looks
Adrenaline-enhancing exhaust note
Good power for its segment
Cons:
Uninspired handling
Bump-and-crash lowered suspension
Revs that hang between shifts
Undefeatable traction control
Toyota Canada supplied the vehicle for this review