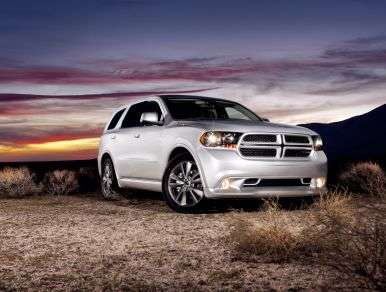 The 2013 Dodge Durango is a full-size SUV that can't seem to get any respect.  After having already been put on hiatus once in its near two-decades of existence, the current model finds itself again on the outside looking in after Sergio Marchionne, CEO of Fiat and ultimate arbiter of all things Dodge, targeted the seven-seater for replacement under the Jeep banner in the very near future.
Just because Sergio doesn't appreciate the Durango, however, doesn't mean that you have to follow in his footsteps.  In fact, the 2013 Dodge Durango is something of a stand-out in a largely polarized segment of the market.  Where most unibody people movers opt for a front-wheel drive arrangement, the Durango goes with a rear-wheel drive base model, and in an era when eight-cylinder mills are largely reserved for truck-based SUVs, the Dodge proudly offers a Hemi engine on its options list, giving it appreciable towing and hauling capacity.  The Durango bridges two worlds, giving buyers the choice between crossovers like the Chevrolet Traverse and bigger, heavier SUVs such as the Ford Expedition, which makes it well worth consideration by family buyers before it disappears from the automotive landscape forever.
2013 Dodge Durango Citadel Review: Models and Prices
The 2013 Dodge Durango can be ordered in four distinct trim levels.  The entry-level SXT (MSRP $29,495) comes with three zones of automatic climate control, a folding and reclining second row of seating, a third row of accommodations at no extra charge, a CD player, and power windows and door locks.  The Durango Crew (MSRP $34,895) installs a rearview camera, Bluetooth connectivity, power adjustments for the front seats, a power tailgate, parking assistance, and a touchscreen for controlling the entertainment system, while the Durango R/T (MSRP $35,995) provides most of the above and also adds HID headlights, a stiffer suspension system, sporty exterior accents, and 20-inch rims.  The R/T also makes the vehicle's optional V-8 engine standard equipment.
The version of the 2013 Dodge Durango that I drove for a week was the Citadel (MSRP $39,995), the best-equipped and priciest of the SUV's trim levels.  In addition to all of the gear mentioned above (minus the R/T's performance pretensions) the Citadel comes with 20-inch rims, heaters for the front and rear leather seats, cooled front thrones, a heated steering wheel, a navigation system, a sunroof, and adaptive cruise control.  My tester also came with the Technology Group of features (adaptive cruise control, forward collision warning, blind spot monitoring with cross-path detection) and a DVD player mounted on the ceiling just ahead of the second row of seats, which brought the total MSRP to $45,285.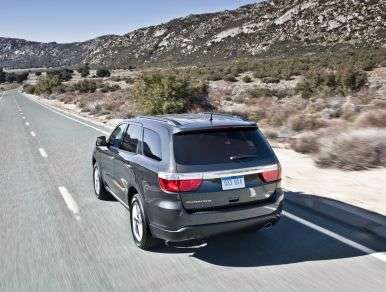 2013 Dodge Durango Citadel Review: Design
The 2013 Dodge Durango is unchanged compared to the 2012 model.
The 2013 Dodge Durango Citadel is an exceptionally attractive vehicle, one that blends the bold styling of the Ram division's full-size pickups with the more streamlined shape that one expects from a sport-utility vehicle.  The large, cross-hatched grille is recessed back into the smoothed-out bumper, allowing it to blend in with the rest of the Durango's aero-inspired appearance.  Small fog lights peek out from the SUV's small air dam, adding detail to its front end, and although bulky, the Dodge wears its heft as a badge of strength, rather than awkwardness.  Perhaps the only aspect of the Durango that disappoints is its hatch and tail light treatment, which comes across as more anonymous than distinctive.  Dual exhaust tips can be found at the rear of the eight-cylinder Citadel model.
The interior of the Dodge Durango presents far more hard plastic surfaces than one might expect given its overall styling, but the vehicle's relatively affordable price point on the full-size SUV spectrum makes this easier to forgive and forget.  Presentation is straightforward and unpretentious, particularly the gauge cluster in front of the driver (which, ringed with red light, slowly fades to a dull glow when the key is turned off), and numerous storage pockets, nooks, and crannies can be found scattered throughout the interior.  Particularly handy is the installation of a grippy rubber tray underneath the dash on the center console, whose divided compartments are perfectly-sized for handling mobiles phones and other devices with no risk of having them slide into the vehicle's foot wells.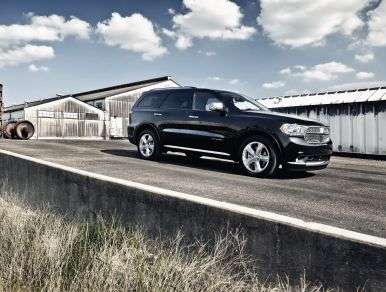 2013 Dodge Durango Citadel Review: Comfort and Cargo
The 2013 Dodge Durango is unchanged from the 2012 edition of the SUV.
The 2013 Dodge Durango Citadel is designed to haul up to seven passengers, and considering that it is based on the same platform as the five-passenger Jeep Grand Cherokee it manages to do this exceptionally well.  I draw the parallel between the Durango and its Jeep counterpart due to the fact that Chrysler already tried a seven-passenger model using the bones of the Grand Cherokee – called the Commander – that was considerably less successful due to the cramped nature of its third row of seating.
The Dodge Durango manages to avoid a similar fate, with a third row that is not only easy to get to thanks to a pull-and-flip second row feature, but one that also offers a legitimate amount of leg room for adult passengers and a pleasant seating angle that didn't drive my knees up into my face as is so common with seven-passenger crossovers.  Head room is a more of an issue, as I was able to barely slip my five-foot-seven dome under the roofline of the Durango. The very-back-seat is typically reserved for transporting children, however, who will have no such issue, and the second set of accommodations (which can be replaced by a pair of optional captain's chairs) presents no such problem.  The rear set of doors provided by the SUV are also quite large, which makes them very practical for getting in and out of the tall vehicle.
From a cargo perspective, the Dodge Durango provides up to 84.5 cubic feet of total carrying space accessible by way of the easy-fold seats.  The rearmost row can be tilted forward busing a handle mounted on each seatback, which is helpful for making more room for shopping mall purchases when one discovers that the 'trunk' space between the liftgate and third-row is not all that spacious.  If you need to get serious about cargo, however, the Durango can hitch up to a trailer weighing as much as 7,400 lbs, which is close to 2,000 lbs more than many of its front-wheel drive competitors and nearer the rating attached to much larger beasts like the Chevrolet Suburban.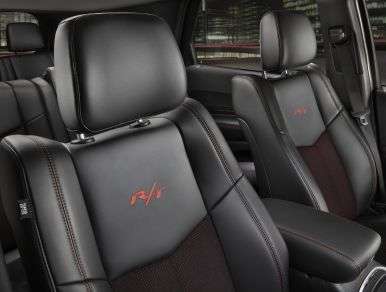 2013 Dodge Durango Citadel Review: Features and Controls
The 2013 Dodge Durango is unchanged from the 2012 model.
The 2013 Dodge Durango Citadel offers more toys and creature comforts than any other model in Dodge's SUV or crossover portfolio, which helps it approach near-premium status in terms of features.  The harsh winter weather that I confronted during my week of driving the Durango transformed niceties such as the heated steering wheel and heated seats into essentials, and I particularly liked the way that the Citadel model's remote start automatically activated the rear defroster as well as the previously-mentioned warmers for the hands and rump.
The 2013 Dodge Durango Citadel's touchscreen navigation system was paired with a small LCD screen mounted between the tachometer and speedometer that could display upcoming turn instructions while allowing me to play with the satellite radio on the main display.  I had a bit of trouble with the Bluetooth feature occasionally not pairing my Android phone, which was unusual given the normally flawless operation of Chrysler's infotainment gear, and I wasn't able to stream audio over Bluetooth either, which was merely an irritation for this spoiled driver.  Of more practical concern was the lack of an interior hatch release – at least that I could find – which meant I had to fish the key fob out of my pocket in order to pop the liftgate so that my passenger could unload the SUV prior to backing into a low garage.  Dodge is not alone in omitting this feature, but it's inconvenient and puzzling that I can't open or close the rear cargo opening from the front seat.
Another shared issue for every car company out there – regardless of what class of vehicle they are building – is the sheer uselessness of rearview cameras in foul weather.  I do not wish to single out the Durango for this particular problem, but it is one that confronted me numerous times when attempting to maneuver the large beast in and out of tight parking situations.  Simply put, in snow, rain, or on wet roads, rearview cameras have their lenses almost instantly obscured, rendering them useless as they provide no more than a foggy, narrow view of what lies immediately behind whatever vehicle you are driving.  With manufacturers increasingly relying on back-up cameras to compensate for styling conceits that make it difficult at best to see out of the back window, the need for a system that can clean and dry rearview cameras is clear.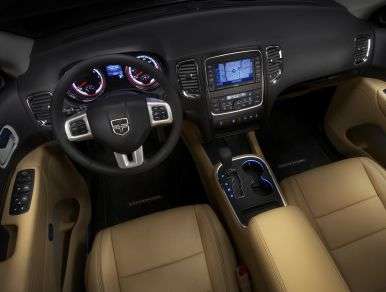 2013 Dodge Durango Citadel Review: Safety and Ratings
The 2013 Dodge Durango gains no new safety equipment for the current model year.
The 2013 Dodge Durango Citadel comes with two additional safety systems that have to be ordered as options on other versions of the SUV: blind spot monitoring (which activates an audible alarm and illuminates a yellow icon in the vehicle's side mirror should hidden traffic be detected during a lane-change), and rear cross-path detection, which keeps an eye out for automobiles navigating the parking lot behind you.  Standard safety equipment for the Durango includes side impact airbags, side curtain airbags, dual forward airbags, electronic stability control and traction control (with trailer sway control), and anti-lock brakes.
2013 Dodge Durango Citadel Crash-Test Ratings:  The 2013 Dodge Durango Citadel earned a four out of five star safety in federal crash testing, as well as a rating of 'Good' in each of the three main Insurance Institute for Highway Safety crash test categories.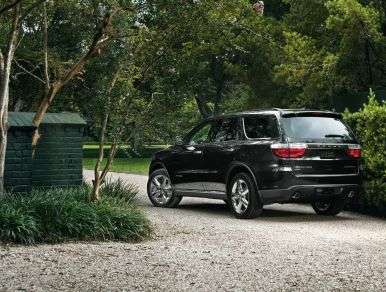 2013 Dodge Durango Citadel Review: Engines and Fuel Economy
The 2013 Dodge Durango features no changes to its engines or fuel economy statistics for the current model year.
The 2013 Dodge Durango's entry-level motor is a 3.6-liter Pentastar V-6 that can be counted on to produce 290 horsepower and 260 lb-ft of torque.  Fuel mileage for this engine, which is mated to a five-speed automatic transmission, is listed at 16-mpg city and 23-mpg highway.  The Citadel model that I drove featured the vehicle's optional 5.7-liter Hemi V-8, which pushes out 360 horses and 390 lb-ft of torque.  This mill also comes a six-speed automatic and cylinder deactivation technology in order to help it achieve a fuel economy rating of 13-mpg city and 20-mpg highway, but during my week with the Durango I was only able to squeeze out 10-mpg in snowy driving conditions.
The 2013 Dodge Durango can be had with two different four-wheel drive systems.  The first is an all-wheel drive design that comes exclusively with the V-6.  A more traditional four-wheel drive system (also referred to as 'all-wheel drive' by Dodge) that can be set to 'Auto' or 'Low-Range' is available with the Hemi-powered Durango.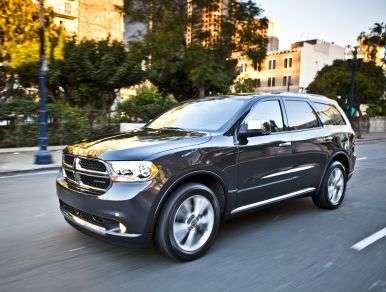 2013 Dodge Durango Citadel Review: Driving Impressions
The 2013 Dodge Durango is big, and it drives like it's big. This doesn't mean that it flops all over the road like Winnebago in a slalom or that it feels ponderous and unresponsive to inputs from its steering wheel or gas pedal, but it does mean that it's not nearly as car-like as some of its competitors.  There are some people who prefer that their large sport-utility vehicles handle a bit more like trucks than cars, and the Durango certainly aims to please that particular demographic.  It manages to do so, however, without transmitting as much harshness from rough road surface as truck-based SUVs thanks to its fully-independent rear suspension system, and it also stops far more quickly – even on slick, snow-covered pavement – than one would expect.
The Dodge Durango Citadel's 5.7-liter, eight-cylinder engine was quite thirsty, and while it provided enough power at highway speeds to hold speed up hills and pass at will, around town it felt only competent at hauling around the SUV's 5,000-plus lbs.  The Durango didn't display explosive pull off of the line, or anything resembling excitement, which is fine given that it's a workhorse and not a sports car.  Still, I would not like to be saddled with the V-6 version of the Dodge on a daily basis, as I can only imagine the impact the less powerful engine would have on performance.
I had ample opportunity to sample the Durango's four-wheel drive system during my time with the truck, both in Auto and Low-Range settings.  Auto mode provided constant traction in all manner of driving scenarios, and it was quite difficult to get the Dodge bent out of shape in the snow.  The Low-Range feature helped me out of a few dicey climbs up my heavily-canted driveway, which was slicked with ice due to the constant thaw-and-freeze cycle that Montreal had been exposed to for most of February.  One annoyance, however, emerged when shifting from Low-Range to Auto: in order to do so, the vehicle must be in neutral and traveling below 5-mph.  The inability to shift on the fly, combined with the fact that I could still move the dial to the 'wrong' setting, had me locked in low several times on the street before I could either slow down enough to rock the selector back to the right position or stop completely and figure things out.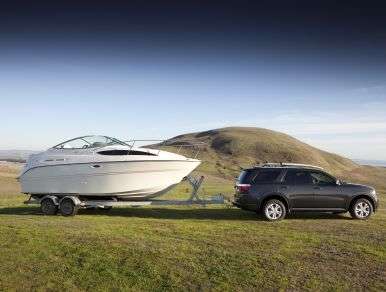 2013 Dodge Durango Citadel Review: Final Thoughts
The 2013 Dodge Durango is a looker in a segment where more thought is often given to function than form.  With a big interior that can comfortably handle seven passengers, respectable cargo room, and a towing capacity that allows it to play with the big boys, the Dodge Durango is definitely a practical family option.  Throw in the additional comforts provided by the sub-$40k Citadel trim, and it becomes even more appealing as an alternative to much more expensive premium SUVS.
Signing up for Durango ownership also means accepting that downsides that go with a full-size SUV.  In the case of the Dodge, it's either middling power (V-6) or the copious consumption of fuel (V-8).  The Durango's bulk might also make it a challenge for some drivers to handle, particularly in an urban setting, but here at least its rear-wheel drive layout gives it a bit of a maneuverability advantage in tight spots.  Know what you are getting into, and the 2013 Dodge Durango is a viable option alongside vehicles like the Ford Explorer, the Nissan Pathfinder, and the GMC Yukon.  Make sure to act quickly, though, because the Durango won't be around much longer, and this time once it's gone, it's gone for good.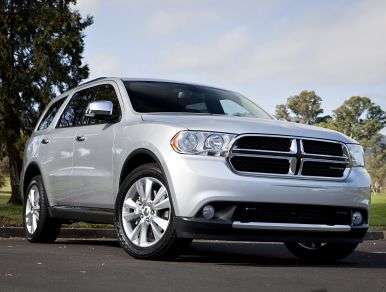 2013 Dodge Durango Citadel Review: Pros and Cons
Pros:
Best-looking SUV available from Chrysler
Generous interior room, good passenger space even in third row
Great towing capacity
Capable all-wheel drive/four-wheel drive systems
Availability of rear-wheel drive model
High feature count considering affordable price point
Cons:
Uses a huge amount of fuel in daily driving
Length makes it unwieldy at times
Hemi V-8 provides only adequate power
Hard plastics in the interior
Chrysler Canada supplied the vehicle for this review