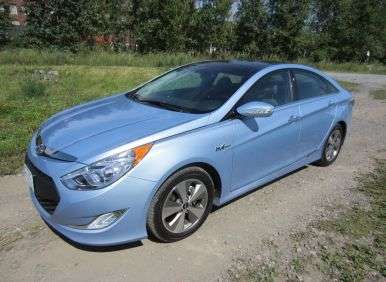 Hyundai has decided to take on major automakers from every continent by offering a fully-developed lineup, and the introduction of a hybrid sedan last year was an important step in that direction.  The 2012 Hyundai Sonata Hybrid continues to represent the Korean brand's parrying thrust against mid-size family electric options from Toyota and Ford.  At the same time, the vehicle stands apart from the gas-only Sonata via a number of different styling cues and a unique driving experience. 
Has Hyundai been able to match its rivals when it comes to refinement, efficiency, and practicality?  Does the Sonata Hybrid equal its conventionally-powered sibling?  Read on to find out.
2012 Hyundai Sonata Hybrid: Competition
As stated in the introduction, the 2012 Hyundai Sonata Hybrid is primarily intended to take on the Toyota Camry Hybrid and the Ford Fusion Hybrid.  Both of these automobiles enjoy a substantial following, and the Fusion Hybrid is on the verge of debuting an all-new platform for 2013.  Realistically, the Sonata Hybrid is also being shopped against turbodiesel options like the Volkswagen Passat, which delivers comparable levels of fuel economy (especially on the highway).  It's important to note, however, that despite being more expensive than the gas-only Sonata, the Hyundai Sonata Hybrid is priced below most of its competitors, which gives it a value edge that for some shoppers is a significant advantage when it comes time to close the deal.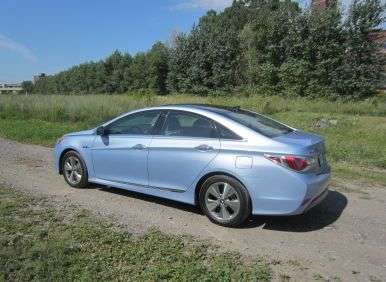 2012 Hyundai Sonata Hybrid: Pricing and Trim Levels
The 2012 Hyundai Sonata Hybrid comes in a single trim level that retails for an MSRP of $25,850.  Like most Hyundais, the Sonata Hybrid can be customized via the selection of options packages that group together some of the most popular available equipment.  The Leather Package ($1,500) and the Ultimate Package ($5,500, include Leather Package) represent two ways to tack additional dollars onto the price tag of the sedan.
The Hyundai Sonata Hybrid that joined our test fleet for a week was a Canadian-market Premium edition, which incorporates much of the content found in America's Ultimate Package.  Altogether, this gave our test vehicle an MSRP of approximately $31,350.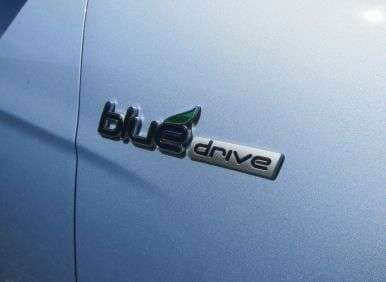 2012 Hyundai Sonata Hybrid: Exterior
The 2012 Hyundai Sonata Hybrid features a look that attempts to merge the "fluidic sculpture" design of the gas-powered Sonata with the aerodynamic requirements of an ultra-efficient automobile.  The result is a version of the mid-size sedan that comes with a completely new front fascia, swapping out the angled curves of the vehicle it is based on in favor of a new, trapezoidal honeycomb grille that is bisected by a thick, horizontal piece of black plastic.  New running lights can be found embedded into the lower reaches of the Sonata Hybrid's air dam, and the Hyundai logo has been relocated to the center of a large chrome accent piece that stretches from one side of the hood's front lip to the other.  Like the BlueDrive badges on the side of the sedan, the logo is set against a blue background in order to indicate the car's hybrid status.  The car's rear end has also been massaged - and fitted with special taillights - in order to further separate the Sonata Hybrid from the standard edition.
All of this work translates into a drag coefficient of .25, which is impressive for such a large automobile.  Unfortunately, the revised front end doesn't exactly mesh with the Sonata's untouched style lines stretching along either side of the sedan, and the extensive use of black plastic up front cheapens the elegance of the design.  The Sonata is a pretty car, but the Sonata Hybrid just doesn't pull it all together with quite the same level of confidence and grace.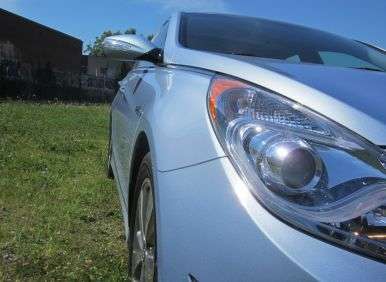 2012 Hyundai Sonata Hybrid: Interior
The 2012 Hyundai Sonata Hybrid's passenger compartment doesn't fall victim to the same surgeon's scalpel that crafted its new proboscis.  The interior of the Hybrid is virtually identical to that of the gas-powered Sonata, which means that passenger room is excellent and the automobile's trim, vents, and dashboard are pleasing to the eye.  From a materials standpoint, however, there are some letdowns, particularly when it comes to encountering a few harder plastic pieces scattered throughout the cabin.  Being picky, we weren't too happy with the feel of the switchgear used to open and close the dual panoramic moonroof that came with our highly optioned Hybrid (although we did enjoy the additional light provided by the feature).  Comfort-wise, we were coddled by the Sonata Hybrid's leather seats, which were heated both front and rear, and by its dual automatic climate control feature that did a good job of keeping us cool in the Montreal heat even when set to "ECON" in order to boost fuel efficiency. 
We had little difficulty setting up the sedan's Bluetooth connection between our mobile phones and the hands-free calling system, but getting the Sonata Hybrid to actually recognize our voice commands was another issue entirely.  Despite displaying on-screen prompts telling us specifically what we could say, we encountered more than a few headaches attempting to make calls from our list of contacts.  The same issue confounded us when we tried to speak addresses into the navigation system, an issue no doubt made worse by Quebec's predominance of hyphenated city and street names.  This issue is not restricted to the Sonata but has been encountered by us in previous Hyundai products, which makes us hope for a software patch to upgrade the system in the near future.
The LCD touchscreen that housed the vehicle's navigation, entertainment, and hybrid displays, on the other hand, was beautifully bright and engaging, measuring seven inches across and sitting at the top of the vehicle's center stack.  One pet peeve was the seeming inability to use touch and voice at the same time - touching some menu options while the voice command feature was active would shunt us back to our point of origin, which was confusing.  Other than that, we were happy to page through the different displays that showed how the Sonata Hybrid's energy management system was distributing power.  Choices included a bar graph showing recent fuel mileage (even though the car's speedometer had been set to kilometers), a schematic of the charging system and its real-time battery / engine use, and our personal favorite, a huge spinning globe flanked on either side by arrows that indicated whether your driving habits were taking power away from, or sending it to, Mother Earth.
This same globe could be found sitting at the center of the instrument panel located in front of the driver, where it ranked the efficiency of one's driving using a series of illuminated blue marks that were added or subtracted accordingly.  To the right of the globe sat the Sonata Hybrid's speedometer, while the left gauge featured the EV indicator and a dial whose needle would zoom from blue to red during stints of aggressive acceleration.
A final note on the Sonata Hybrid's cargo capacity: the hybrid system's battery pack eats up almost 10 cubic feet of trunk space, which means that the sedan isn't quite as capable of swallowing large suitcases when compared to the gasoline model.  For some drivers this isn't an issue, but if you plan on loading up the Hybrid for weekend trips you'll need to do a reality check at the dealership before taking a test drive.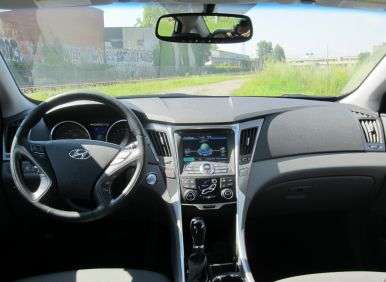 2012 Hyundai Sonata Hybrid: Powertrain and Fuel Economy
The 2012 Hyundai Sonata Hybrid comes with a 2.4-liter, four-cylinder engine and a battery-powered electric motor that together generate a healthy 206 horsepower and 193 lb-ft of torque.  Unlike other hybrids in its class, the Sonata is equipped with a traditional six-speed automatic transmission instead of a continuously-variable unit.  Fuel mileage for the Sonata Hybrid is listed at 35-mpg in stop and go driving and 40-mpg on the highway, and the sedan can reach 60-mph from a standing start in just a few ticks under nine seconds.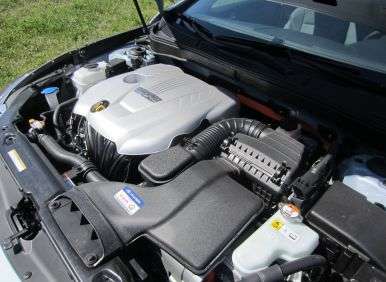 2012 Hyundai Sonata Hybrid: Driving Impressions
The 2012 Hyundai Sonata Hybrid's drivetrain stuffs its electric motor between the engine and transmission and makes use of a clutch to engage and disengage the gas unit as required.  This design makes for a lighter overall weight when compared to more complex implementations found in Toyota or Ford automobiles (a benefit that is further compounded by the use of a lithium-ion battery pack), but when driven as one would a 'normal' sedan, the Hyundai Sonata Hybrid simply does not offer a level of refinement that one would expect after having sampled the gasoline edition of the same vehicle.
Don't get us wrong:  the Sonata Hybrid has more than enough power to squeal its tires away from a stoplight, even with Blue mode engaged (a fuel-saving feature that reprograms shift points and engine management in order to maximize efficiency).  However, power delivery is somewhat jerky as the system switches back and forth between electric-only and gasoline / electric modes.  The vehicle's regenerative braking system is also difficult to master, requiring a soft touch lest occupants be jostled by unexpected amounts of stopping power.  This scenario that encountered rather abruptly during an emergency stopping situation that actually wasn't, with the car taking over brakeforce distribution and bringing the automobile to a screeching, surprising halt.  Drivers will have to keep in mind that braking distances are longer in the Sonata Hybrid than might be expected, which means there's a need to plan your stops accordingly.
Suspension tuning is additionally a bit disappointing.  The Hyundai Sonata Hybrid shows good poise on the highway, but around town - or midway through a corner - it can come across as uncomposed, especially when dealing with a stretch of cratered pavement.  The overall impression given by the Sonata Hybrid is of a car that is stretching above its design threshold to deliver a ride that it's simply not capable of offering.  In other words, the car feels as though it was designed to a price, and not a standard, which is an unfortunate state of affairs for such an affordable hybrid vehicle.
One saving grace for the Sonata Hybrid's driving personality is the behavior of its EV mode, which is to say when the car is operating exclusively on battery power.  More so than some other hybrid automobiles, we were able to keep the Sonata on battery power alone at a higher rate of speed (and for greater distances) than we had originally thought possible, all by being gentle with the throttle.  The Hyundai Sonata Hybrid is also extremely willing to drop into EV mode at the slightest indication that one is coasting, whether it be downhill or even across a relatively flat stretch of road.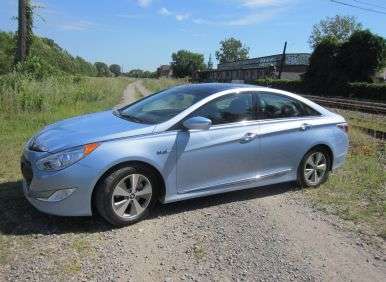 2012 Hyundai Sonata Hybrid: Safety
The 2012 Hyundai Sonata features front dual stage airbags, side impact airbags for the first two passengers, and side curtain airbags that deploy to protect the heads of passengers seated both front and rear.  The front headrests are active, which allows them to minimize the chances of neck injury in certain types of collisions.  In addition, the Sonata Hybrid comes with anti-lock brakes (paired with electronic brake force distribution and brake assist), as well as electronic stability control, and traction control.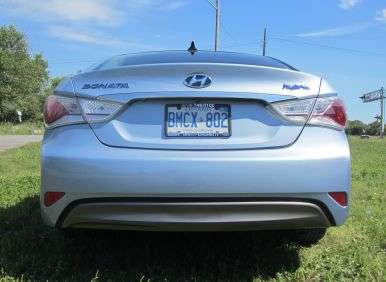 2012 Hyundai Sonata Hybrid: Final Thoughts
If it seems like we were disappointed with the 2012 Hyundai Sonata Hybrid during our time spent with the car, it's mostly because we expected so much more from its manufacturer.  The Sonata has been lauded as a worthy mid-size sedan competitor, but the Sonata Hybrid isn't quite up to the same standards of quality and drivability as the vehicles it is attempting to steal sales from.
Hyundai has extended its excellent warranty protection to include a 10-year guarantee on the vehicle's battery pack - an important concern for those hesitant to embrace hybrid technology - and the automobile is quite affordable.  Price-conscious hybrid shoppers might be willing to overlook the unsatisfying driving experience offered by the Hyundai Sonata Hybrid, but for those willing to spend just a little bit more money we recommend at least investigating alternatives - or taking an extended test drive - prior to committing to this model.  We can only hope that Hyundai learns from its first hybrid attempt and continues to refine this vehicle accordingly.
What We Like About The 2012 Hyundai Sonata Hybrid
Affordable pricing, for a hybrid
High level of available equipment
Roomy interior
Easy-to-use EV mode
We Aren't So Hot On:
Somewhat clumsy drivetrain management
Unrefined handling and acceleration
Styling break from standard Sonata
Difficult-to-use voice command system for navigation and Bluetooth