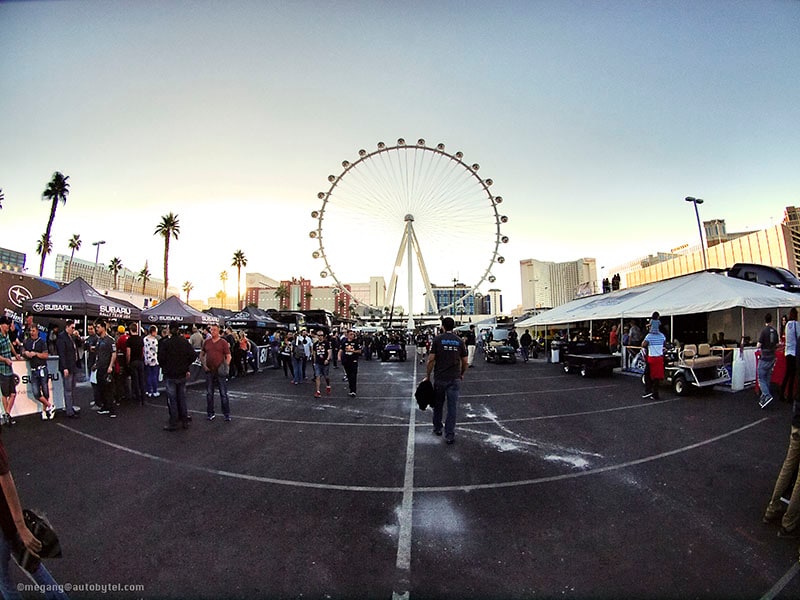 Red Bull Global Rallycross Las Vegas Paddock ・ Photo by Megan Green
The 2014 Red Bull Global Rallycross season came to a climactic finish at the LINQ in Las Vegas, Nevada, running concurrently with SEMA. The drivers competed in heats over two days on a counterclockwise .627 mile track that looped in on itself, with a fast straightaway, almost 60/40 tarmac to dirt percentage, and the GRC signature table jump. Competitors who had raced all season in Supercars and Lites - as well as a few additional teams coming in for the competition - drove their hearts out by the High Roller on the Vegas Strip.
#00 - Steve Arpin - Ford Fiesta ST
Coming from a background racing stock cars on dirt ovals, 2014 was Steve Arpin's second year in GRC, racing in a Ford Fiesta ST. The Canadian had one podium finish in 2014 - second place in the Barbados season opener - finishing eight in the Las Vegas final and a career-best seventh in overall championship points.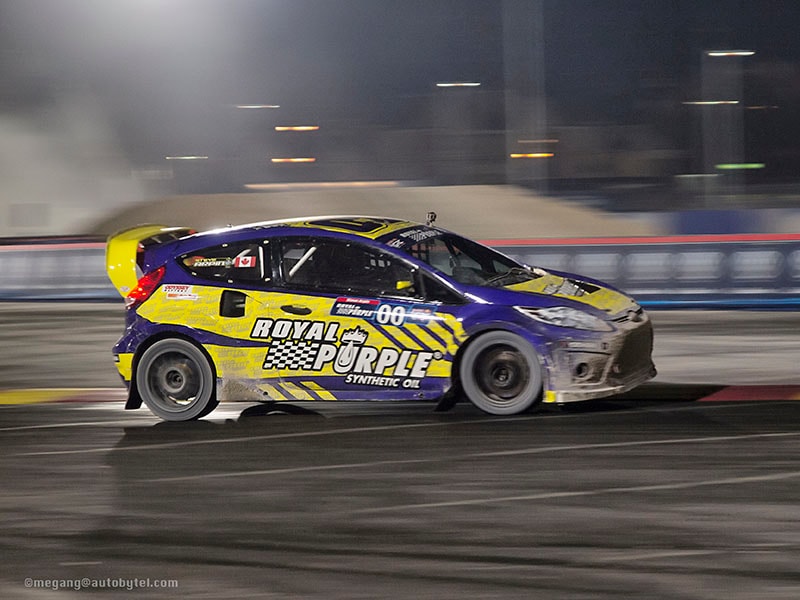 Photo by Megan Green
#07 - Nelson Piquet Jr. - Ford Fiesta ST
Piquet Jr.'s season was off to a spectacular start, with four podium finishes and a shot at the championship after the first five races. Rallycross is unpredictable, however, and the podium remained elusive for the second half of the season. Unable to race in the Las Vegas final due to car damage doesn't diminish the fact that he was a championship contender, and finished the season fourth place in points.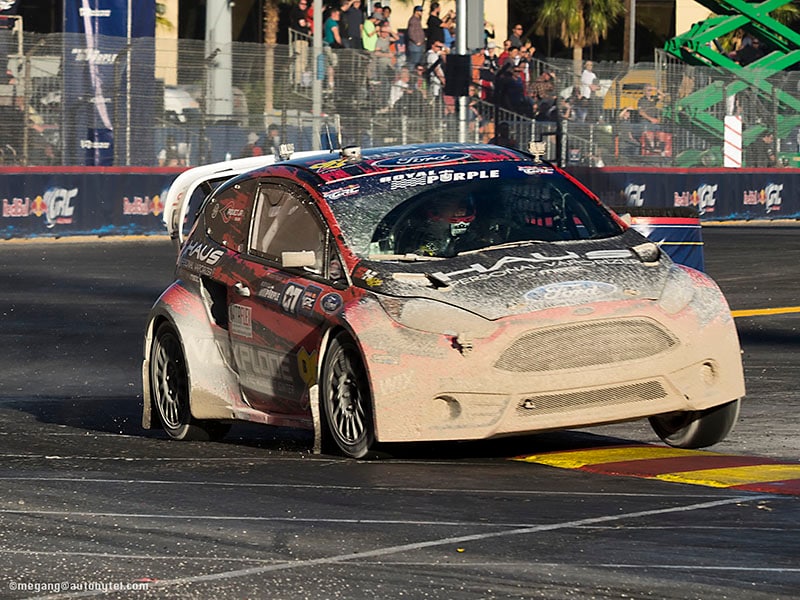 Photo by Megan Green
#11 - Sverre Isachsen - Subaru WRX STI
Isachsen fairly steadily finished higher and higher in the standings throughout the GRC season punctuated by a second place on the podium in Charlotte, and a jubilant first place in the penultimate race in Seattle this past September. A scrappy competitor, the Norwegian came back from a crash in a late heat to win the Vegas last change qualifier, finishing fifth in the race and the season - a personal and Subaru team best in GRC.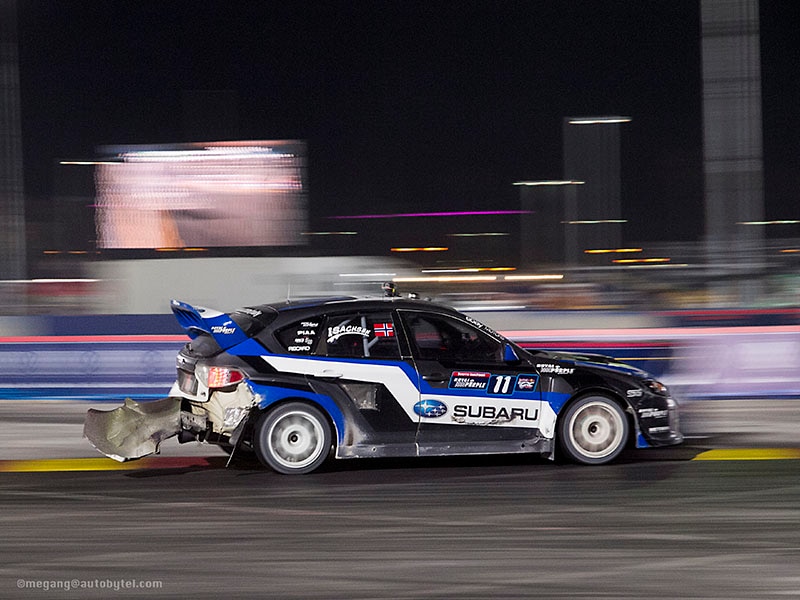 Photo by Megan Green
#14 - Austin Dyne - Ford Fiesta ST
2014 was Austin Dyne's first year racing in a Supercar, having moved up from competing in the Lites division in 2013.Driving a Ford Fiesta ST - the most represented car and manufacturer on the GRC field - Dyne made it to all but two finals in 2014, with a season best a sixth-place finish in New York.
Photo by Megan Green
#18 - Patrik Sandell - Ford Fiesta ST
The perpetually smiling Swede Patrik Sandell had his first win in 2014, beating two other Ford Fiesta ST drivers for the top podium spot in Washington DC.  Finishing the season 6th in points his second year in a row, Sandell completed seven laps in the Las Vegas final before having to set out the last three laps after a damaging spin between the first and second turns.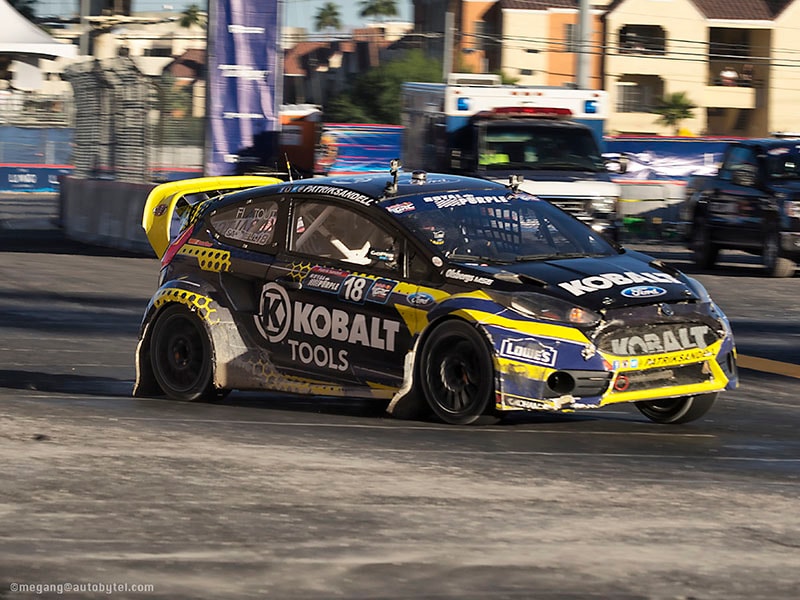 Photo by Megan Green
#27 - Emma Gilmour - Hyundai Veloster Turbo
Joining Rhys Millen Racing in a Hyundai Veloster Turbo in 2014, the finals in Las Vegas were landmark events for both Emma Gilmour and Red Bull Global Rallycross. It was the first time all season that Gilmour raced in a final, and the first time that a woman raced in a final in GRC. At several races during the season, Sarah Burgess also competed, but Kiwi Gilmour steadily raced throughout the year, placing 13th in points and finishing seventh in the race at the LINQ.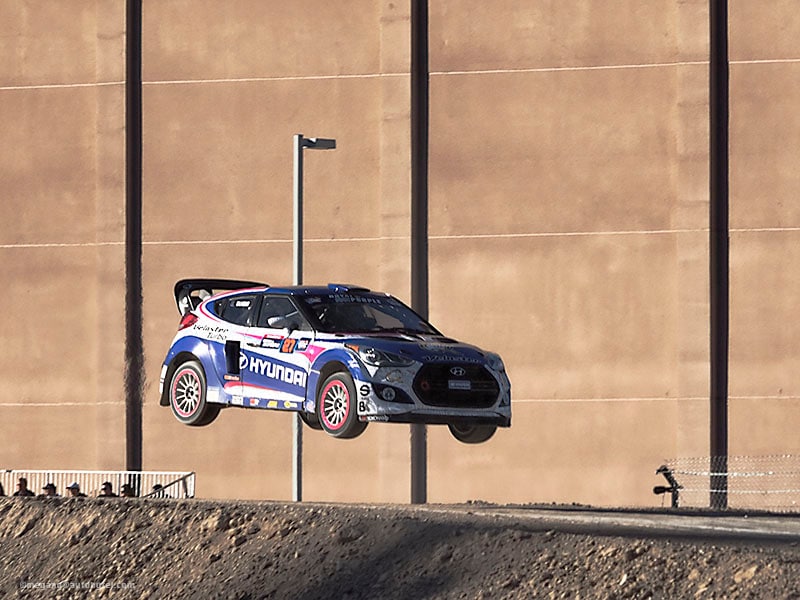 #31 - Joni Wiman - Ford Fiesta ST
With five podium finishes this year, Joni Wiman competed in the Lites division in 2013. Stepping up to a Ford Fiesta ST in Supercars for a sensational first year in 2014, Wiman placed second on the podium in Las Vegas. Joni is the season champion, beating Ken Block out by five points.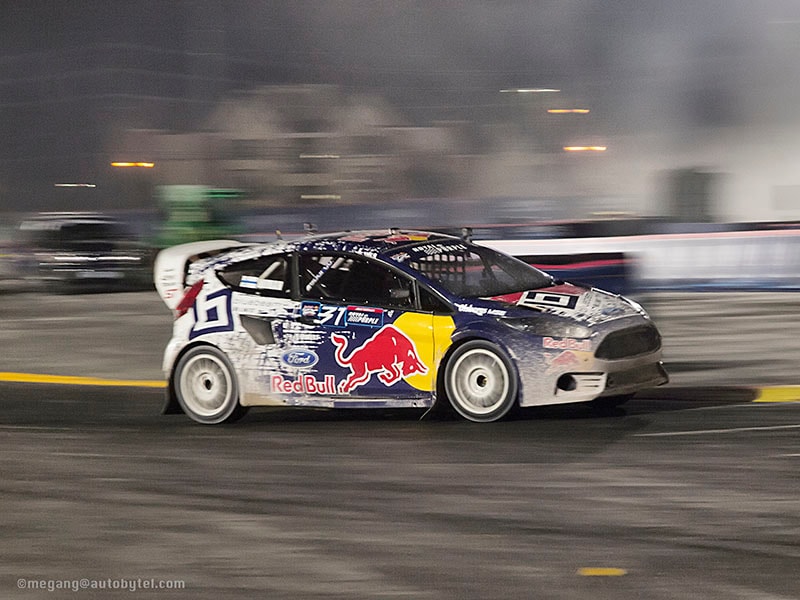 Photo by Megan Green
#34 - Tanner Foust - Volkswagen Beetle
After competing in a Ford Fiesta in 2013, Tanner Foust switched teams to Volkswagen Andretti Rallycross for 2014. Foust started out the year in a Volkswagen Polo, and finally got behind the wheel of the yellow and black Beetle for the Los Angeles double header. Tanner had a first place finish in New York in the Polo while the GRC Beetle was still in testing, and finished the season in ninth place.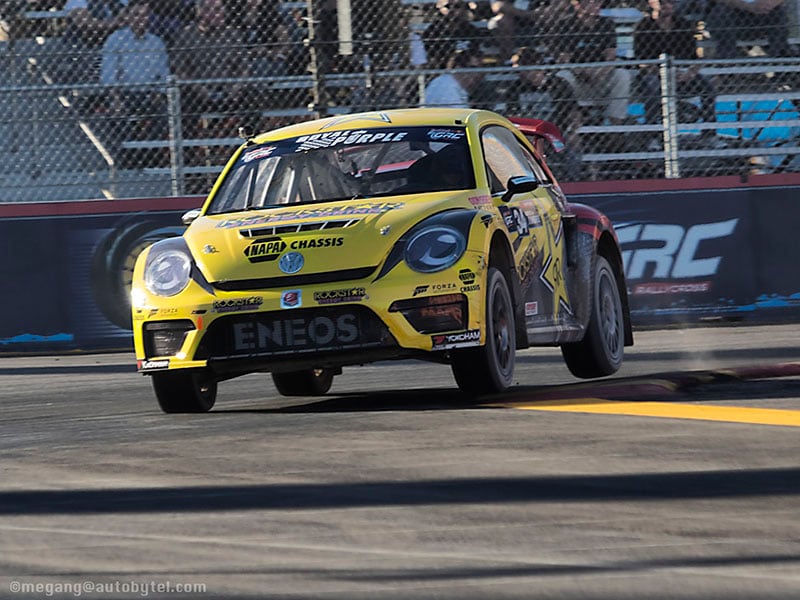 Photo by Megan Green
#38 - Brian Deegan - Ford Fiesta ST
An X Games competitor in both Moto X and Rally Car, Deegan had two podium finishes in GRC in 2014. The Ford Fiesta ST driver finished twelfth in championship standings.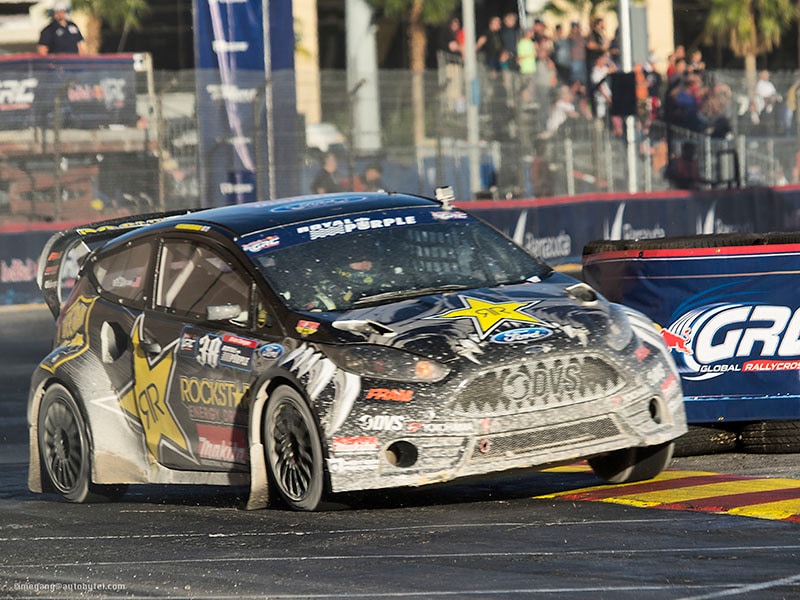 Photo by Megan Green
#43 - Ken Block - Ford Fiesta ST
Undeniably the most larger-than-life personality in Red Bull Global Rallycross, Ken Block proved a formidable competitor in his Hoonigan Ford Fiesta ST in 2014. Block had six podium finishes in 2014, two of them in first place. Placing second in the championship behind Joni Wiman but winning in Las Vegas, Block honored Wiman by doing donuts around Wiman at the end of the race.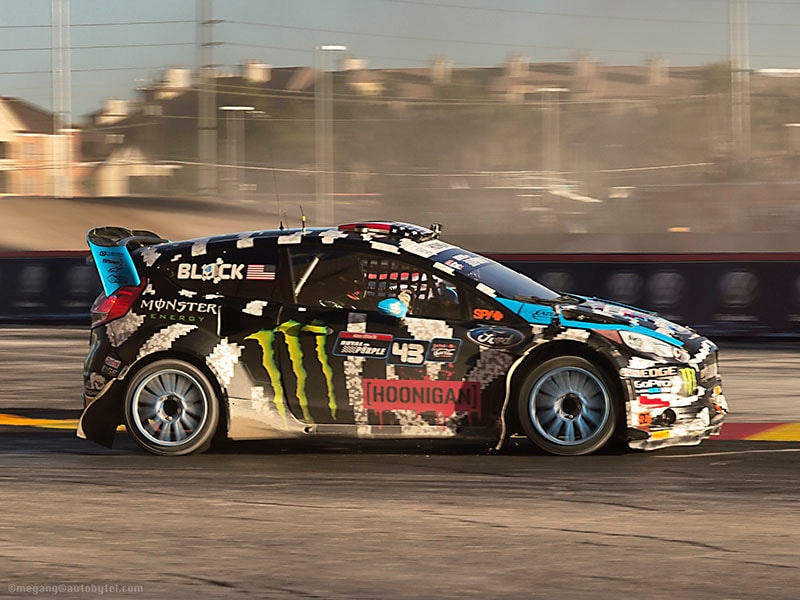 Photo by Megan Green