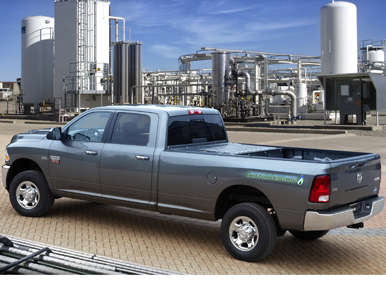 Just one day after GM announced the debut of bi-fuel versions of its full-size pickups—capable of running on both gasoline and compressed natural gas (CNG)—the Chrysler Group has responded by unveiling a similarly powered member of its Ram pickup family, as well as expanded availability of the Ram Tradesman package and a new "cutaway" solution for medium-duty Ram chassis-cab applications. These additional models should go a long way in helping the brand continue to grow sales at a faster pace than any of its full-size pickup rivals.
Fuel for Thought
Like the bi-fuel Chevy Silverado/GMC Sierra 2500 HD models, the RAM 2500 Heavy Duty CNG provides a simple way for truck customers to benefit from a cleaner-burning and less-expensive alternative to gasoline.
"Compressed natural gas is a widely accepted fuel in the U.S., Europe and Asia," said Robert E. (Bob) Lee, the Chrysler Group's vice president and head of Engine and Electrified Propulsion Engineering. "As a fuel, CNG is readily available, well-suited to run in our 5.7-liter HEMI engine and is clean-burning with a low environmental impact. In fact, CNG demonstrates a reduction of 70 to 90 percent of smog-producing pollutants and significantly reduces greenhouse gas emissions."
Of course, also like its recently introduced rivals, the Ram comes straight to customers with the ability to run on gasoline, too—and without further modifications. In fact, the Ram can seamlessly and automatically switch from one fuel source to the other to meet driver requirements.
(Those keeping a close eye on the U.S. truck market will note that Ram is positioning its entry here as the only "factory-built" CNG truck in North America; the GM duo relies on a fuel system installed by one of the General's tier one suppliers.)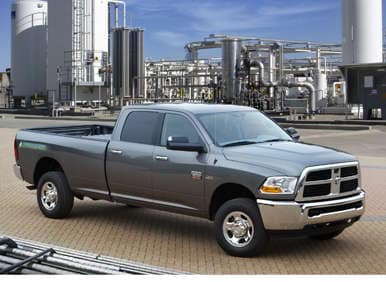 Trading up in the Tradesman
Ram also is following up on the success of the RAM 1500 Tradesman, originally offered only in a regular cab configuration, by introducing Tradesman trucks with both Crew and Quad Cabs. Designed specifically to appeal to contractors and other business owners, these high-value work trucks offer standard equipment that includes a 310-hp 4.7-liter V8 capable of making 330 lb.-ft. of torque and achieving 20 mpg on the highway, steel wheels, a factory-prepped and warrantied spray-in bedliner, six-speed automatic transmission, link-coil rear suspension, heavy-duty cooling system, and Class IV receiver hitch with 4- and 7-pin trailer connectors.
In addition, owners can add a RamBox cargo management system as a no-cost option, saving $1,295 on components that include lighted, lockable storage and a range of adjustable tie-downs.
Pricing on the Ram Tradesman lineup is as follows:
Tradesman Regular Cab—$22,370
Tradesman Crew Quad Cab—$27,330
Tradesman Crew Cab—$29,810
Tradesman 1500 HD—$29,600
Adding Satisfaction for Cutaway Customers
Finally, the Ram brand has unveiled two new upgrades designed to better satisfy its commercial customers. First, for commercial applications that need the unique advantages of a "cutaway" truck—in ambulances, for example, where people must be able to directly pass through from the cabin to the rear of the vehicle—Ram worked with customers and upfitters to develop a new process for vehicle modifications on the 3500, 4500 and 5500 medium-duty chassis cabs. As a result, more than 80 percent of the rear panel on the Regular Cab trucks now can be removed without affecting the vehicles' structural integrity.
Ram has enhanced the Max Tow package for its 4500/5500 trucks as well, adding a new transfer-case gear set, chain and sprocket upgrades, and recalibrated transmission software, while also increasing thermal-management capabilities. Backed by these improvements, the trucks now showcase a gross combined weight rating (GCWR) of 30,000 lbs. and a new top trailer-tow rating of 22,300 lbs.—an increase of 4,000 lbs.; the RAM 3500 Chassis Cab also increases its GCWR by a full 3,000 lbs. to reach the 20,000-lb. mark.
For more information on any of the trucks mentioned here, contact your local Ram dealership today.