The Q&A First Drive is our way of answering questions about a new vehicle that are most relevant to you, the potential buyer. It recognizes that each vehicle must be handled with a different set of questions based on a potential buyer's needs, expectations, and requirements. Enjoy!
There are three ways to interpret your observation. One, perhaps you know how weak previous generation Cadillac SRX sales were and you're being sarcastic. Crossover shoppers just looked at its predecessor and said "wagon, not for me." Two, perhaps you owned or drove a previous generation SRX and know what solid vehicle it was. Yes, while it didn't sell well, it had superb driving dynamics that indeed set a high bar for what one could expect from a crossover. Finally, perhaps you know how fiercely competitive the luxury crossover segment is, where the bar has been set high by numerous entries.
Photos courtesy of Cadillac
Page 2
The Cadillac SRX steps into a segment more ferocious than a wasps' nest with a rock in it. According to Cadillac, 25% of the luxury market is made up of luxury crossover sales, meaning a tremendous potential upside for manufacturers with a solid contender. For shoppers this means a wealth of great vehicles to choose from, among them, reining sales leaders like the recently redesigned Lexus RX, as well as new entries like the Audi Q5 and Volvo XC60. The future doesn't look any easier for the SRX either. Acura has revised both its MDX and RDX for 2010, BMW will have a new X3 out sometime next year, and Mercedes-Benz has a decently selling vehicle on their hands in the form of the GLK.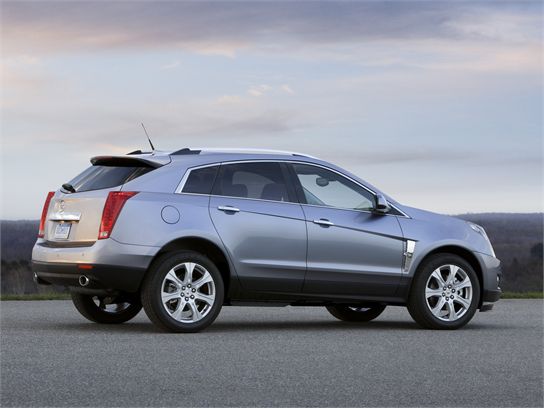 Page 2
On paper you could argue a destination-included base price of $34,155 stands out against higher priced competitors like the Lexus RX and Audi Q5, though with an SRX reasonably equipped at $37,735, the price advantage gap isn't as substantial. More than anything, we think styling will set the SRX apart. This category is filled with everything from the handsomely inoffensive (RX comes to mind) to the polarizing not-for-everyone (FX, looking at you). The SRX strikes us as attractively bold in a way that can be accepted by both soccer moms and their husbands too, and in a segment where image matters as much as utility, we think this will carry the SRX a long way. Take note of the fin-like rear taillights that evoke Cadillac design language of the past without looking out of place, and the creased lines on the sides of the vehicle that continue nicely Cadillac design language of the present.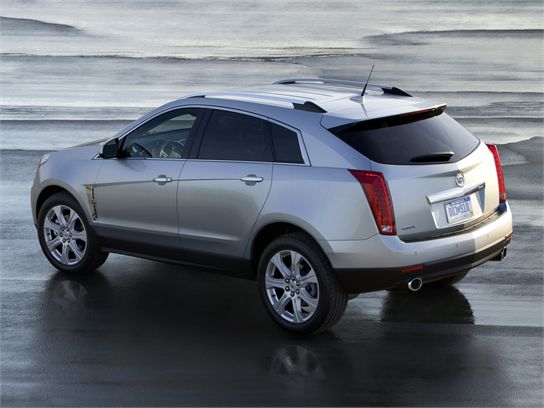 Page 2
Here is another area where the SRX has a chance to set itself apart from the pack. We drove an SRX equipped with the up-level FE3 sport suspension, which is standard on vehicles equipped with the Performance Collection trim package. This setup features a shock system that continuously adapts to road conditions in real time and works in conjunction with a highly-sophisticated all-wheel drive system. It all adds up to an SRX that always feels balanced with minimal body-roll. What we like even more is the communication between road and steering wheel; driving the SRX is not an experience of isolation where your eyes see one thing and your hands feel another.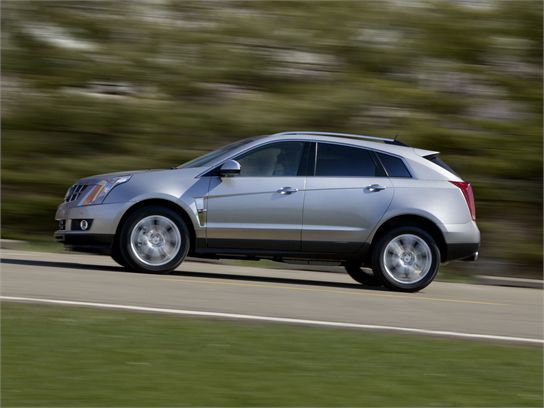 Page 2
At launch there will be only one engine available in the form of a 3.0-liter direct injection V-6 rated at 265 horsepower and 223 lb-ft. of torque, coupled to a 6-speed automatic transmission. This is a smaller version of the superb 3.6-liter V-6 found in the Cadillac CTS, though where the larger engine in the CTS delights, the heavier SRX with a smaller engine is adequate, but nothing smile-inducing. The flipside is fuel economy is decent at 17 mpg city/23 highway for all-wheel drive and 18/25 with front wheel drive, and unlike many of its competitors, the engine doesn't require premium fuel. There will be a more powerful engine on the way in the form of a 2.8-liter turbocharged V-6 rated at 300 horsepower and 295 lb-ft. of torque, but note with this engine fuel economy will suffer and premium fuel will be required.
Page 2
The SRX cabin echoes the interior we've come to like in the Cadillac CTS, with the same hand-cut-and-sewn leather on the dash and a large analog clock anchoring the "waterfall" center control stack. Speaking of the center stack, while very logically laid out and easy to use, it's a bit dull with its expanse of black plastic. That said, the silver-painted vents surrounding it offer a nice contrast. The seats were comfortable, and the optional thigh-support extender for the driver made a noticeable difference on long stretches of road. There is only a second row of seats on the new SRX, and those passengers will have plenty of leg room (unlike the available third row in the previous generation SRX, which, if there was such a thing, would have had negative legroom). For the times you need extra space, the second row seats fold flat for a large cargo area.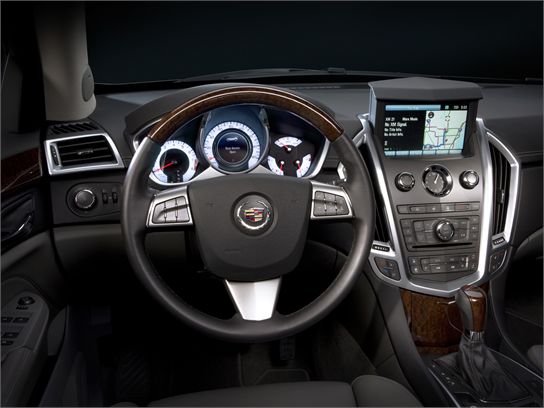 Page 2
While no safety test results are currently available, an SRX engineer told us it has been designed to receive top ratings from all testing organizations. High-strength steel is used throughout the vehicle structure, and there are standard head curtain side air bags and standard front seat-mounted pelvic/thorax side air bags too. Rollover mitigation sensors, traction control, and StabiliTrak electronic stability control are all standard. Front and rear parking sensors are also standard. The SRX lacks some of the more advanced (albeit costly) safety features found among its competitors such as blind spot monitoring and imminent crash detection, but we were informed an "enhanced safety package" would be available down the road to bring the SRX up to par. As with most GM cars, OnStar comes standard.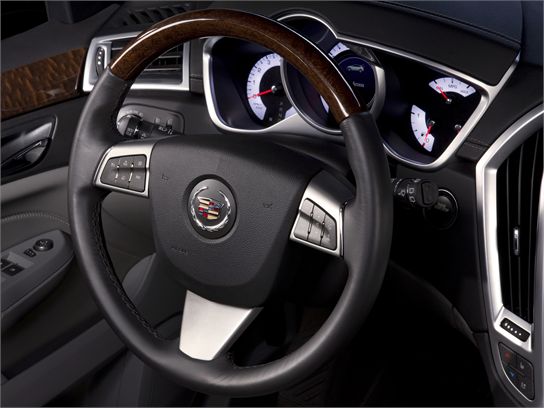 Page 2
It's a fair question. Both offer comparable cargo volume behind the second row, (29 cubic feet for the SRX vs. 25 for the CTS Wagon), and both have almost identical passenger volume (neither have a 3rd row). The CTS Wagon has the larger 3.6-liter engine and driving dynamics more in line with the Cadillac CTS, meaning it will be faster and handle better than the SRX. Oh, it also has EPA-certified better fuel economy than the SRX too (and yes, that's with AWD). So at this point you'd probably like to change your question to, "Well why even build an SRX if the wagon can carry a comparable amount of cargo and people, offer better driving dynamics, and better fuel economy?" Simple: Americans aren't hot on wagons (see page 1), but god do they love their crossovers (see page 2), and if Americans want crossovers, well Cadillac is going to build them a crossover.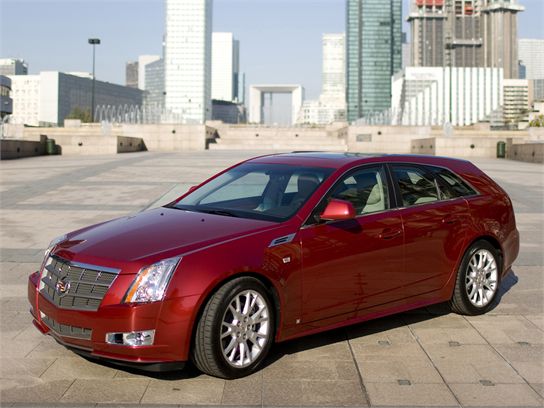 Page 2
One of the first things you notice when you sit behind the wheel of the SRX is an incredibly crisp, color driver information center. It can be configured to display everything from tire pressure to directions, to our personal favorite, the speed limit on the current road (assuming you've opted for the GPS navigation system). The original SRX was the first vehicle to offer a full length sunroof, and the new SRX continues the tradition with an optional UltraView sunroof that covers 70% of the roof. A power, height-programmable tailgate (for short people and low-ceiling garages) is also standard on the SRX. Bluetooth, USB, and everything else you would need to connect your iPhone/Zune/etc. to the vehicle's speakers are available too. There is also a clever bi-level storage system in the rear cargo area that allows you to store items under the cargo floor, and it includes a partitioning system as well.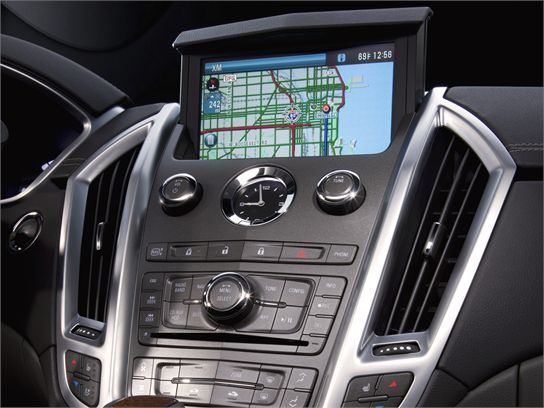 Page 2
At $34,155, the base SRX has some decent features such as pushbutton start, a Bose sound system with USB input, and 18-inch painted aluminum wheels. The extra $3,580 that puts you into the 1SB Luxury Collection trim is well worth the upgrade, and we think most people will find this sufficient. This trim includes the UltraView Sunroof , front/rear park assist, remote start, power liftgate, Bluetooth, leather seating, Sapele wood-trim, as well as exterior treatments such as 18-inch bright machined finish aluminum wheels and chrome roof rails. From here, potential upgrades for consideration might be AWD ($2,495), GPS navigation ($2,395), and rear seat entertainment ($1,295). A fully loaded SRX will run just over $50,000.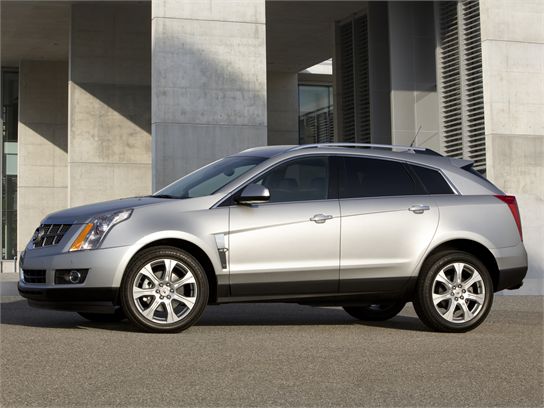 Page 2
Let's just get this off the table now: There won't be a performance "V" edition. There is little business case or demand for a family-centric crossover to run sub-5 second 0-60 mph runs. That said, you might see a "sport" trim down the line with more aggressive body work. There will be a European-version of the SRX equipped with a 2.0-liter 4 cylinder diesel engine, although that powertrain is highly unlikely to make it to our part of the world. Finally, while no hybrid is "officially" on the roadmap, the SRX platform was designed to accommodate a two-mode hybrid drivetrain, so if the demand is there, don't be surprised to witness an SRX silently driving away from a traffic light in a year or two.