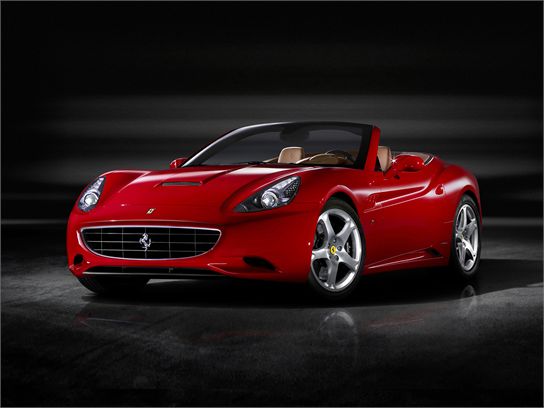 The Ferrari California is a modern interpretation of a treasured classic, the Ferrari 250 GT California. [fade to Ferris Bueller's Day Off]
: The 1961 Ferrari 250GT California. Less than a hundred were made. My father spent three years restoring this car. It is his love, it is his passion. : It is his fault he didn't lock the garage.
The 2009 Ferrari California channels this love and caps it off with the convenience of retractable hard top. The official unveiling will happen at the Paris Auto Show in September; you'll have to wait until 2009 to get yours.
By Staff Photo credit: Ferrari
Page 2
The California carries with it three notable items. Notable item one is a retractable convertible hard top. If you've ever seen a Ferrari 360 Modena Spider with its cloth top up, it just doesn't feel right, like Pamela Anderson wearing a baggy wool sweater. With the California, it looks just as good with the top up or down. Notable item two is roominess, for example, its ability to transport multiple snowboards...and that's according to Ferrari. Notable item three is Ferrari's placement of the engine in front of the vehicle, which is significant because it enables notable items one and two.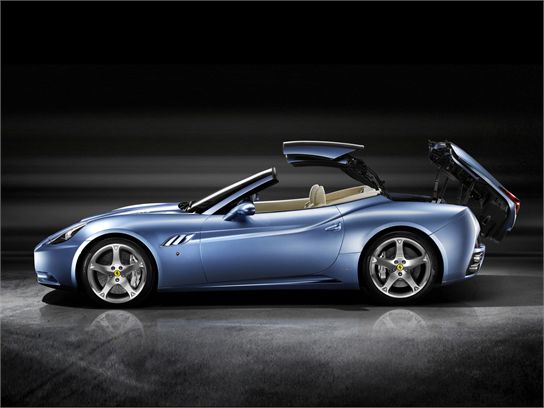 Page 3
If you've ever heard a Ferrari at full throttle, then you know it's powered by one-hundred screaming demon spawn pedaling miniature stationary bikes to the sounds of Sammy Hagar. That, or one of Ferrari's famed V-8 engines, like the 460 horsepower 4.3 liter version that will be found in the California. Ferrari claims the California does 60 mph in less than 4 seconds. Ferrari also once claimed that its Enzo in fourth gear can actually move faster than time itself, so who knows.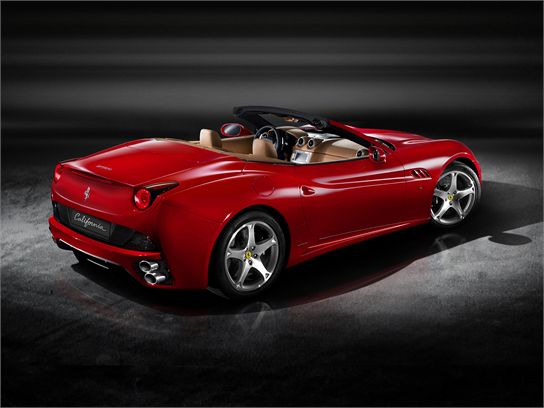 Page 4
Some cars, like the Toyota Corolla, are designed by mortals; others, like the Ferrari F430 are sculpted by God Himself. This car falls a couple yards from the latter category. Take note of small details such as the shark gill side vents, the use of LEDs in the headlamps, and the vertical tailpipe stack. Again, the big news here is that it looks good when you aren't in sunbathing mode.
Page 5
The California's interior (or cockpit in Ferrari-speak) is as sculpted as the exterior, with particular attention paid to the center divider between pilot and co-pilot. It has all the comforts of a luxury car such as navigation and Bluetooth integration. Finally, it has a relatively large trunk with room for two sets of golf clubs with the second row of seats folded flat. Don't be fooled though, they aren't really seats, more like high-chairs with the legs cutoff.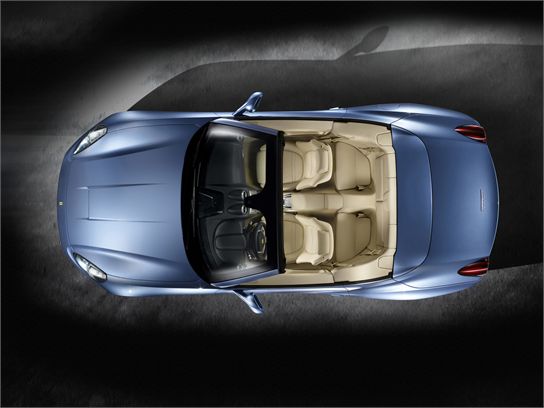 Page 6
"The Ferrari California joins the Prancing Horse's 8-cylinder family which has always been defined by power and performance. The new Ferrari California will satisfy even the most demanding of owners in terms of its superb vehicle dynamics and driving pleasure. The Ferrari California is aimed at owners who desire a car which embodies everything the Prancing Horse represents in terms of sporty design and innovation, but also seek a car with greater versatility than ever." We didn't realize Ferrari actually refers to itself as "the Prancing Horse". That would be like Lamborghini saying "We at the Stomping Bull" or Porsche saying "We at the Colorful Shield."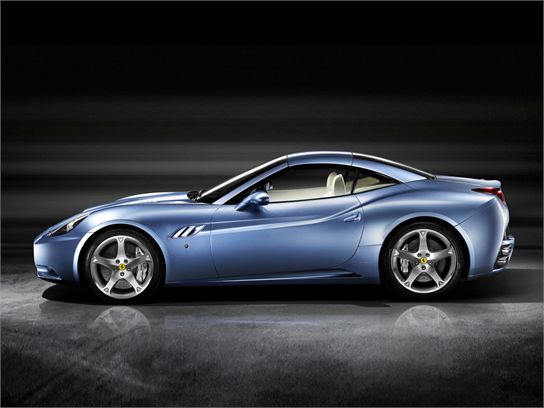 Page 7
We've never associated Ferrari with roominess or practicality, but the pragmatic inside of us is impressed. The lustful side of us that creepily describes cars as "objects of desire" is also impressed with the California's performance potential, and a month of access to the vehicle and an unlimited mileage cap should be enough time for us to evaluate how well the two can really coexist.