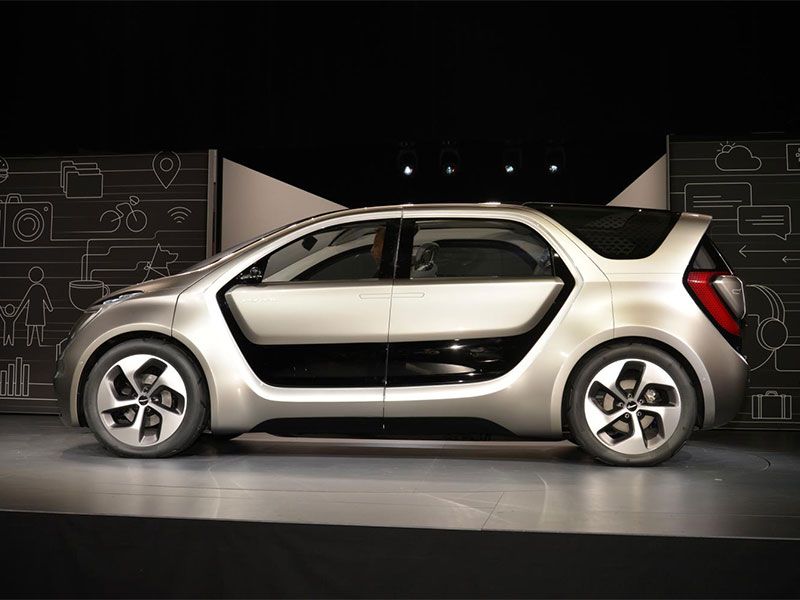 CES 2017 Chrysler Portal Concept ・ Photo by Newspress USA
The 2017 Consumer Electronics Show (CES), which runs from January 5-8 in Las Vegas, is among the world's biggest, most influential electronics conventions. But thanks to the increasingly high levels of technology in today's cars and trucks, it's turned into a specialized sort of auto show, too. Indeed, this year's event has new concept vehicles, driver-assistance features, and infotainment extras all making their debut—and previewing what's to come for tomorrow's roads.
Chrysler Portal Concept
Specifically designed for Millennials, the Chrysler Portal concept debuted at CES 2017 as an all-electric multi-purpose vehicle that was engineered on a cabin-first basis. The result is a "third space" that "provides an alternative environment between work and home." To allow even the driver to enjoy that space, the Portal also is equipped with technology for autonomous highway driving. Then, for actual driving, the vehicle delivers 250 miles of range on a single charge.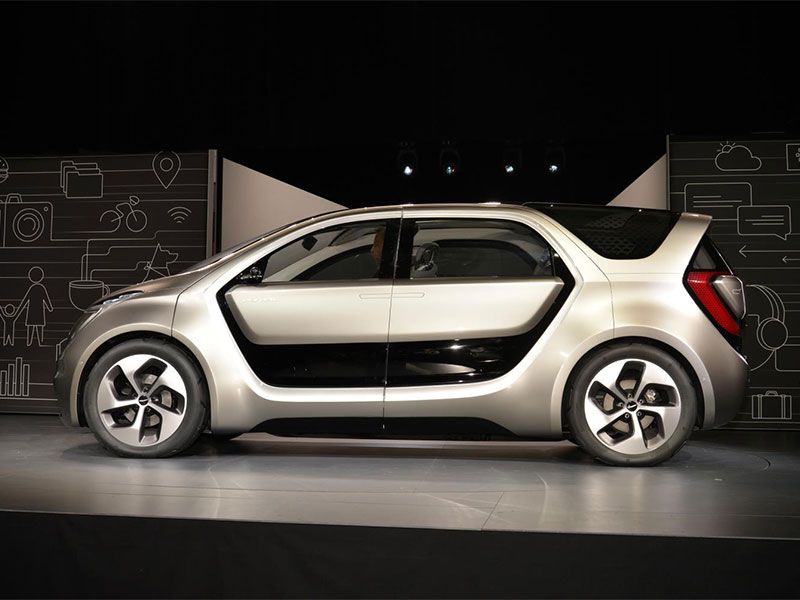 Photo by Newspress USA
Volkswagen I.D. Concept
VW may have identified a new way forward for its electric vehicles, starting with the Volkswagen I.D. Concept. In fact, the company plans on getting the I.D. EV from CES 2017 to dealerships as soon as 2020. Full autonomous driving will follow some. Needless to say, the I.D. vehicle also will be compatible with VW's new User-ID—allowing owners to set and save preferences between Volkswagen vehicles—and Digital Key.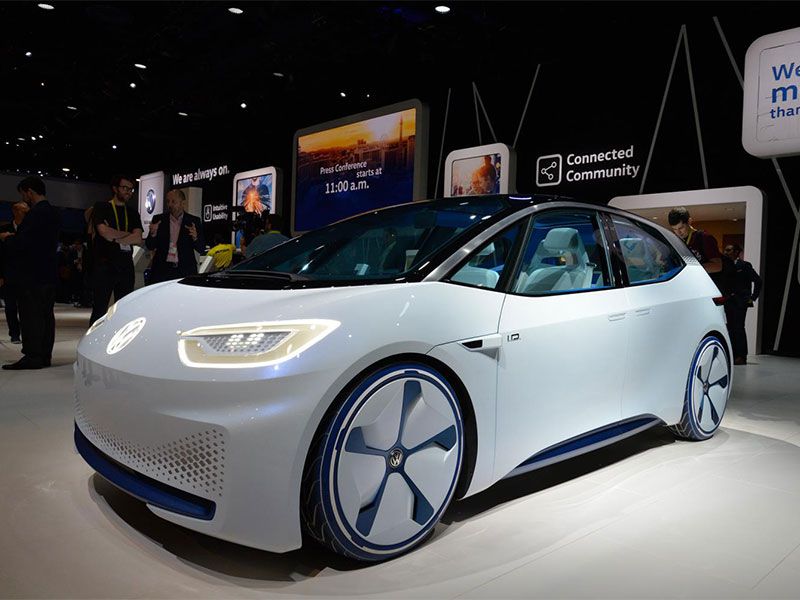 Photo by Newspress USA
Nissan LEAF with ProPILOT technology
Nissan's chairman of the board and CEO, Carlos Ghosn, gave the keynote address at CES 2017, laying out the company's "Intelligent Mobility blueprint." The plan includes artificial intelligence that's developed from NASA technology, integration with Microsoft's Cortana digital assistant and, unsurprisingly, a new autonomous-driving system that will be introduced on the upcoming next-generation Nissan LEAF. Called ProPILOT, it will enable "autonomous drive functionality for single-lane highway driving."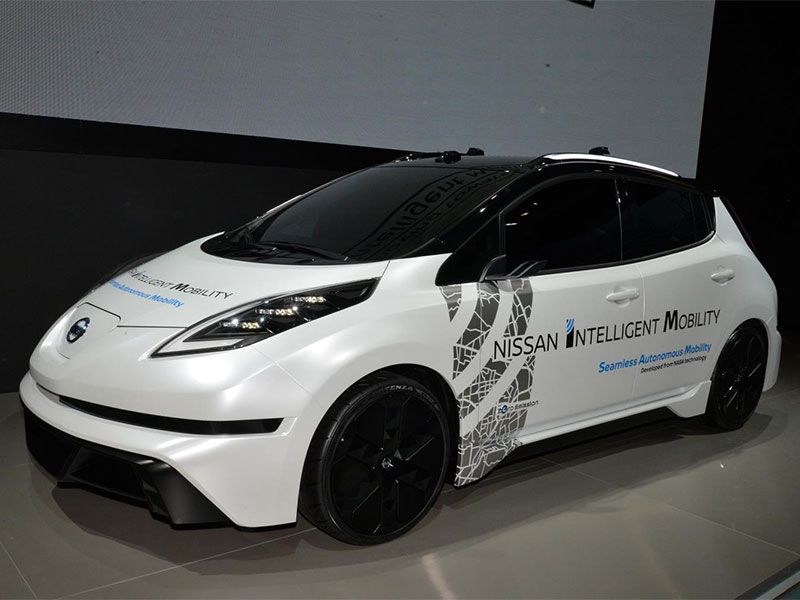 Photo by Newspress USA
Ford Fusion Hybrid Autonomous Development Vehicle
The Blue Oval naturally brought its latest Ford Fusion Hybrid "autonomous development vehicle" to CES. Riding on the same platform as the 43-mpg Fusion Hybrid that's on sale to customers now, it's an update on the company's self-driving car system—expected to be ready for the public by 2020. This development vehicle has new laser-backed LIDAR sensor technology that helps it "see" up to 600 yards in all directions.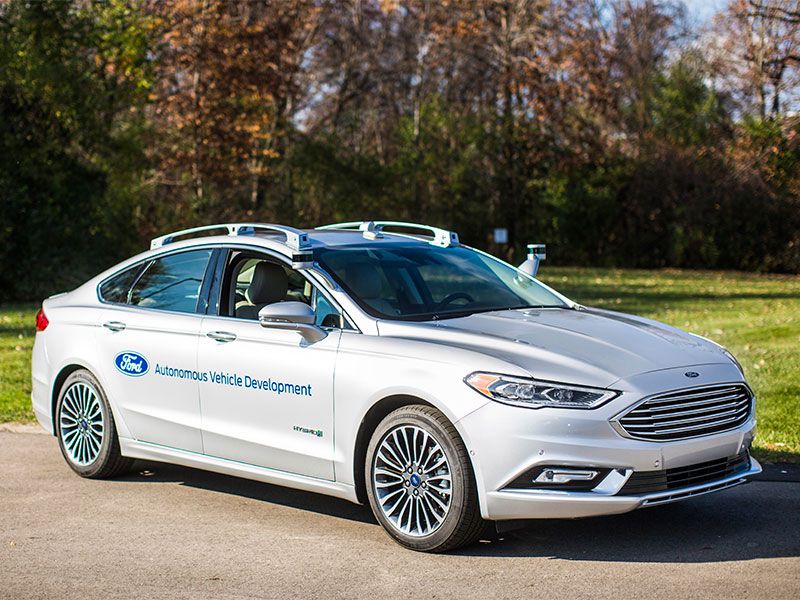 Photo by Ford
Faraday Future FF91
One of the most hotly anticipated premieres at CES 2017 was for the Faraday Future FF 91, a premium all-electric crossover expected to start production in 2018. True, the FF 91 will offer autonomous-driving functionality, but pilots may be hard-pressed to give up control: Faraday Future forecasts 0-60 times of below 2.4 seconds, along with the equivalent of 1,050 horsepower and an EV driving range of 378 miles.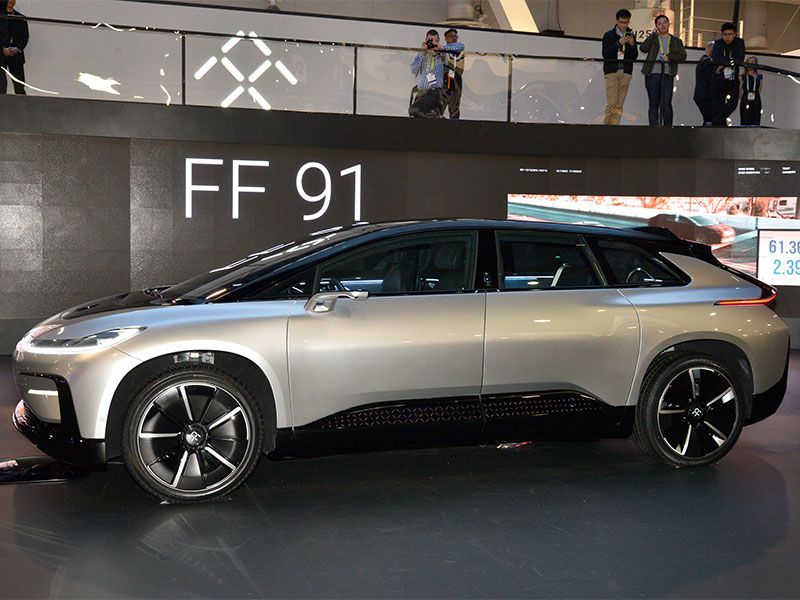 Photo by Newspress USA
Mercedes-Benz Concept EQ
Meanwhile, Mercedes-Benz came to CES 2017 with an early effort from its new CASE initiative, which focuses on vehicles that are Connected, Autonomous, Shared and Electric. The Mercedes-Benz Concept EQ, for example, is a driver-oriented SUV with "electro-look" styling, electric all-wheel drive and a high-performance two-motor propulsion system. Leveraging the equivalent of 400 horsepower, 516 lb.-ft. of torque and an EV range of more than 300 miles.
Photo by Mercedes-Benz
Mercedes-Benz Vision Van
Folks looking for a future vision of the delivery vehicle at CES 2017 will see exactly that in the Mercedes-Benz Vision Van. Another all-electric concept, the Vision Van's all-electric driving range of more than 165 miles is just part of the story. There's also a fully automated cargo space and an onboard fleet of delivery drones—so the Vision Van can make multiple nearby deliveries at a single stop.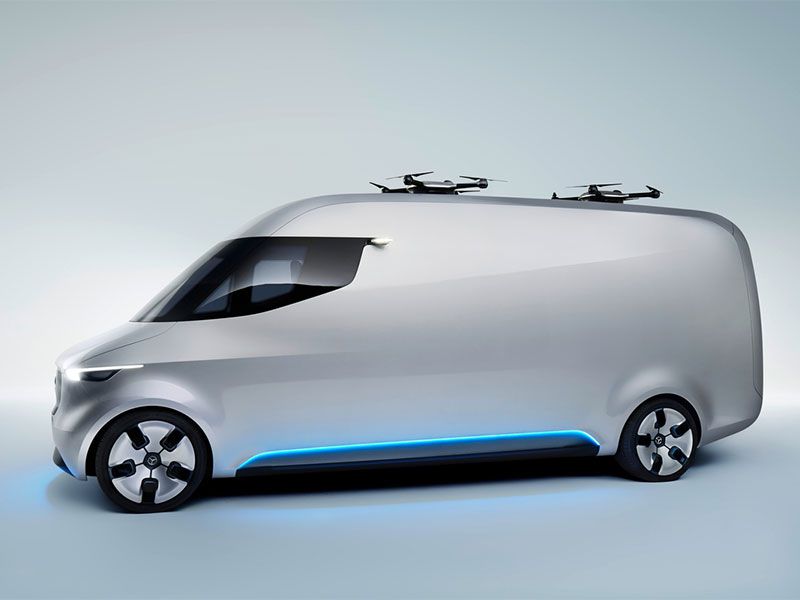 Photo by Mercedes-Benz
Honda NeuV
Plenty of vehicles at CES 2017 showcase electric motors, but only the Honda NeuV commuter-vehicle concept has an "emotion engine." In the NeuV, this suite of advanced technologies, created by the artificial intelligence experts at Cocoro SB, can "enable machines to artificially generate their own emotions." That way, both you and your car can feel good about the benefits of high-tech all-electric driving.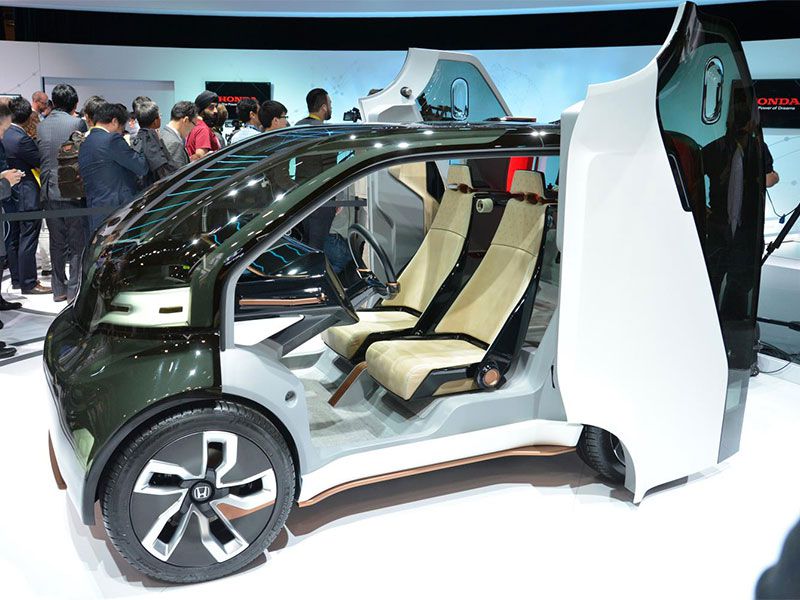 Hyundai Connected Car and Smart House
Some cars boast all the comforts of home, but Hyundai has a house that relies on technologies from its cars. As shown at CES 2017, the Hyundai Connected Car and Smart House were engineered so that the former could dock seamlessly with the latter and provide access to things like infotainment and connectivity services, as well as climate control and emergency power. Of course, the car can supply transportation, too.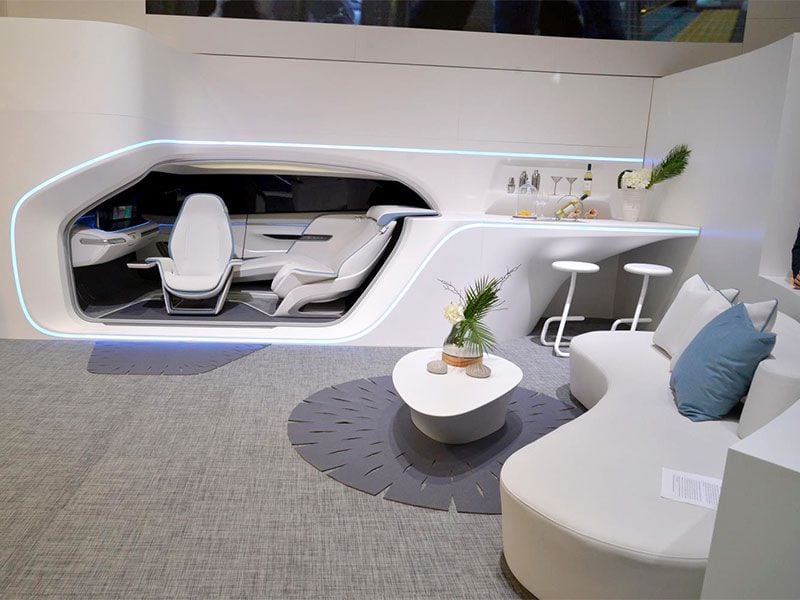 Photo by Newspress USA
Autonomous Hyundai Ioniq
Also on hand at CES 2017 with self-driving cars was Hyundai. The company had a pair of autonomous vehicles patrolling test routes on Las Vegas streets, and visitors to the Hyundai booth could enjoy virtual ride-alongs by using the available VR simulators. Notably, the cars were 2017 Hyundai Ioniq hybrids, which are expect to be available for human drivers during the current model year—along with Ioniq EV and plug-in hybrid variants.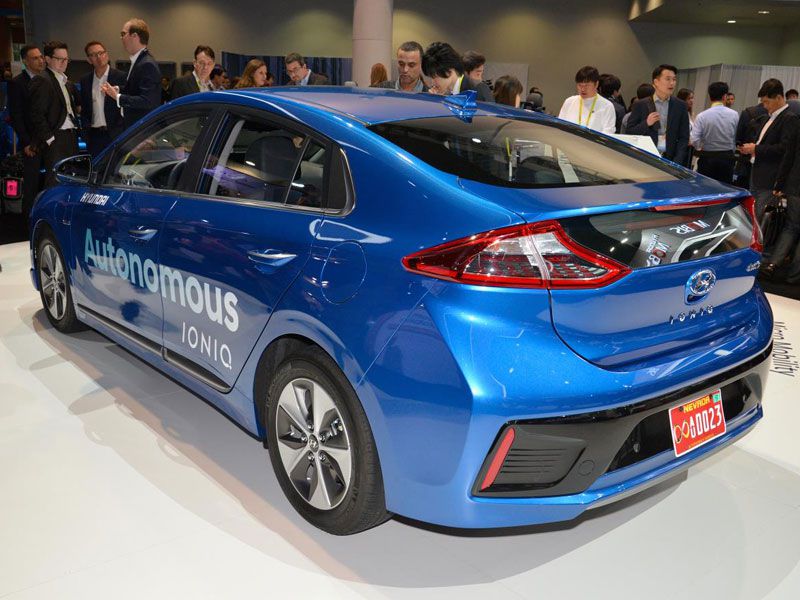 Photo by Newspress USA