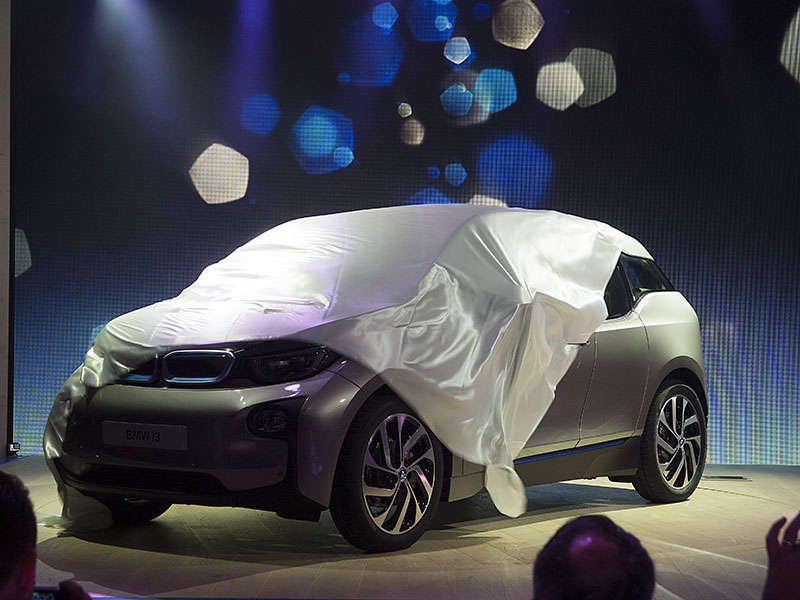 2014 LA Auto Show bmw i3 unveil
The alternative fuel cars of today have definitely evolved from being the tiny (and tinny) hybrids of just a few years ago. The biggest highlights of the alternative fuel cars on show at the 2014 Los Angeles Auto Show are dominiated by luxury brands and technologies that move beyond hybrids.
Unveiled in Los Angeles: Mercedes-Benz S550 e (plug-in Hybrid)
Not content with its efforts toward reduced consumption in its luxury cars with diesel, smaller turbocharged engines, and lightweight materials, Mercedes-Benz is jumping on the hybrid bandwagon with the S550 e plug-in hybrid. This isn't the first time Mercedes-Benz has introduced a hybrid S-class, but it is the first plug-in.
The badge may say "550," but this S-class is not powered by a V-8 with a displacement close to 5.0 liters. Instead, underhood is a 3.0-liter, twin-turbocharged V-6, which makes 436 horsepower when combined with the output from an electric motor. Ironically, the most logical element to the S550 e's name is the e itself, which reflects new Mercedes-Benz nomenclature. Little is changed about the way the S550 e looks, inside and out, although a lithium-ion battery pack takes up significant trunk space.
The Mercedes-Benz S550 e will be available for purchase in the third quarter of 2015.
Approximately $100,000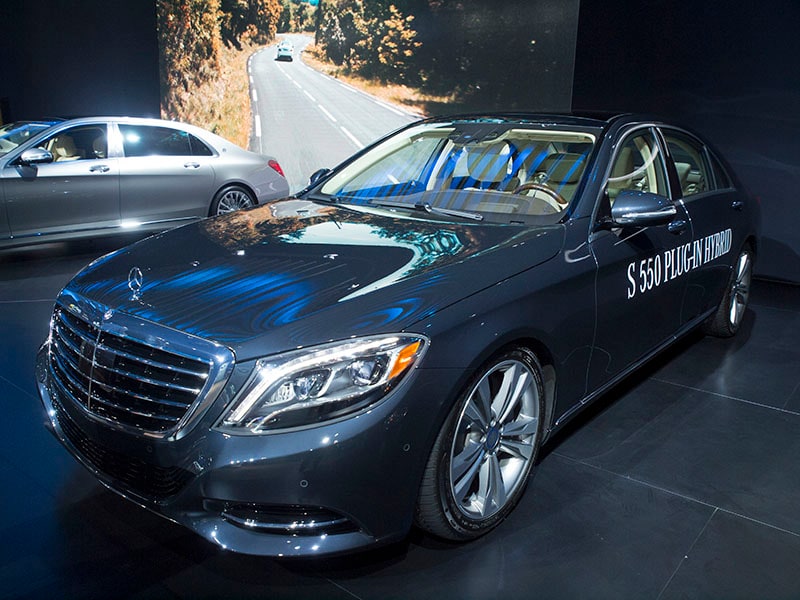 Unveiled in Los Angeles: Toyota Mirai
The Toyota Mirai is a hydrogen-fueled zero-emissions sedan that will go on sale in Japan this coming December. It gets about 300 miles on a single tank, which can be re-filled in just five minutes. The Mirai's hydrogen fuel cell generates electricity by combining hydrogen with oxygen, in effect replacing a traditional battery. Hydrogen fuel stations are few and far between, which means that adoption of the Mirai – once it eventually gets to the United States – will likely be a slow process.
  The Mirai is an all-new model.
  The Toyota Mirai is actually going to go 'on sale' in very limited numbers in certain markets 3rd quarter of 2015, with broader expansion by 2017.
  Pricing for the Mirai has not been released.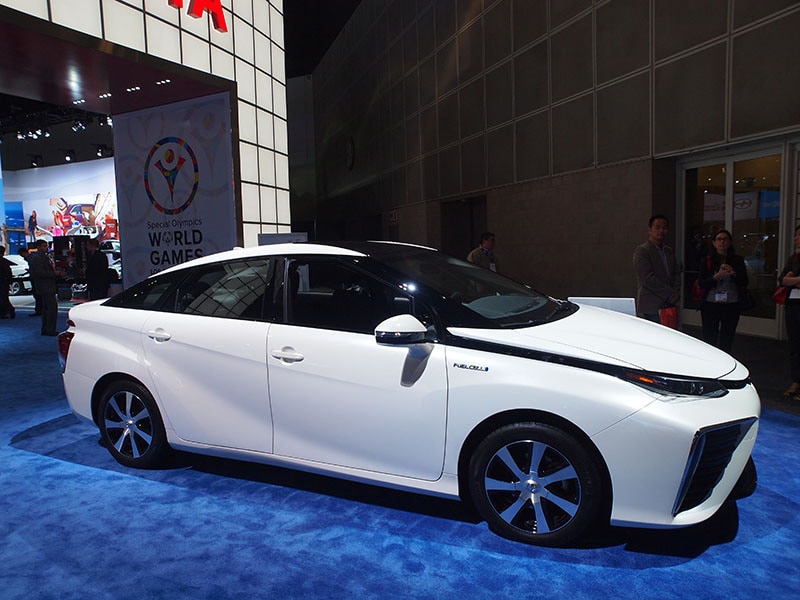 2015 BMW X3 Diesel
BMW's X3 "Sports Activity Vehicle" was one of the first models in the luxury compact crossover segment when it was launched over ten years ago. Lauded for deftly blending athletic dynamics with family orientation, X3 made hauling the kids a fun activity. You'll happily take the long way through the back roads at the wheel of an X3. And now, you can do so while getting even better fuel economy, thanks to the turbocharged 2.0-liter diesel engine BMW's fitted to the X3's platform. Producing 180 horsepower and 280 ft-lbs of torque, the engine also returns 30 miles per gallon on the highway—with an all-wheel drive powertrain. An eight-speed automatic transmission, along with an automatic engine stop/start function helps the X3's accomplishments in this endeavor.
Diesel power comes to BMW's X3
On sale now
Pricing starts at $42,000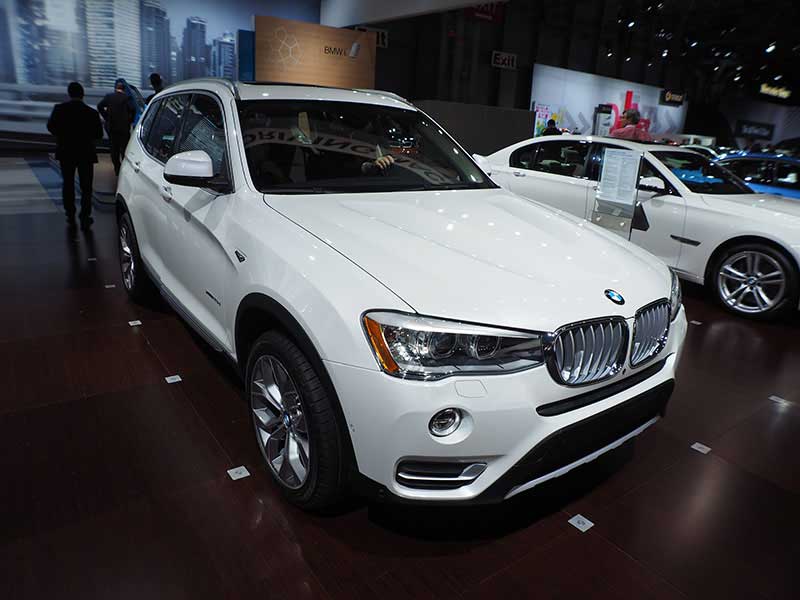 2015 BMW X5 e-Drive Plug-in Hybrid
When BMW's innovative X5 SUV debuted back in 1999, an entirely new concept was introduced. Suddenly, here was a fun to drive SUV with tremendous roadholding, powerful engines, and the undeniable cachet of the blue and white roundel badging. BMW is poised to reinvent the segment once again with the X5 e-Drive Plug-in Hybrid.  Power comes from a 2.0-liter turbocharged four-cylinder engine with 240 horsepower and 255 ft-lbs of torque, paired with an electric motor good for 95 horsepower and 185 ft-lbs. Total system output is 270 horsepower and 300 ft-lbs of torque. Fuel economy should be in the 40-mpg range. On electric power alone, X5 e-Drive Plug-in is capable of traveling up to 20 miles, or at speeds of up to 75 mph.
BMW's first plug-in hybrid X5
Late 2015
Pricing has yet to be announced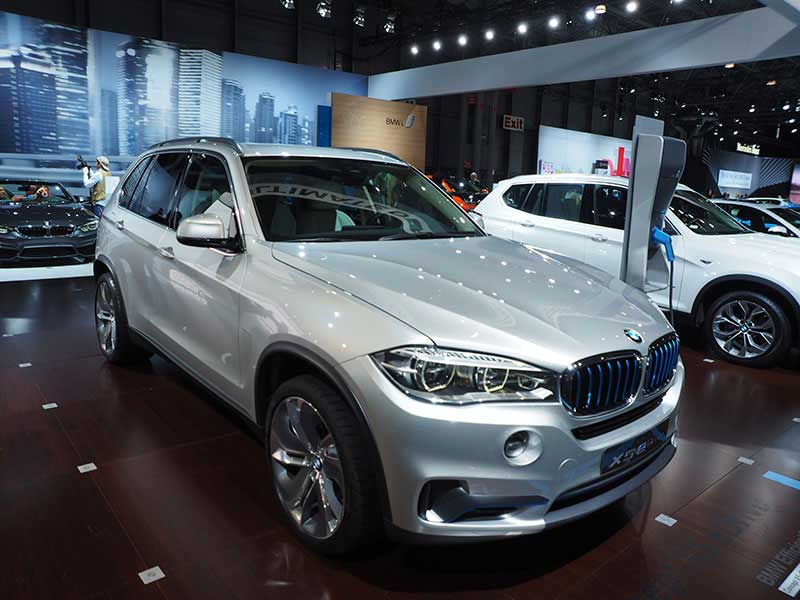 2015 BMW i3
The BMW of electric cars breaks no real new ground in the segment, and yet it manages to come across as an entirely new concept. Perched on the equivalent of a lightweight aluminum skateboard containing its mechanicals and battery pack, the rear-drive BMW i3 is a miracle of modern packaging. Power comes from a 170-horsepower electric motor. A two-cylinder gasoline generator can be fitted as an option to extend its range to approximately 150 miles over the 96 miles of the battery-only version of the car. The i3's optional DC fast charger can fully recharge the battery pack in 30 minutes.
New for the 2014 model year, BMW's i3 is only now starting to be seen on the street
 The model is available at dealers now
BMW i3 pricing starts at $41,350, i3 with the Range Extender starts at $45,200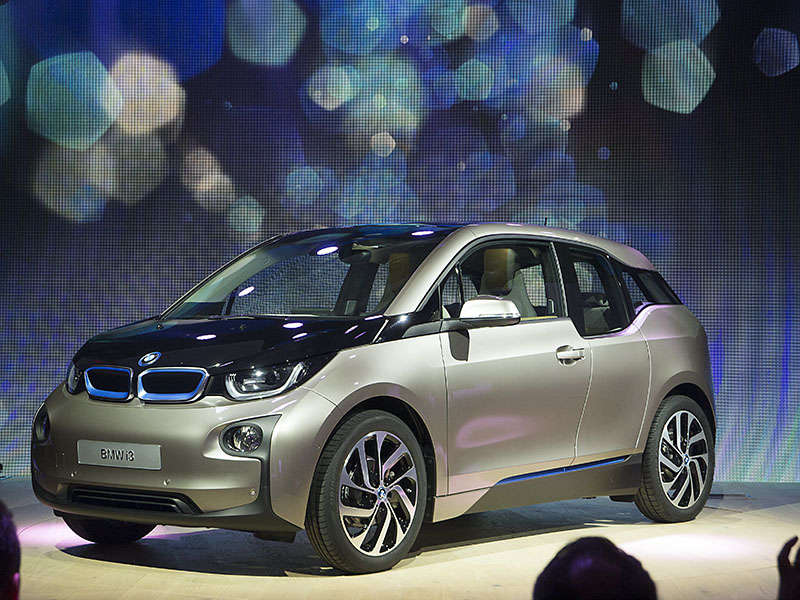 2015 BMW i8
BMW i8 propels the company's design language into previously uncharted territory. Power comes from a hybrid system featuring a 1.5-liter three-cylinder turbocharged gasoline engine with 231 horsepower and 236 ft-lbs of torque feeding the rear wheels through a six-speed automatic gearbox. This is teamed with an electric motor capable of generating 131 horsepower and 184 ft-lbs of torque feeding the front wheels through a two-stage automatic transmission. The lithium-ion high-voltage battery pack—cooled with refrigerant—boasts 5 kWh of capacity. Total system output for the all-wheel drive coupe is 362 horsepower and 420 ft-lbs of torque. Acceleration from zero to 60 takes 4.2 seconds. The i8 can travel 22 miles, or at speeds of up to 75 miles per hour on electric power.
All-new for 2014, i8 goes into 2015 with no changes
On sale now
Pricing starts at $135,700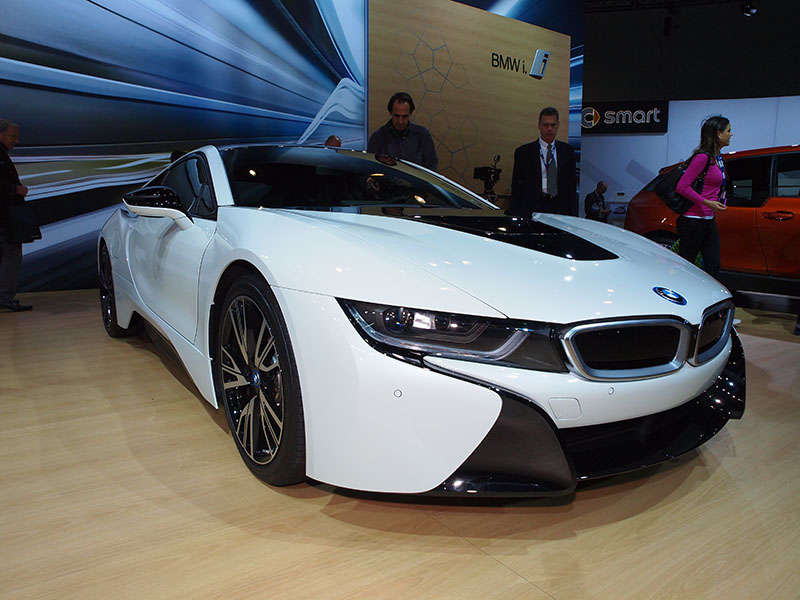 2015 Hyundai Tuscon Fuel Cell
Tired of paying for gas? The 2015 Hyundai Tucson Fuel Cell allows you to benefit from the practical, five-passenger capacity of a modern compact crossover while swapping out its gasoline engine in favor of a hydrogen fuel cell. Even better: Hyundai actually pays for the hydrogen that you consume while driving the 134 horsepower Tucson Fuel Cell around, which features a 265-mile range on a full tank of fuel . There are a couple of caveats though, namely that very few hydrogen fuel stations exist, and that you can't actually buy this Tucson Fuel Cell from Hyundai - it's lease-only.
 Aside from its hydrogen fuel cell, the rest of the Tucson carries over from the previous model year.
 The Hyundai is on offer right now, but only if you live within a certain distance of a charging station and have gone through the automaker's ownership evaluation process.
 The Tucson Fuel Cell lease will run you $499 a month for 36 months of $2,999 down.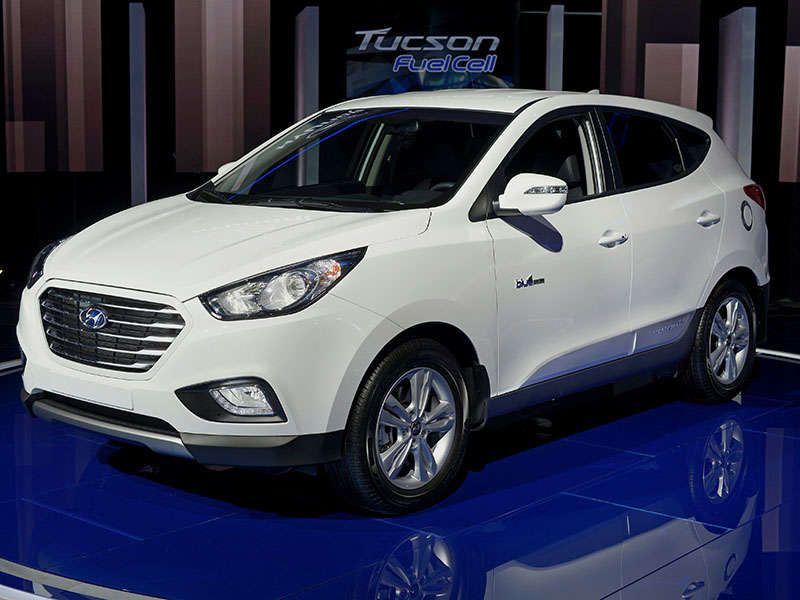 2015 Audi A3 TDI Sportback
For those of you who miss the five-door hatchback iteration of Audi's A3, don't fret, the company's bringing it back next year. Like its gasoline-powered sedan and convertible siblings, it will look like an Audi, drive like an Audi, and offer the type of equipment you expect from the Ingolstadt-based automaker. Plus, the diesel-powered Audi A3 TDI Sportback will be one of the most fuel-efficient models you can buy when it goes on sale. Power is expected to come from a 2.0-liter turbocharged four-cylinder diesel engine producing 150 horsepower and 236 ft-lbs of torque. A six-speed dual-clutch automated manual transmission routes power to the A3 TDI Sportback's front wheels. Fuel economy is expected to be at least 42 mpg on the highway.
Diesel power for the 2016 model year
Summer 2015
Pricing has yet to be announced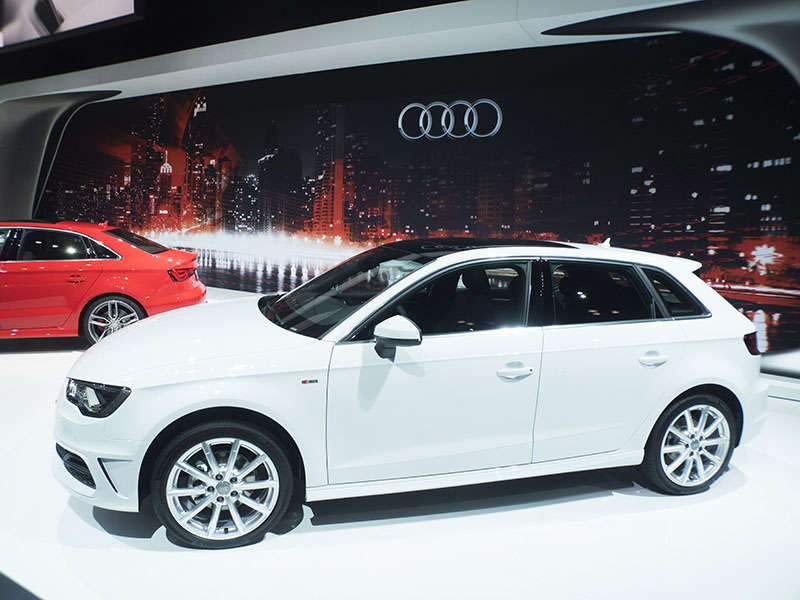 2016 A3 e-Tron
Audi's first plug-in hybrid claims an amazing 157 miles per gallon in (admittedly optimistic) European testing. While that claim is currently being debated in Green Car forums all over the Internet, we'll paraphrase the well-worn caveat, "Your results most assuredly will vary." Although, who's to say which way? At any rate, motive force comes from Audi's 150 horsepower, 1.4-liter turbocharged four-cylinder engine with 184 ft-lbs of torque, which is teamed with a 102-horsepower electric motor capable of generating 243 ft-lbs of torque. The motor is supplied electricity from an 8.8 kWh battery pack. Total system output is 204 horsepower and 258 ft-lbs of torque. A six-speed dual clutch automated manual feeds the front wheels. A3 e-Tron's electric-only range is quoted at 31 miles.
A plug-in hybrid powertrain for Audi's A3 is introduced this year.
Summer 2015
$40,000 (est.)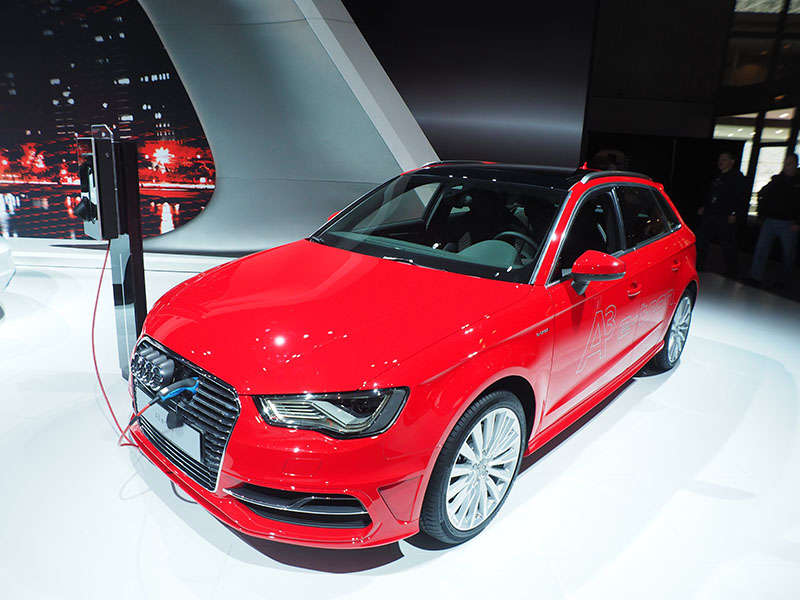 Porsche 918 Spyder Plug-in Hybrid
While it isn't the first mid-engine hybrid sports car, the eye-arresting Porsche 918 Spyder is the first V8-powered mid-engine Porsche hybrid sports car. Developed from scratch, the 918 Spyder literally started with a blank computer screen, and unleashes performance you'll have see to believe. The handsome muscularly styled body contains the 918 Spyder's 608-horsepower V8, which displaces 4.6-liters and operates in conjunction with a pair of electric motors to generate a total system output of 887 horsepower and 944 ft-lbs of torque. The V8 engine feeds the rear wheels through a seven-speed dual clutch transmission, while one of the electric motors also energizes the rear wheels and the other feeds the front—making the 918 Spyder the first all-wheel drive mid-engine Porsche sports car.
All-new for the 2015 model year
On sale now
Pricing starts at $845,000